GPS Coordinates:- 14.65461, 98.40242

Songkran April 2019
My third time to Somsak Mining.
After reading on the Somsak Mining Facebook page that the home stay will close end of 2019 because of Auntie Glenn's age and health.
Decided to visit one more time. It won't be the same riding down closed or someone else running Somsak Mine home stay.
So we load up the bikes the night before and drive up to Pilok the next morning.
2.5 hour drive from Sai Yok Noi.
The longest time driving is on the shortest part of the twisty road up the mountain.
The steep twisty road up to Pilok varies from good to bad (potholes, dirt track ) to good again, then poor and good.
The not so good bits are pretty rough in places.

The ride to Somsak Mine
5.4 KM from the main road to Somsak Mining.
3.3 KM to the sign warning 4X4 only then 2.1 KM to Somsak Mining.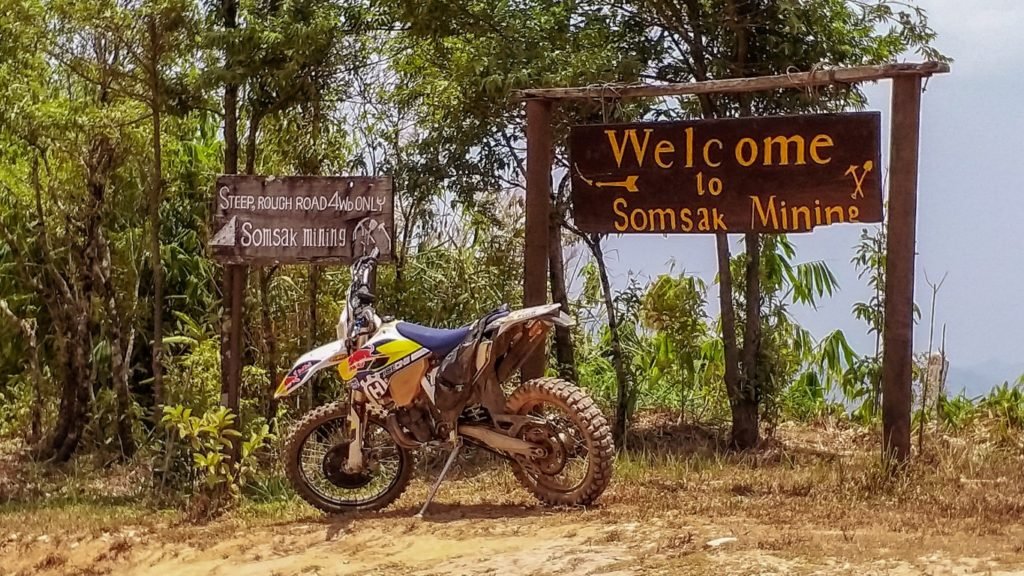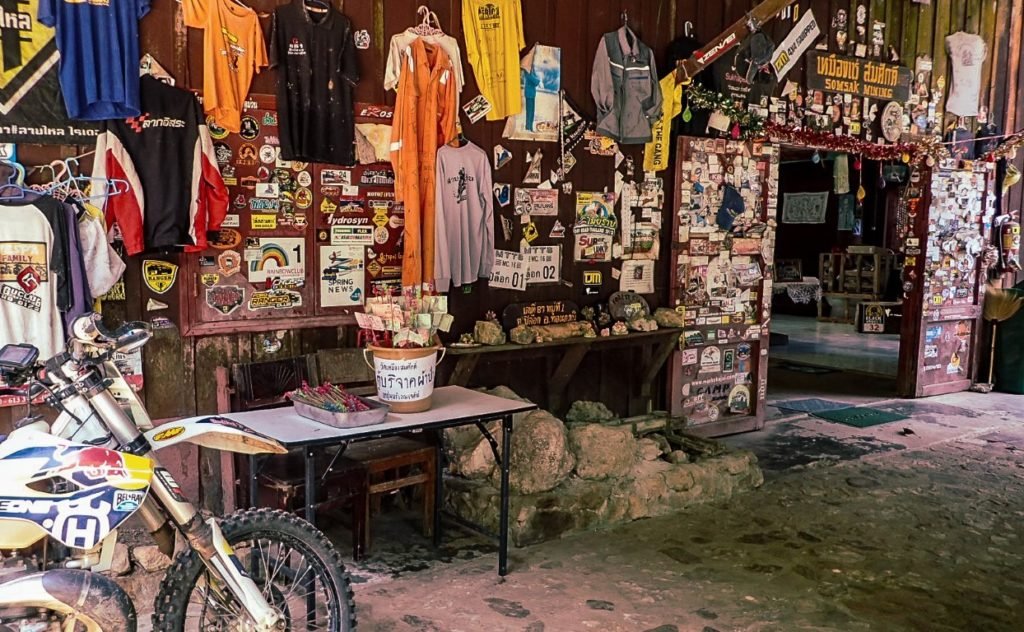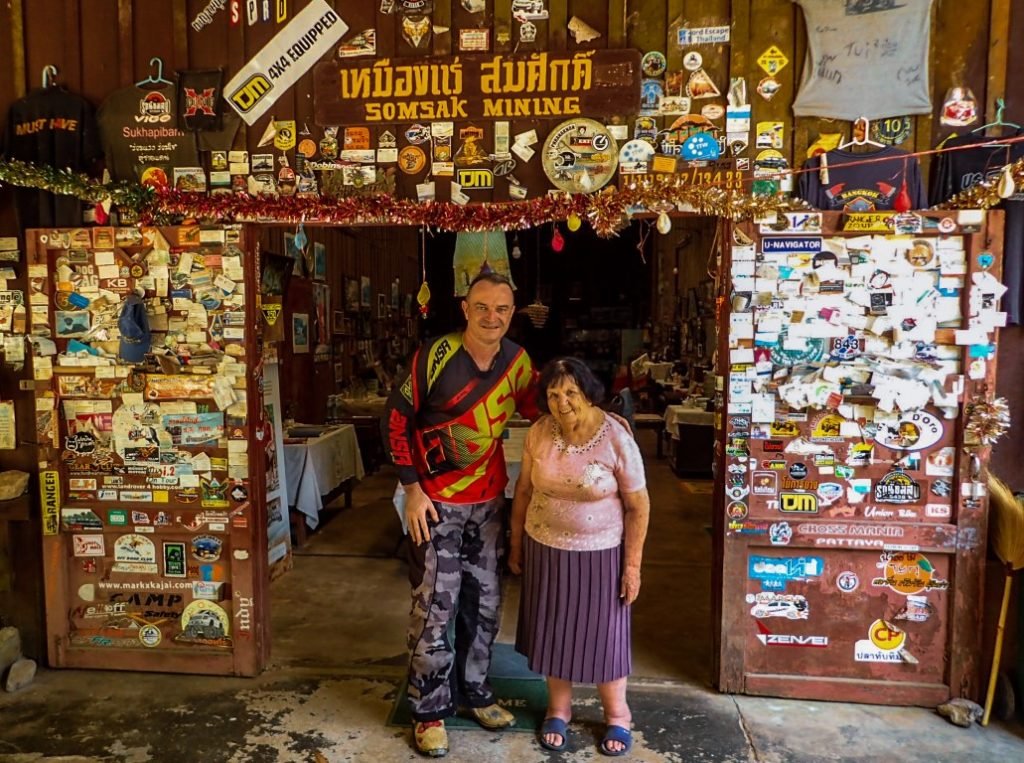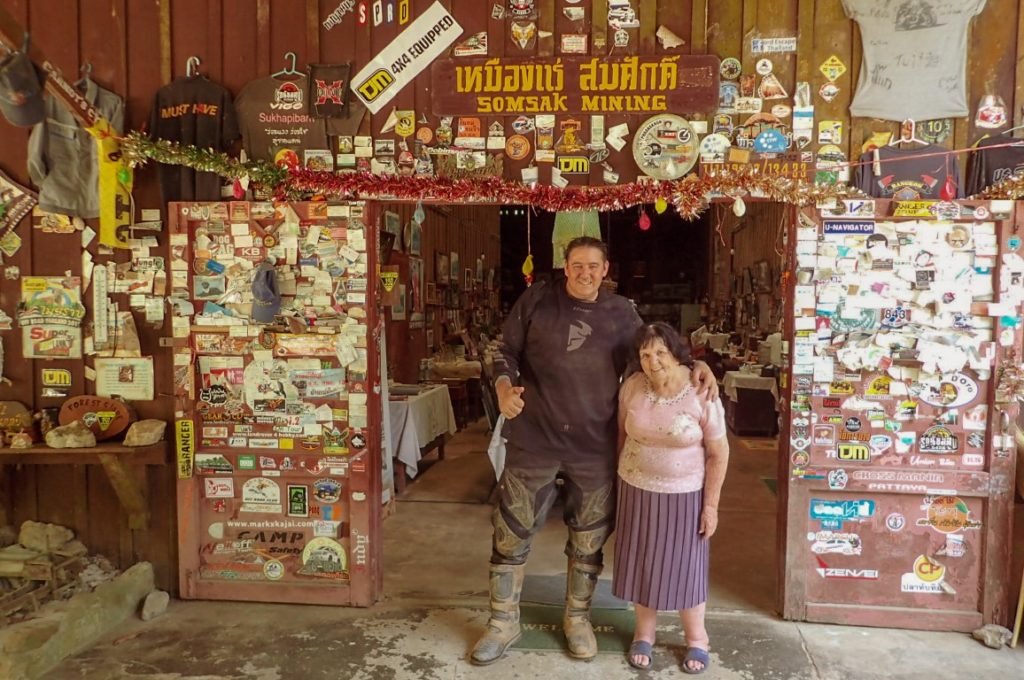 Inside the dining and living area of Somsak Mining.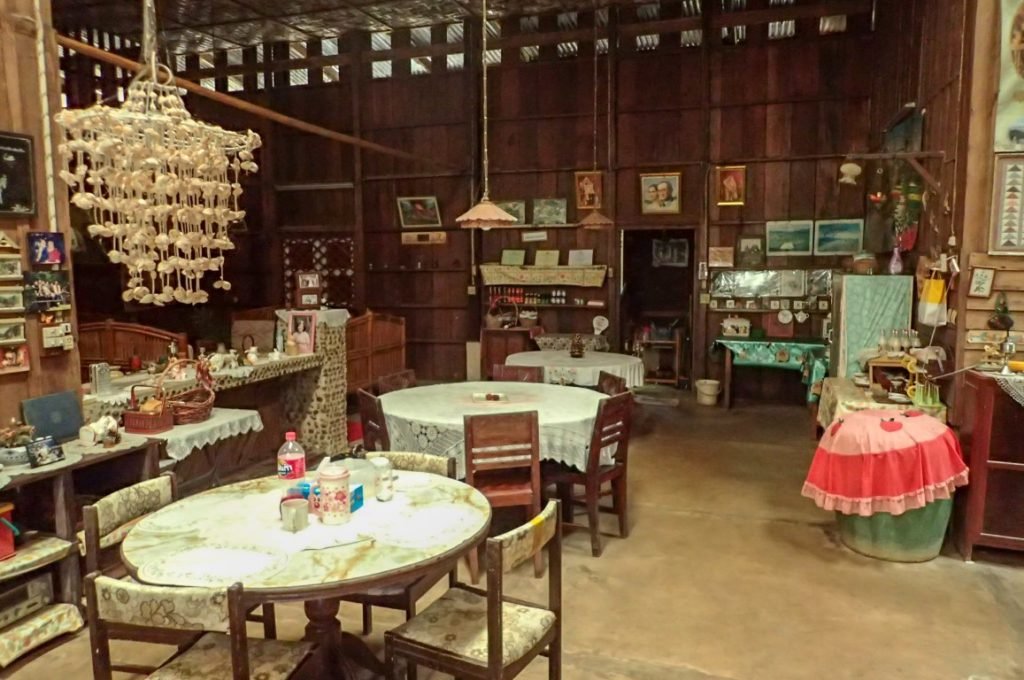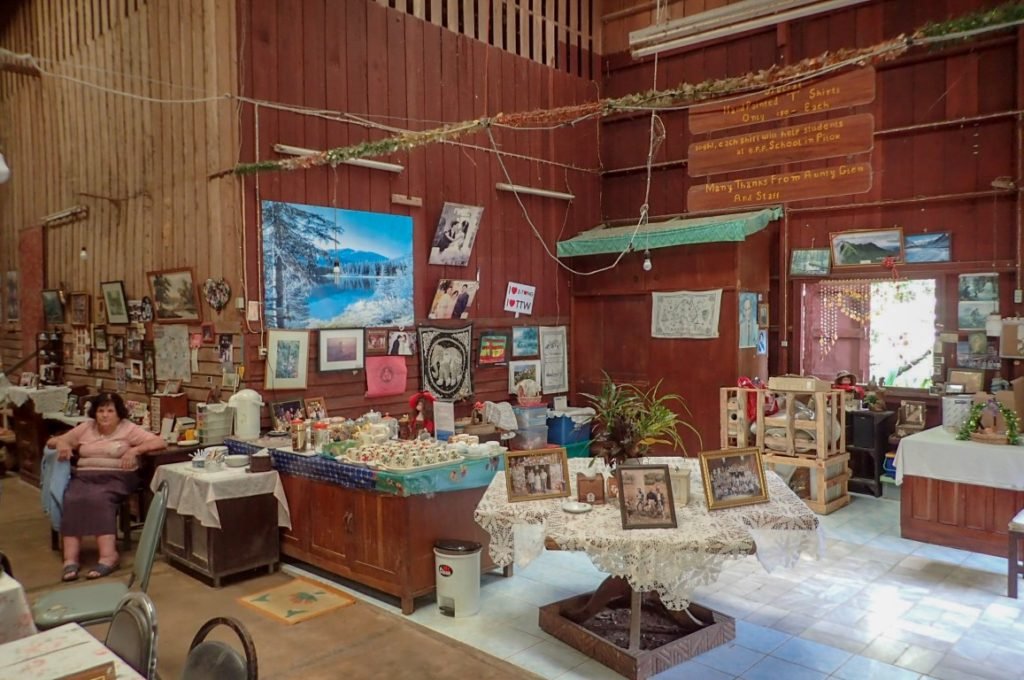 Auntie Glenn's cakes are famous..
All gone from a big group in the morning.
Miss out again. Last time the oven was out of order.
I will have to go back again.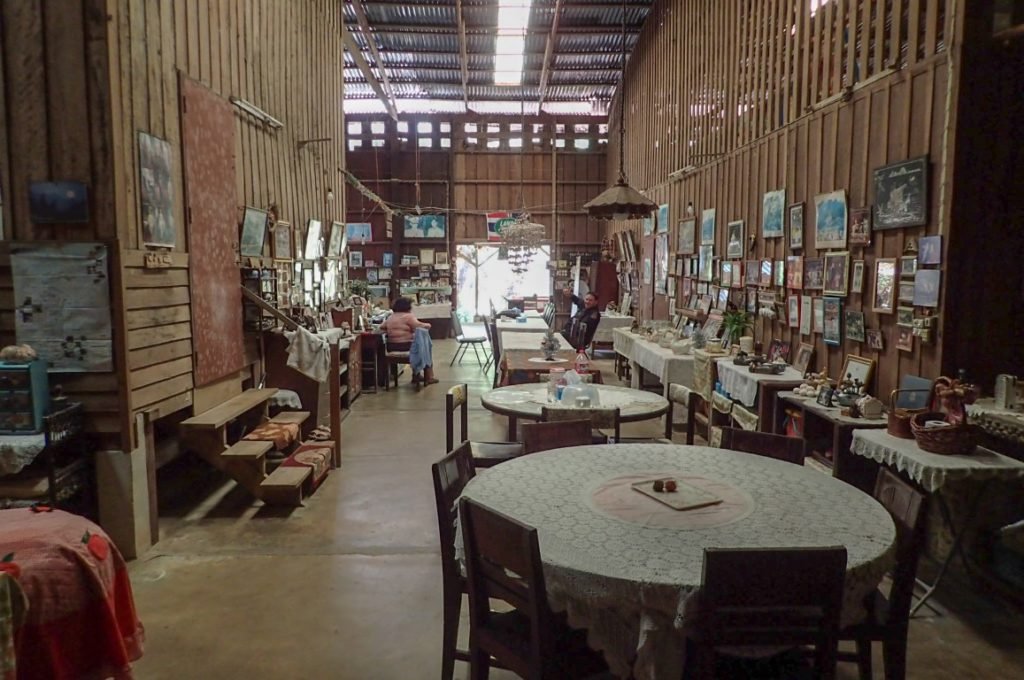 We had a good chat for close to an hour. Very interesting.
Auntie Glenn said the Mines Department had been back to do some survey's. Apparently Chinese demand for tin has pushed up the price and there is a big shortage of Tin at the moment.
I joked. "You will need to hang around for another 80 years". Much to Auntie Glenn's amusement.

YouTube Video:- That Steep Old Rocky Road.
The ride on the famous steep rocky track.
Somsak Mining – November 2017
The turn off is just a couple of KM from I-tong village. The down a rocky steep track from the main paved road.
4WD or Dirtbike recommended.
Larger bikes can make it. Make sure to have friends help you pick it up if / when you come off or get stuck.
The Dirt Bike riders will be at the bottom with tea and cake waiting for you 😉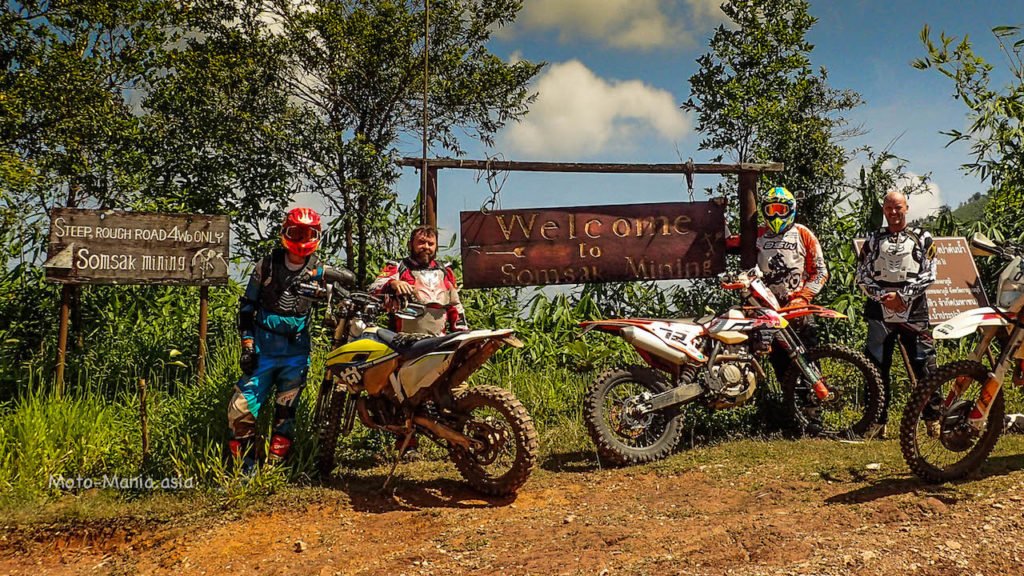 Somsak Mine – Forest Glade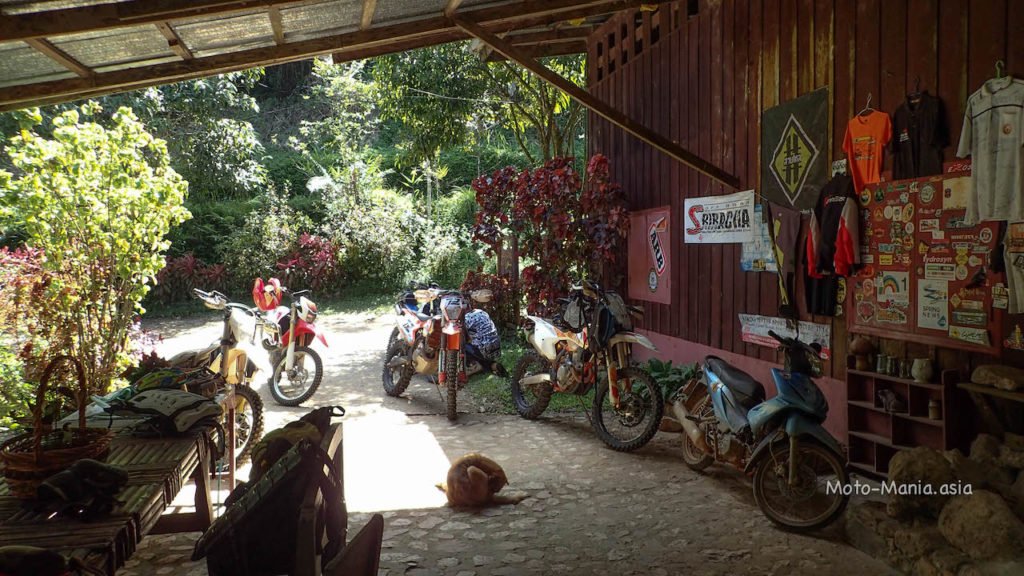 Inside there is coffee and tea. Unfortunately the oven is out of order, so no cake today.
We were all a little hungry and looking forward some of Auntie Glenn's famous cakes.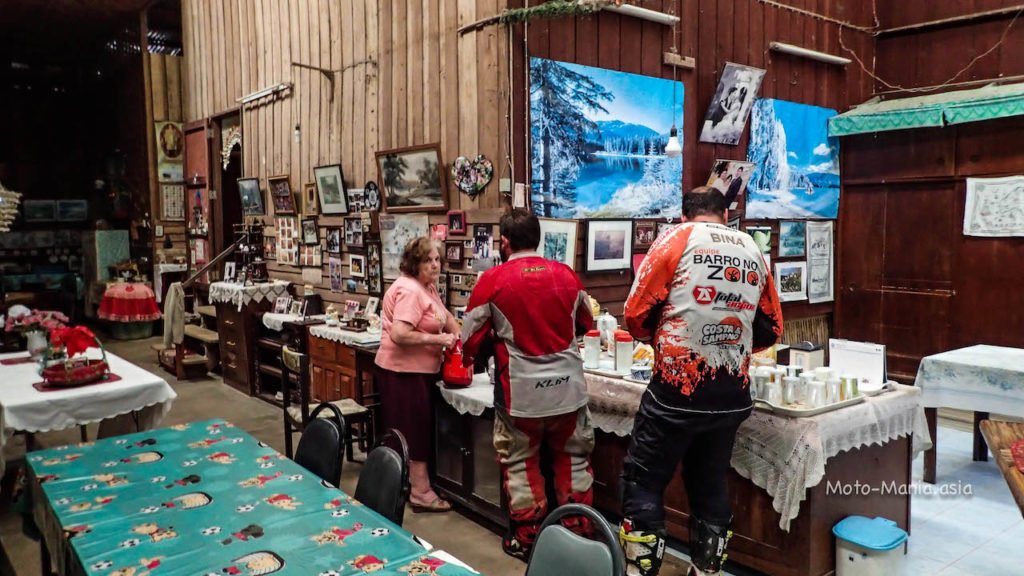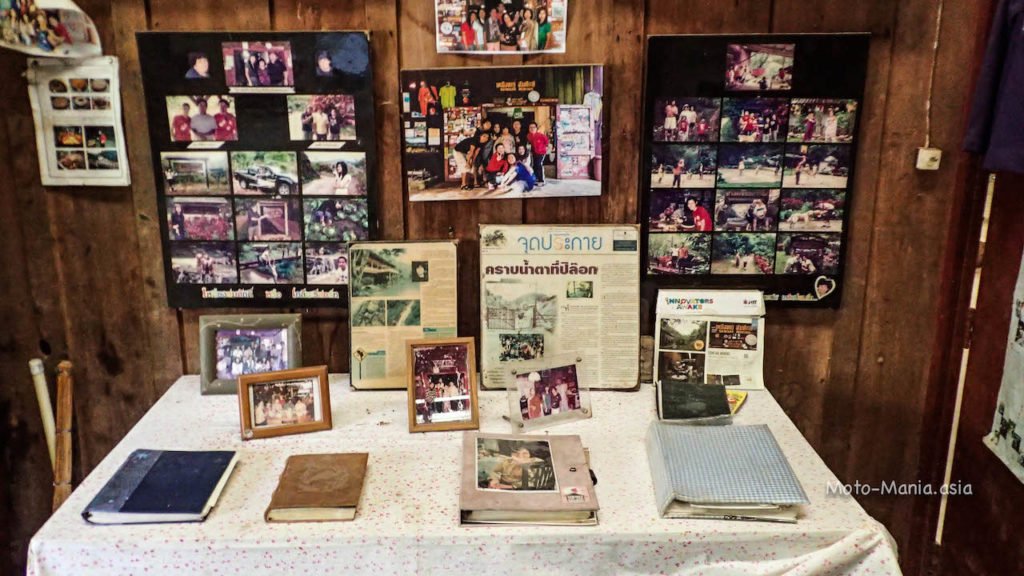 We sat out side and had a good chat. Hearing about the mine and what has happened over the years.
Auntie Glenn kep't slipping between Thai and English.
Guess living down here that long and mostly talking to locals. You will think in Thai eventually
A group picture before we headed for the trails.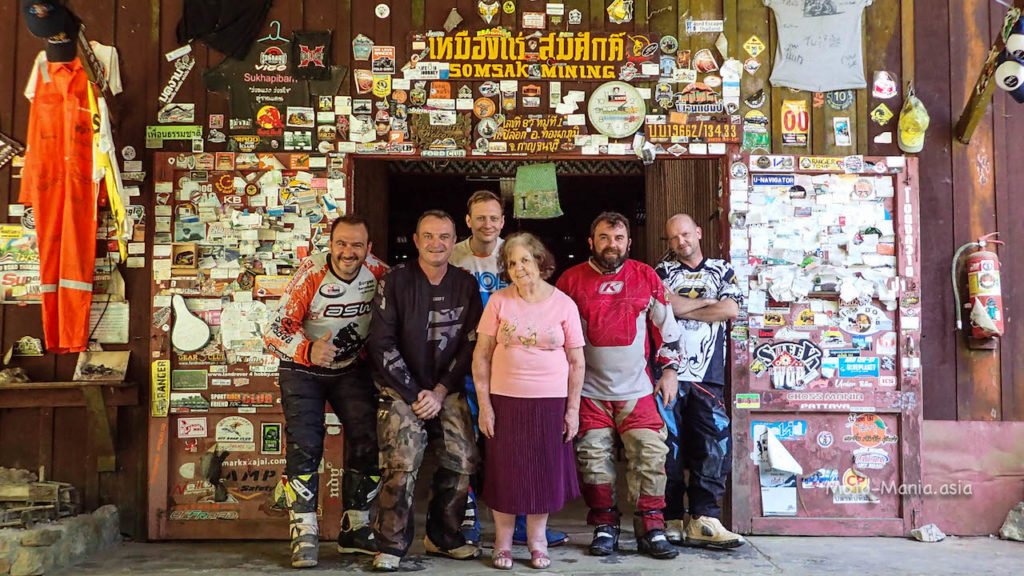 A previous ride to Somsak mine a year earlier with Jim, for those that are thinking to ride or drive down the track.
YouTube Video :- Somsak Mining – Forest Glade Home, Pilok
Riding the famous track as well as exploring around the mine area a year earlier.
Bangkok Post Article
About Somsak Mine and Auntie Glenn:-
https://m.bangkokpost.com/travel/in-thailand/1219733/that-old-rocky-road
"Half-a-century ago, a young Australian woman came to Thailand with her Thai fiancé. They got married in Bangkok, where she worked as a teacher, while he started a bustling tin mine deep in the forest on the border of what is now Myanmar. In those days it took five hours just to travel from Bangkok to Kanchanaburi, then 12 hours from there to a town in Thong Pha Phum called Tha Khanun, and another 12 to reach Pilok, where the mine was located.
Over three decades ago, due to plunging tin prices, the mine, where over 600 men and women worked around the clock in three shifts, had to cease operation. A few years later the husband fell victim to cancer. Before he passed away, his wife promised him she would take good care of his former mine and the remaining workers, whom he regarded as family. She kept her word and moved from Bangkok to Pilok. These days, at the age of 79, she still lives there, in the forest home full of fond memories of her beloved husband. Some of you may know that this is the story of Glennis and Somsak Setabandhu. Over the past many years, Auntie Glennis — or Pa Glen, as she is widely known by Thai travelers — has turned the former site of Somsak Mining into a famous homestay service that still sustains the families of the few remaining former miners.
Apart from the true love that Pa Glen has for her late husband, there's at least one other thing that has not changed with time: the off-road track that links the old mine site in the forest to the main road. It's the combination of the couple's fascinating story, the old mine's remote location and difficult access that gives Glennis' Homestay — still called Somsak Mining by many — its legendary status.
Despite having been to Pilok a couple of times before, it was only recently that I got to visit Somsak Mining. That's because this time I went in the dry season. Without deep mud, my mountain bike could easily go wherever a 4×4 pickup could.
With signs being put up along the way banning non-off-road vehicles, the dusty track lives up to its reputation. The surface is full of loose rocks, making steep sections even more challenging.
My ride buddy and I were lucky enough to meet Pa Glen in person. The auntie is a very kind and friendly lady. She speaks Thai fluently and is in apparent good health. She no longer bakes her famous home-made cakes, but has left the task to the wife of one of her former workers who lives in Pilok.
Pa Glen's only guest that day was a young Western tourist who ignored the warning signs and drove a normal pickup to the old mine. The guy was waiting for somebody from Pilok to come and help get him and his rental vehicle out of the forest.
After a brief chat with Pa Glen, we continued deeper into the wild to Chet Mit waterfall. This part of the trail is not much used, so it is narrower and even more fun to ride. Along the way, there was a deserted camp for mine workers. I couldn't help but imagine how busy it must have been in its heyday.
We managed to ride back out of the forest well before darkness fell, in time to drop by at the house in Pilok where the cakes are now made. With my leftover latte from that morning, the carrot and banana cakes I tried made a sweet ending to our awesome day of biking.
Trail condition: Rough, rough mountain road.
Distance: From the main road to the homestay, about 5km. To continue to the Chet Mit Waterfall, the extended part is more than twice as long.
Getting there: Thong Pha Phum is 145km from downtown Kanchanaburi. From Thong Pha Phum to Pilok and Ban E-tong on the border, it's almost 70km. The off-road track to Glennis' Homestay can be found 3km before the border town.
Parking: If your vehicle is a 4×4 and you have a capable driver, you can park at the homestay. Otherwise, you can leave it at Pilok police station or Thong Pha Phum national park. The first is a few hundred metres further up the main road from the beginning of the off-road track that leads to the old Somsak mine, while the latter is 4.5km before you reach the track.
Accommodation: The three-day/two-night package at Glennis' Homestay is priced at 1,400 baht per head on weekdays and 1,600 at weekends. The rates are inclusive of 4×4 transportation between Pilok and the homestay, three meals a day, plus a barbecue party and all-you-can-eat cake buffet. Alternatively, you can stay in Ban E-tong, where several guesthouses are available. The national park also offers camping grounds, bungalows and tree houses.
Local contact: Visit the Somsak Mining page on Facebook, or call 089-161-1212 or 081-325-9471. "
Add to the above:- You can call the numbers above or contact via the Facebook page and visit for a day trip. Leaving your bike safe and secure in the town.
Elevation / Distance
The track from the main road down to Somsak Mining.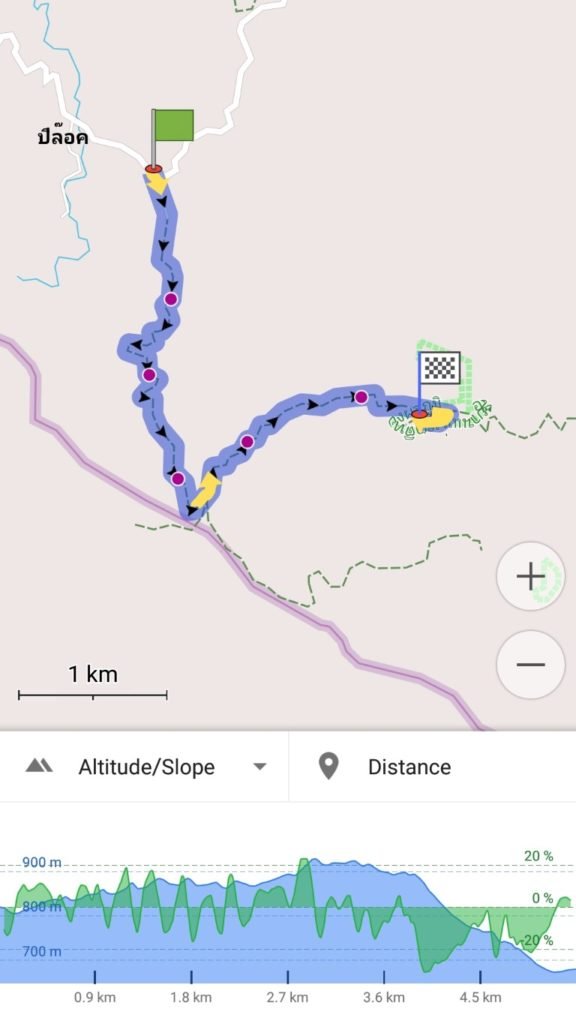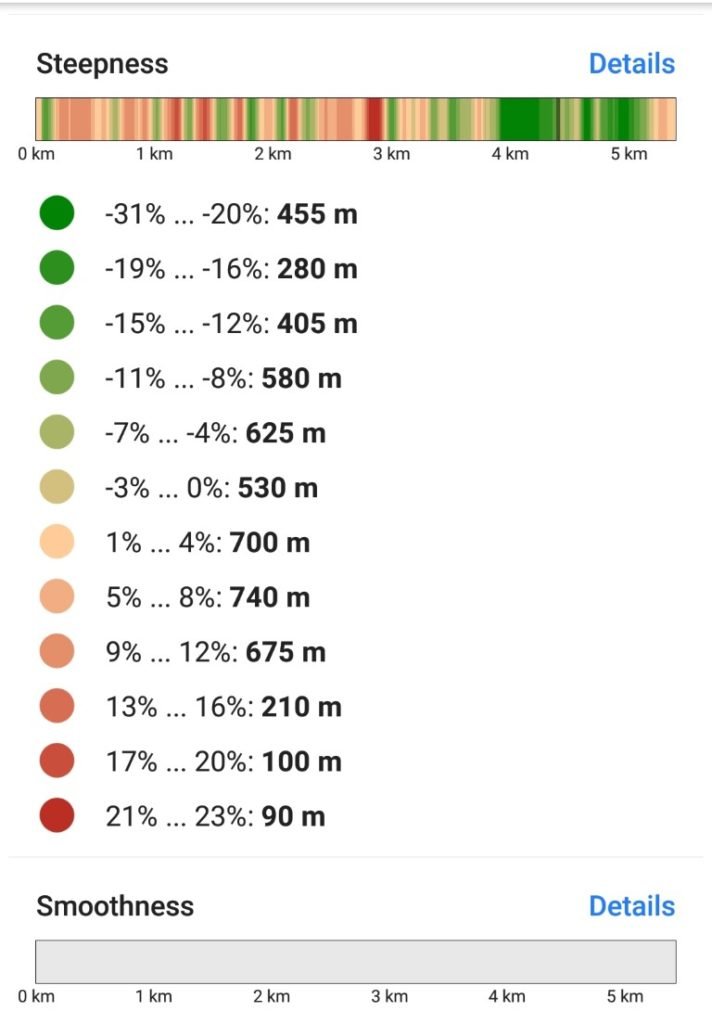 The track is right on the Thailand / Myanmar Border at one point.
We did go in and explore further, to the right of the Somsak Mine sign. Then we took a few turns and 'bumped in to' the Gas Pipeline.
Riding up to 12 KM marker. Decide to turn back as not sure if we are suppose to be riding around in here.
A few years back with Mike. We made it to KM 32 on the gas pipeline from the other end. Before it dead ended in to the mountains. So 20 KM more to explore in no mans land!!
Around Pilok
Always a great drive / ride to Pilok and Somsak Mining.
Not to be missed.