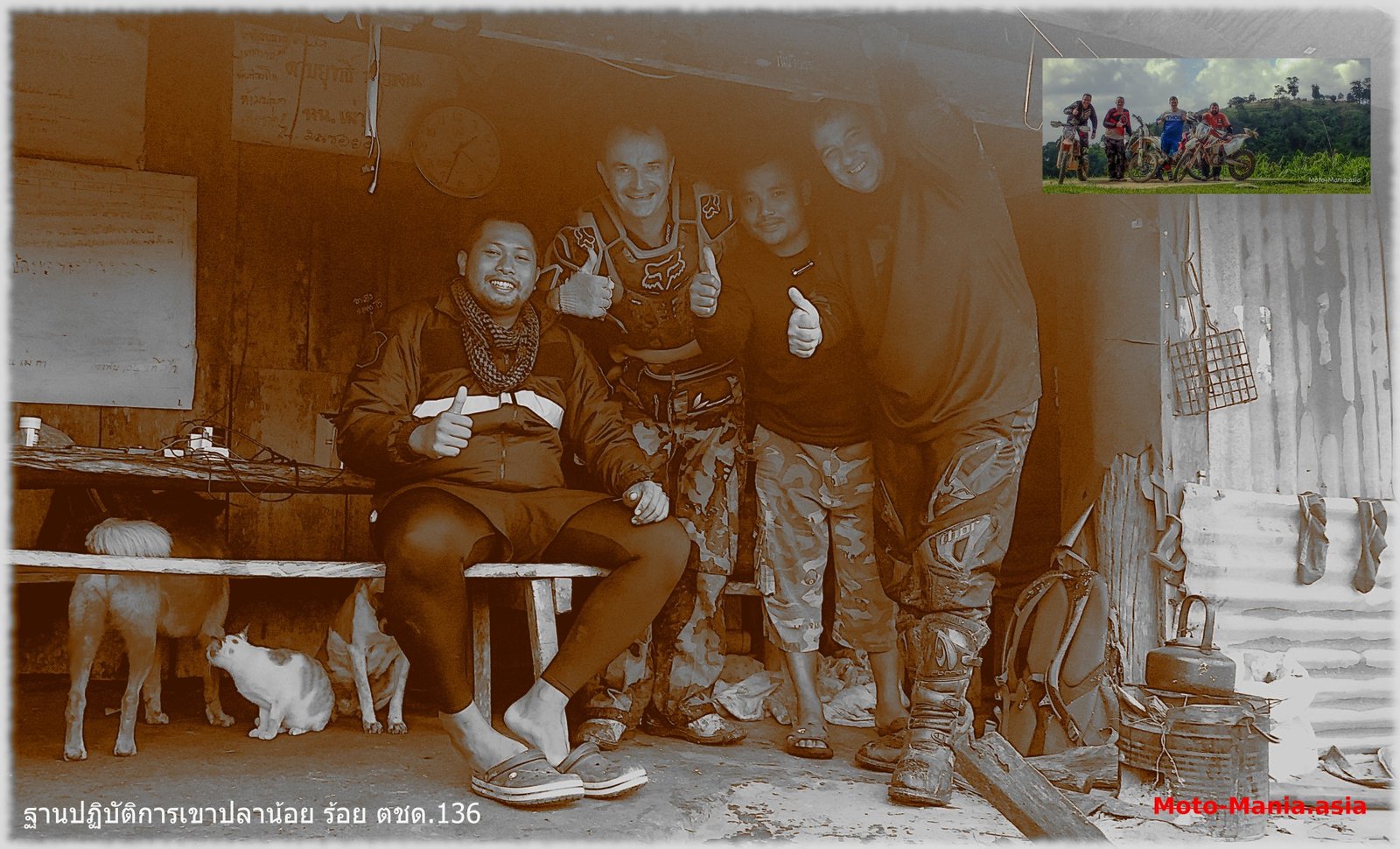 Day Rides – Sai Yok, Kanchanaburi 2018
Latest trips added and date ammended to the post publish date.
Khao Pla Noi
August 25th
My favourite ride. Again and Again. Just so much fun. Must have ridden up here 20 times now.
This time the creeks were not as fast moving and lower, compared to last month.
No issues crossing the creeks at all.
Wake up in Bangkok 4.30 am.. Bike and Ute already loaded.. Leave at 5am
Arrive at the resort at 7.15. Frank only 10 mins behind me.
Suttipong joined us to ride off at 9am.
Here is an overview of todays ride
First that great slippery trail on the way to Khao Pla Noi.. I am guessing it is the Teak tree leaves that make it so slippery.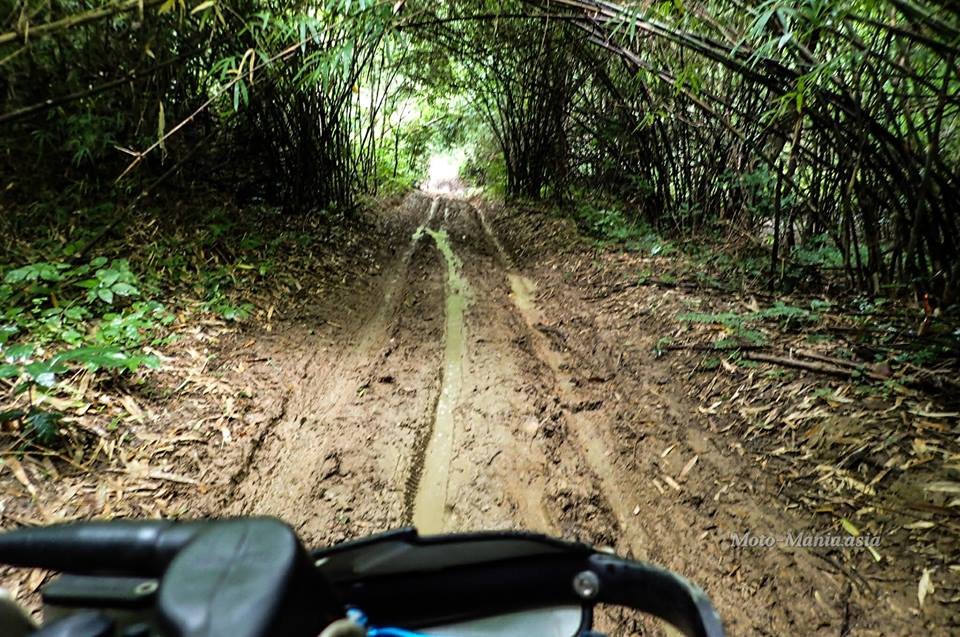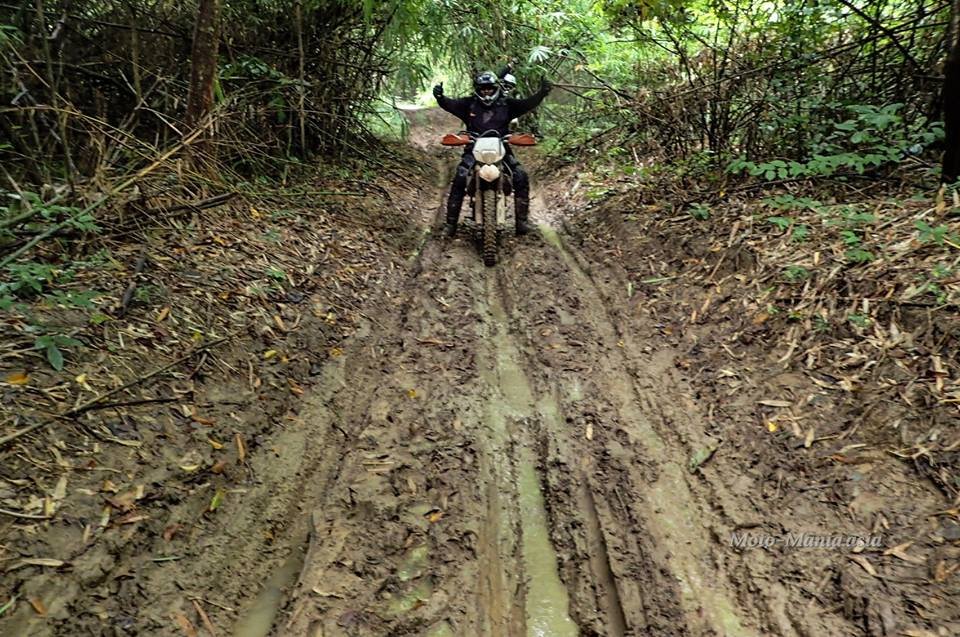 Saiyok Porridge
Slipping and sliding..
Khao Pla Noi.
At the base of the mountain.. 12.3 km to the top.
Here is around 300 metres above sealevel. The top is around 1,440 metres above sea level.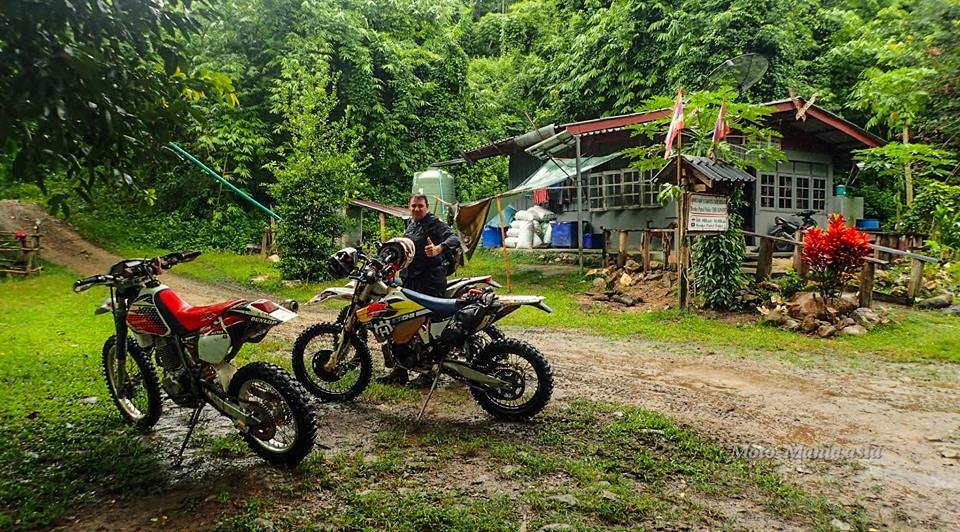 Suttipongs picture.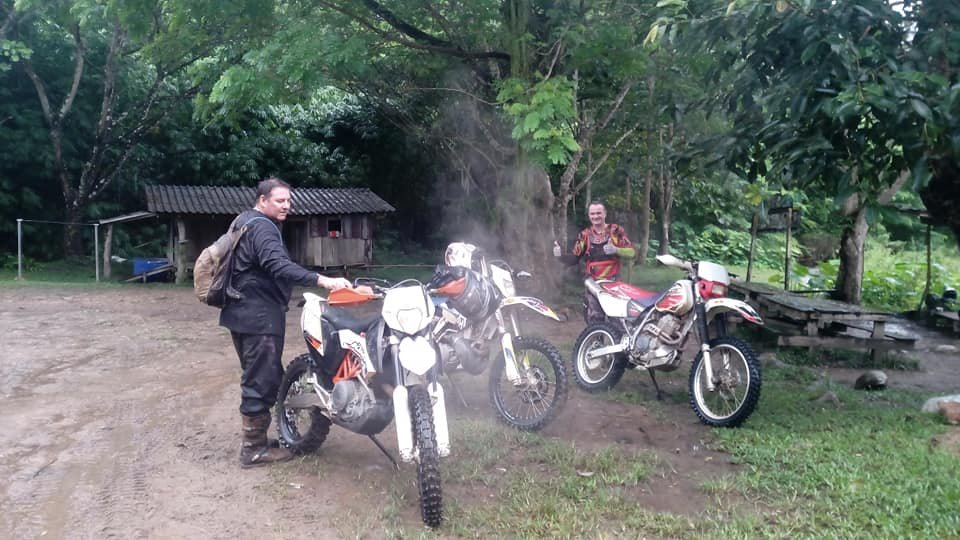 As we ride up. Meet up with about eight or nine 4X4..
This guy was in a spot of bother.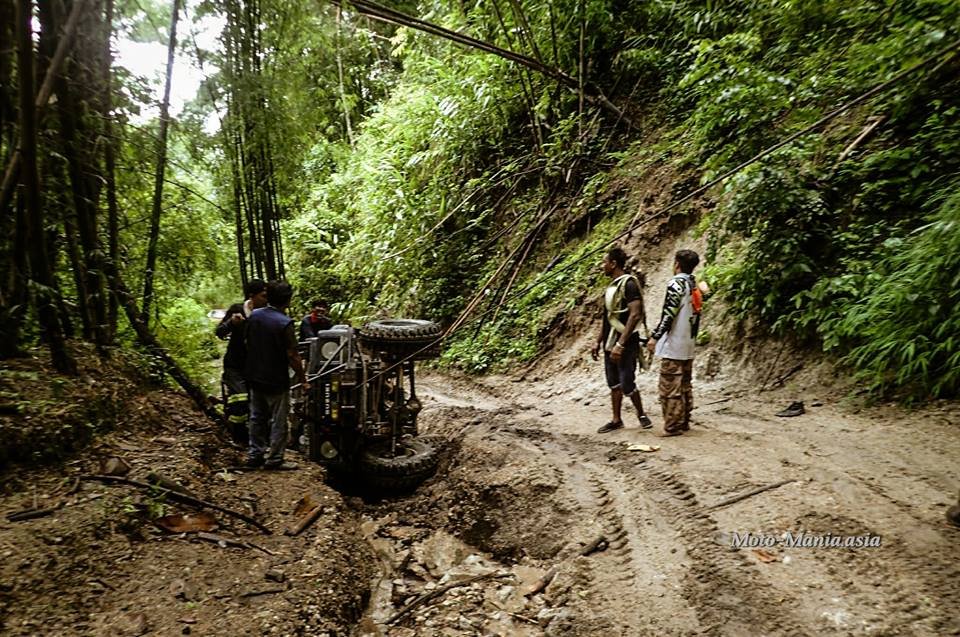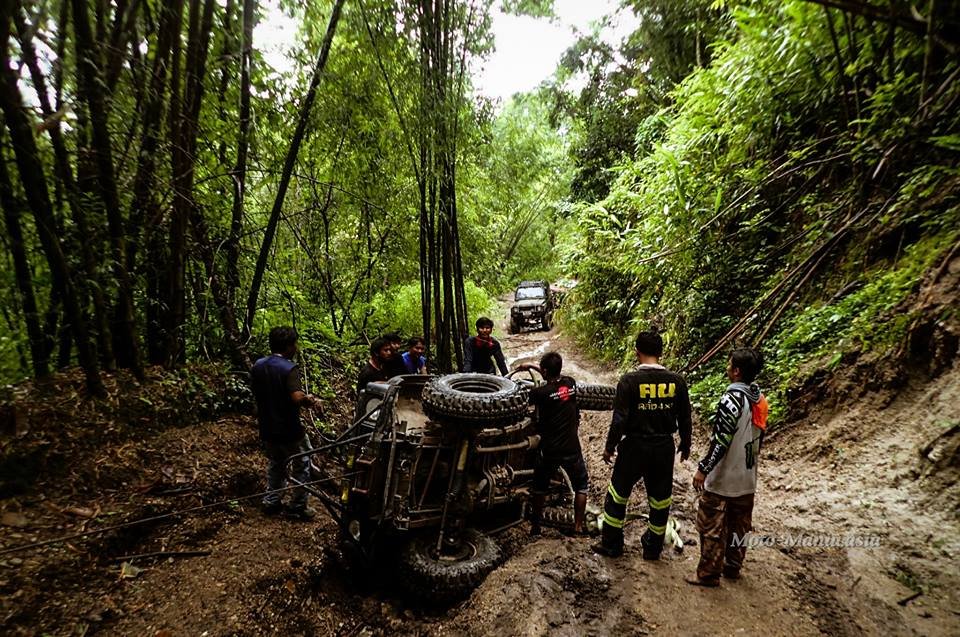 We stopped and helped.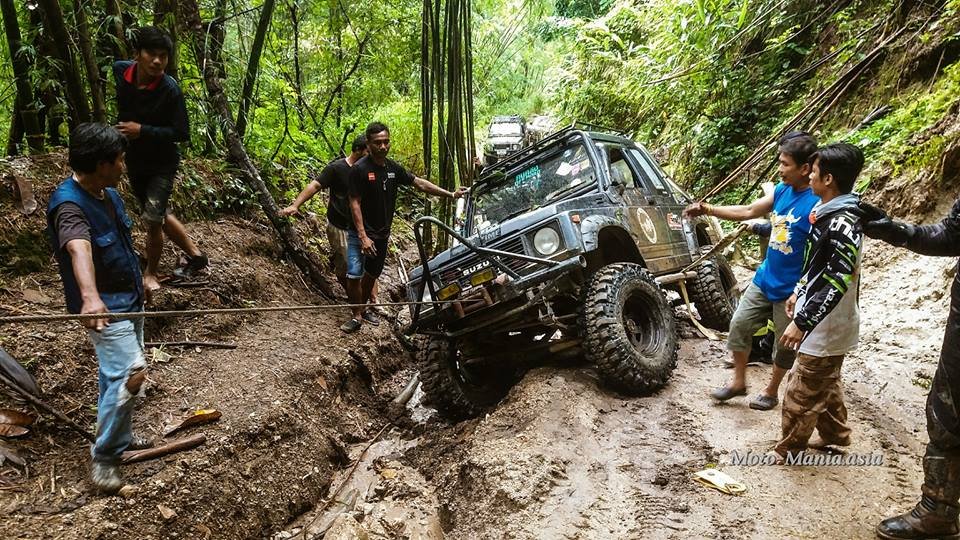 Helping get the 4X4 back on all 4 wheels.
Khao Pla Noi – A little help from my friends.
Border Patrol Police on the ridge line and border with Myanmar.
Myanmar to the left, The Myanmar army directly behind the bikes in the fog on the mountain top. Thailand to the right.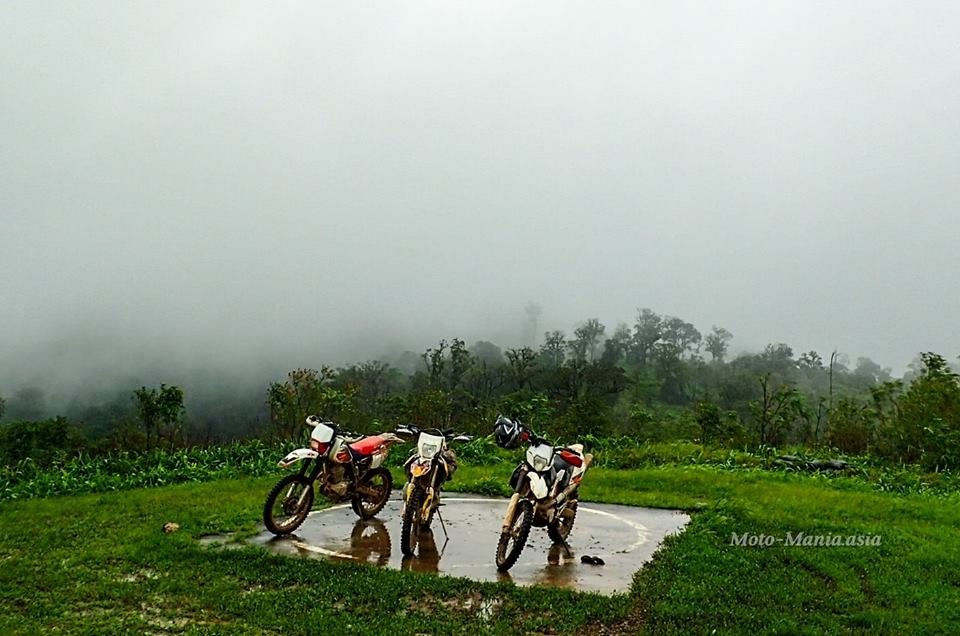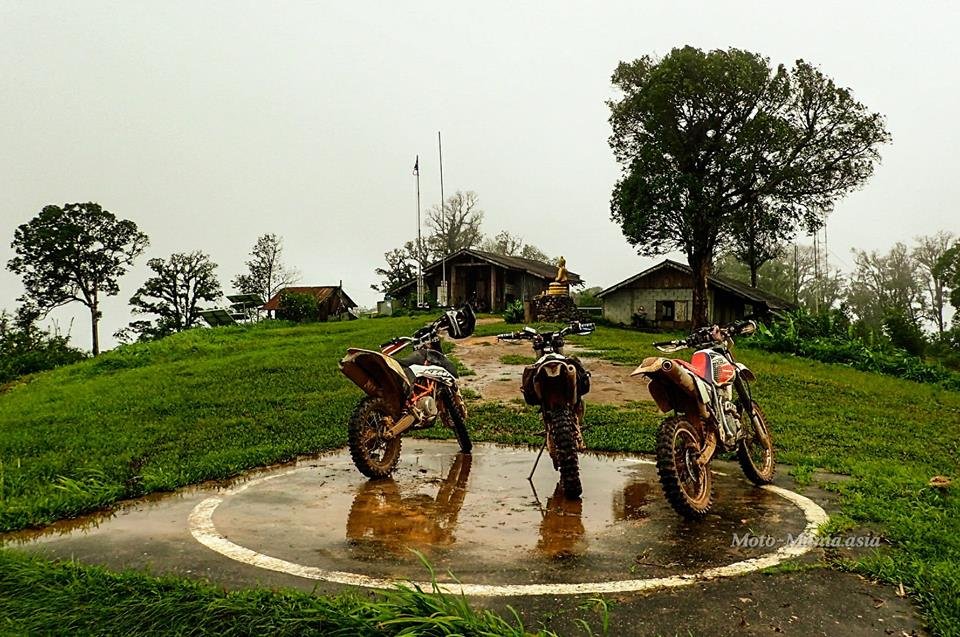 Time for a coffee and a chat.. We had been communicating before to confirm the creeks are passable.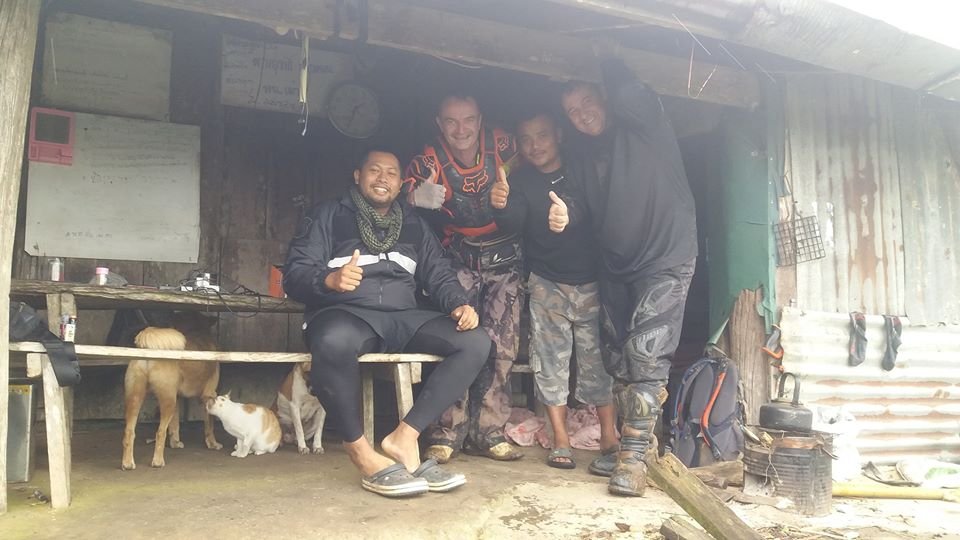 A few panoramic images
Please be patient as may take a little longer than usual to load
Coffee time.
On the mountain top in the fog.
What goes up.. Must come back down.
We waited a while. No sign of the 4X4"s so decided to head back down the mountain.
This was interesting getting past eight 4X4.
Chatted with the Police the next day. They waited until 10 pm. No sign of the 4X4.
To be honest.. Next to impossible as you get closer to the top.
In the first video showing the route, you can see where they made it to.. Only steeper, harder and narrower to the top.
They turned around and went back down.. So guessing they slept on the trail this night as hard to turn around 8 vehicles up here on this track.
Frank had some bike issues on the way back down.. But managed to get her out of the bush and back to base.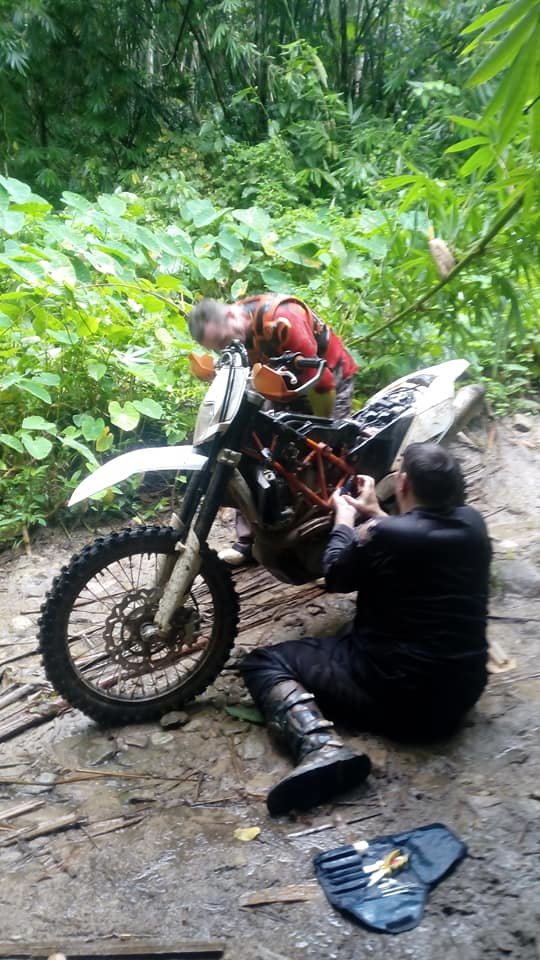 What a ripper ride. Just so much fun.
Khao Pla Noi – Born to be alive
Phasawan Waterfall
July 29th
A wet a muddy ride starting at Baan Ricky then heading the back way via the Bamboo Jungle trail, then up the tarmac to the Phasawan Waterfall track turn off.. Then a 12km muddy ride before a 2km hike up the 7 tier watefall.
Spectaular and in full monsoon season angry flow..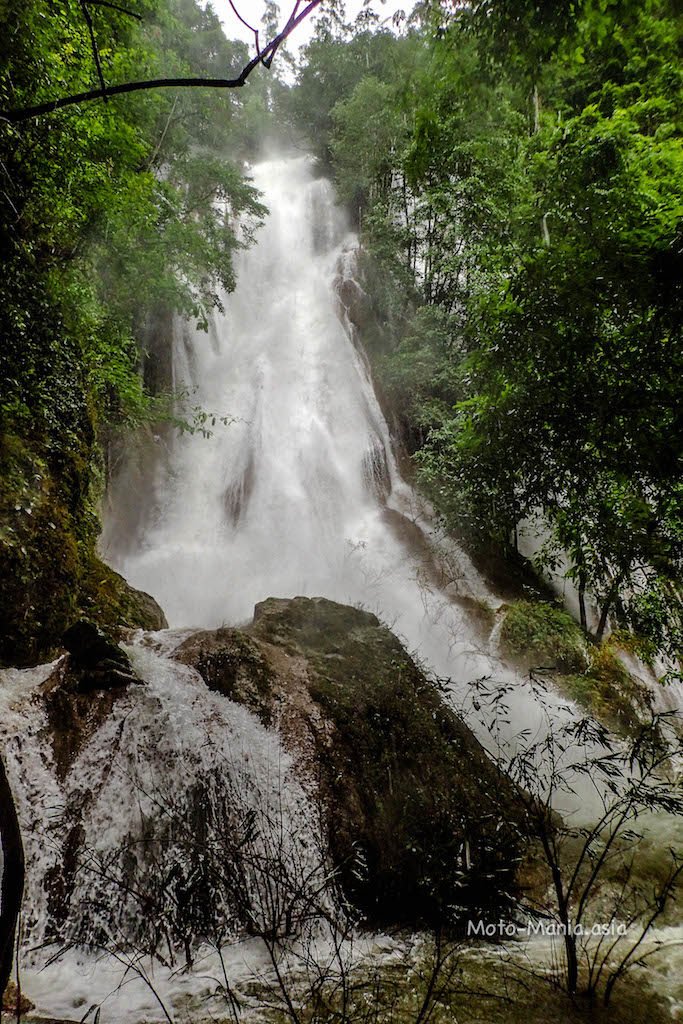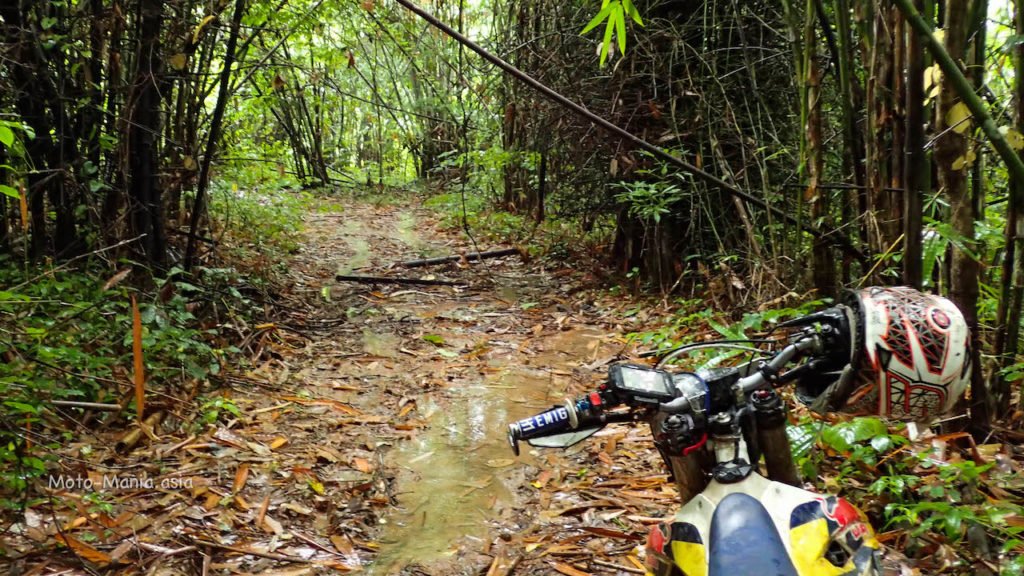 Attempt to reach Khao Pla Noi เขาปลาน้อย GPS 14.20963 98.76702
July 28th
The creeks were too high and flowing too fast.
Two drowned bikes. One non starter that had to be pushed out then towed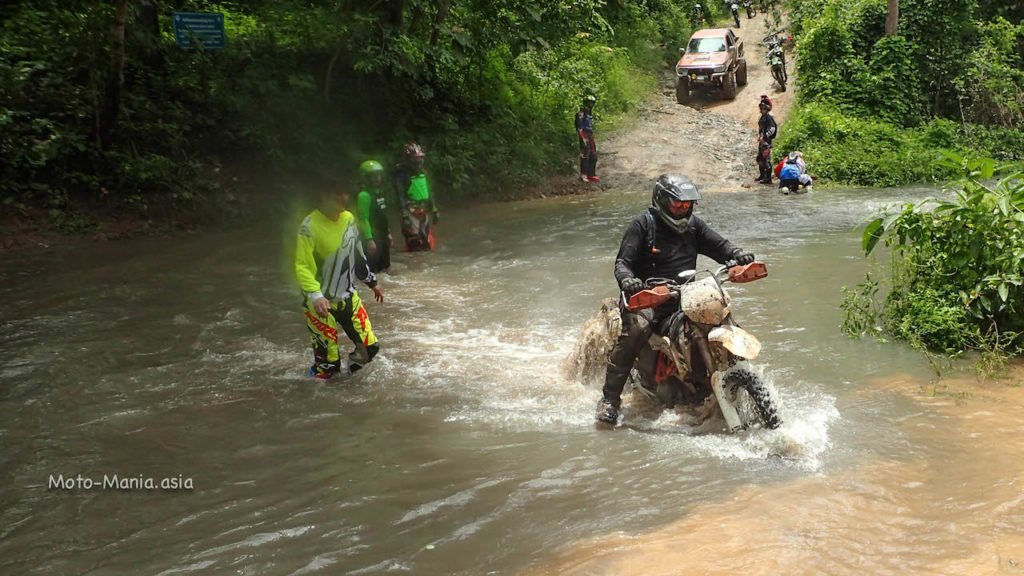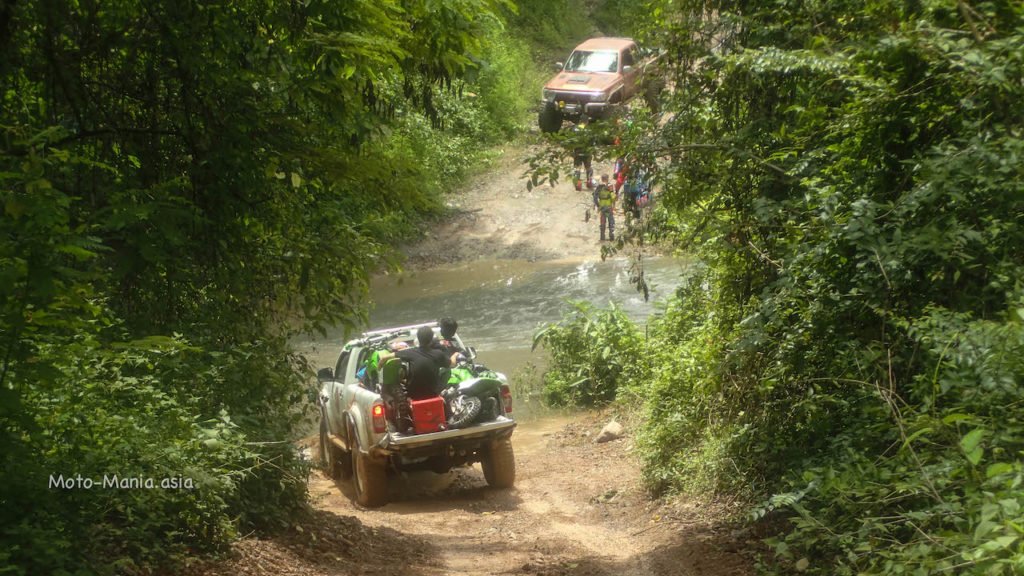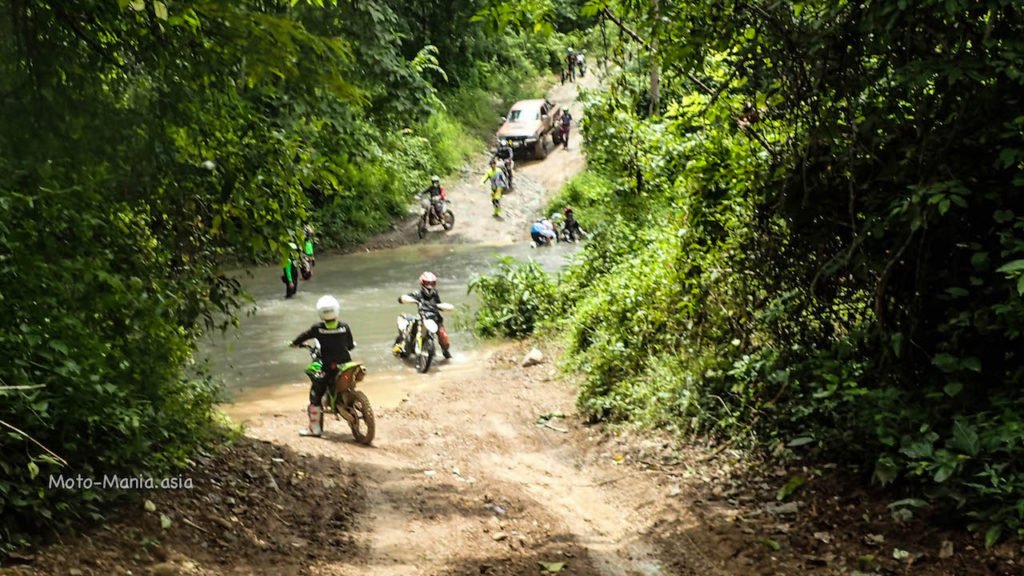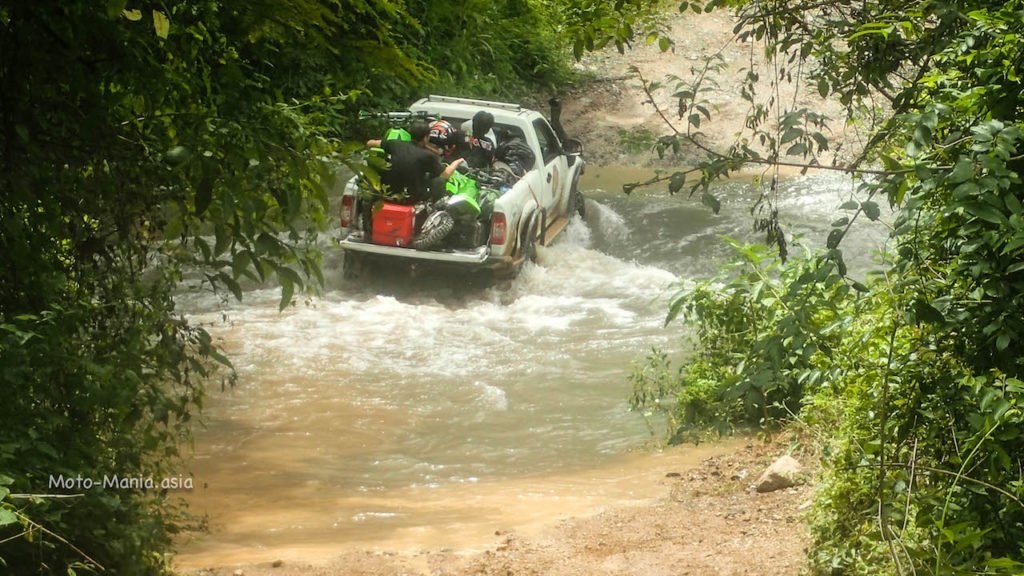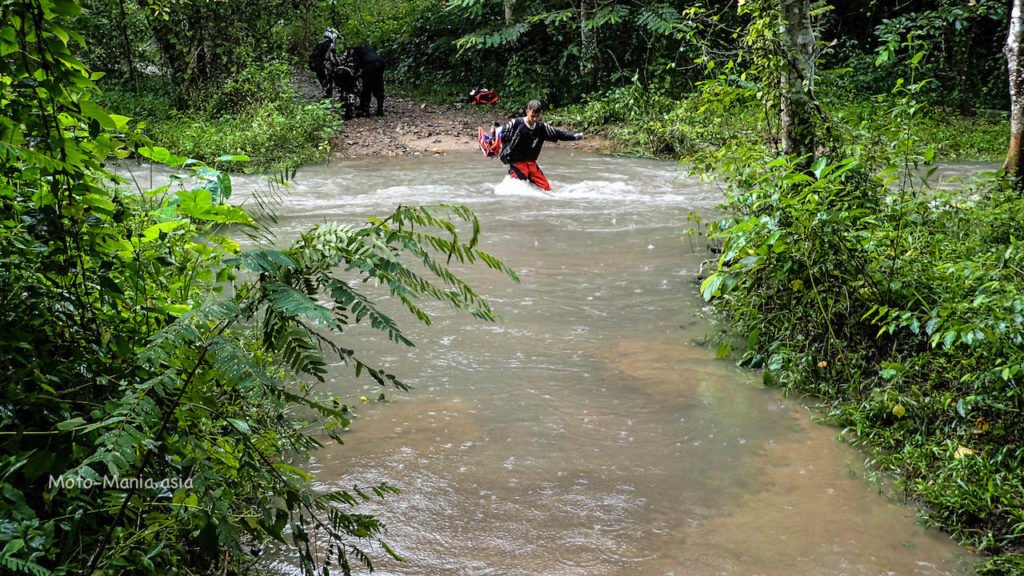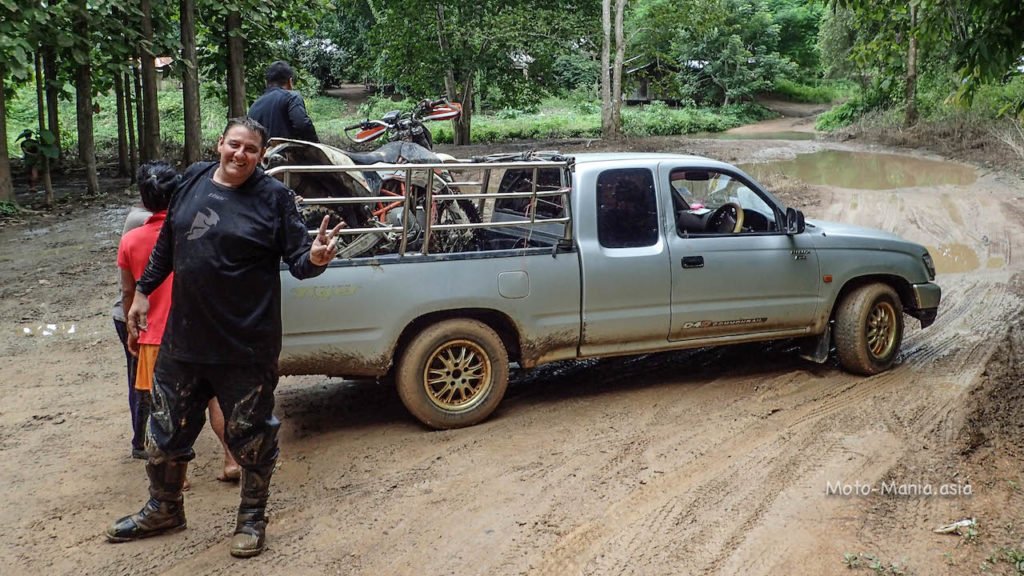 Khao Pla Noi เขาปลาน้อย GPS 14.20963 98.76702
Rainy Season Adventure
May 27th
New tracks through a
mountainous
bamboo jungle forest. Kilometres of flowing rocky creeks.
Mud up to your elbows. 3 Drowned bikes. 2 Flat tyres.
A Jet Ski might be more appropriate!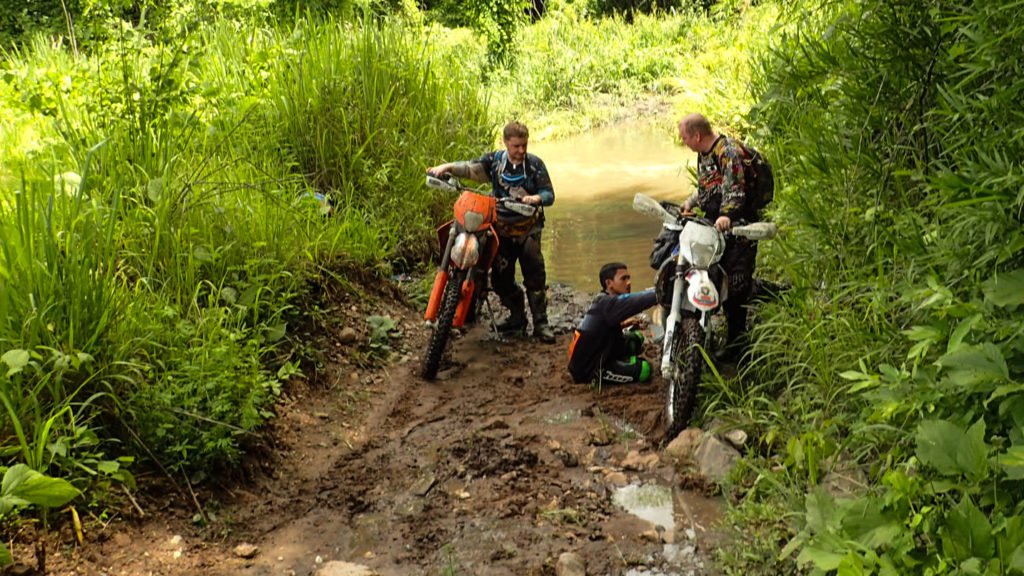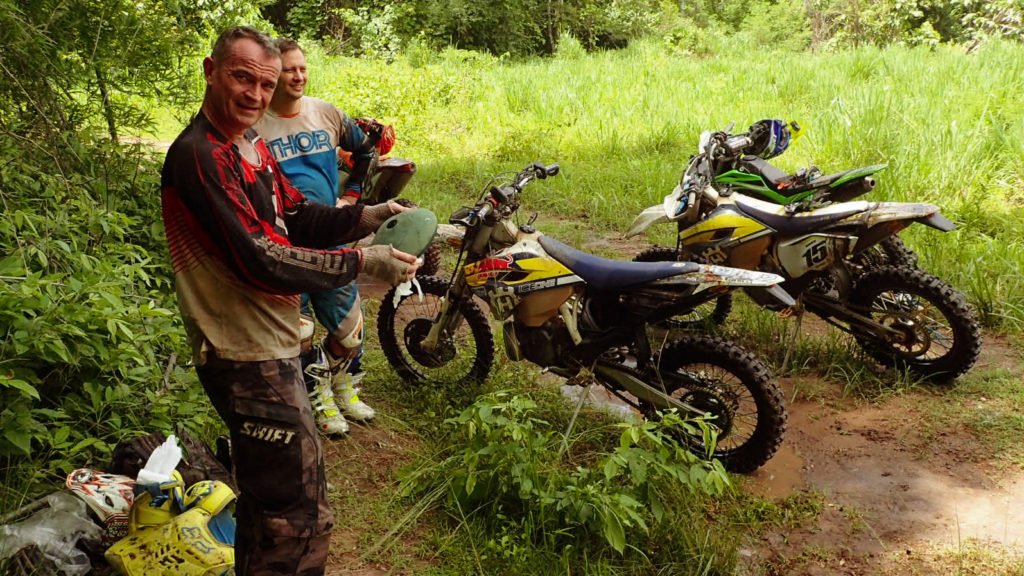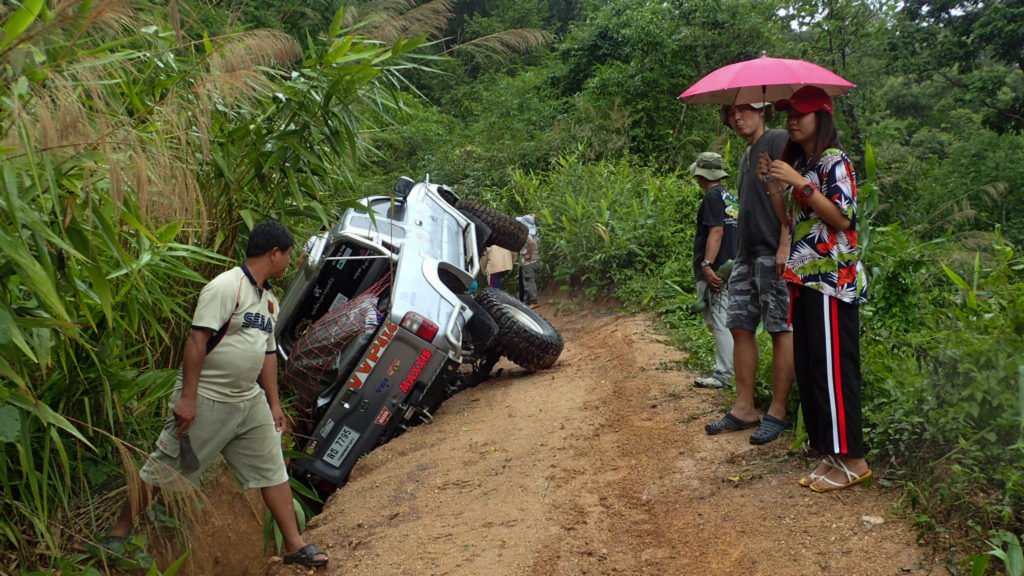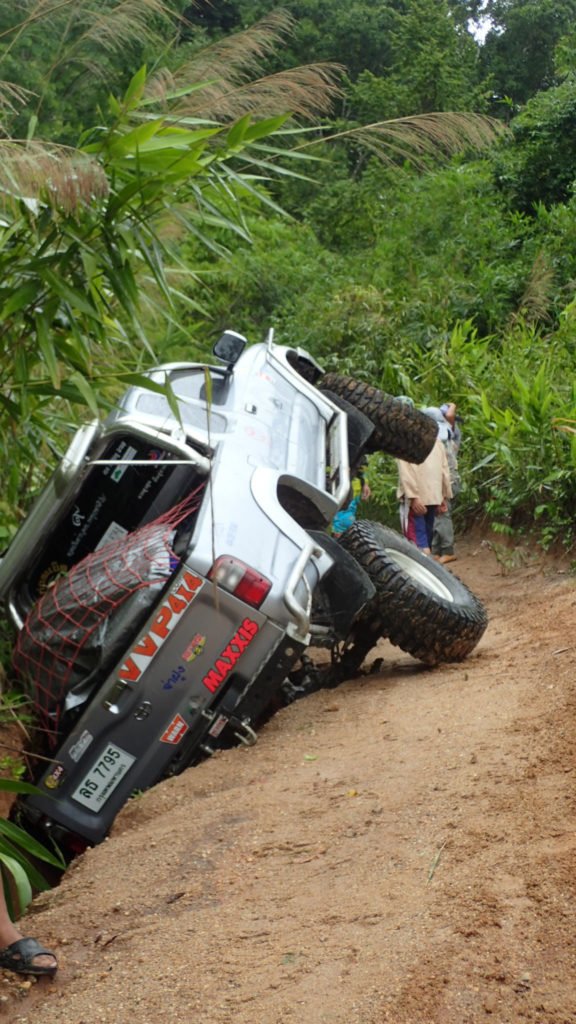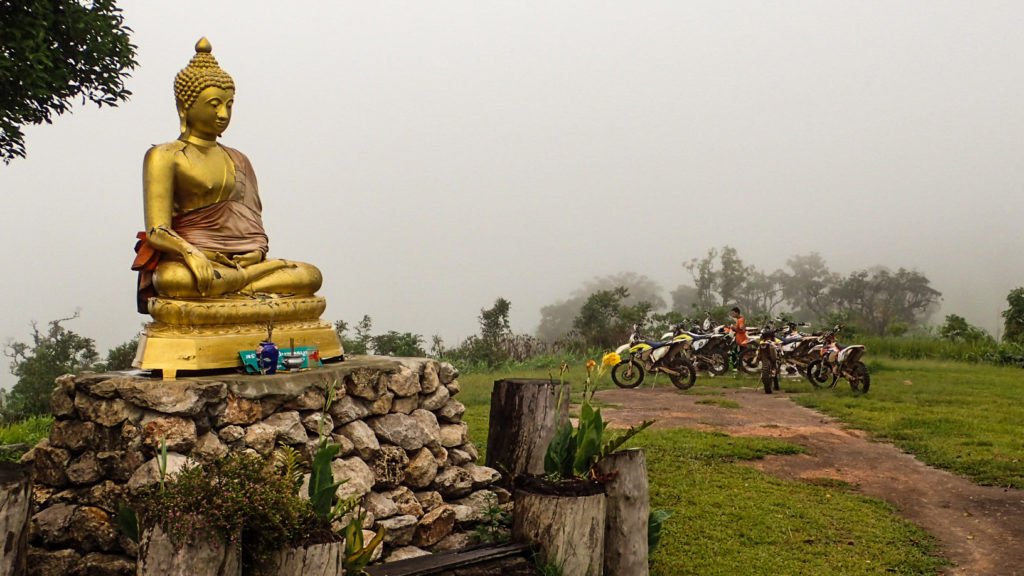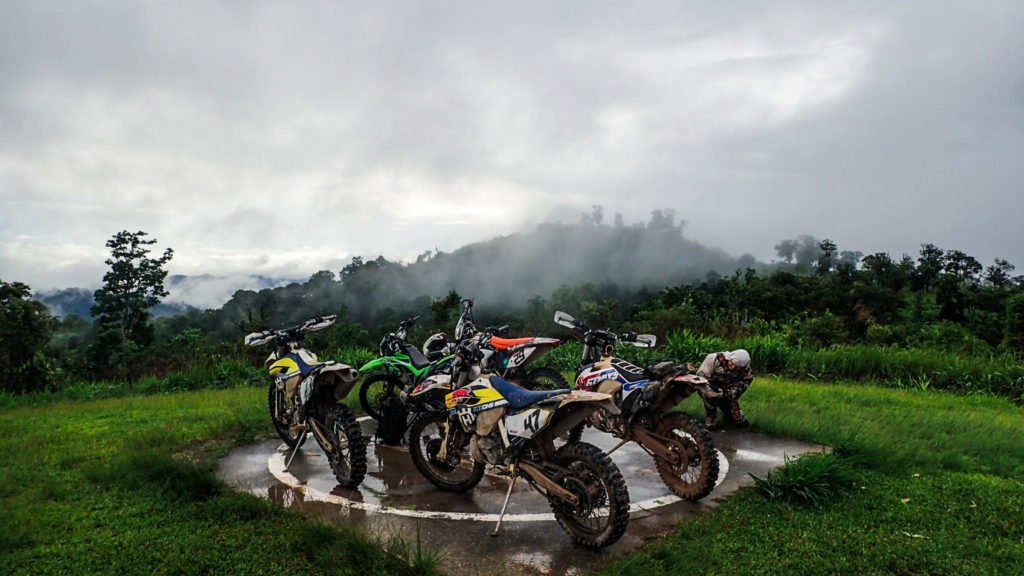 Enduro Trail Riding – Saiyok Kanchanaburi. Mud Sweat and Tears
May 26th.
A very wet season ride with some of the Pattaya riding mates..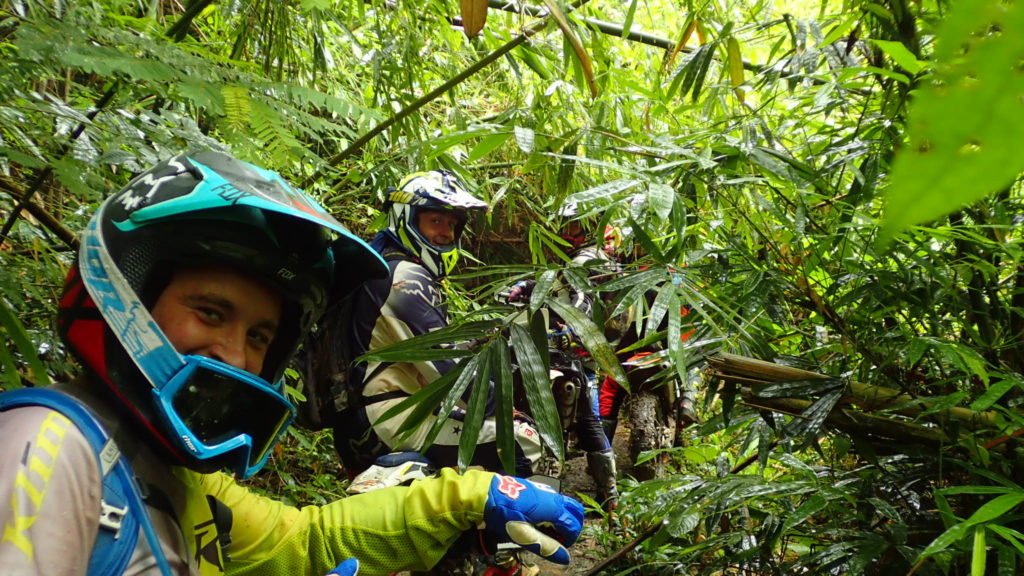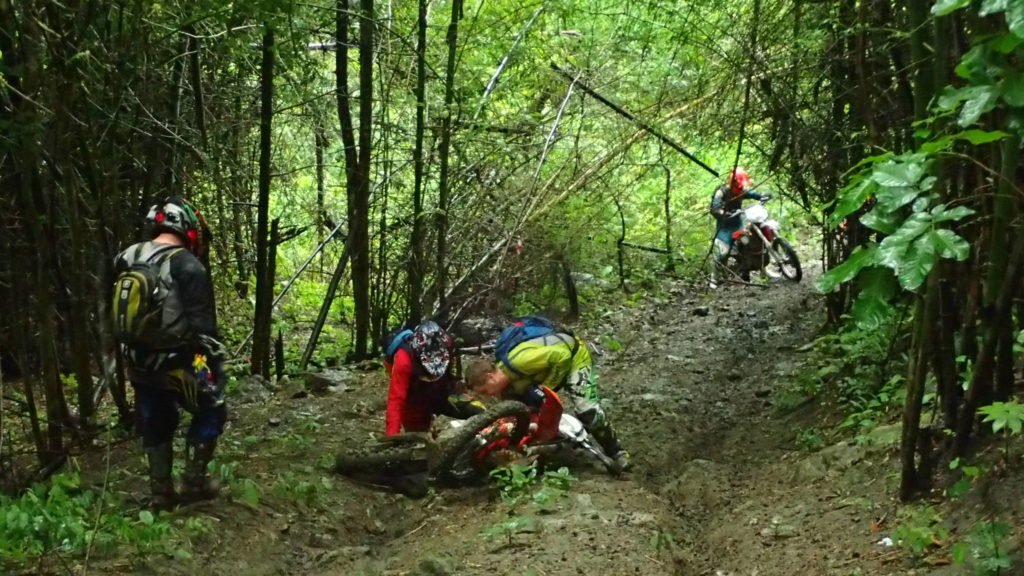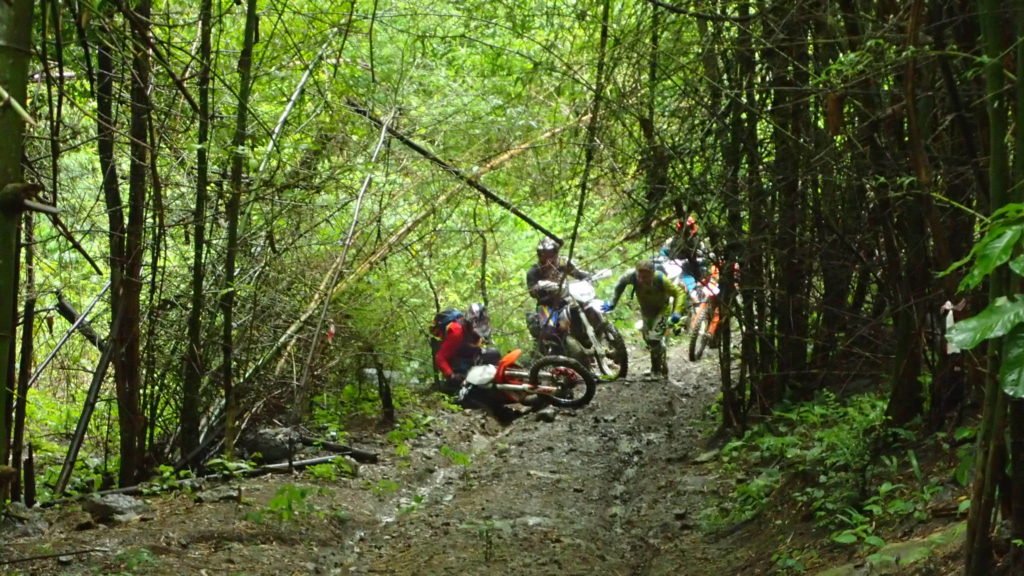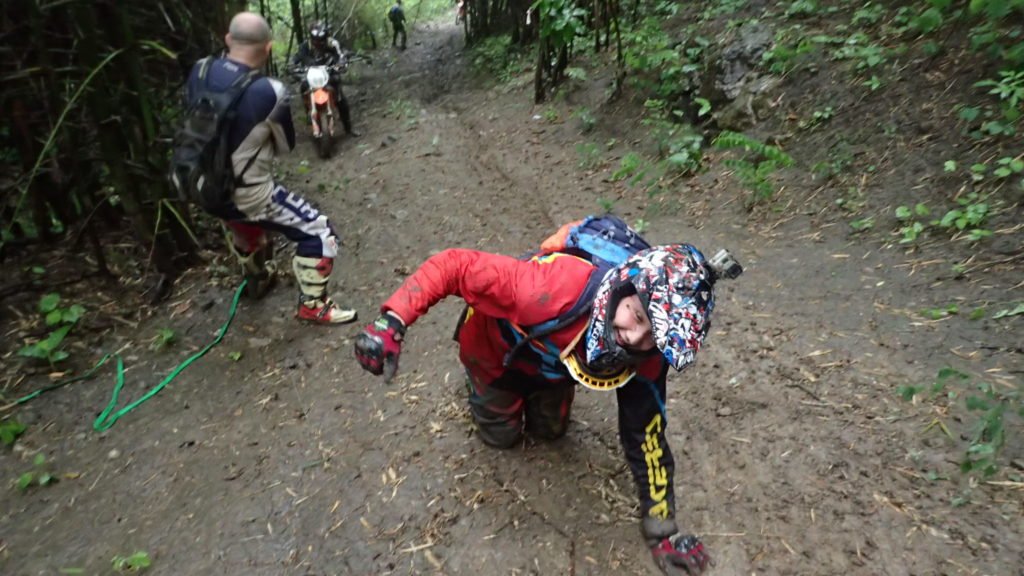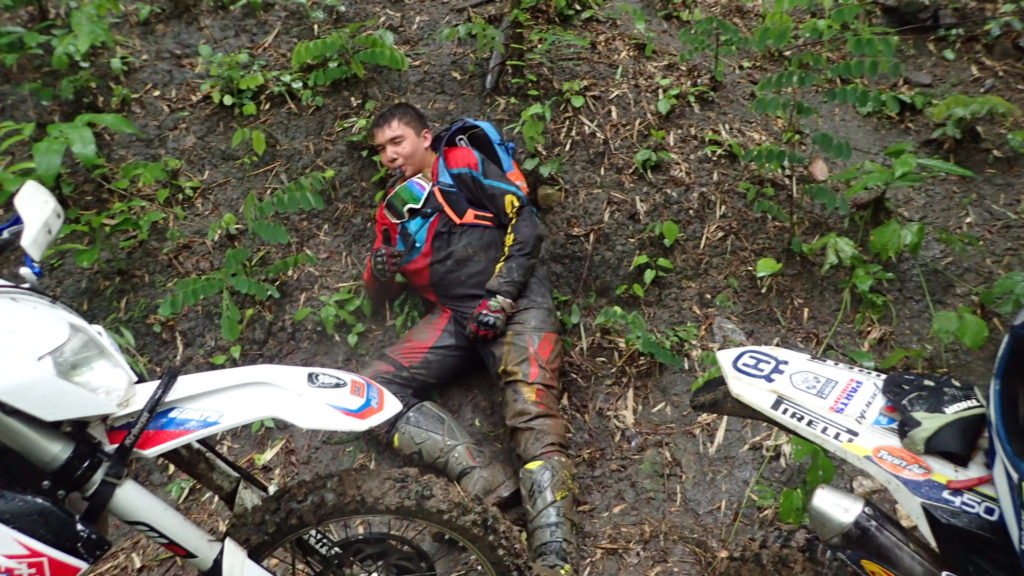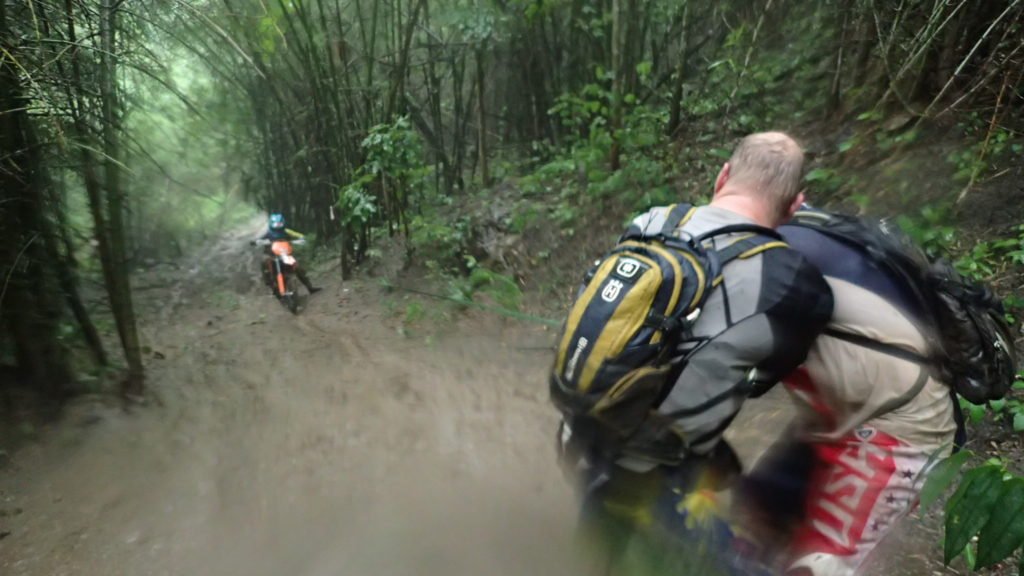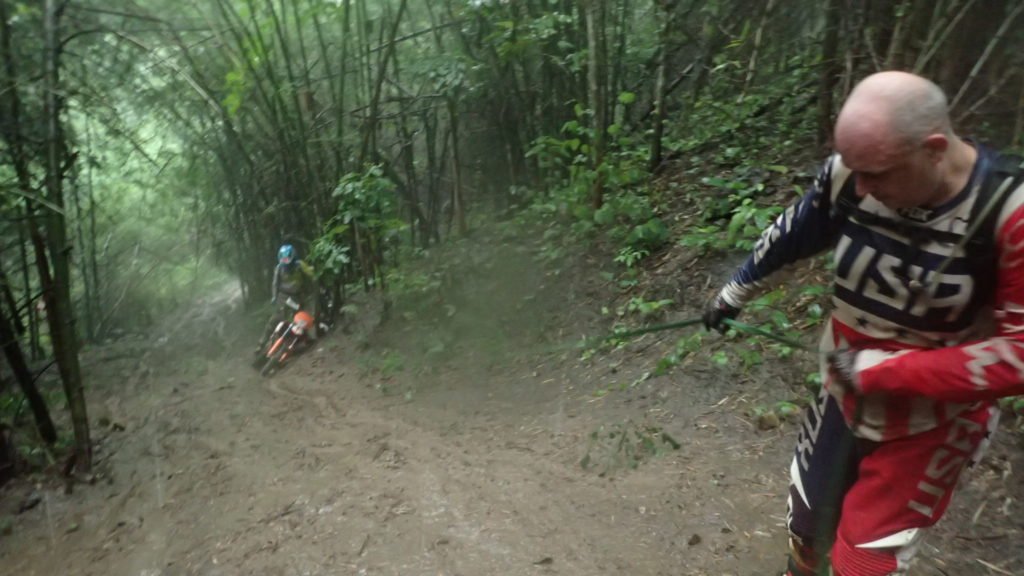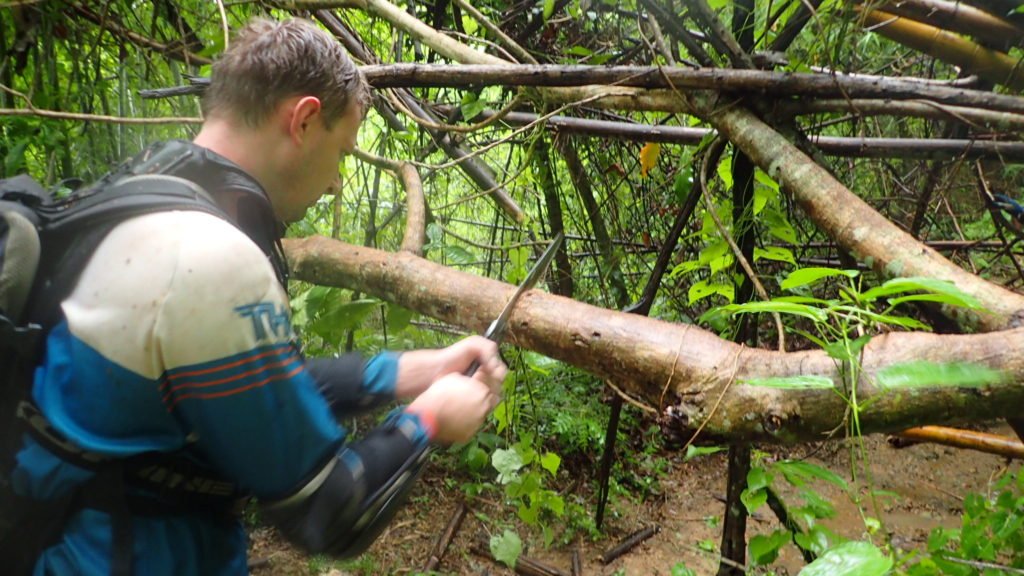 Songkran 2018
A quick video of the Songkran mayhem from the 2 days riding.
Friday 13th / Saturday 14th April
A bit of a change this time around. Moved up from Saiyok Yai to Saiyok town area.
Better placed to hit the trails in this area, as it is a bit of a long haul – 50 KM from Saiyok Yai.
Friday we decide to look for some new trails along the border. Areas I had not ridden yet.
As you get closer to the border. There is a check point manned by the Border Patrol Police.
I believe if a bunch of foreigners turned up.. A good chance you would not be allowed to proceed towards the border.
As Suttipong was with me and being local they seemed OK after a short discussion.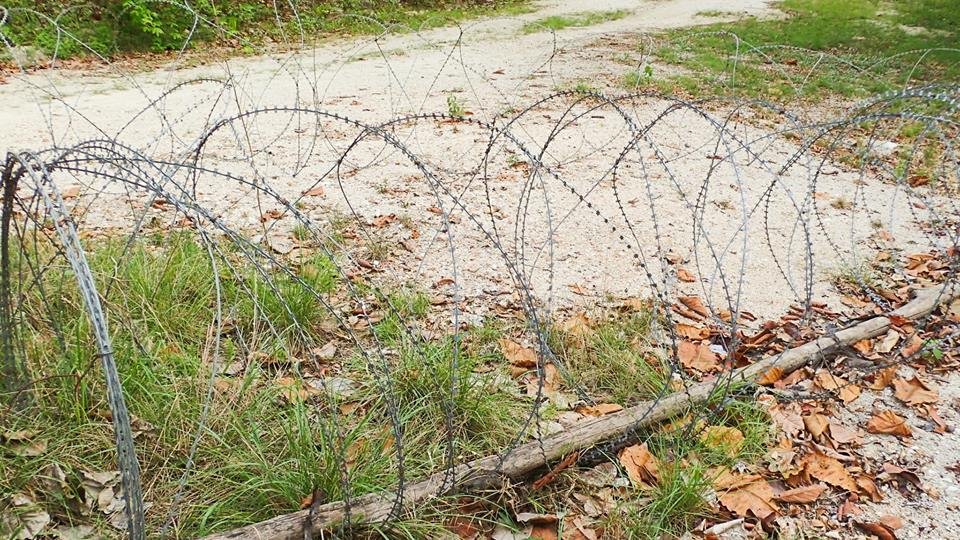 We only went for a short ride. Nothing too big today. ( Famous last words )
Next thing we realise these trails look to be heading to the border..
Why not follow them and see how far we can make it. With out crossing in to Burma
May be a nice picture on the border line.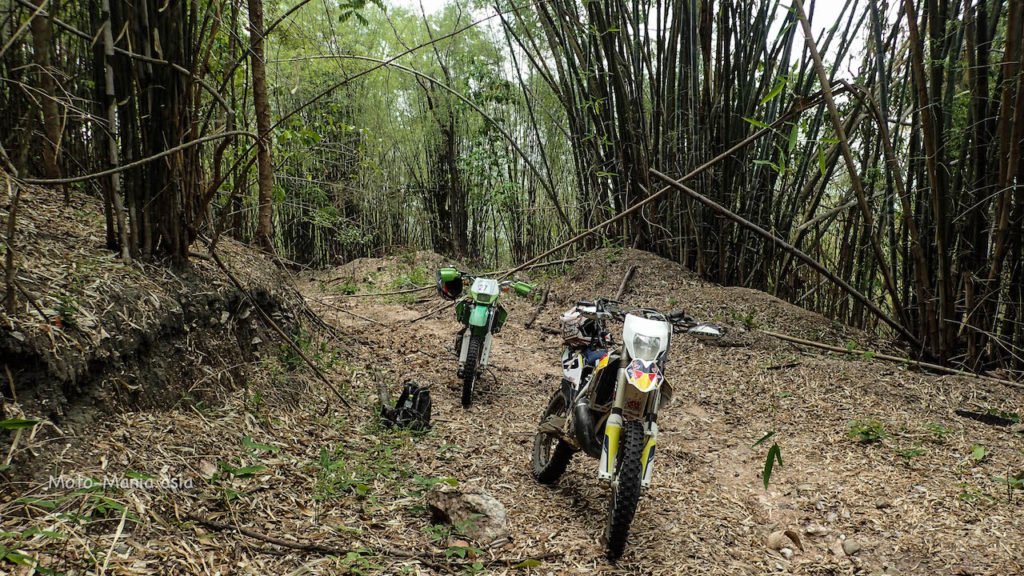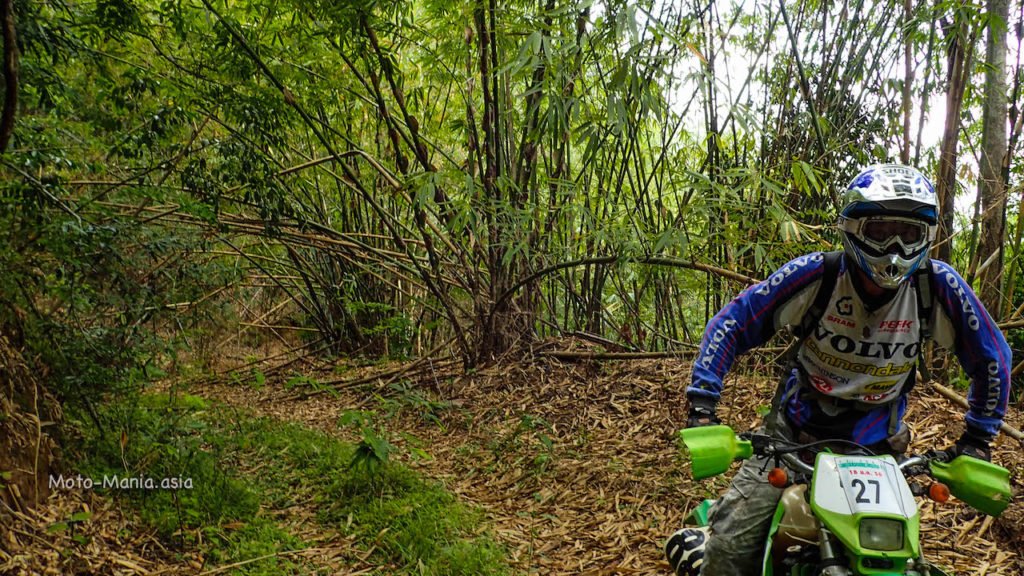 Lots of Bamboo across the trail.
It actually deadends up here..
So not sure who is using this. Unless it is forestry access.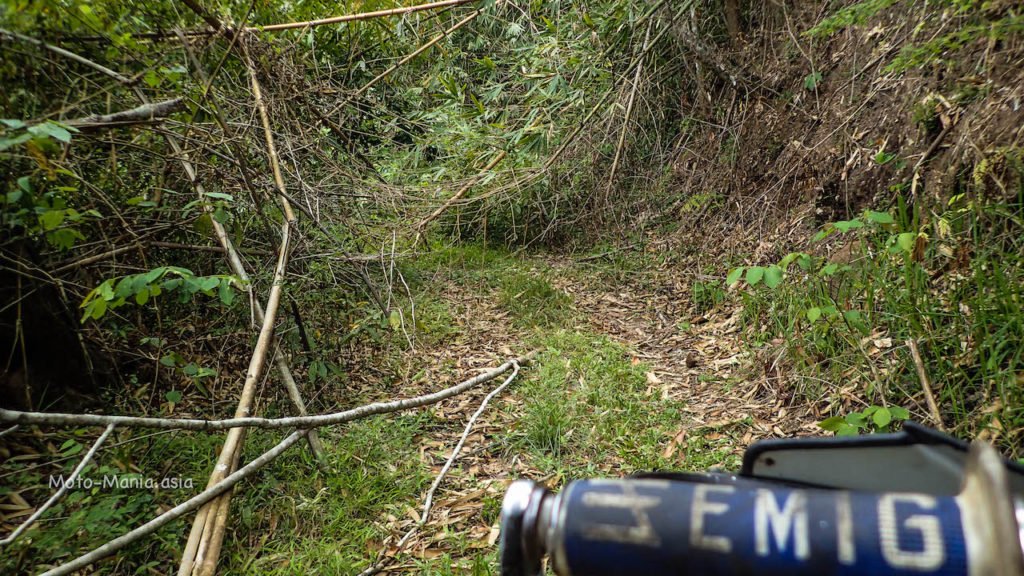 Getting more over grown as we get towards the end of the trail and the ridge line.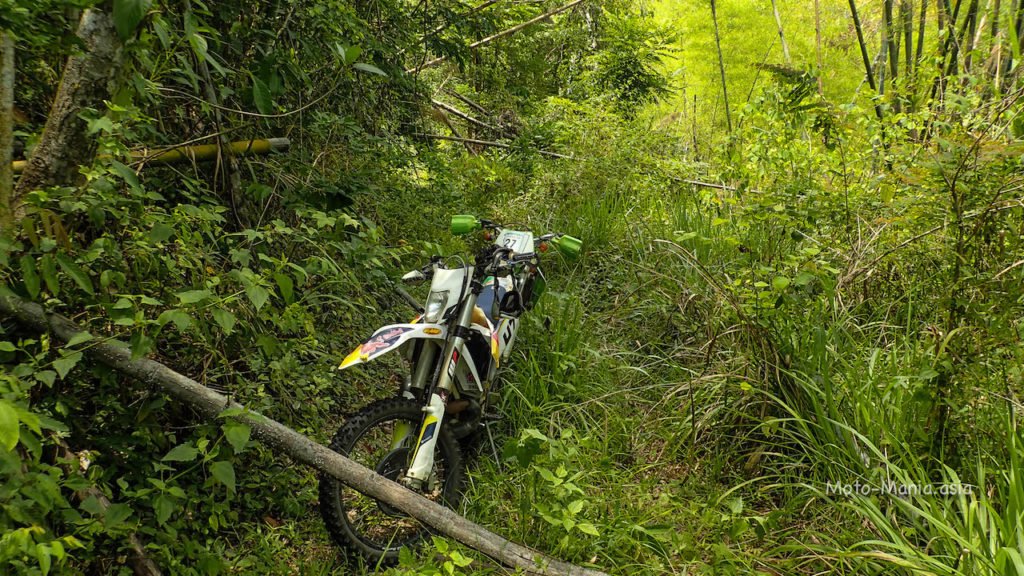 The trail looked to go another 100 metres. But there were three big clumps of Bamboo in the way.
Had a quick look on my GPS and we are right on the ridge line and the closest point to Burma.
This will do it right here.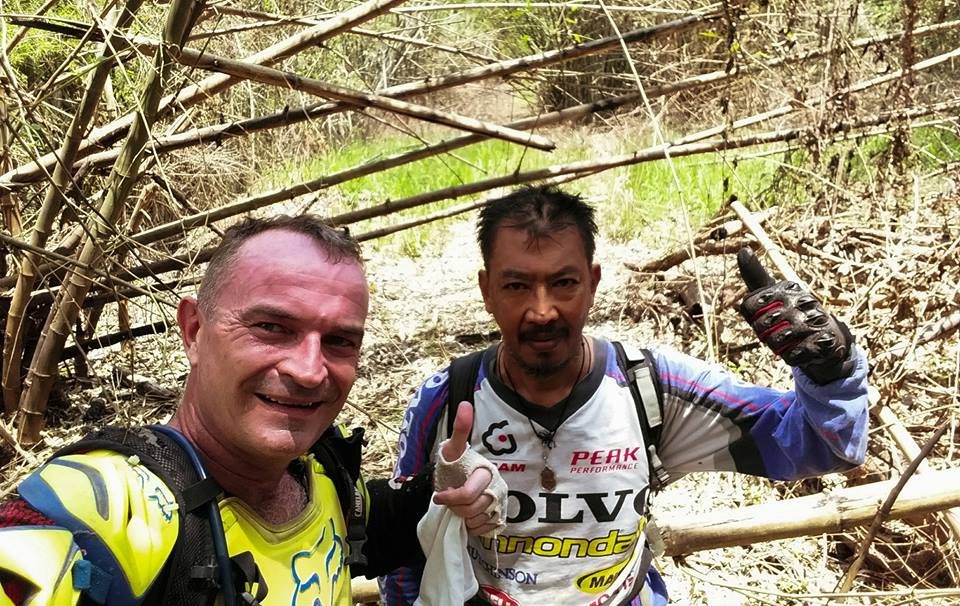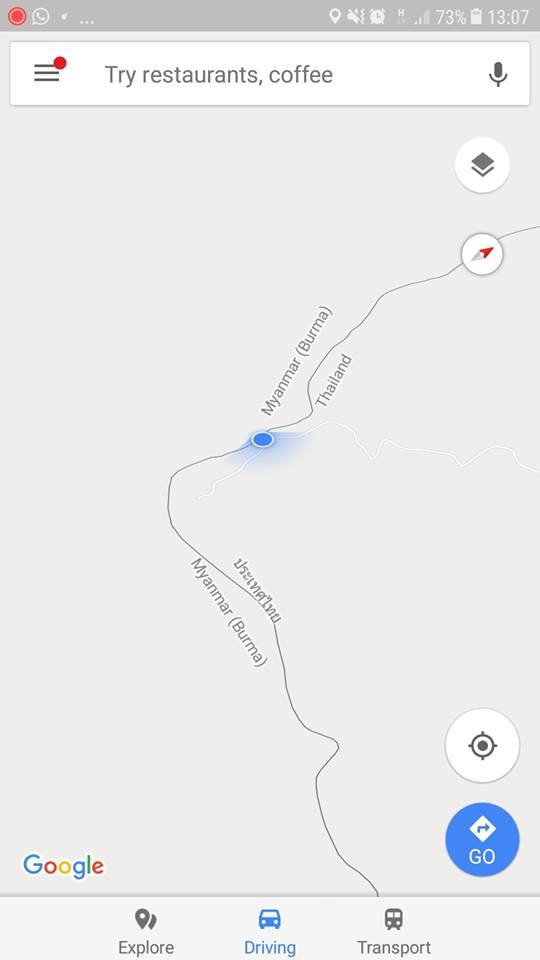 Left Knacker in Burma, right knacker in Thailand.
We made it.. So much for an easy ride today.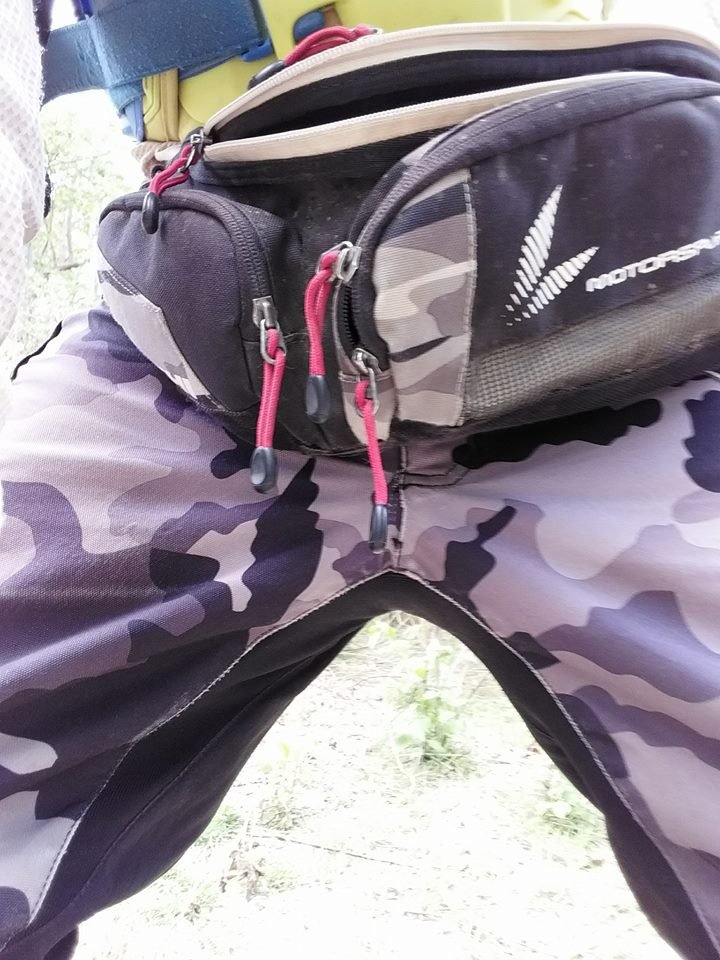 Head back down the trail..
Trying to create a loop for future rides. We turn left instead of the way we came.
This took us to some abondoned mines.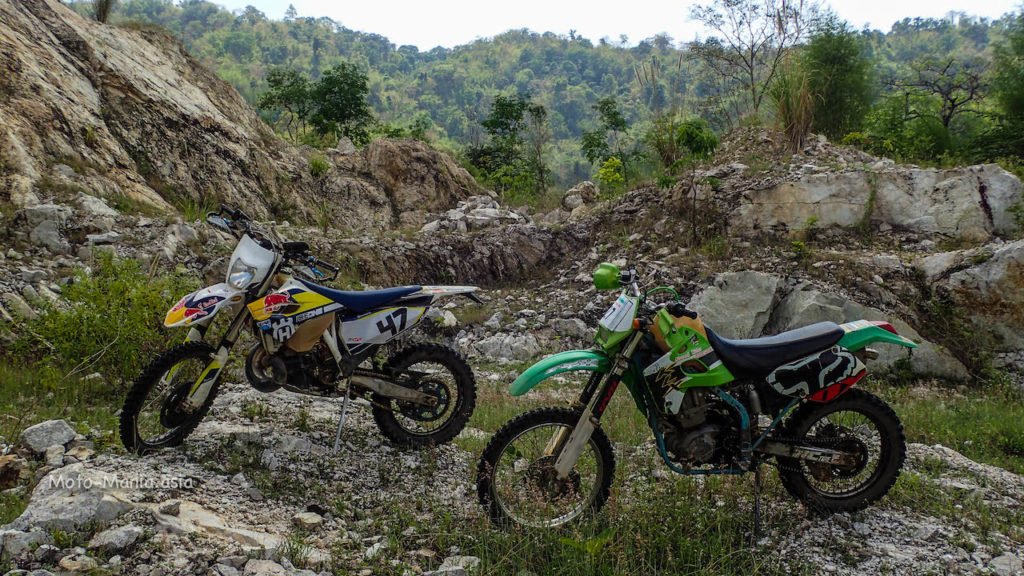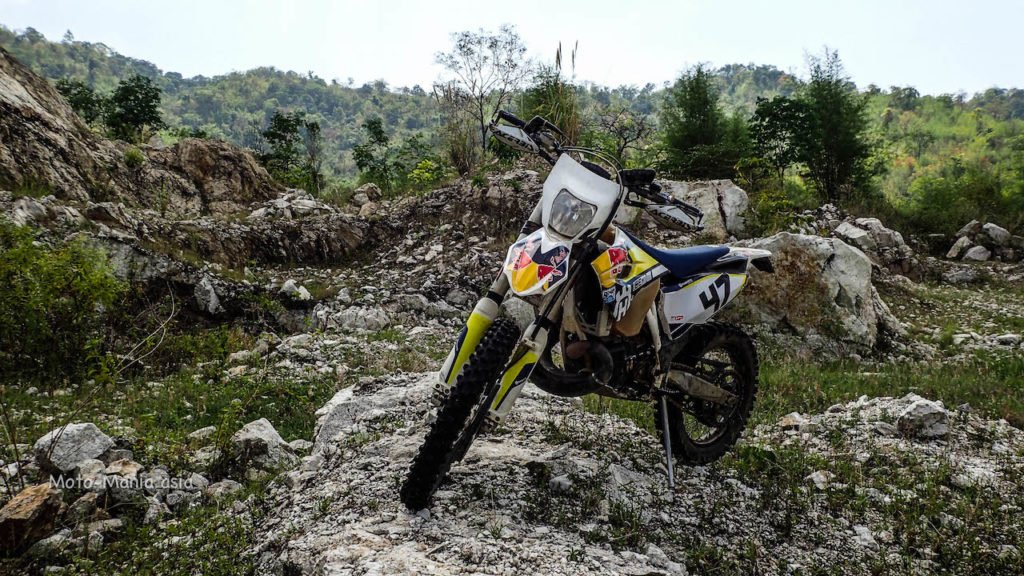 Today's forcast is 40c.. It felt like it, no one around and took a rest.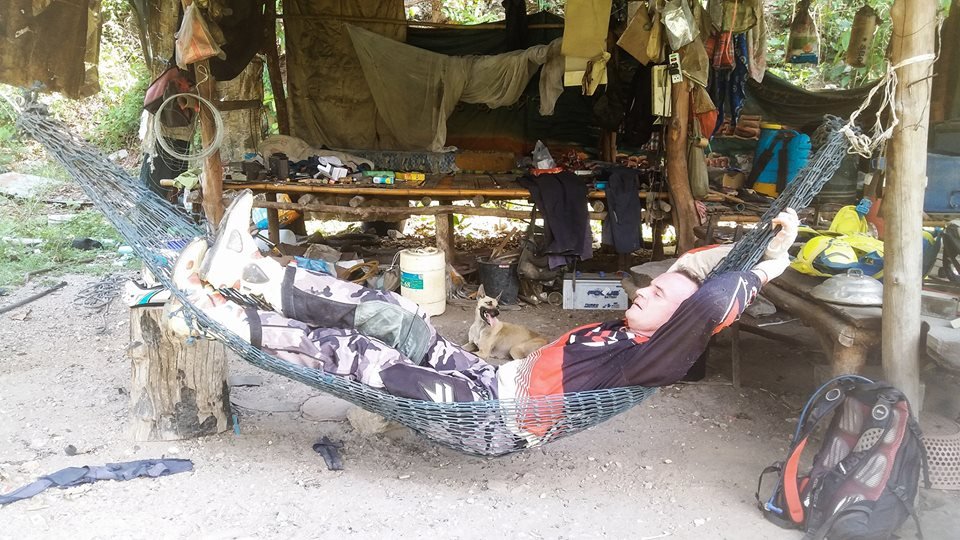 As we were going to leave.. The old miner turns up.. We were not allowed to leave with out a coffee and chat.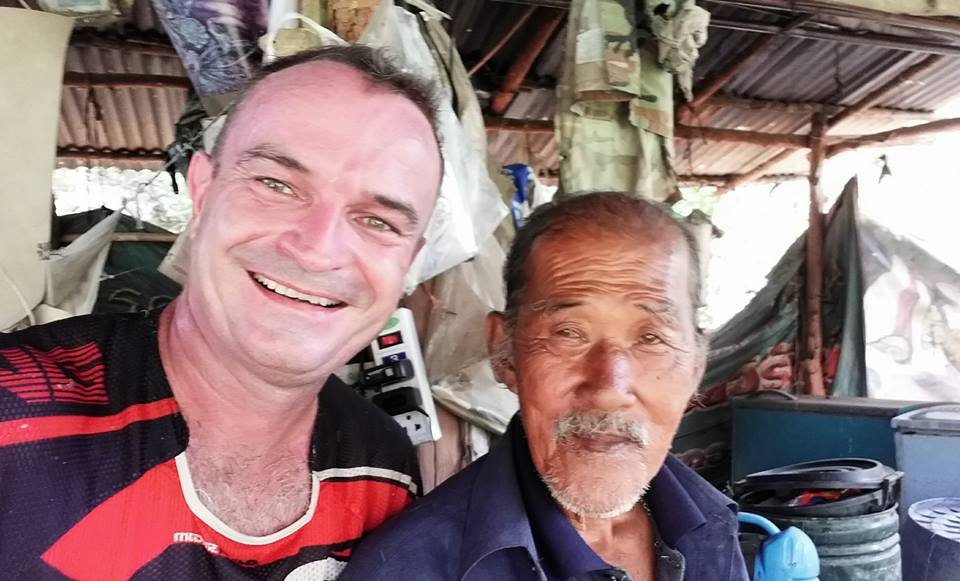 The work shed.. They had a rather nice house to the right, solar powered.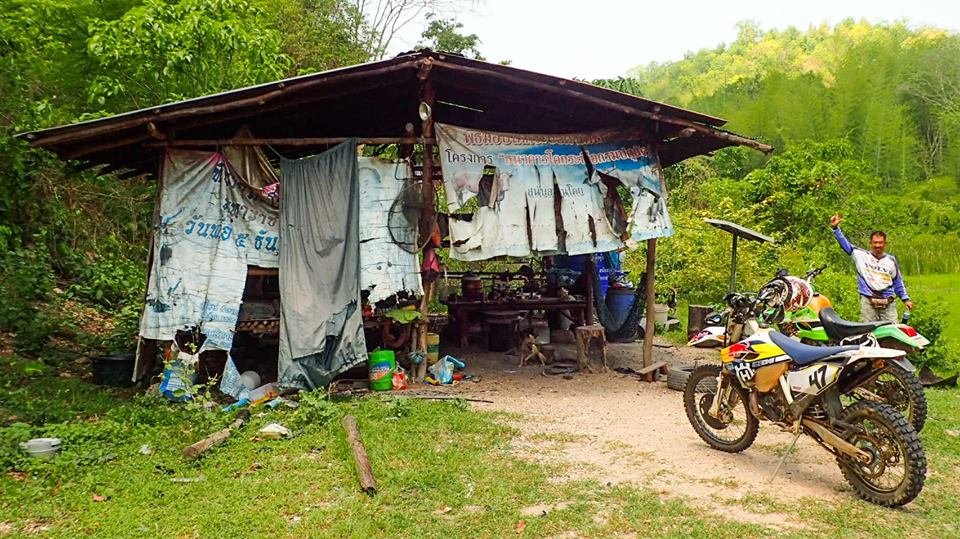 The border patrol police gave us some big smiles when we arrived back.
Brilliant day. New trails found and plenty more to discover in here.
Video of the ride:-
Khao Pla Noi
Saturday 14th
Always one of my favourite rides.. But this time coming from Saiyok town way.. So hopefully learn some new routes.
This gave me a chuckle. Petrol and veg all in one shop.  Drive through.
Then a real little ripper of a track.  Love this ride through here.
Not a long secton but a real fun part and very picturesque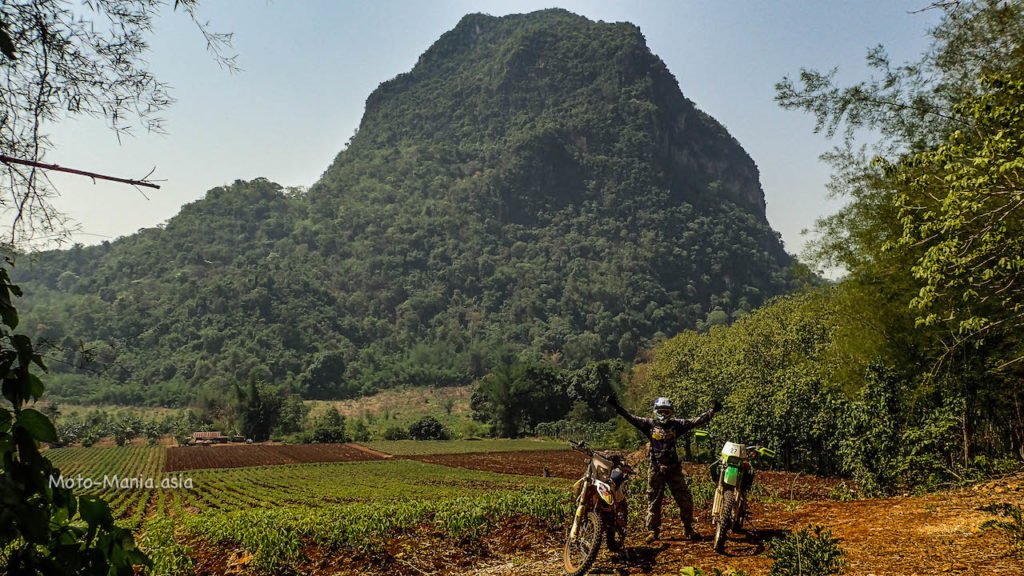 The mighty KLX 650 was taken out by an 8 year old Songkran water thrower..
So the Husky tows the bike to the local mechanic a few villages away.
The kids are all out " Playing Songkran "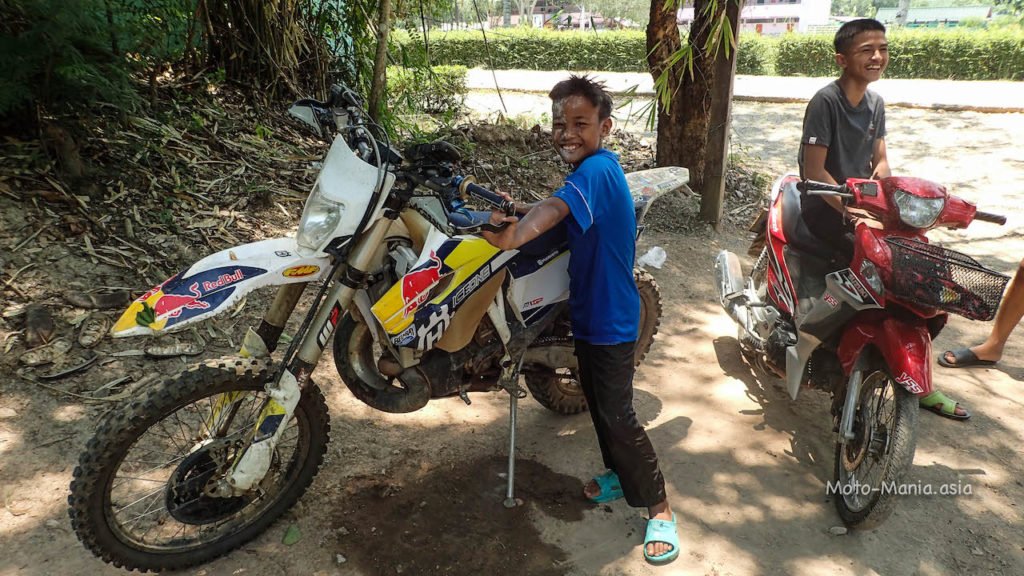 The mechanic decides to join us.. Great.. Now we are three.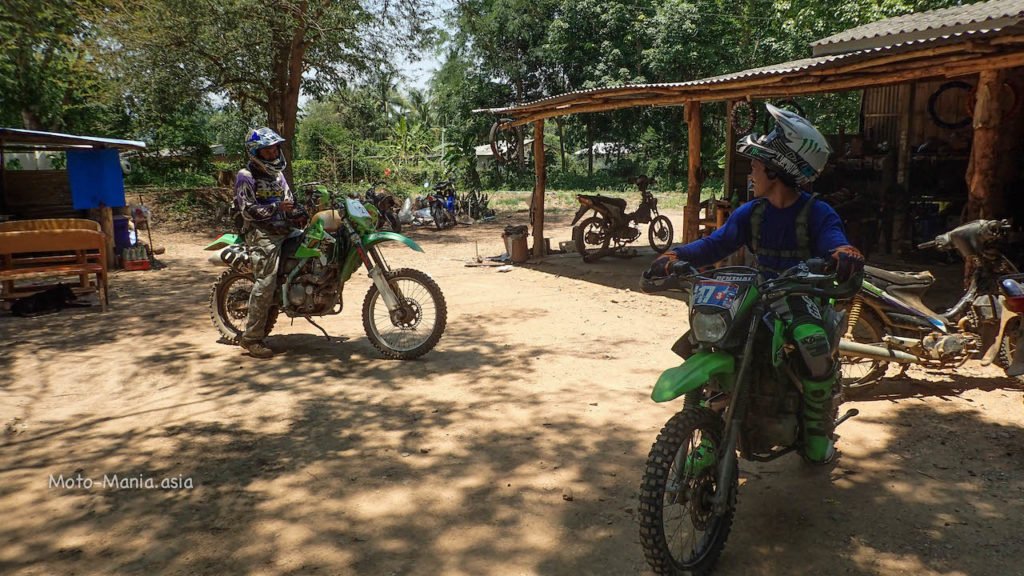 A new ripper track heading to the 4 WD track and up to Khao Pla Noi.
A real ripper.. Could do this one all day long.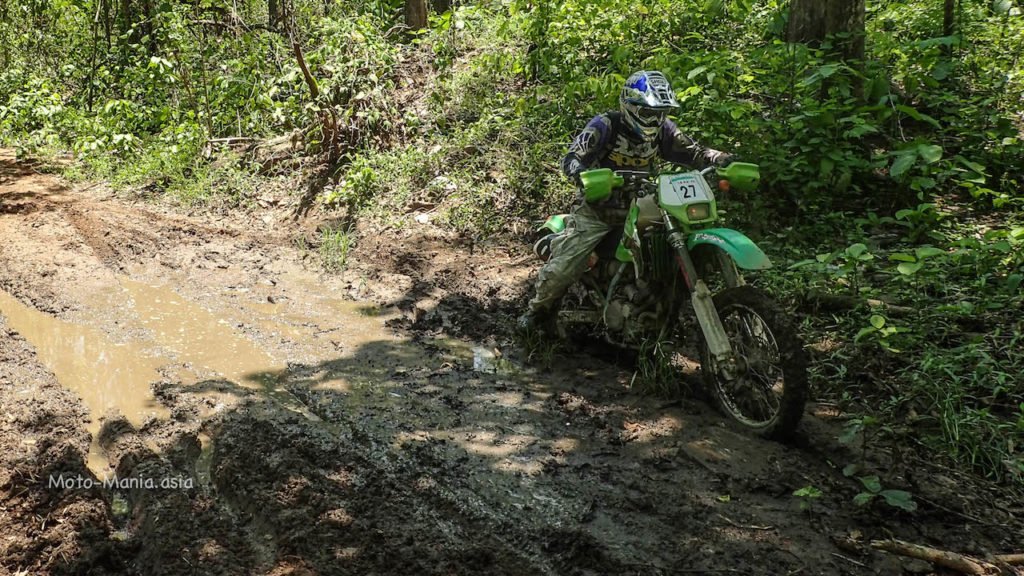 A brilliant rocky creek
Khao Pla Noi.The boss at the checkpoint located at the base of the mountain allowed us to go up.
Great stuff. My favourite ride is back on.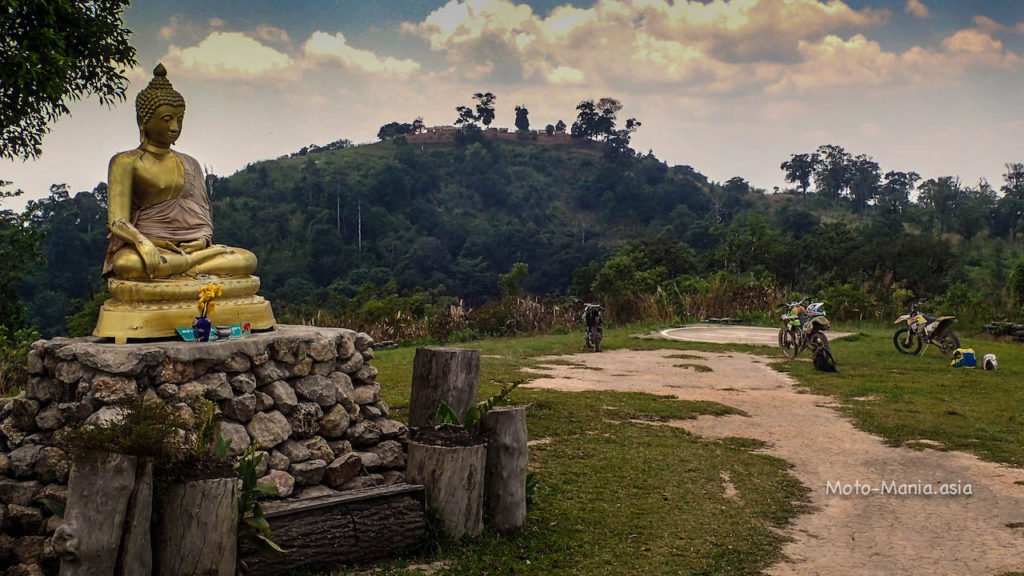 Looking over towards the Burmese Army on the hill top.
The fellas chilling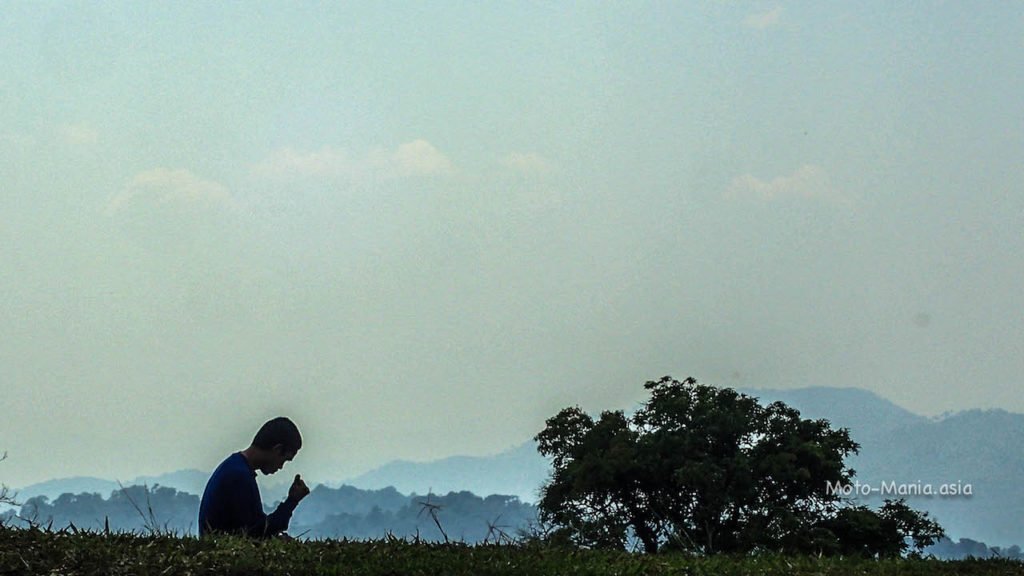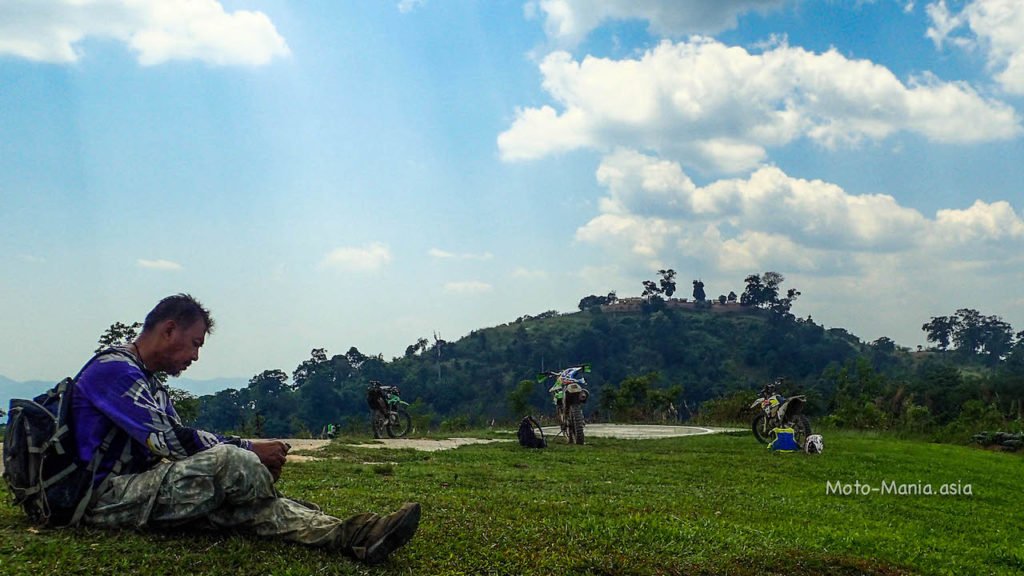 Looking in to Burma
Pretty happy with this time up the mountain. I am not the fastest of riders.
Wasan on the KLX 150 should be over the moon..
So smooth, confident, fast.. Made it look so easy.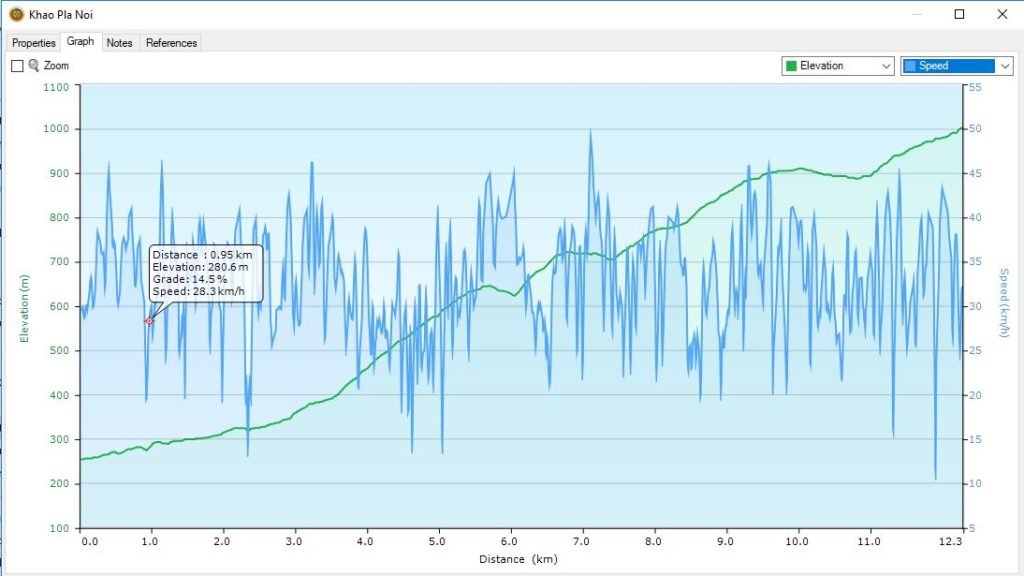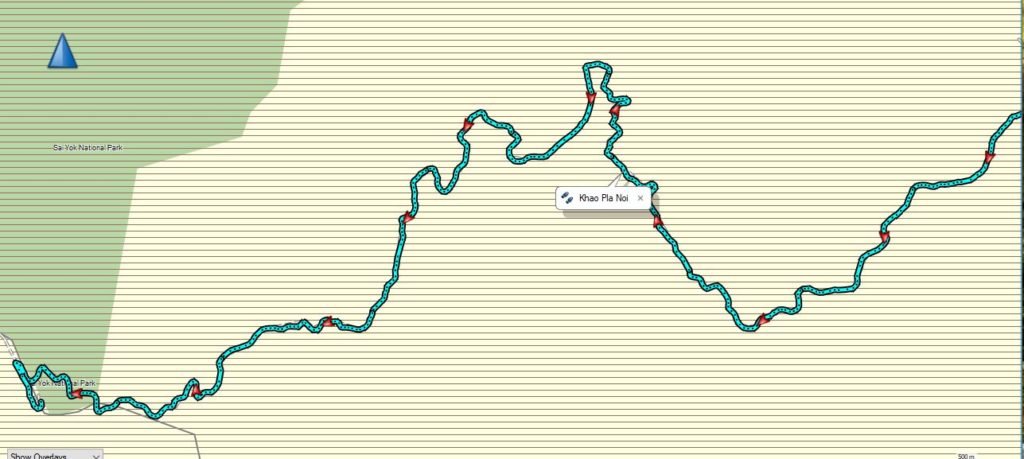 Khao Pla Noi – The Chase  ( Epic ride as ever )
Back down the way we came and then another new trail back towards Saiyok..
Through creek beds, up and down steep bits, bamboo in your face, some big mega ruts.
I was a bit tired by this time… Next time will enjoy it more.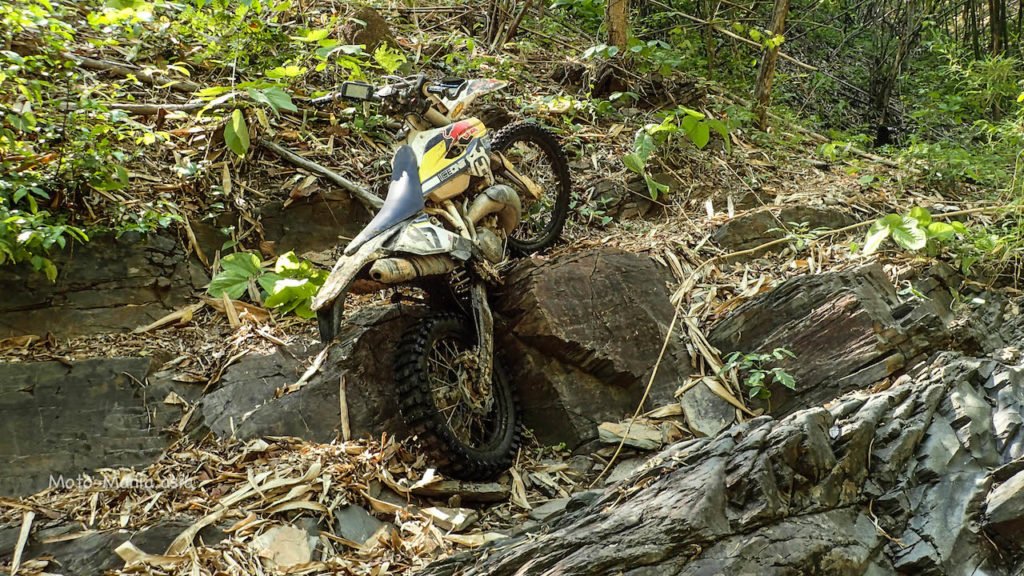 Brillant Ride. Short video
No Easy Way Out – Saiyok Kanchanaburi.
Back to Sai Yok and a view of the Burma Railway.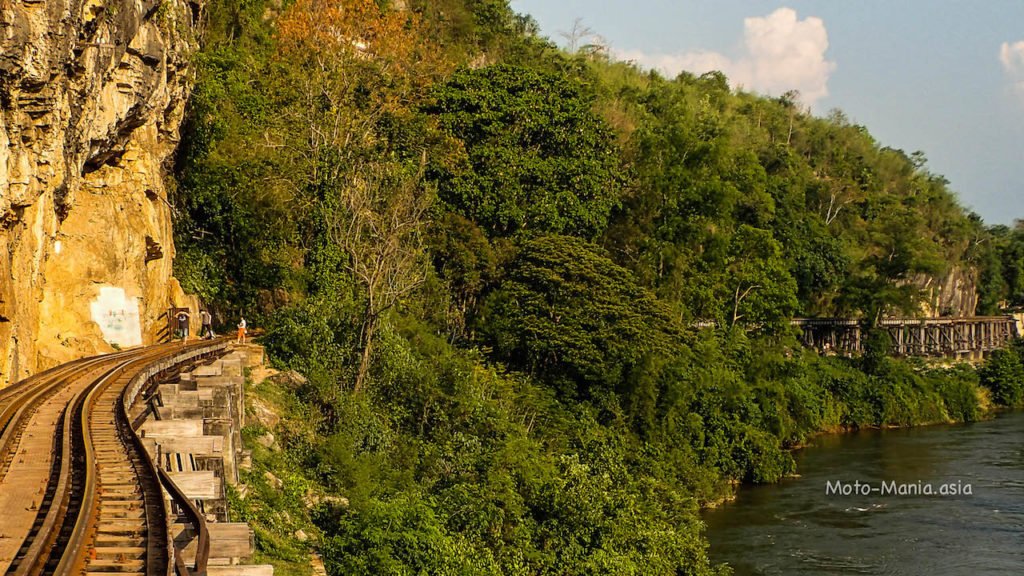 A great couple of days..
The third day took a rest from riding and drove up to Pilok.
Link below
Sai Yok – Three days in seven minutes.
March 1st / 2nd / 3rd
March 3rd
Let's head to Khao Pla Noi..  One of the best off road rides in Thailand. (IMHO)
6 am wake up.. Leave at 6.30.. Ended up being around 7 as Filip had issues with his bike.
There had been rain the few days before I arrived. Mainly thunderstorms in the evening.
While things were greener than usual for this time of year..
Certainly didn't expect the river crossing to be up so high.
Lat 14.42755 Lon 98.83575
8 am and it is breakfast time..  30 km under the belt as well as a river crossing.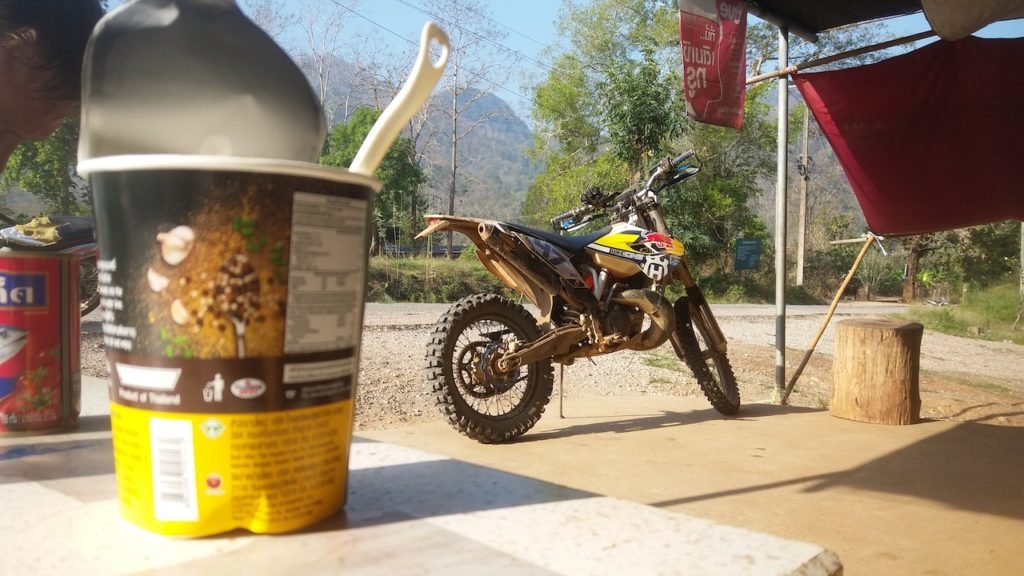 Riding the back trails to the first ranger station then to the Border Patrol Police at the bottom of Khao Pla Noi.
Sadly. Refused entry.. Informed it is a work place.. Not for tourism.
To be honest.. I am not totally surprised this has happened.. Loads more people going up the mountain in recent years.
People leaving their garbage behind too, rather that take it back down with them..
Guess they believe the garbage fairy godmother will clean up after them.
Lat  14.2268  Lon 98.8263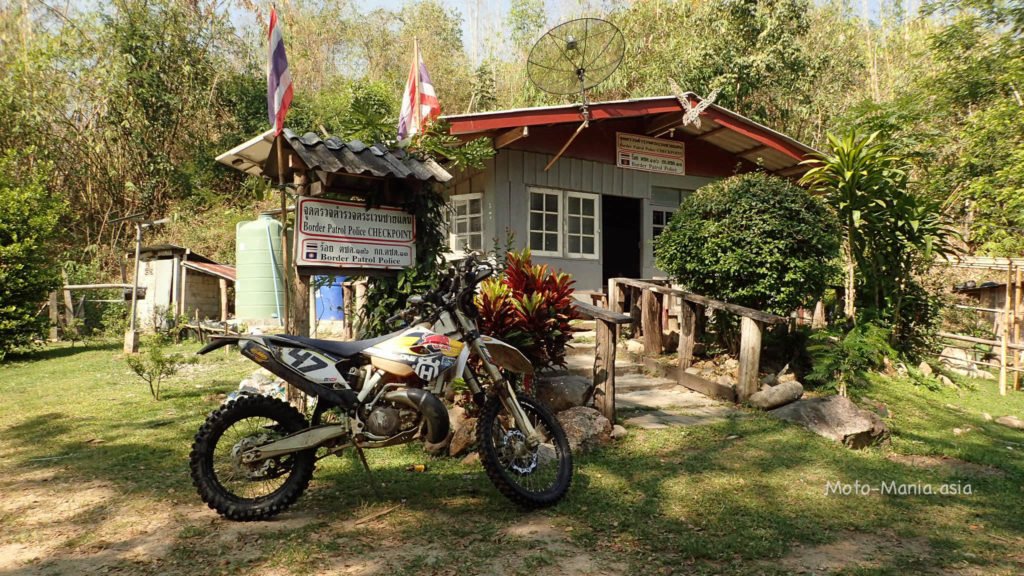 Route Overlayed on Google Earth
March 2nd
Drive and ride.. Looping out of Sai Yok and back.
Wake up and Baan Ricky and load up the bike.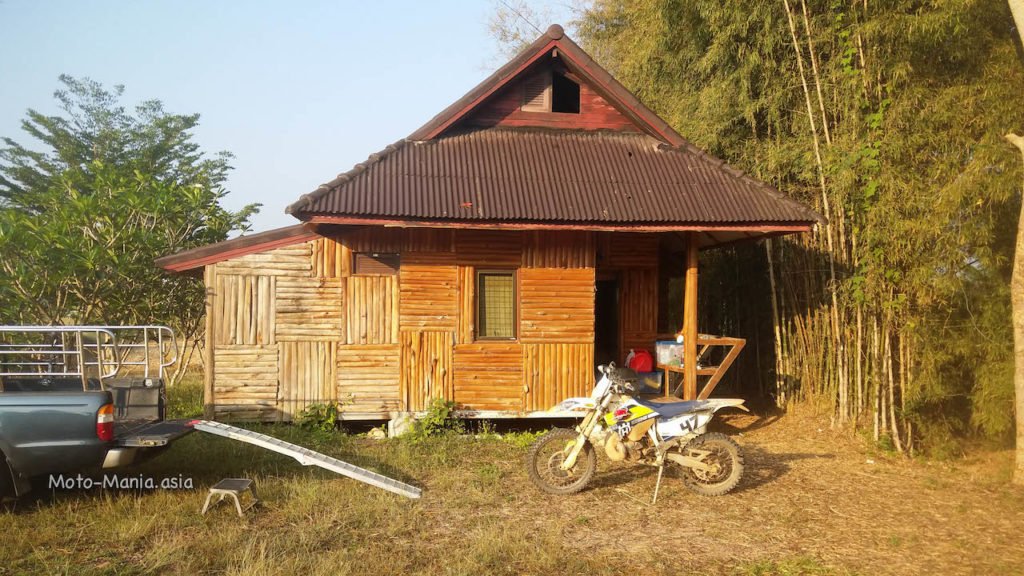 Sorting a few things for the days ride.
Brillant day through the trails and over the hills as well as the Bamboo jungle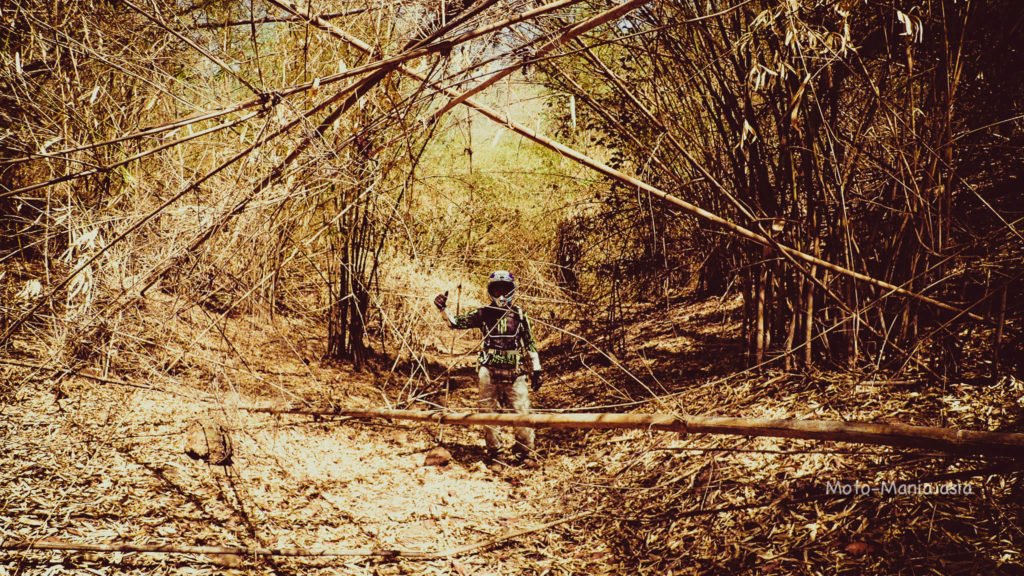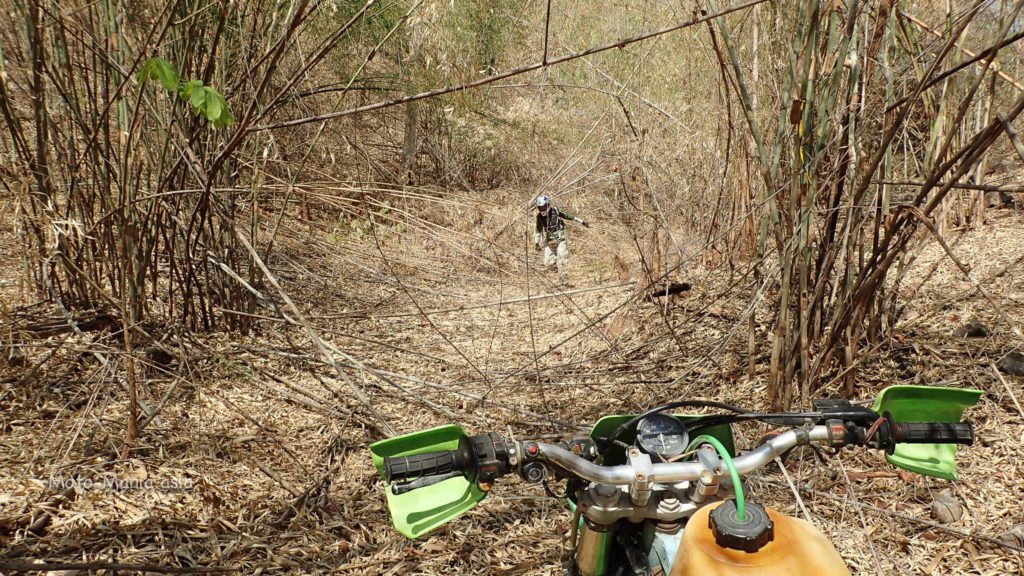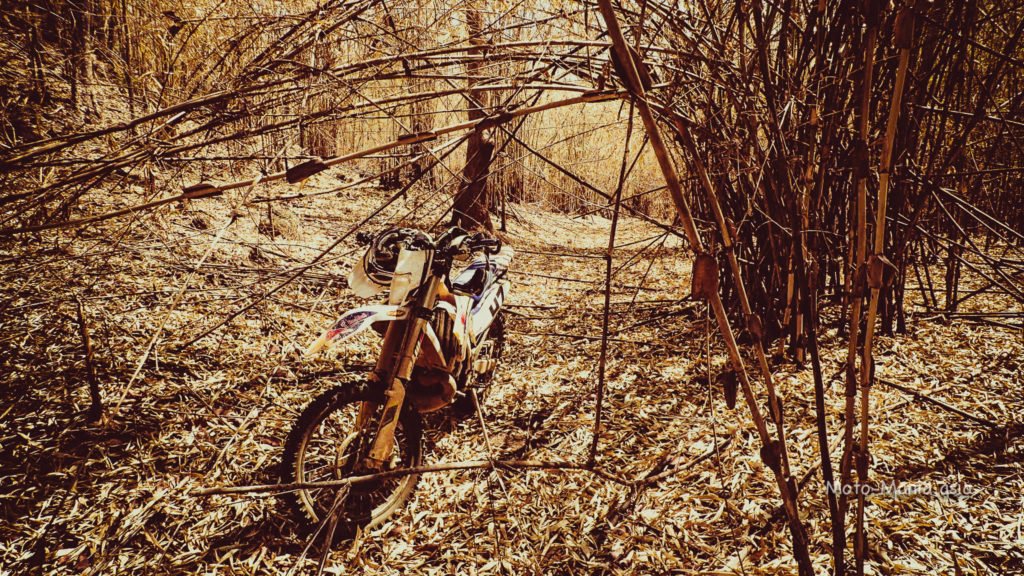 After blasting through Bamboo jungle with steep climbs and rocks and leaves everywhere..
Time for a break.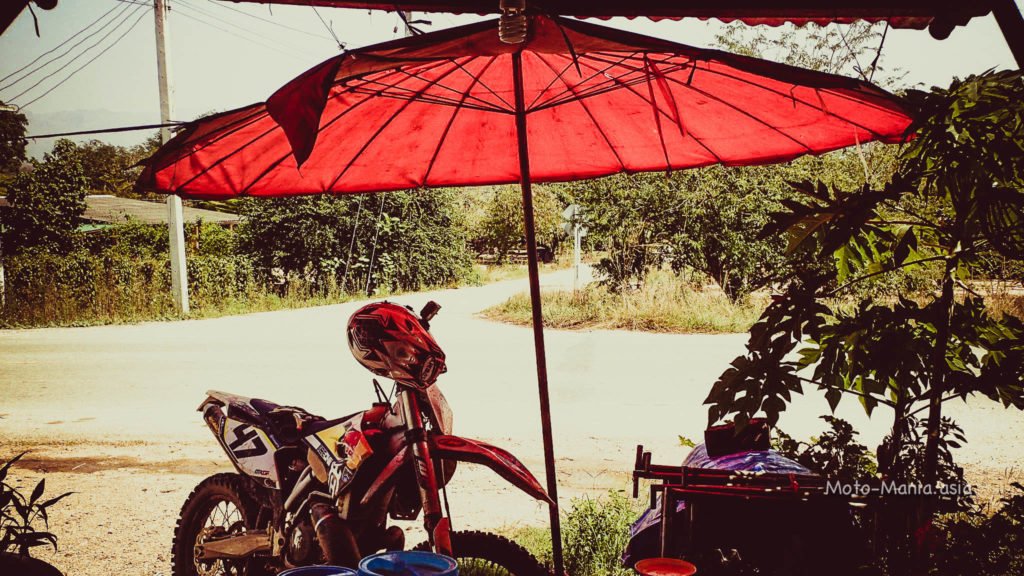 But first.. Improvise some inner gloves.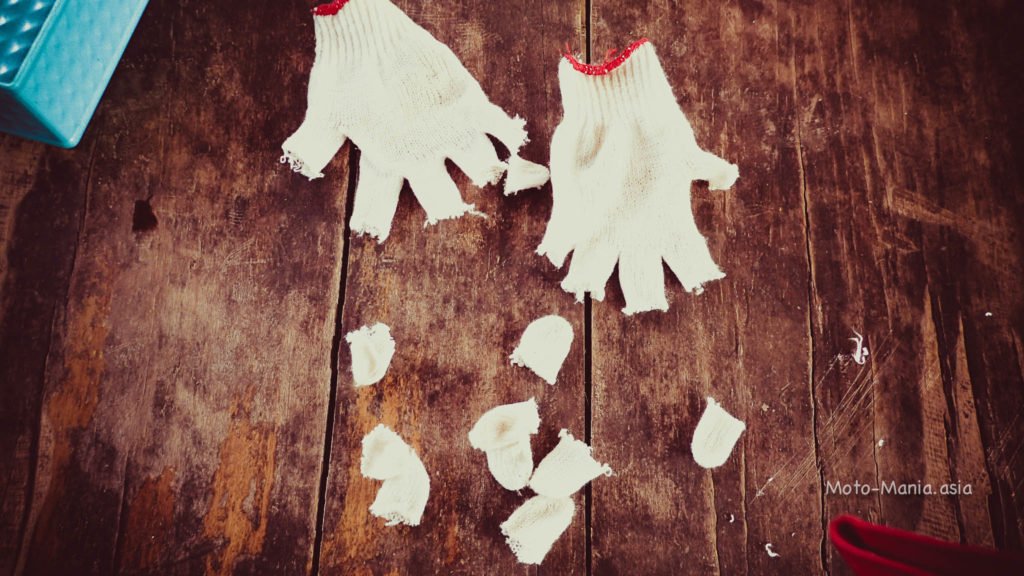 Then back to the steep tracks with bamboo and logs across the tracks.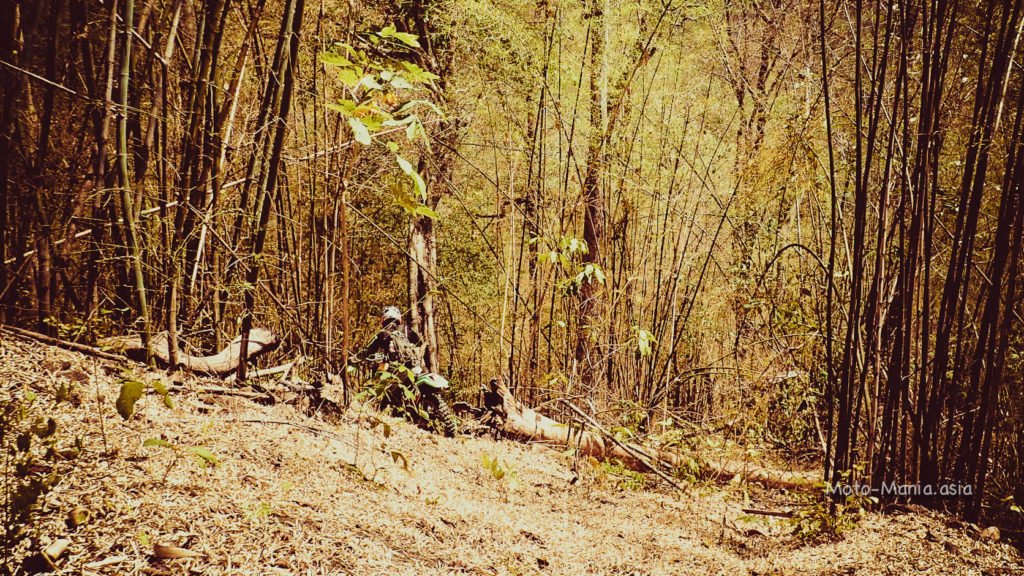 Our local friend wanted to try and reach a remote waterfall.
This is how it starts…
He had only made it this far before.. It was steep, loose crumbly soil. Bamboo all over the track.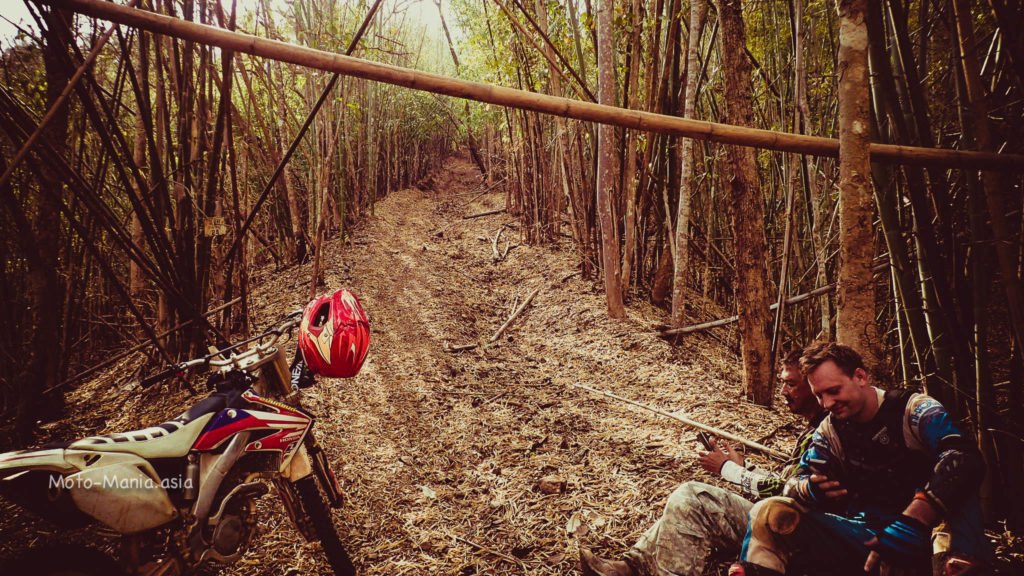 When we make it to the top. Another 10km to go to get to the waterfall.
It is 4pm.. Suggest we head back and plan this for another day.
When we are fresh and not tired from riding all day in the heat. Carrying water and some food..
Plus I doubt there is much water up there now as already March.
The track is impassible in the rainy season.. So back around November I guess..
Poor Filip.. He is only 34..  I am 48 and Suttipong is 60..  The youth of today 😀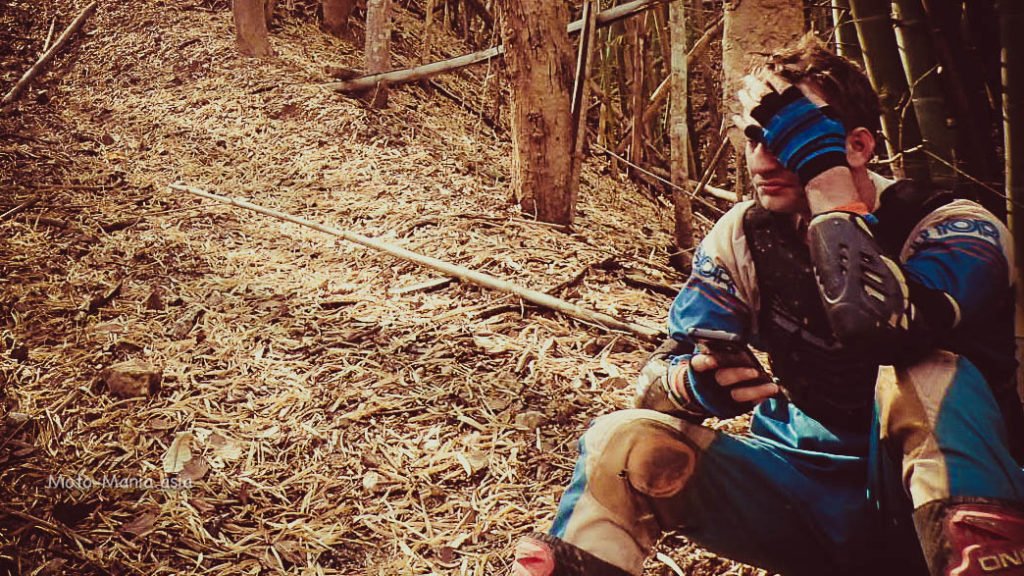 Long way off to the side if you really lose control of the bike.
It is pretty hard to control on this soil and so steep.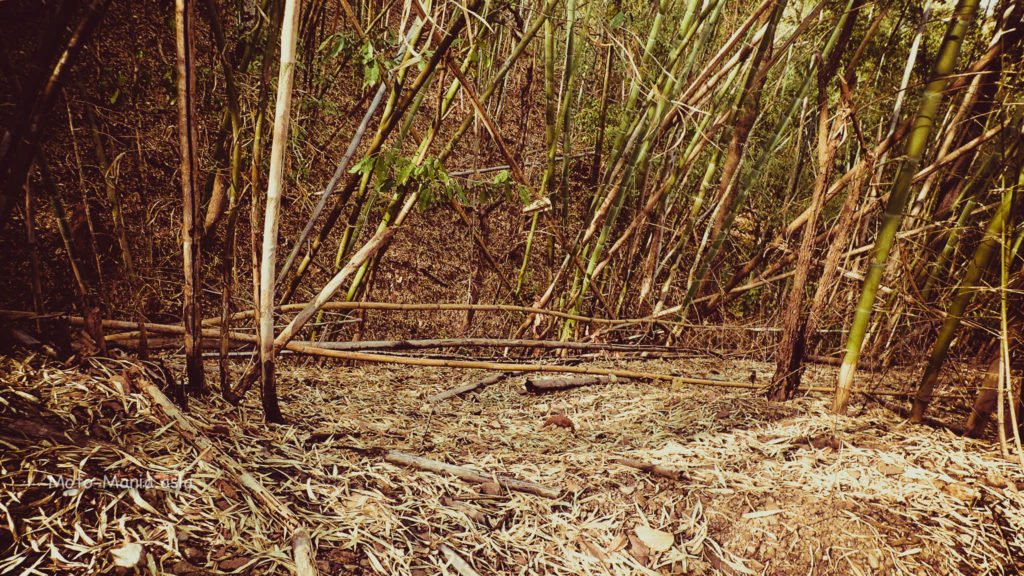 Back down we go.. None of us turned the engine on.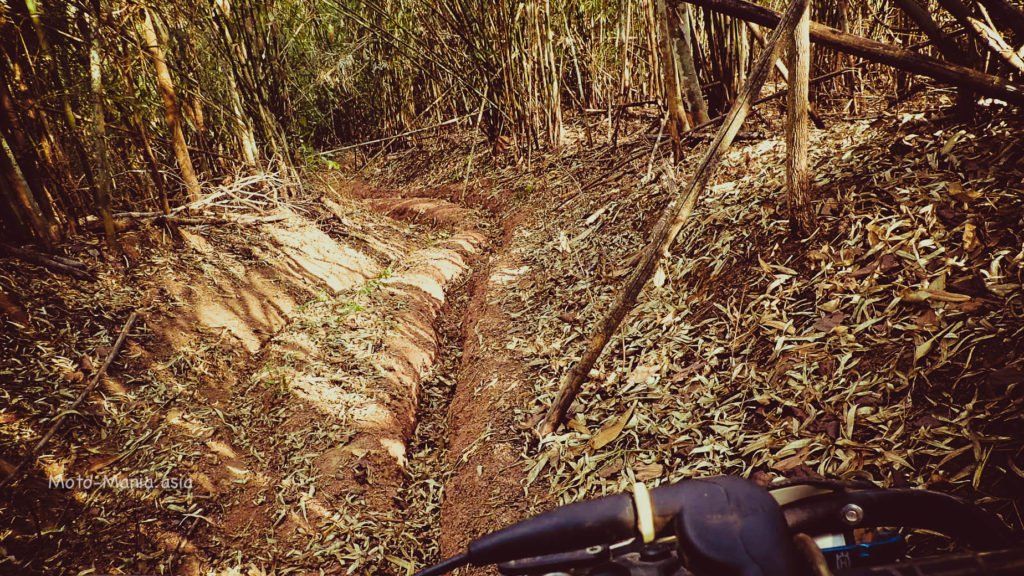 Short video on some fun parts of the trail.
Route overlayed on Google Earth
March 1st.
A nice free flowing ride along the back trails to Pha Sawan Waterfall.
Nice flowing tracks, plus the Bamboo jungle track, before up the tarmac and the 10 km tide to the Ranger Station.
Bamboo Jungle track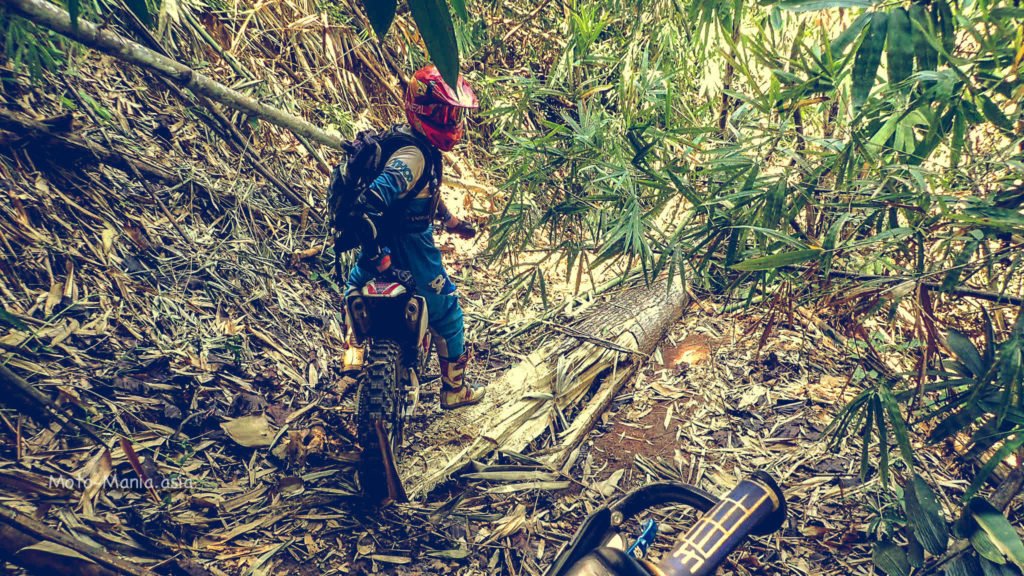 The usual lunch / snack and drink break before the blast along the back trails.
Lat 14.6481 Lon 98.7595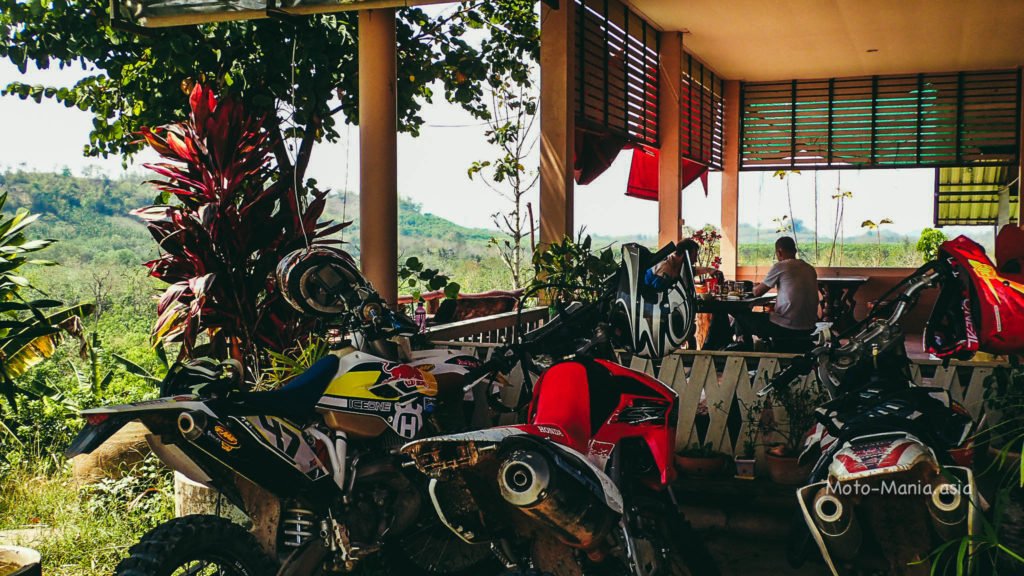 Riding the trail to Pha Sawan water fall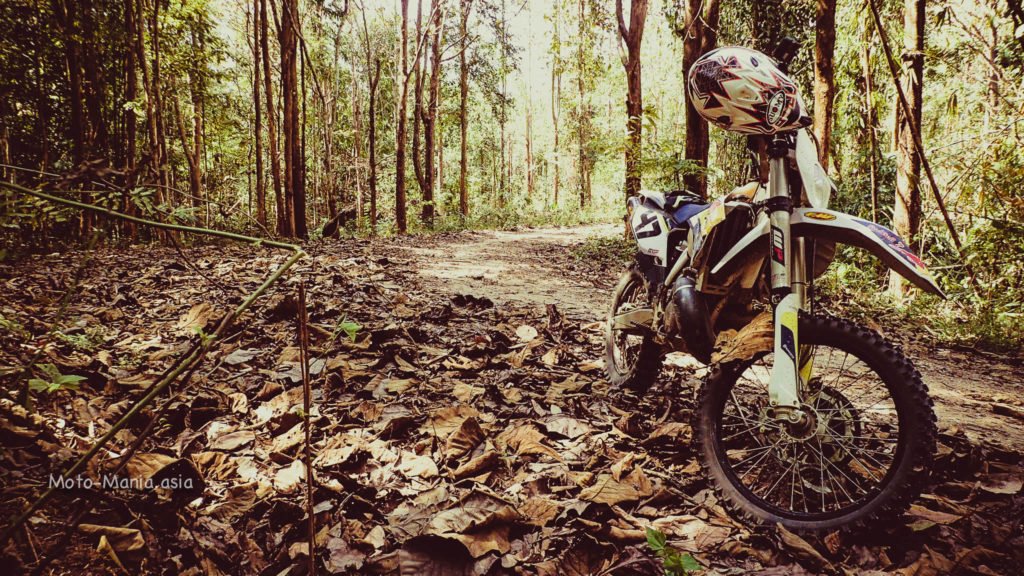 Surprised to see 4WD vehicles in here this time of year.
Usually low season as dry and not much water.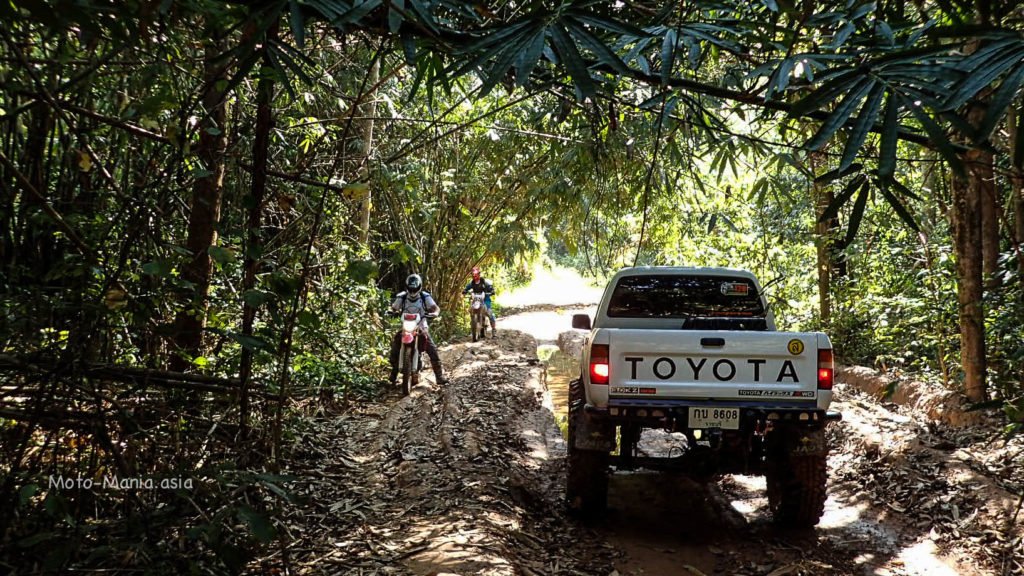 Thomas getting his mud picture.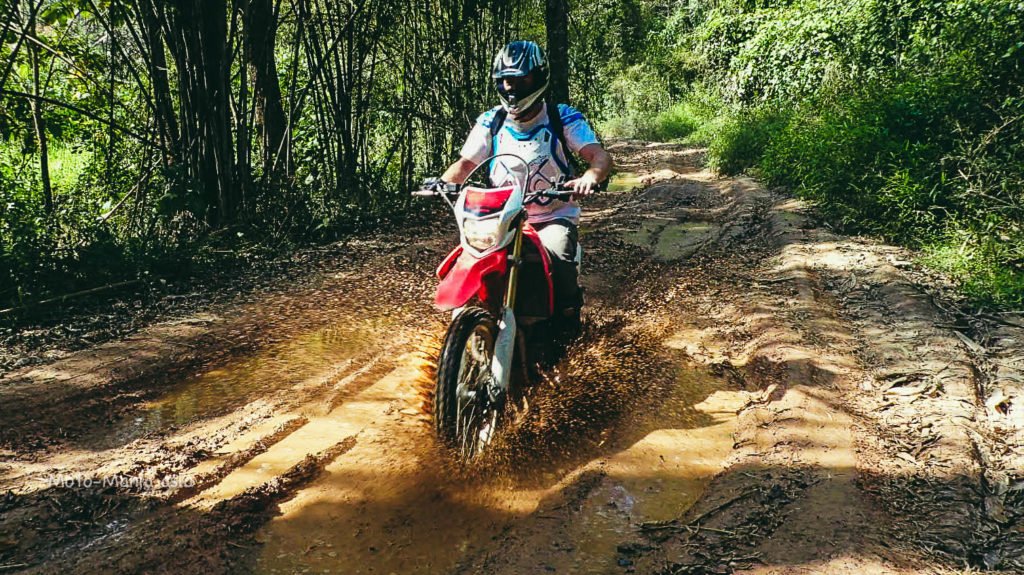 Filip's turn.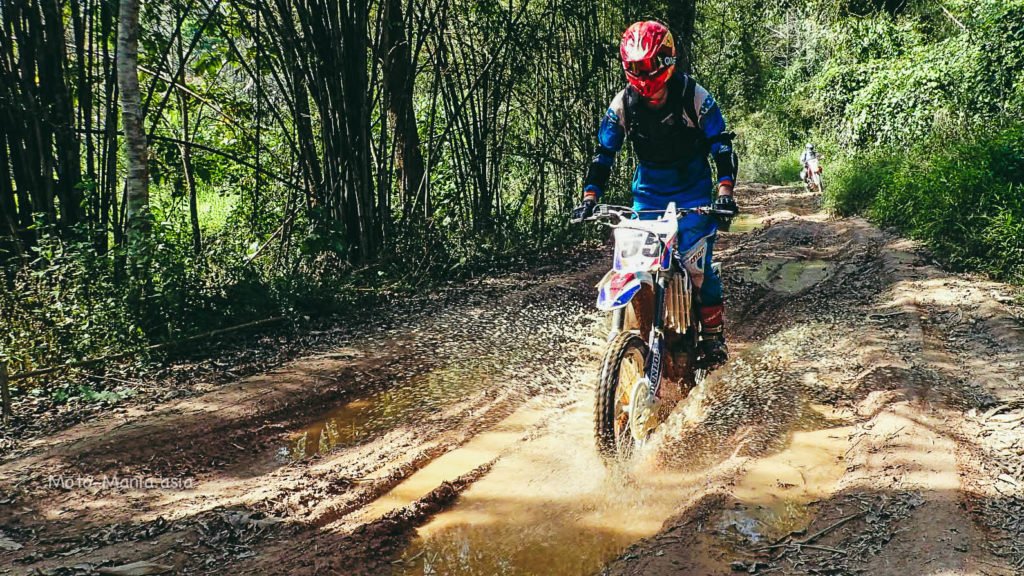 The Ranger Station at Pha Sawan Waterfall .
Lat 14.6826 Lon 98.8288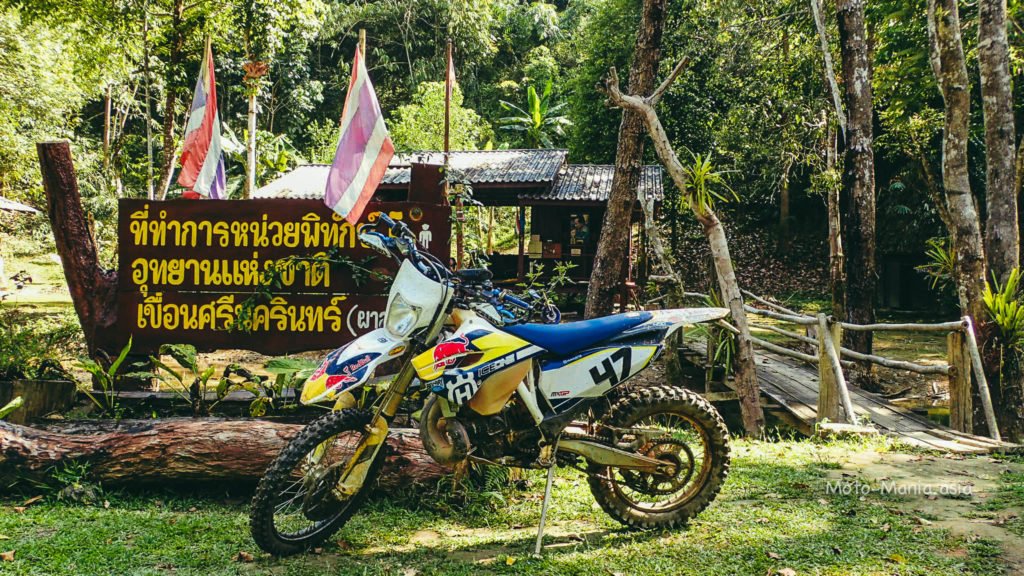 Truely stunning Orchids.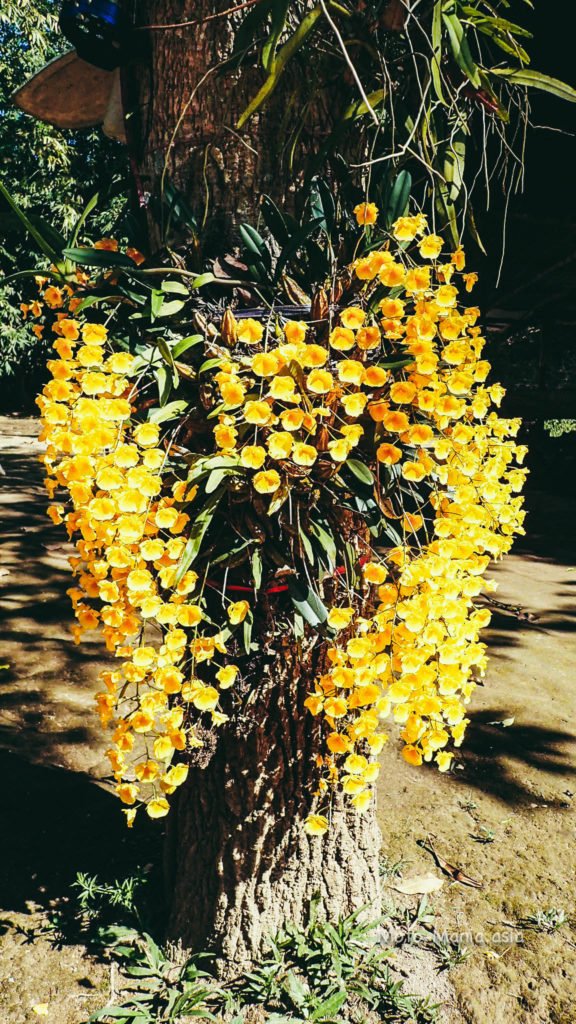 A hike through the bush to the first tier waterfall.
A swim to cool off before heading back.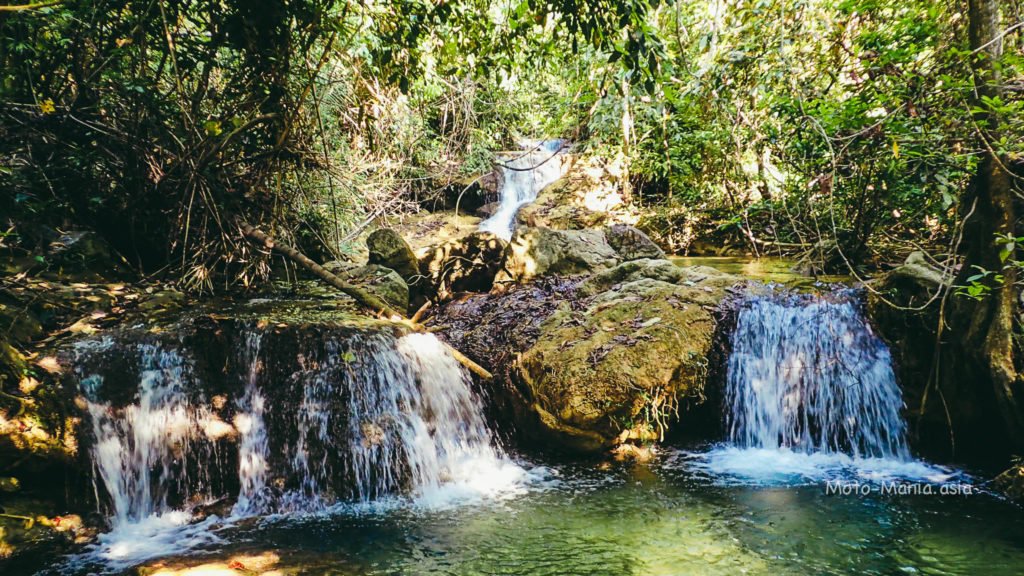 The Ranger insisted we stop and have noodles before leaving.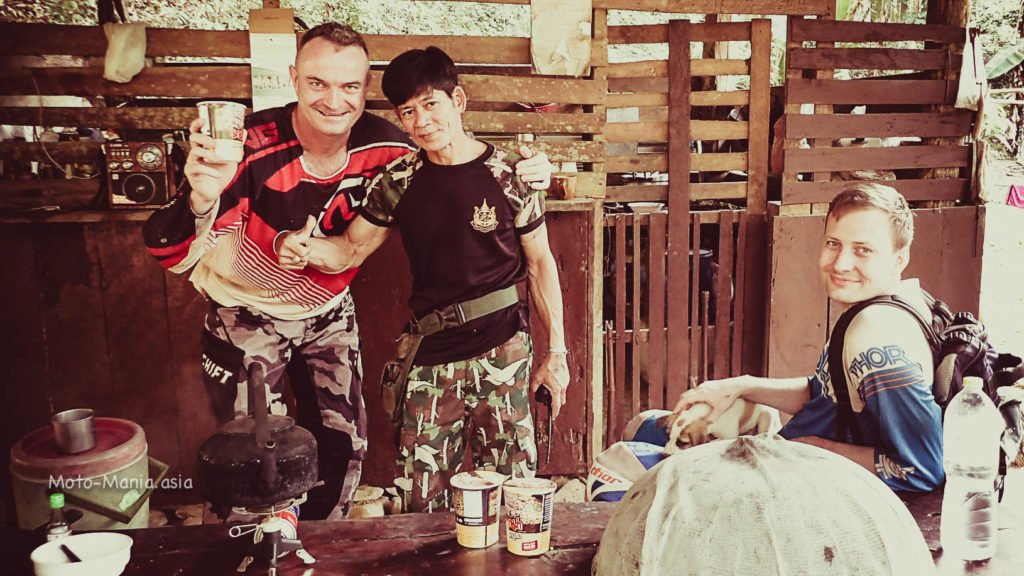 Route over layed on Google Earth.
February 17th 18th.
After having some work done on the Husky.
Light ride and exploring alone around Sai Yok Yai.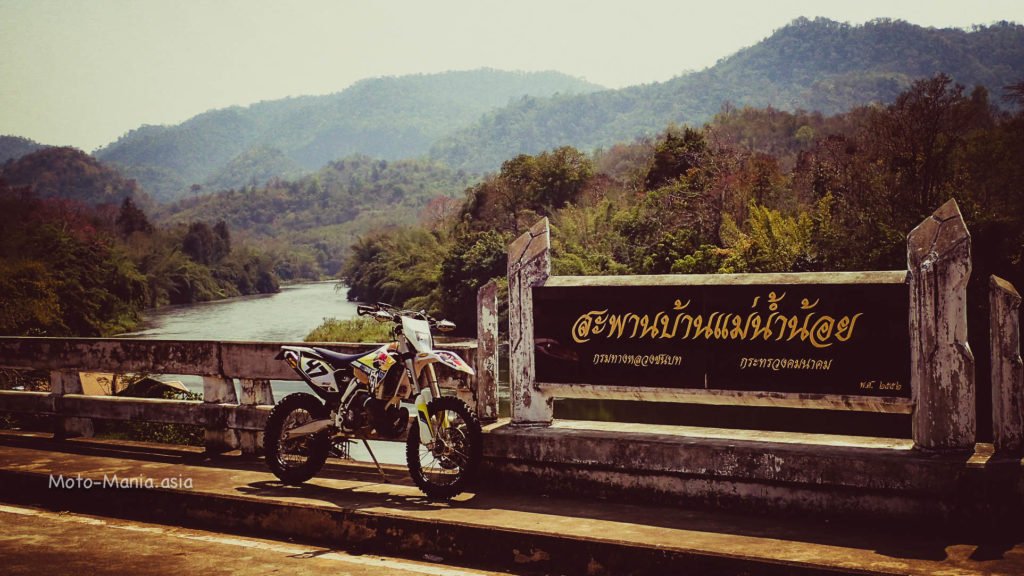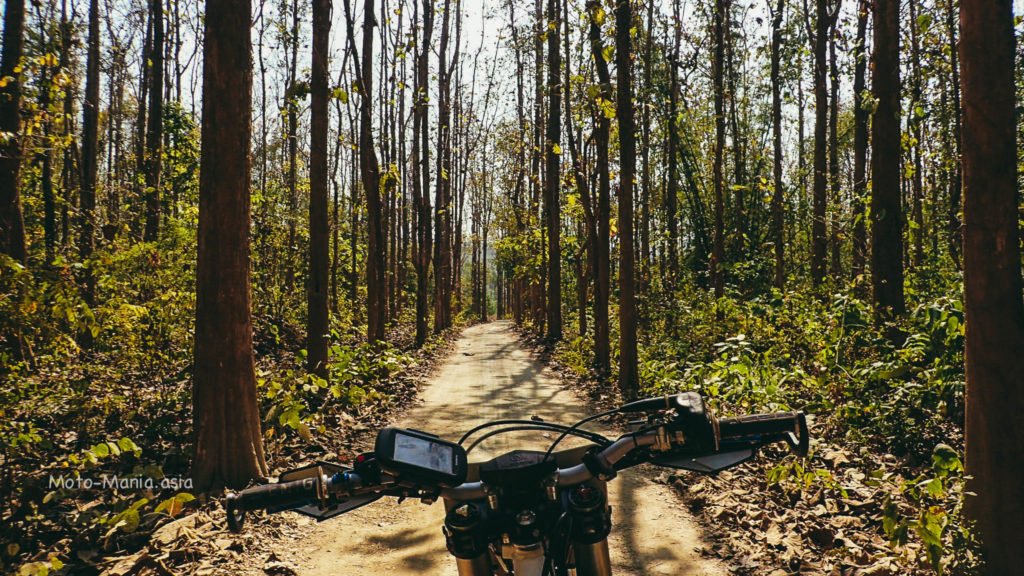 Love this crossing. Loose rocks and slippery.
In the rainy season too deep and fast moving to ride through.
Lat 14.42751 Lon 98.83575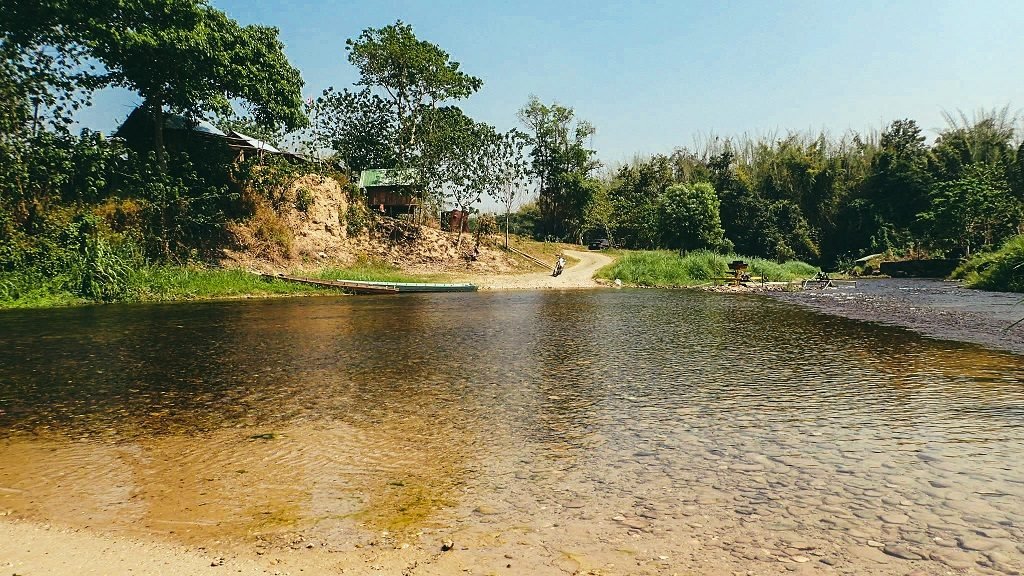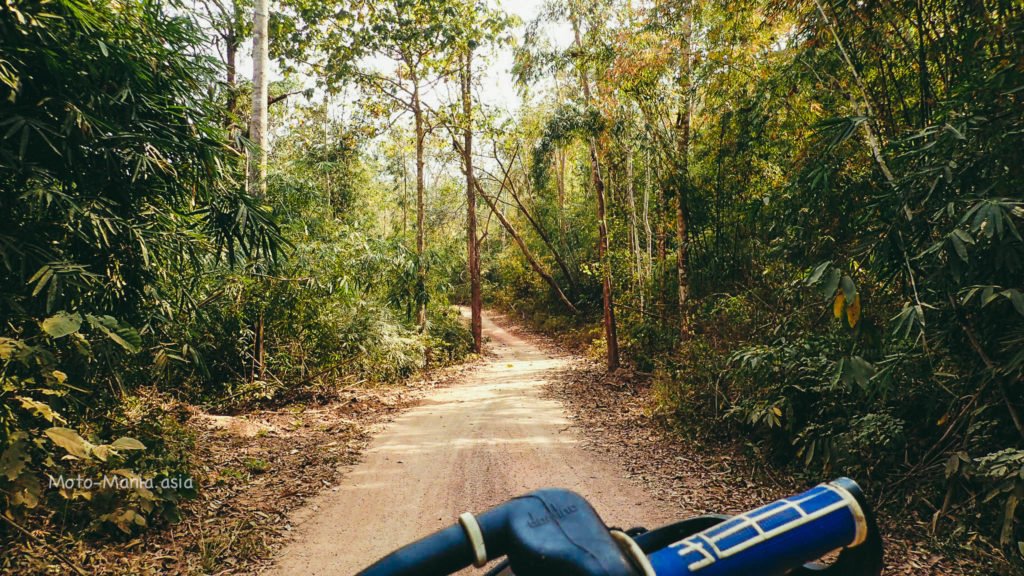 Lat 14.3402 Lon 98.9383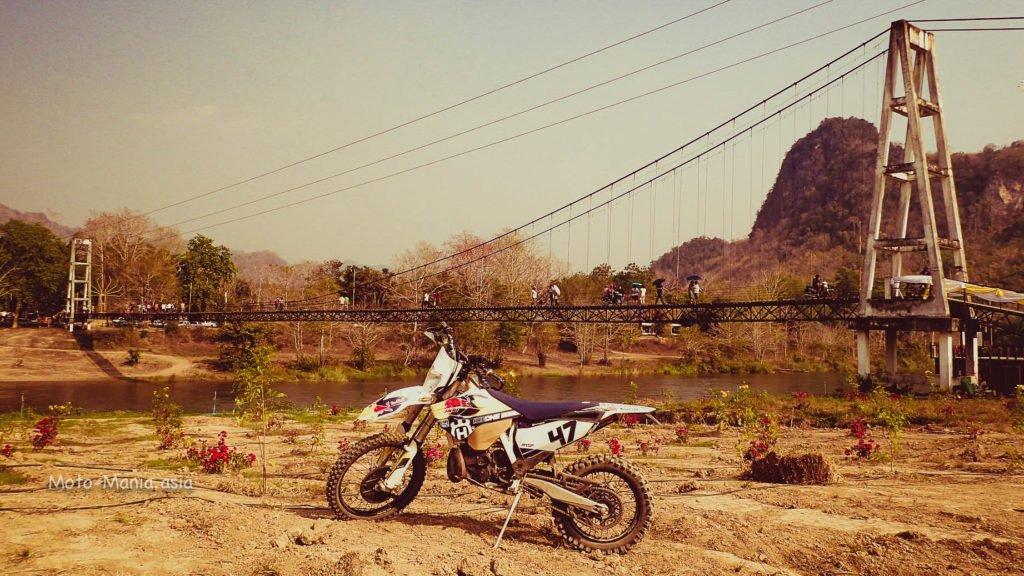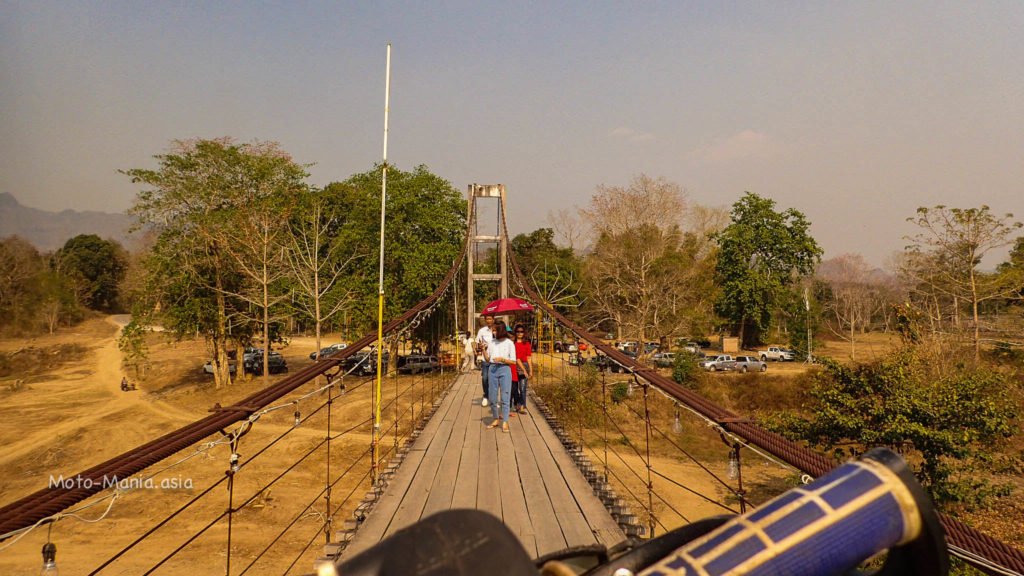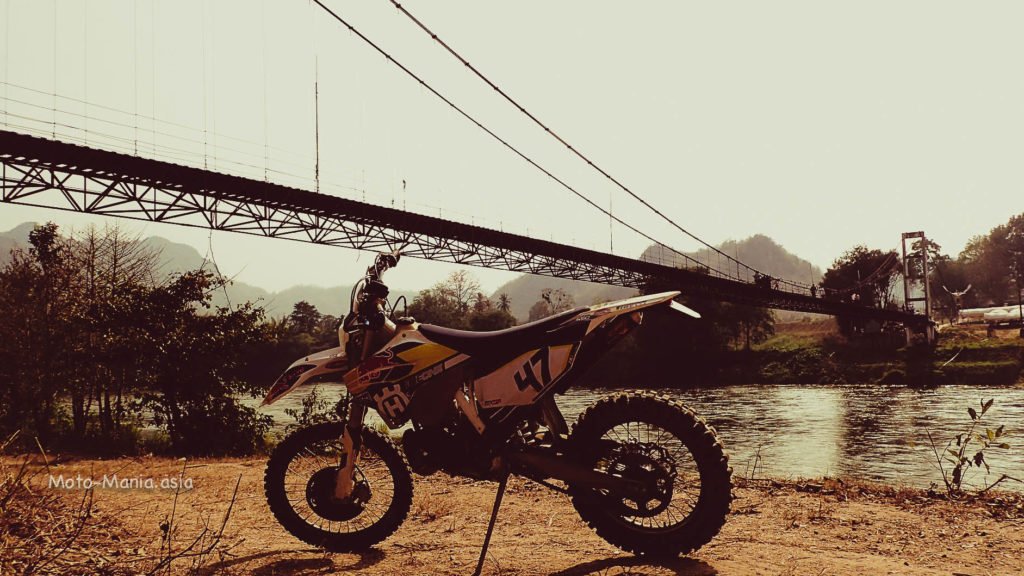 Hintok Cutting – Burma Railway.
Lat 14.36571 Lon 98.94125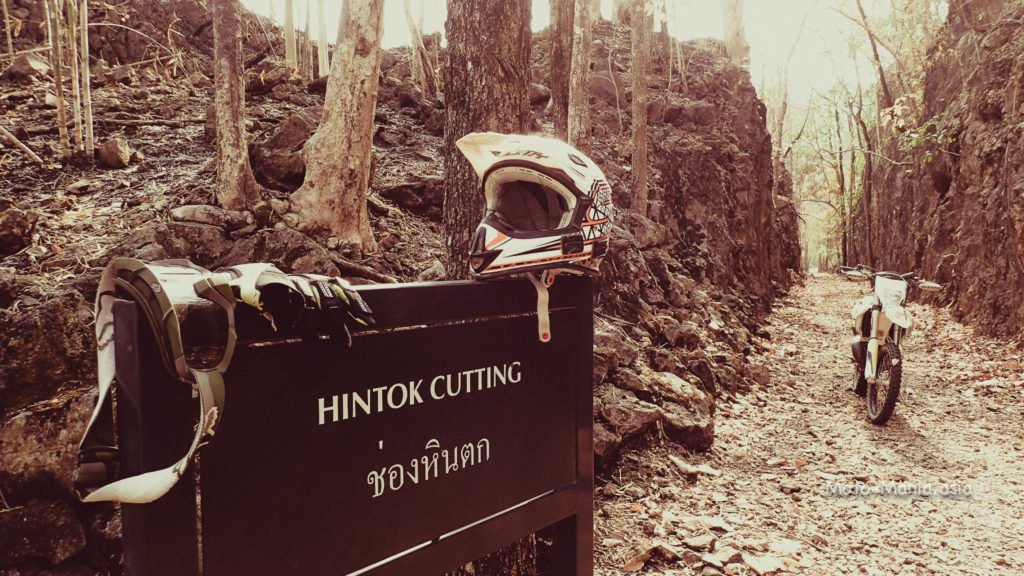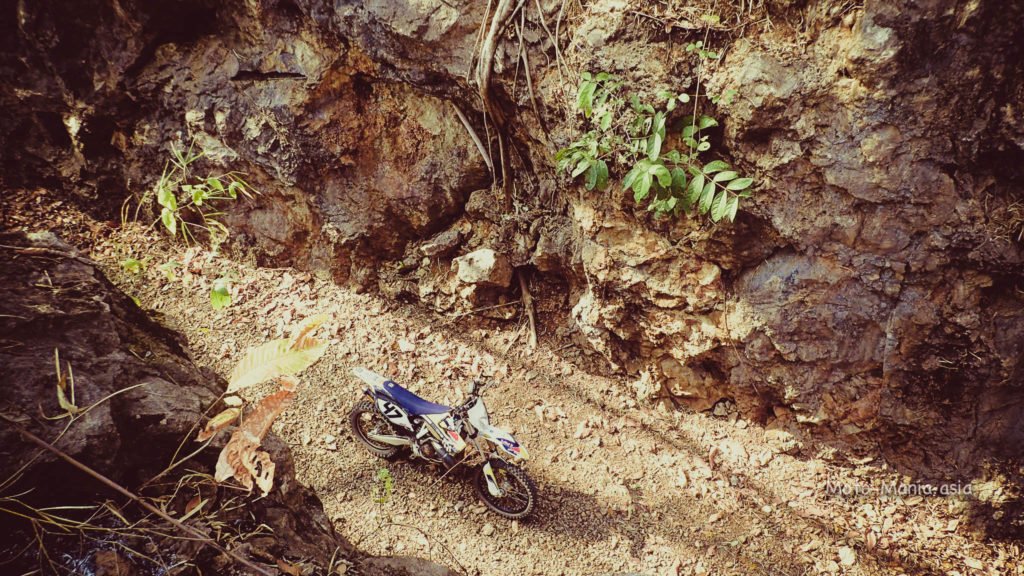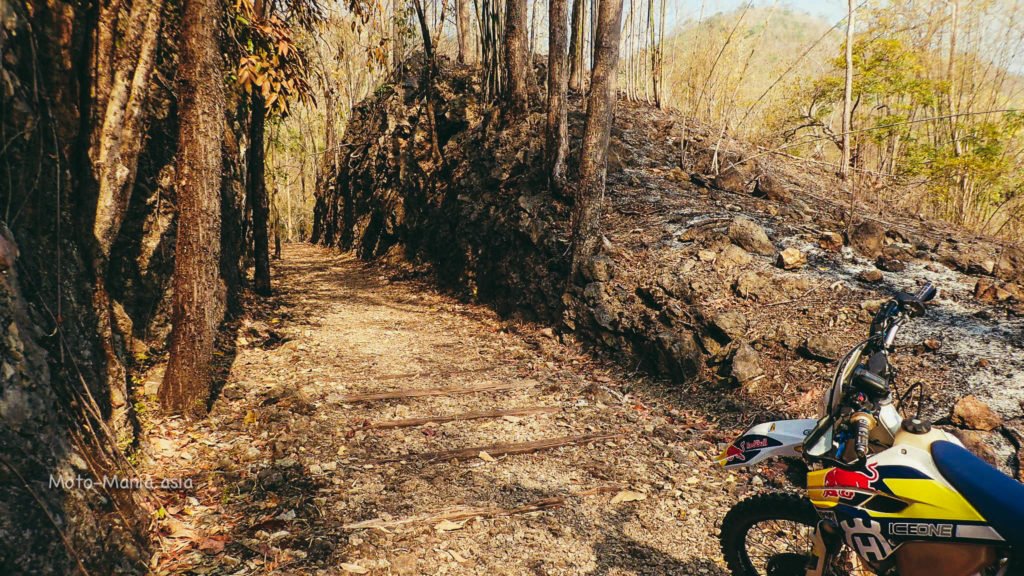 Erawan National Park Ranger Station. E. W7 (Nong Bon)
Lat 14.43626 Lon 98.94842
Elephants are in this area.. One big one with tusks. Also baby elephants roaming around according to the Rangers
A big area, pretty with light offroad.. Suitable for bigger adventure bikes and beginners.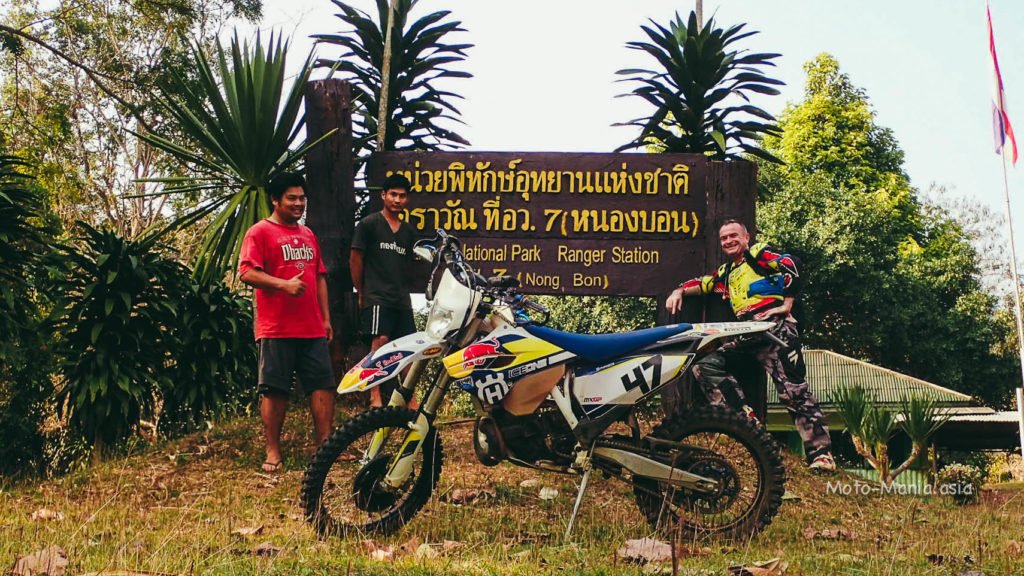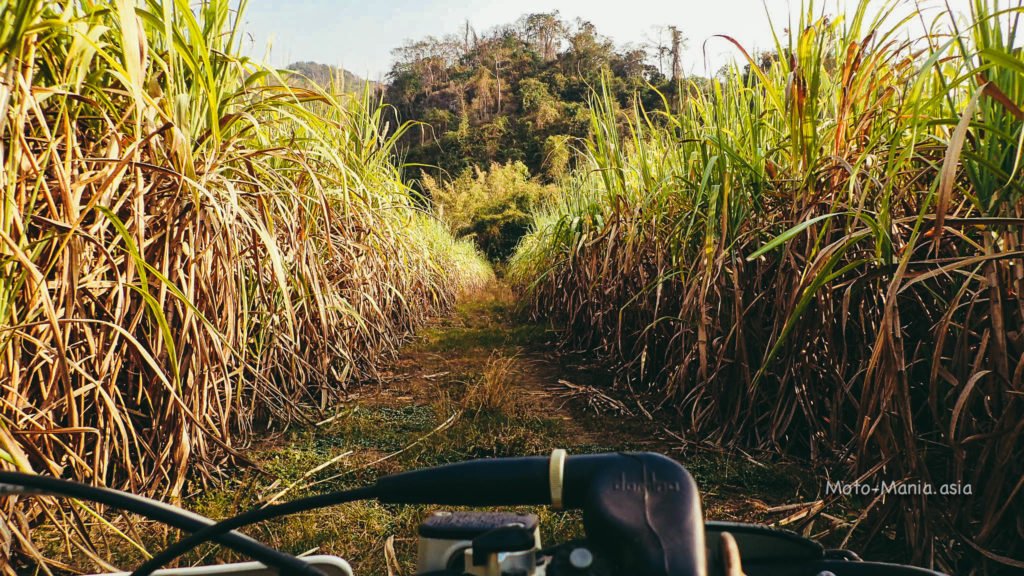 Heading back towards Baan Ricky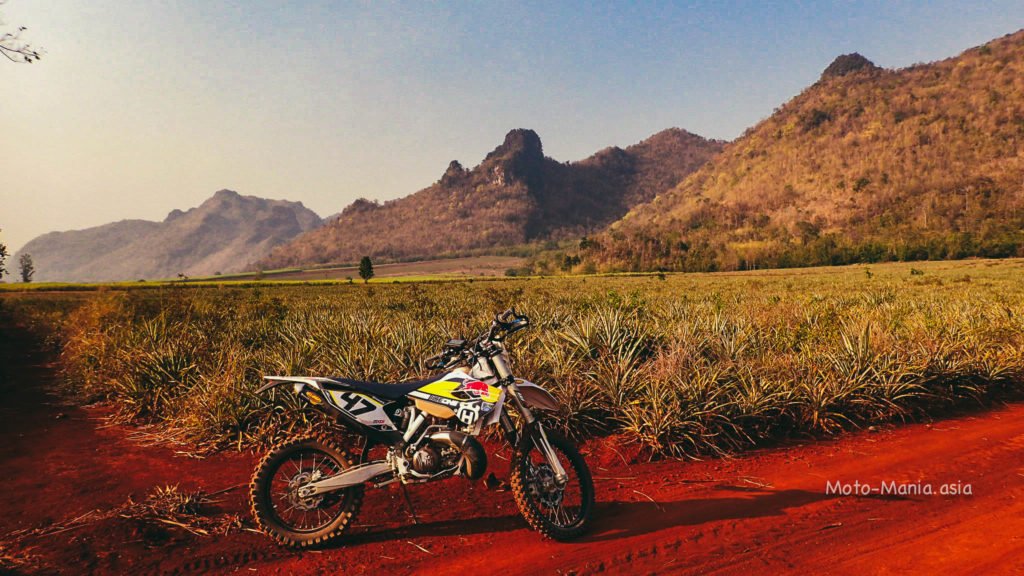 Up and out for a Sunday morning ride..
Burning off going on and hopefully over in the coming weeks.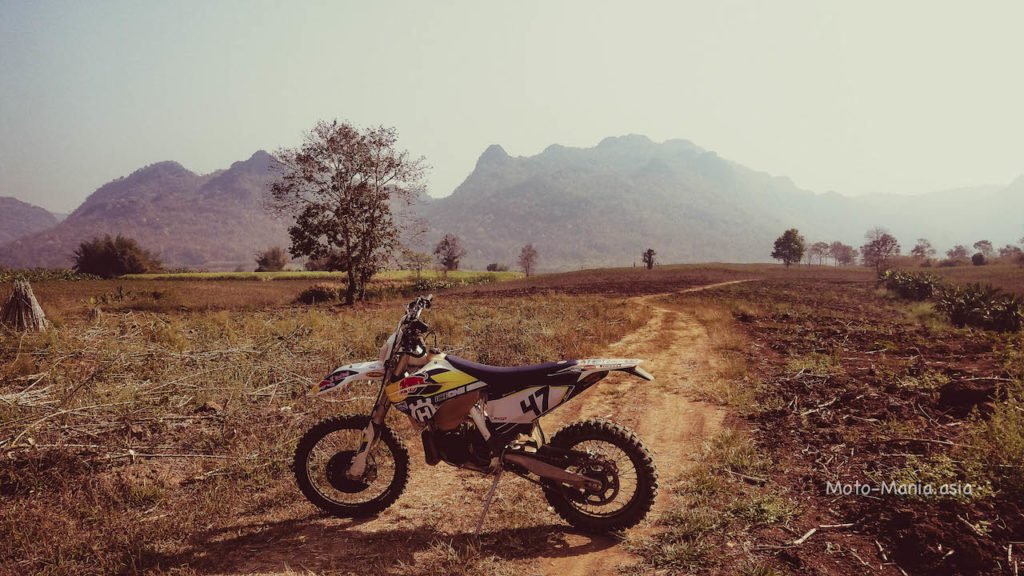 End of January 2018 with Filip.
Exploring around 50 KM up the road from Baan Ricky at Sai Yok.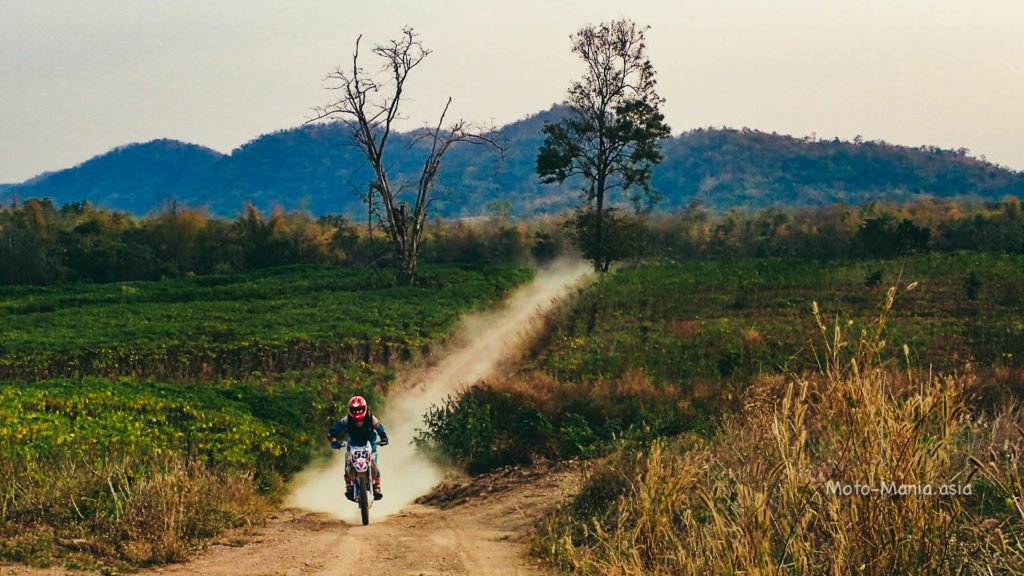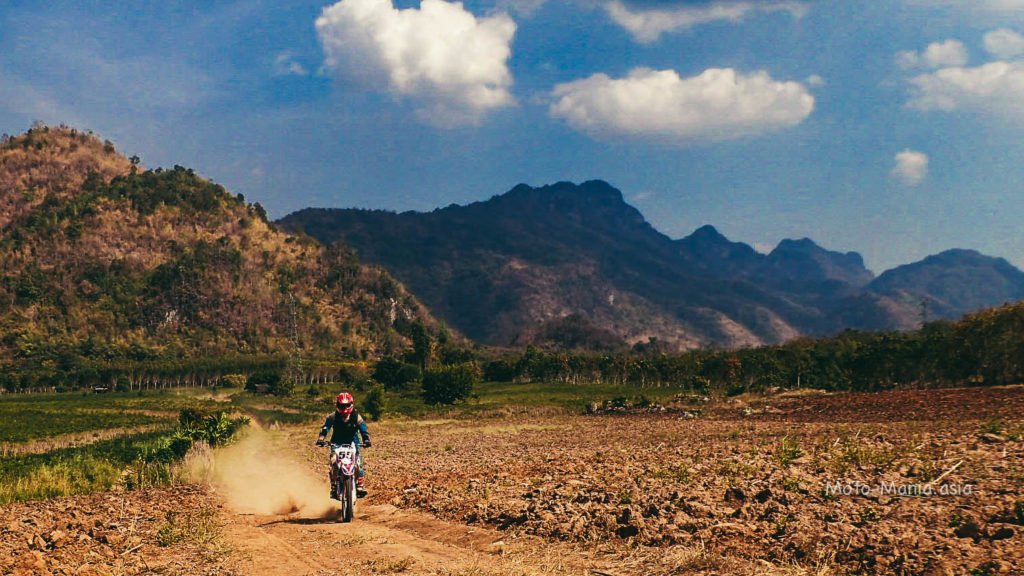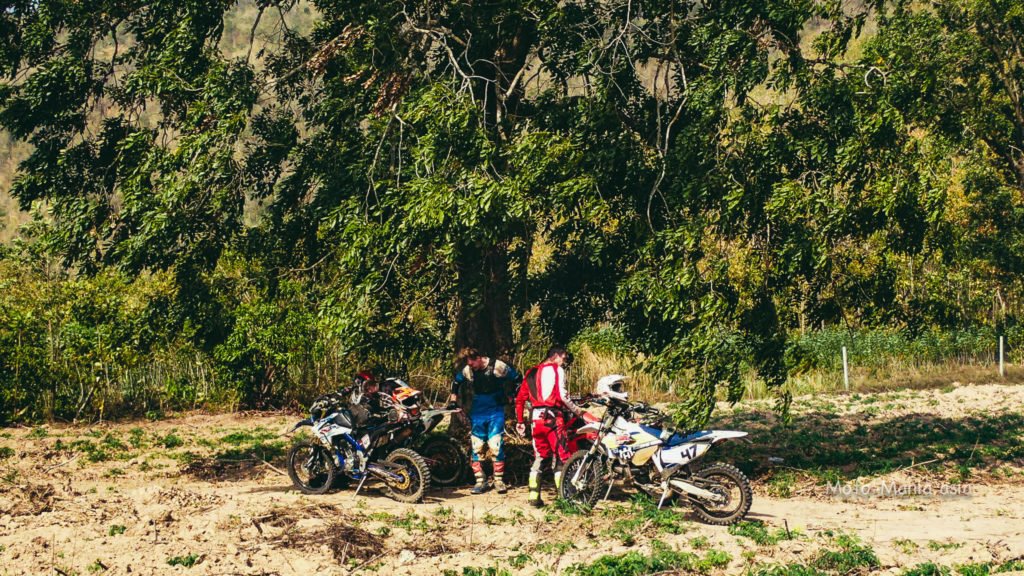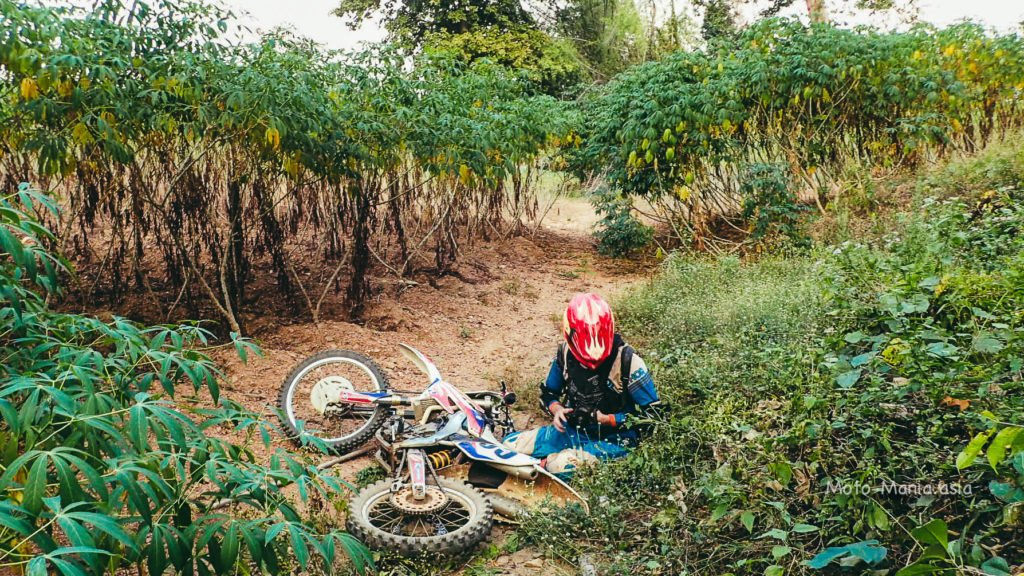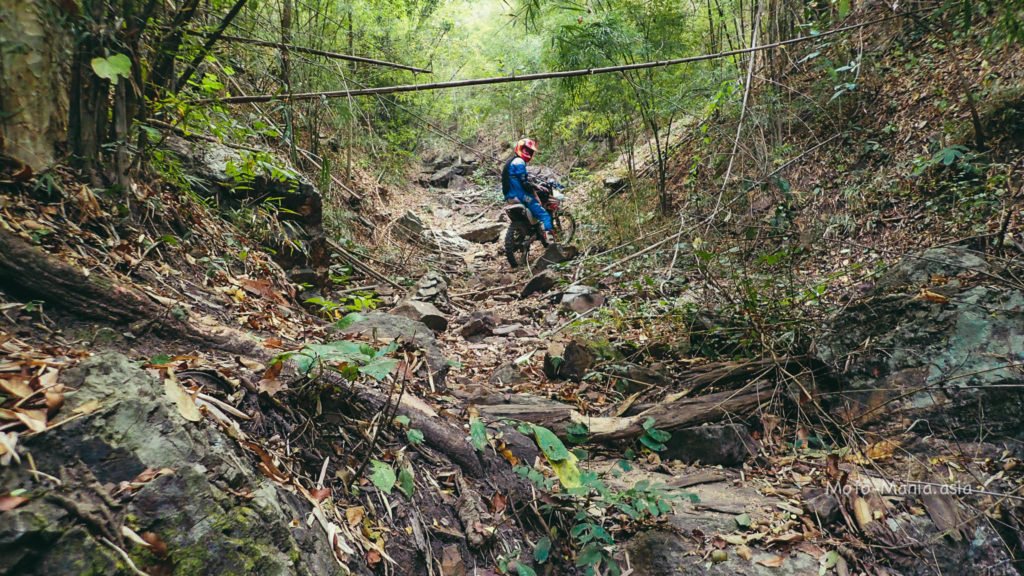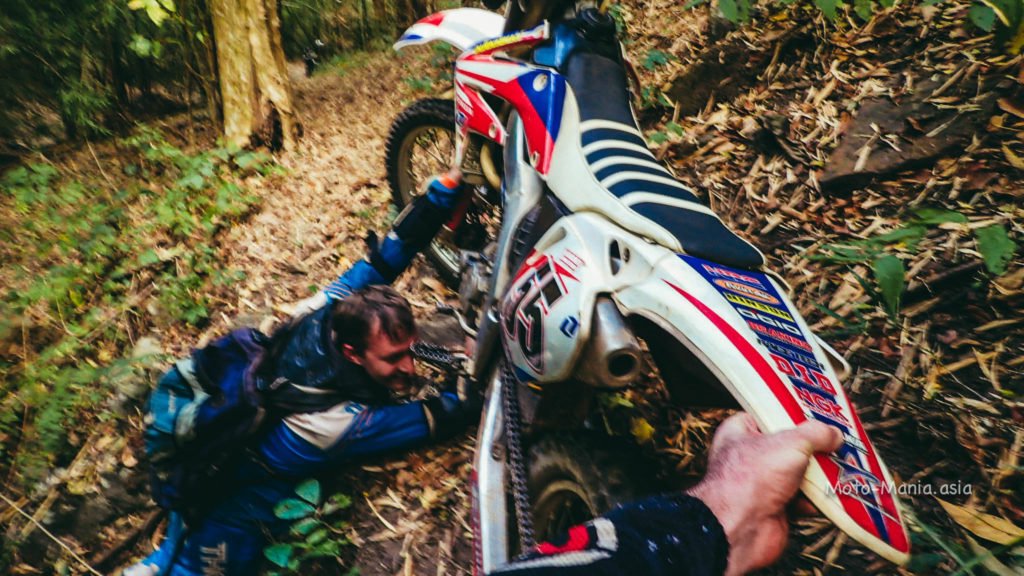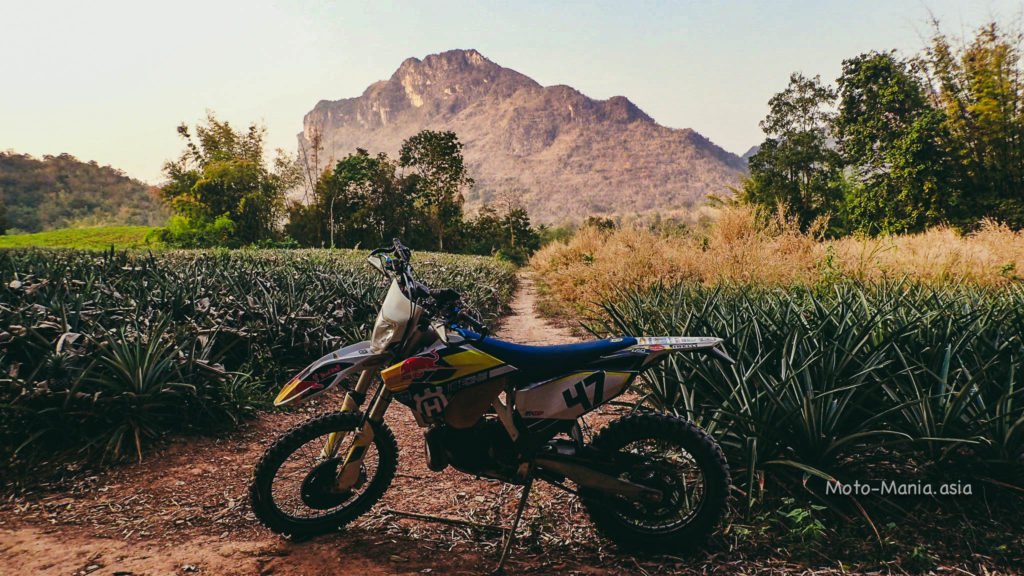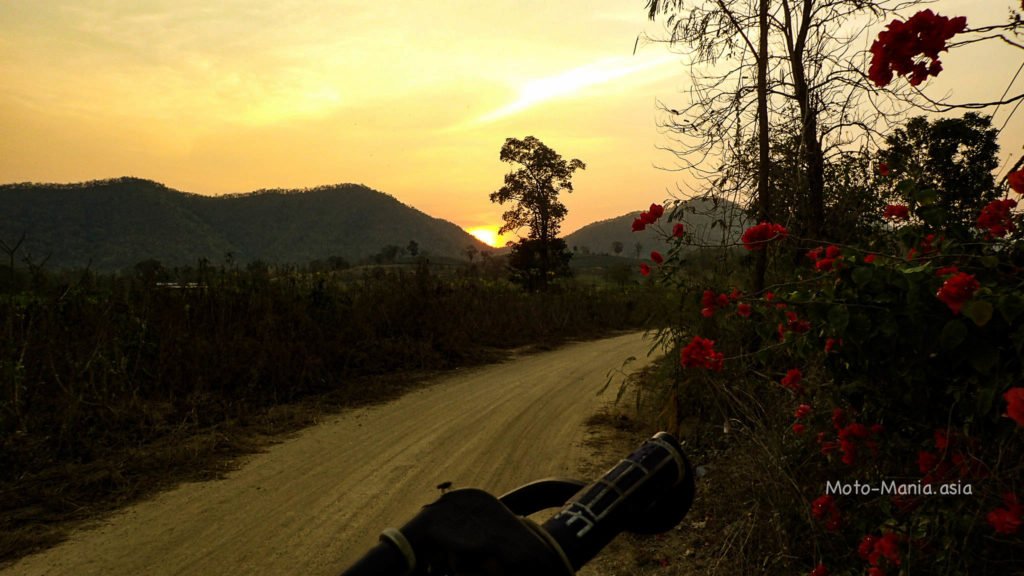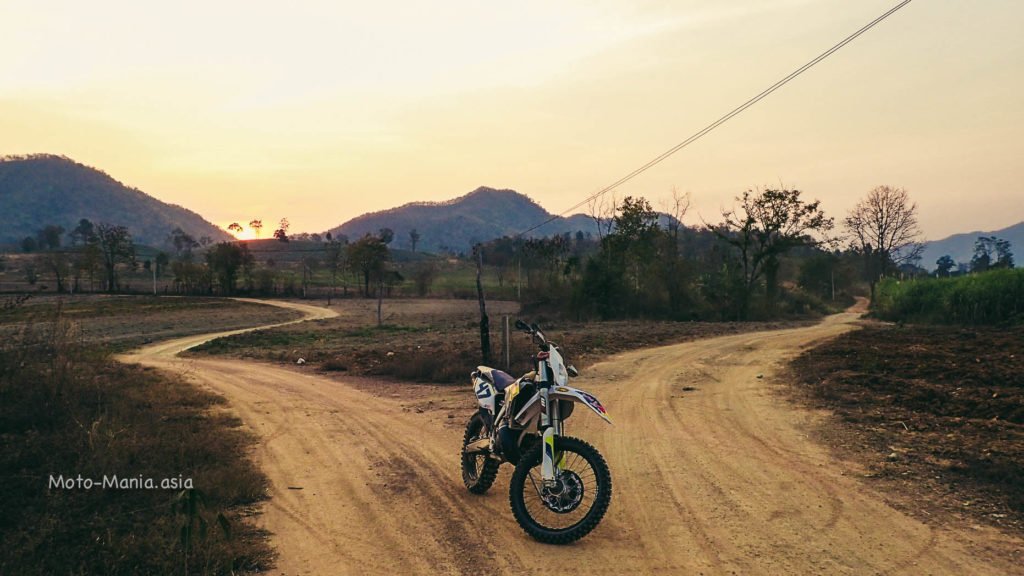 Riding through the temple in Sai Yok Yai.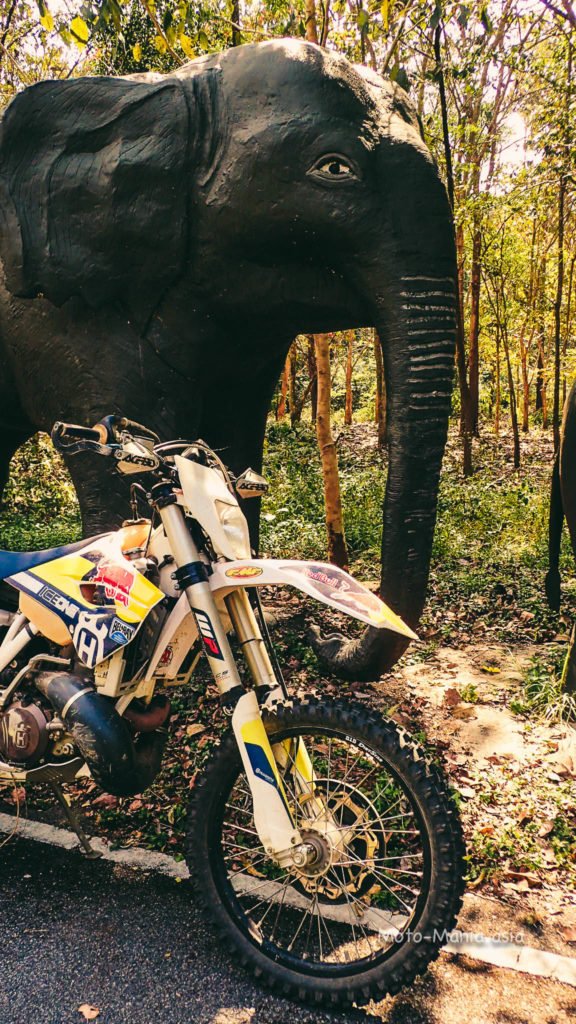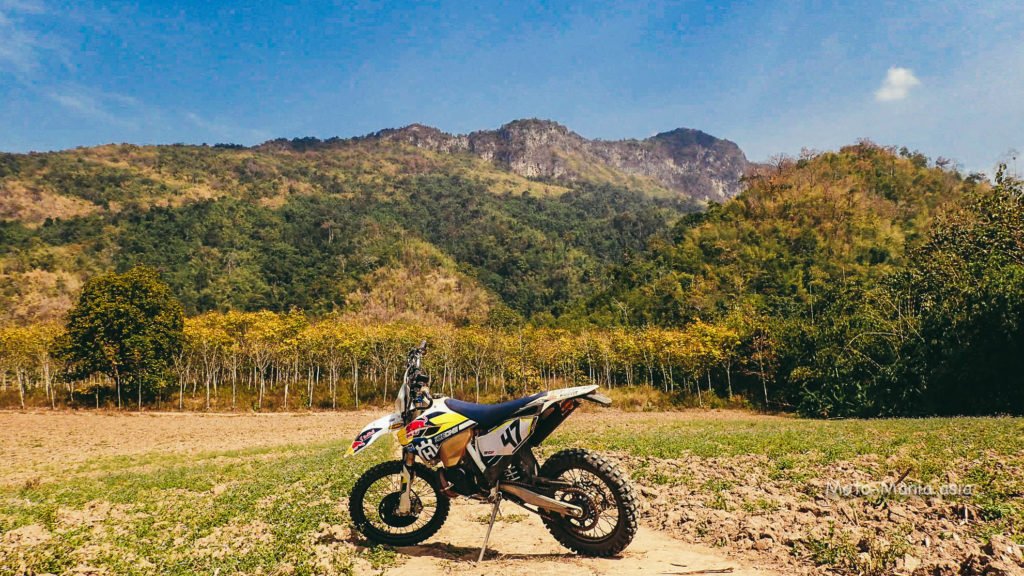 Checking out if it is possible to pass the Ranger Station and get through to the dam on the other side of the mountain.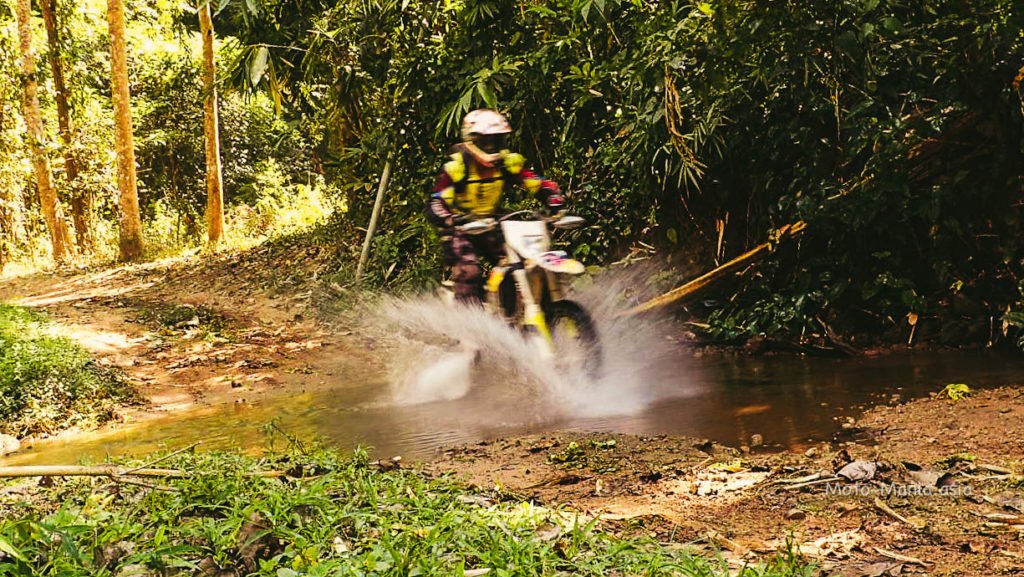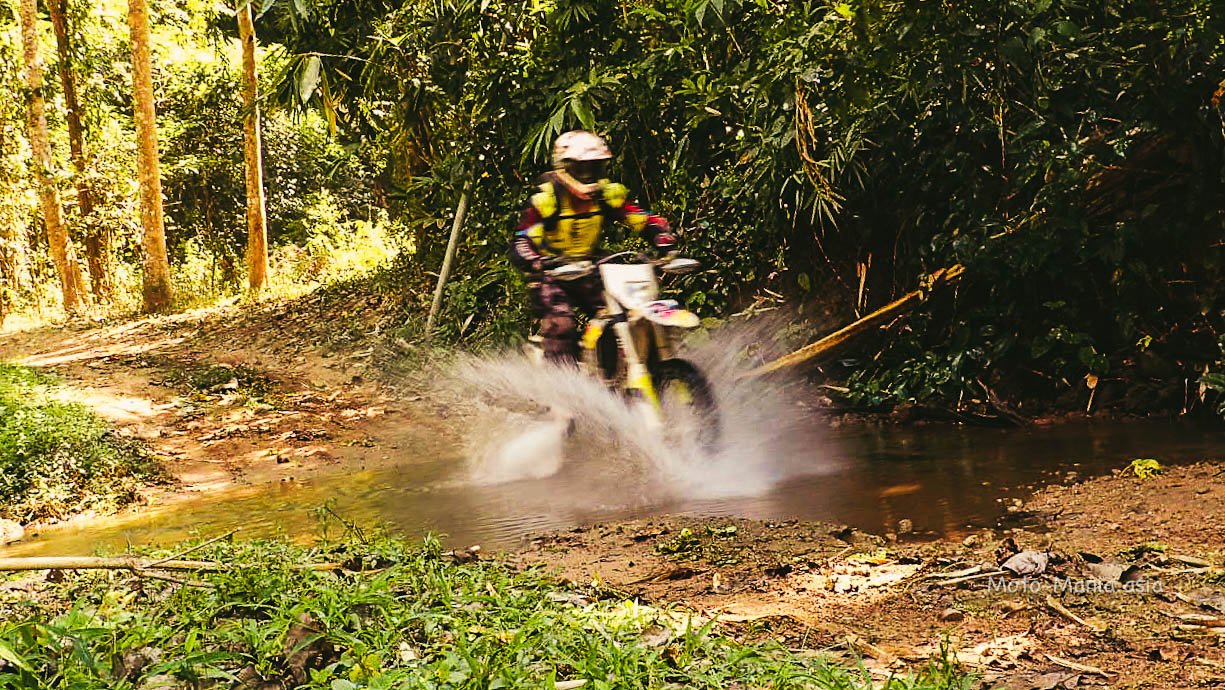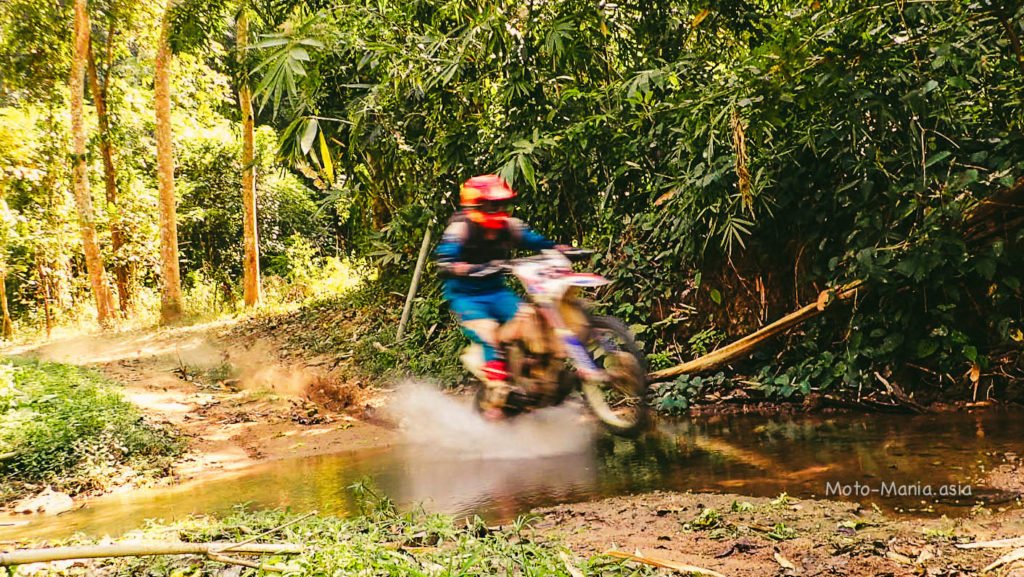 >> More pics to be added at the beining of the post when roaming around this area next time