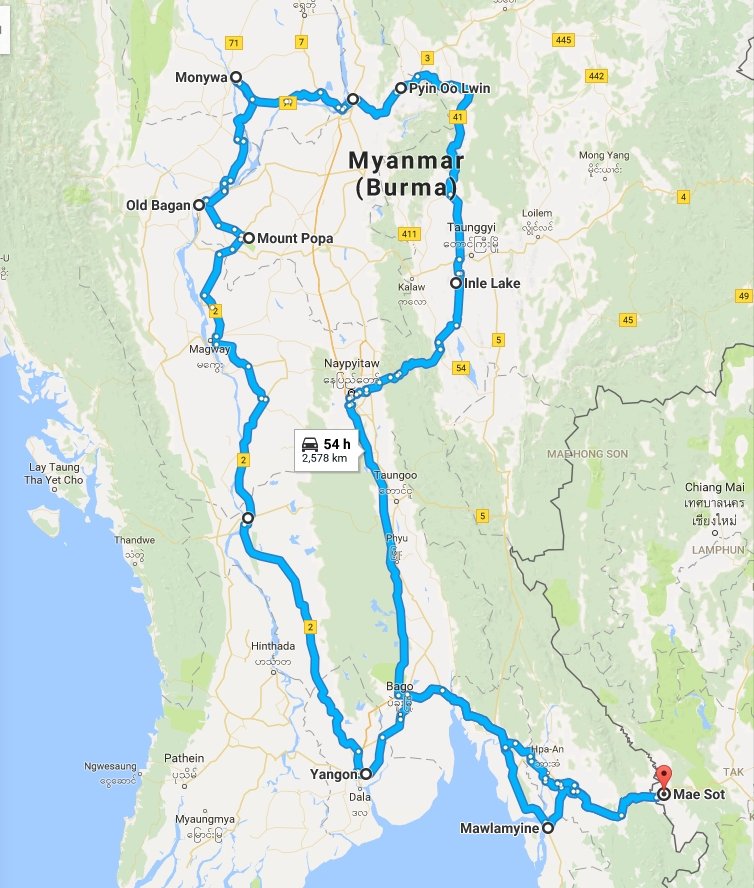 Myanamar Motorcycle Travelogue
Just under 3,000 km crossing the border at Myawaddy until our return 16 days later.
What an epic trip. The people and sites are simply stunning.
Each day we were given the next destination GPS co-ordinates. Assistance a phone call away if needed.
Brilliant freedom to go at your own pace and stop as and when you wanted with the support vehicle at the back.
This was way better than the caravan tour I was expecting..
I will let the videos do the talking from here.
Mae Sot to Myawaddy
Myawaddy to Yangon
Magway to Mount Popa
The Road to Mandalay
The Road to Pindaya and the Pindaya caves

The Road to Inle Lake
The Road to Naypyidaw
Naypyidaw – Golden Rock – Myawaddy
Day Excursions
Bagan
Goteik Viaduct
Inle Lake ( အင်းလေးကန် )
The Golden Rock  ( ကျိုက်ထီးရိုးဘုရား)
Shwedagon Pagoda
Myanmar The Lost Tapes:-
Our guide Mr Joe took a bunch of video on his phone.
The internet in Myanmar couldn't handle the volume of data then the DVD was lost in the post. Finally made it via EMS.  All I did was the editing and added an introduction and a few pictures to give some more meaning in a few places.
Overview
Riding in Myanmar can be hard. Mainly on your backside. The roads are rough as well as lots of road works going on.
Contrary to initial feedback.  I took my KLX 300 with Ohlins suspension and left the Versys in Thailand.
Unbelievably. Even when on the trip, some people are still trying to tell my a Versys would have been better..
Very happy to be on the Mighty KLX.. A Versys / V-strom equivalent would have been no fun at all on these roads.
Plus. I like to get off the road and explore around, not just sit glued to the tarmac. Simply not possible on a road orientated bike.
The KLX gave me the freedom to zip up to the Stupa tops. Look at the GPS and take short cuts cross country.
It was just great to be on a light bike that can handle rough roads and road works, mud as well as mountains.
A few times it would have been nice to have a bit more grunt. You rarely get over 110 Kph and if you do. It isn't for very long.
Recommend 50 / 50 tyres.. This is the winter period and it shouldn't be raining. We had two good days rain.
I want to go back….
Big THANK YOU to Myanmar Senses Family Travel and our wonderful guide ( Joe ) and Driver ( Joe )  Everyone is called Joe :-).
Now to edit the thousands of pictures from the trip.. more to come..
Cheers
Brian