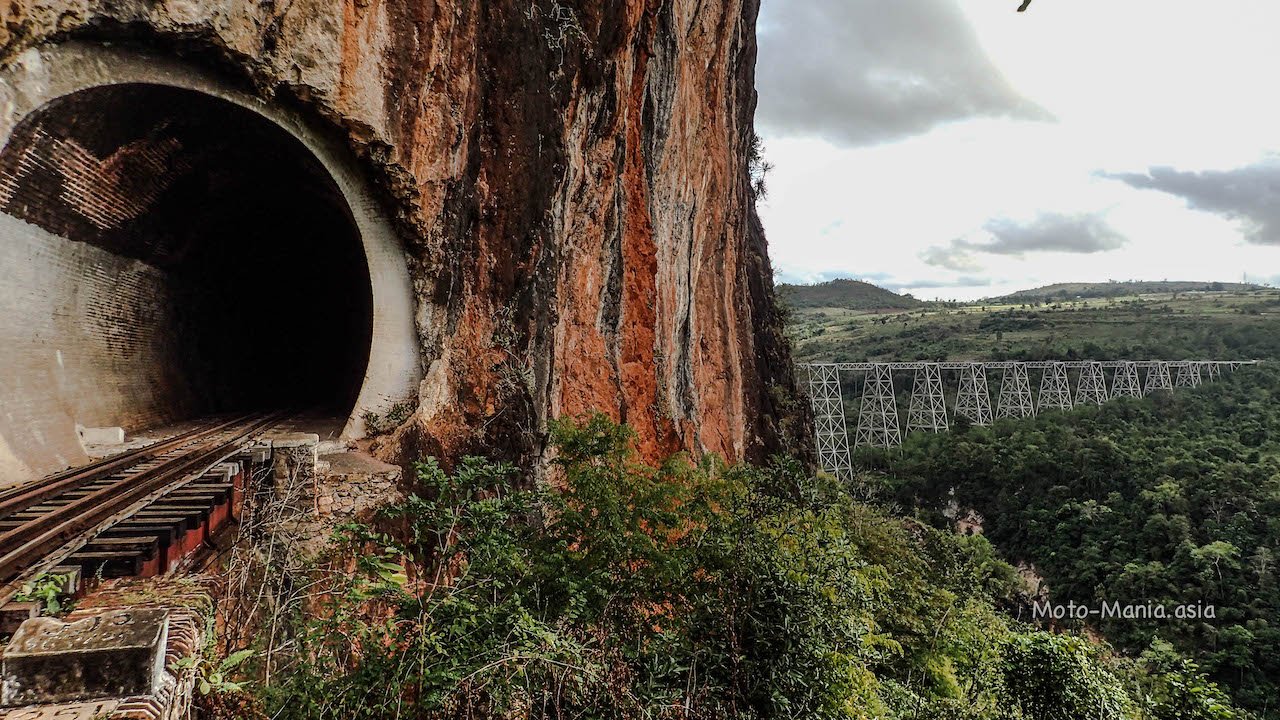 Goteik Viaduct  "Von Faessler's Express"
The Goteik viaduct (Burmese: ဂုတ်ထိပ်တံတား, also known as Gohteik viaduct) is a railway trestle in Nawnghkio, western Shan State, Myanmar (also known as Burma). The bridge is between the two towns of Pyin Oo Lwin, the summer capital of the former British colonial administrators of Burma, and Lashio, the principal town of northern Shan State. It is the highest bridge in Myanmar and when it was completed, the largest railway trestle in the world. The bridge is located approximately 100 km northeast of Mandalay.
The bridge was constructed in 1899 and completed in 1900 by Pennsylvania and Maryland Bridge Construction.[2] The components were made by the Pennsylvania Steel Company, and the parts were shipped from the United States. The rail line was constructed as a way for the British Empire to expand their influence in the region. The construction project was overseen by Sir Arthur Rendel, engineer for the Burma Railroad Company.[3]
An epic inclusion to our Myanmar trip.
A very early start out of Mandalay. Then hitting road works and a truck accident made us 1 hr plus behind schedule.
Frantically trying to get to the first station for our journey.. We missed it by 10 minutes
We see the train on occasion in the distance. We didn't expect to be chasing the train.
Joe our guide called the railway station and confirmed the time and booked tickets.
We are going to make it after all.
We arrive… Missed the train by a matter of minutes..  Everyone was broken.. 5 hrs and pretty bad roads and we missed it.
After having a look around.. Back waiting in the Van..
Joe came back
"The good news is.."
"The Station Master will let us take the service train over.. BUT..  It will cost 100 USD.."
We are all in.. Let's do it.. So we hired our own private train and stopped for photo's etc.
Ended up being way better than if we had taken the standard train with no stops and just gone through the viaduct.
Never give up..
Cheers
Brian