Vietnam Enduro Adventure – Mui Ne Sand Dunes
What a weekend, what a blast.. Second day since the ride is over, aching more than ever..
A memory for a life time with fantastic people.
How did we get here? Last year when I was on my sojourn in Laos..
Lam said to me.. Why don't you come and ride here in Vietnam.. I thought, now that would be cool.
We must have known each other for close to 2 years now.
Lam also has a keen interest in Laos and adventure riding.. so we would help each other out with information.
My new job was getting closer and no time to go to Vietnam and ride just yet.. so we agreed.. To look at April as there are lots of holidays then.
Well it worked out best for everyone in May.. Long weekend for me to get over to Saigon.
Lam and Viethorse could finish their work and we can ride Saturday in the sand dunes and back to Saigon and Bangkok Sunday..
My last time in Saigon was about 6 year ago for an Inmarsat conference. The time before that was 1997.
The old US Embassy building was still standing with a padlock around the gate.. Vietnam had not long been opening up.
This place is really booming and open for business. Amazing changes in nearly 20 years since my first visit.
First things first…
VietJet to HCMC was just over 5000 baht return including 20 KG luggage.
Helmet and boots on the plane…
Ready to board.
Probably time to update the Vietnam visa thread..
Things have changed a fair bit. around 5 or 6 western countries can get Visa on arrival now. No fee
Those that have to pay.. The fee is down by about a third of what it use to be as the Gov't is trying to encourage tourism
– Watch out Thailand..
– You still feel tourism is new and the people are not jaded by it here.
– Even customs and passport control are friendly.. Not the miserable sour faces you get at the airport in Bangkok.
It has been discussed that Aussie and Kiwi's will get free visa access soon.
Well I am all up for saving some baht.. So this trip I decided I am British.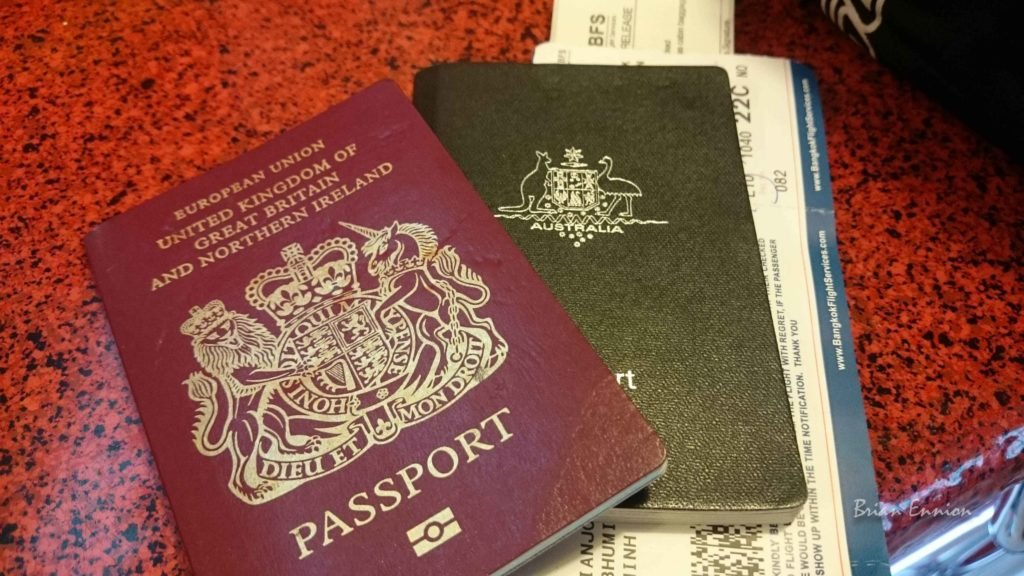 Lam being the very good host that he is.. directed me to one of two taxi services that won't rip you off.
They didn't and were very friendly and even helped take the bags out of the car in to the hotel.
Nice run past the old South Vietnam Presidential Palace.. ( went inside on past visits.. Worth a look if you are in town )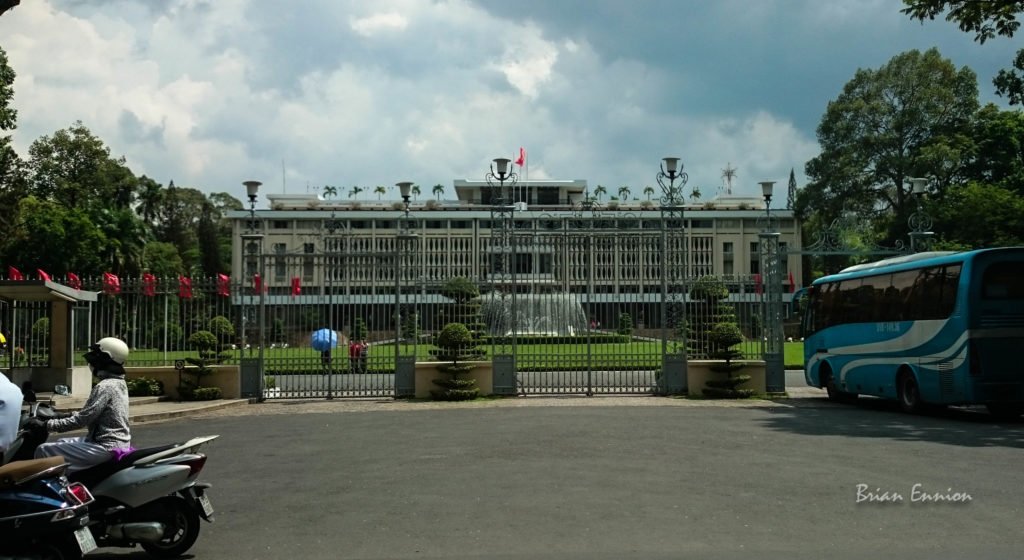 Then a mega Harley shop…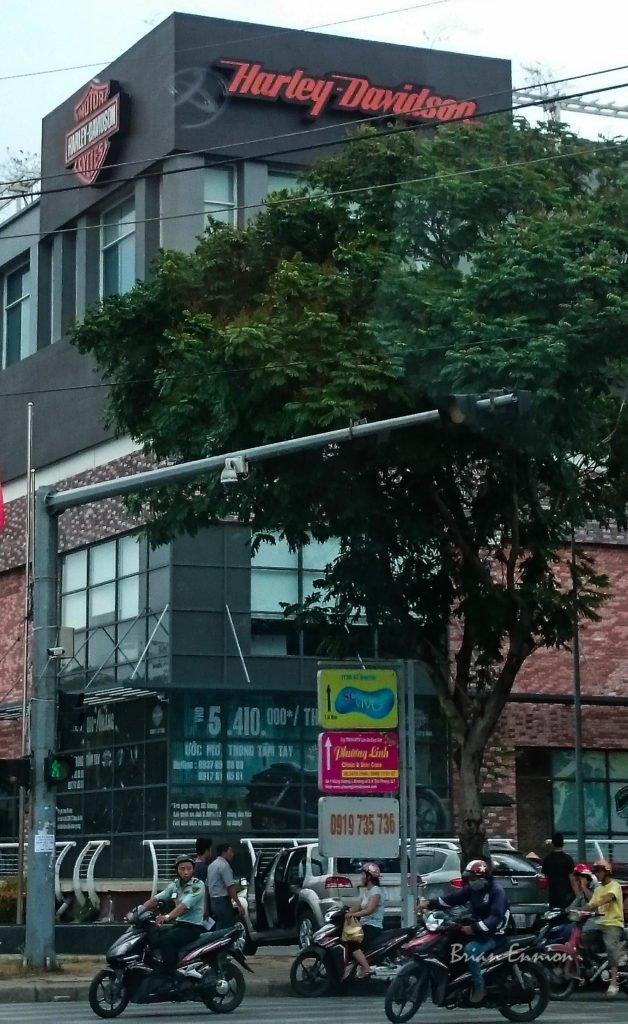 Lam booked me in to a hotel near his place.. as Saturday morning we were leaving at 4am
Leaving.. not waking up…..
600,000 Dong.. I guess around 25 USD..
I was still a little seedy from the beer and curry the night before with Adrian..
But managed to call Beer O'clock while waiting for the fellas to finish work.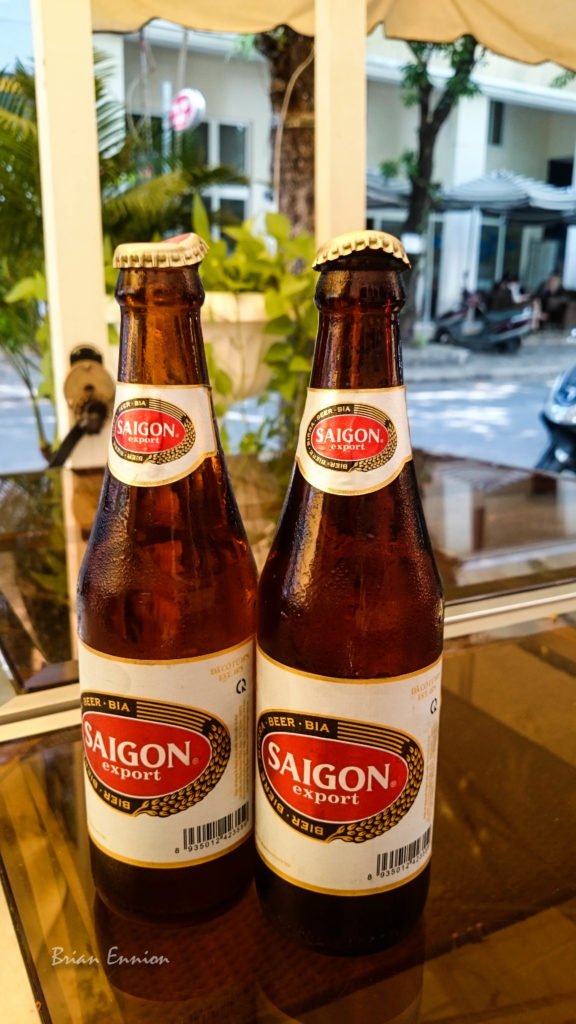 Followed by two more as was feeling pretty bloody good.
Lam had to take care of his family and load up the bikes and would join me later for beers and cheers..
So decided to go for a walk.. This area is a new part of Saigon.. 10 Years ago I would have been walking in swamp land
It did kinda remind me of being in Singapore.. No disrespect.. but I guess I am old fashioned and like a bit of dirt and grime and chaos.
All a little too clean and nice…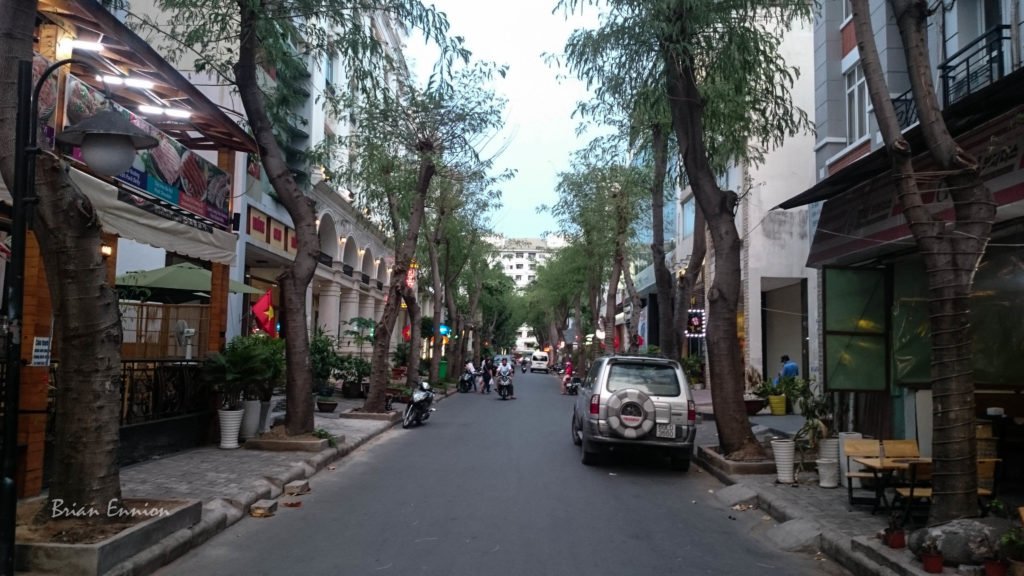 Lunch to go.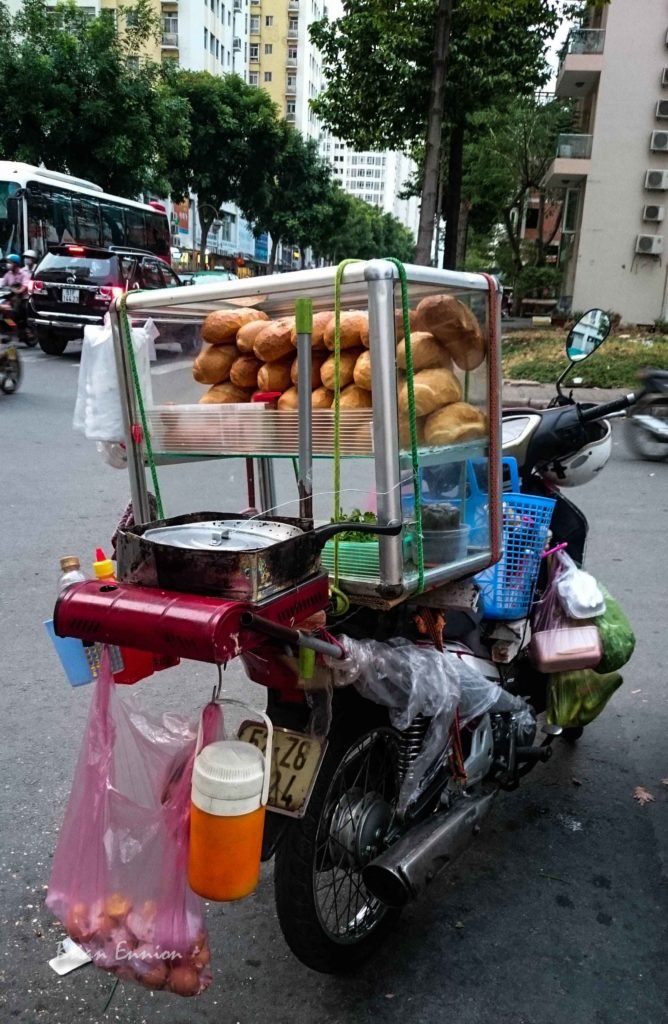 Making friends along my little walk.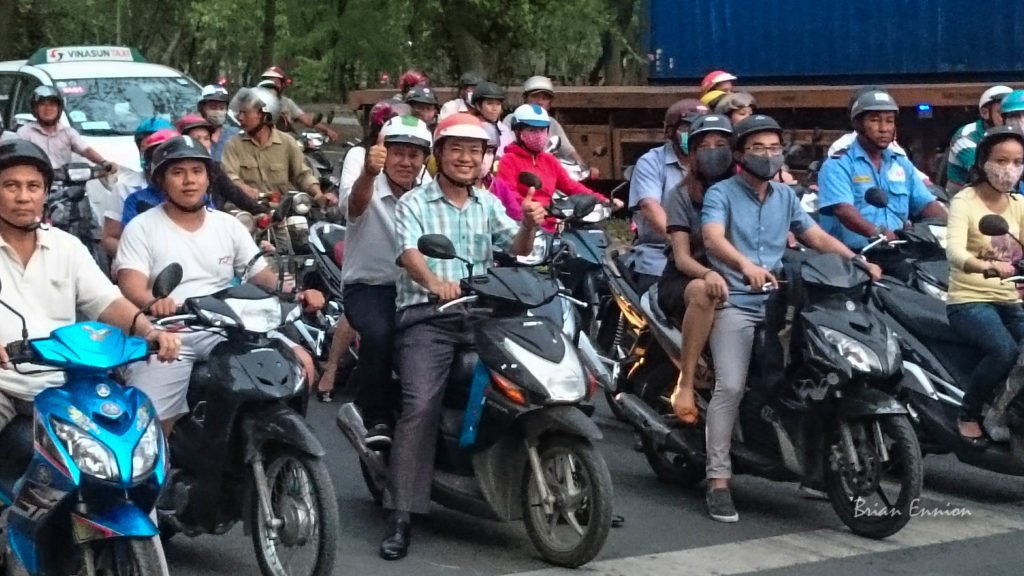 There is food from at least 4 US states here.. Texas, Louisiana, California and some where else..
I had serious trouble trying to find Vietnamese food..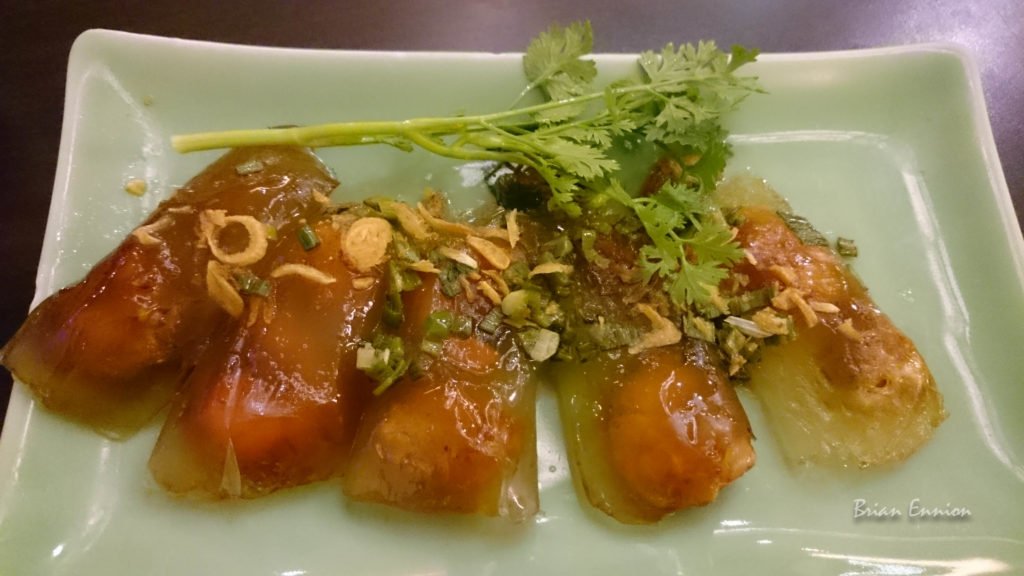 This is a classic.. i wonder how many people pressed the button to cross at the lights.
I nearly did.. but as the button and sign were facing the wrong way.. read it..
Basically the riot squad will appear.. Public Order Panic button..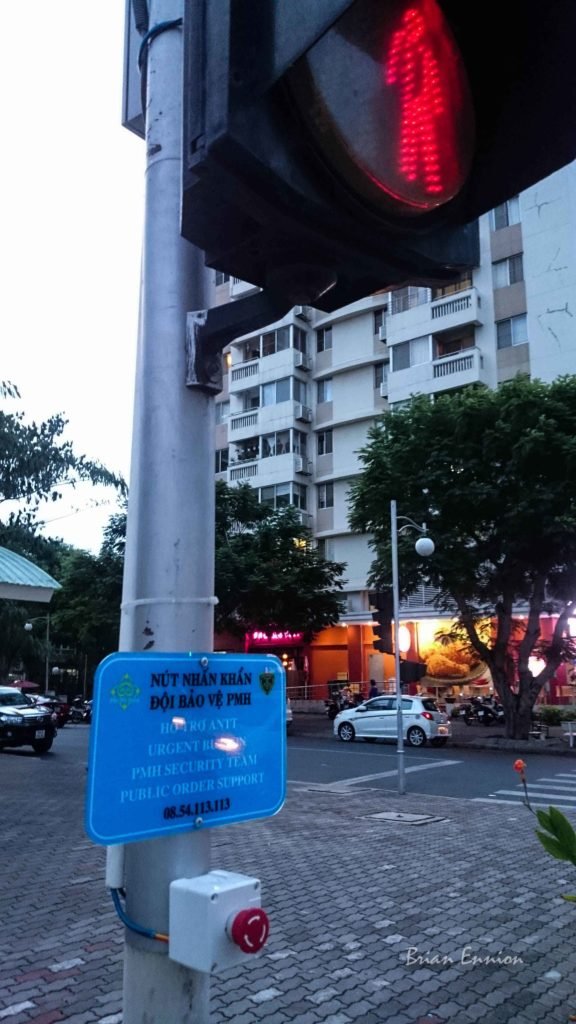 Lam was able to meet up after he had taken care of the family and loaded up the bikes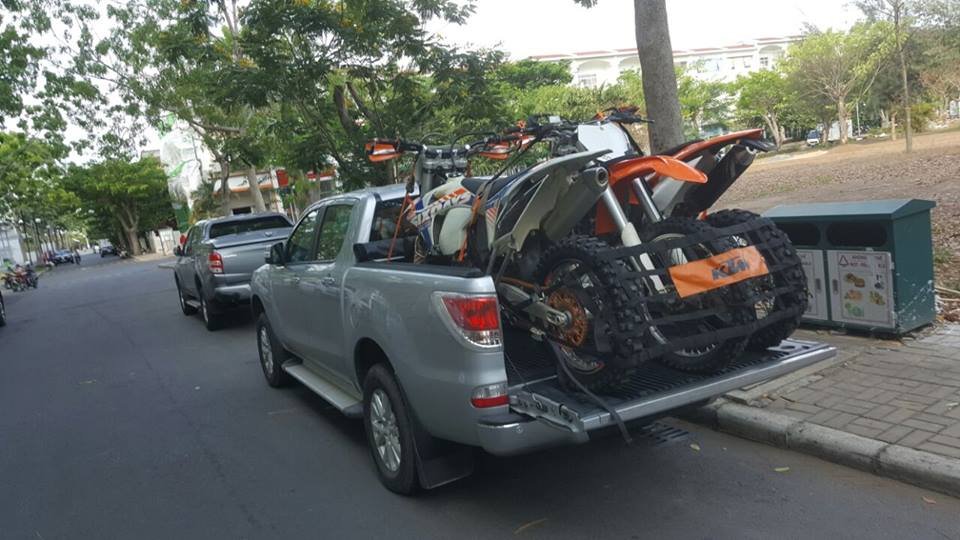 Beers and Cheers.. Great to finally meet in person after so long.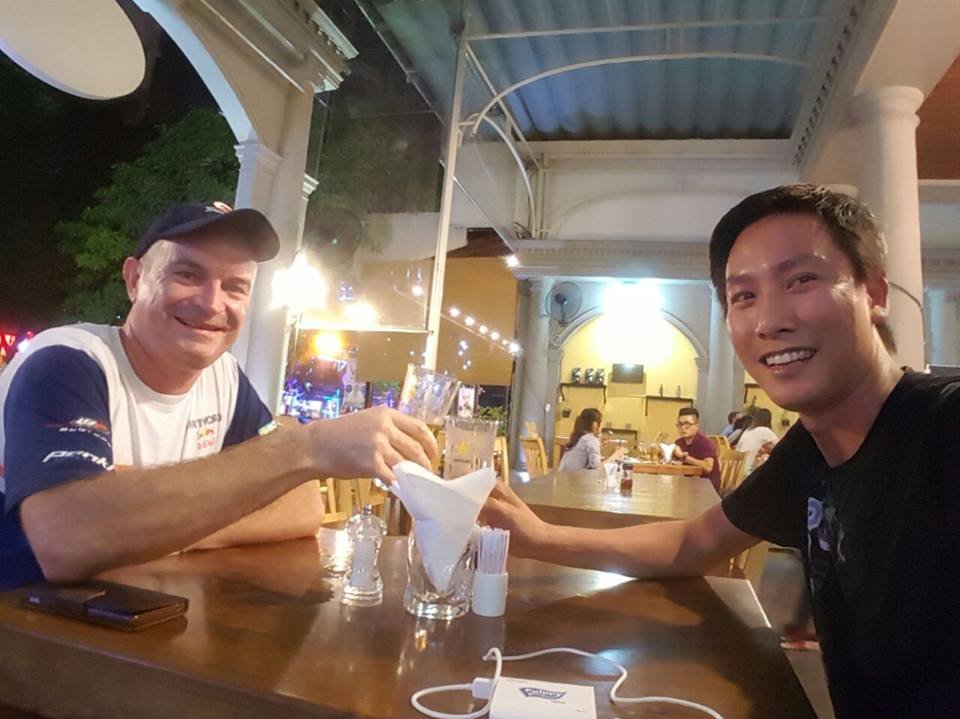 [B]A Vietnam Enduro Adventure – Mui Ne Sand Dunes:-[/B]
Some great Enduro riding in Vietnam with some of the best bikes in the country.
A short video of our 1 day Vietnam Enduro Adventure.
If you want to do a tour.. Here are the company details.
Best guide, great English and well maintained bikes.
http://www.panda-enduro.com/ Panda Enduro Tours caters for MOST abilities and ages.
If you receive a Youtube Error. "Unavailable", it is due to music copyright in your locations or provider..
Try and watch on a Laptop of Mac.
Time for some photos.. Took a little while as the video took three nights to edit and two days to upload…
4 am and Lam was at my hotel with his friend.. Ready to roll.
Took us about 3.5 hrs to drive up.. There is a nice new super toll way / highway.
The guys said this saves around 4 plus hours to the journey they use to take.
It is a pretty good road.. One of the best I have seen in the country.
We stop for breakfast before going to the resort.
I wished I hadn't ordered the egg and bread after I saw the noodles come out they guys ordered.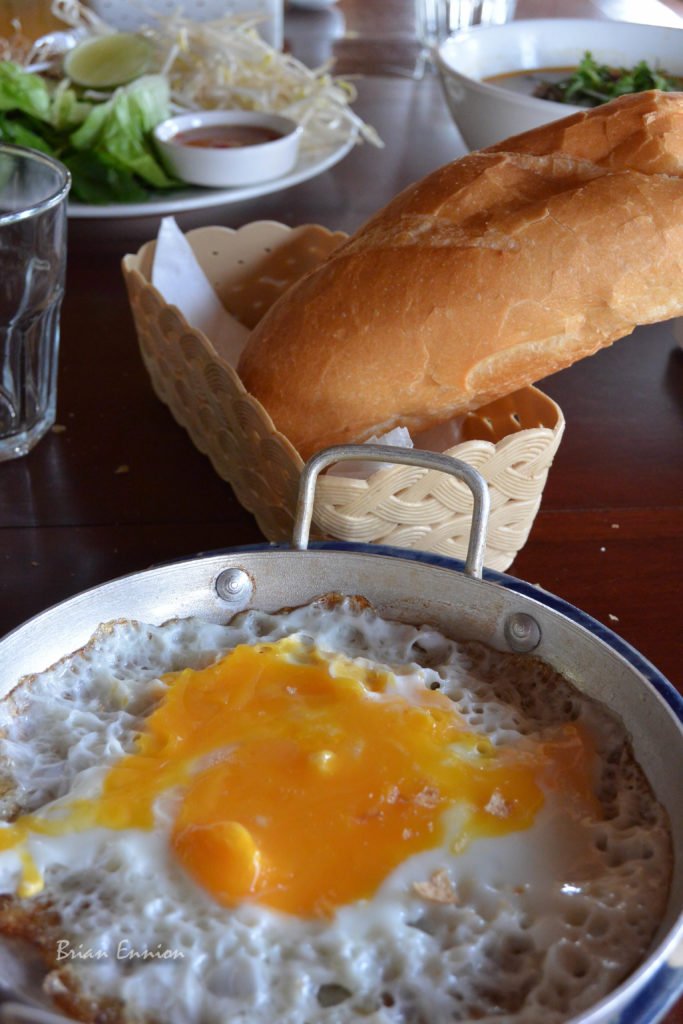 After this decided to go with the flow.. I was thinking Pho would be like in Lao and boring.
But they have over 40 different types of noodle dishes!
A nice resort and only 500,000 Dong a night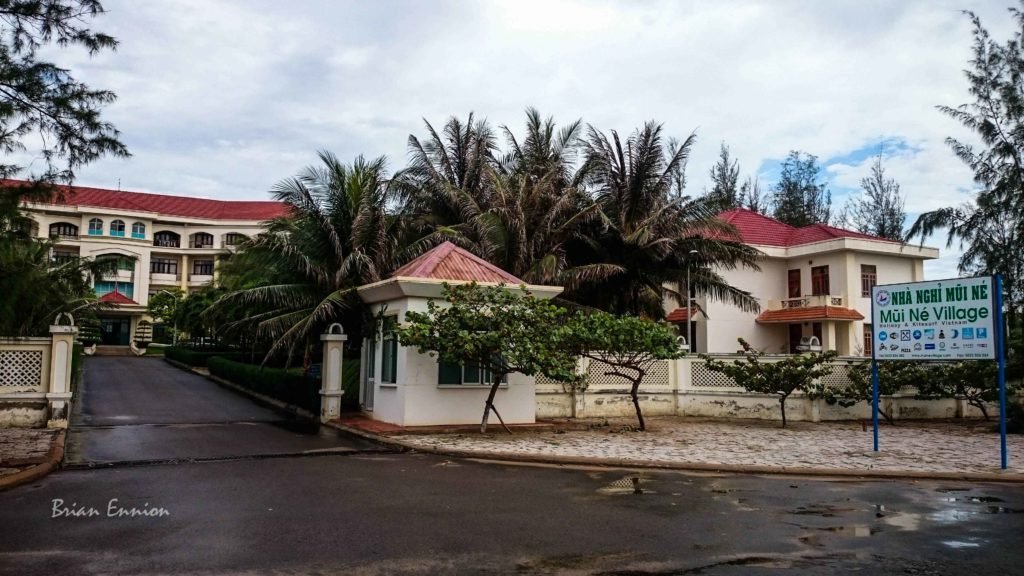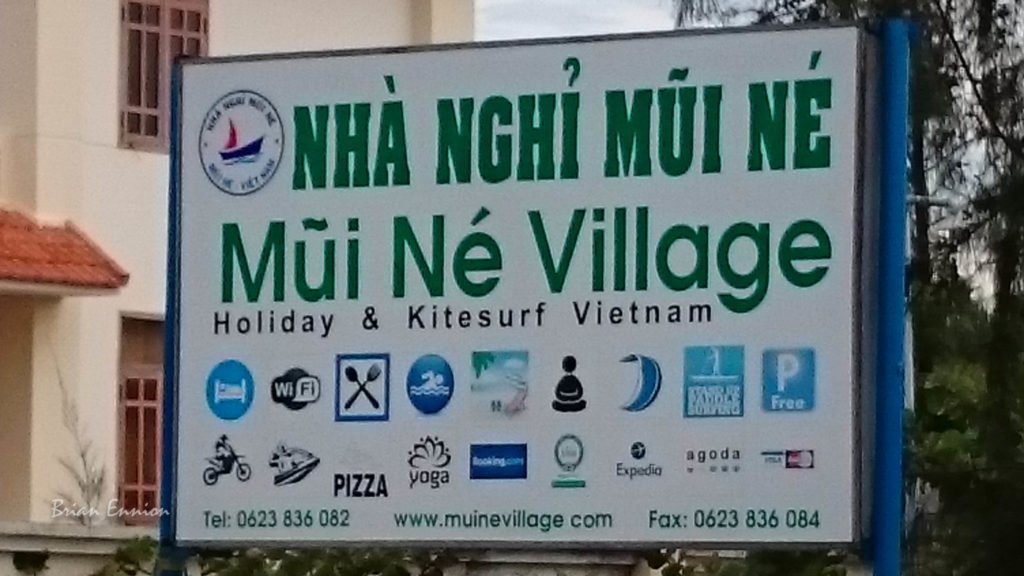 The beach is just across the road.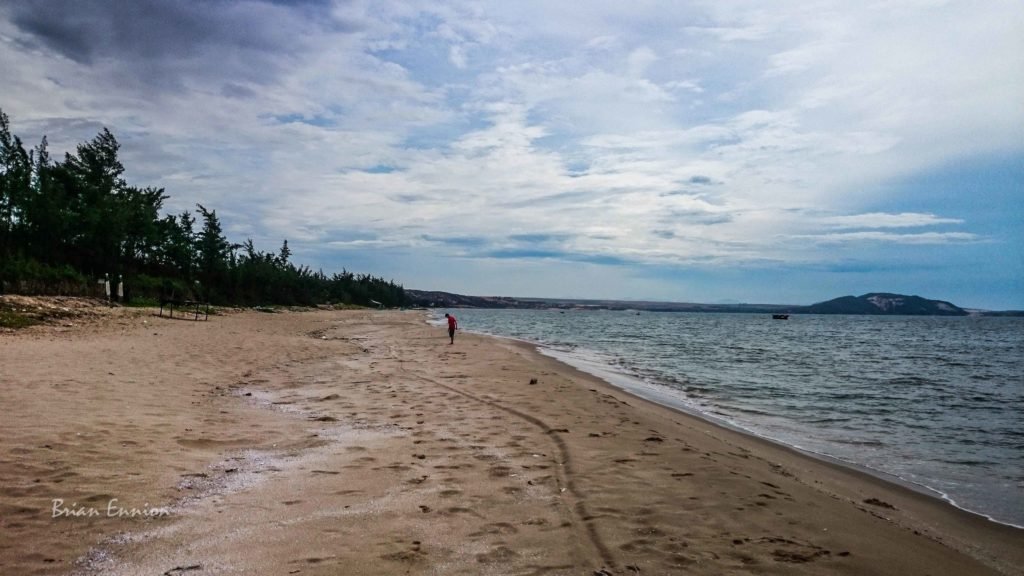 My ride for the day… What a ripper.
Love this bike.. 500 cc of power..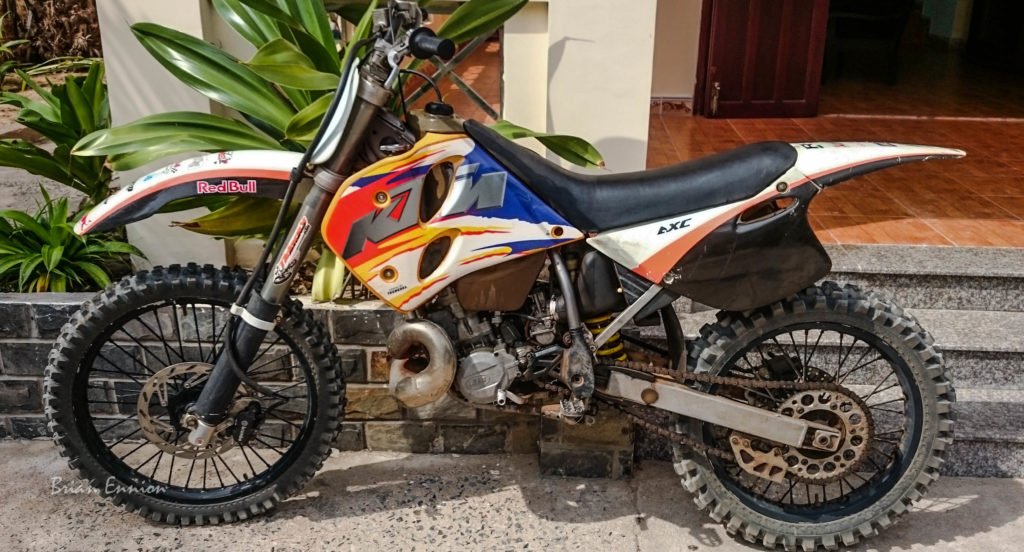 VietHorse couldn't find his KLX 450…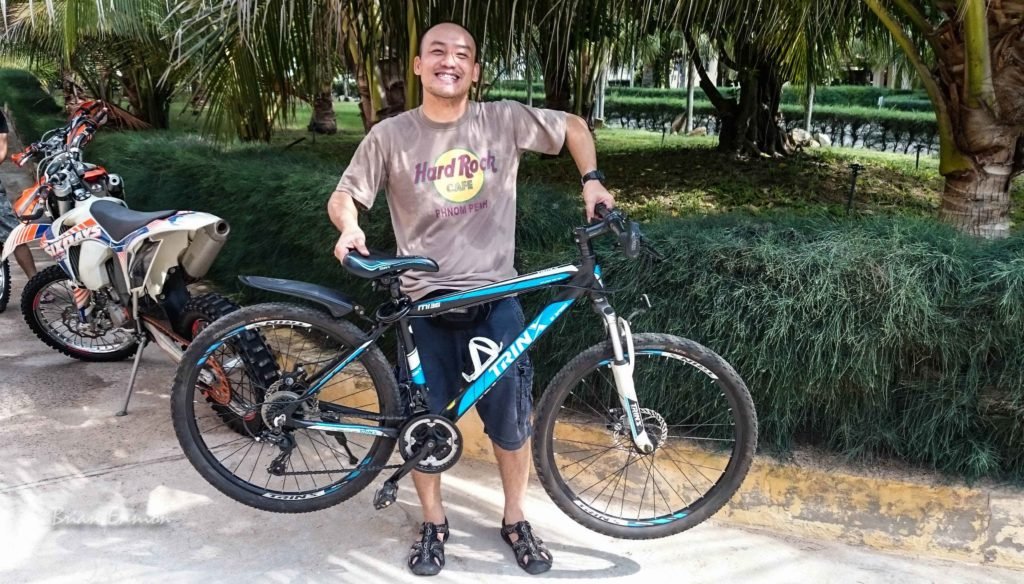 It was out to the Dunes.. As you saw on the video.. Lots of fun and lots of falling off.. LOL
It was hot hard work until you relaxed and didn't fight the bike..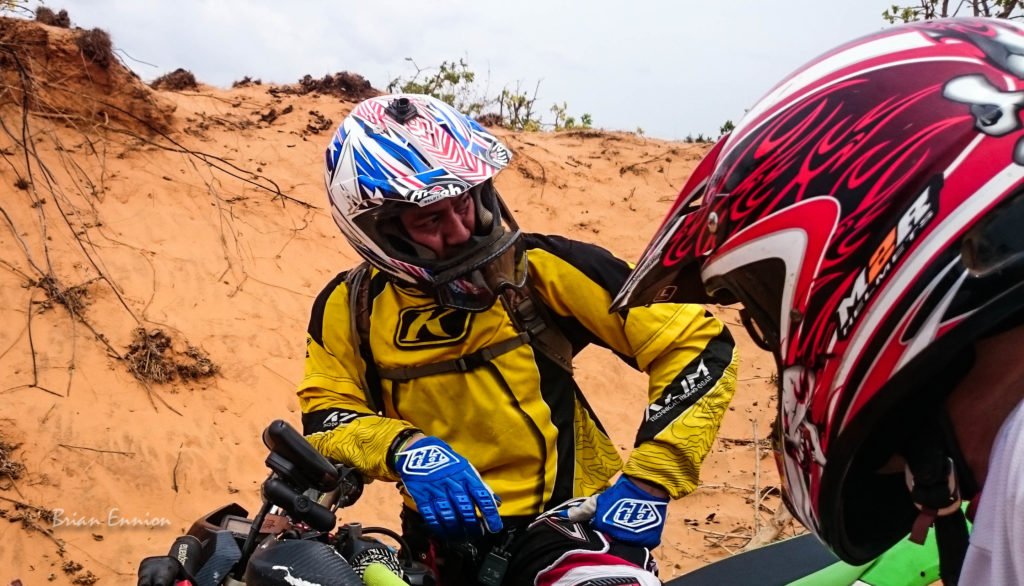 Hmmm. A Selfie of a picture of a picture of a picture recurring…
Viethorse had a flat.. Turned out to be sand pushed the value in.. No flat after all.
I was not complaining for the break and drinks…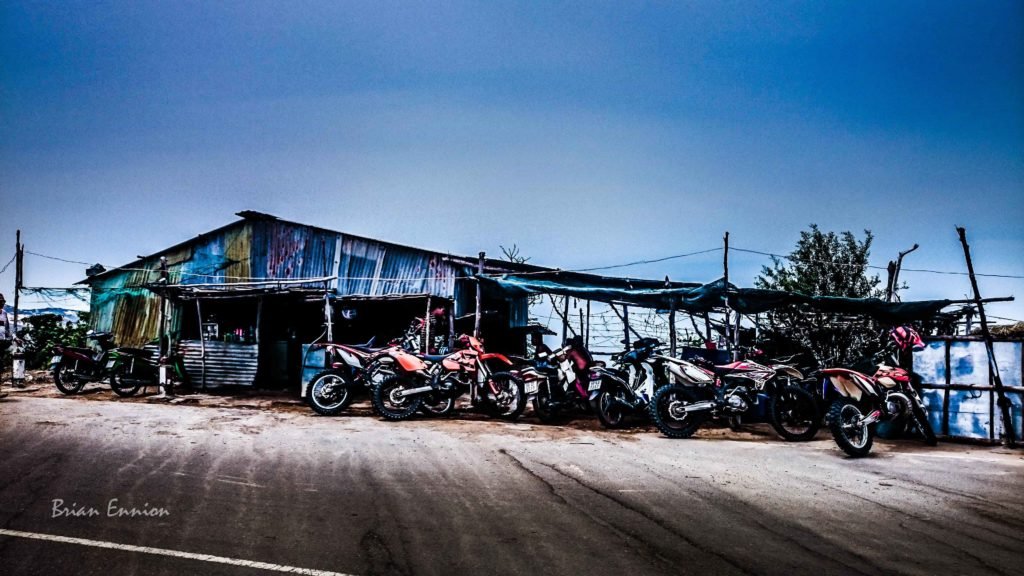 Quality not as good in Selfie Mode..
Lawrence…..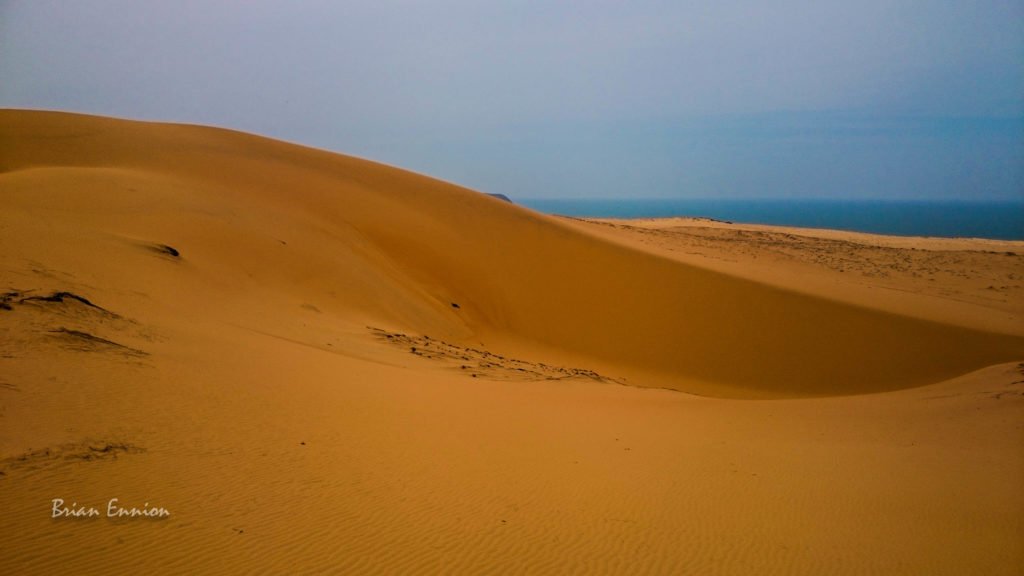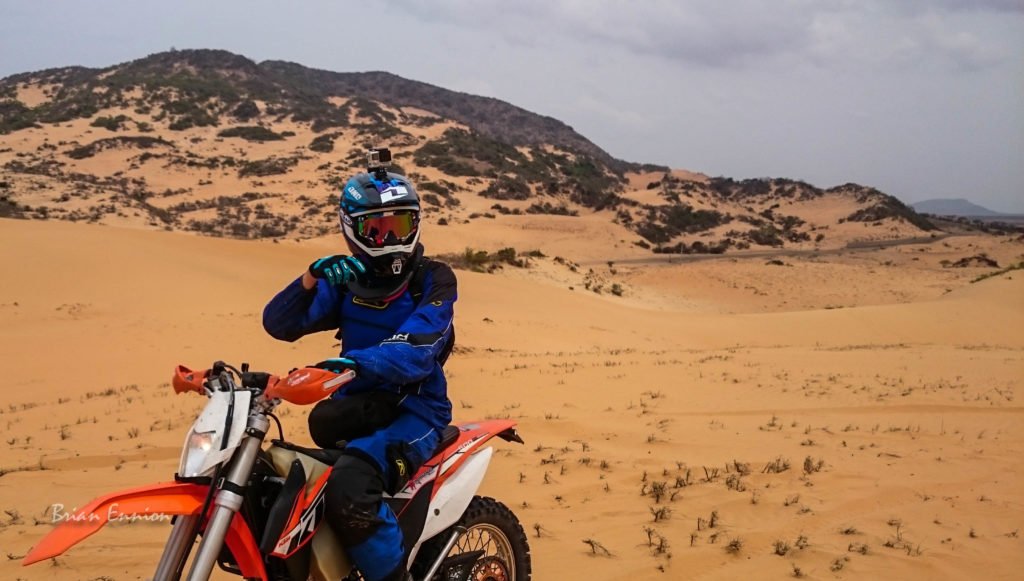 It wasn't all Beer and Skittles..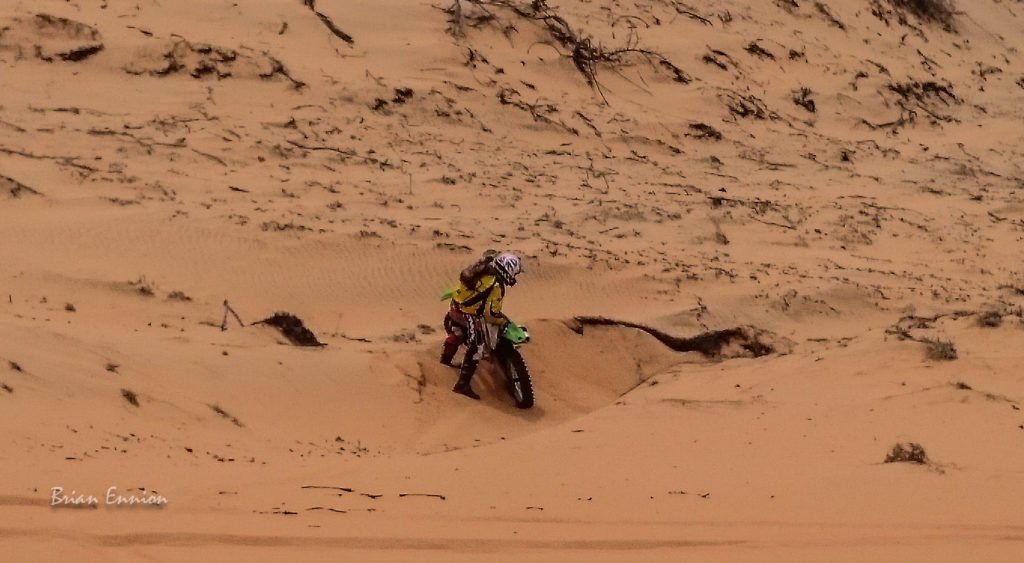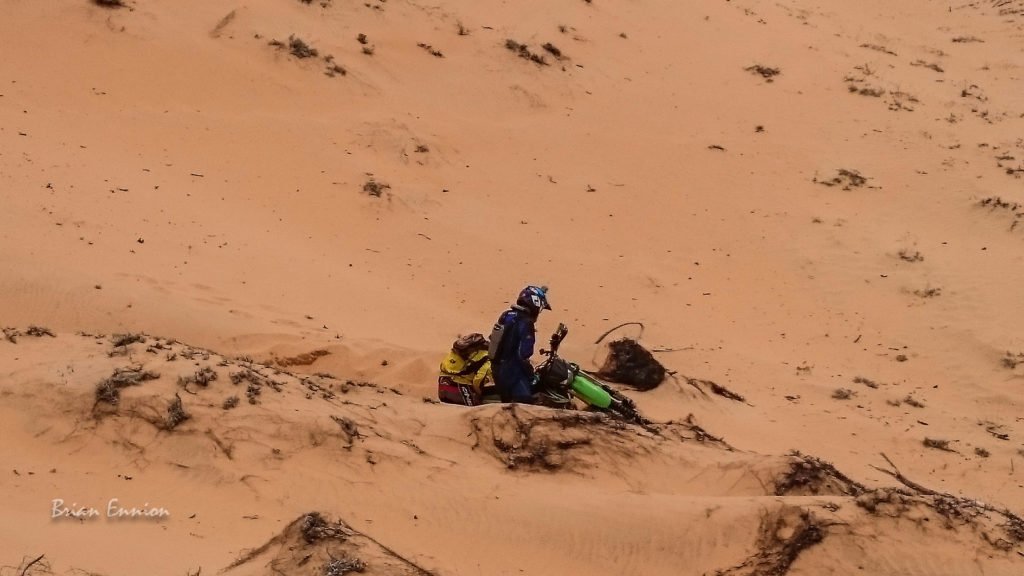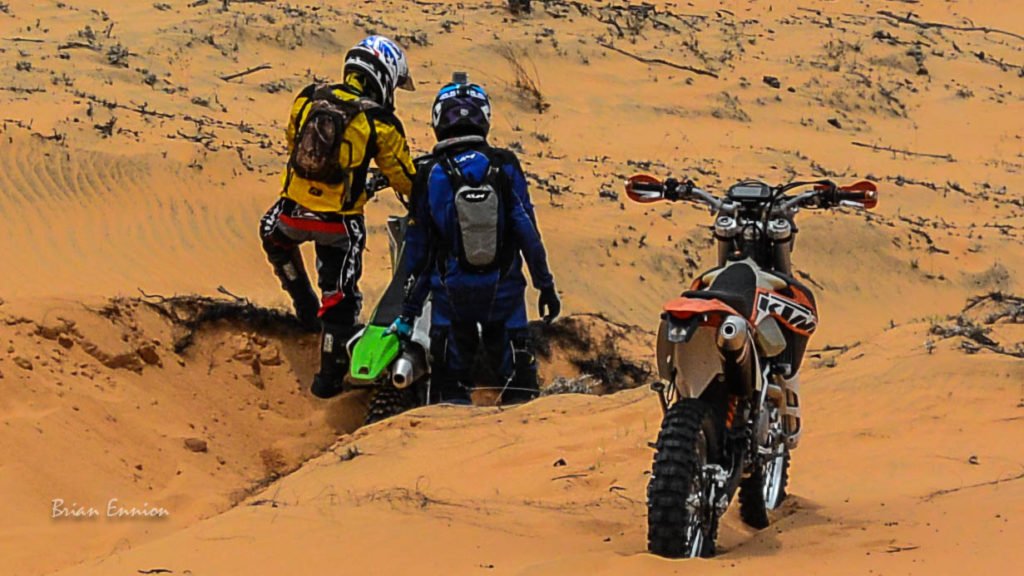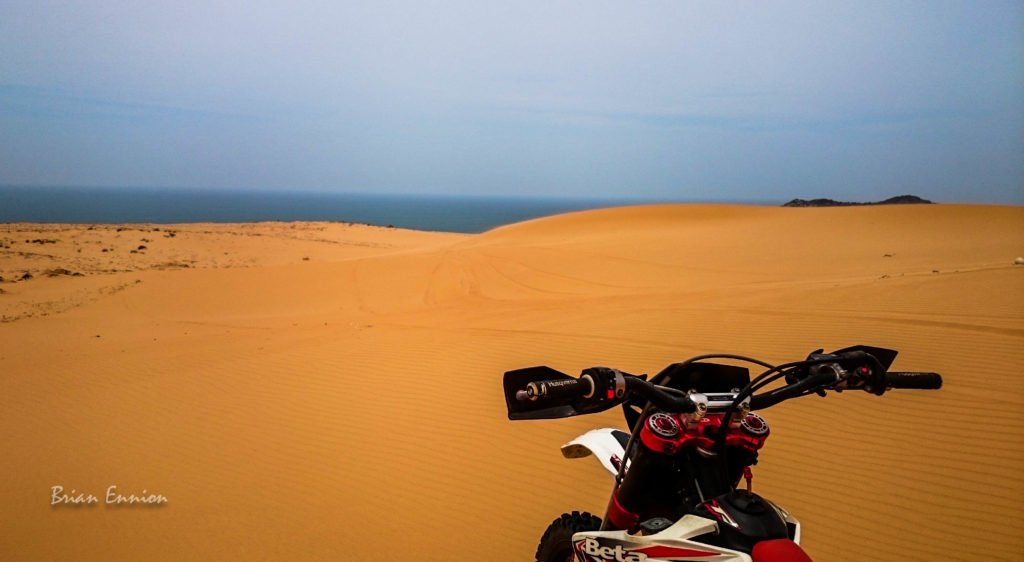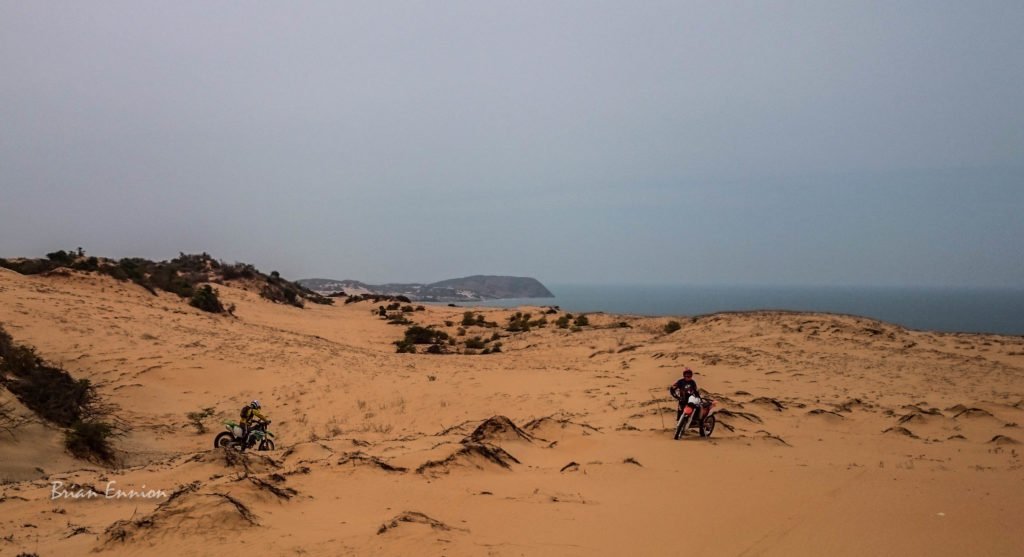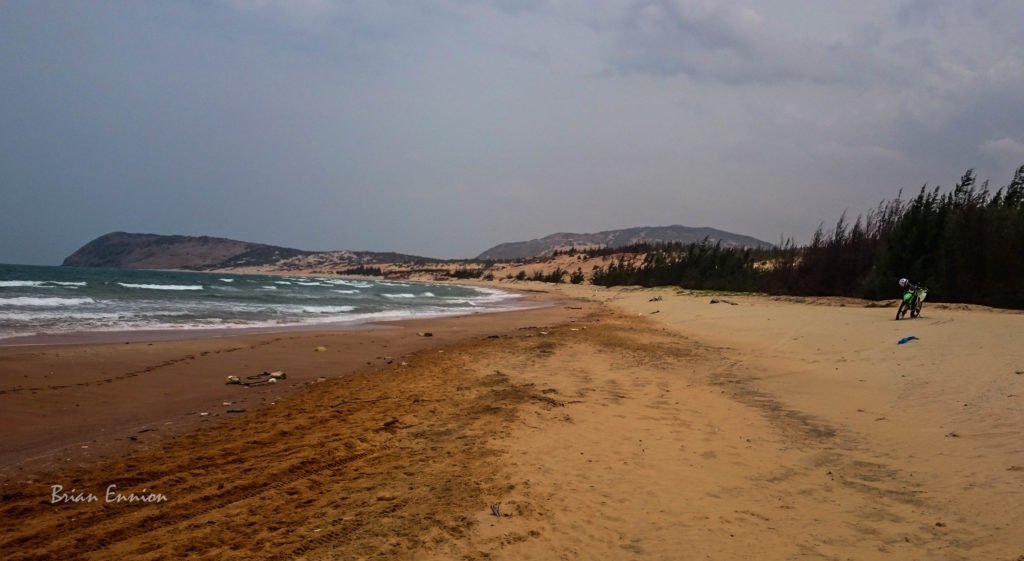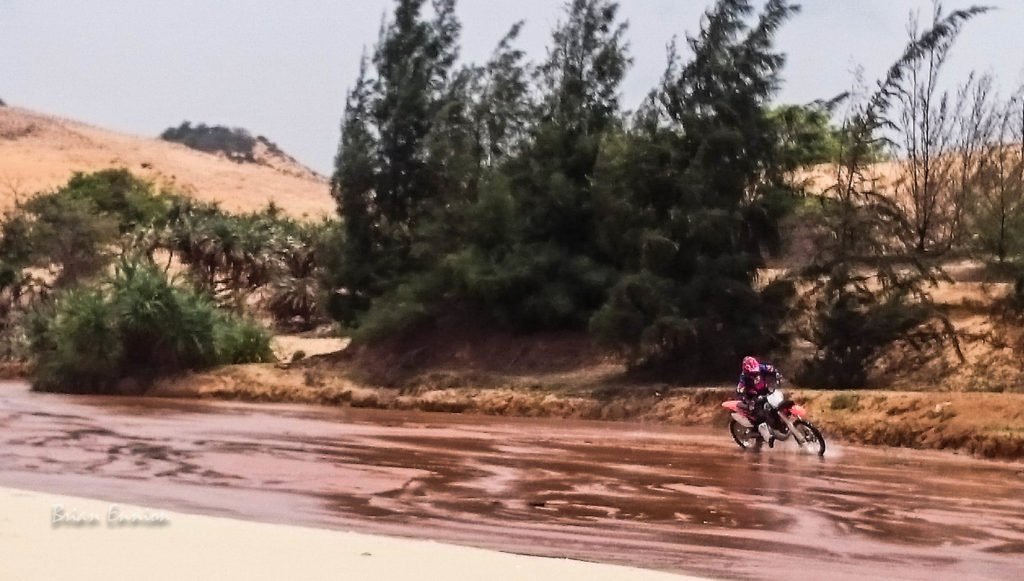 Time for a great seafood lunch by the beach.. We needed this break and everyone enjoyed it.
The food was SUPERB…..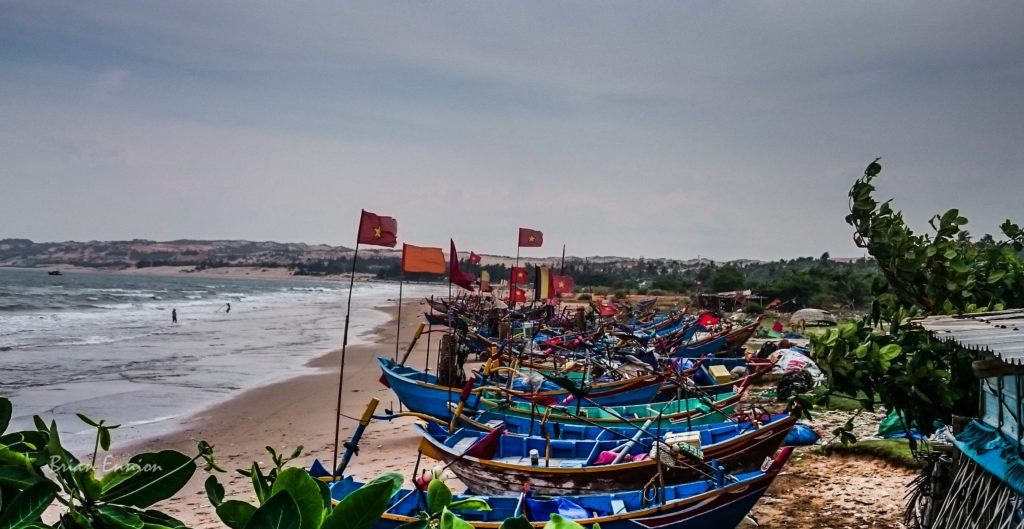 The area in the back where we had been riding.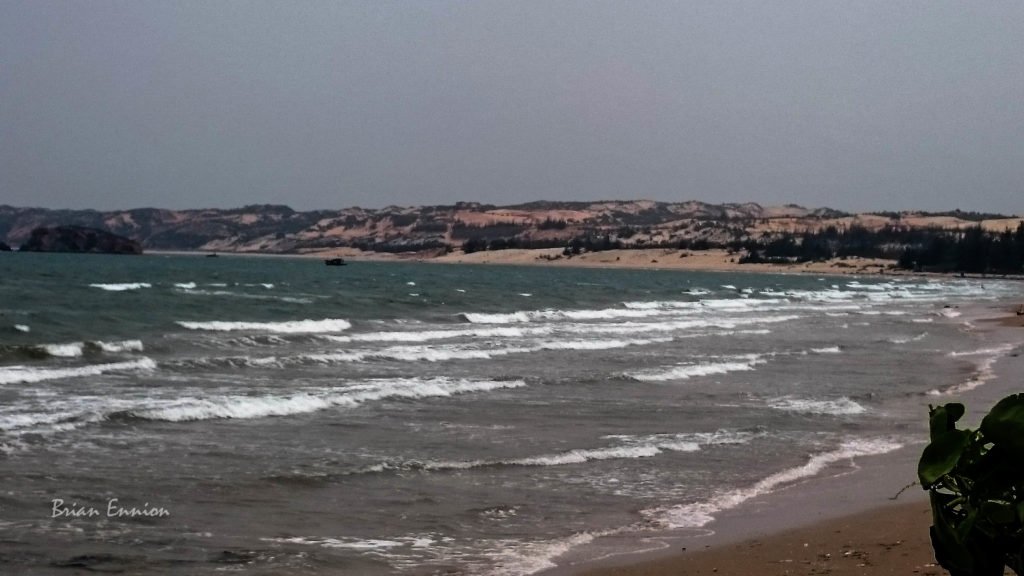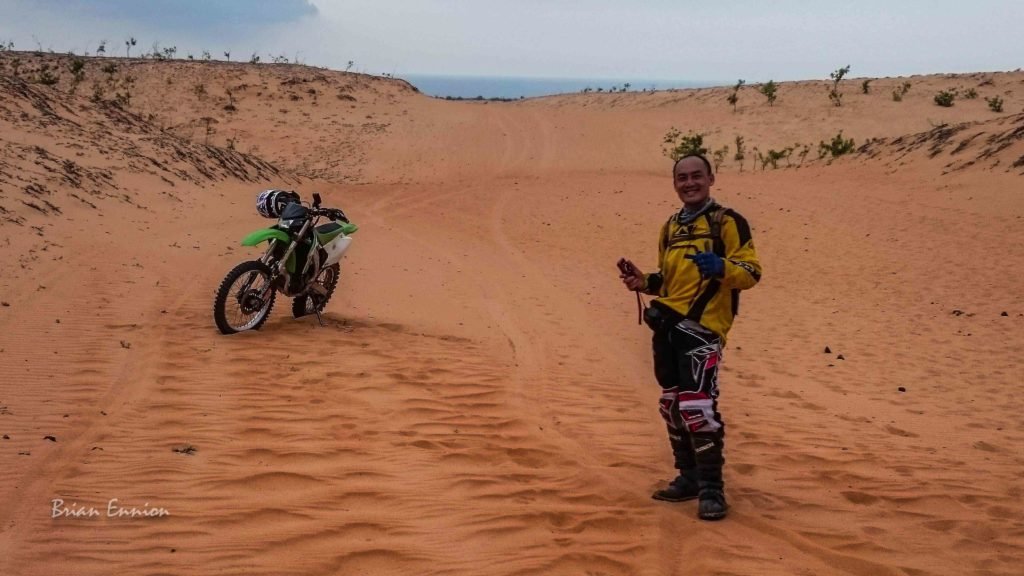 How to park in the sand.. Spin the back wheel and you are done.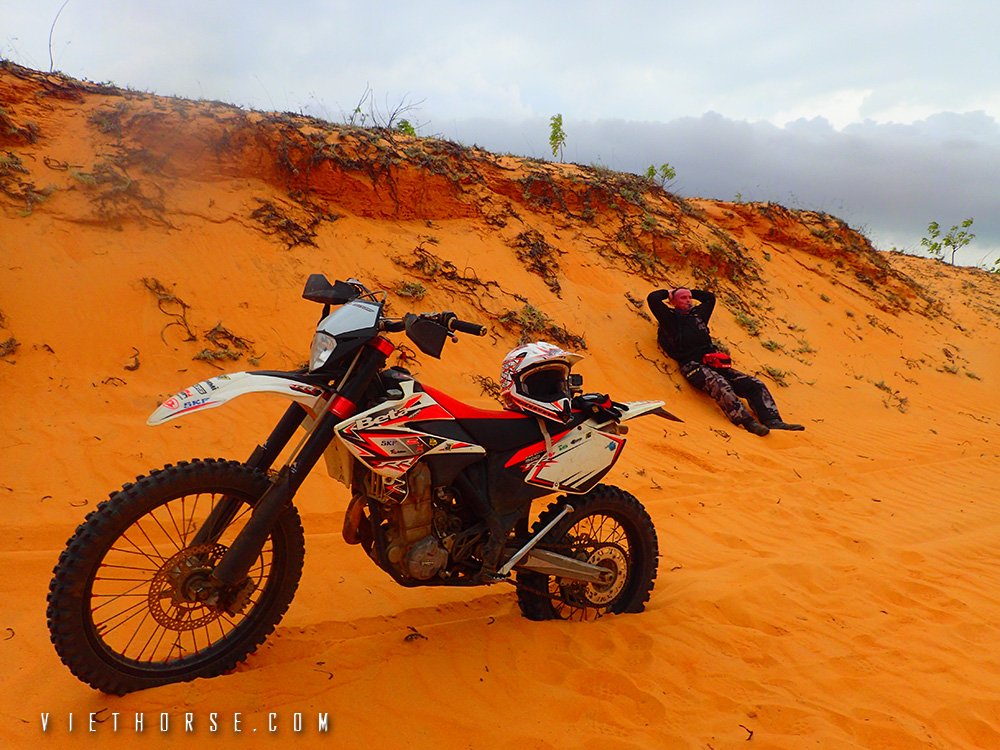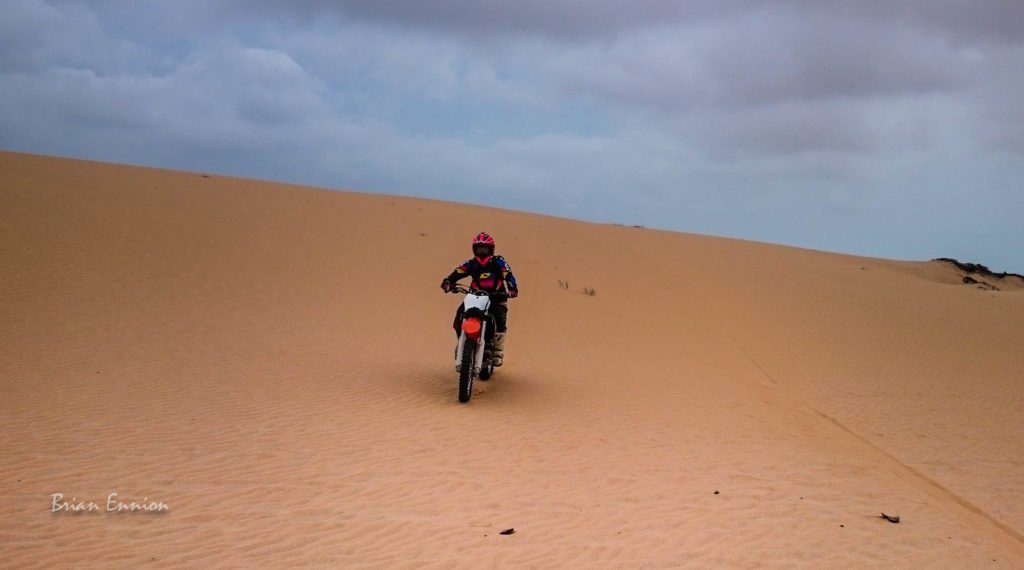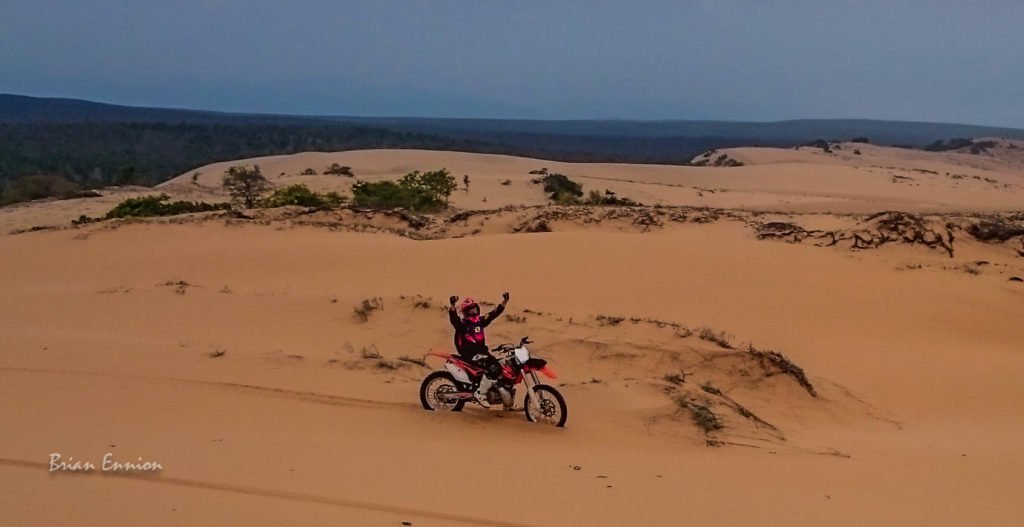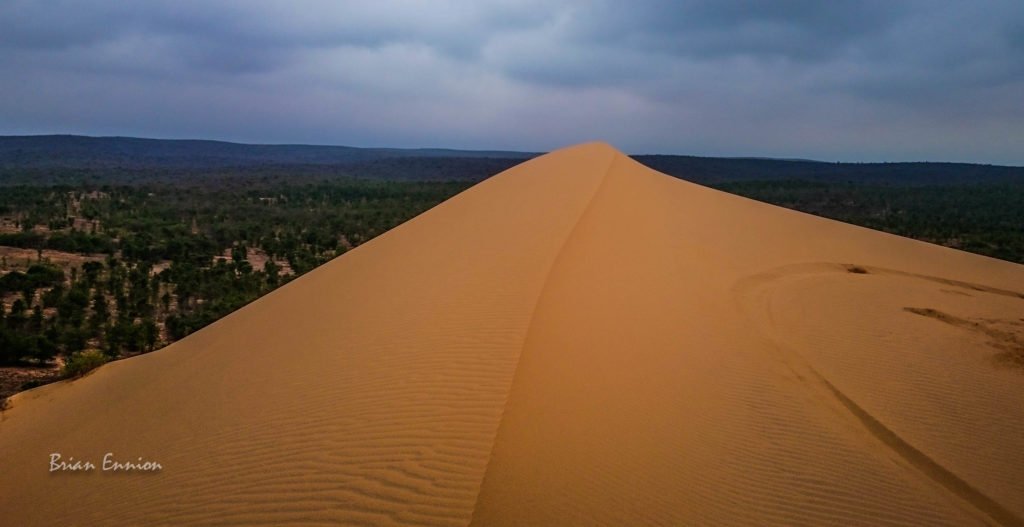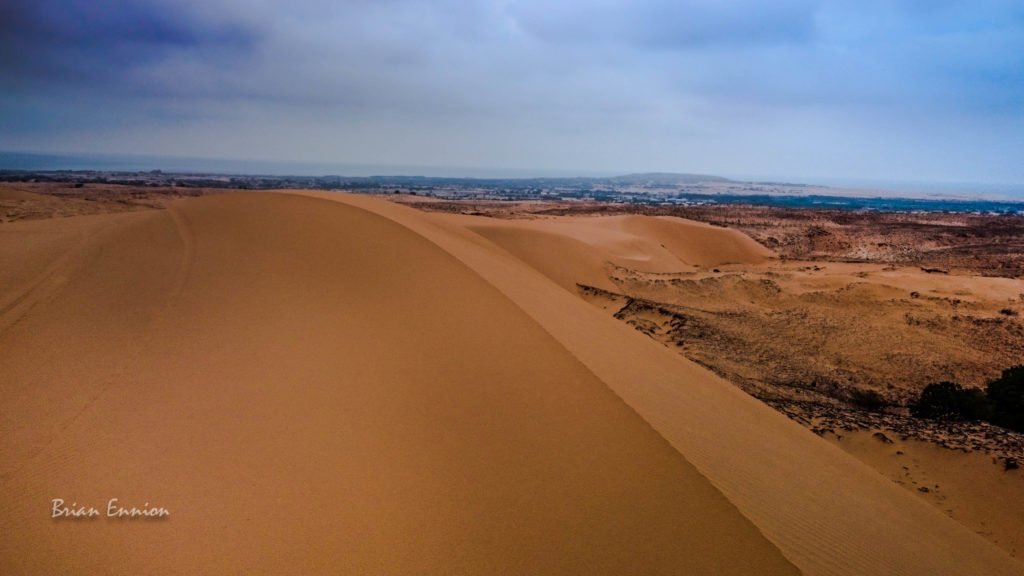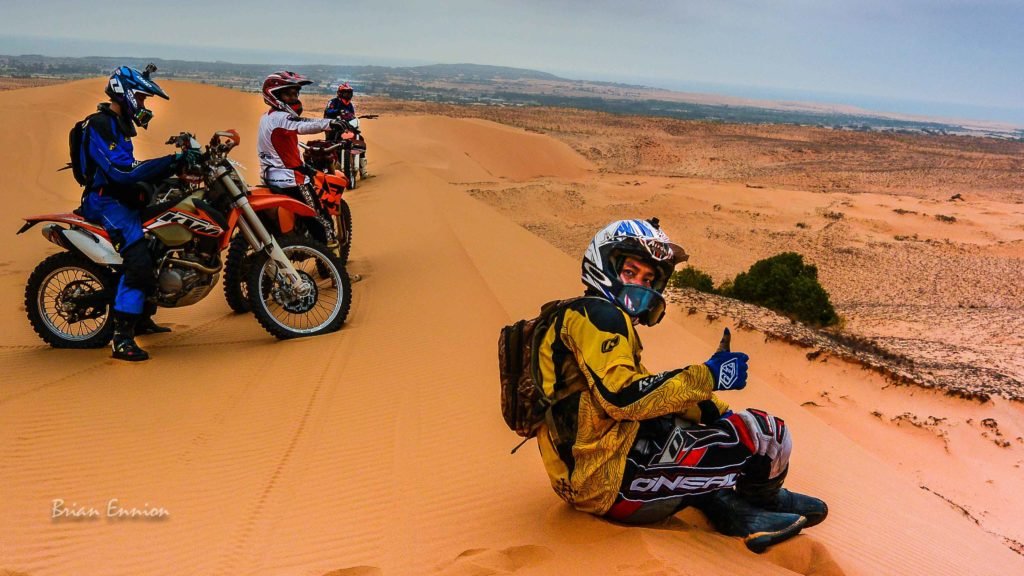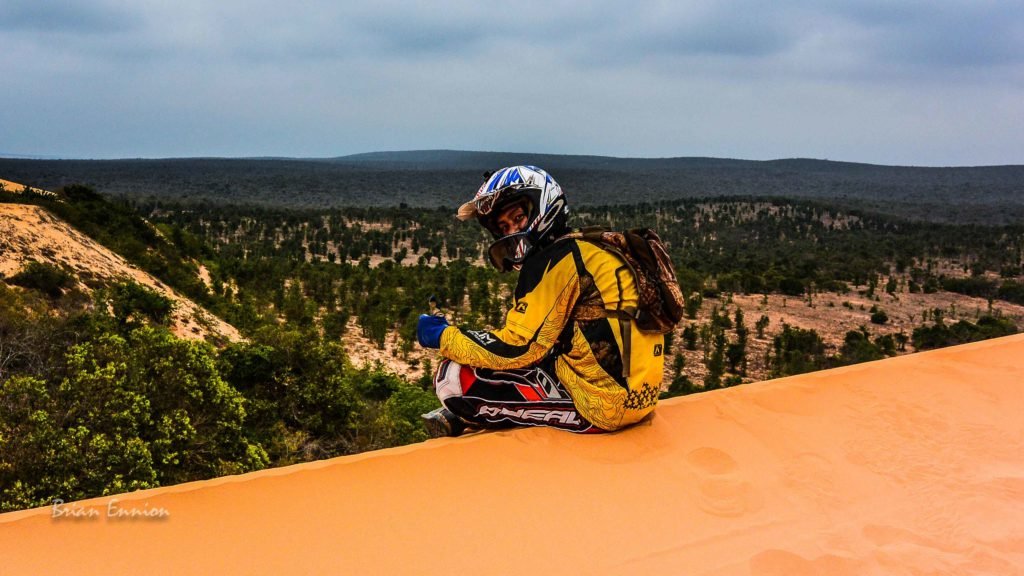 Larking about.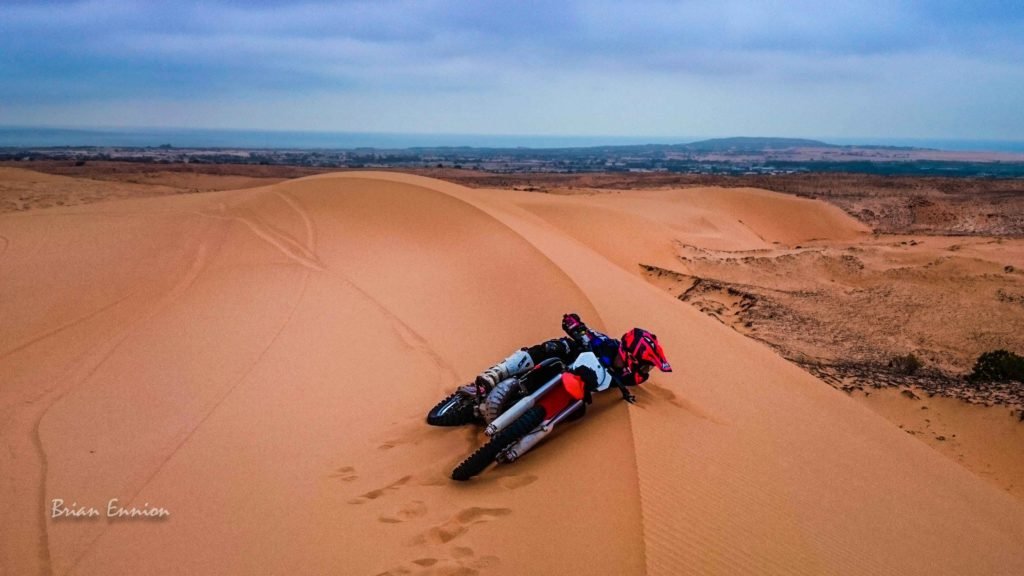 Totally chucked it down on the way back.
So funny, One of the guys was standing on the pegs.. Then a big load of lightning and a bang…
Quickly sat down LOL
That night dinner in town.. Everyone was totally shagged.. One beer each and back and in bed by 10 pm.
It rained all night.. Lots of wet smelly gear..
Sunday AM loaded up the bikes.. We had one extra passenger to come back.. So the bags went on the back.
This was one fully loaded Pickup.
Lam practicing for the next ride.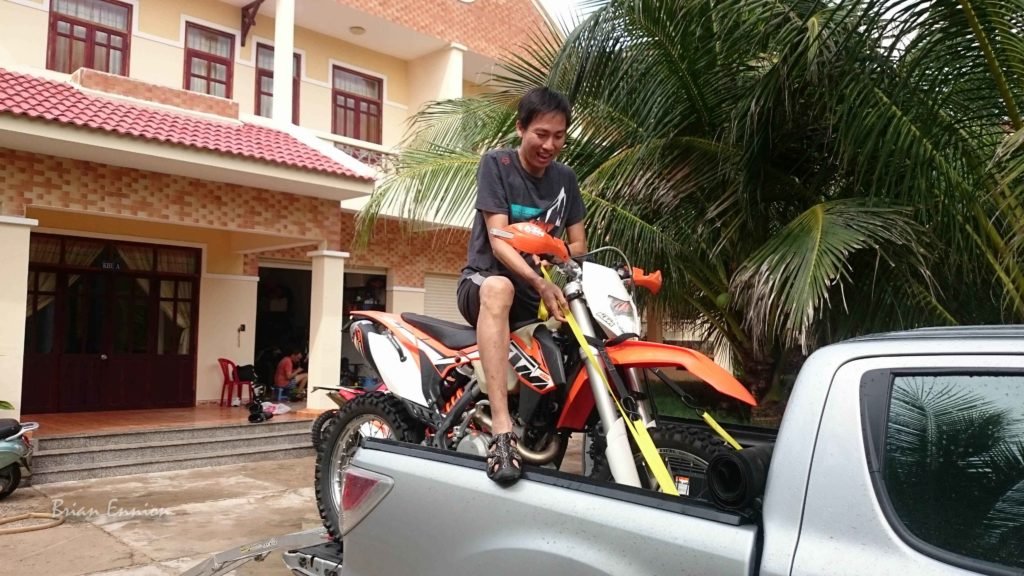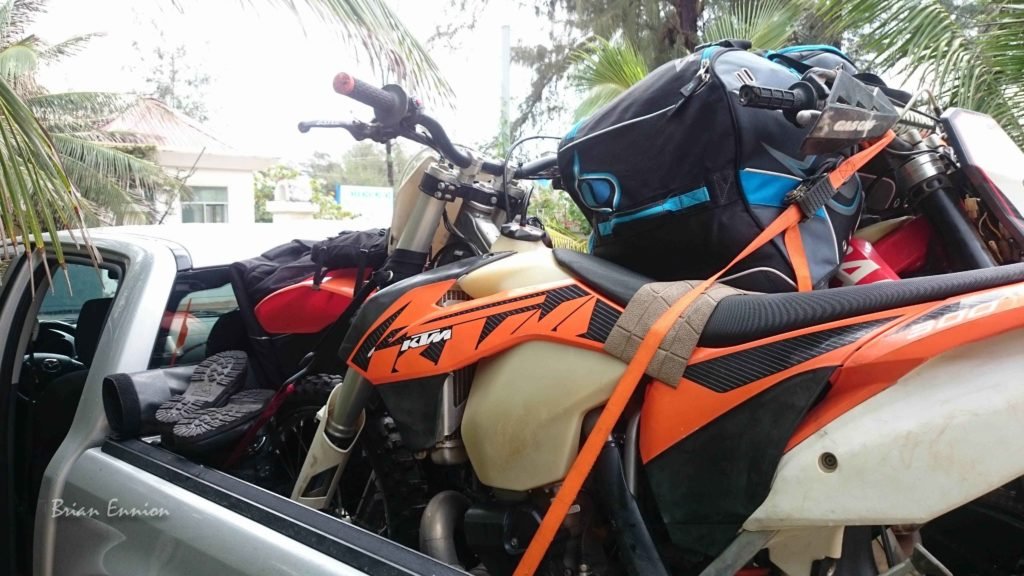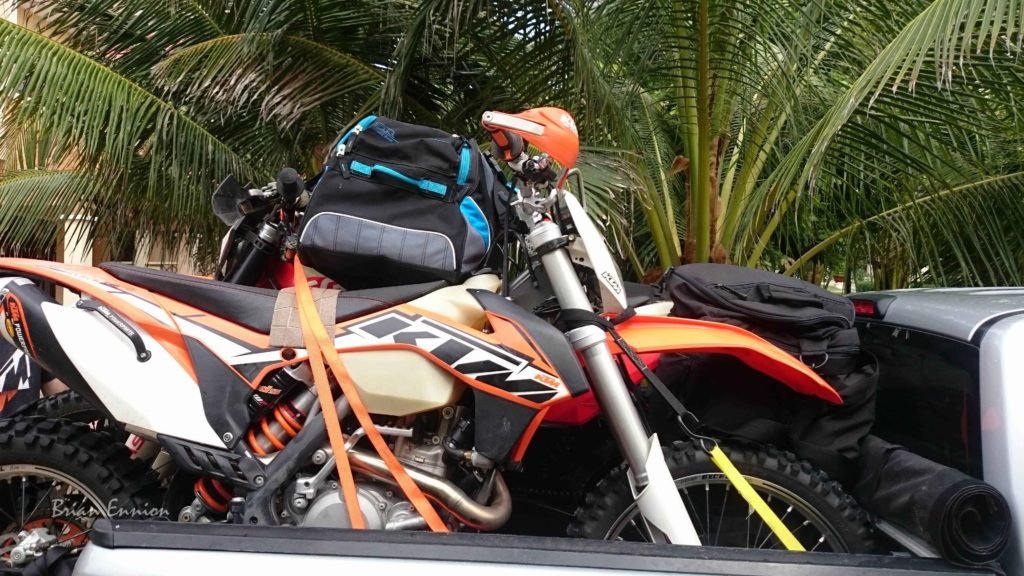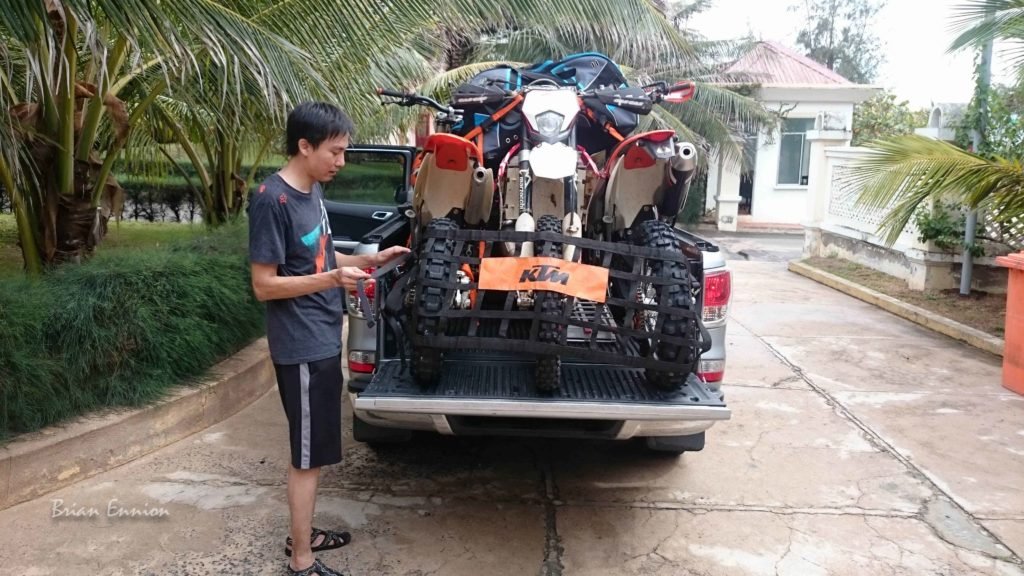 Some boot repair as one of the guys lost his sole on the dunes.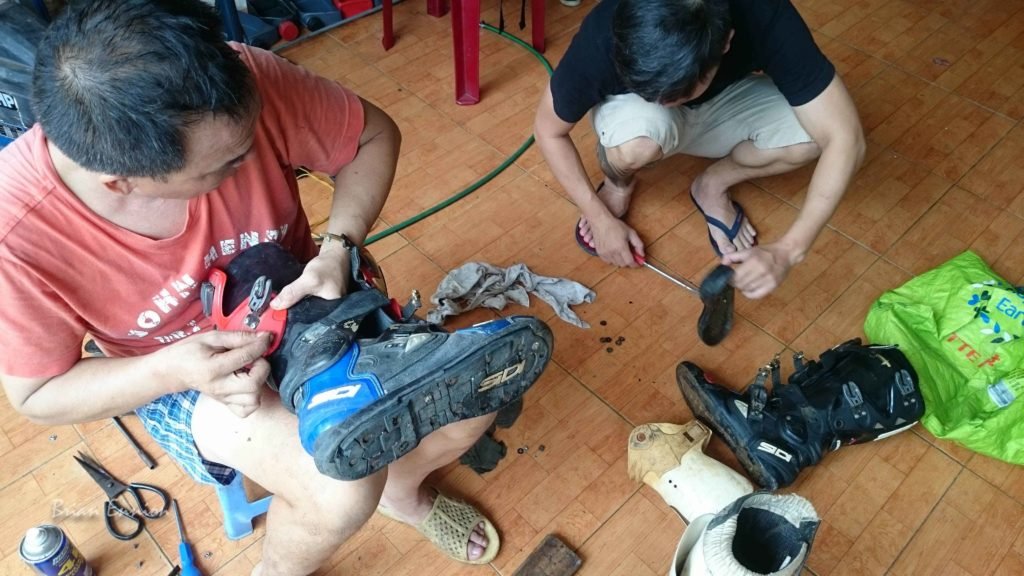 These guys don't have access to shops etc like we do.. Have to go and buy it elsewhere or ship it in.
Needless to say.. I have offered to assist in any way I can from the Bangkok shops.
Going with the flow coming back was a lot better than my egg and bread on the way….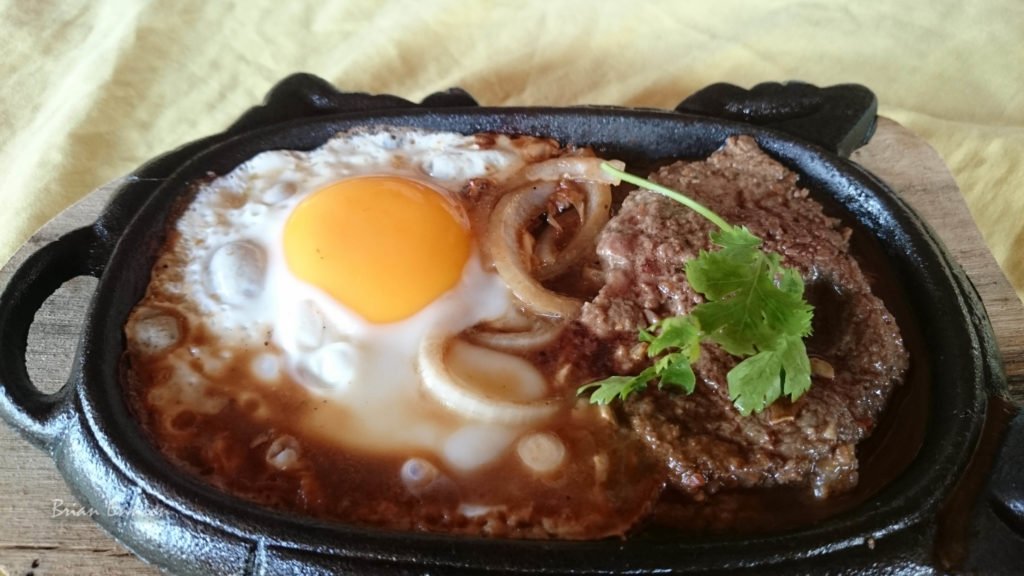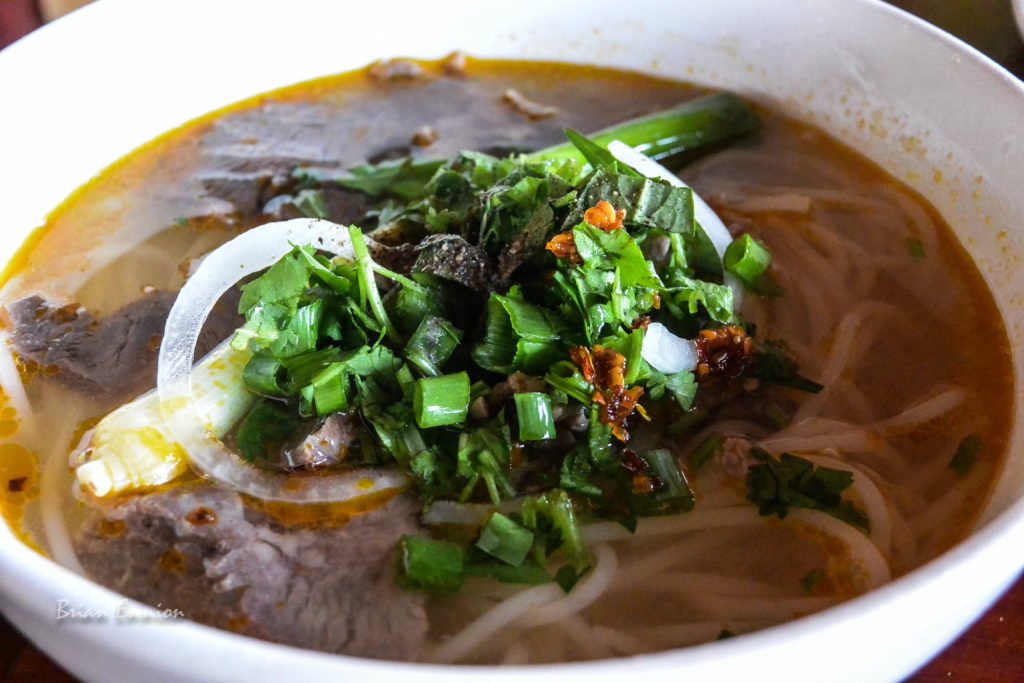 The Super Highway / Toll way to Saigon (HCMC)
A new Sky Train going in.. The shopping malls and high-rise buildings are going up along the route.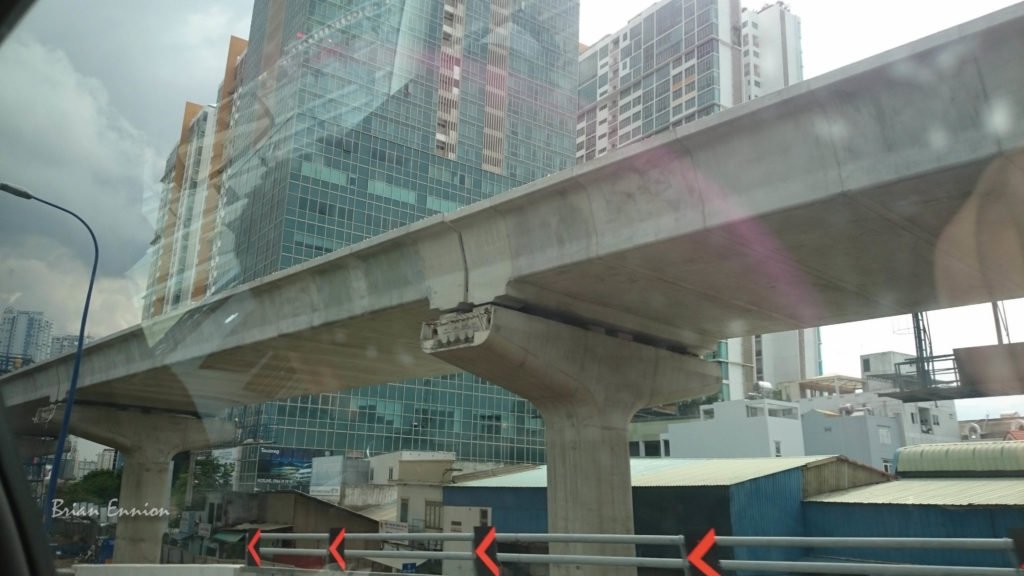 We had a good chat on the way back.. Interesting to know there are only around 100 Enduro / MX riders in Vietnam.
Out of that 100 only 40 or 50 active..
I feel quite privileged to ride with these guys.. Not only wonderful people and Lam a great host.
Just good plain old fashioned fun all round..
I headed to the airport, checked in and while waiting had a beer.. Still buzzing after such a great weekend
Took this pic and whatsapp it to the fellas.. Cheers for a great weekend.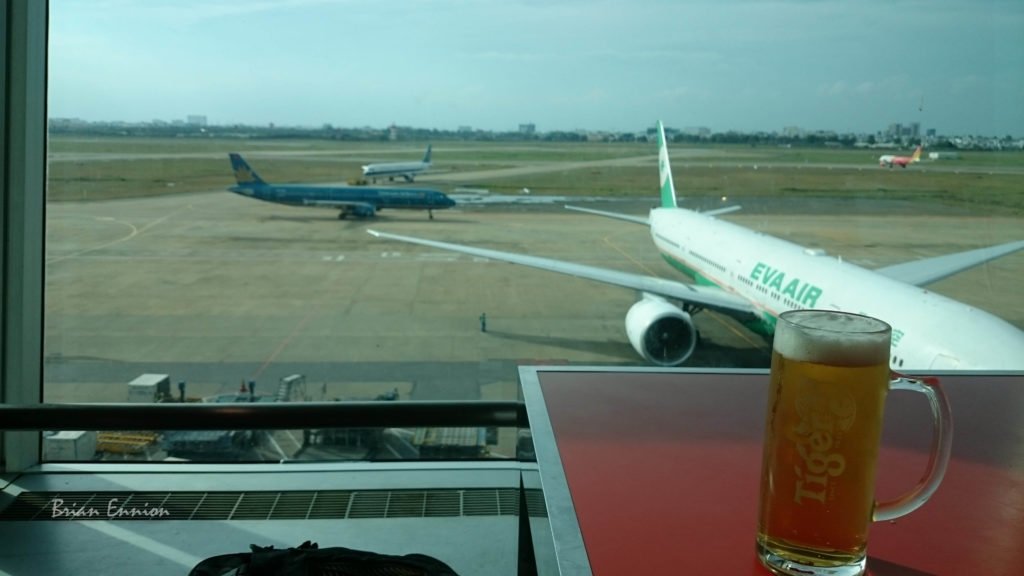 That concludes my post and pictures.
Here are some of Lam's Pictures.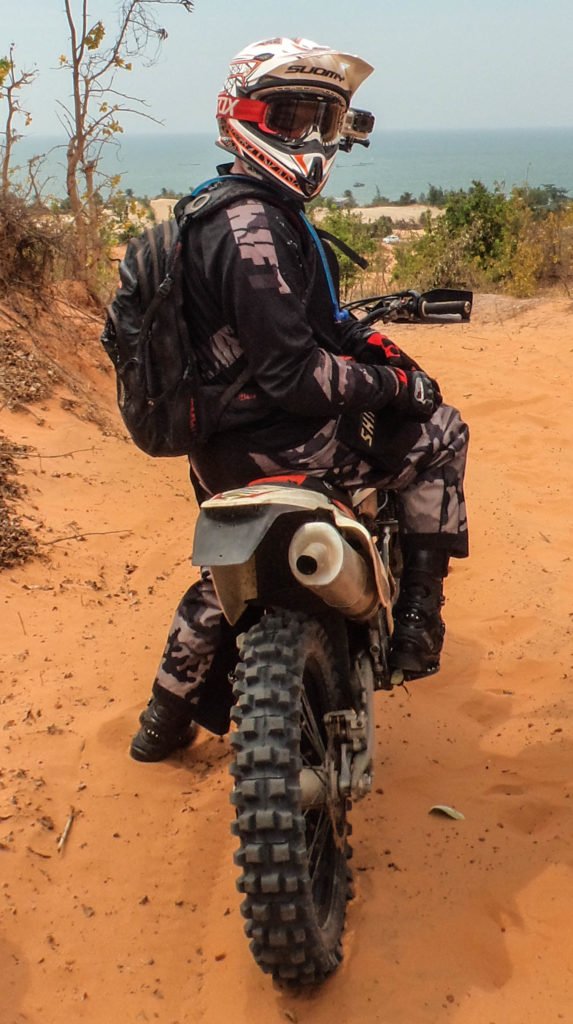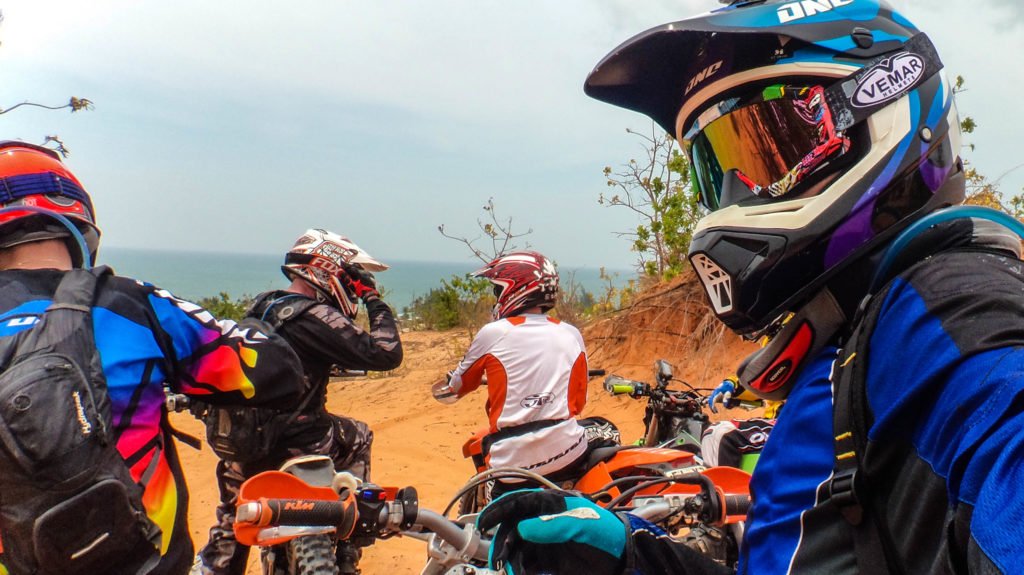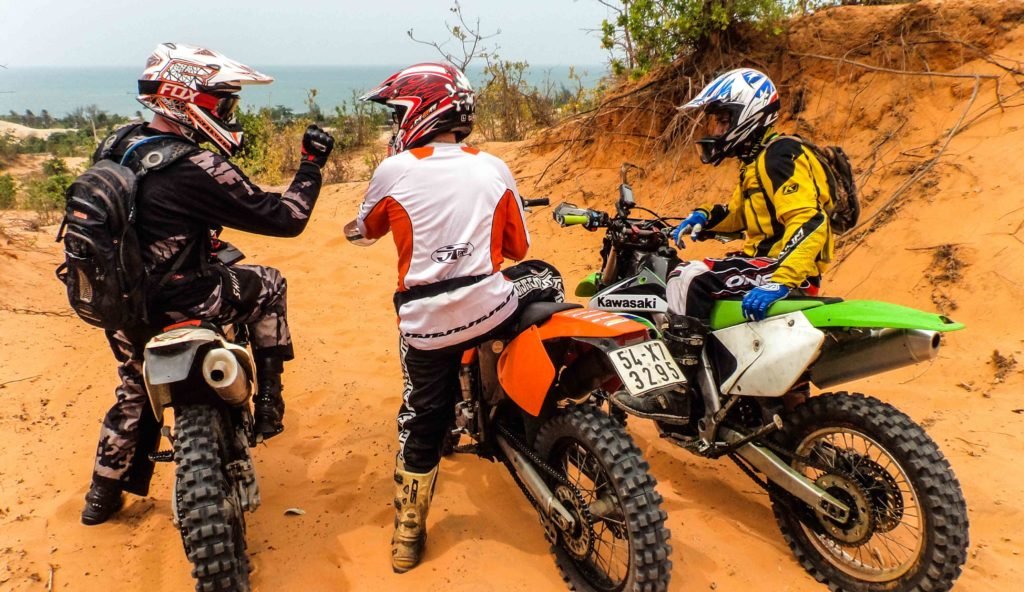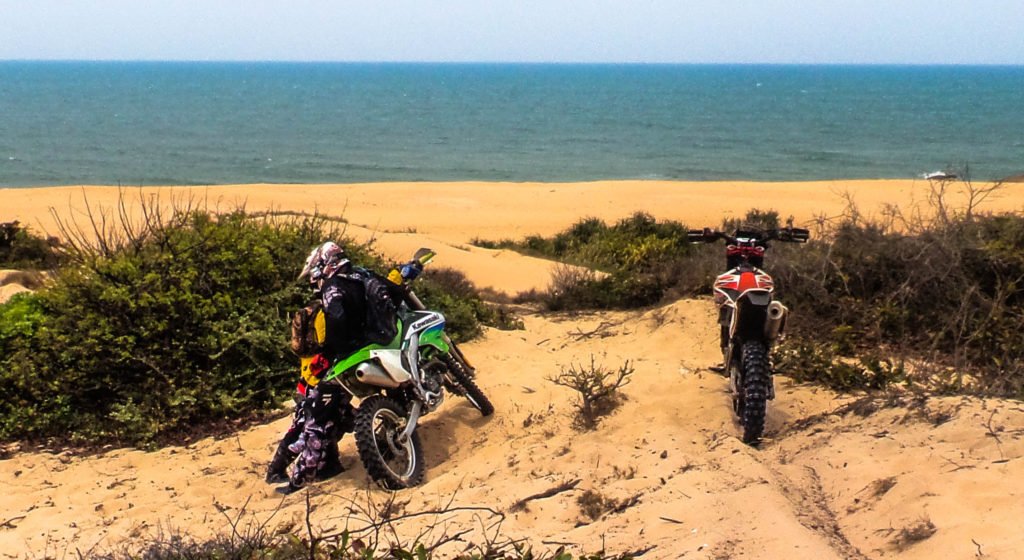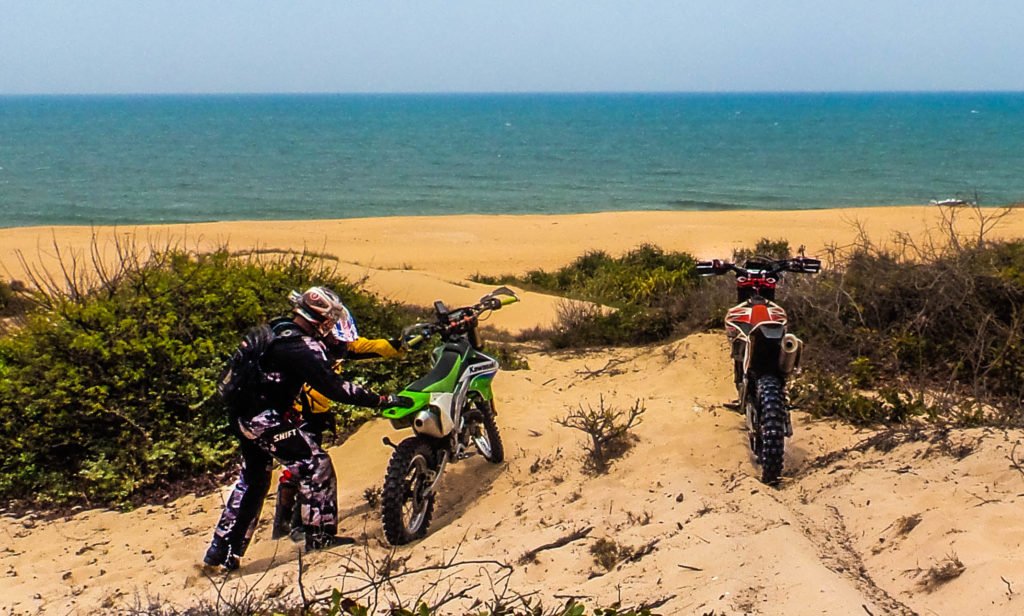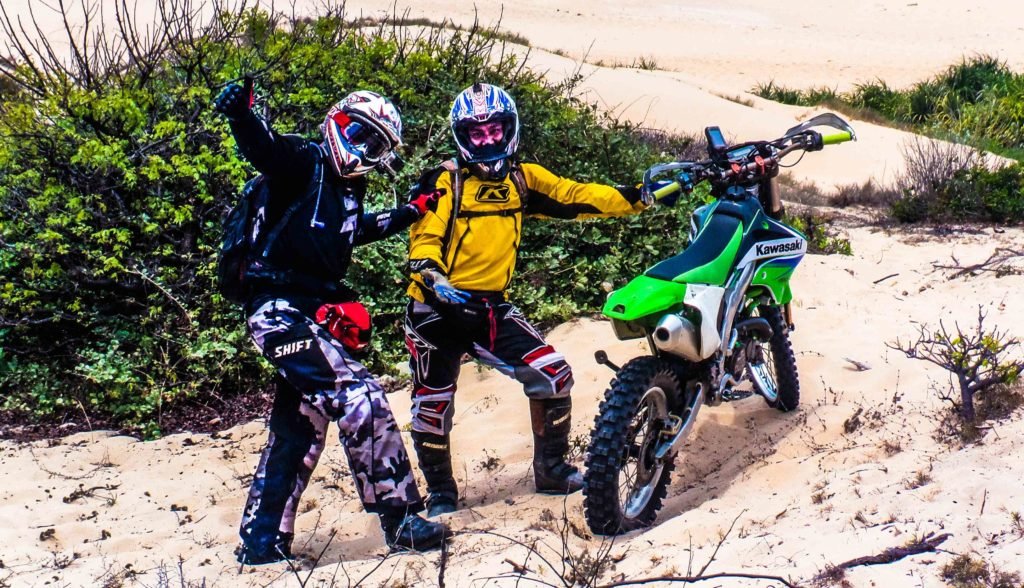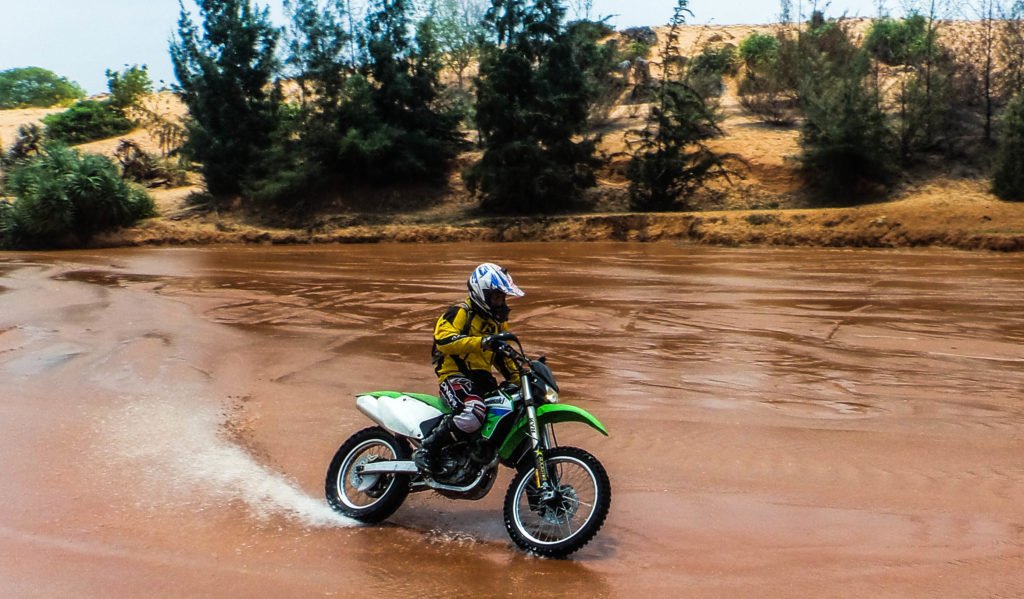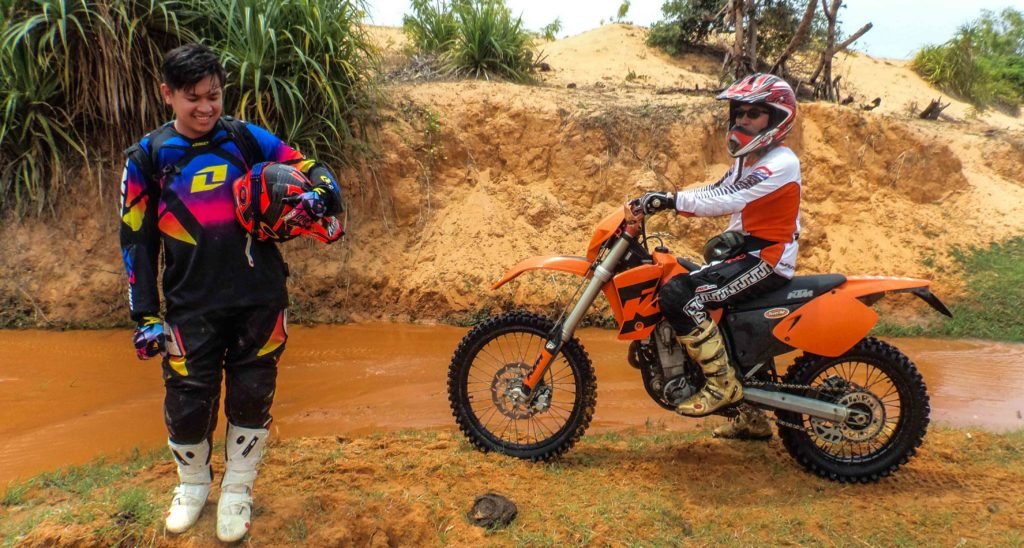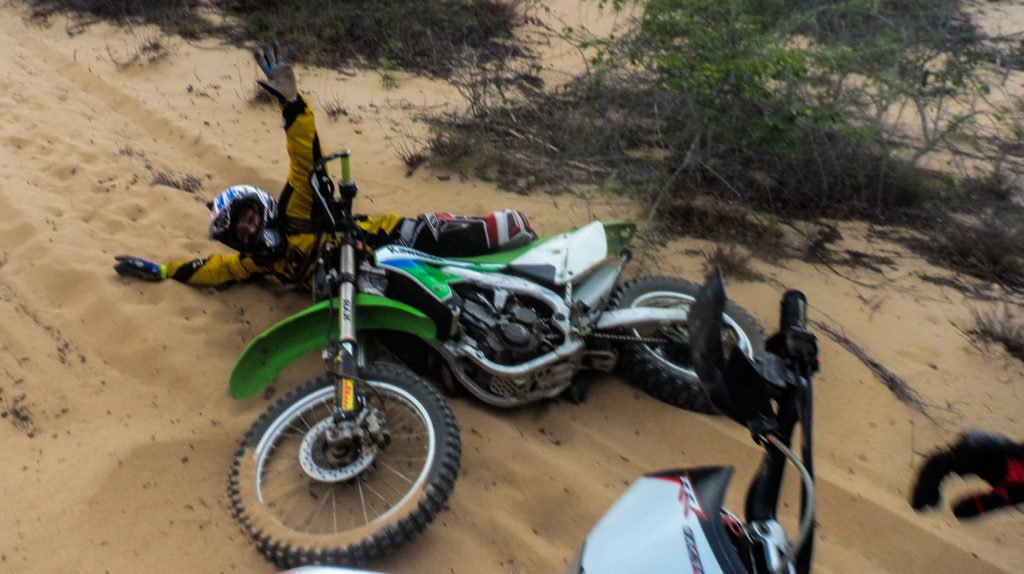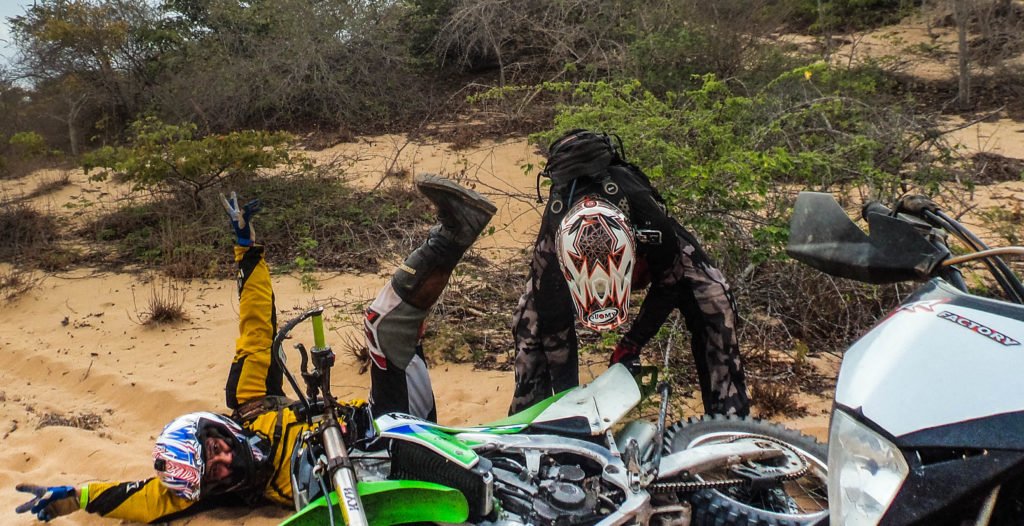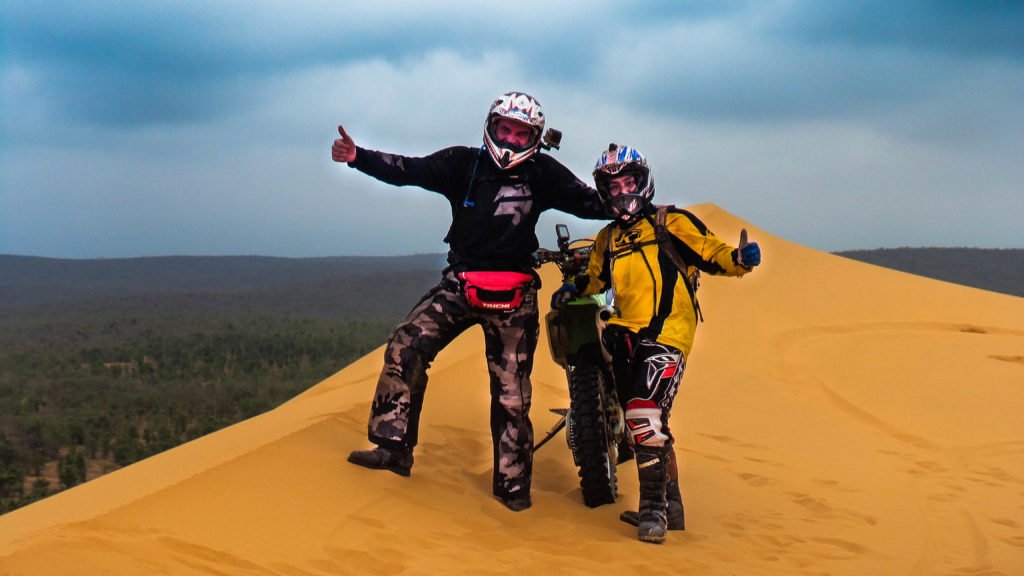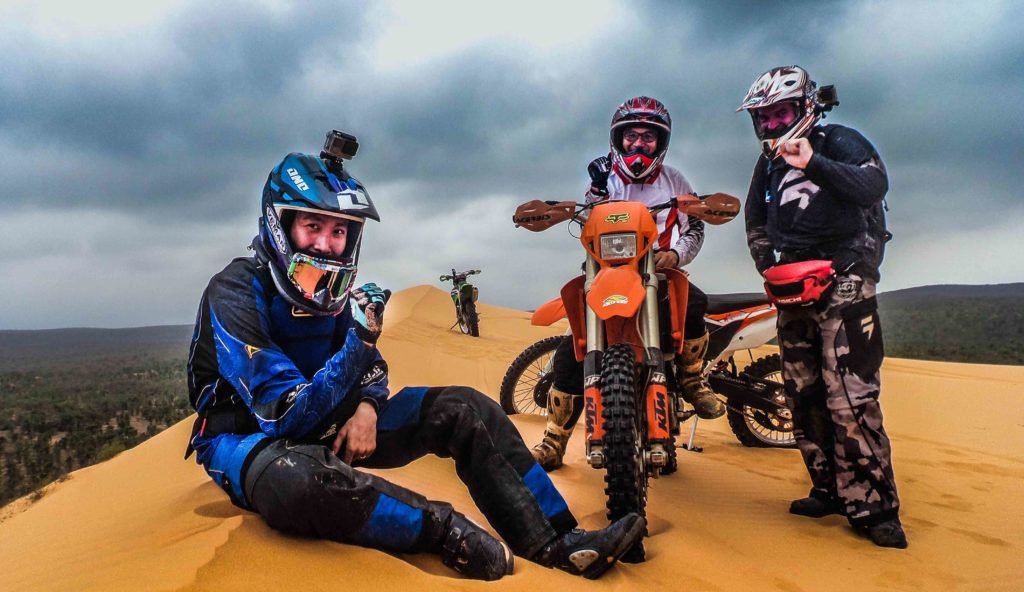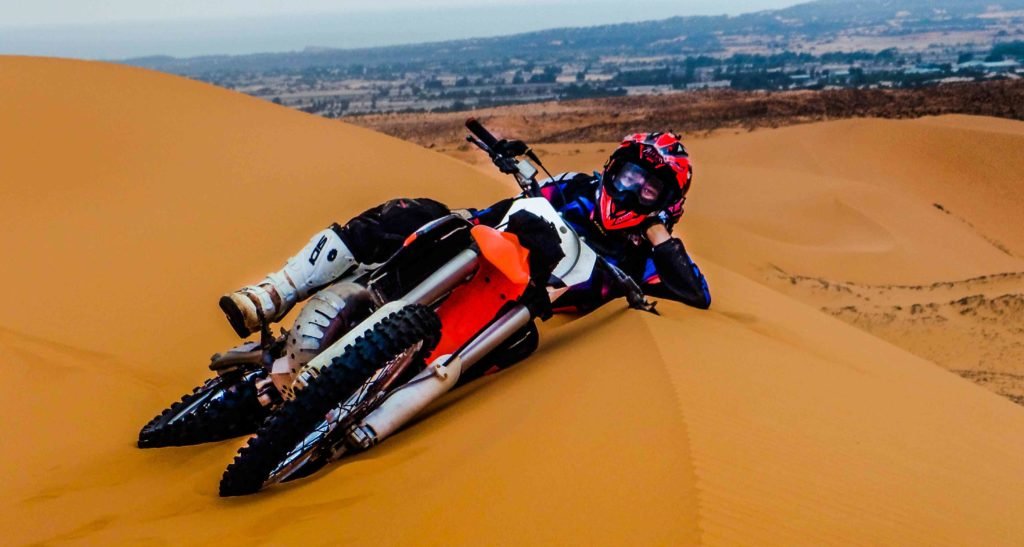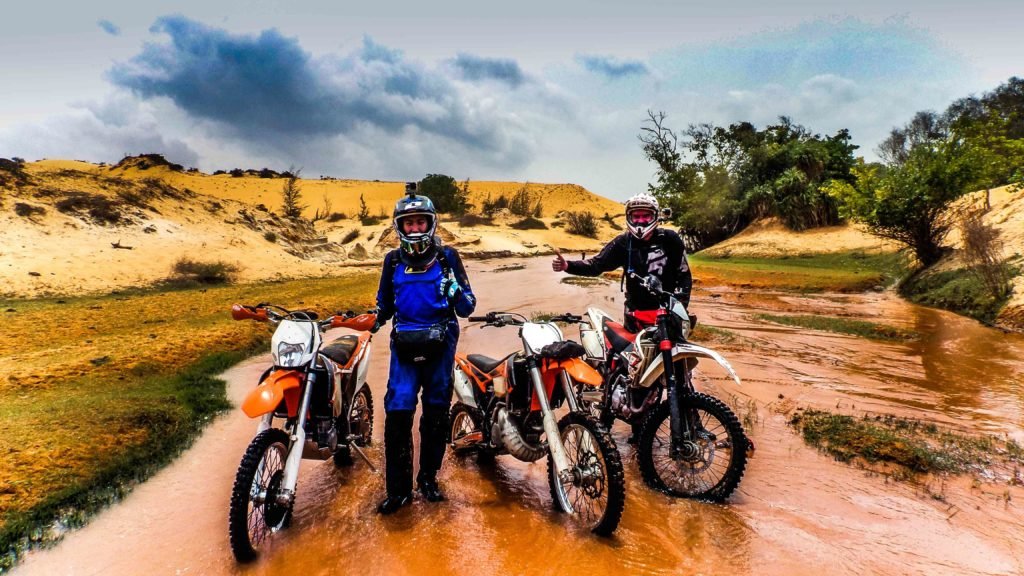 More to come from Viethorse..
Some pics Viethorse took.
More here on his site:-
http://viethorse.com Viethorse Adventure page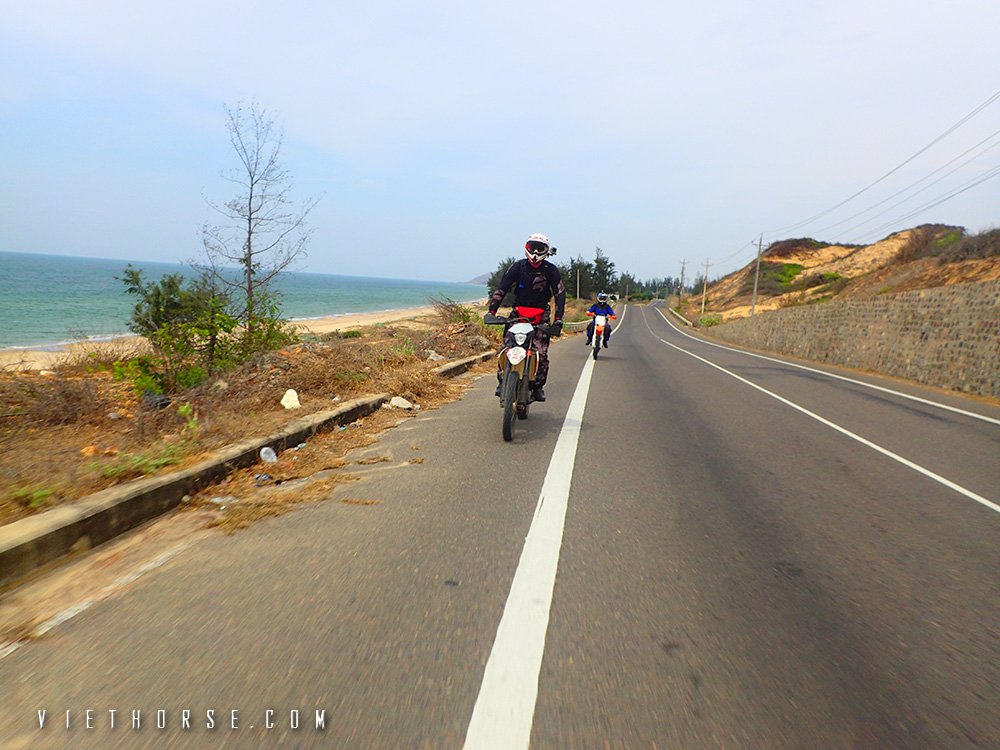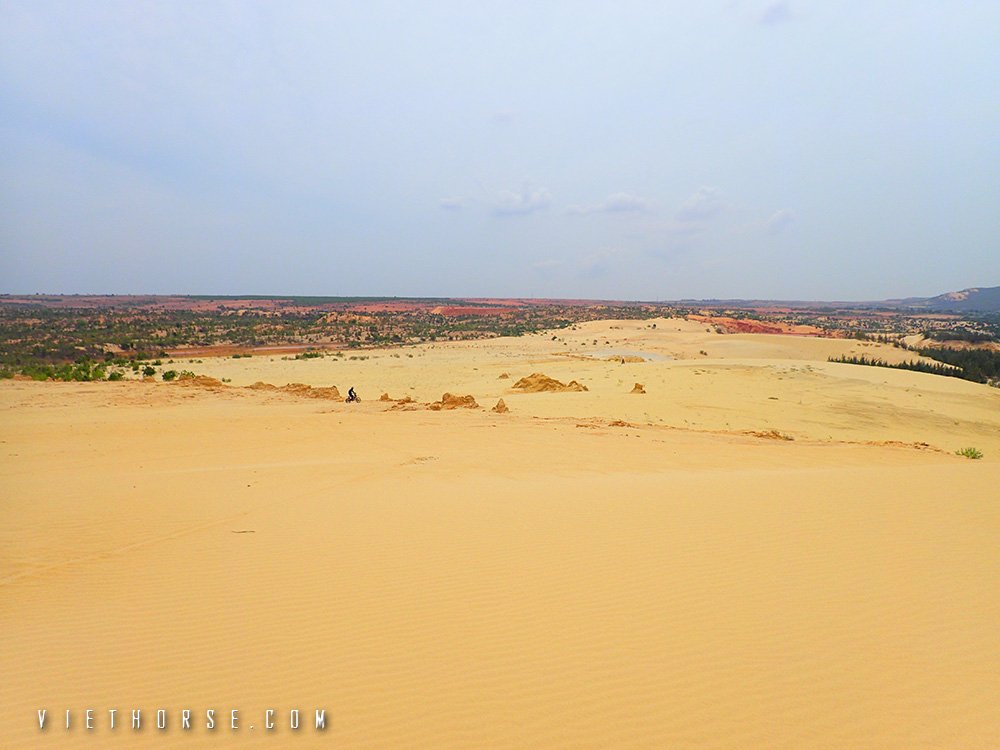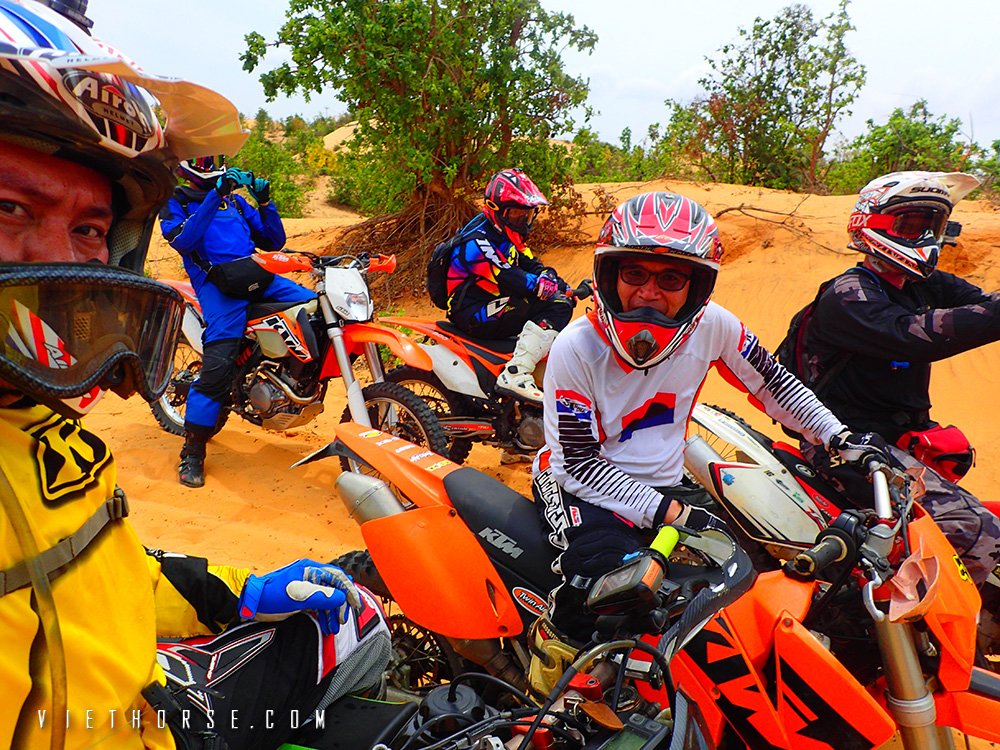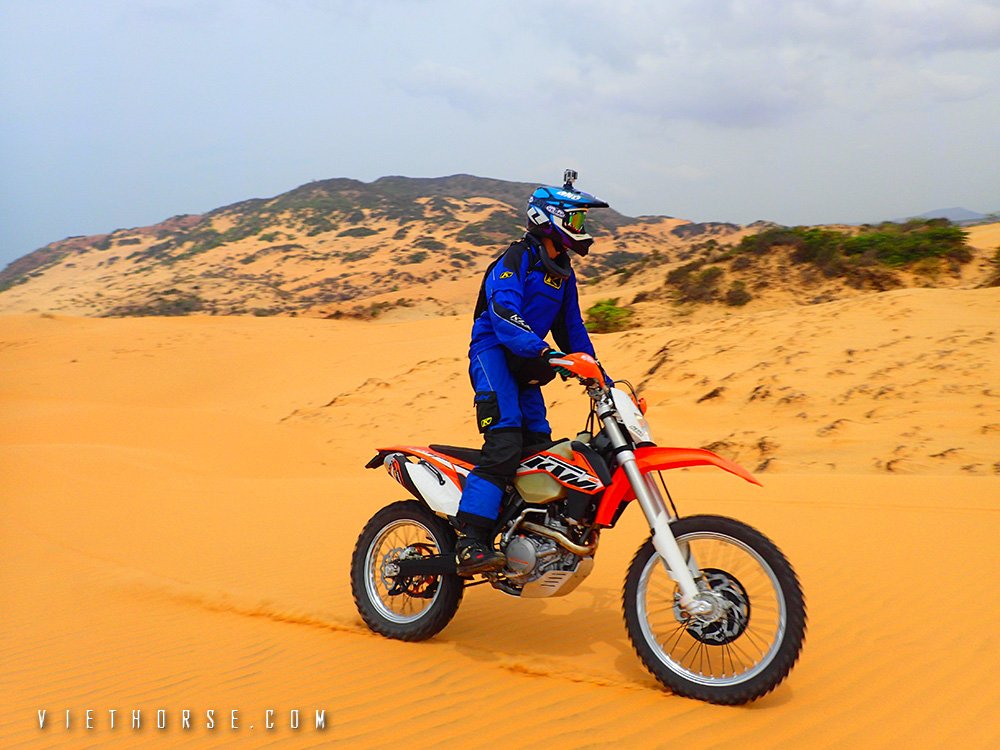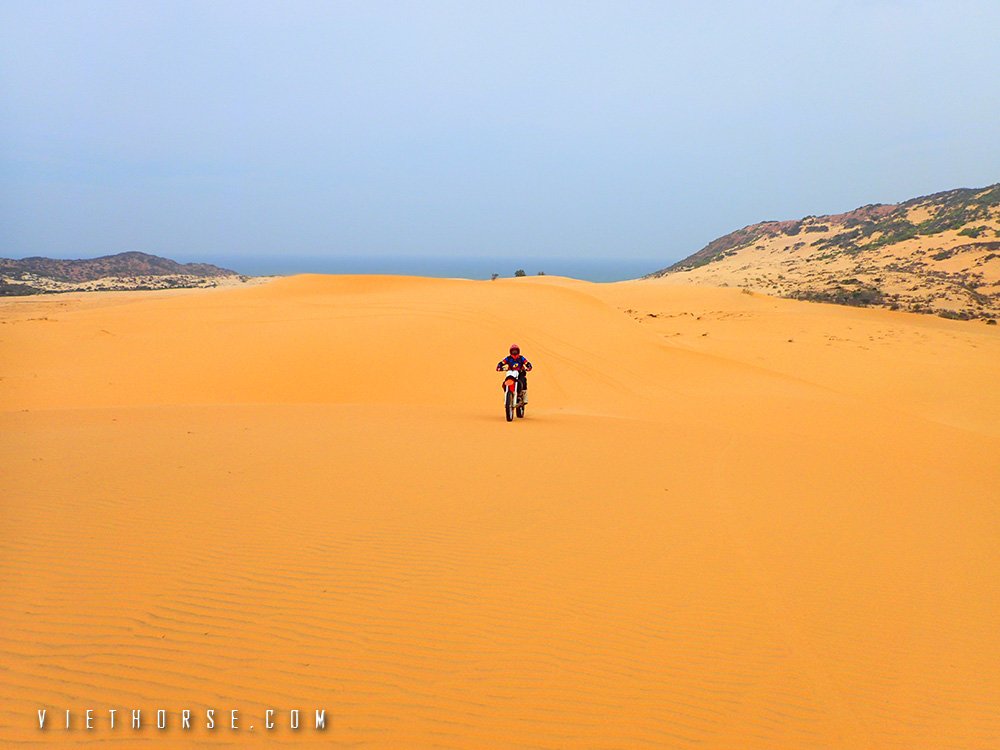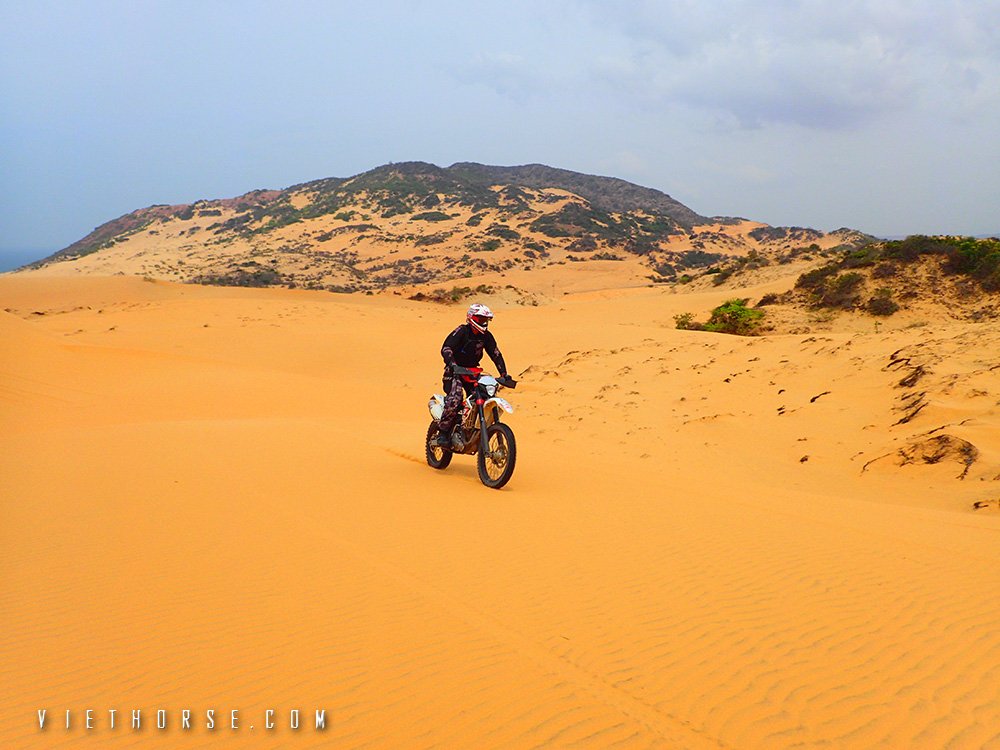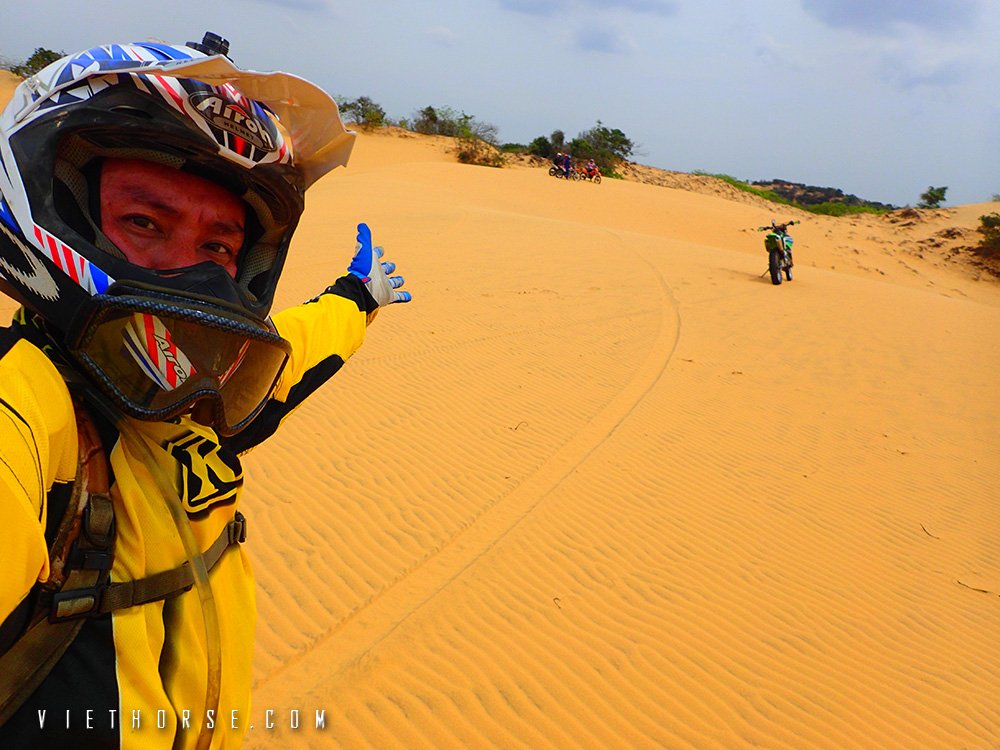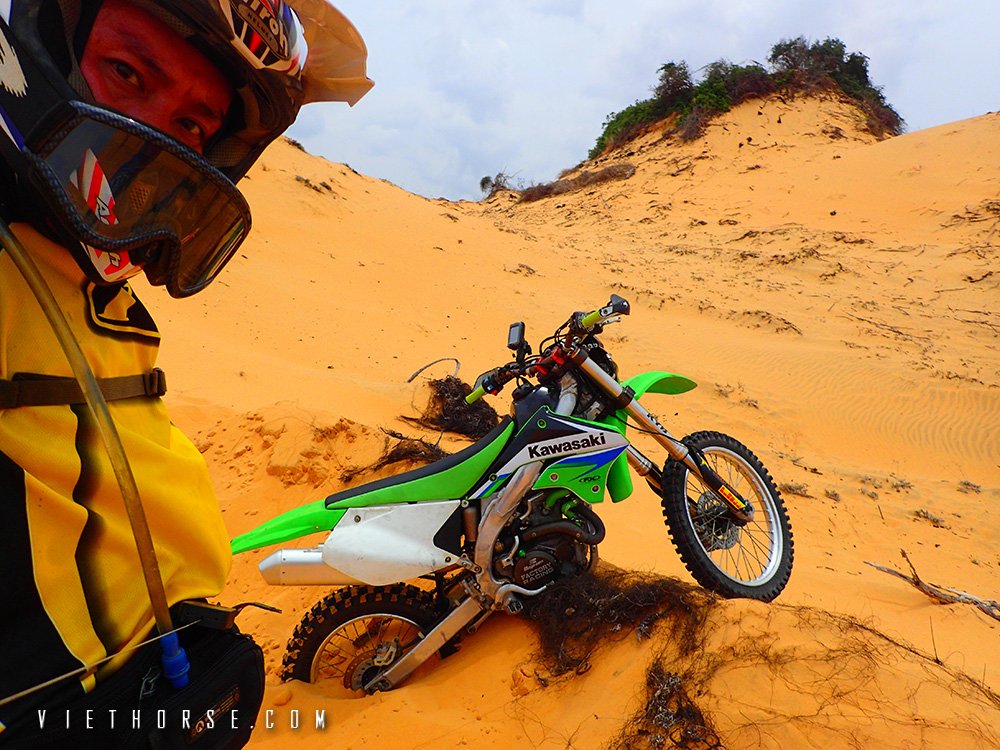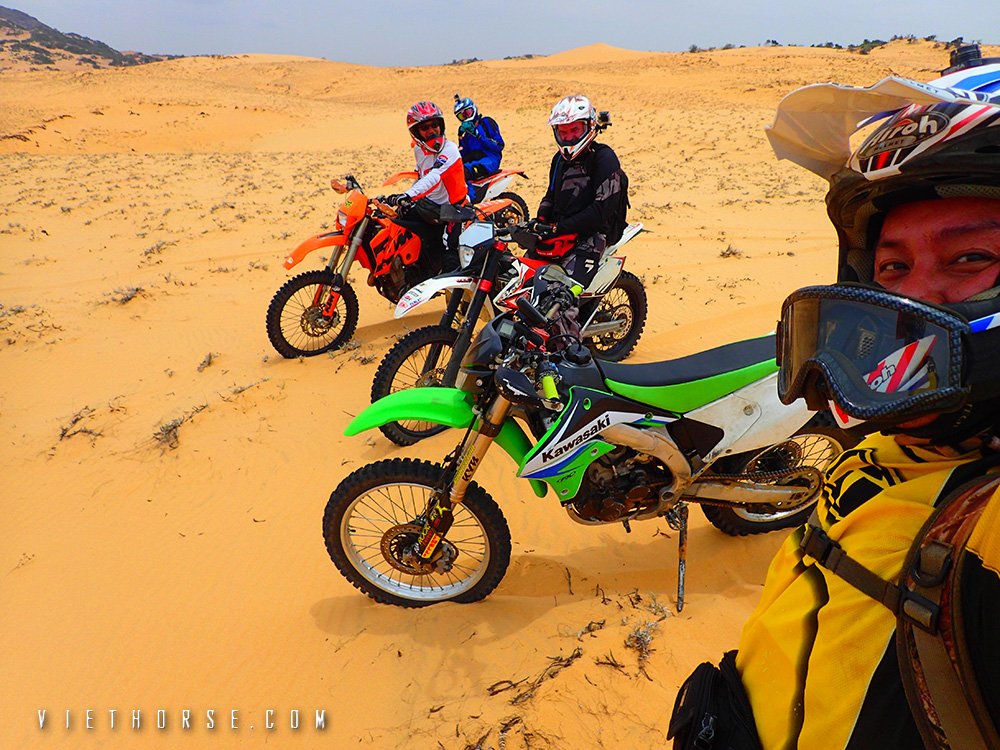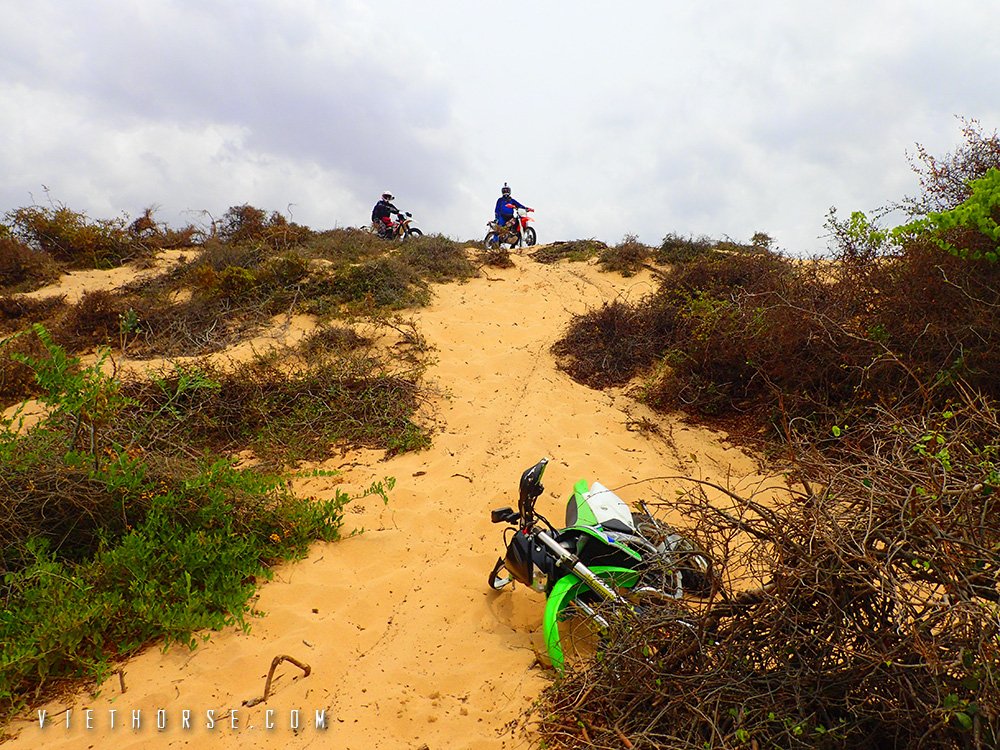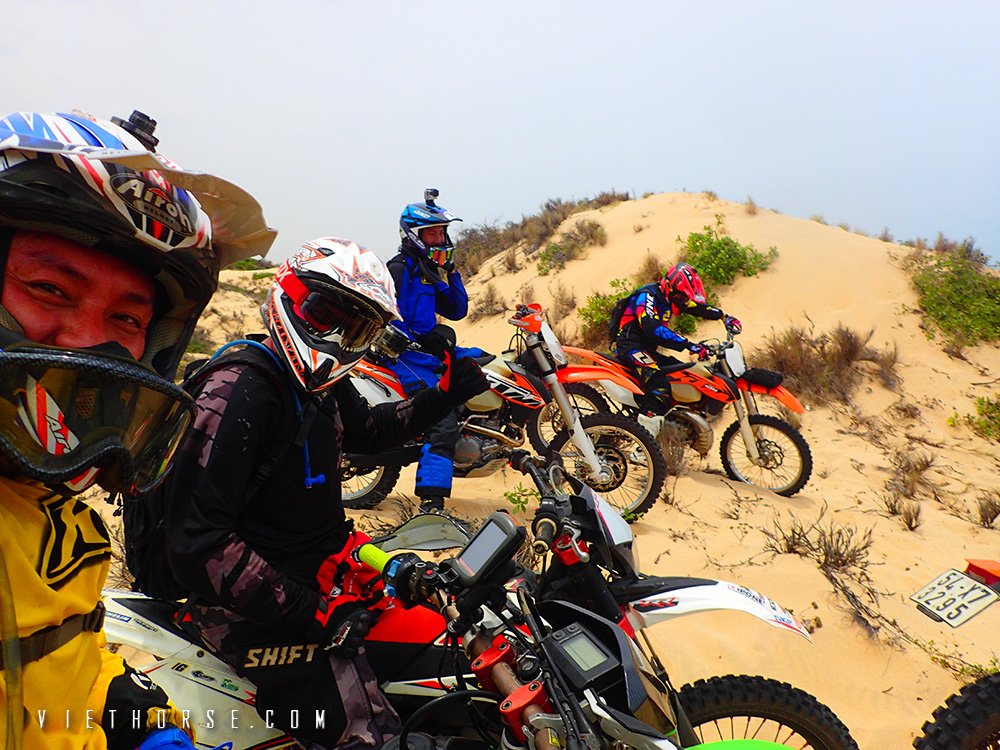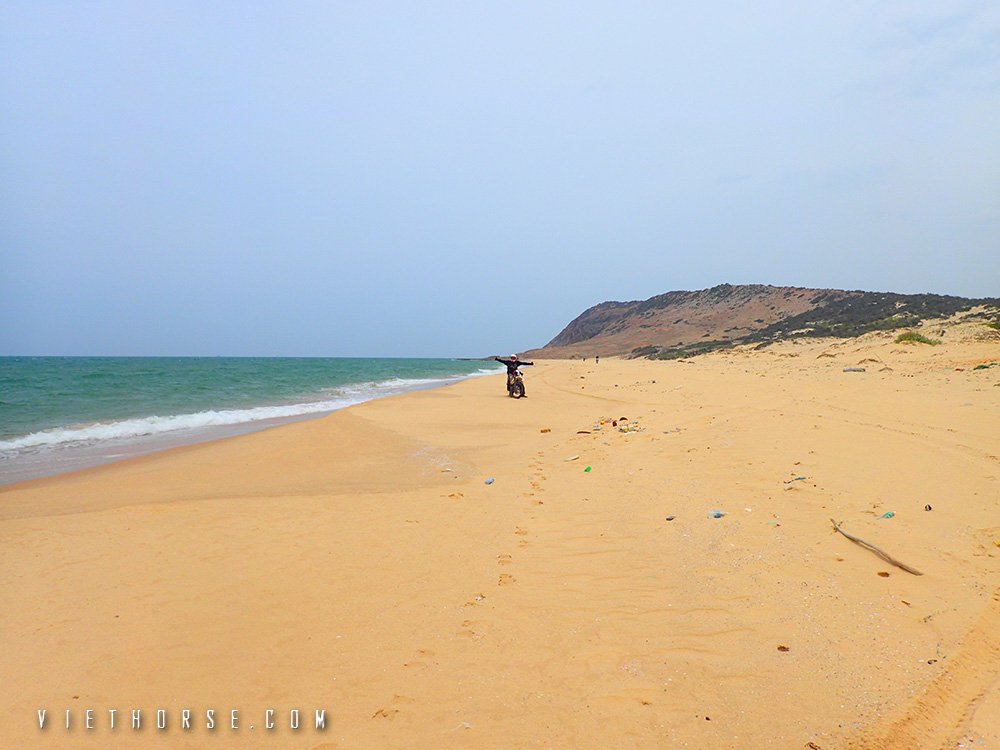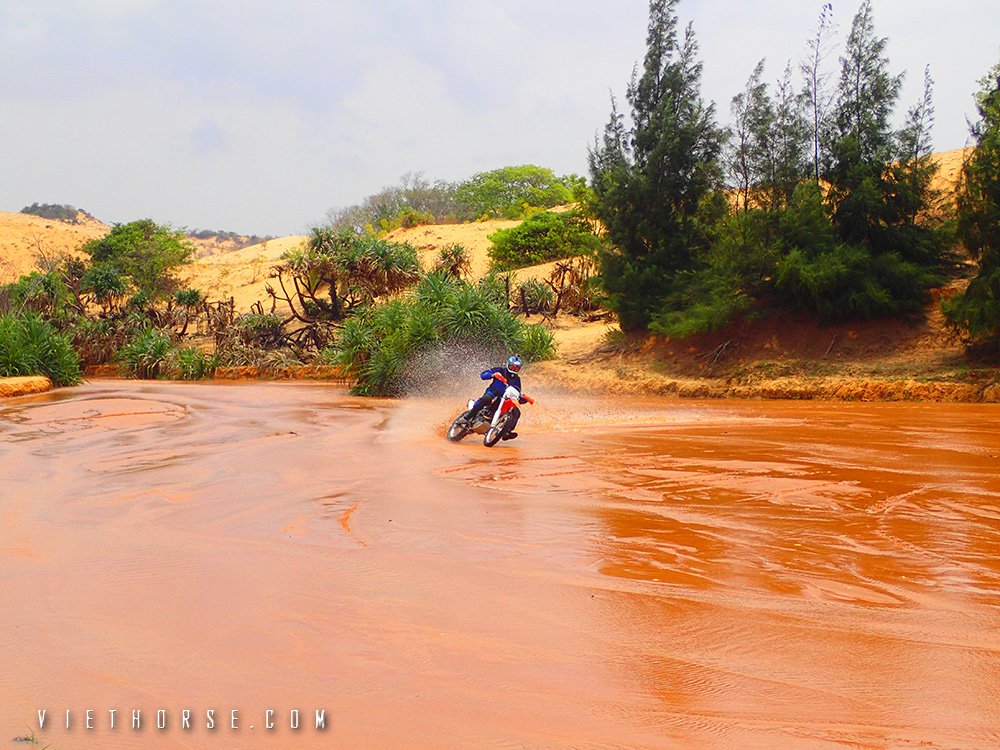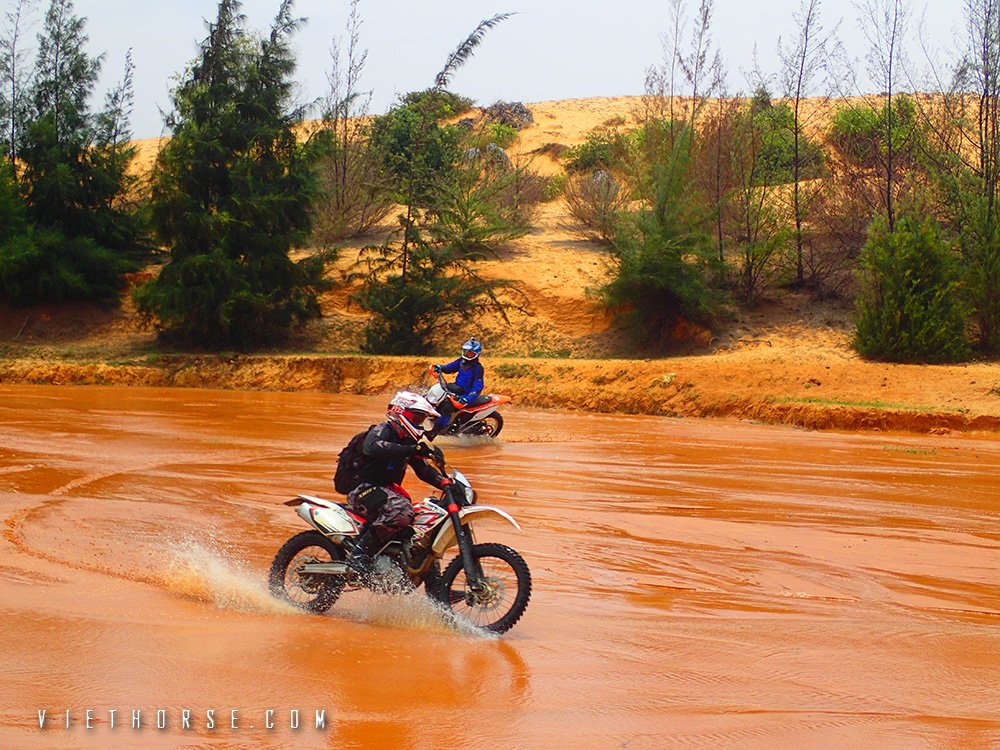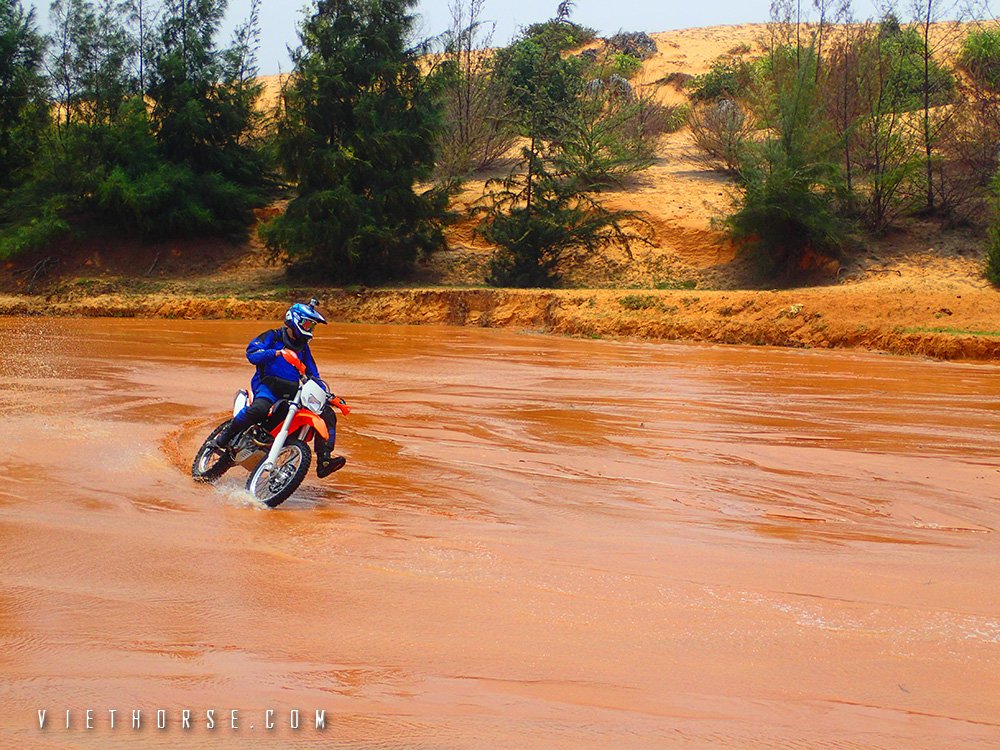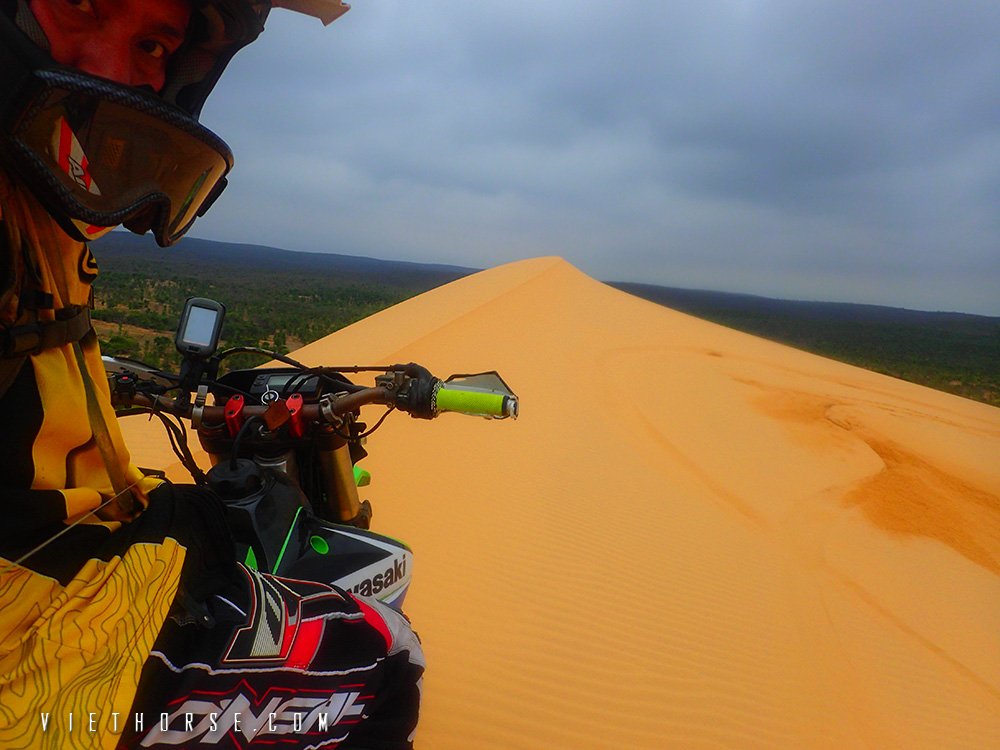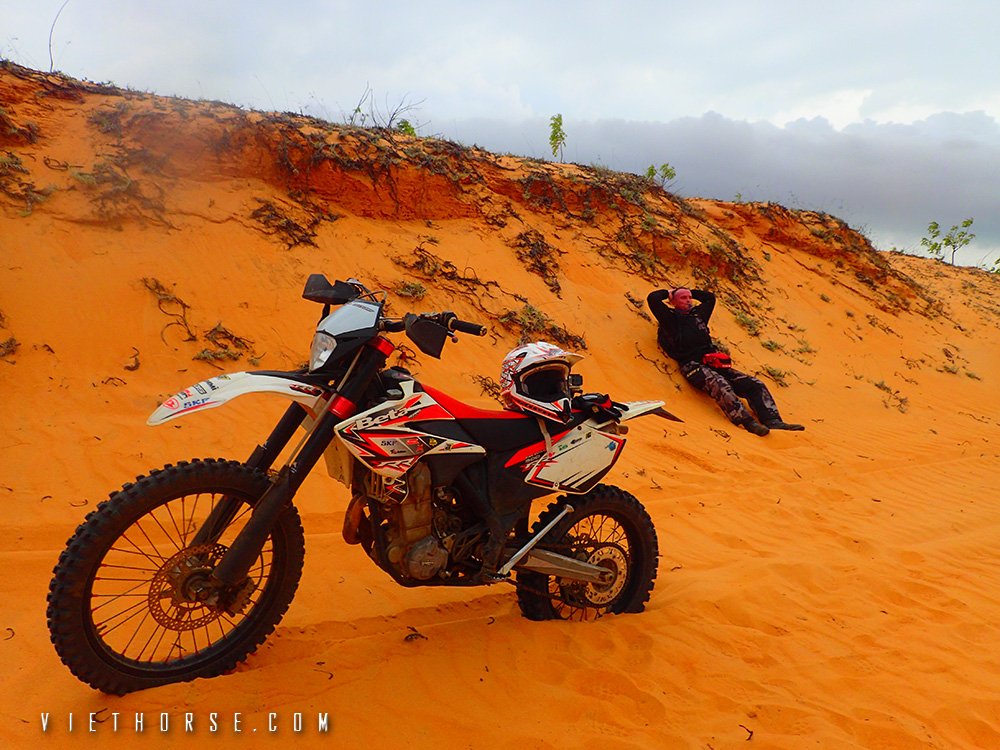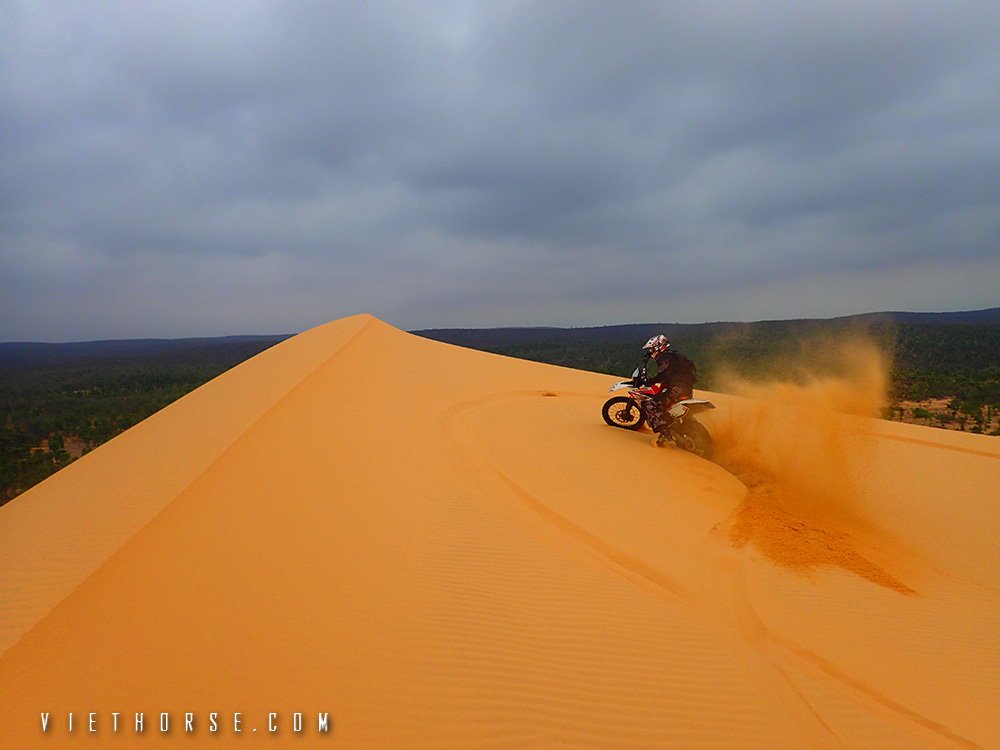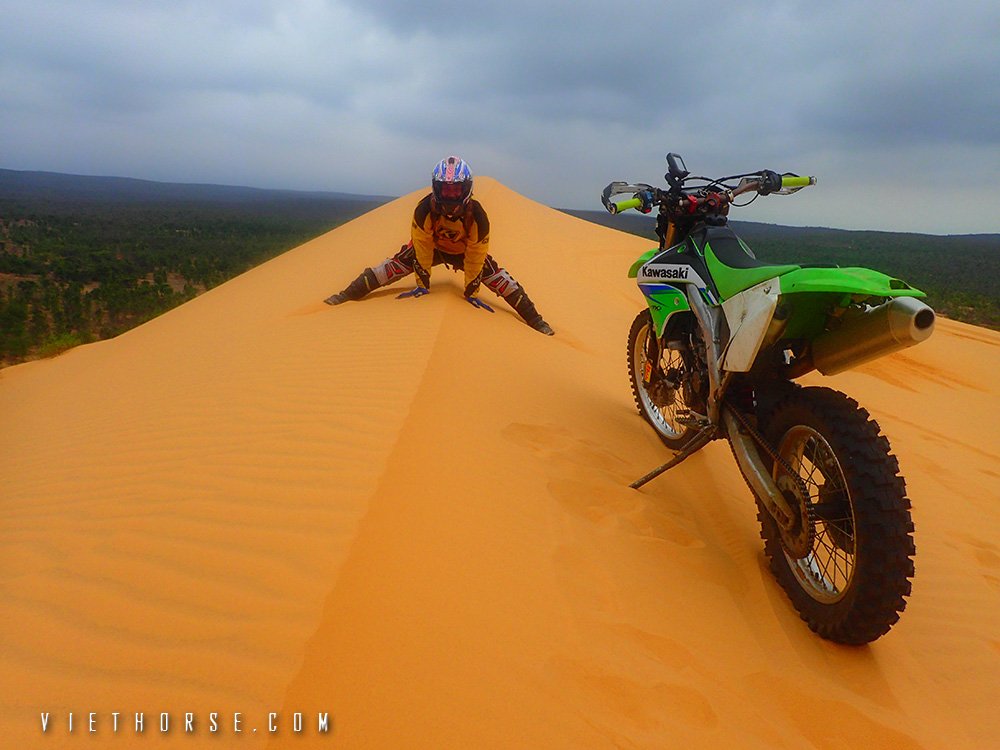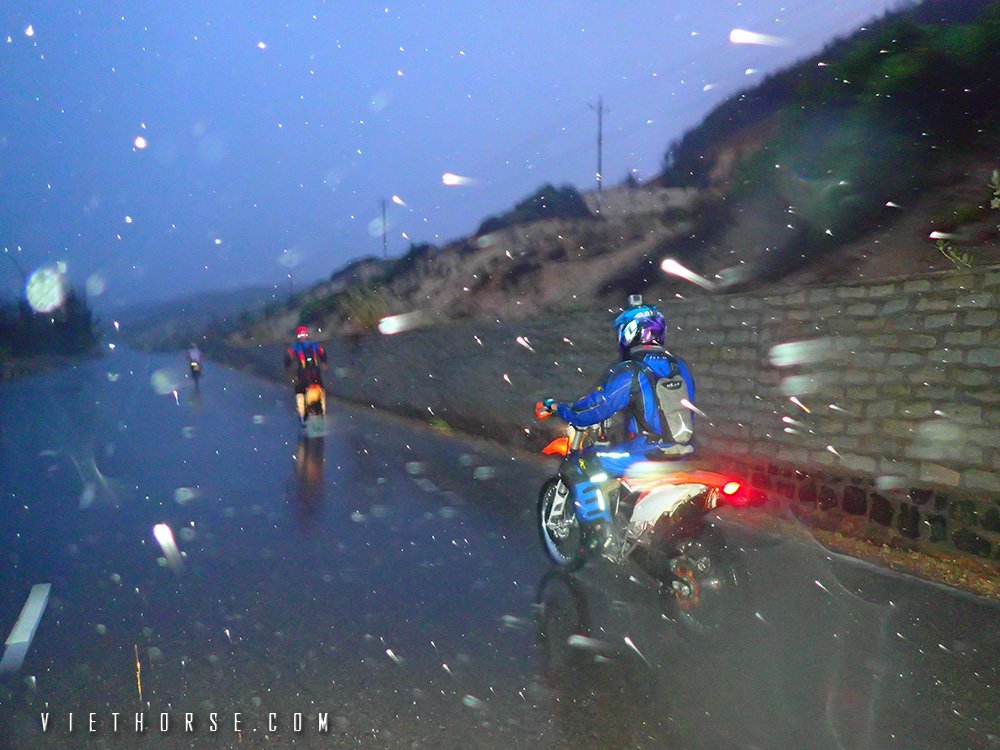 If you want to go over and ride the sand dunes..
Please contact :- http://panda-enduro.com Panda Enduro Tours caters for MOST abilities and ages.
Cheers
Brian