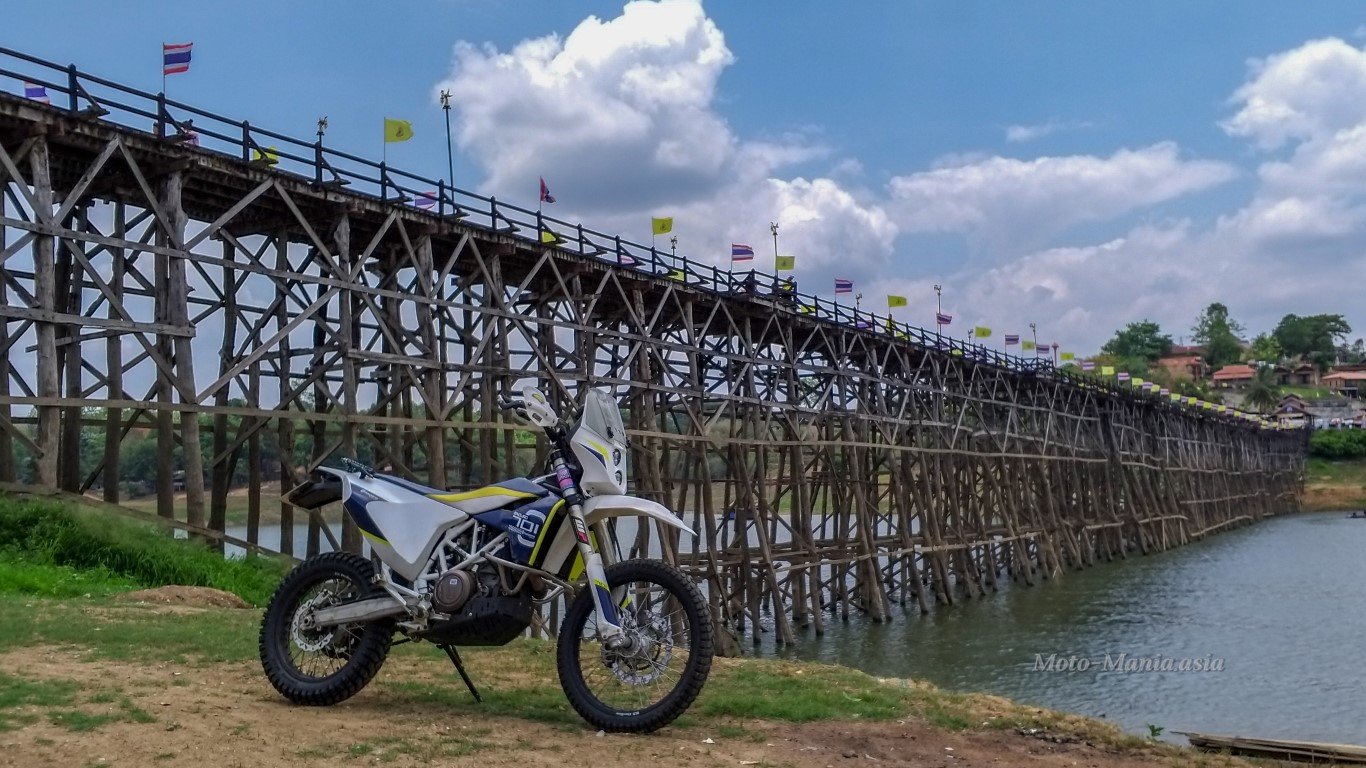 Lovely place to spend a long weekend. You could say. "Sangkhaburi The Real Thailand". One way in and out along highway 323. Off the beaten path, no loop around.
There are two sides to the Mon bridge.. Sangkhla and Wangka (Mon Side). Wangka side was founded in 1949 by Luang Phor after he fled Burma in 1949 with 60 Mon families.
Getting There:-
Driving from Bangkok takes around 5 to 6 hours straight through. Depending on the traffic and time of day.
I have done this in the past after work on Friday and it can take 7 hours with the Friday night fight through Bangkok traffic.
There are buses to Kanchanaburi. Then a bus to Sangkhlaburi. This can take between 7 to 8 hours. I passed a couple of these, very slow and I imagine many stops.
Getting Around:-
If you don't have your own wheels. There are plenty of scooters for rent. P Guest house for one is renting scooters. Just walk around and you will see scooters for rent at various places.
I would skip the bus and hire a car in Kanchanaburi to have real freedom to explore all the fantastic sites along the 323 on the way to and from Sangkhlaburi. There are lots of photo opportunities along the way
Fill up on fuel along on the main stretch of the 323. Fuel is about 2 baht a litre more expensive in Sangkhlaburi.
Sites to See:-
Mon Bridge Lat 15.14356 Lon 98.44991
Three Pagodas Pass Lat 15.30161 Lon 98.38673
Wat Wang Wiwekaram Lat 15.13266 Lon 98.44492
Chedi Buddhakhya Lat 15.12825 Lon 98.45032
Wat Saam Prasob (Sunken Temple) Lat 15.11521 Lon 98.46169
Old – Wat Som Det. Lat 15.11521 Lon 98.47356
There are plenty of waterfalls to see. As it is the end of the dry season. Skipped these. Best seen during or just after the rainy season.
Long Weekend Ride
Not wanting to waste the 701 on roads out of Bangkok.
A friend in Saiyok Yai kindly allowed me to park my pickup at his place. Then gear up and ride from there.
My usual 4.30 am wake up and on the road at 5 am to Sai Yok Yai. No traffic and make the usual excellent time.
The air has cleared, the grass greener and rain over night.
The season is changing.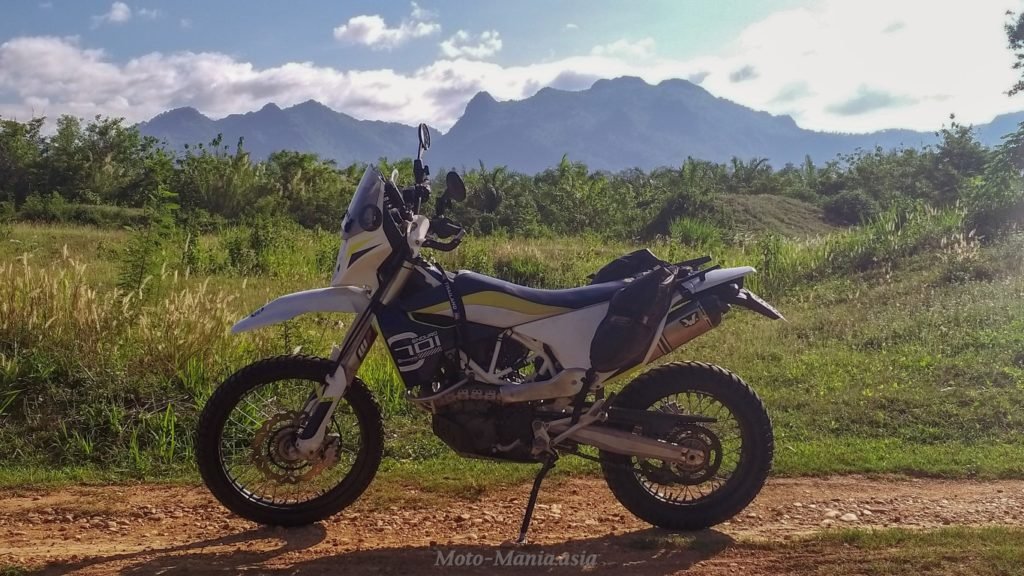 From Sai Yok Yai it is approximately 120 km by road to Sangkhlaburi.
Nice views as you ride the twisty winding road along the dam edge.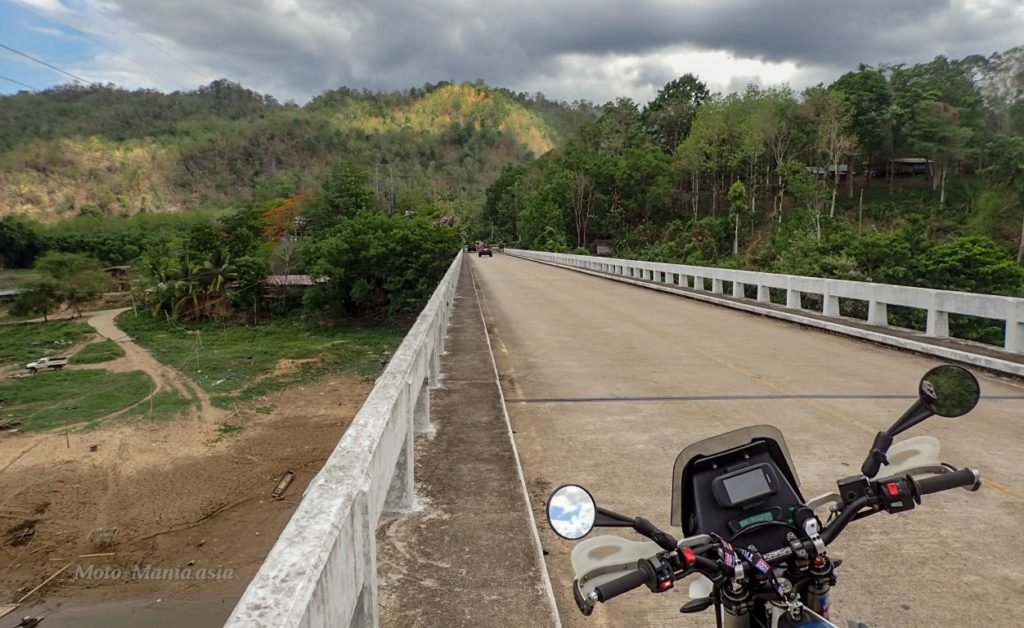 This is one of the wettest areas in the country, it didn't disappoint this time around. Just as I reach the twisty main up hill section it rains. Still on new tyres and not really happy with the back brake on this bike. Very brutal when I first got it, so playing with the settings.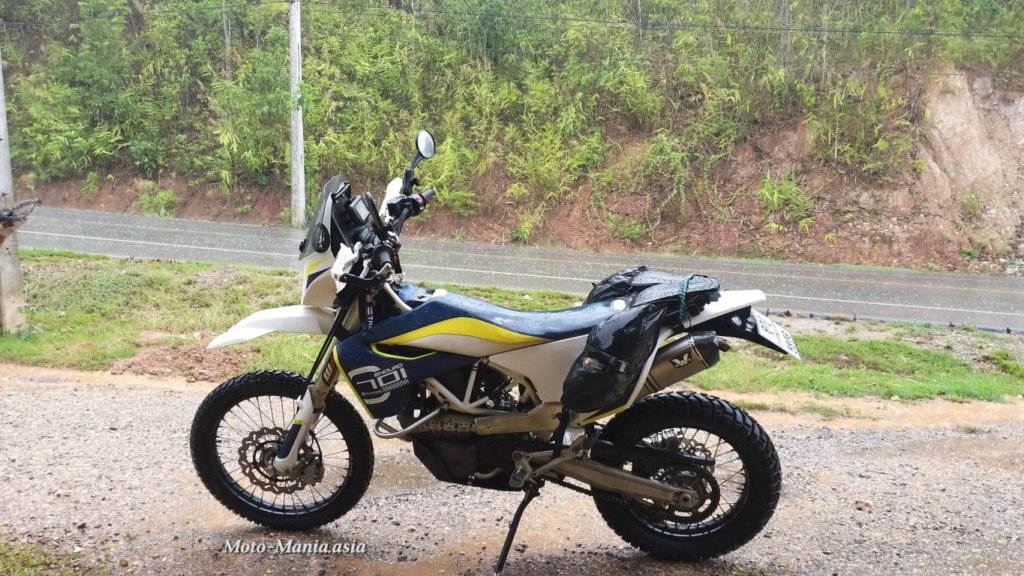 It is only 10.50 am. Do I push on to the hotel and may be have to wait for check in or continue to Three Pagodas Pass.
Push on and rewarded with clear skies and no rain a few kilometres up the road
Three Pagodas Pass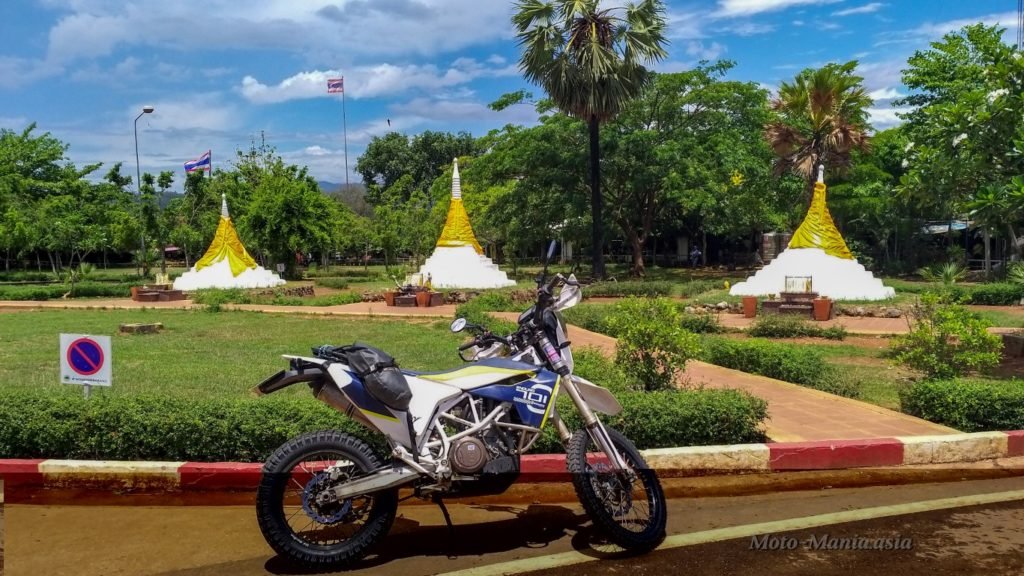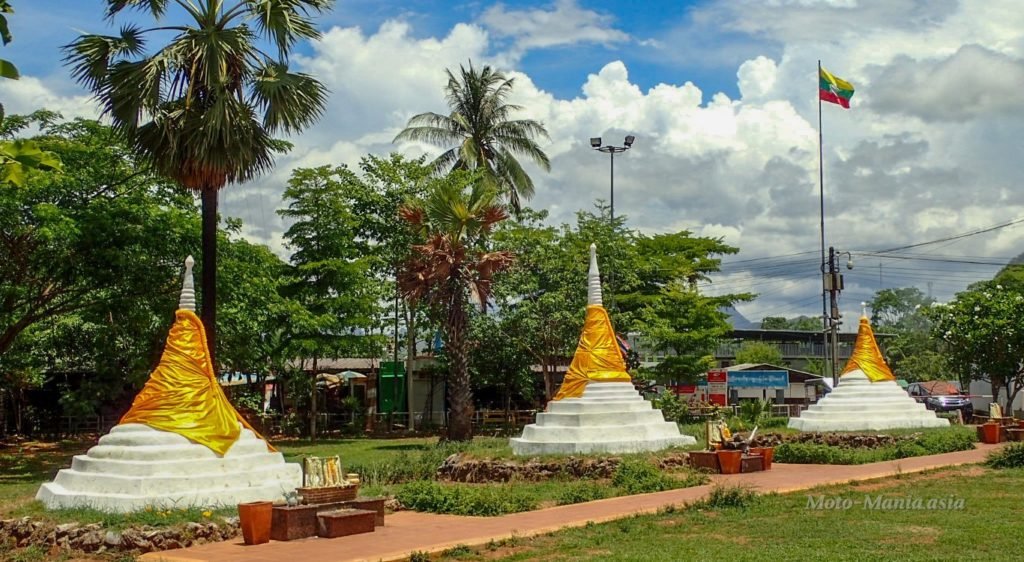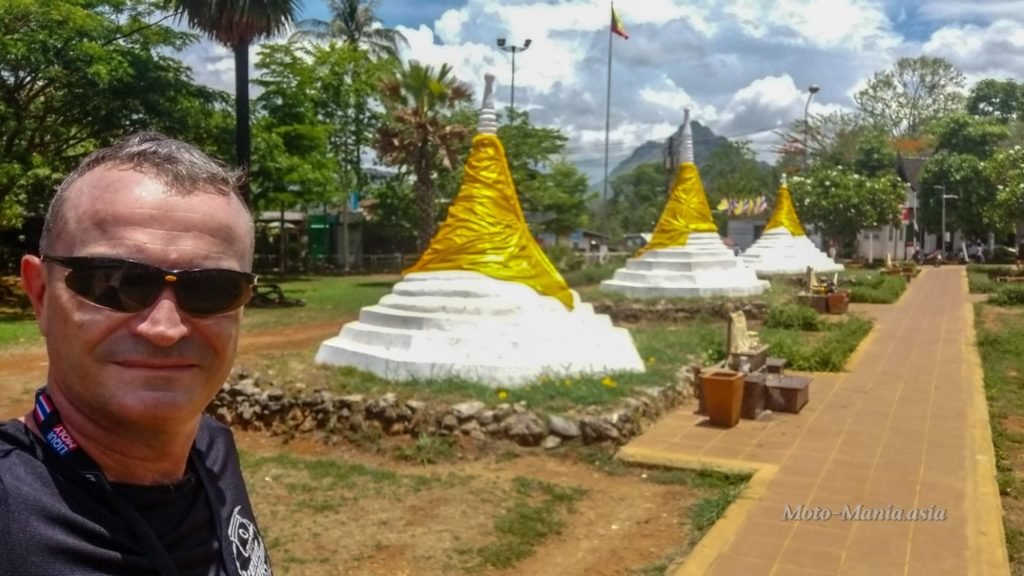 Burma Railway History.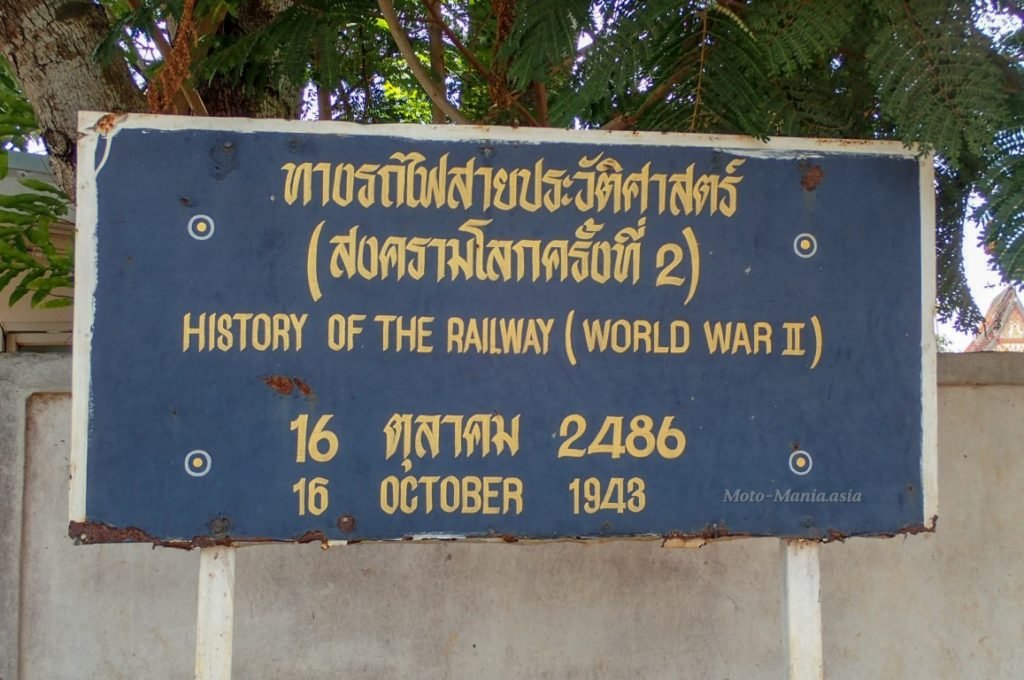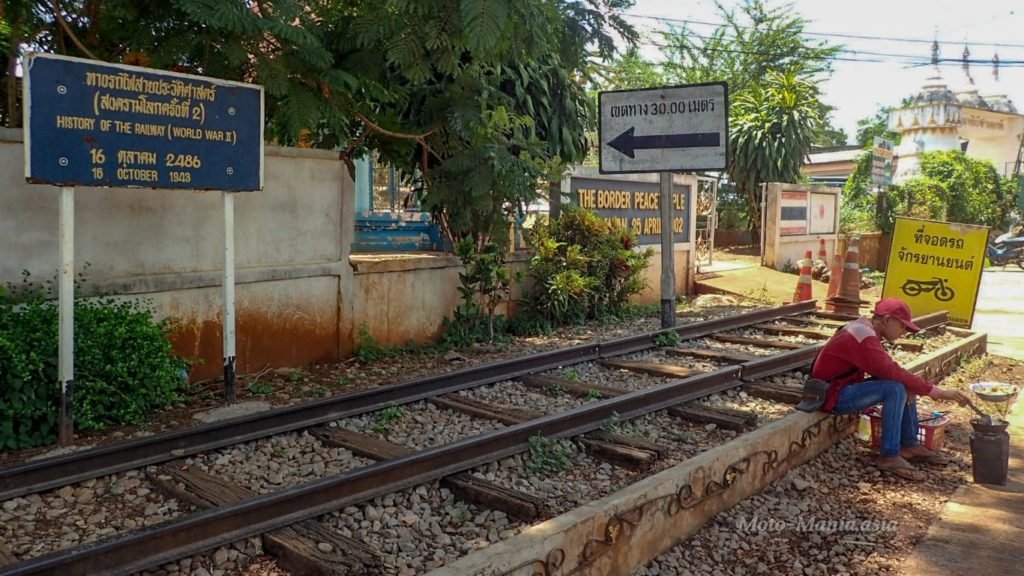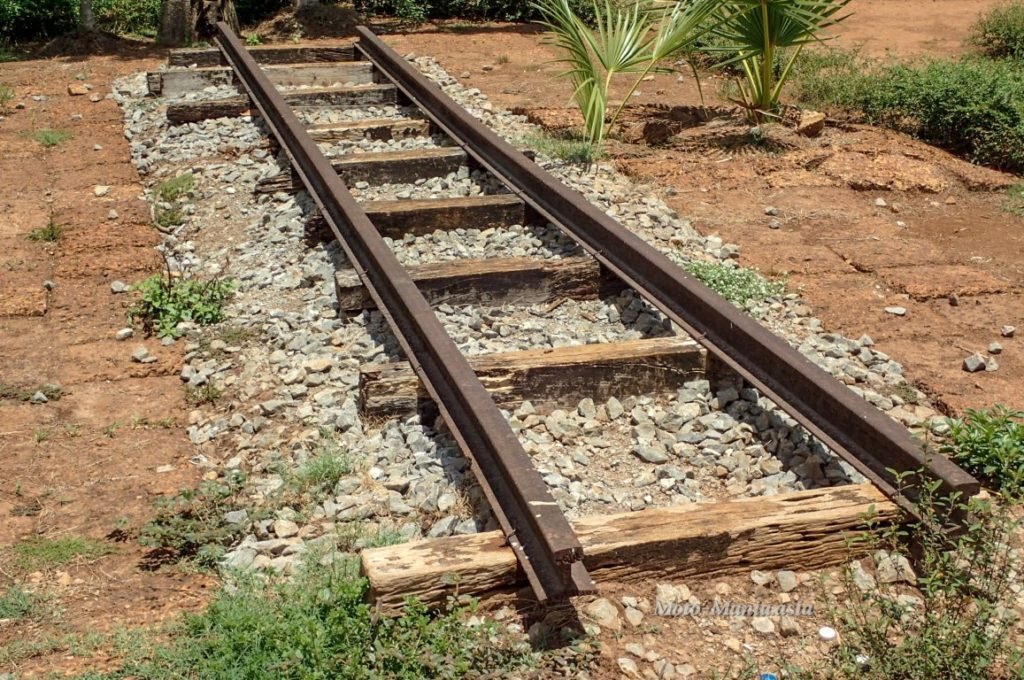 Lunch on the border – literally. Other side of the mesh fence is Myanmar.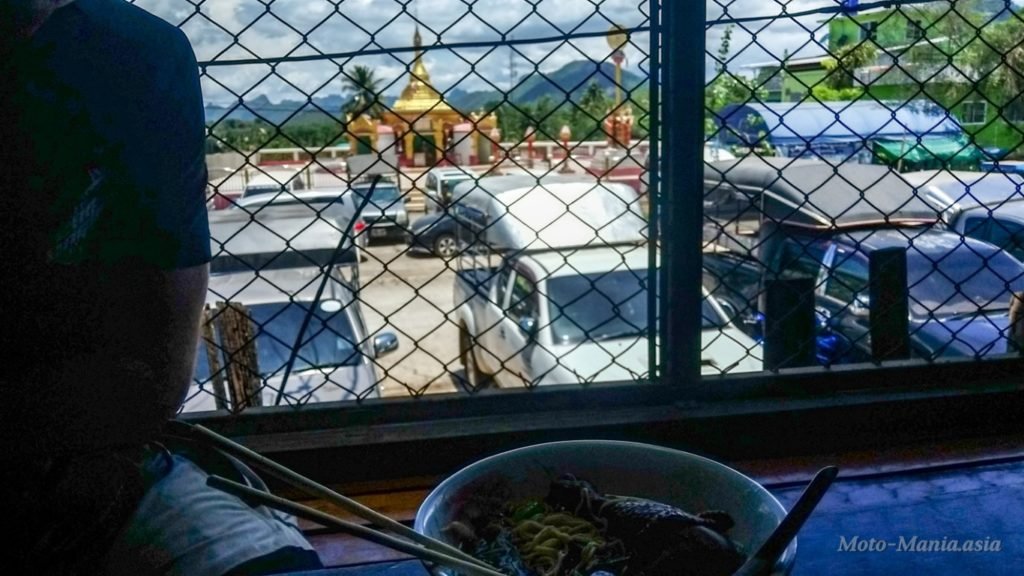 Immigration is Cute.
Unfortunately. Only Thais can cross to Myanmar. 10 Baht fee on the Thai side. 40 Baht fee on the Myanmar side. Allowed in up to 5 KM.
A Thai passport or Thai ID card is required and a copy will be made which is given back to the person crossing.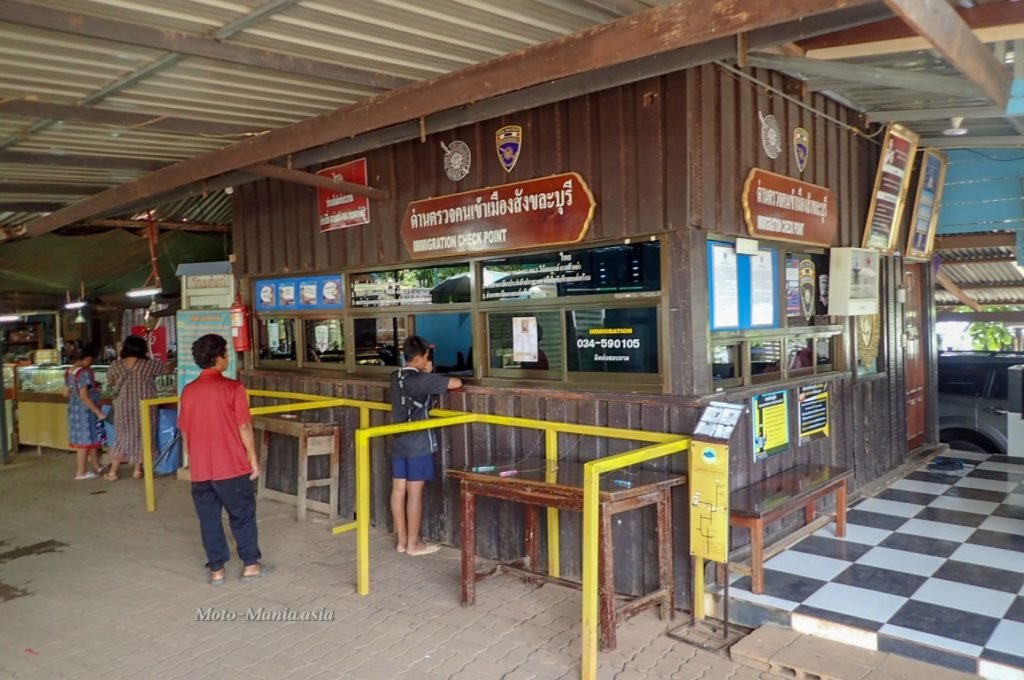 There is a market and food stalls to the left of Immigration. Selling all sorts of goodies. As well as duty free booze up the far end. Jack Daniels for 750 Baht. I was skeptical about fake products and skipped it.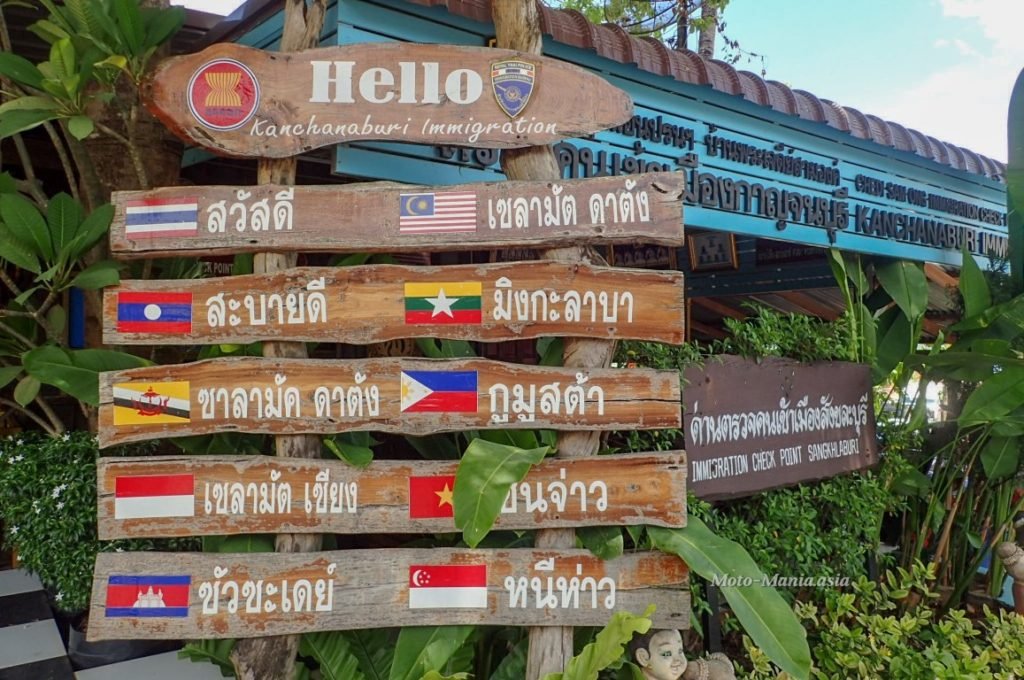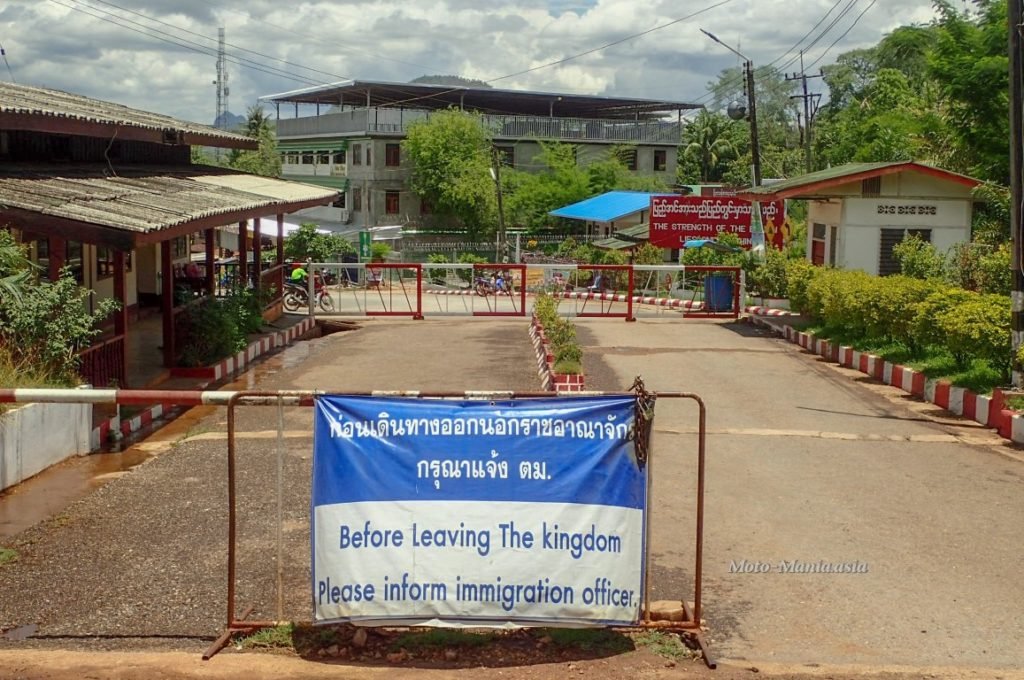 As usual at these border towns. You see people crossing back and forth. Spotted one Burmese cross, buy a bubble drink and go straight back over to Myanmar.
On the way in at the army checkpoint 3 or so km up the road. The army were confiscating fruit purchased by the border. So don't recommend buying much to take back in case you get checked. A few cans of Myanmar Beer will be fine.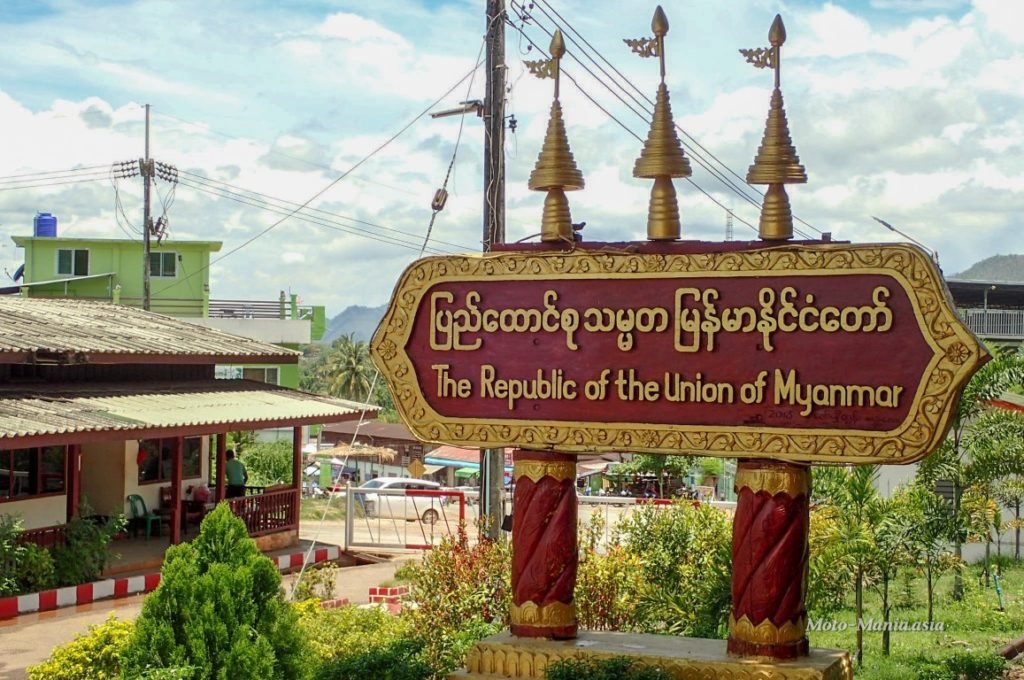 Would have been cool to have crossed. The coffee shop was watching my gear and bike.
Let's hope crossing to Myanmar will be easier in the future.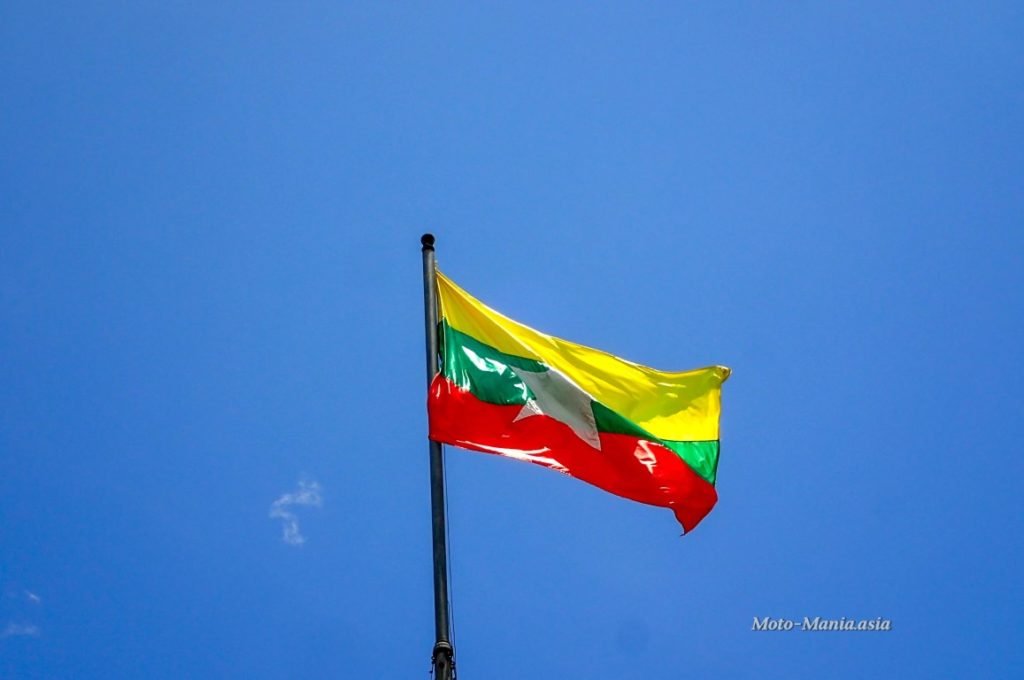 Back to the coffee shop for an iced coffee.
This has to be some of the best coffee I have ever had. Seriously good. Bought two bags of coffee back with me to Bangkok.
Phoya Coffee
Super friendly father and daughter team. The father named the coffee after his daughter. Phoya Coffee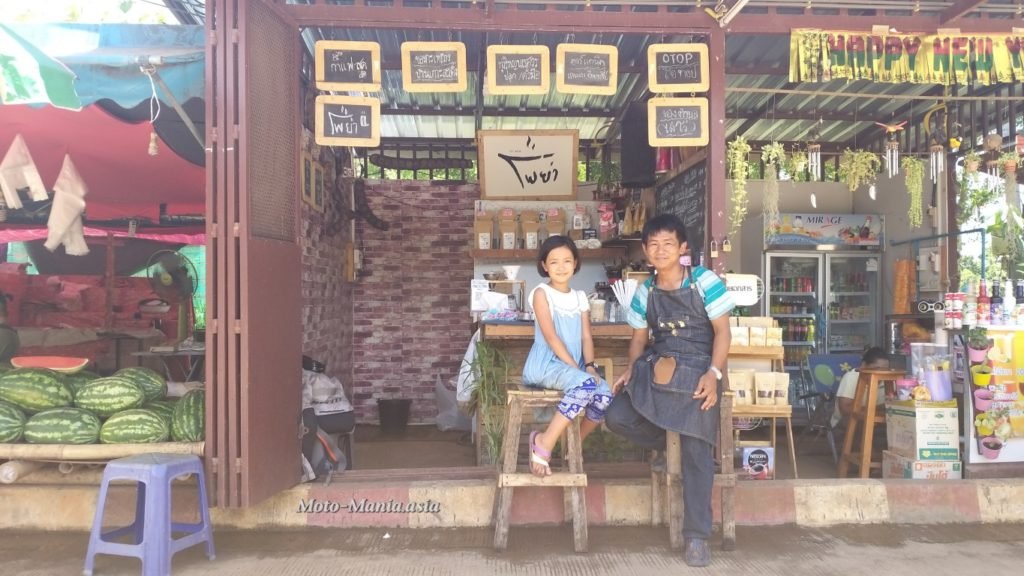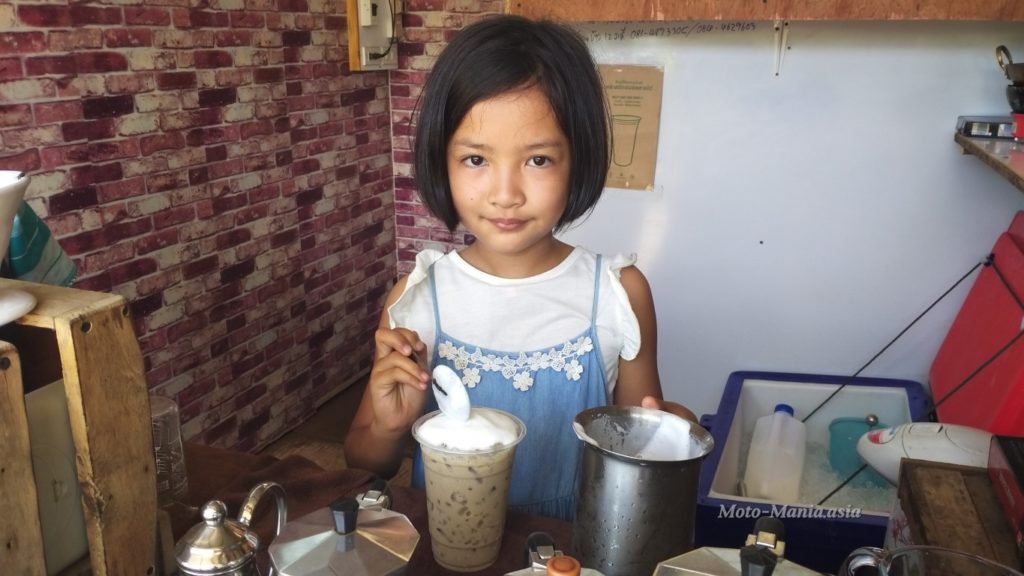 The coffee is grown in Sangkhlaburi.
Here is the Facebook Page.
If you would like to know more or have some delivered with in Thailand.
https://www.facebook.com/phoyacoffee/
P Guest House and Country Resort.
After a 4.30 wake up, 5am leaving Bangkok. Stop and gear up in Saiyok Yai.. Rained on, plus a visit to the Three Pagodas Pass.
Beer O'clock with a view.
Click on the image, zoom in or out.
---
---
Time for a walk on the Mon bridge and general look around.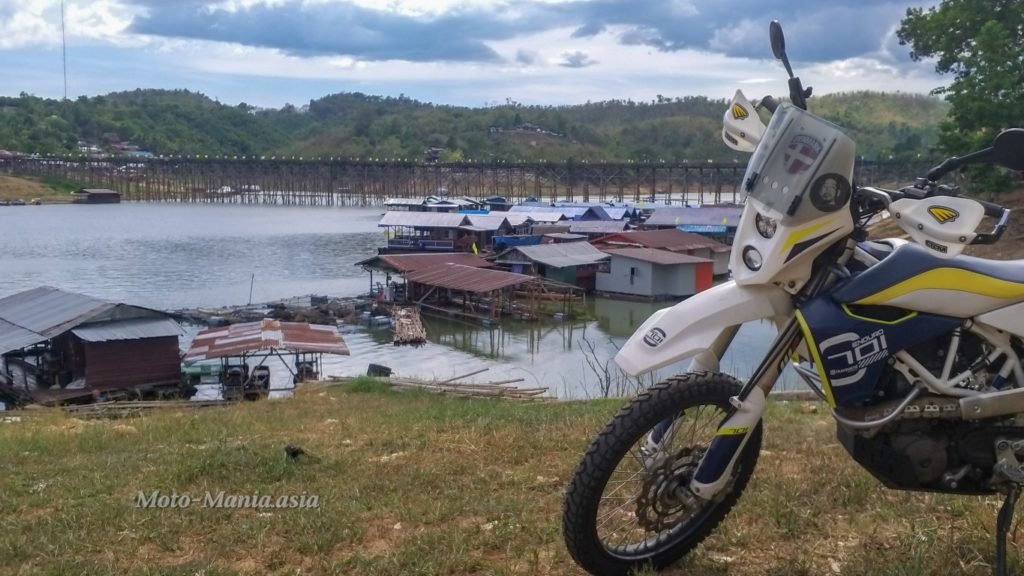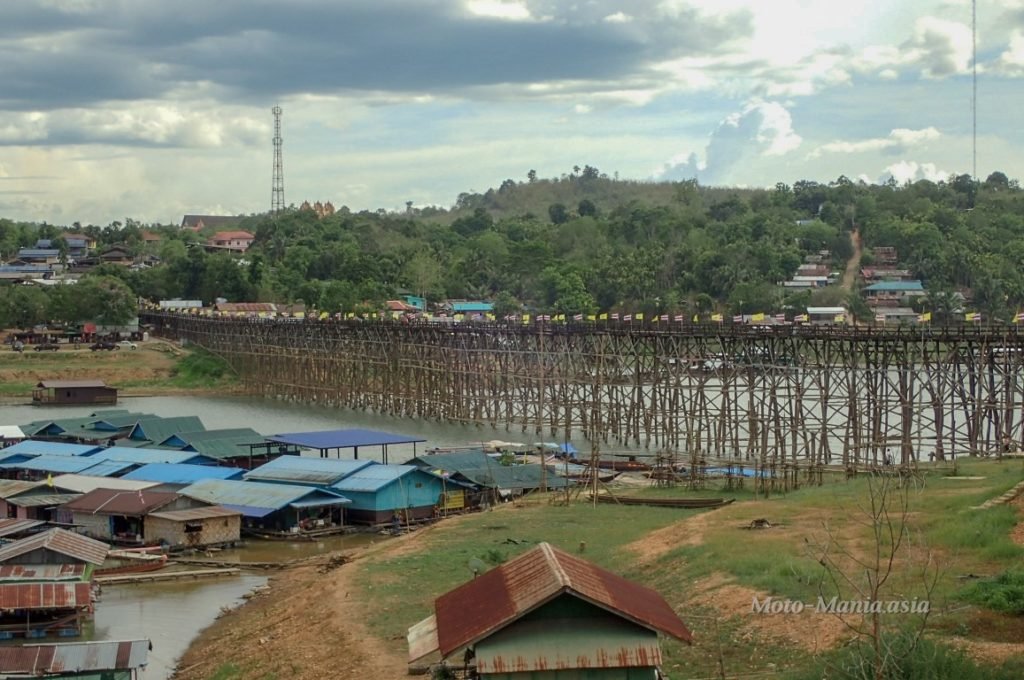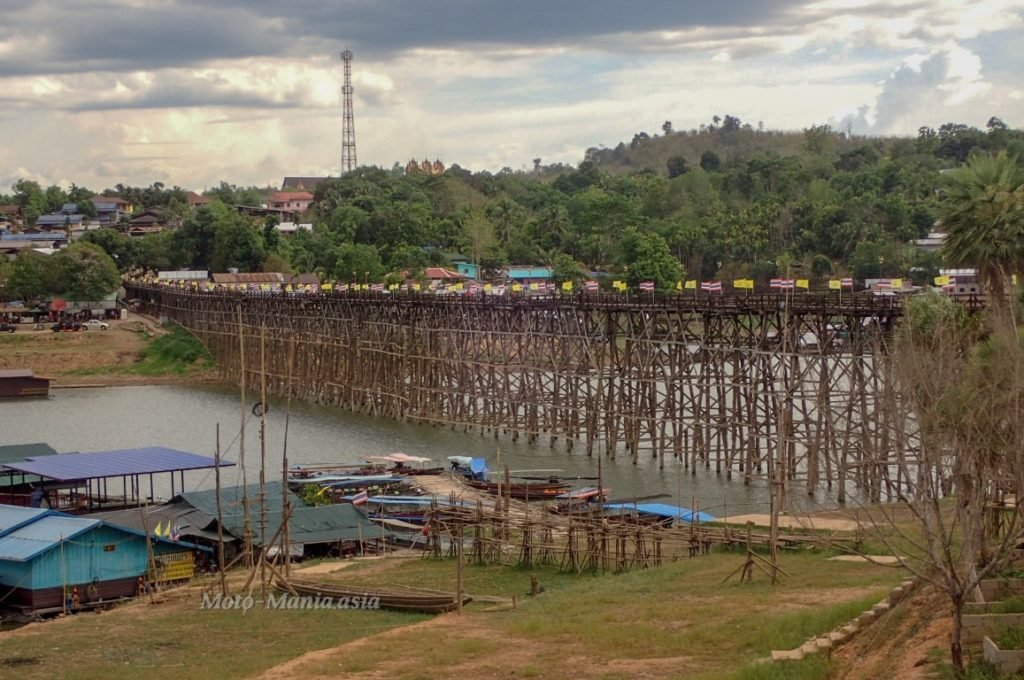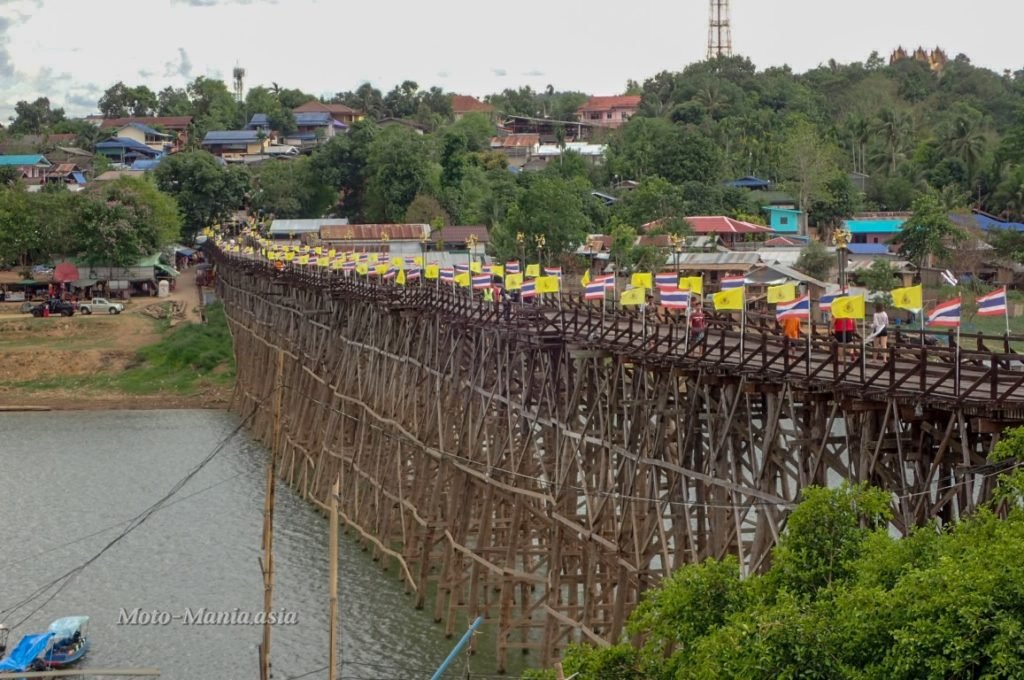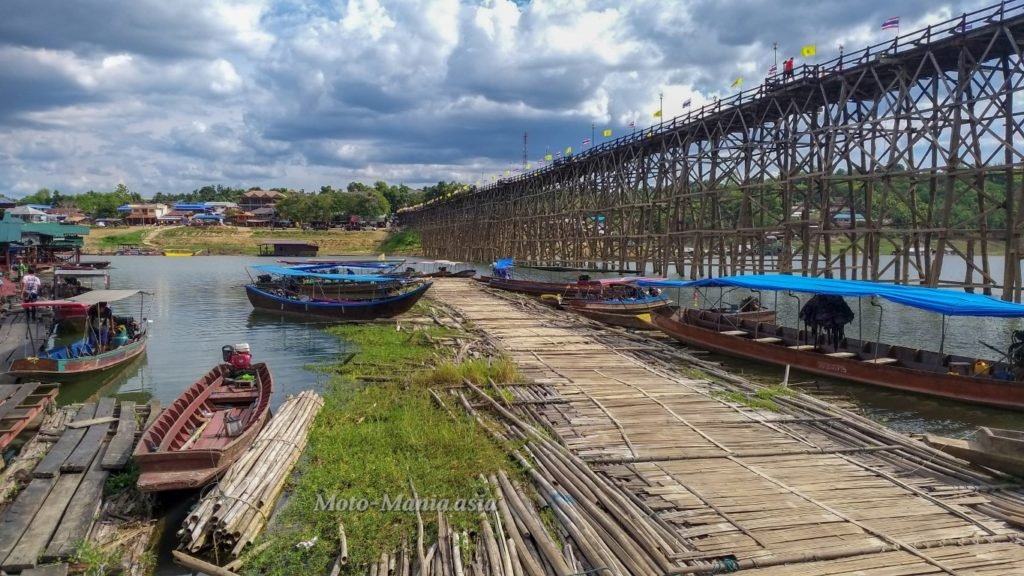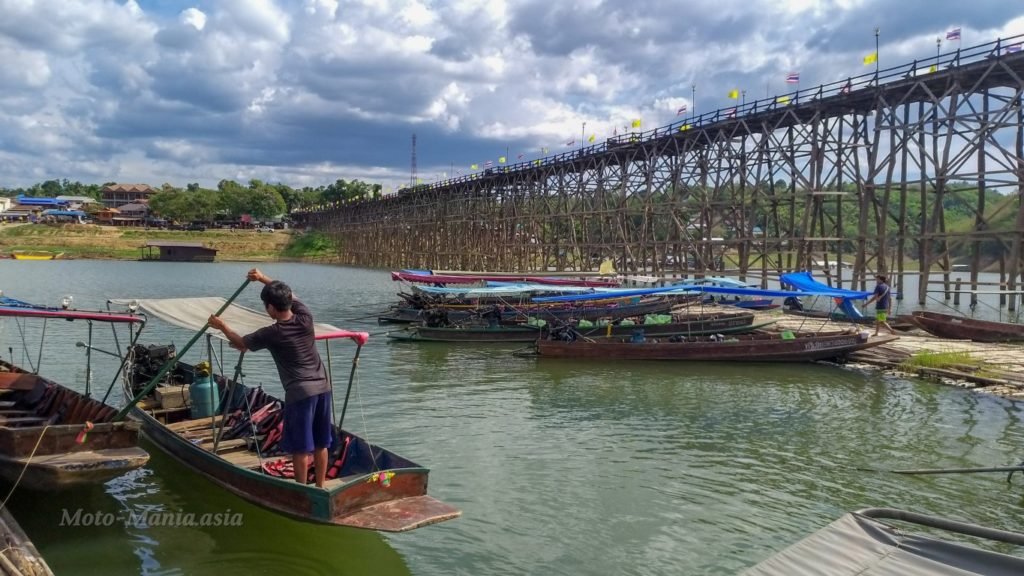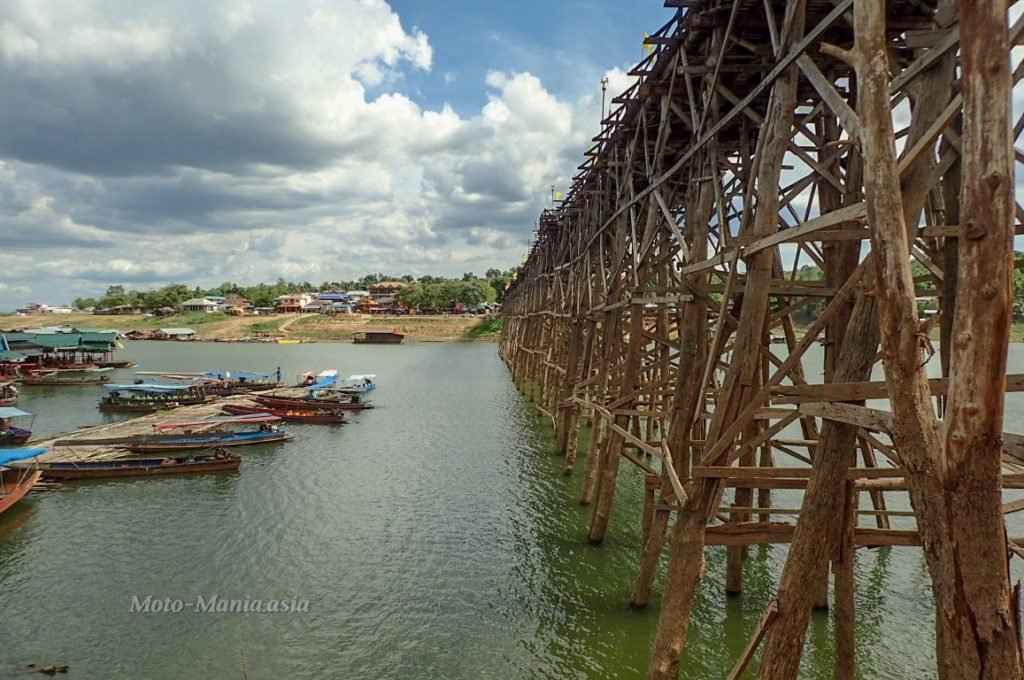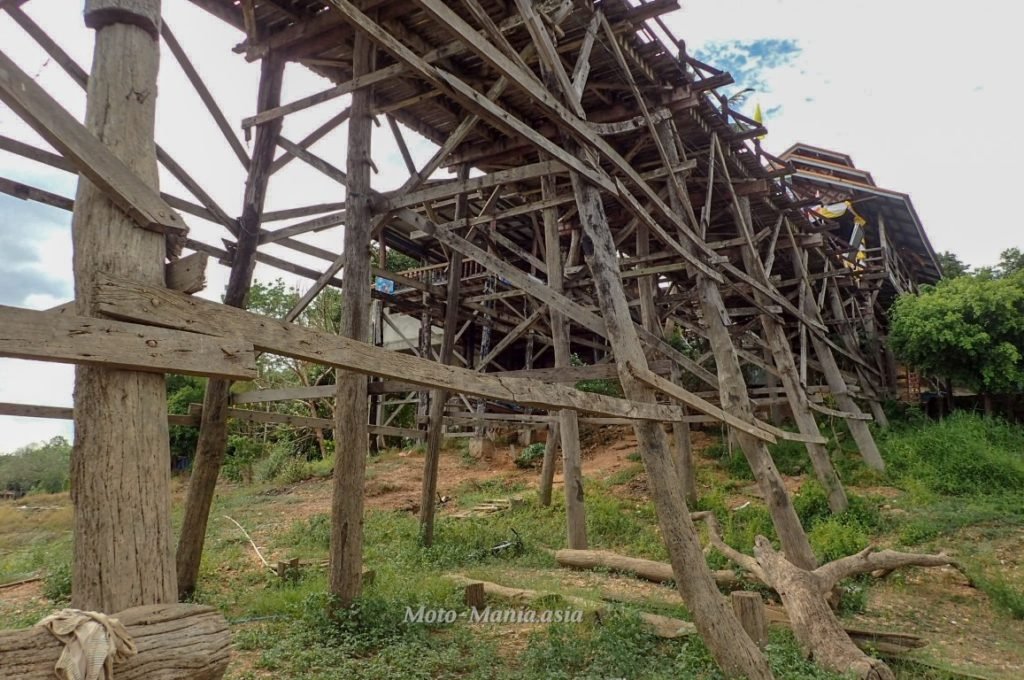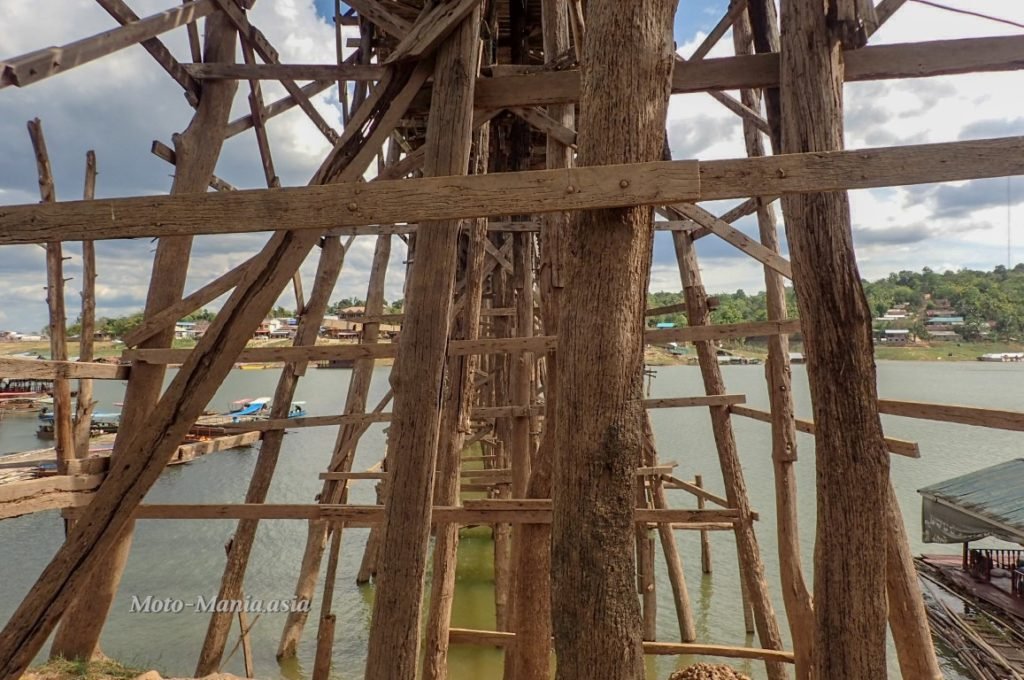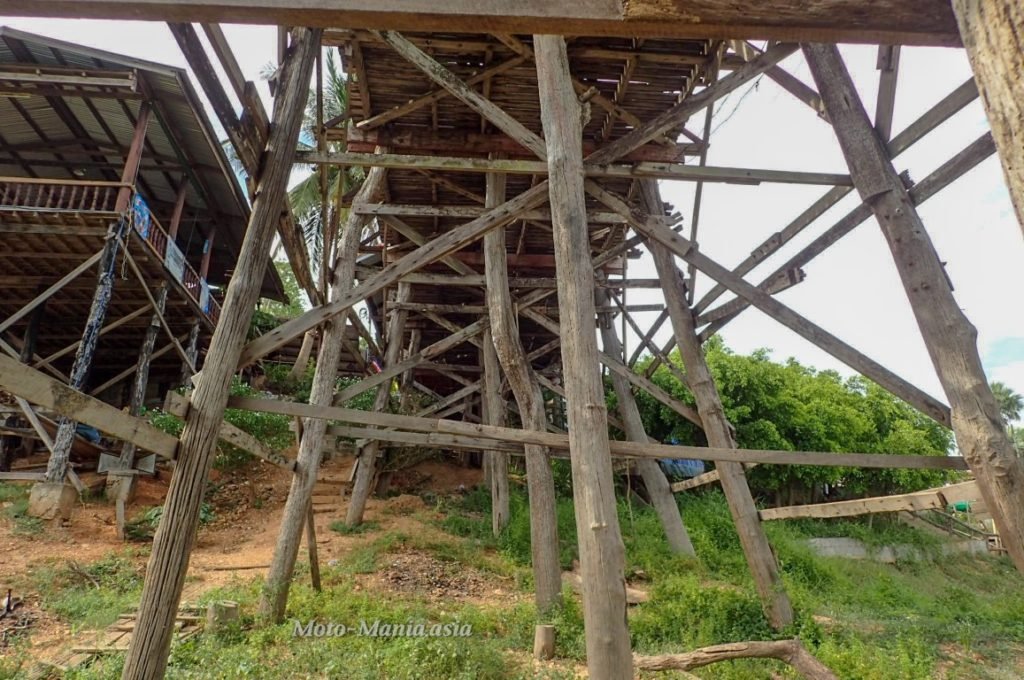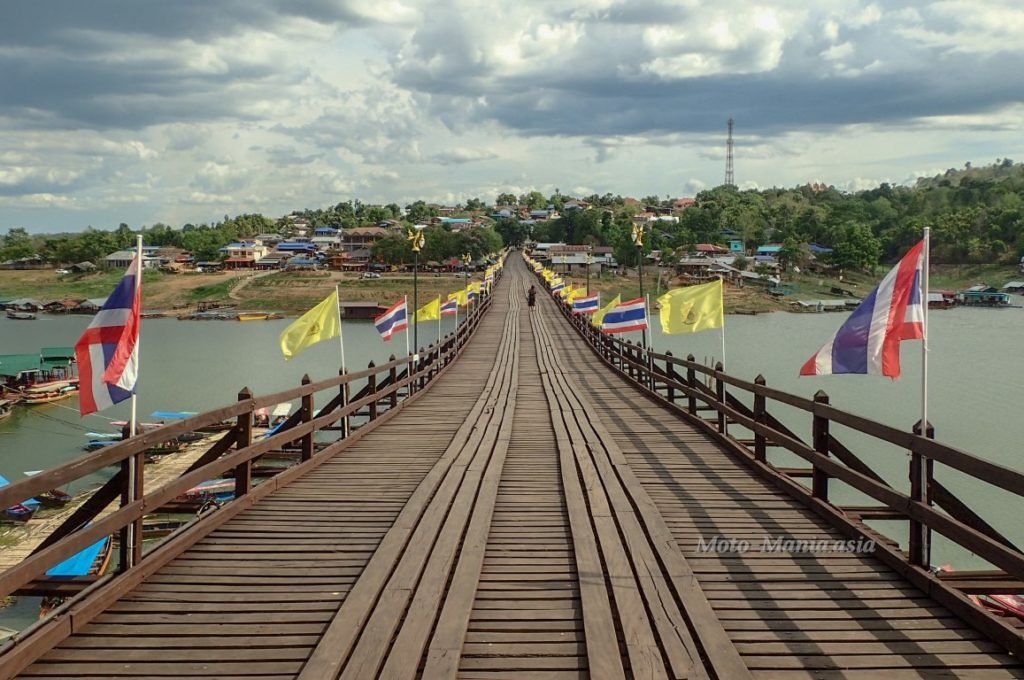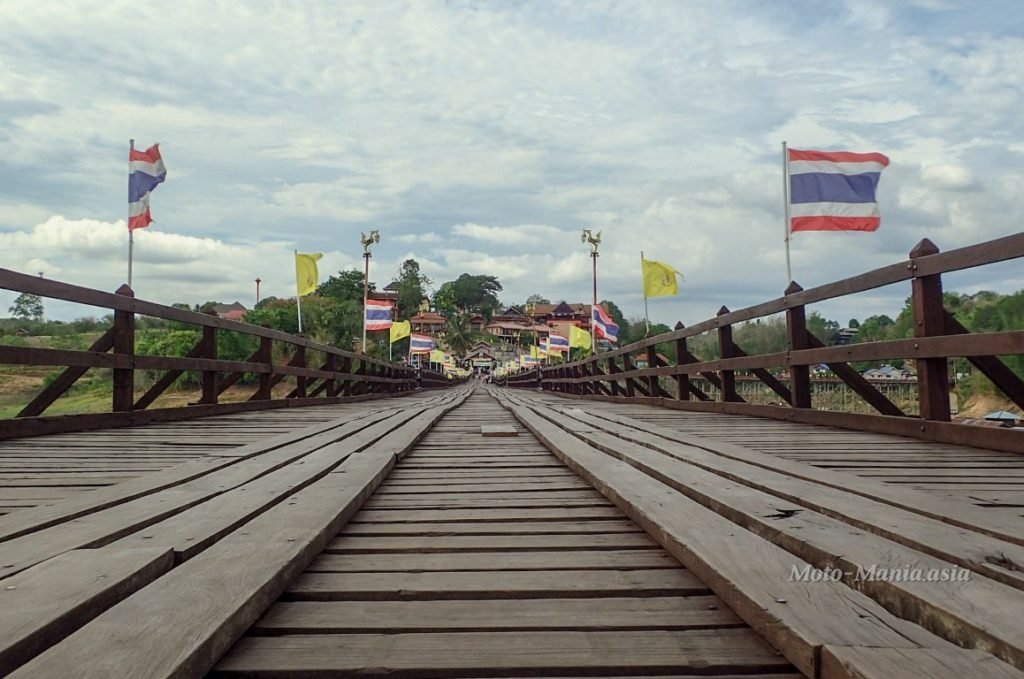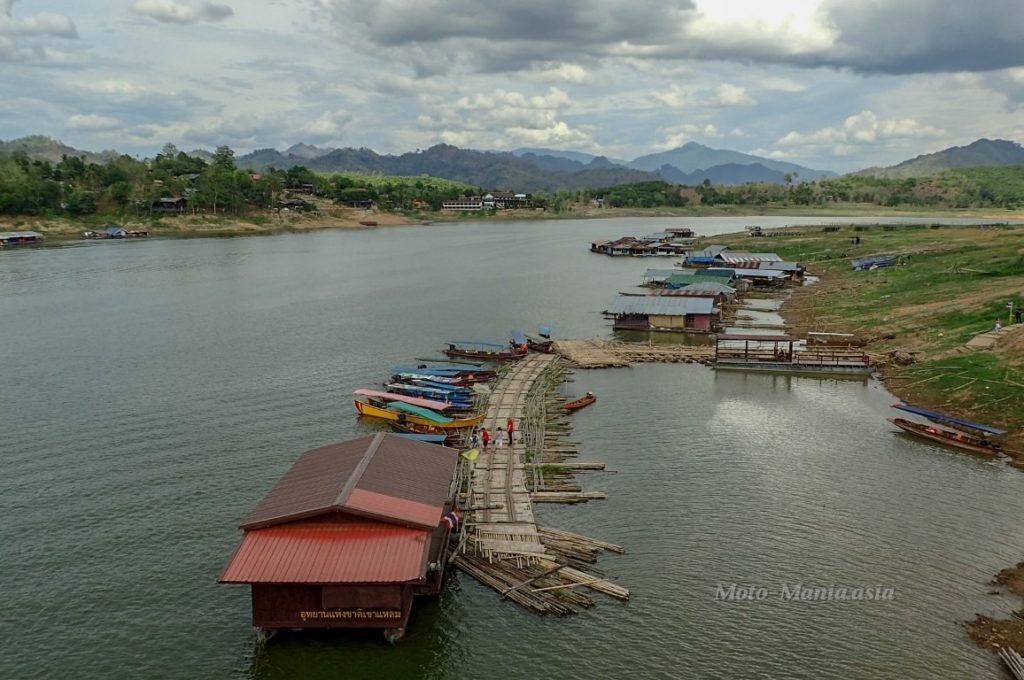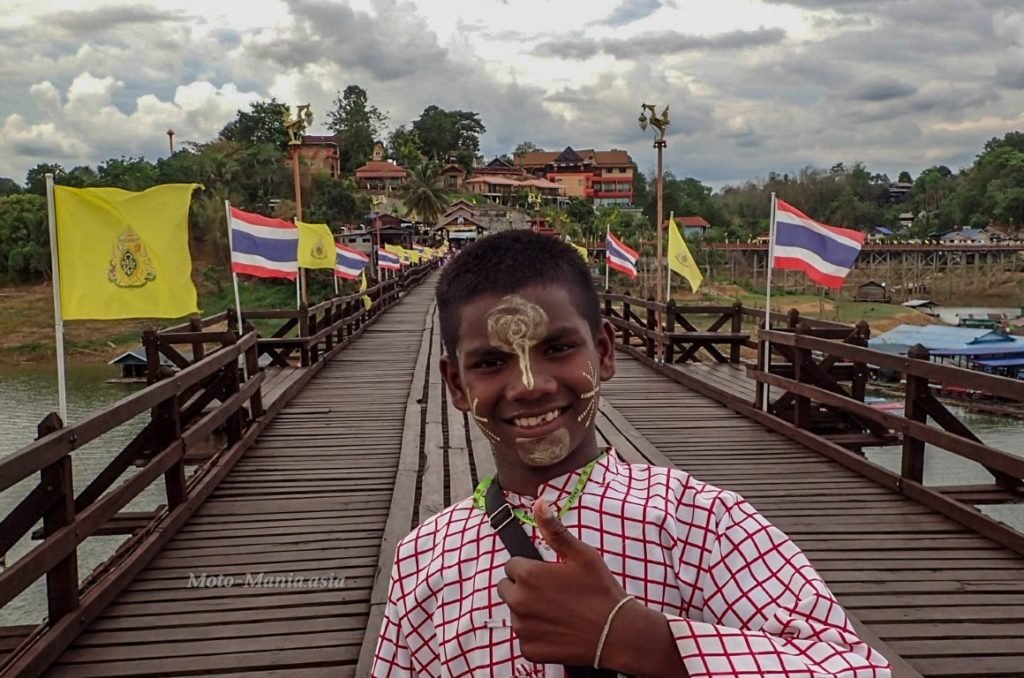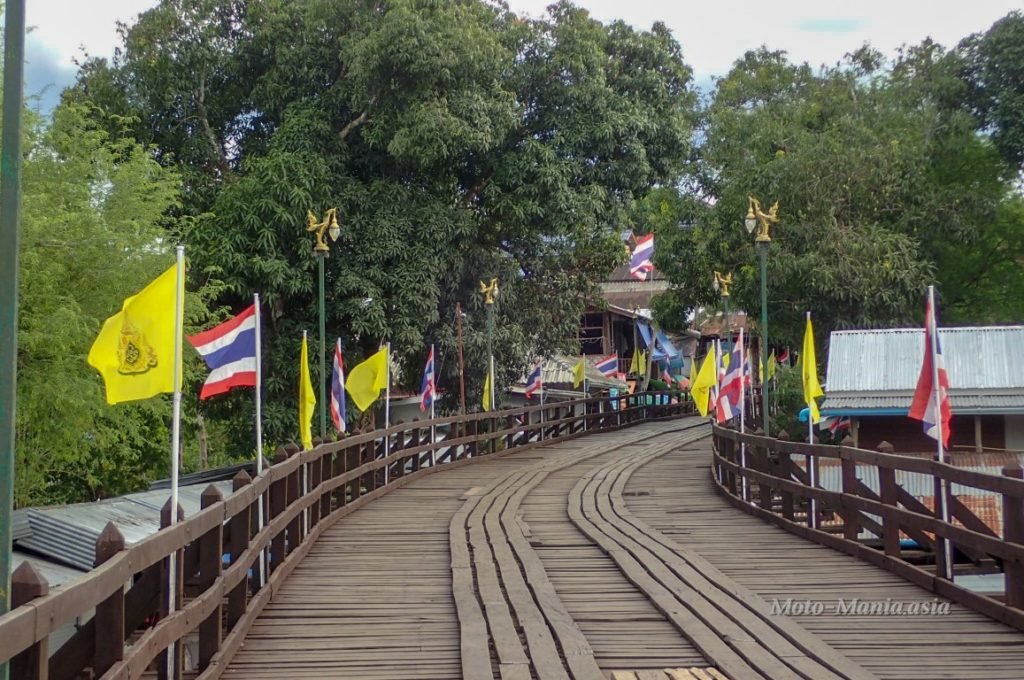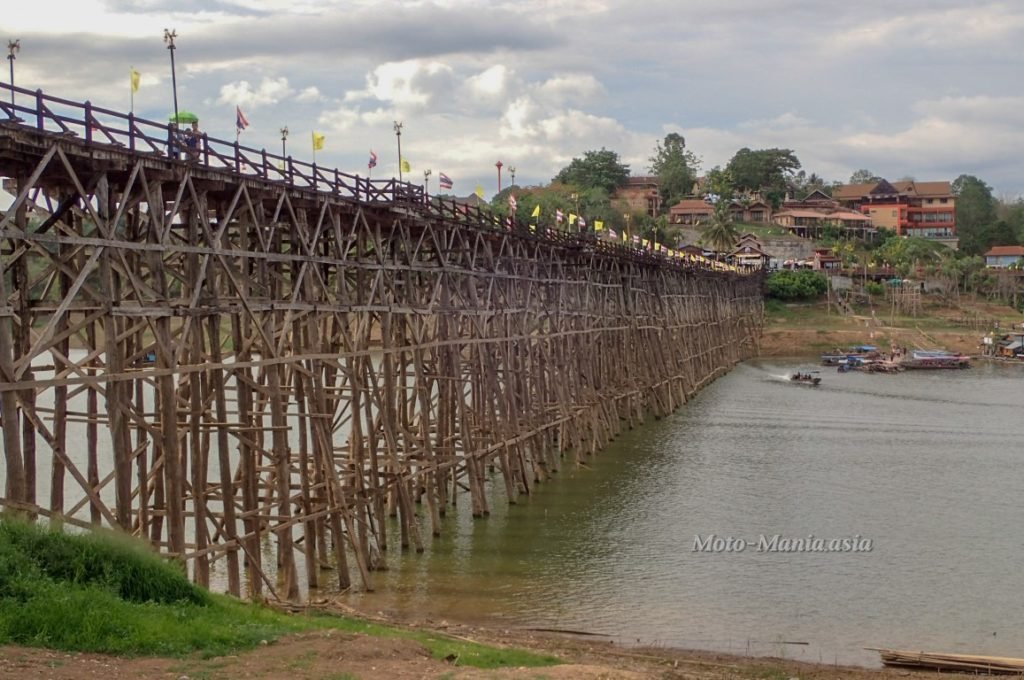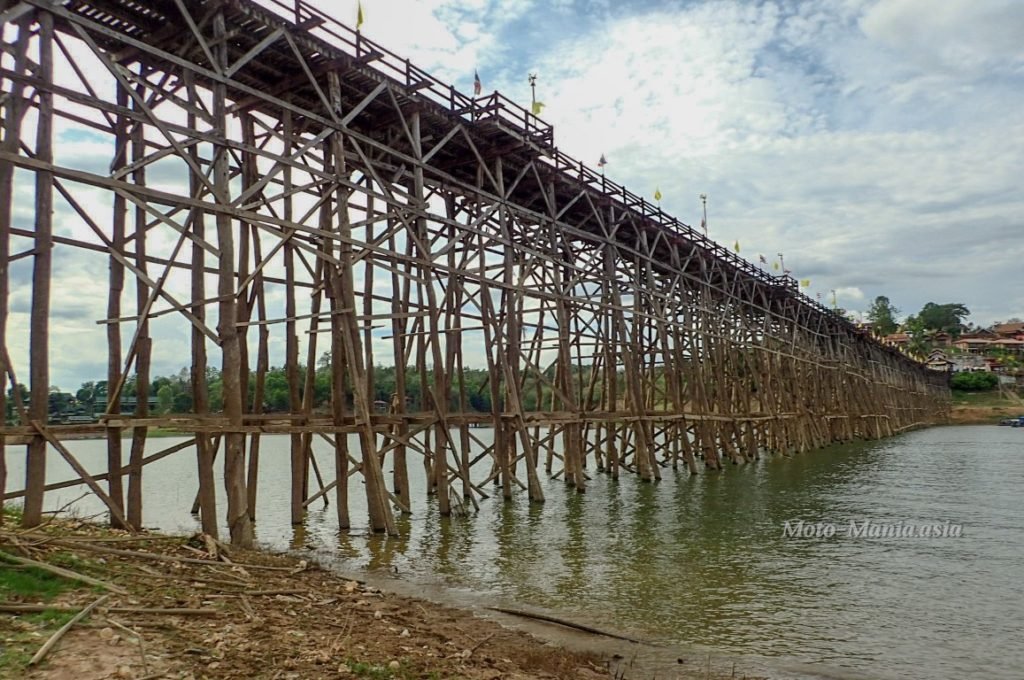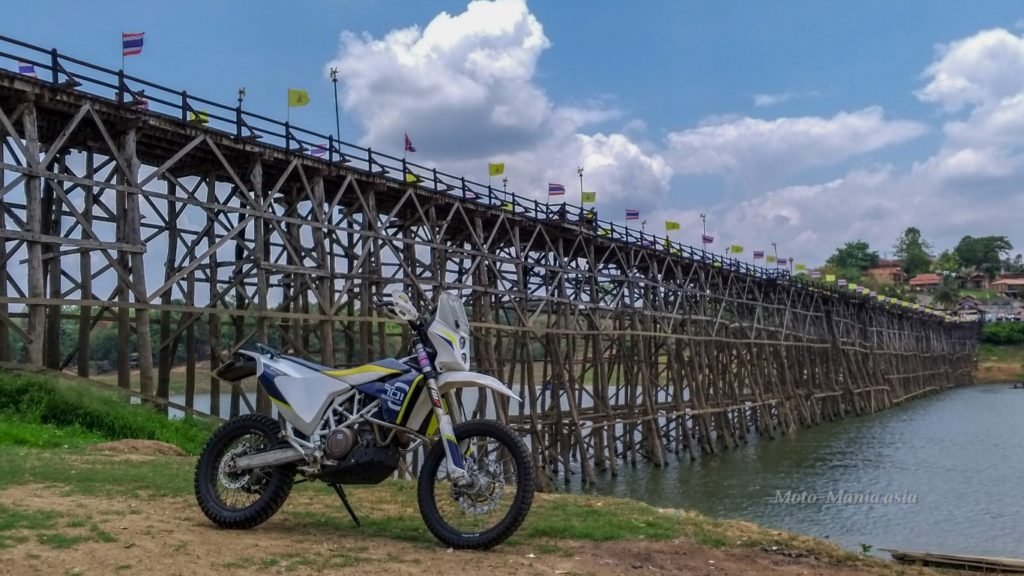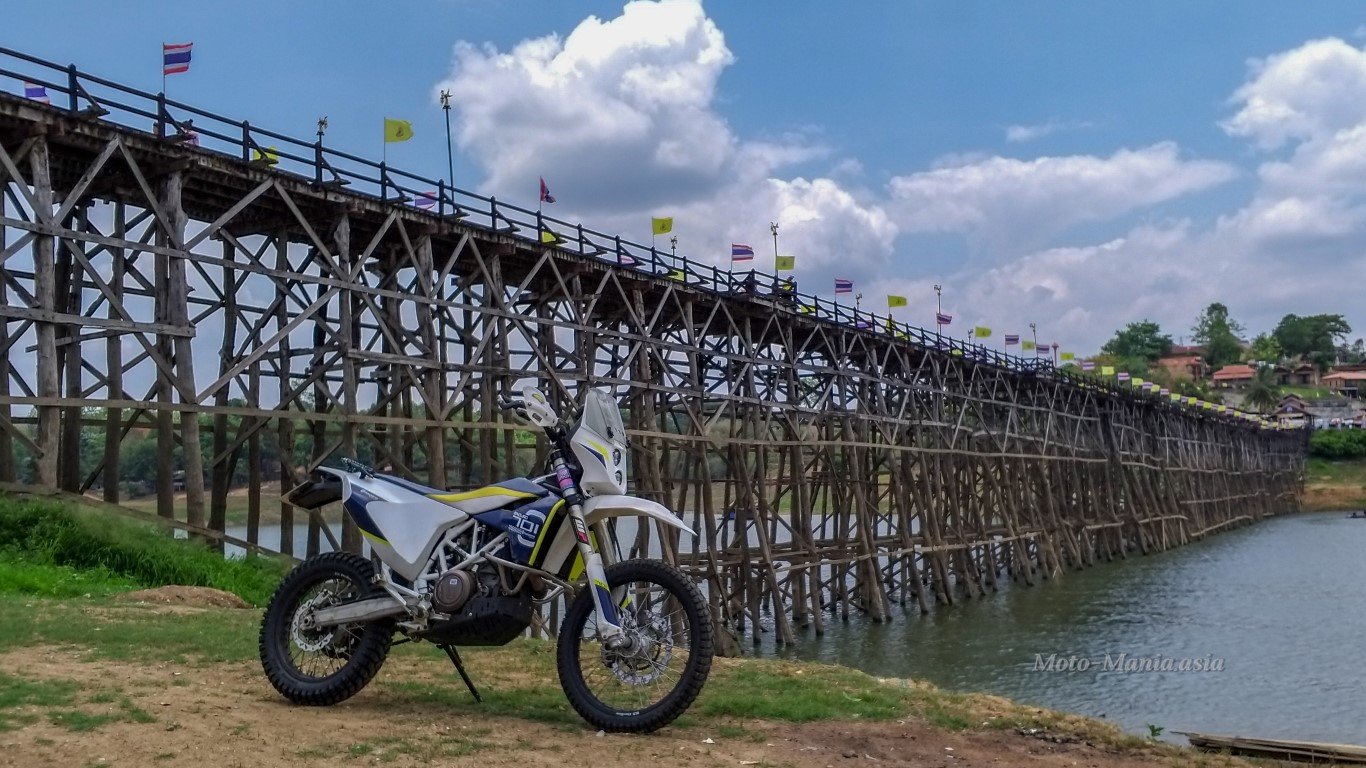 There is a road with a proper bridge to get to the Mon side.
Actually quite a hike and through some twisty bits. Not just a hop skip and a jump like I thought.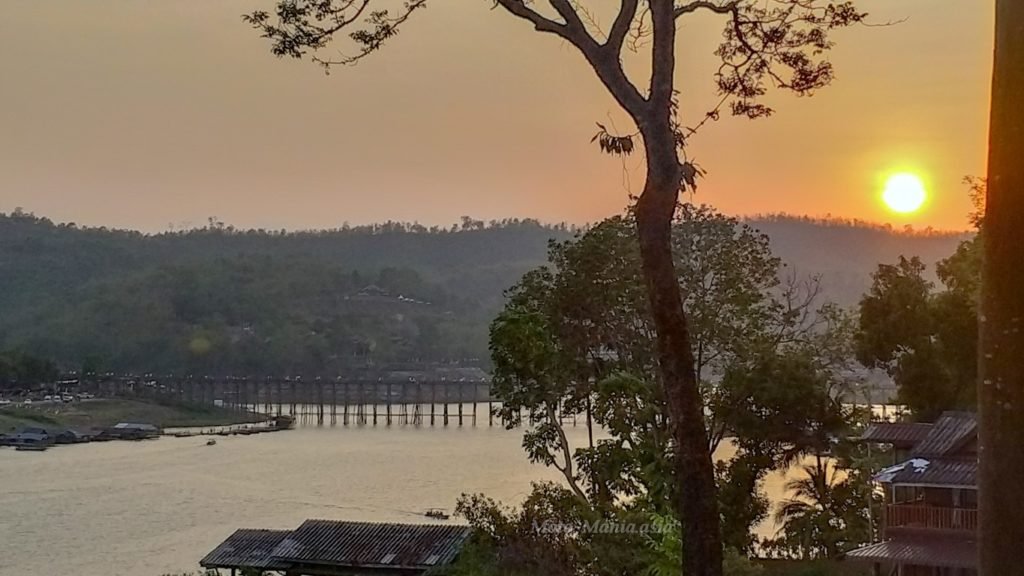 Back for sunset.
Wat Saam Prasob (Sunken Temple)
You can book a boat at the Mon bridge.
There are two distinct sides of the bridge. The Sangkhla and Wangka (Mon side).
I wanted to make sure my money went to the Stateless Mon. So walked over the bridge and went and talked / negotiated directly with the Mon Boat men down below on the water near the bridge. You need to speak Thai with them, no English is spoken. As I was on the water at P Guest House. Asked to be picked up at 7am at the resort
If you book on the Sangkla side of the bridge. A bit more pushy. English is spoken. The coffee shop seller next to the bridge also asked me in English if I wanted a boat. The hotels can also arrange a boat for you.
Try and cut out the middle men and give your money to the Mon direct.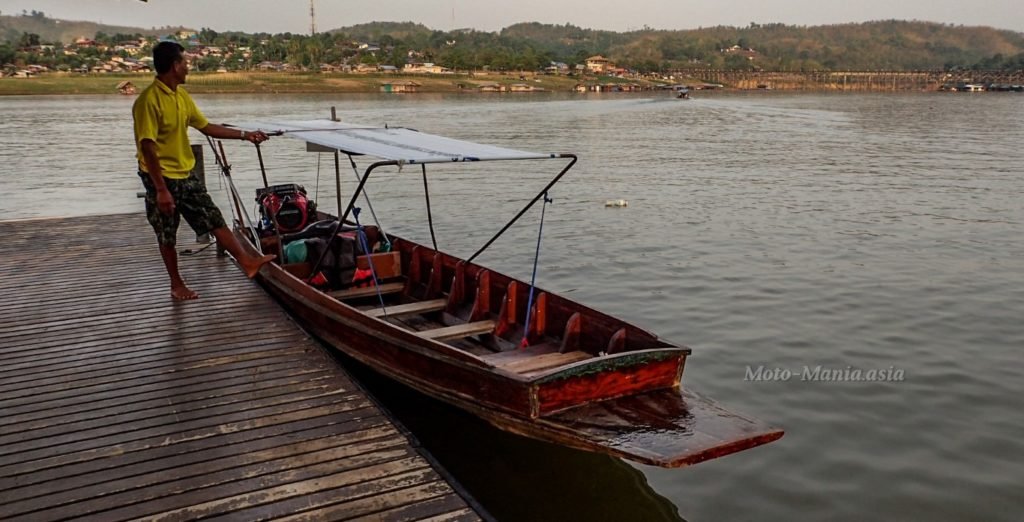 Walk down from the hotel to the waters edge. He arrived 10 minutes early.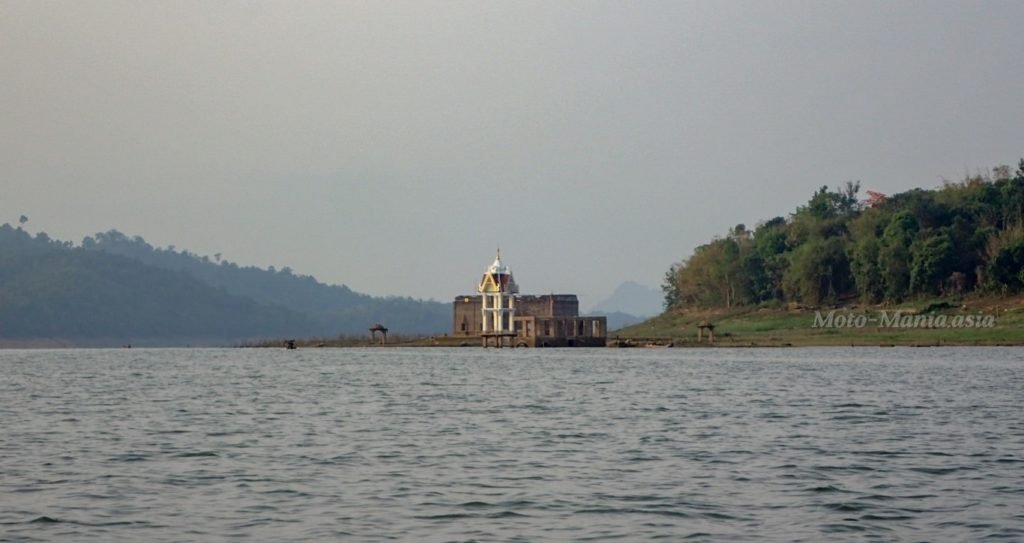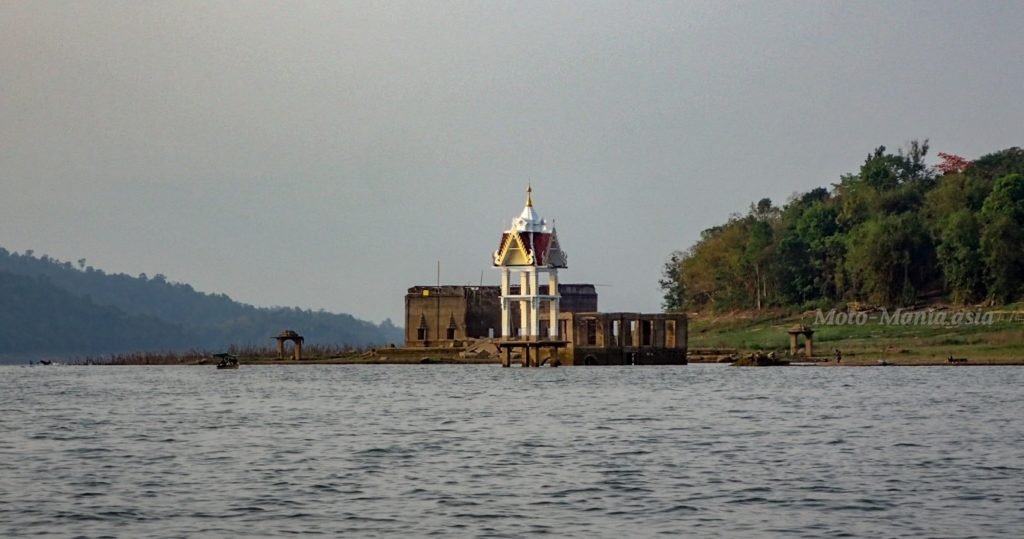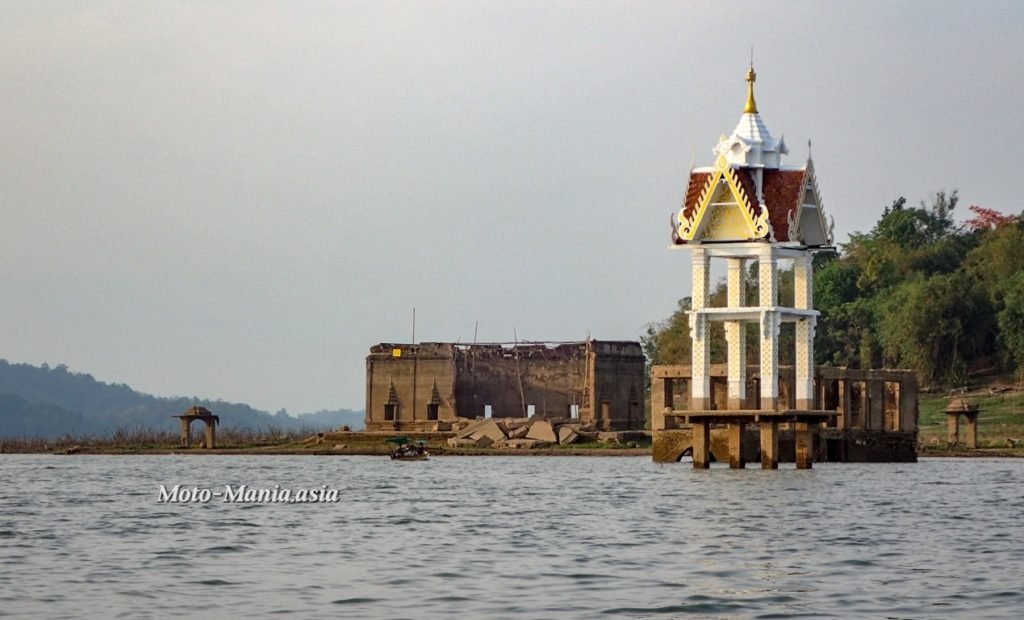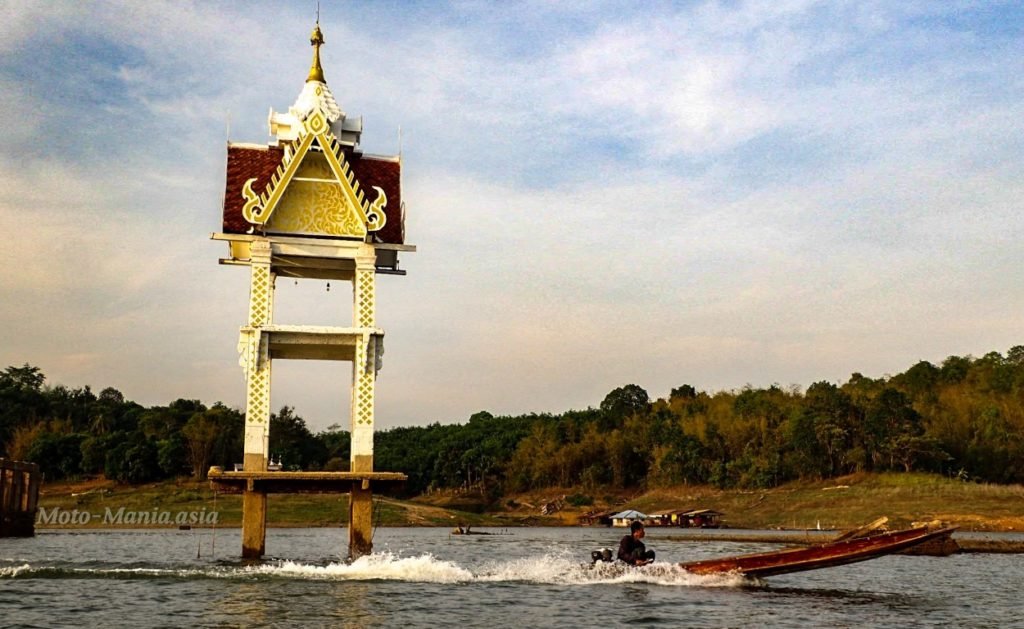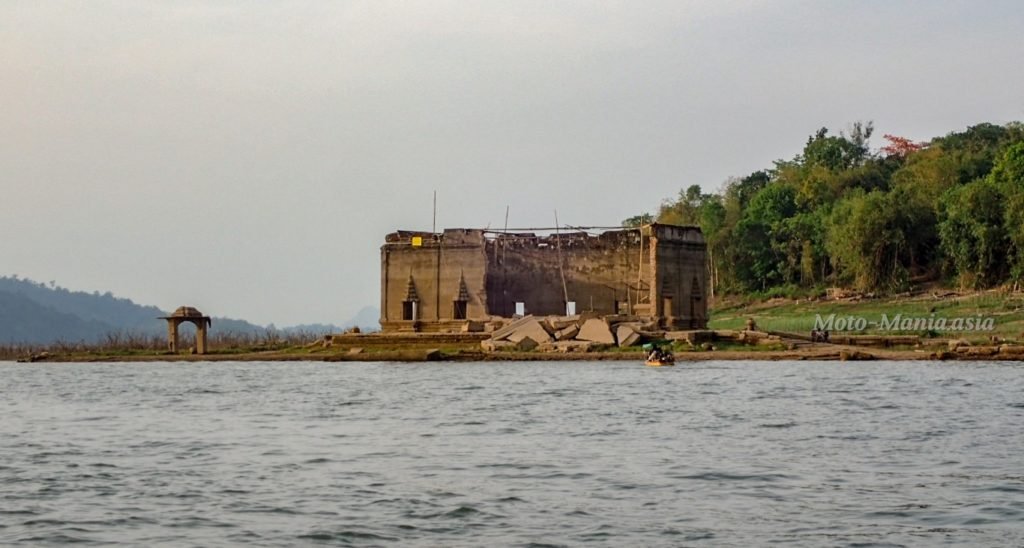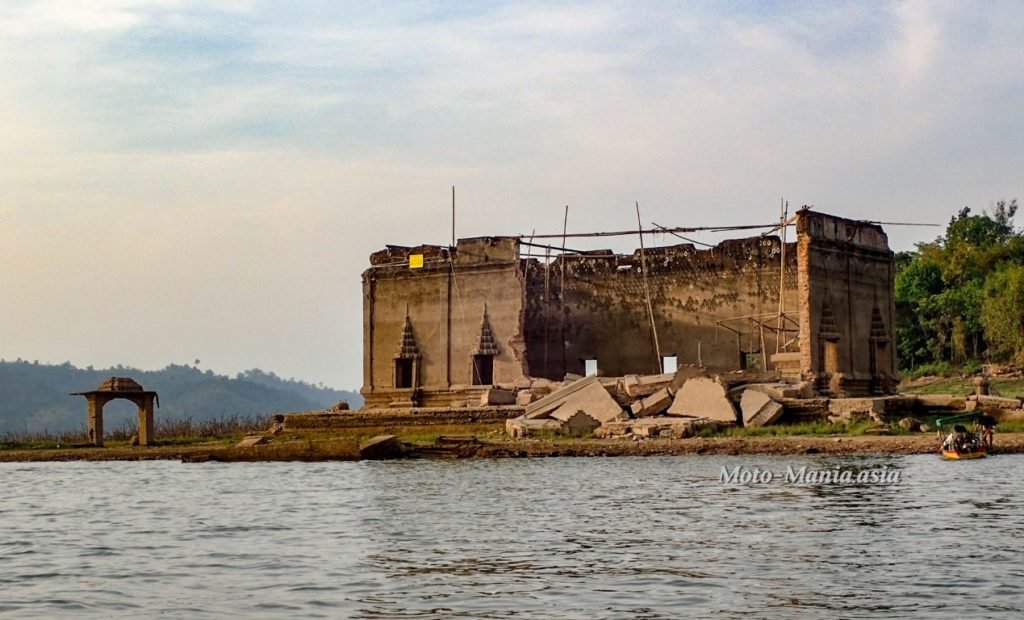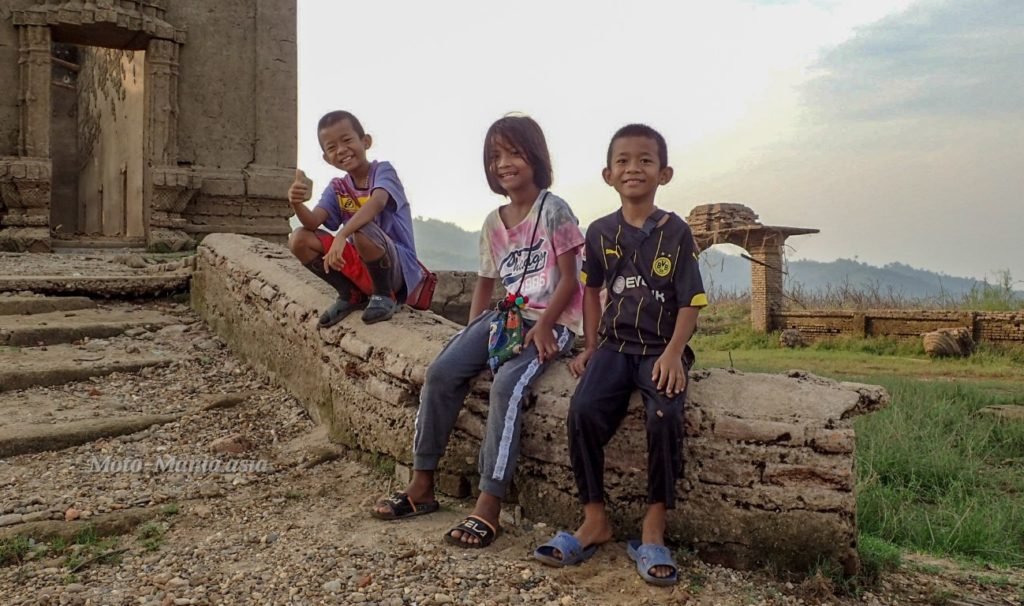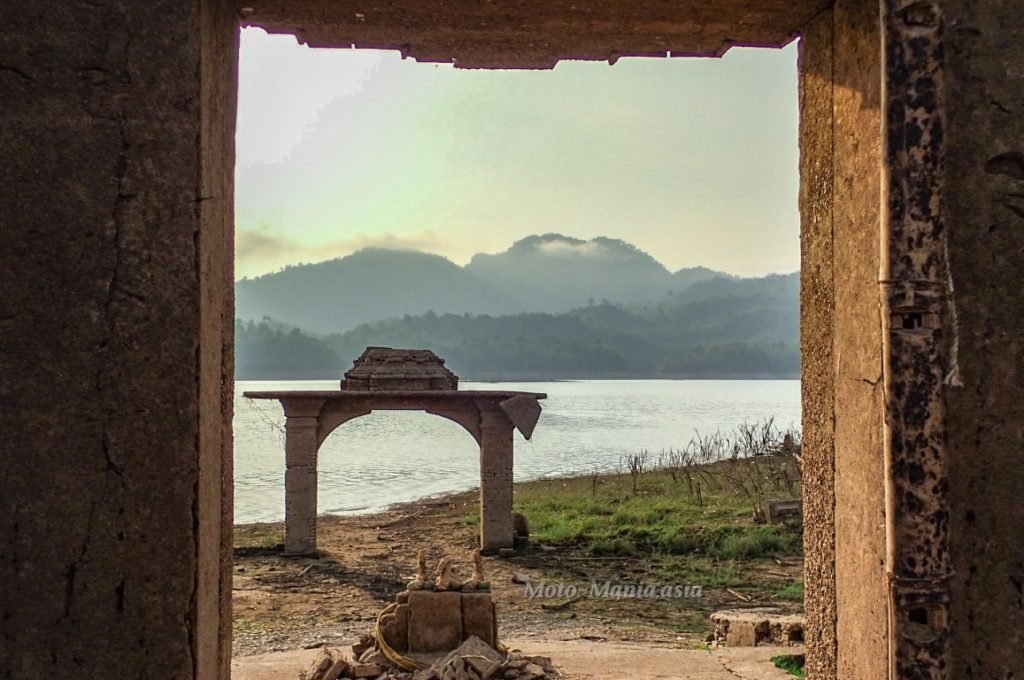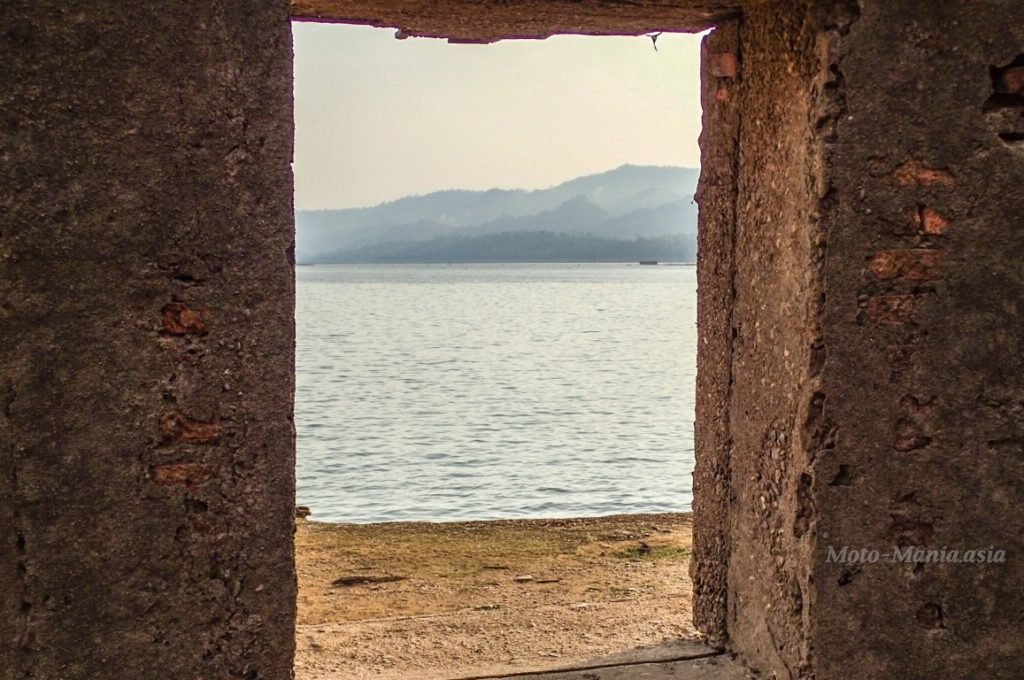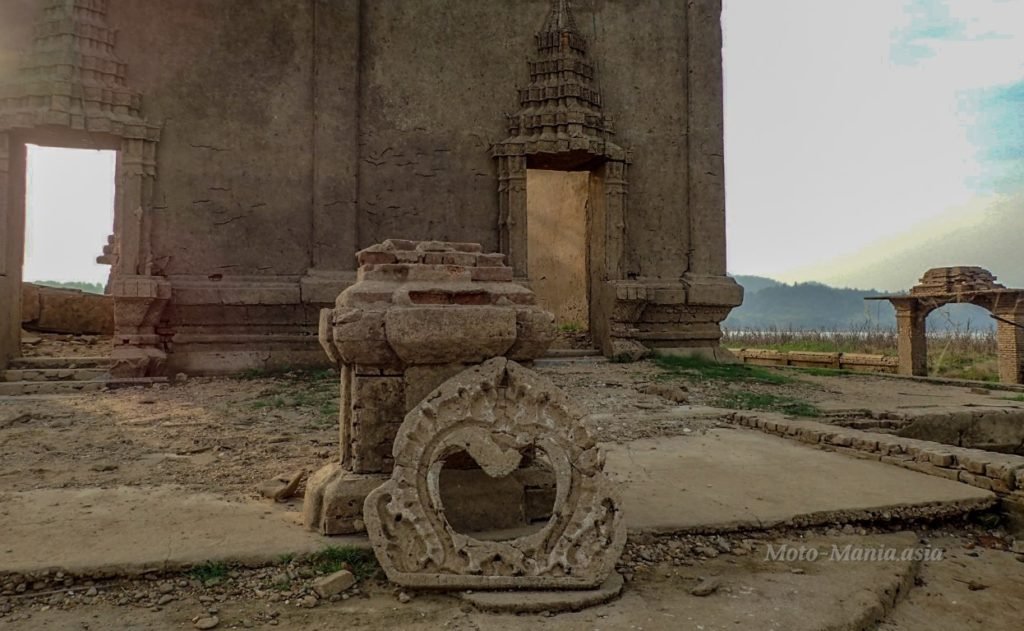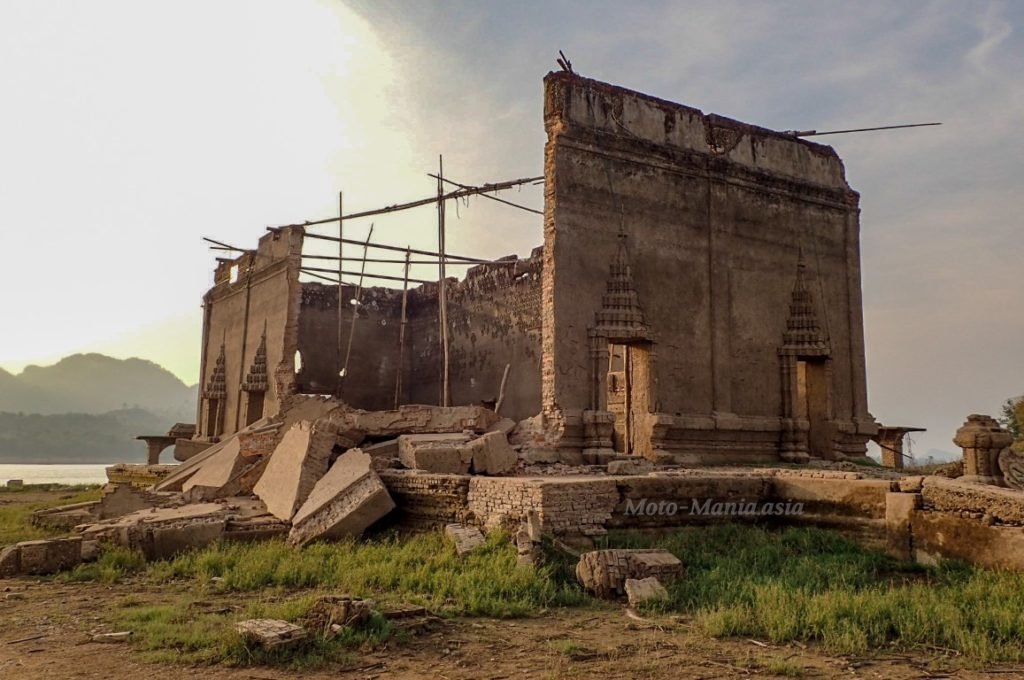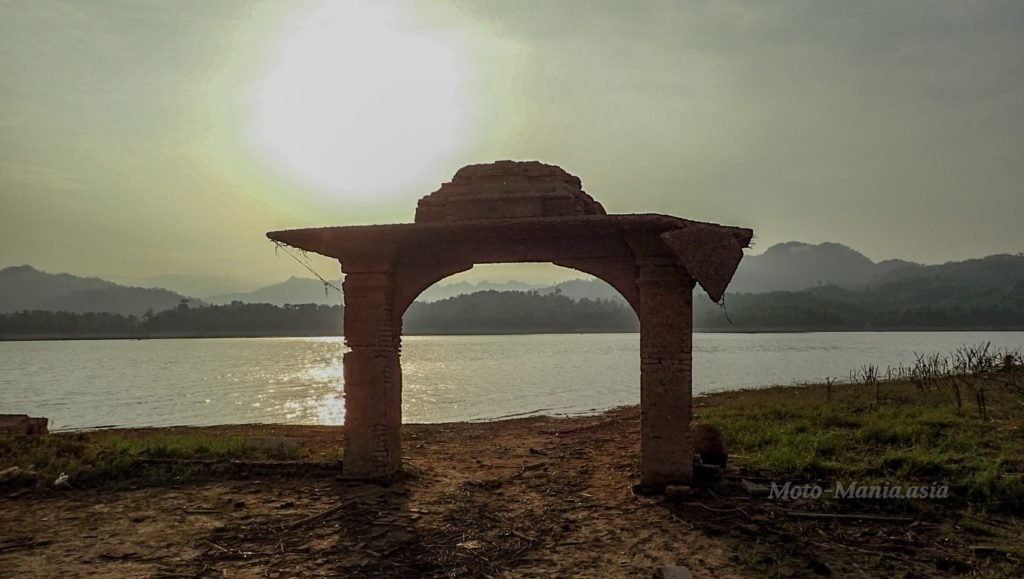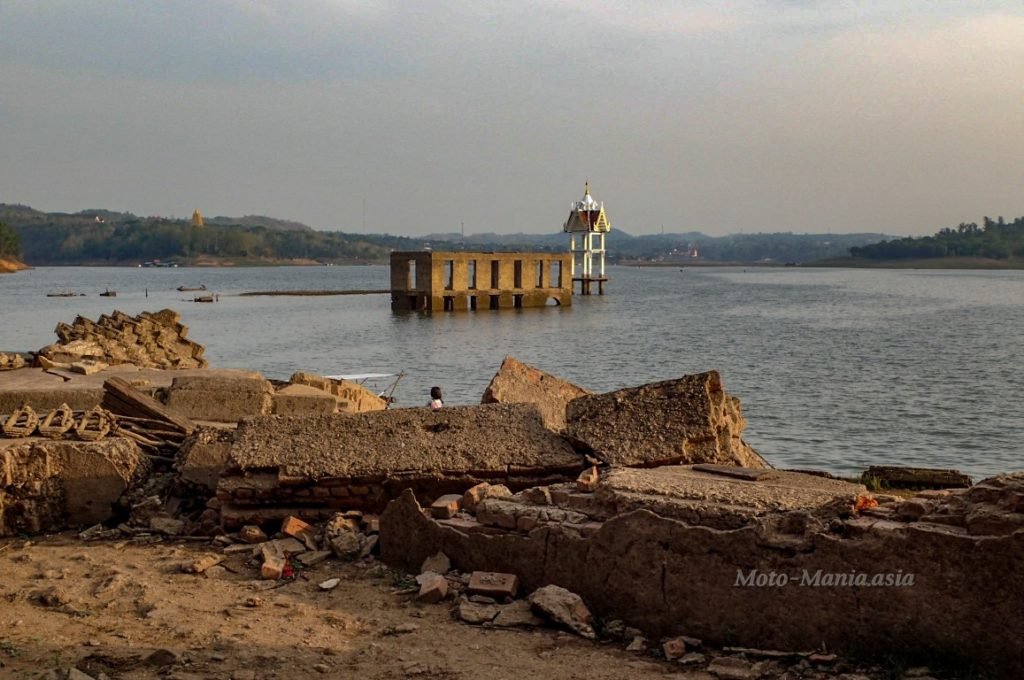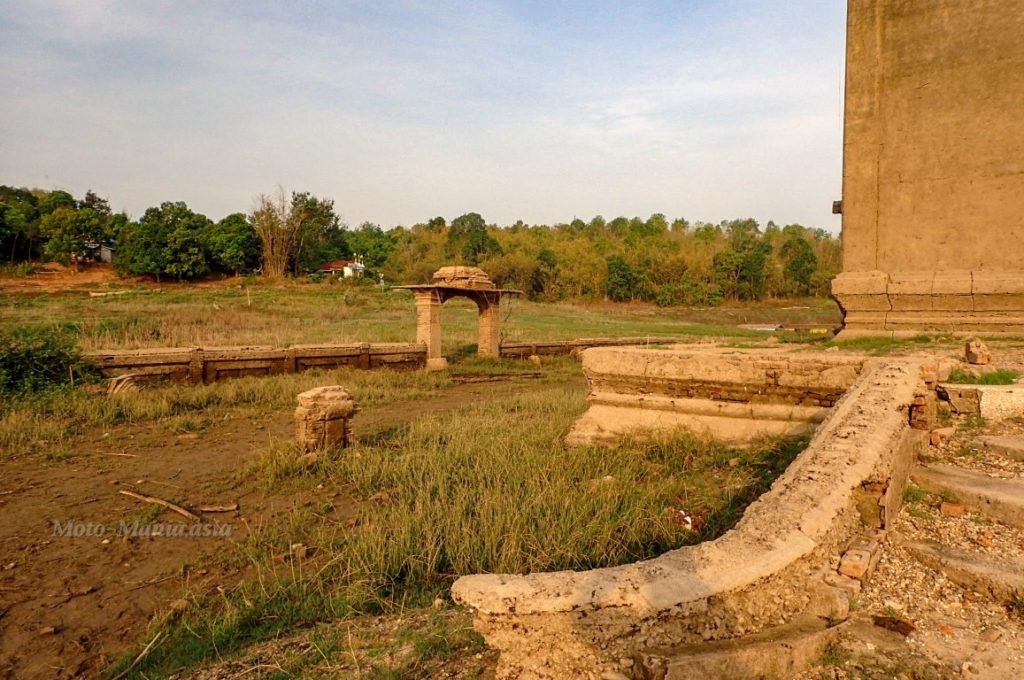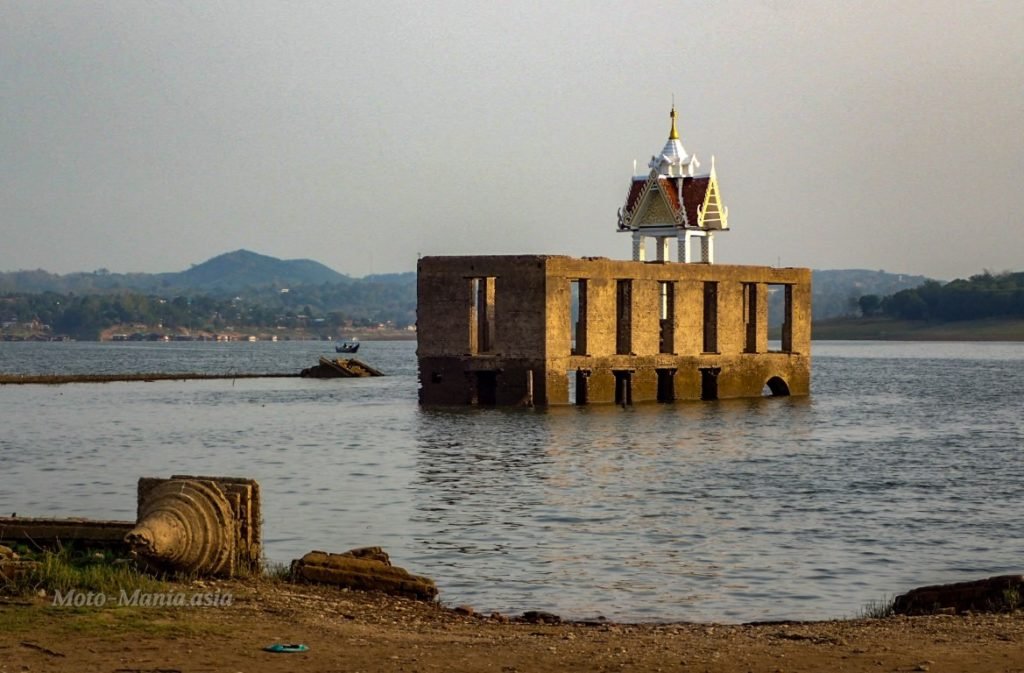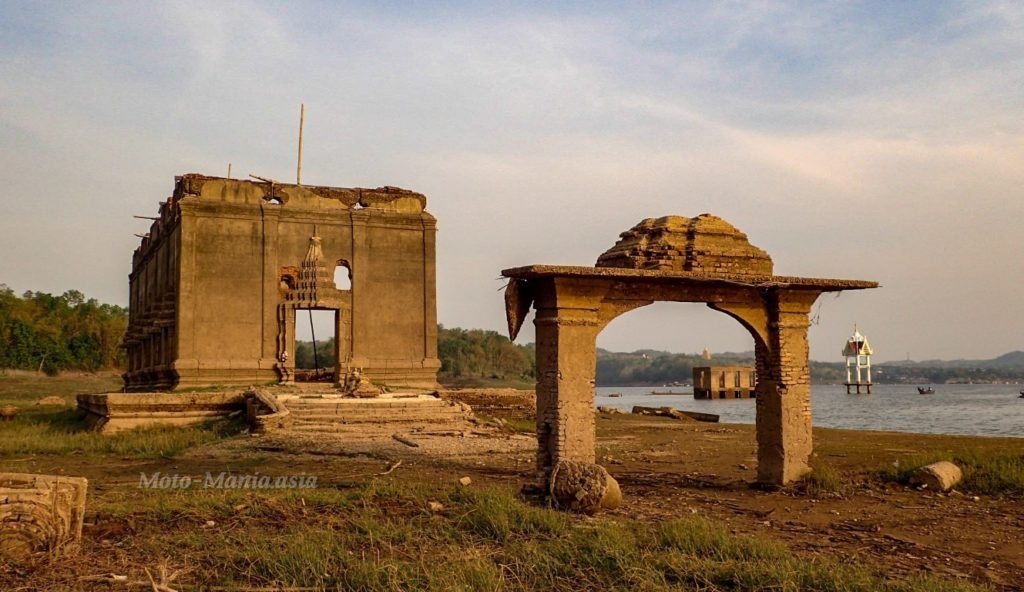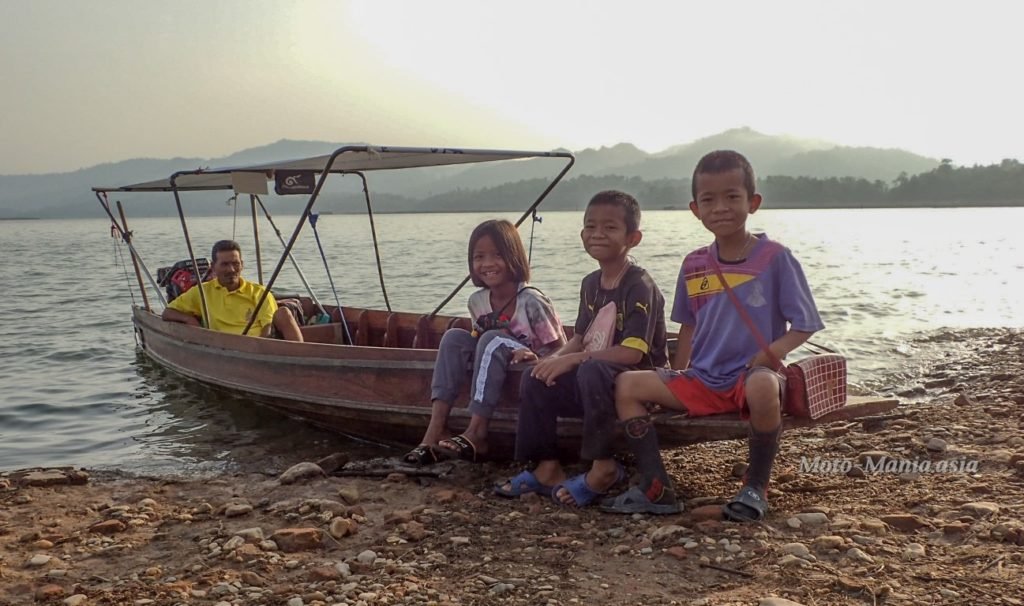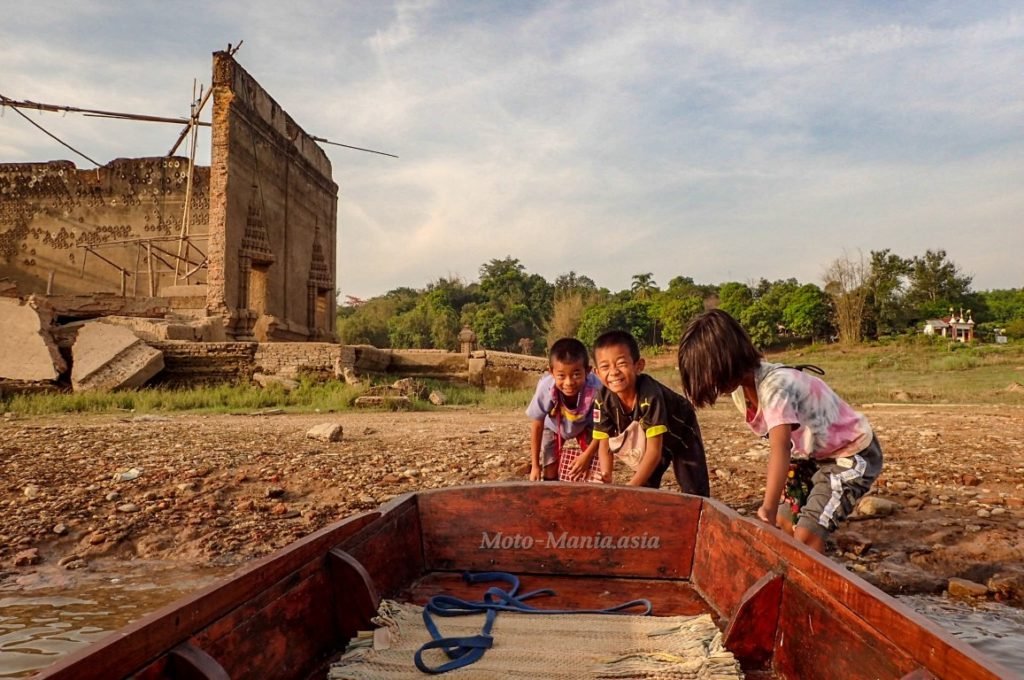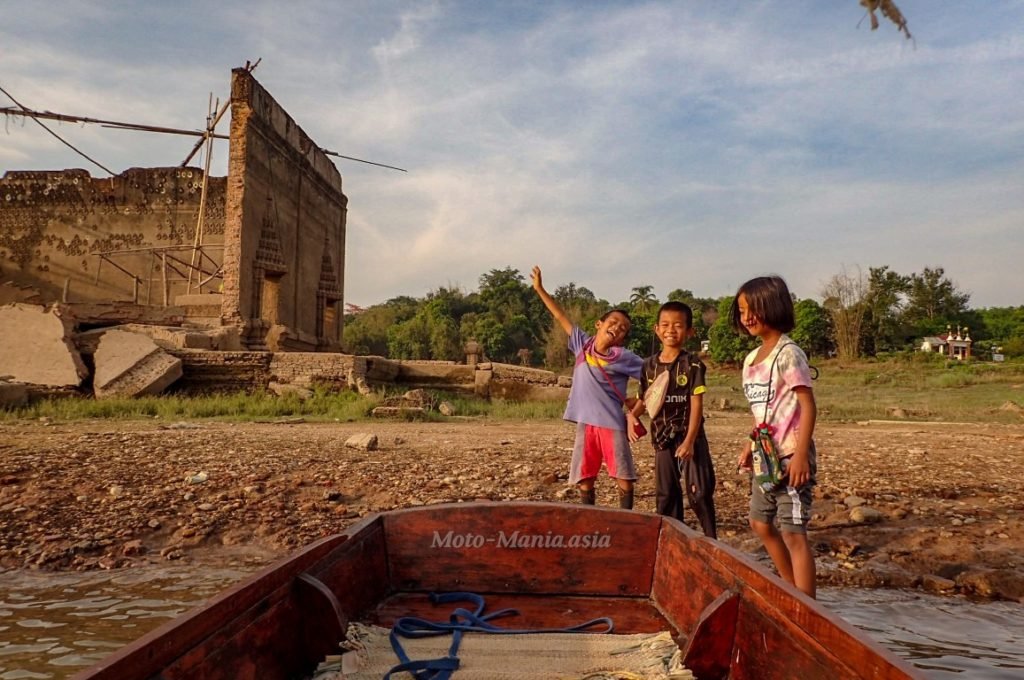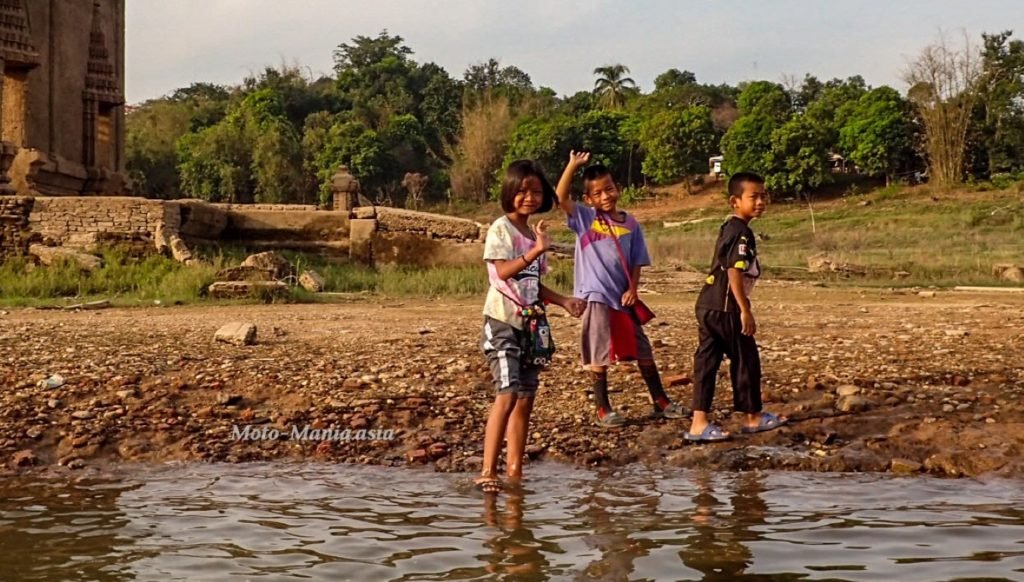 30 Plus Year Old Temple Picture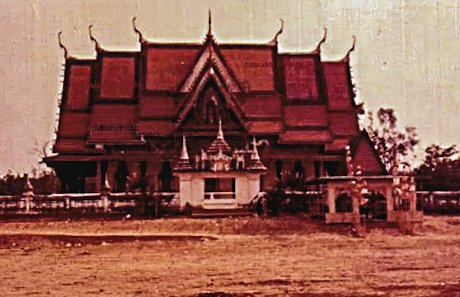 Old – Wat Somdet
Across the water is a much older temple.
Very interesting as didn't see this temple mentioned in my research before visiting Sangkhlaburi.
This temple can be visited all year round. Only accessible by boat as on an island in the lake.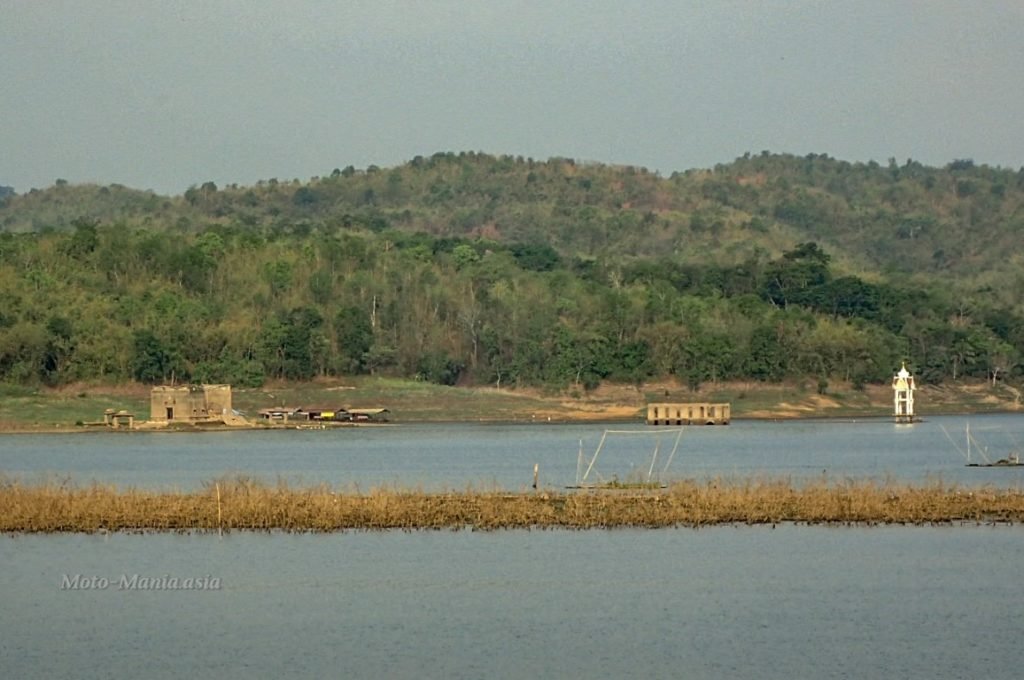 The view of the sunken temple from the shoreline of Wat Somdet.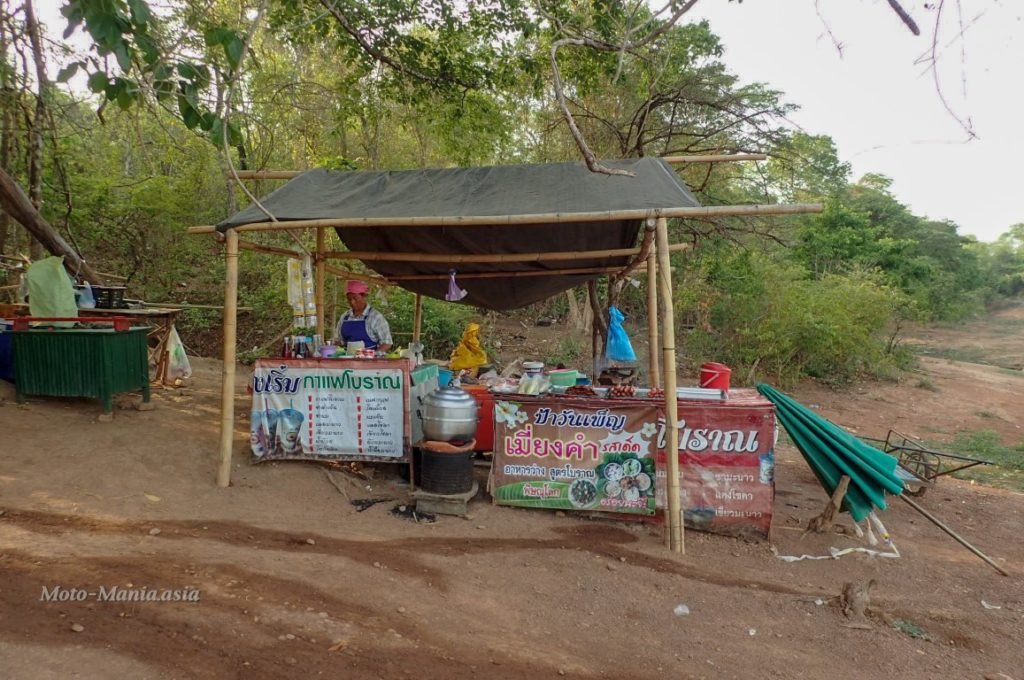 Coffee and other drinks available.
You can also release fish in to the water.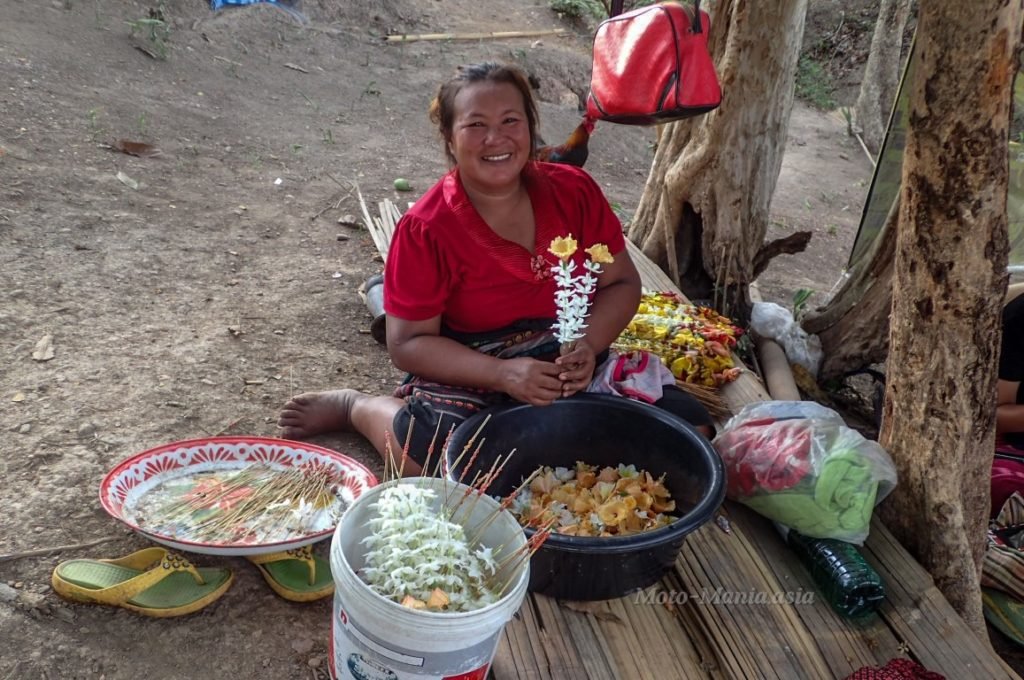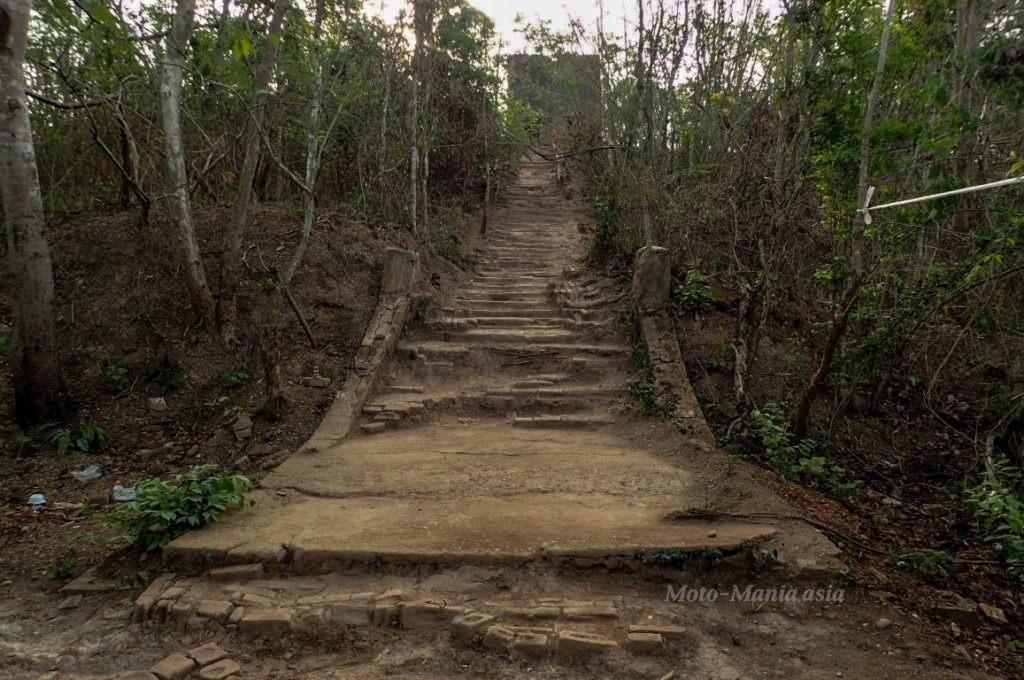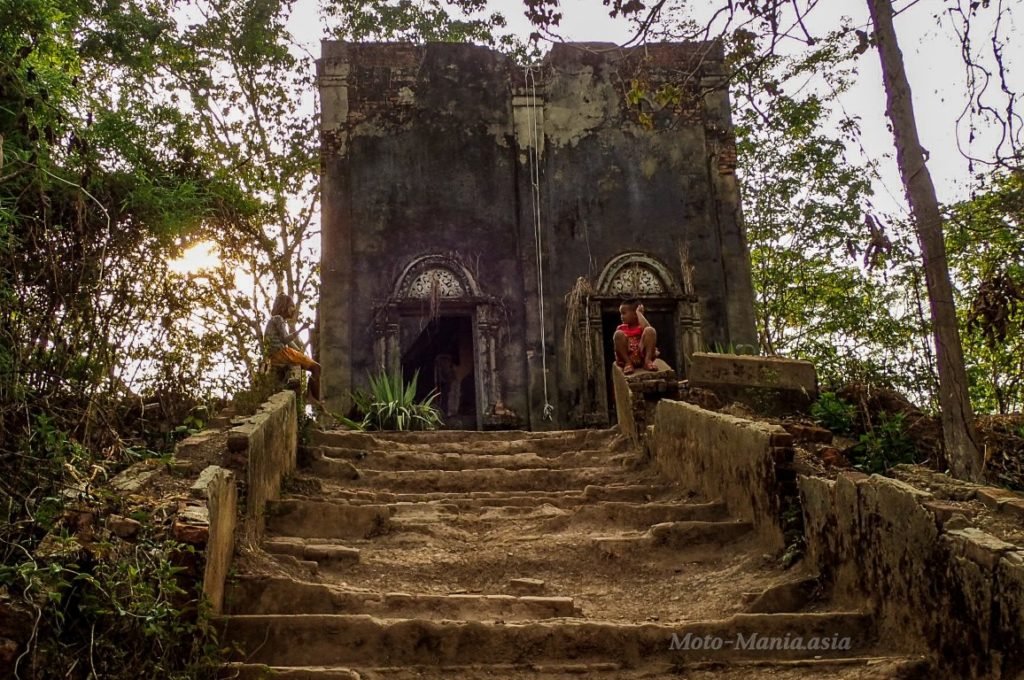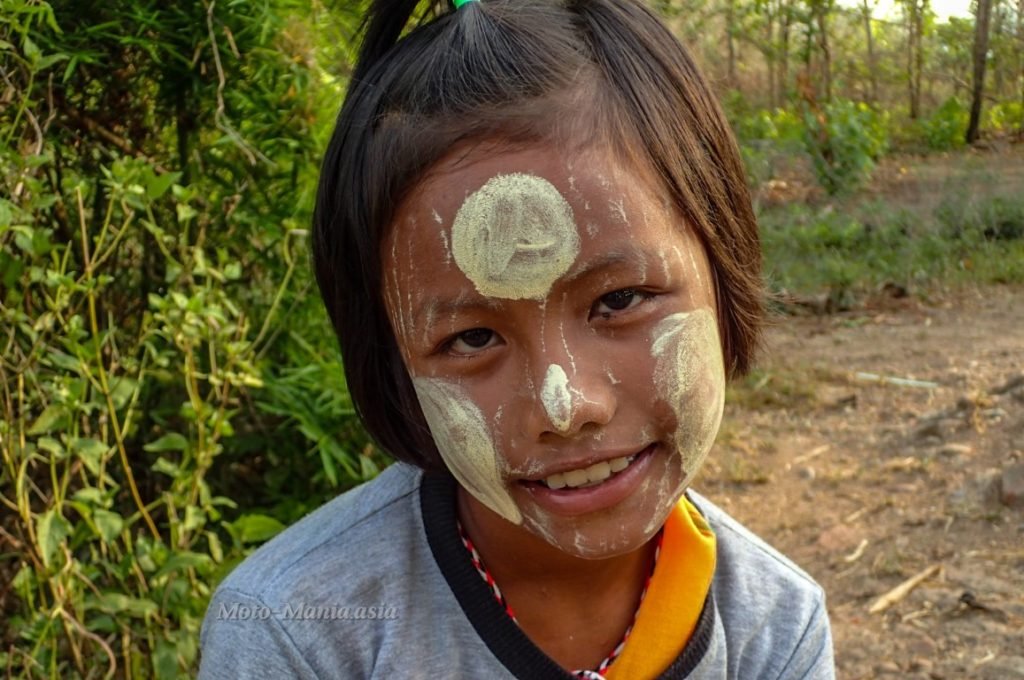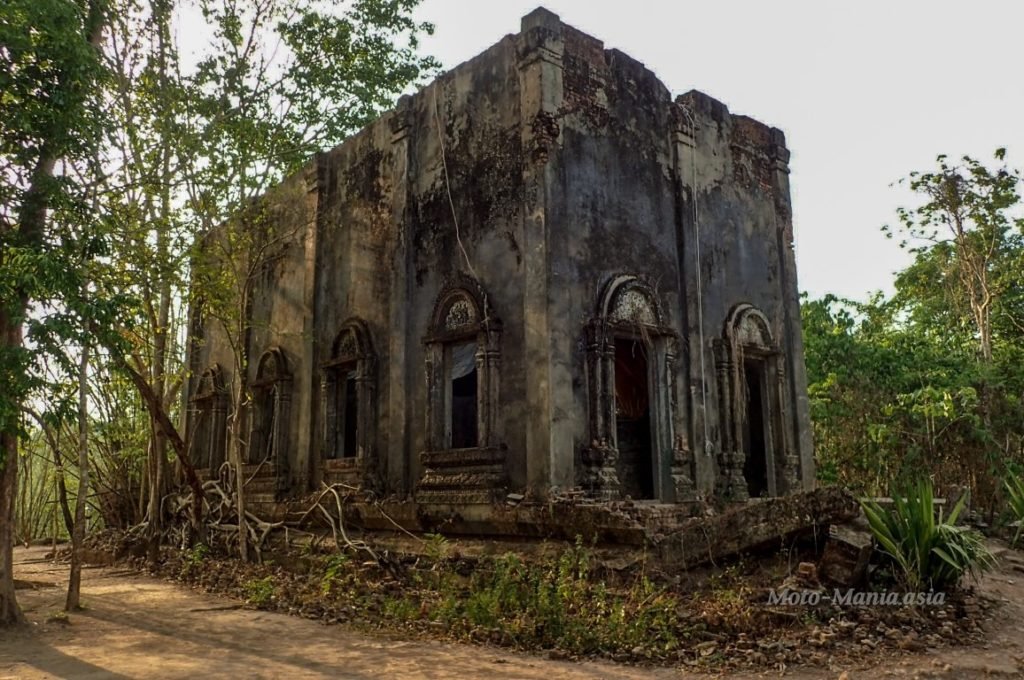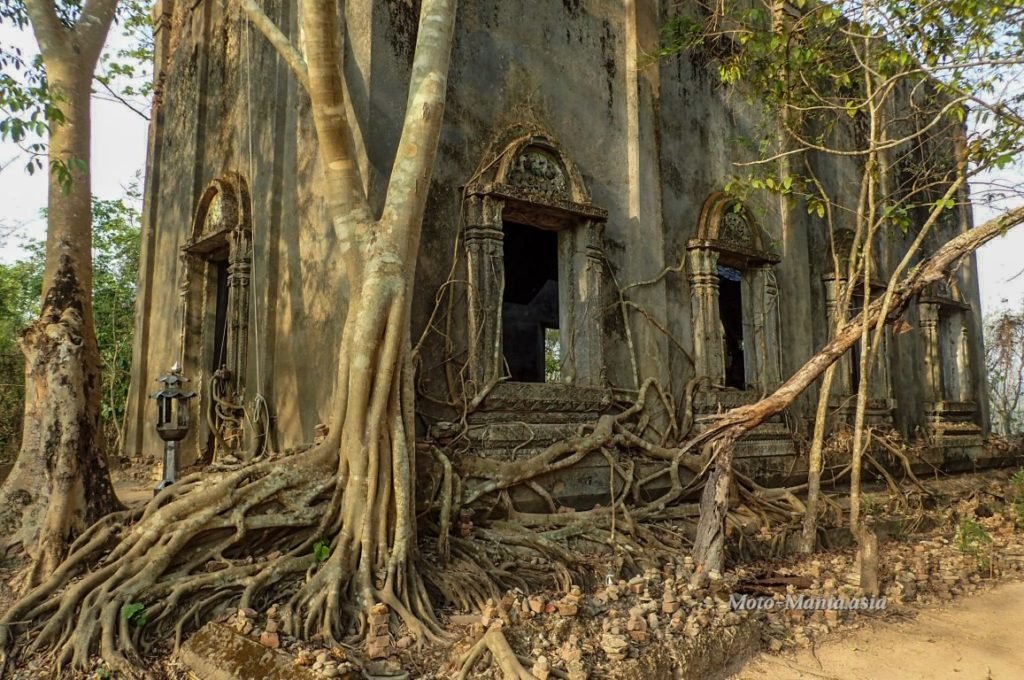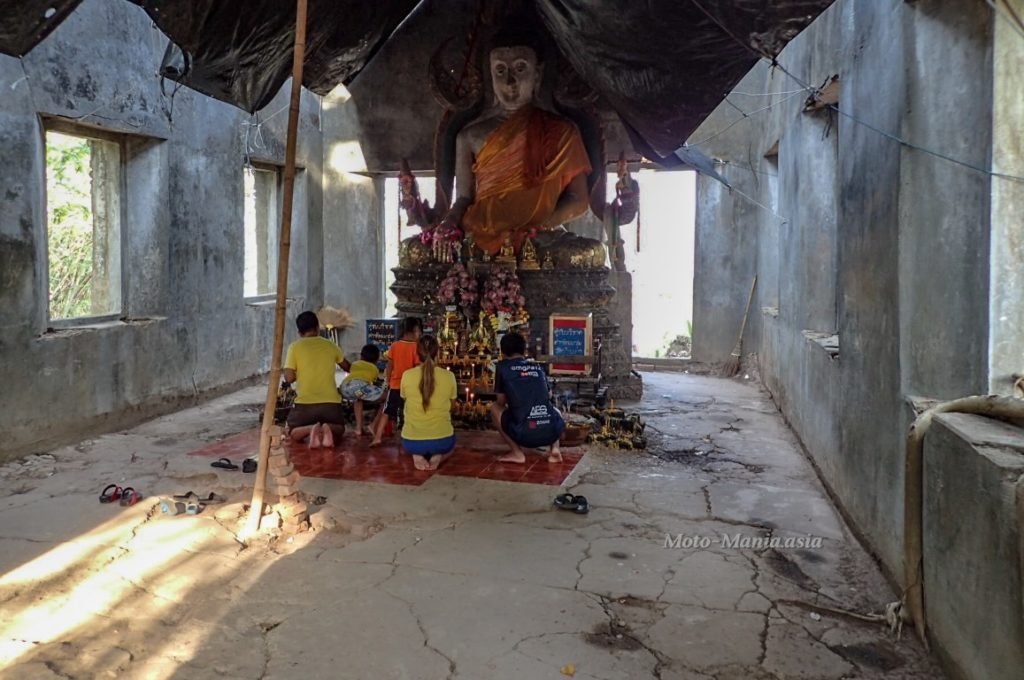 Heading Back Towards The Mon Bridge And Town
There are remnants of the old town poking up in a few places.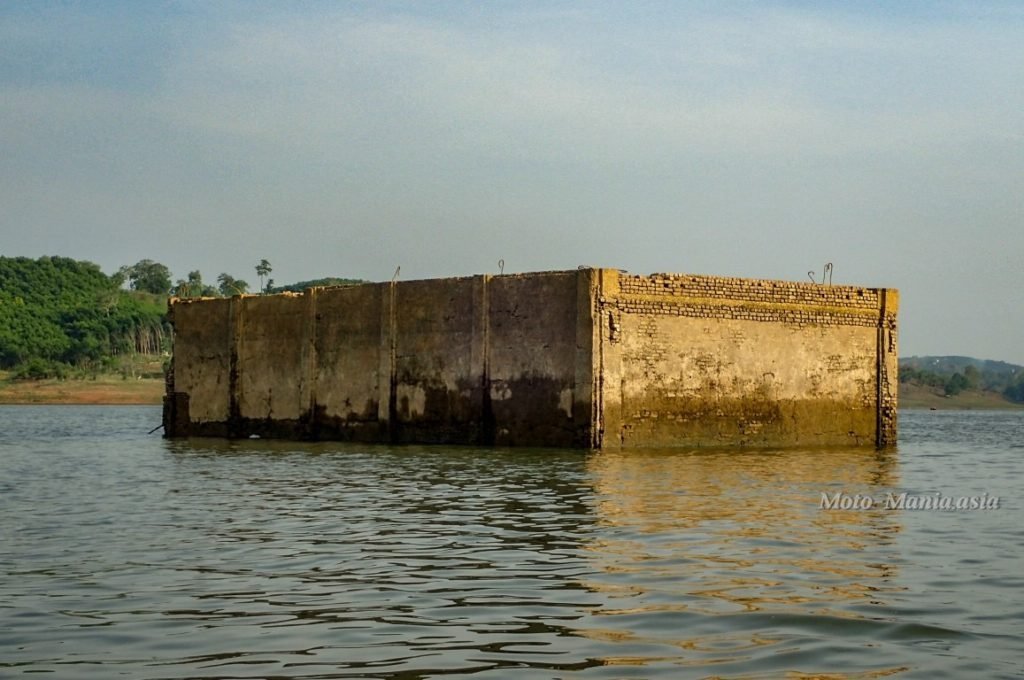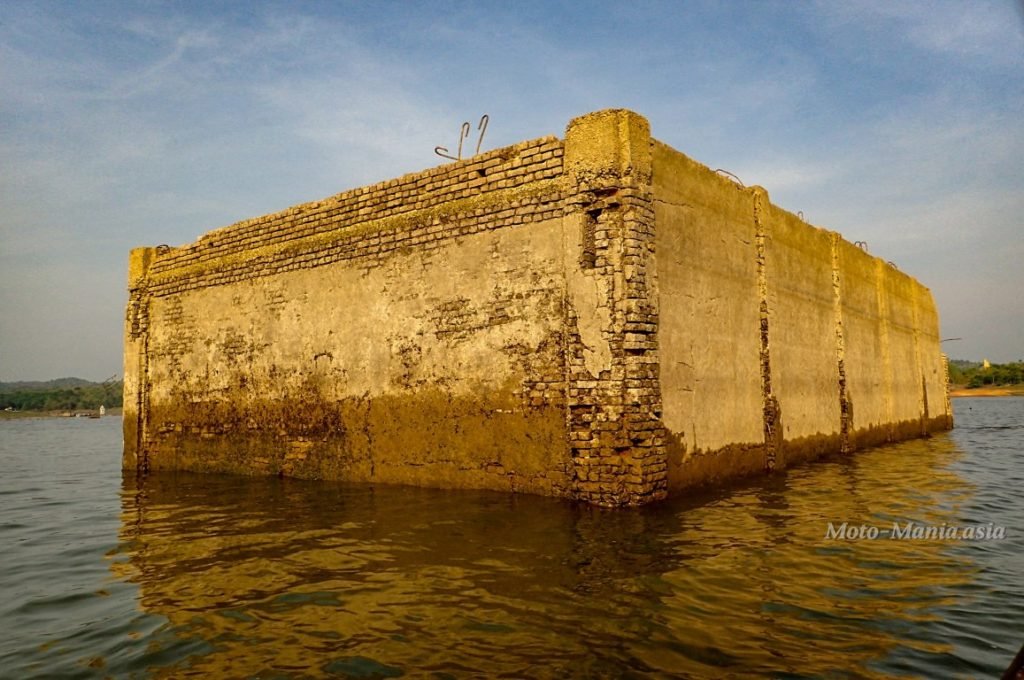 The boatman said the water is about 3 metres deep here at this point in time.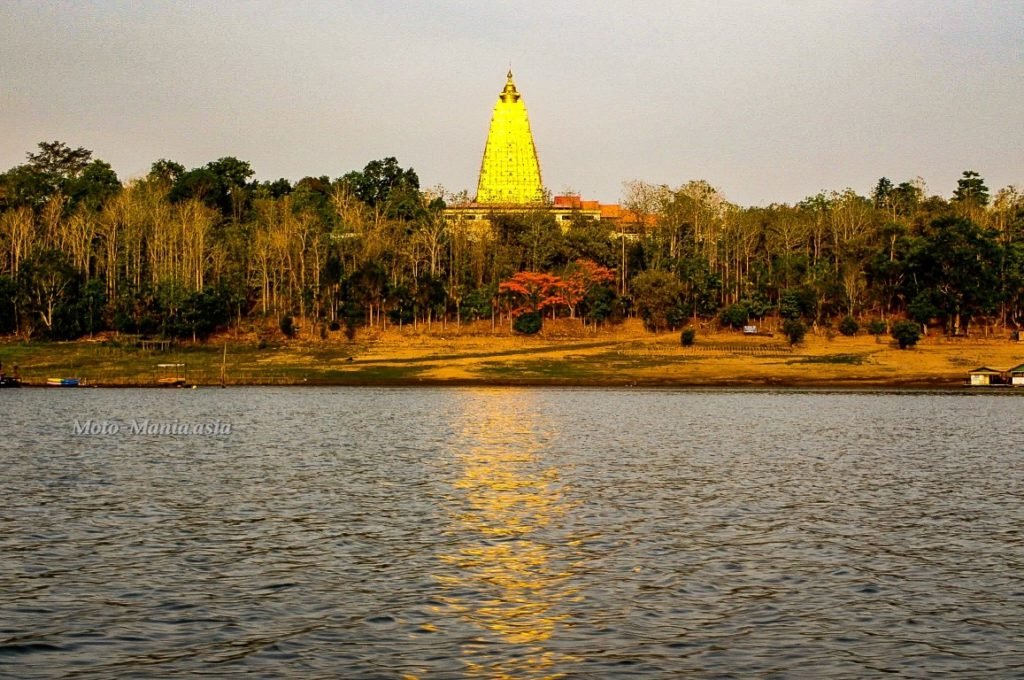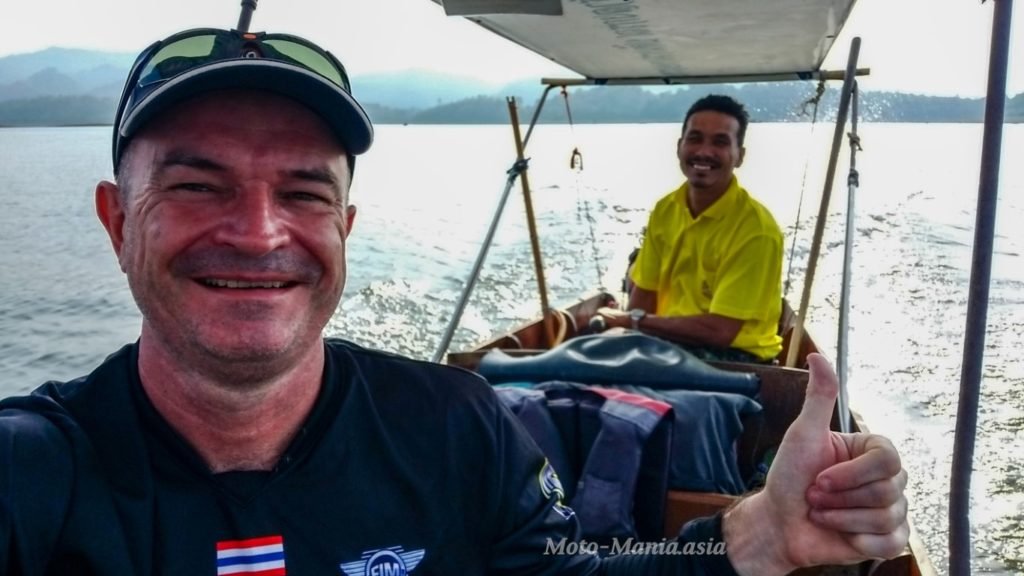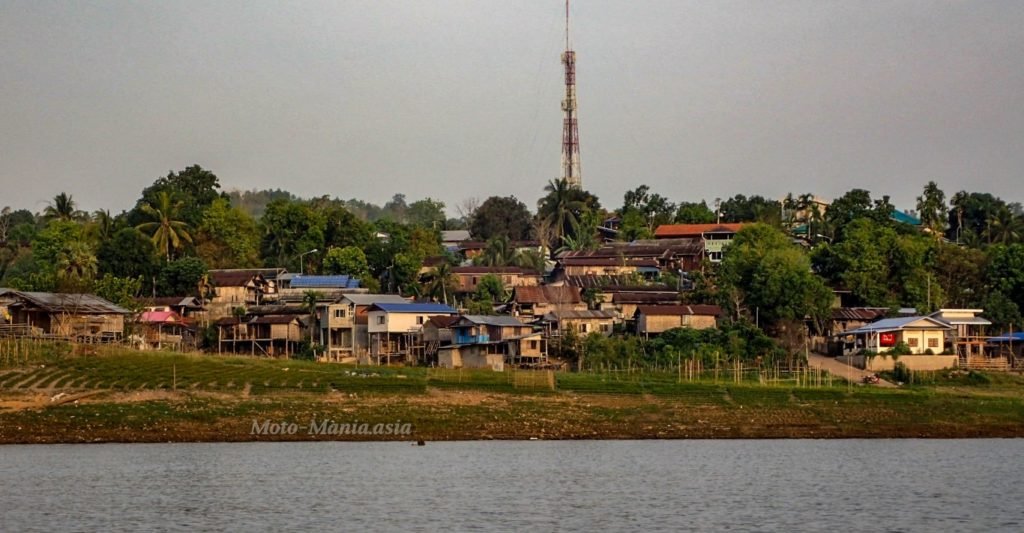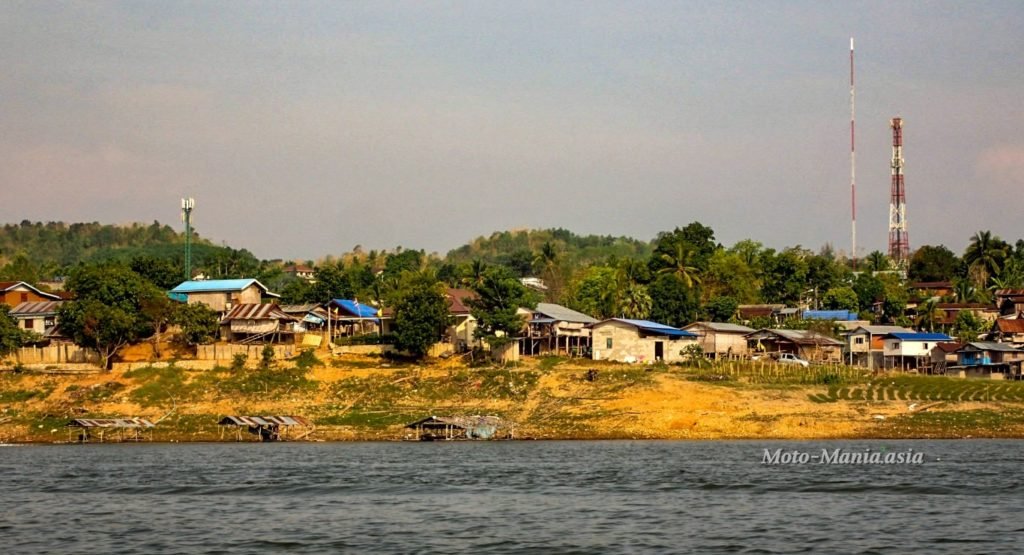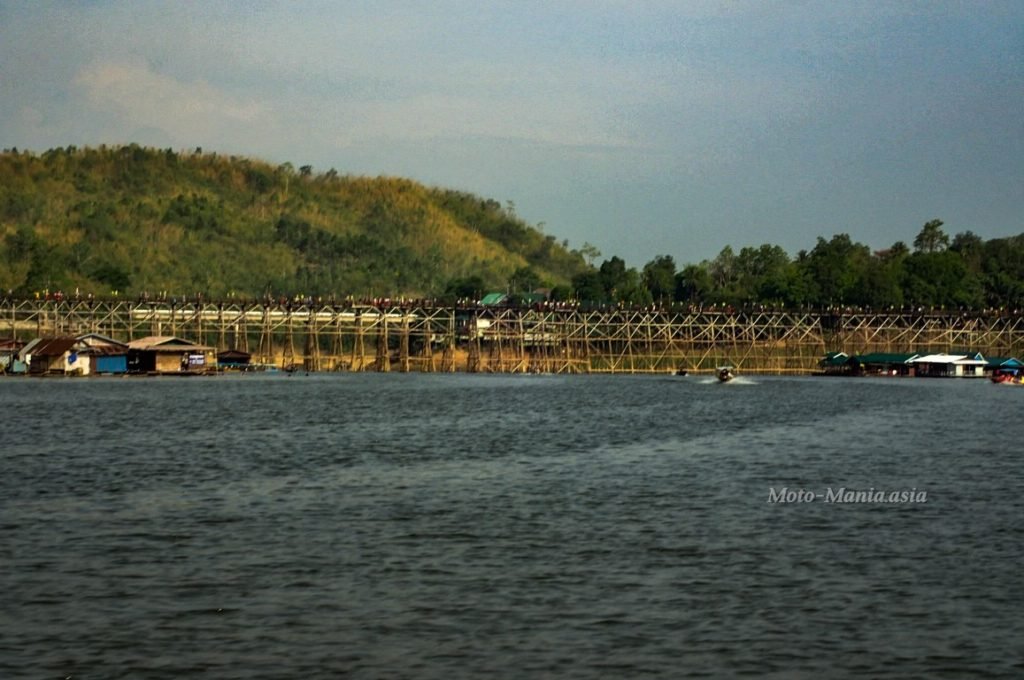 Wangka (Mon Side)
Get off the boat and have an early morning walk around the Mon Side.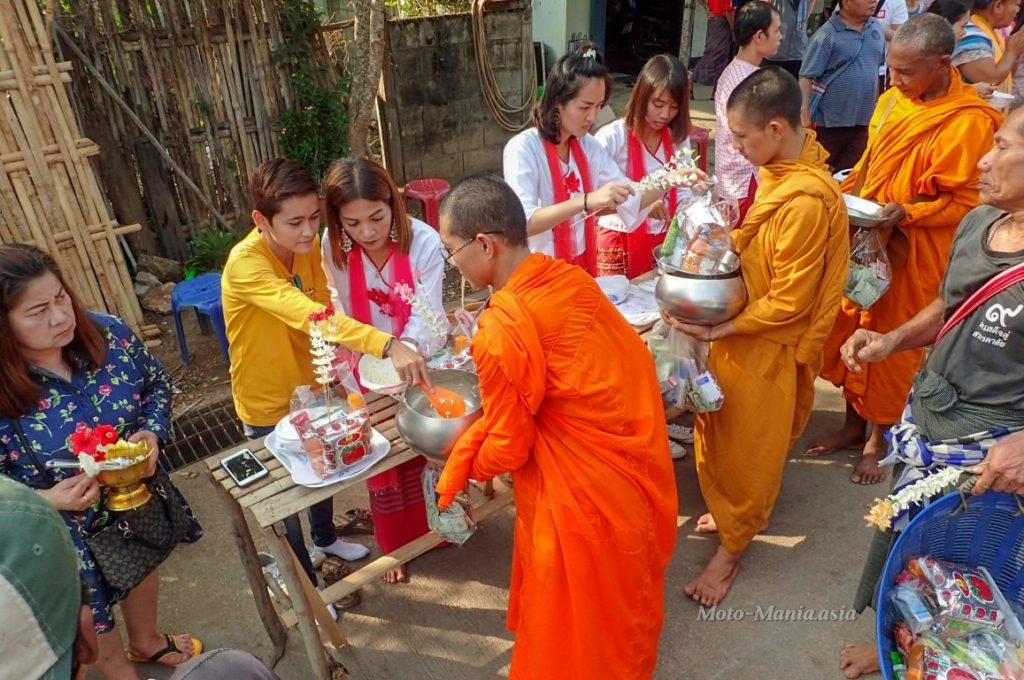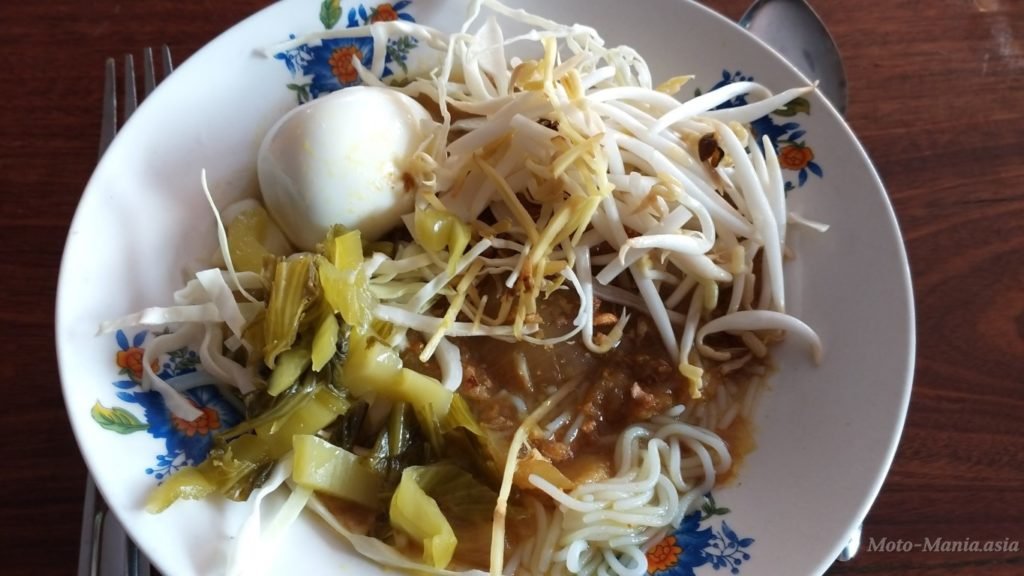 Mon style Khao Soy for breakfast.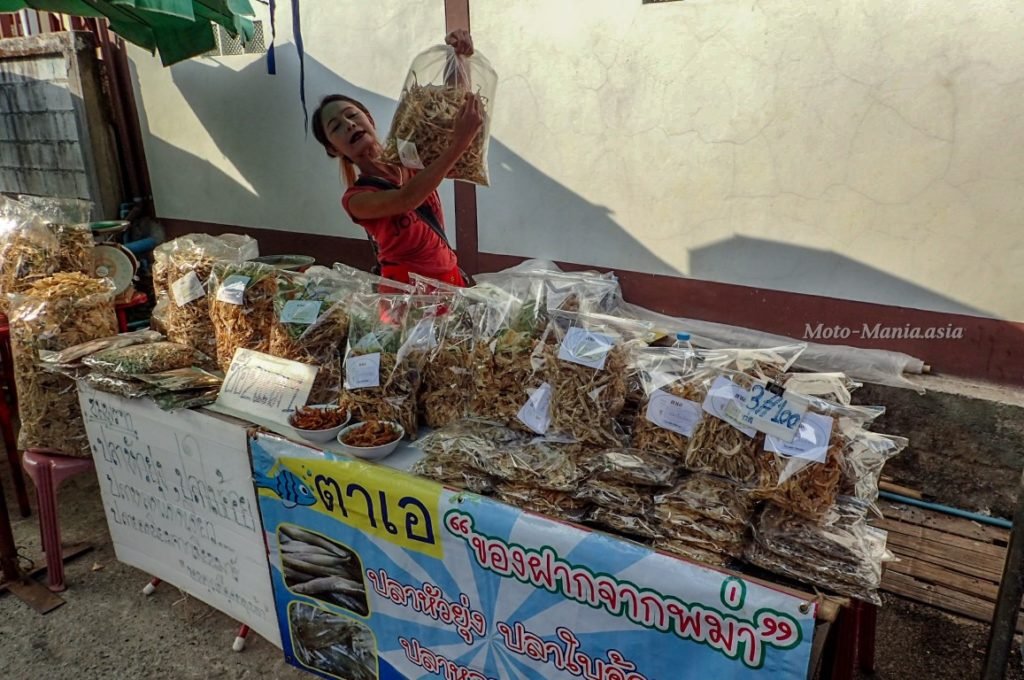 Selling dried fish from Burma. Really good. Bought a bag back to Bangkok.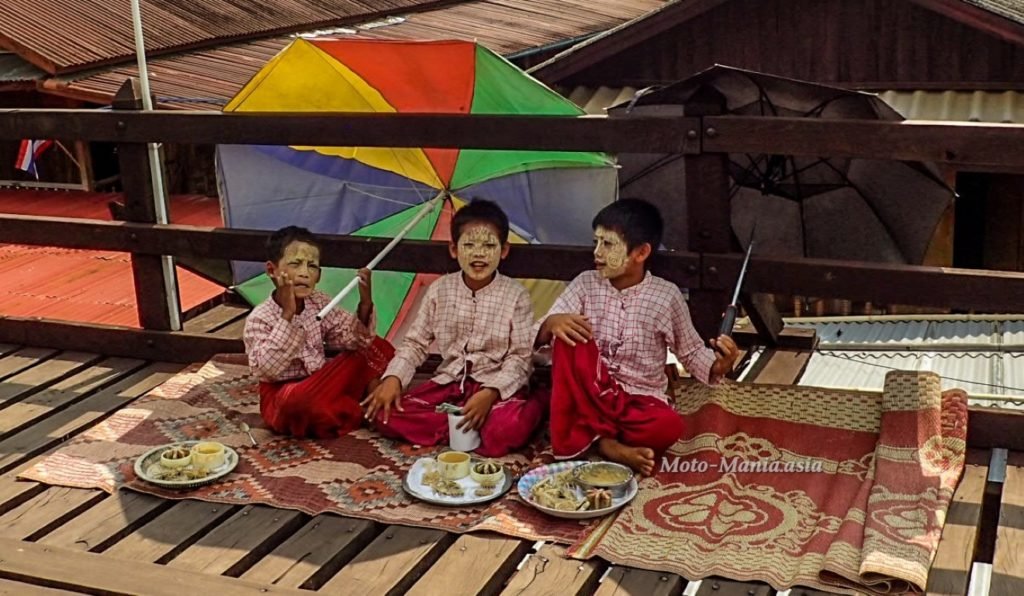 Mon kids offering face paintings.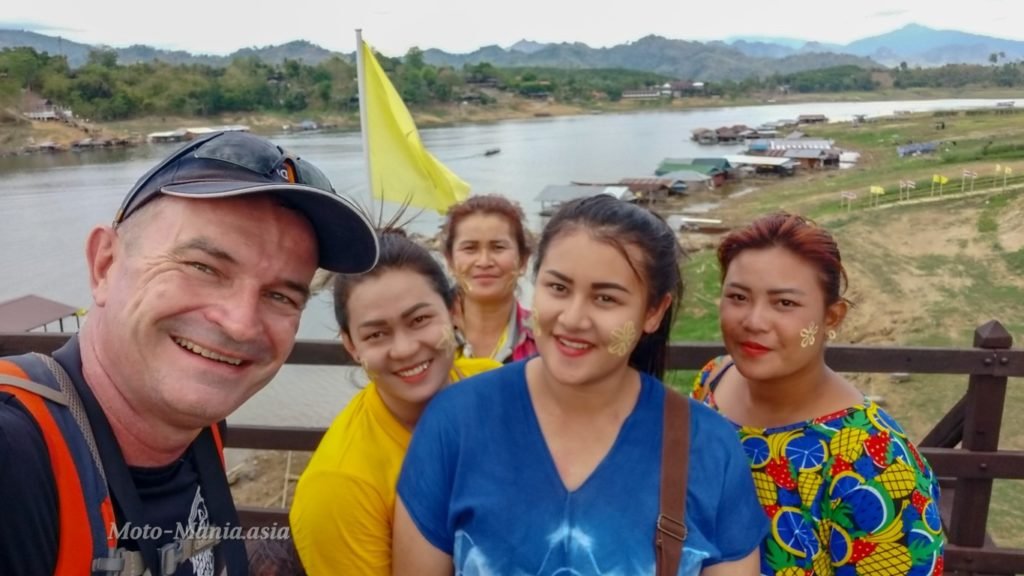 These ladies asked to take a photo with me. So asked to have a photo with them.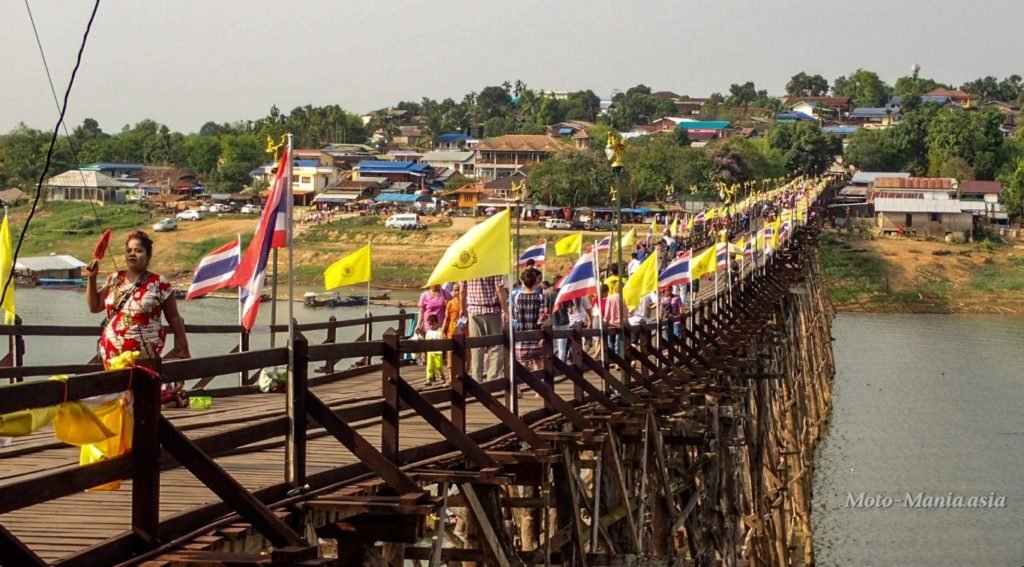 The Bridge is busy in the morning. Most Thai visitors walking over to the Mon side to eat breakfast.
Baan Unrak Bakery
Lat 15.14585 Lon 98.45458
After Beer O'clock. I wanted a big meaty Pizza. Noticed this place and it looked good.
Arrive. It is vegetarian.. Oh.. Beer? No.. Oh.. " But, everything you buy supports the abandoned children and single mothers.." So give it a try.
The pizza and fries are good. Also had the pumpkin soup.
Had a chat with the Italian lady running the place. She said the Foundation has been around for 30 years. Started early 90's
A good cause and certainly good food.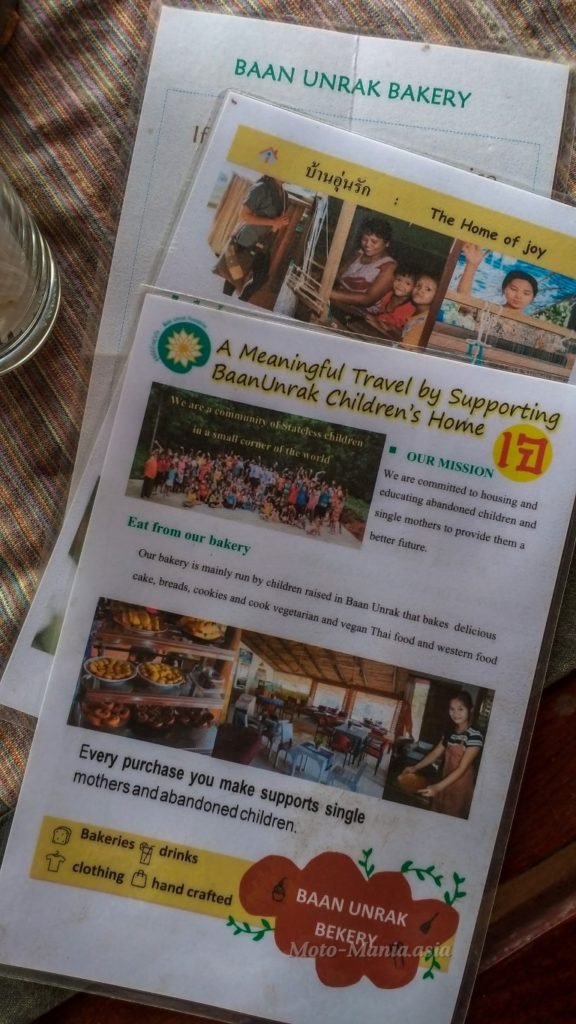 Well.. Why not have breakfast here.
Coffee and cake and see what else is available.
The kids are super honest. I left 100 baht tip the night before. It was in the clear see through tip jar the next morning.
I wasn't trying to catch them out. Just noticed only a few 20 baht notes and coins the night before.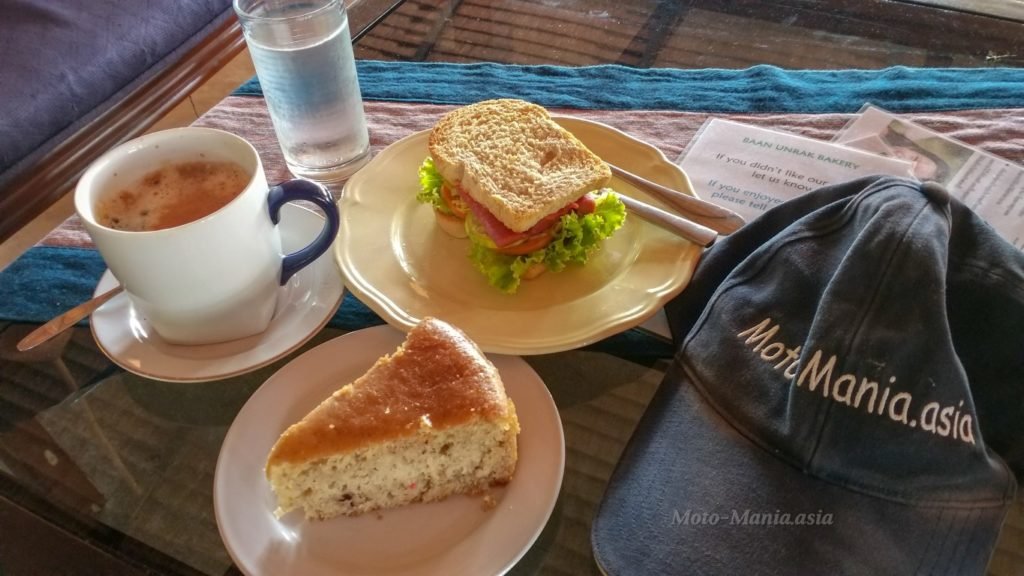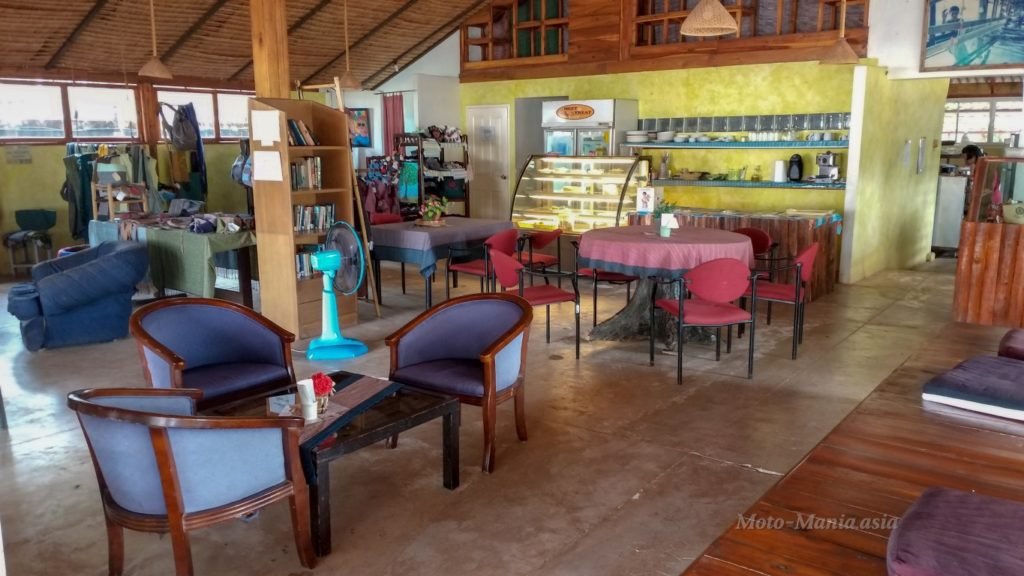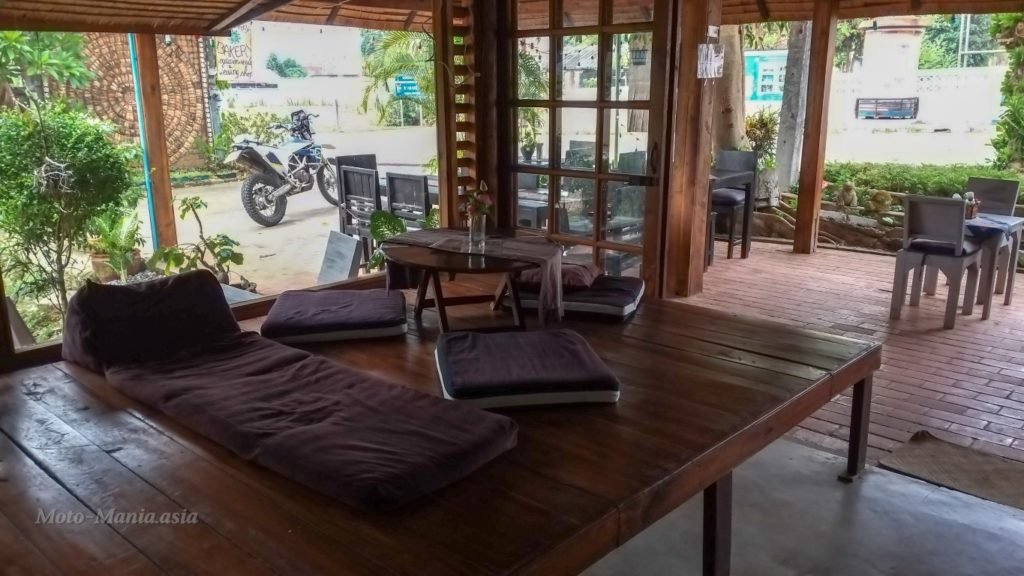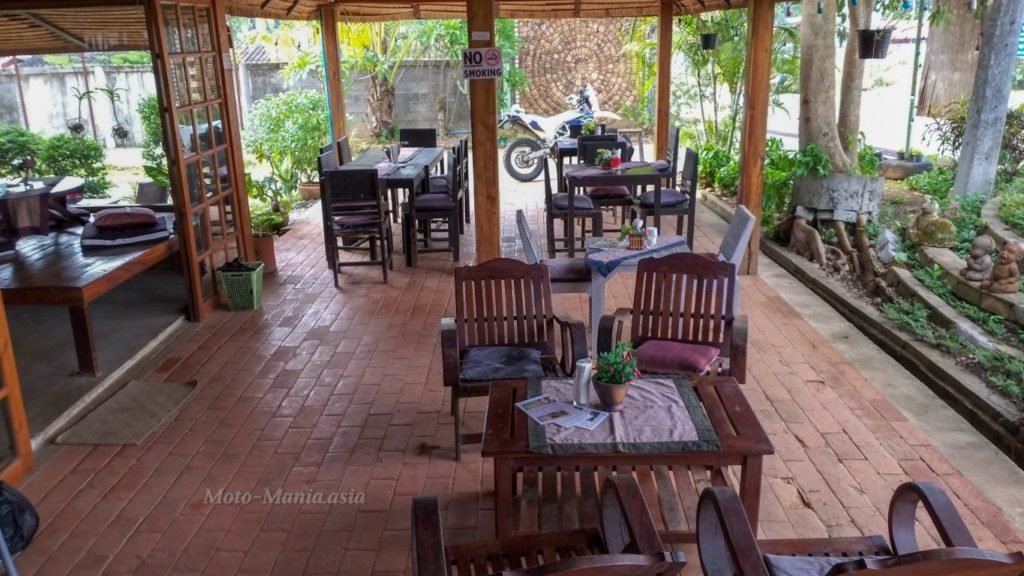 If you would like to know more about Baan Unrak.
Please follow the link:- https://www.baanunrak.org/
On The Trail Of The Sunken Temple
There is a sign pointing to the temple below as well as the sunken temple.
In reality. Unless you ask the locals and cut through the school and off-road a little. That sign should not be there to the sunken temple as not really possible to access from here.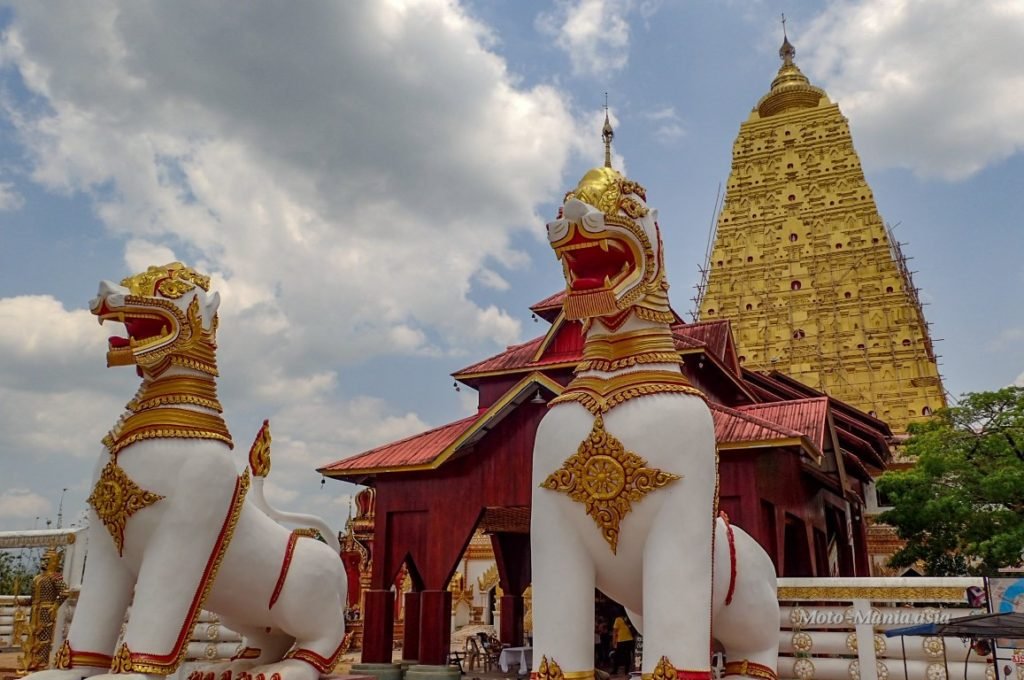 The end of the sunken temple trail.
As close as you can make it to the sunken temple by bike. A couple of local Mon living on a boat nearby confirmed.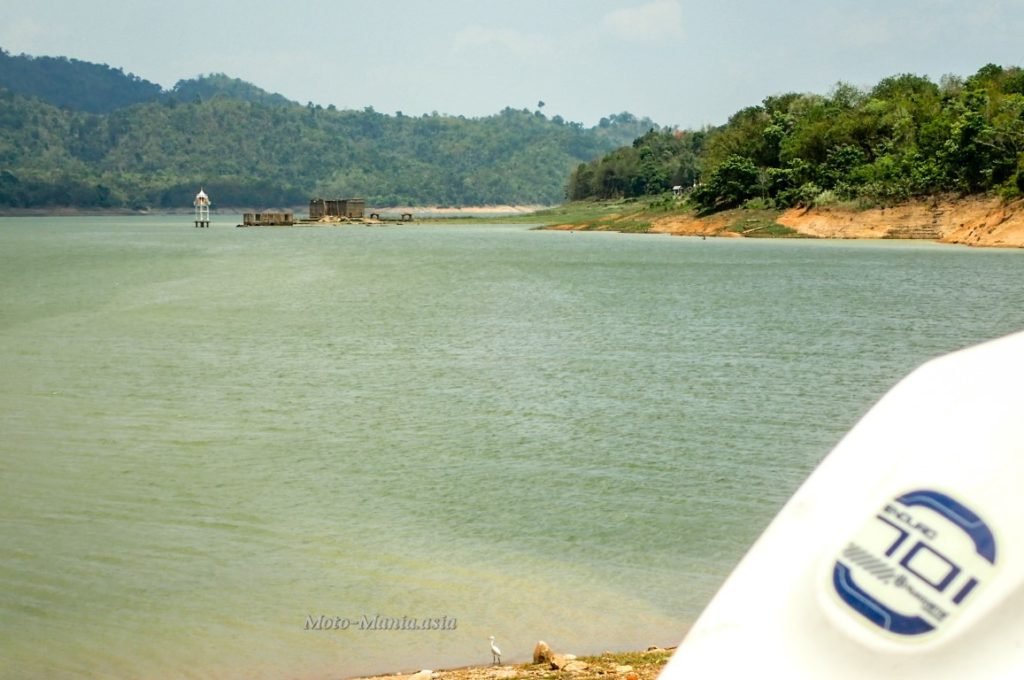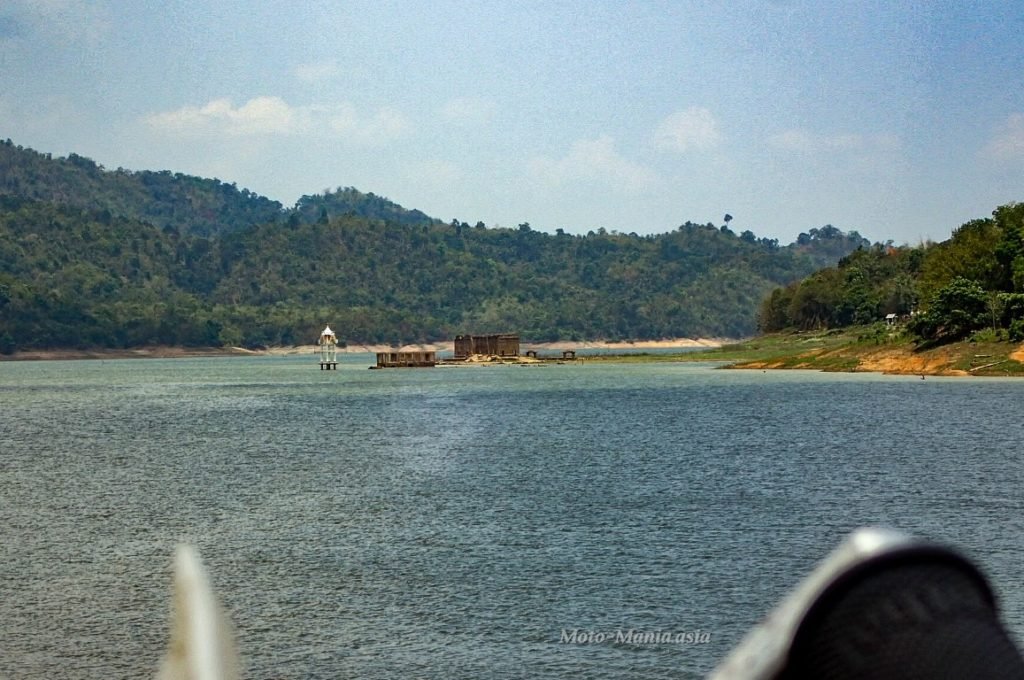 ---
---
Heading back out to the main road.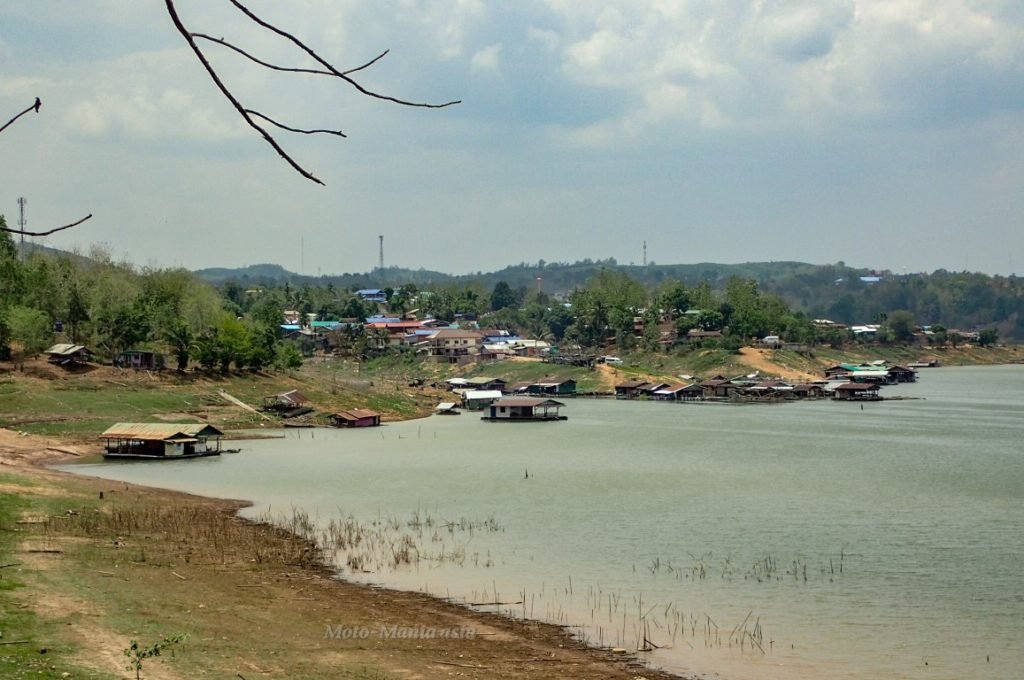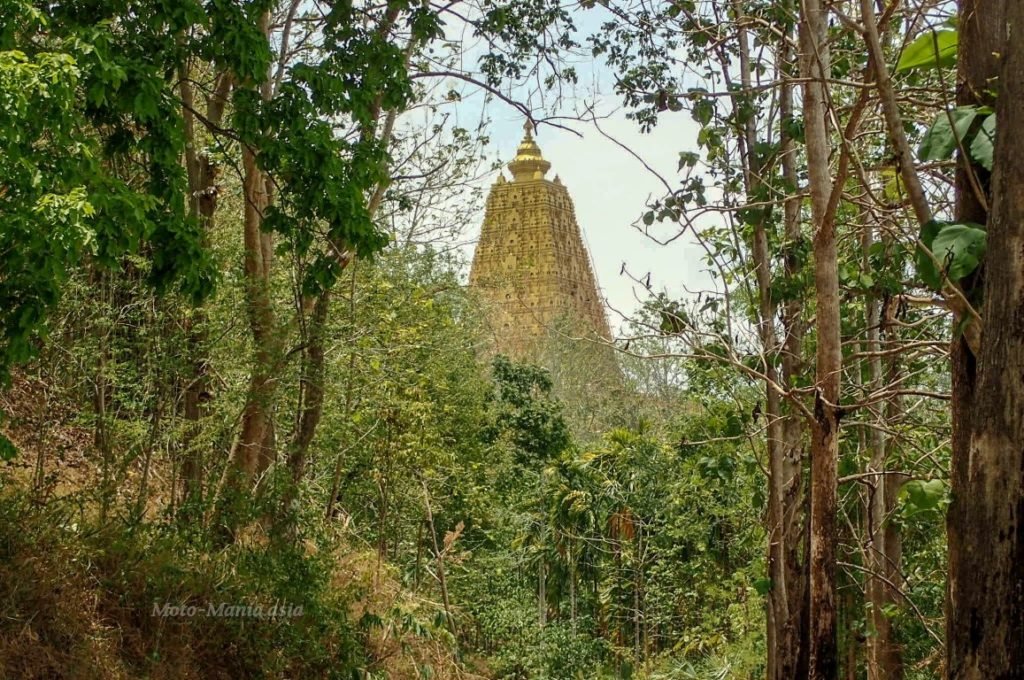 Back for a sugar cane juice. The sellers all excited. "Did you find it?"
Heading back crossing the road bridge. Stopping for a photo of the Mon Bridge.
I Declare Beer O'clock
P Guest House and Country resort has some of the best views.
Even though it is called a Guest House. It is more like a mid range resort / hotel. Rooms from 950 baht with air-con and 450 baht with fan and shared bathroom.
I took the 950 baht room. Third time to stay here and always nice to come back.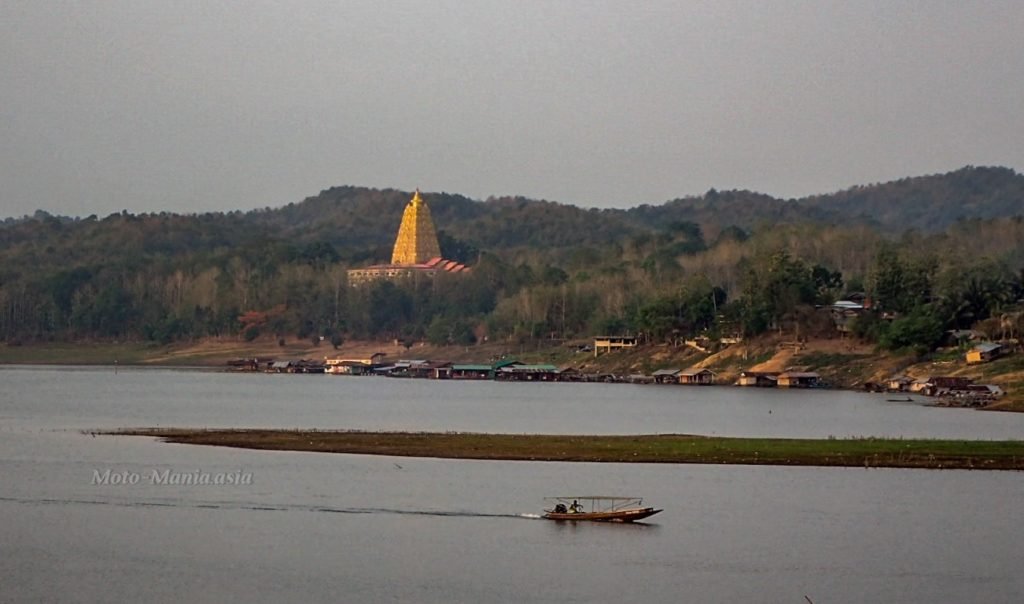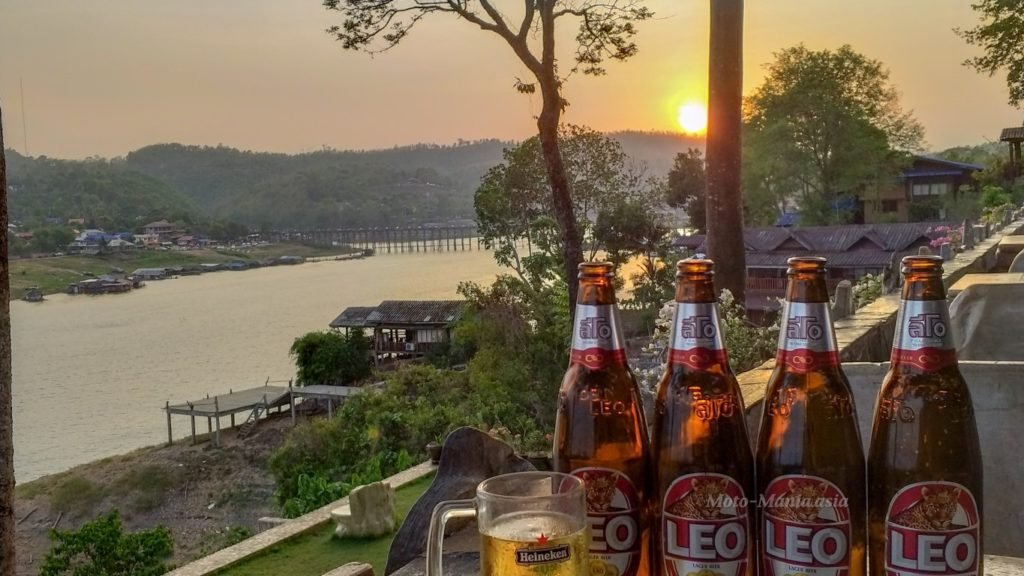 Time To Leave
Woke up at 7am. Breakfast and one last walk over the bridge and a coffee.
Load up the bike and back to to Sai Yok Yai. Spent and hour sorting things out and then off to Bangkok.
Both riding and driving straight through. 9 am leaving Sangkhlaburi. Arrive back in Bangkok 4.00 pm.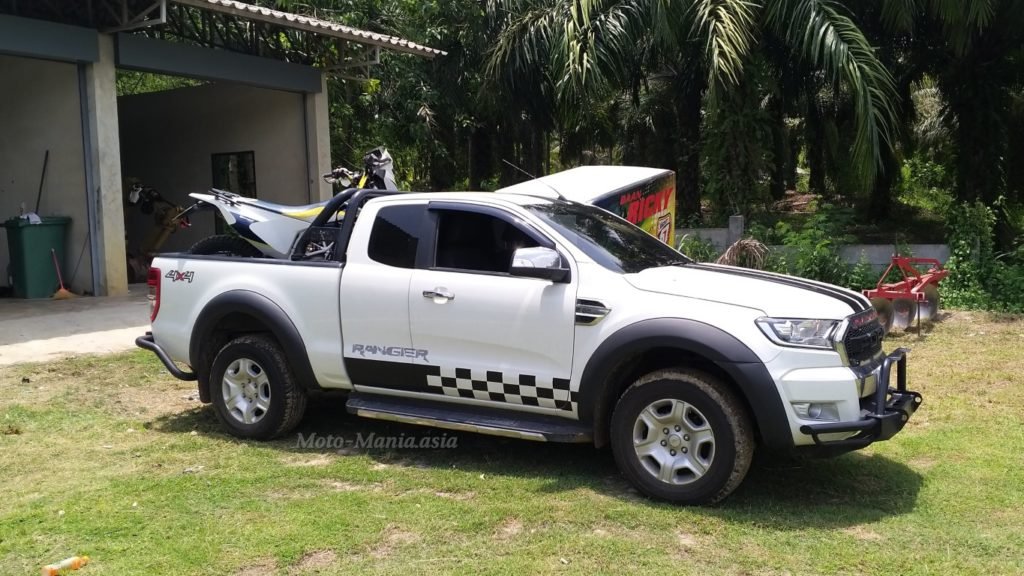 YouTube:- Sangkhlaburi – Mon Bridge, Sunken Temple
Taking a boat to the sunken temple and back to the Mon Bridge.
Glad I did this trip and had a good look around.
In the past, arrive at mid night from Bangkok and the next morning up early and off in to the jungle on the bikes. Same routine when leaving the jungle.
Well worth a visit. Personally recommend two nights.
Get here early, look around. Wake up the next morning and take the boat trip at 7am, explore the Mon side of the bridge.
Next day more exploring and relax by the water for the afternoon. Early start the next day to the next destination.
Cheers
Brian