Another great weekend with Mike, Jack and the Thai team..
Well.. I almost didn't go in to the first pic of this post.. Hight's with nothing to stop me falling over the edge.. not my thing really.
Some how talked in to it.. Amazed at how these guys can just walk out like nothing to worry about and balance, turn around and sit down.
Only two of the guys were cacking their pants as much as me walking out.. Holding on to the branches.. I sat down and bravely shimmied out on my **** LOL.
Traffic was bad as to be expected on a long weekend
After a 6 hr drive we arrive at the camp site.. Luckily K. Nui saw my pickup and stopped while we were having noodles at the last big town. Still 80 km to go..
First night camping near the National park guard post with toilets and shower etc.. All very civilised.
Managed to give the Siam Hammock a work out… What a great nights sleep.. So much better than a tent..
Off we go on the first day..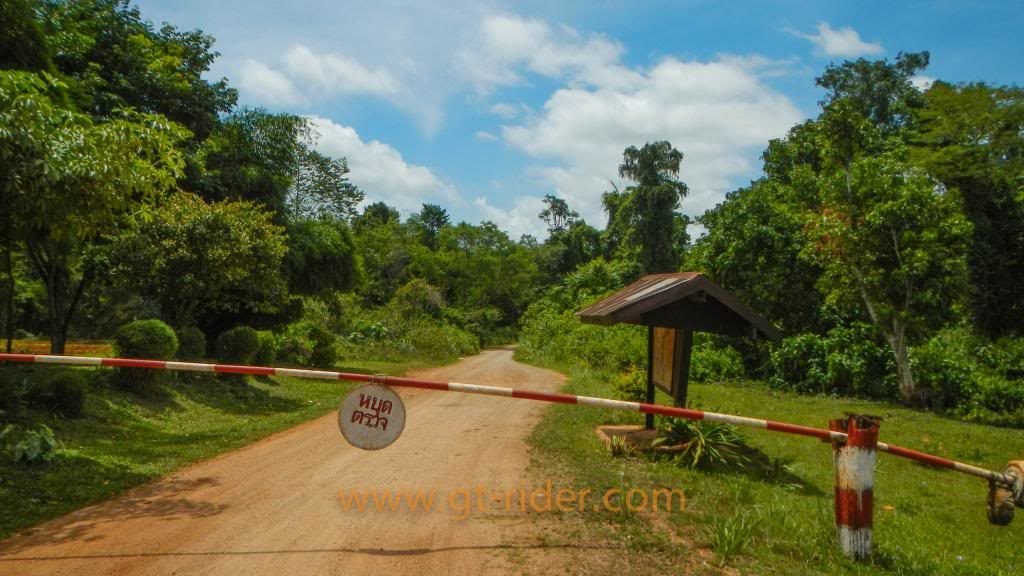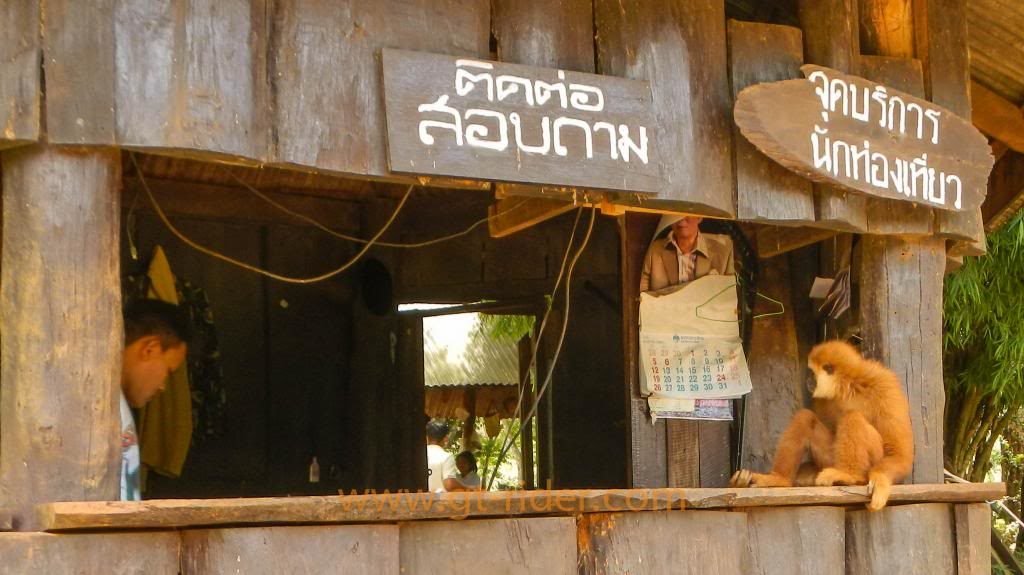 Learnt from the Thai guys how to store your whisky on the bike..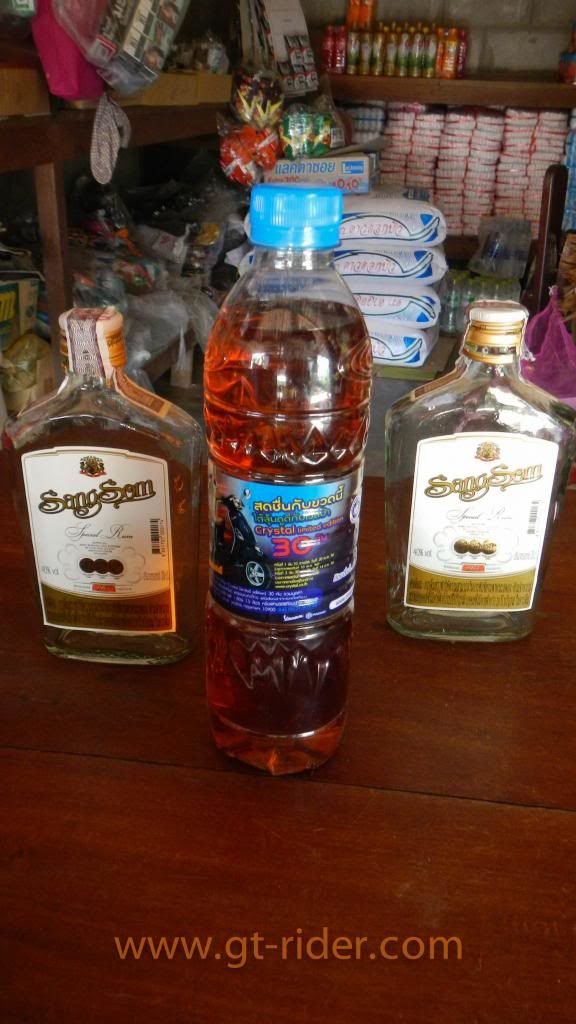 Couple of kids making ice desserts
No, we are not in Burma..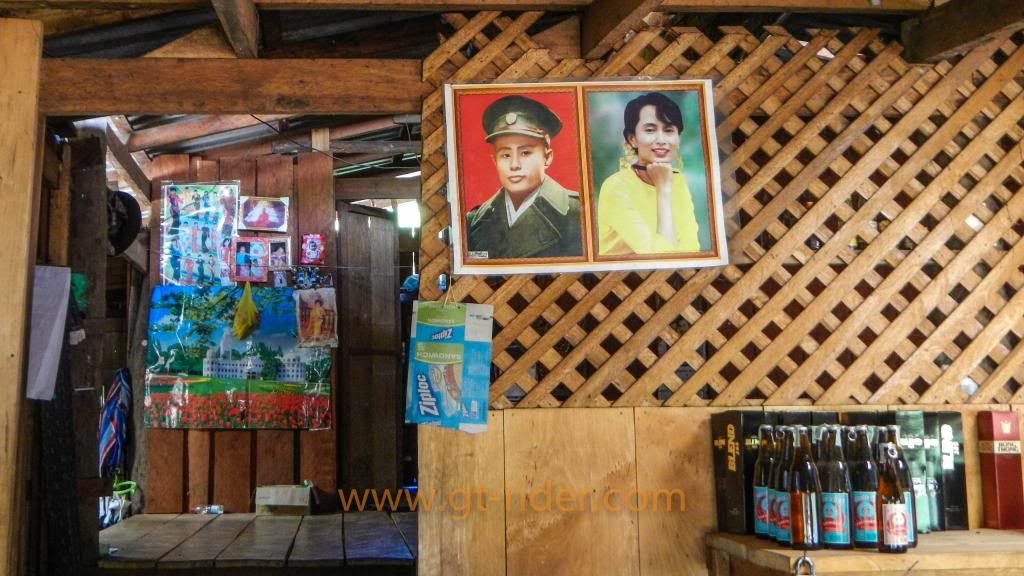 Time to hit the trails

Father and son.

Jack, AKA Muddy Rider.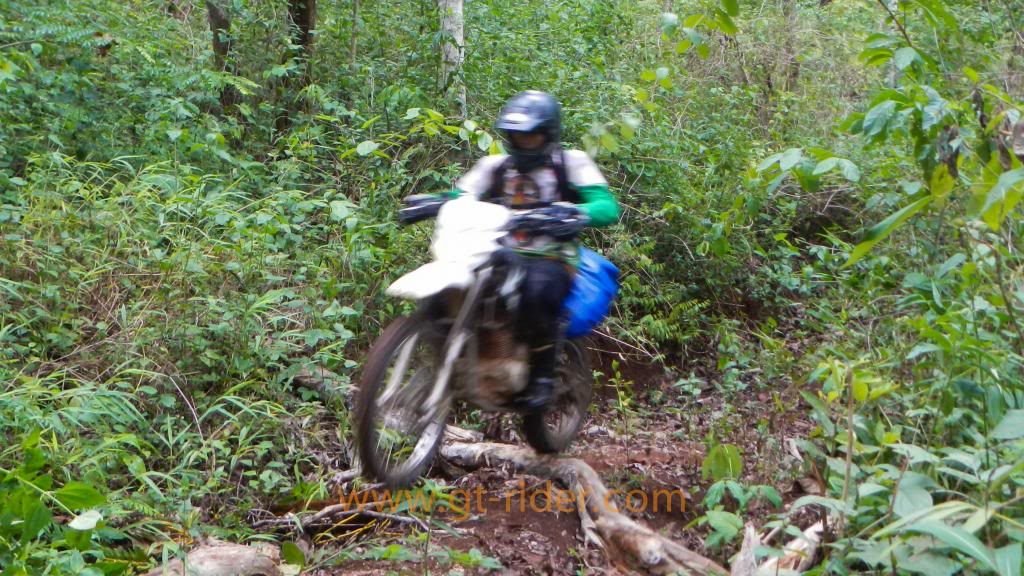 Mike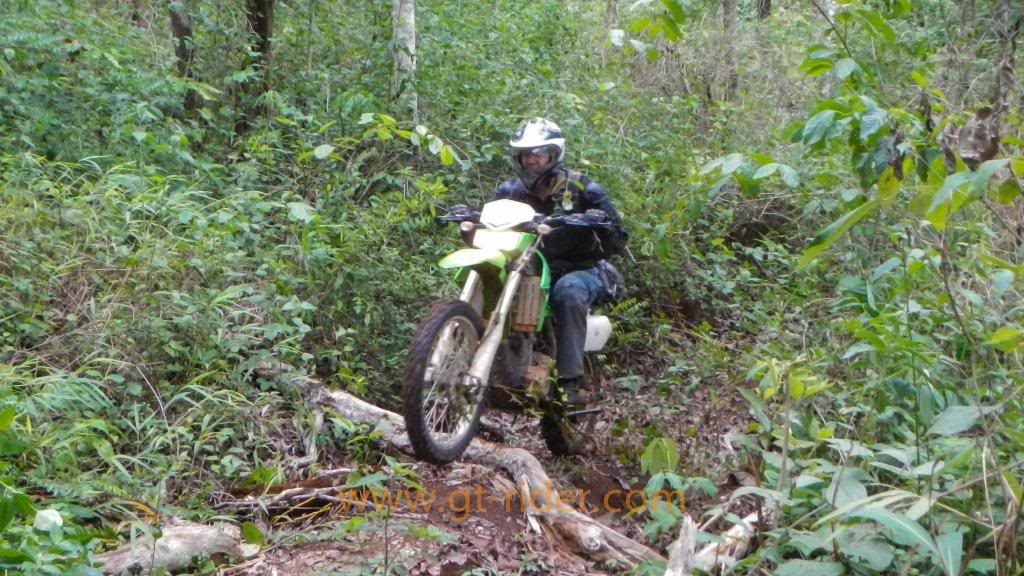 We came across a bunch of around 10 4 WD's. They made room for us and let us pass
Traffic jam on the trail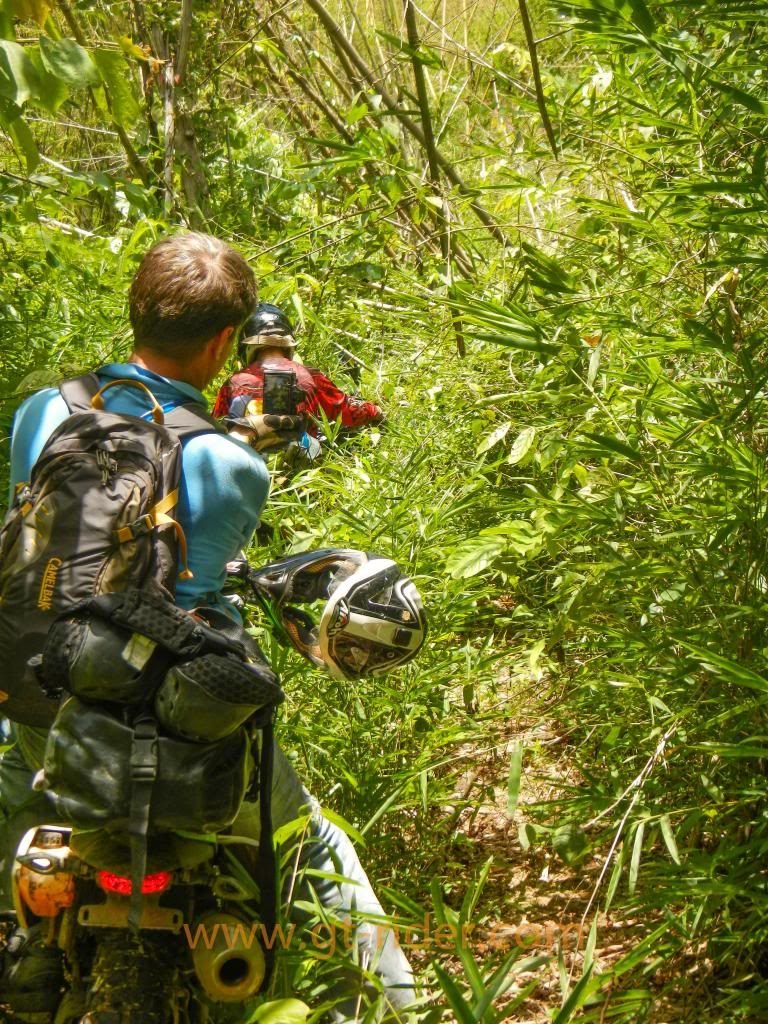 Father and Son coming off the bike and bouncing back up.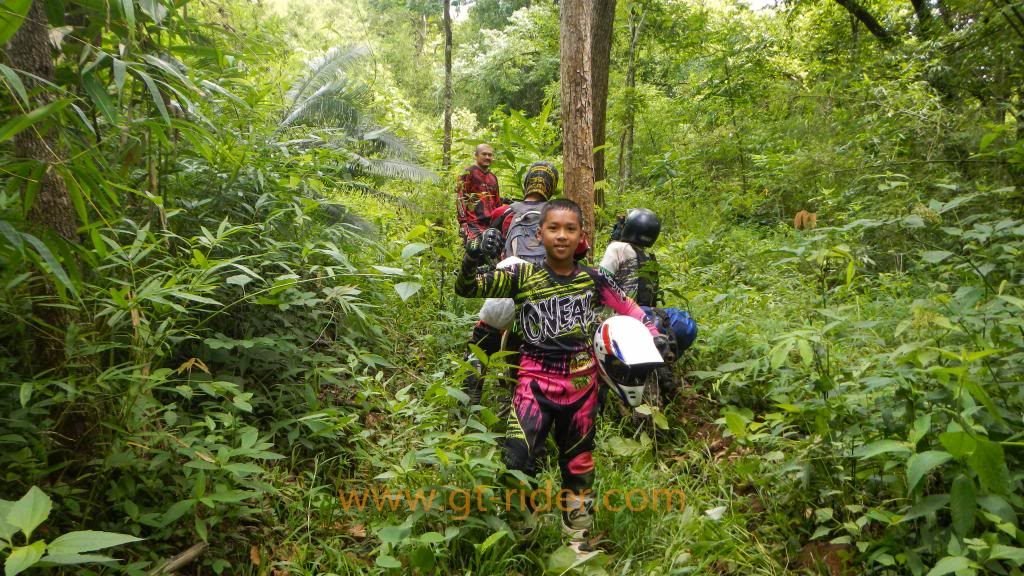 Many parks are banning vehicles because of the damage the 4 WD's cause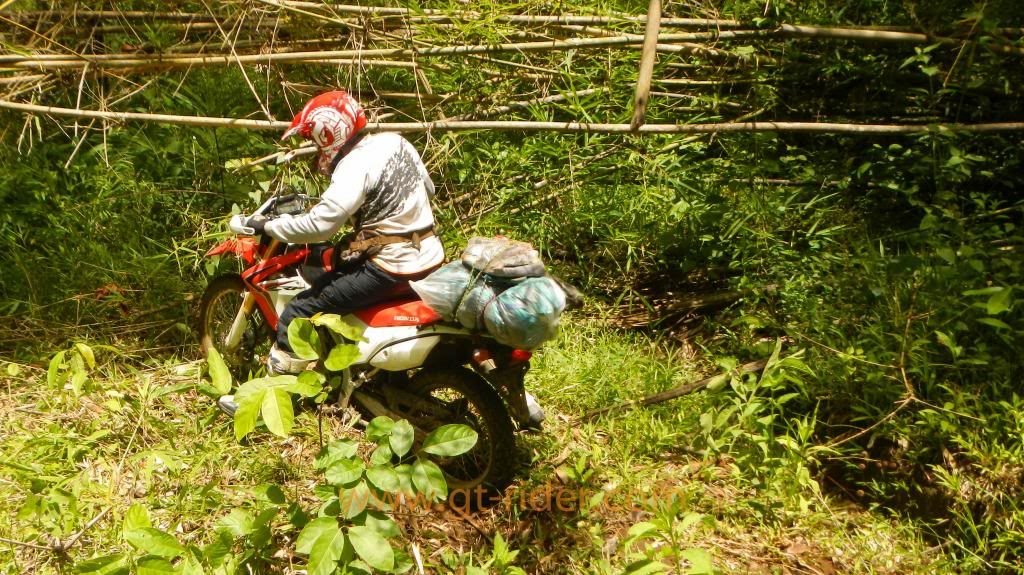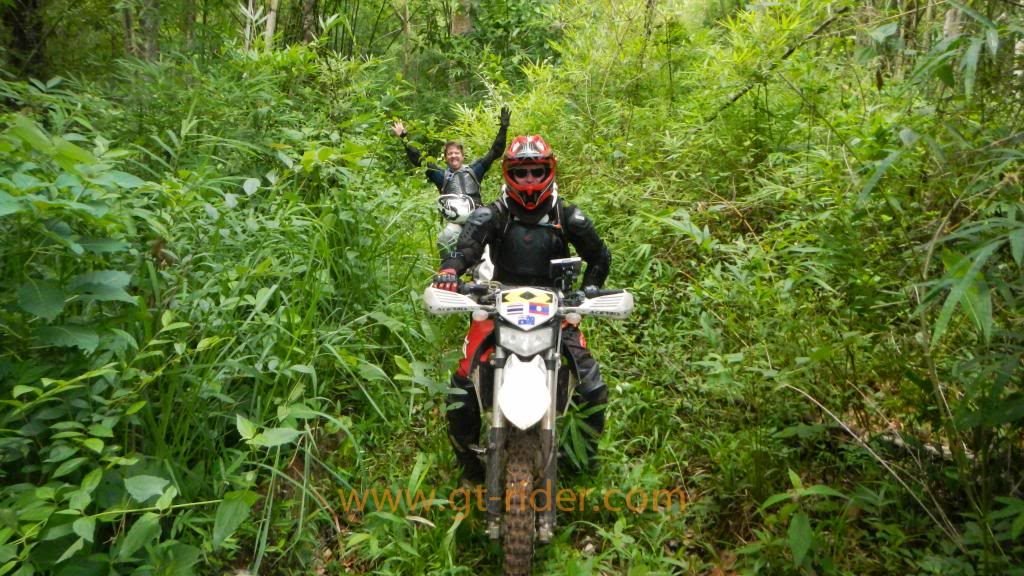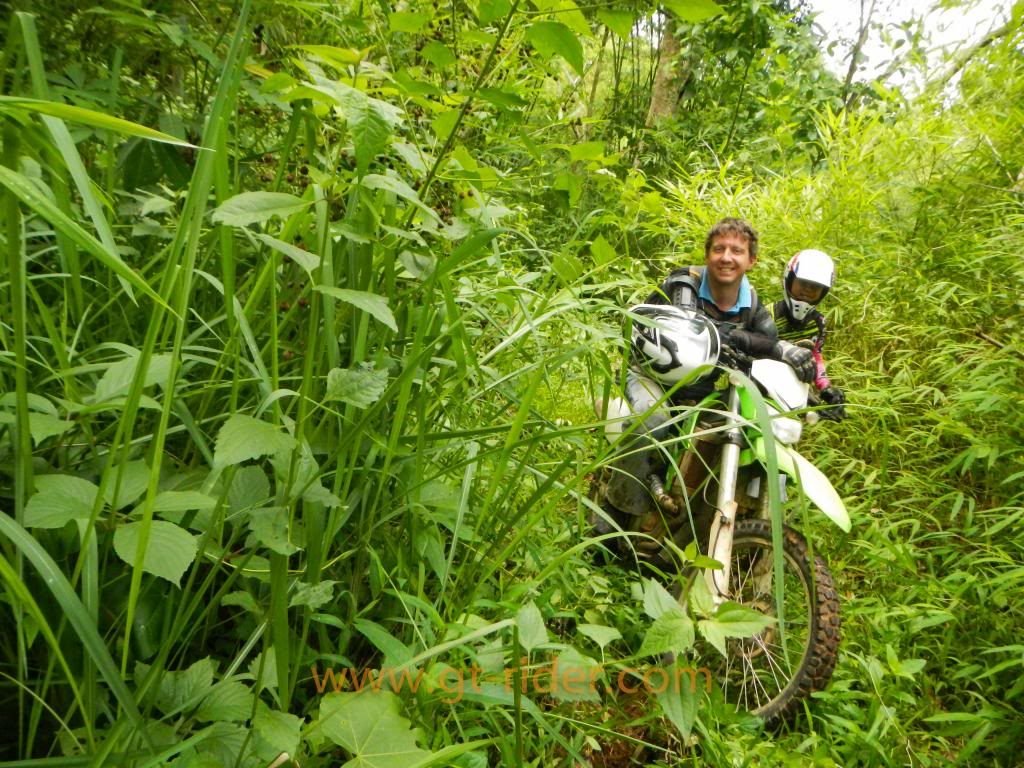 Time to camp out near the river.. Great spot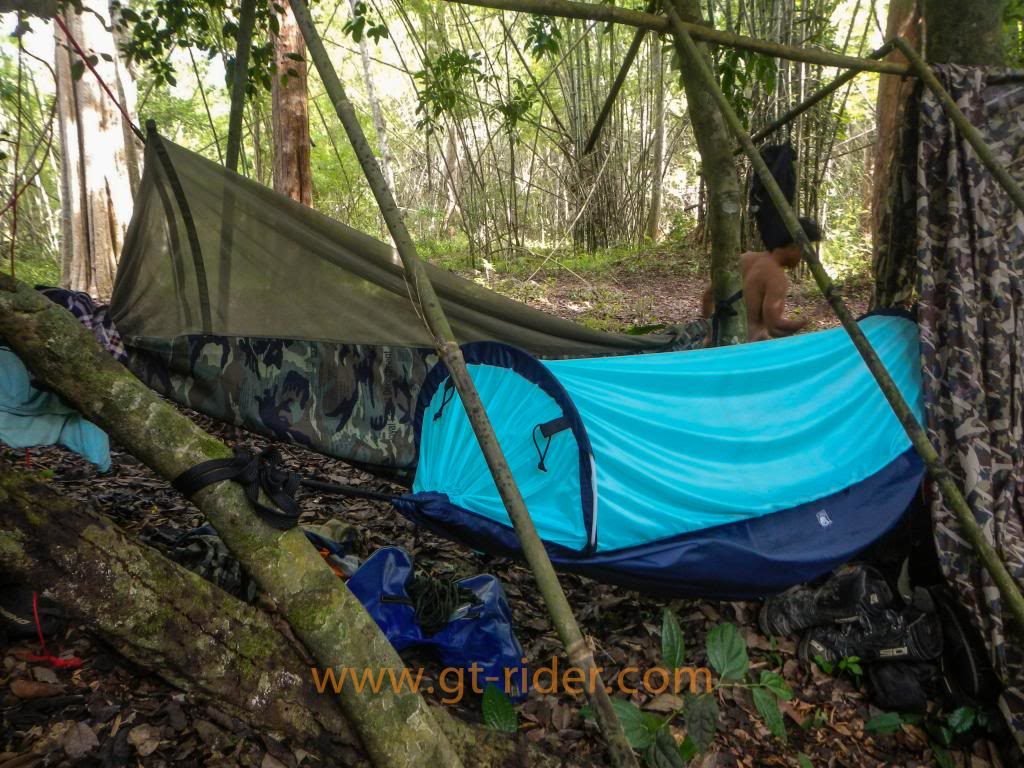 Early morning wake up and view of the camp site
Jack cooked rice in large pieces of Bamboo sections..
Cut the bamboo off below and above each segment, fill with rice, certain plant leaves at the top of the open section.
Place on or very close to the charcoal embers and wait for a while.. moving around here and there..
Spilt it open and you have well cooked rice with your dinner in the jungle
This pic the rice is left over from last night. Jack is stripping off all the excess bamboo width so there is just a lighter bamboo segment to carry the rice for the next meal.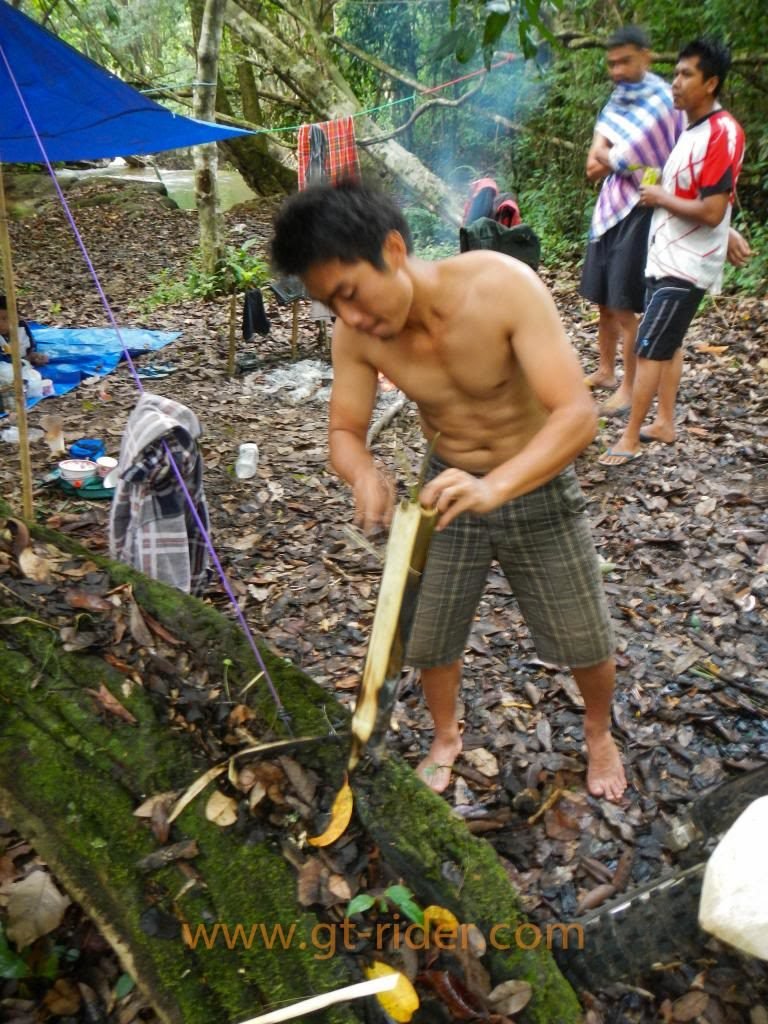 Then a 1 km hike up to the waterfall. Now if this was Australia.. We would have been covered in leaches..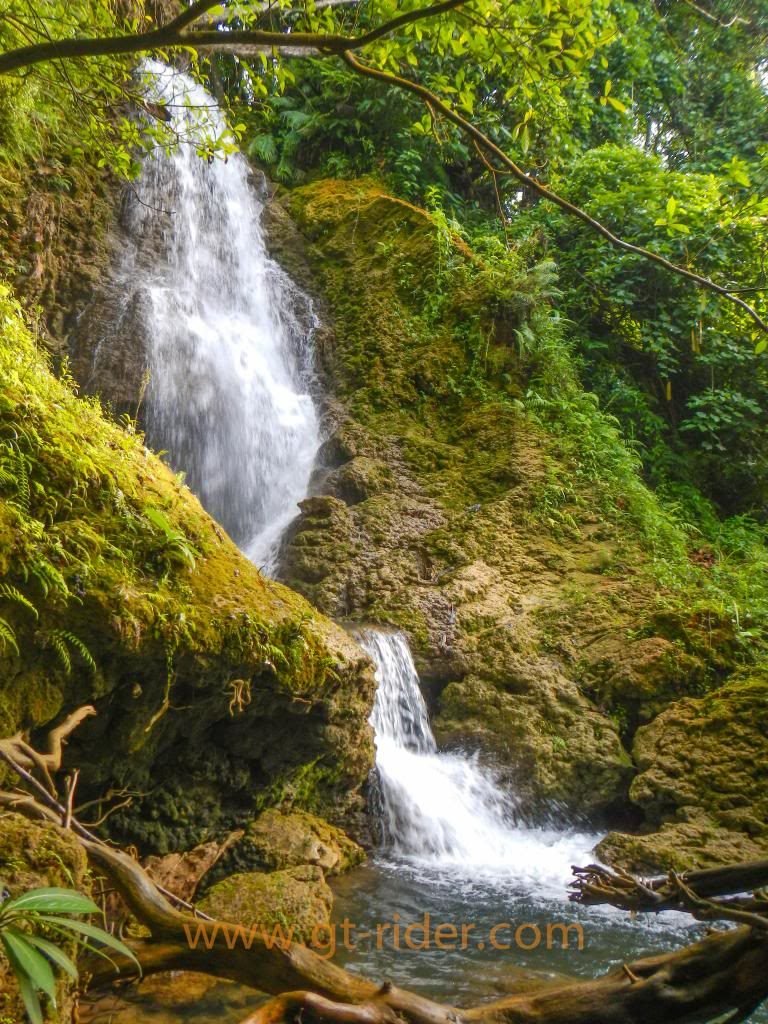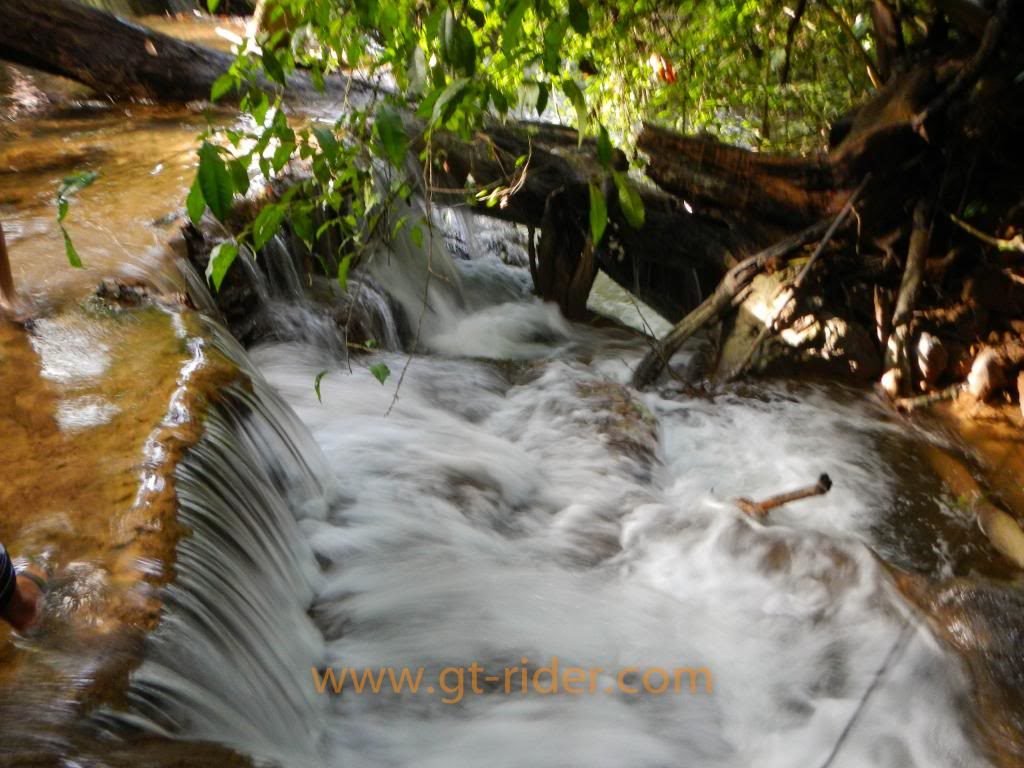 Back on the trails… Day 2.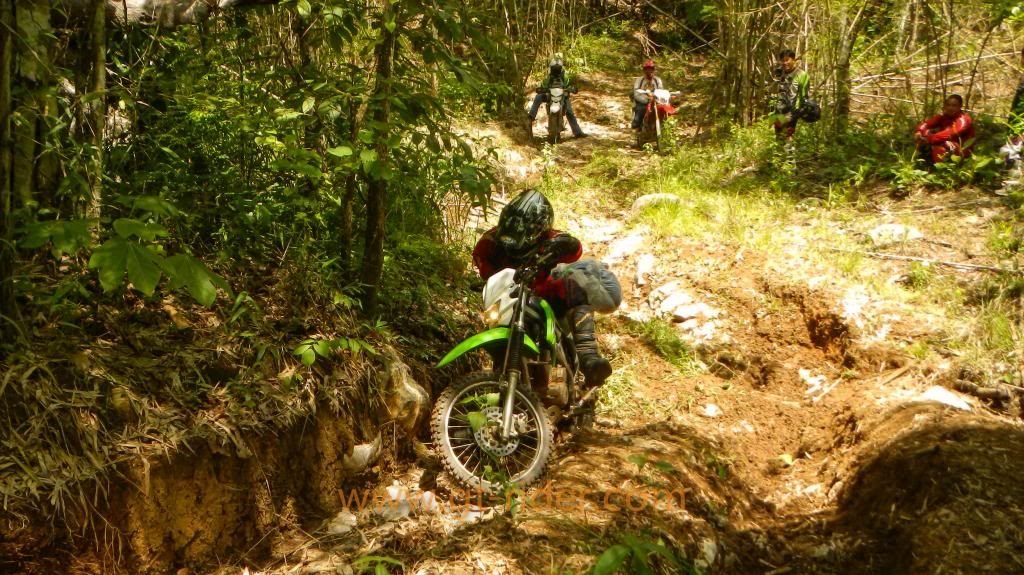 Great team spirit as usual.. Really love that about these guys..
As K. Nui said the last night after we had a lot of drink and very Mao..
He doesn't care about peoples riding ability. They can have KTM or KLX. It is about being part of the team and helping and contributing.
Then called me his brother. Then more drinks 🙂
Looking forward to more rides with these fellas. Also really enjoy the camping side of things.
As usual the camera lies.. This was difficult.. Steep, large slippery rocks covered by very loose soil.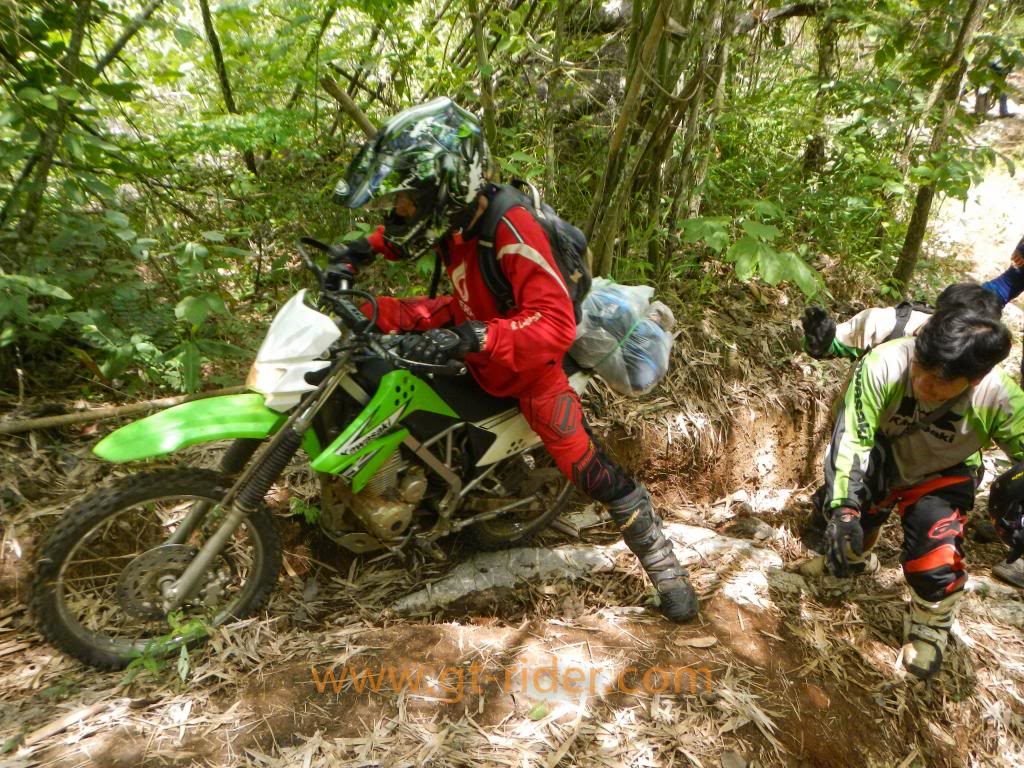 The Honda decided it was time for a lay down.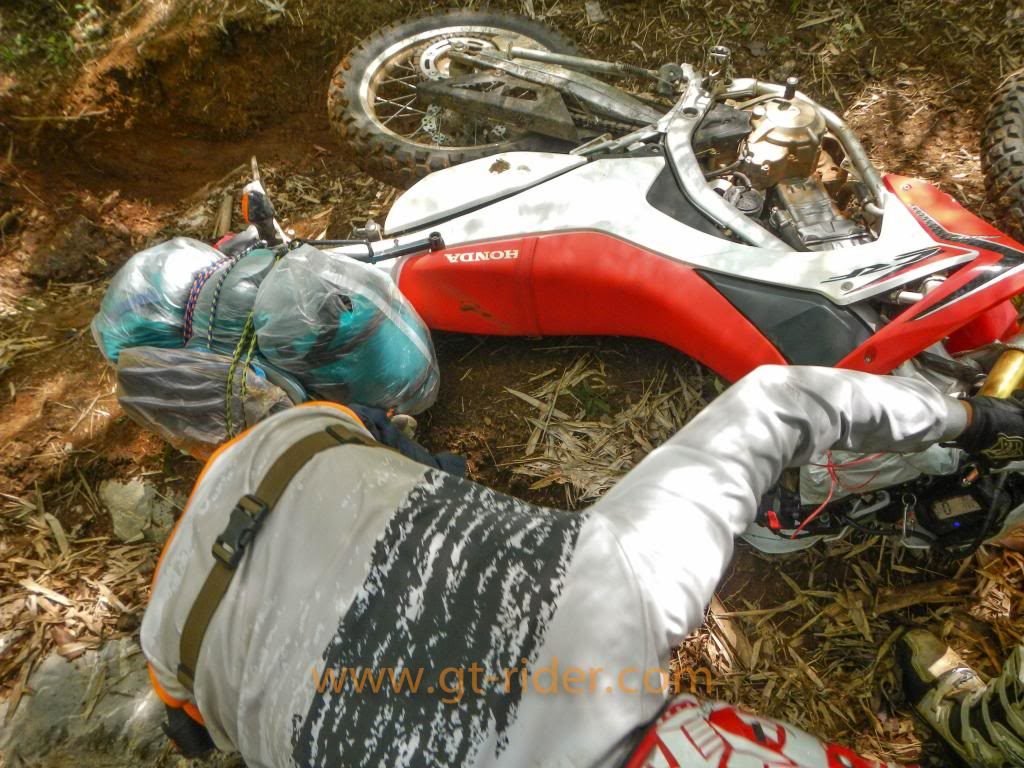 This guy is a good rider..  On 50 50 tyres and went through some pretty muddy sticky stuff later on..

We managed to get suitably lost..
Following trails that looked like they were going the way we wanted then only to eventually loop back around.
Having the GPS was a big help and we could at least see the way we had come and give us an idea.
Eventually we came back out near the section of trail where we had entered and back on to the main road.
Mike needed to get back to the family.. I stayed on with Team Thailand.
Weather was threatening some rain.. but nothing bad in the end..
There is a sign near here.. No entry to vehicles in Thai.. We ride around the gate and carry on.
K. Nui knows everyone 😉
The guys said the parks have started banning vehicles as the 4 WD do so much damage to the trails.

This really was one muddy sticky trail.. Slipping and sliding and wheels spinning..
Some steep down bits with the ar5e end sliding down sideways..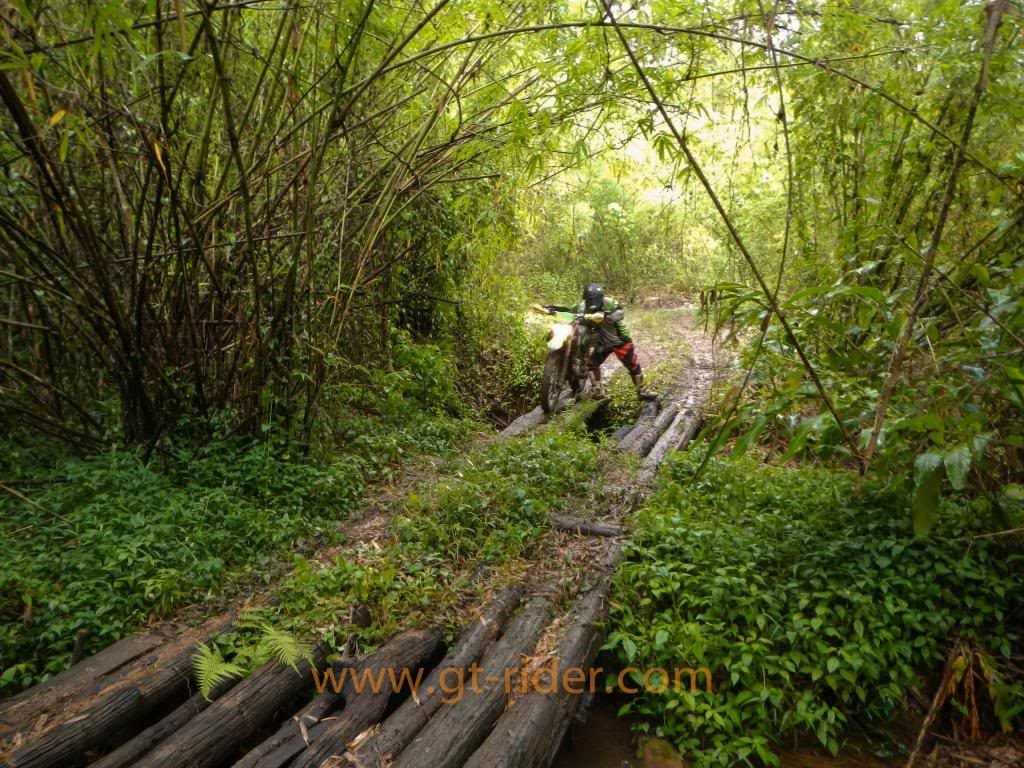 We made it to the National Park Office and camped here by the river.
They all lived in three buildings behind me.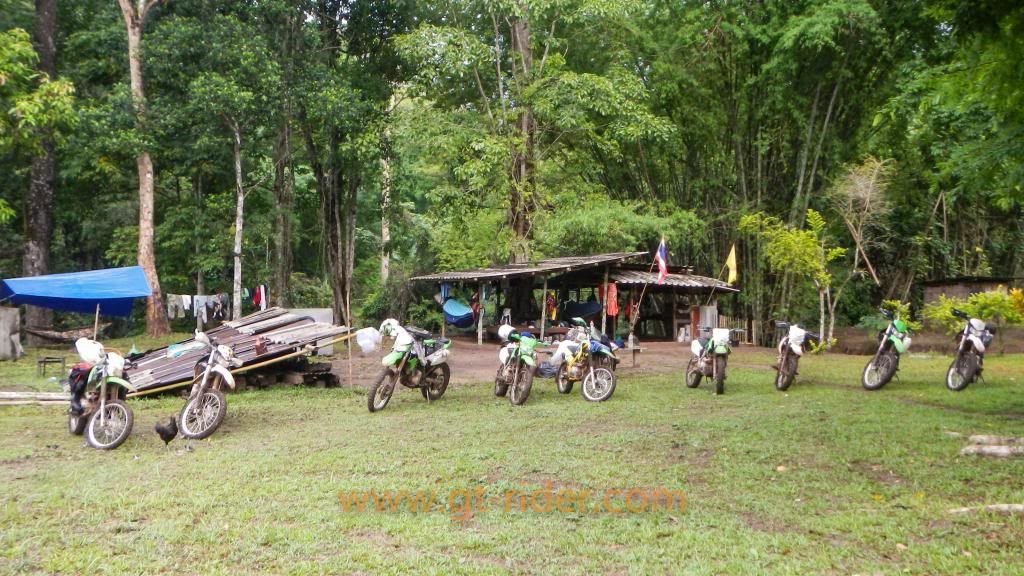 5 or 6 KM from the National Park gate entrance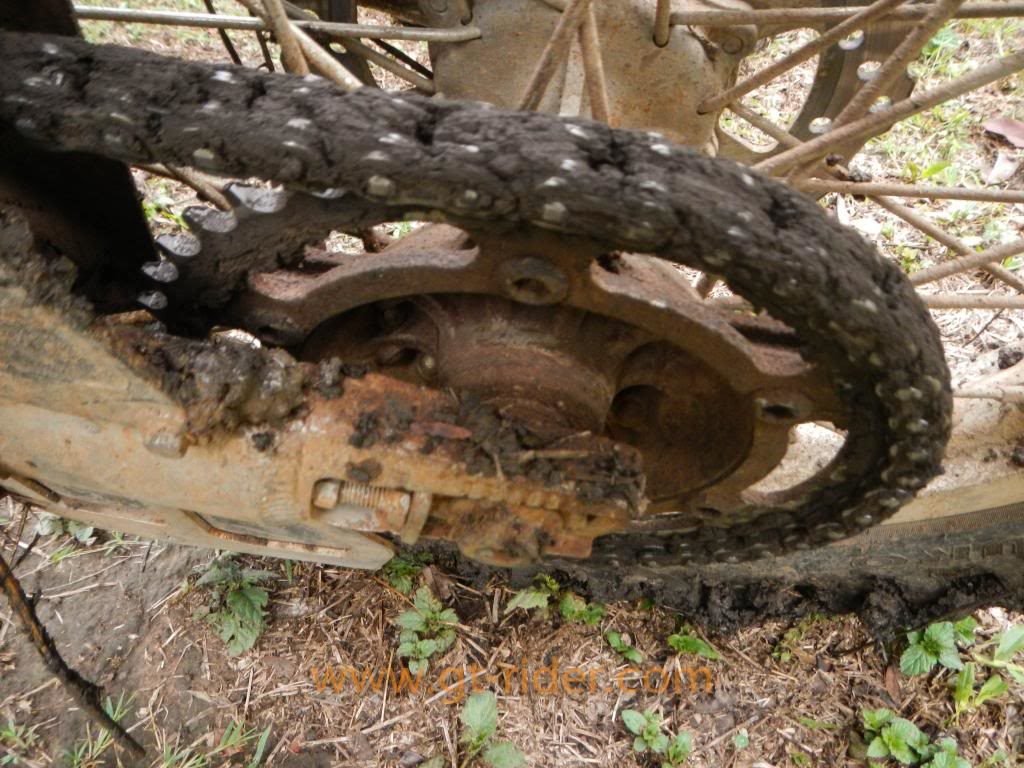 The days ride would not be complete with out copious amounts of near lethal Thai whisky.. Need to plan my JD storage for future trips.
Woke up every morning with a sore throat from the lethal brews..
Sleeping area and wardrobe.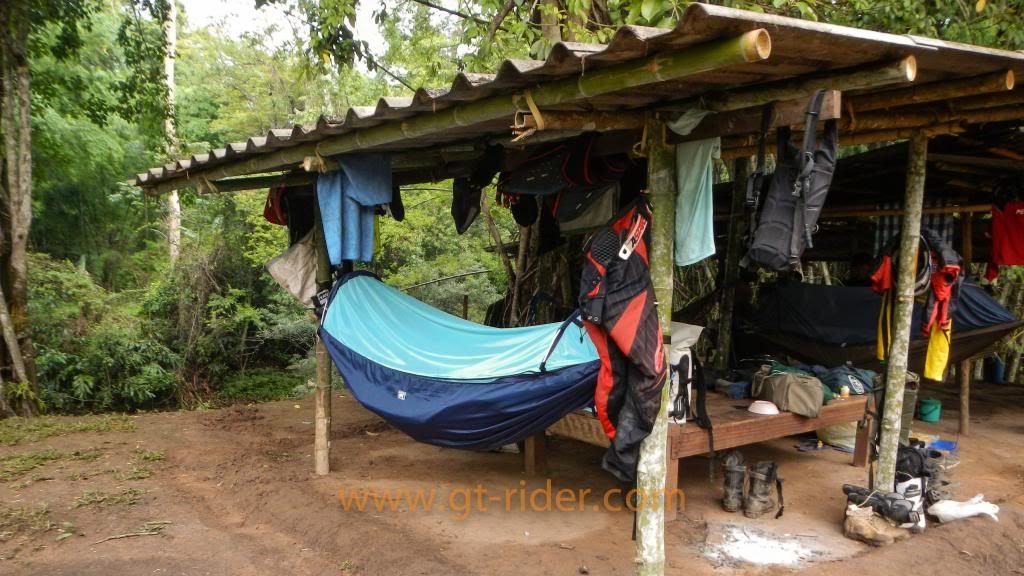 Group Photo

We couldn't take the main muddy sticky trail out.. as the steep part where all ar5e ends were sliding sideways down, just too slippery to go back up.
So we took some fun jungle trails around that. This easier way also had it's own challenges..
My photo just on the tight turn with a steep down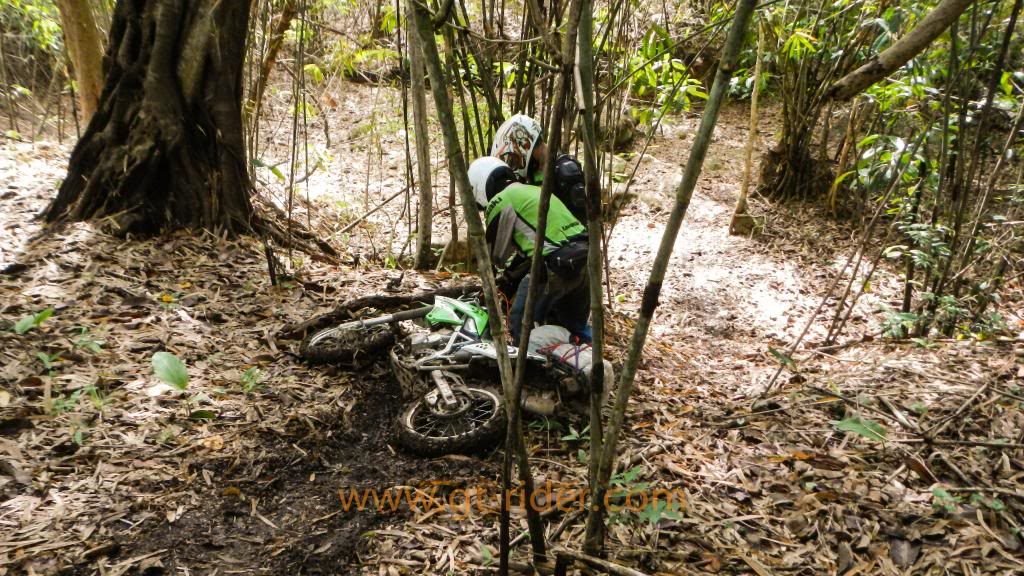 K.Nui took this with my camera just before the tight turn to the right and down.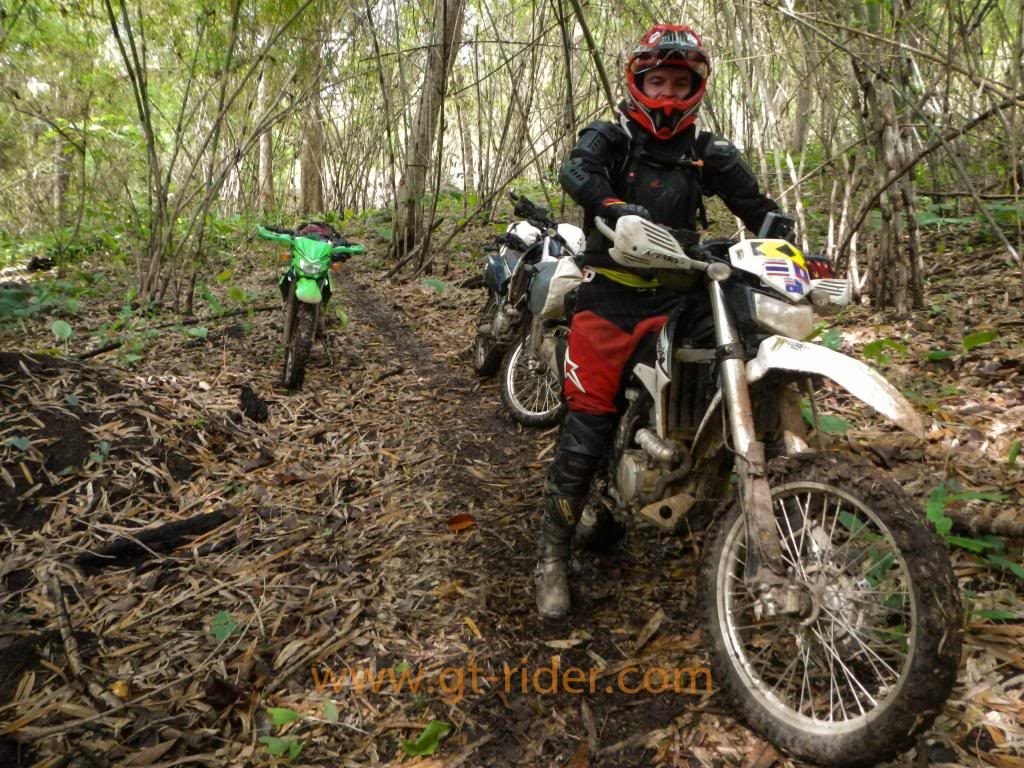 For the pros not a problem I am sure.. but for some of us.. yikes..
(The camera is lying as usual and doesn't show how steep and tight things were)
We made it out.. time for a group photo..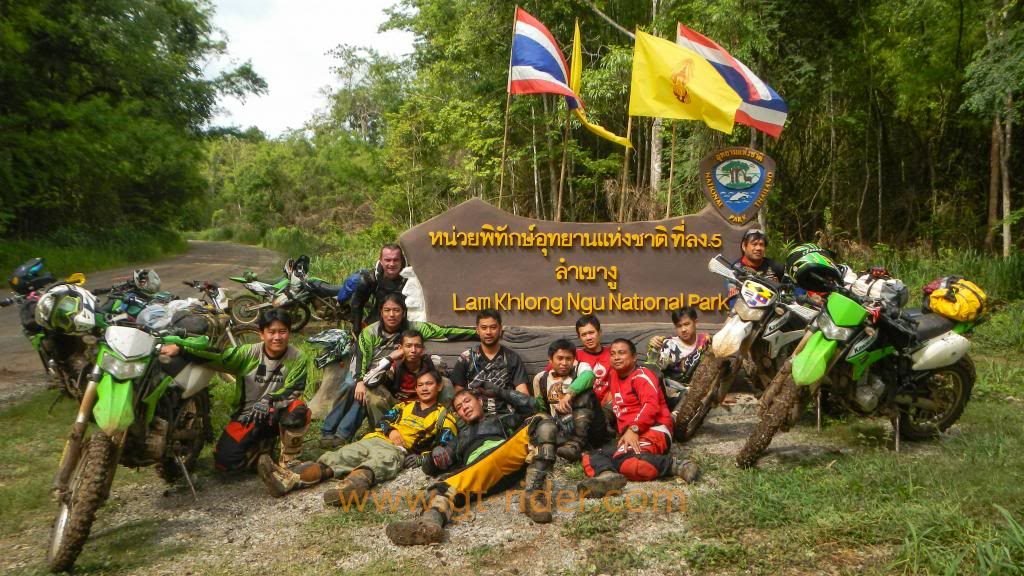 There had been just enough rain that made the main dirt roads back real fun..
Not dusty, not muddy. Just firm enough for the Knobbies to bite in and enjoy the ride back around 80 km
Another great ride..
Cheers
Brian