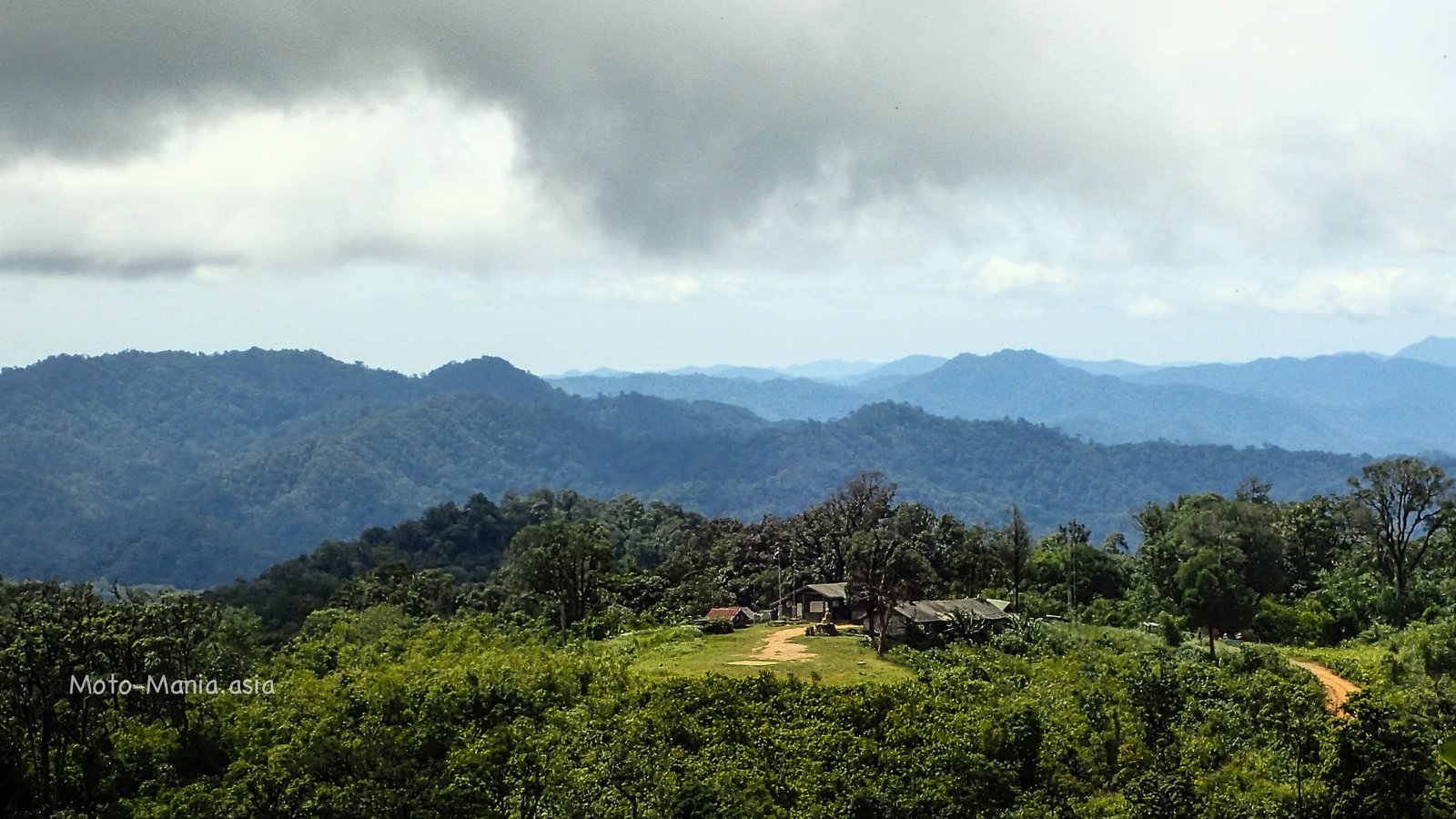 Another brillaint long weekend back out at Kanchanaburi Saiyok. – กาญจนบุรี อำเภอไทรโยค
This time Leif.. My Pattaya riding mate is going to join for a ride out this way.
Two Swedes and an Aussie roaming the trails along the Thai / Burma border.
Like minded, good fun and lots of trails is all we need.
Rather than sitting in Friday night traffic taking for ever to get to Saiyok
Get going at 5 am Saturday morning.
Miss the traffic. Still get a good nights sleep and arrive in time to have a full days ride.
The sunrise from the motorway heading west from Morchit.
You certainly see some interesting things on the road up country.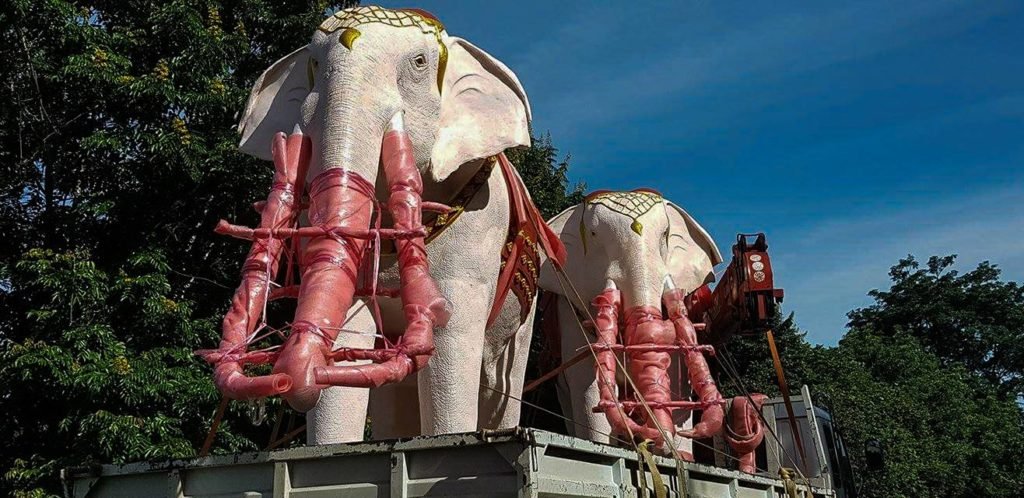 We arrive and decide to make our way to Pha Sawan Water Fall.
We make our way to the Bamboo Jungle Trail. A nice round about way.. Avoiding the paved road.
It is a real ripper and so different in the rainy season.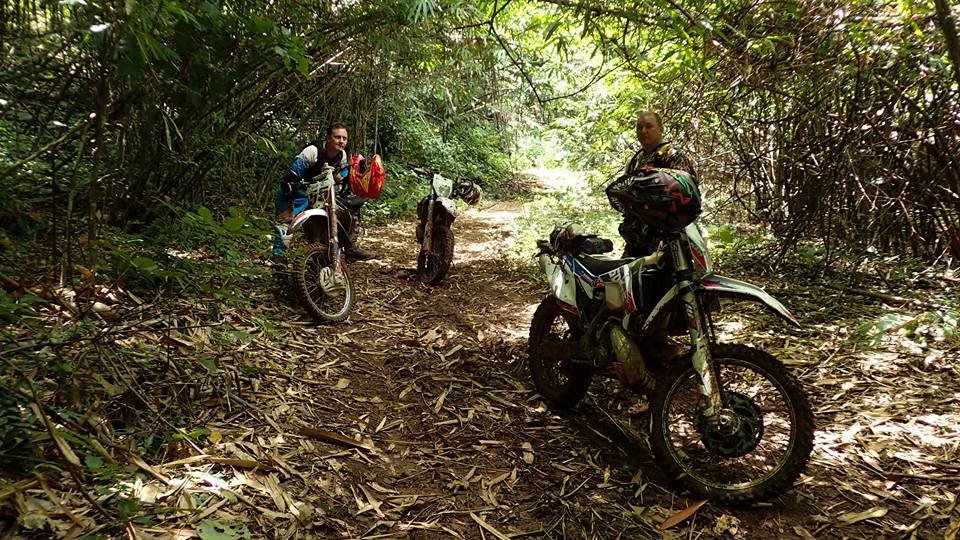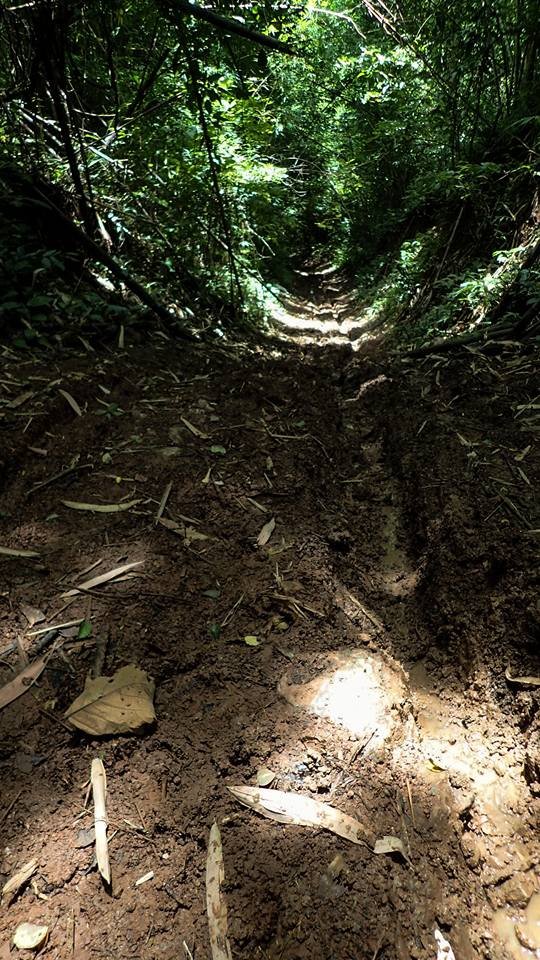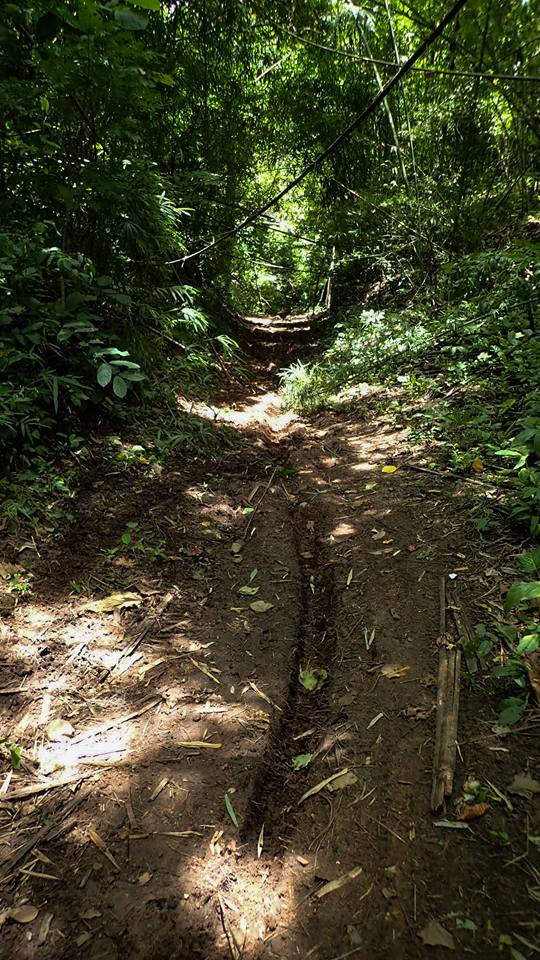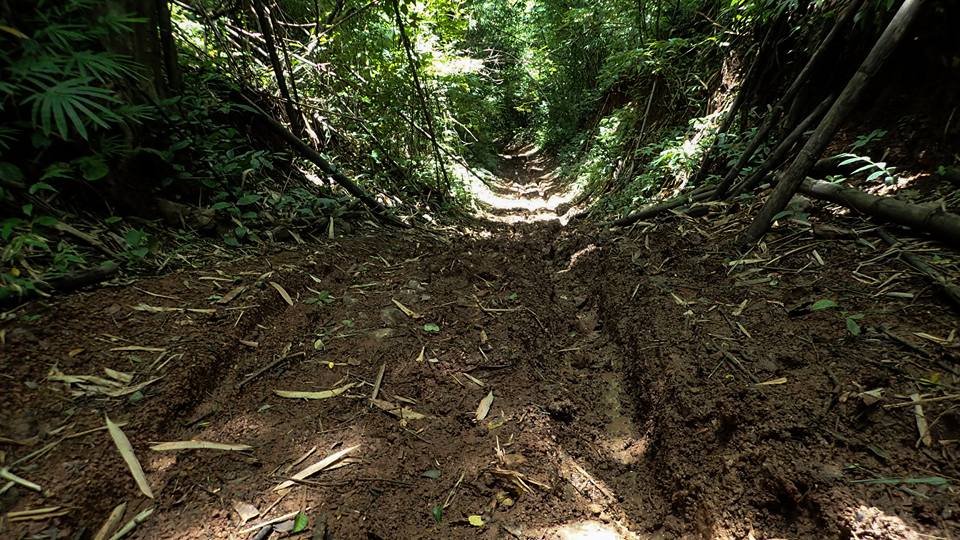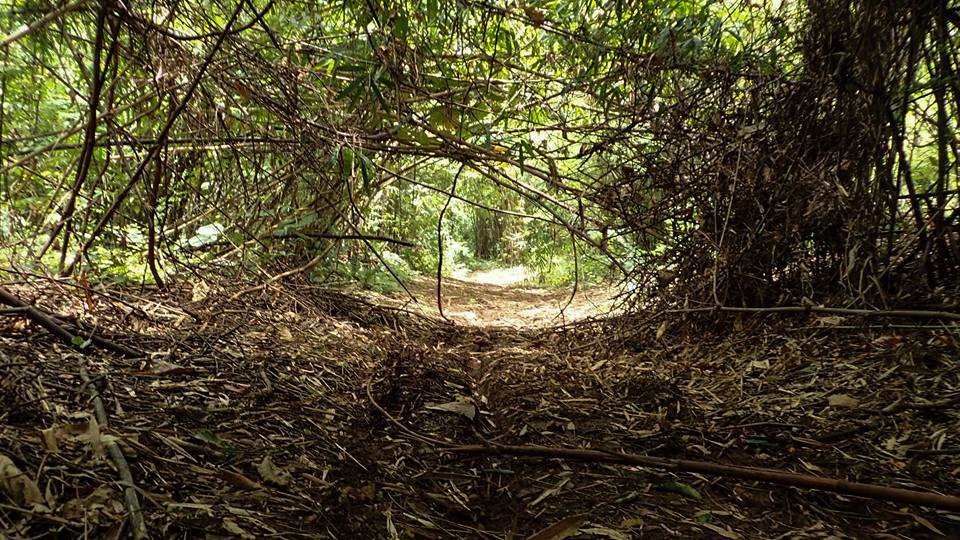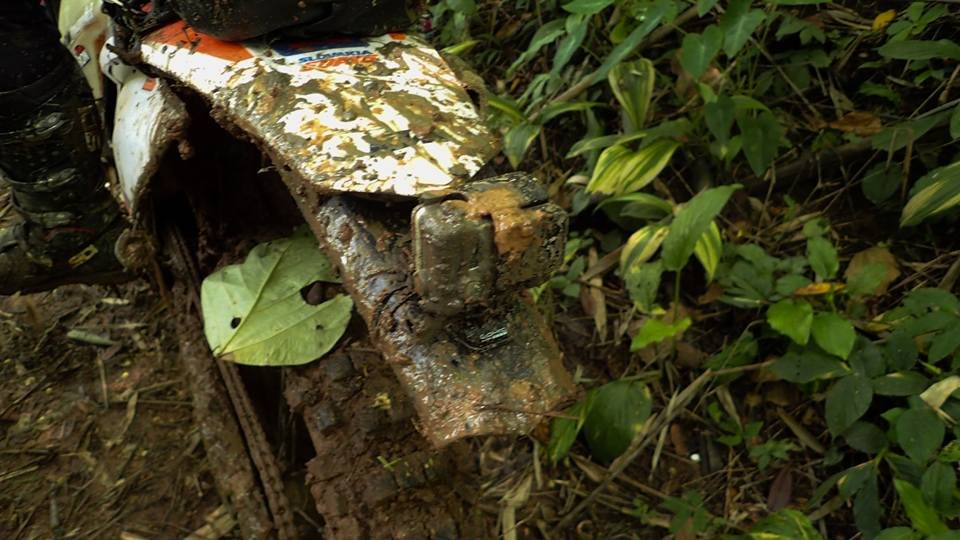 Leif falling over.. Just stopped and falling over LOL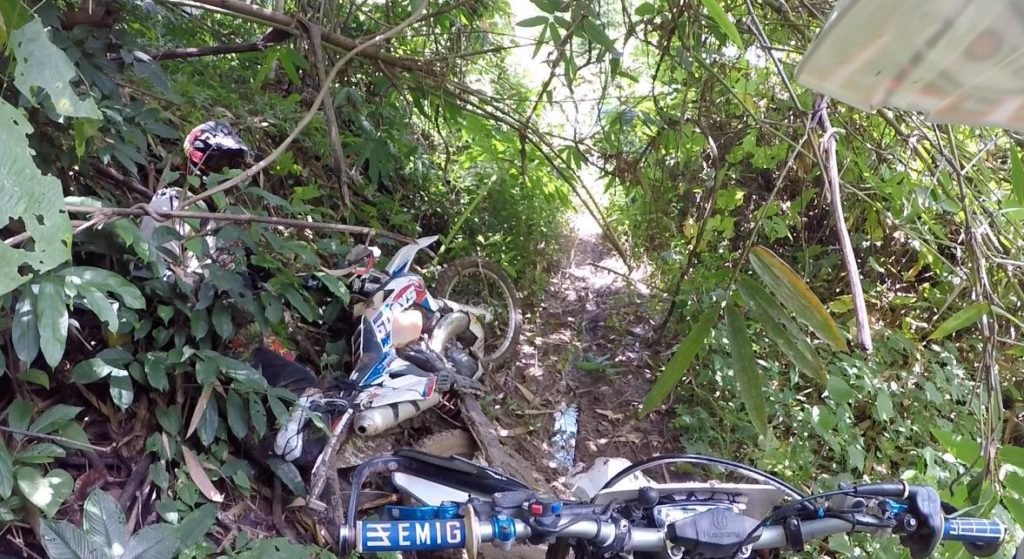 Bamboo Jungle Track Video
Then we ride on to our favourite restaurant with magnificent views.
Quick bite to eat a drink and and off we go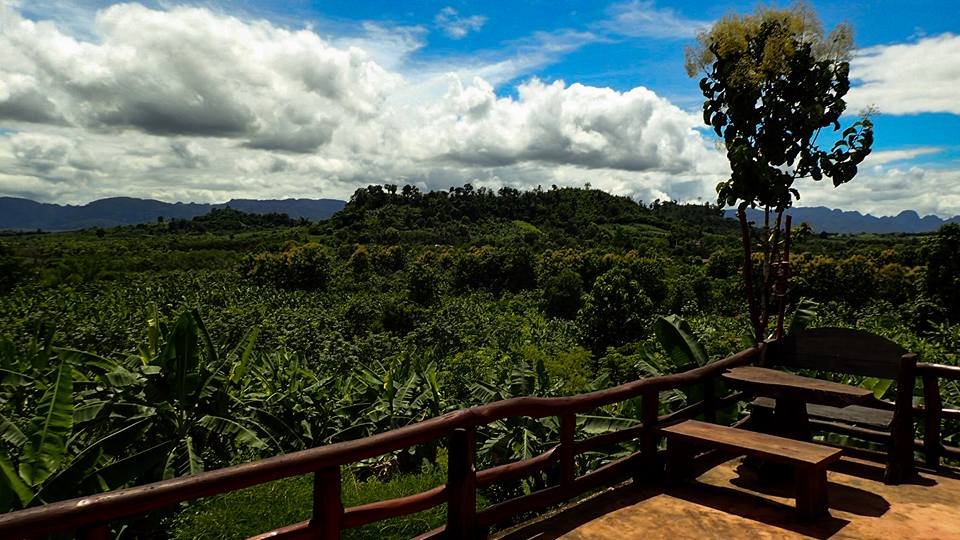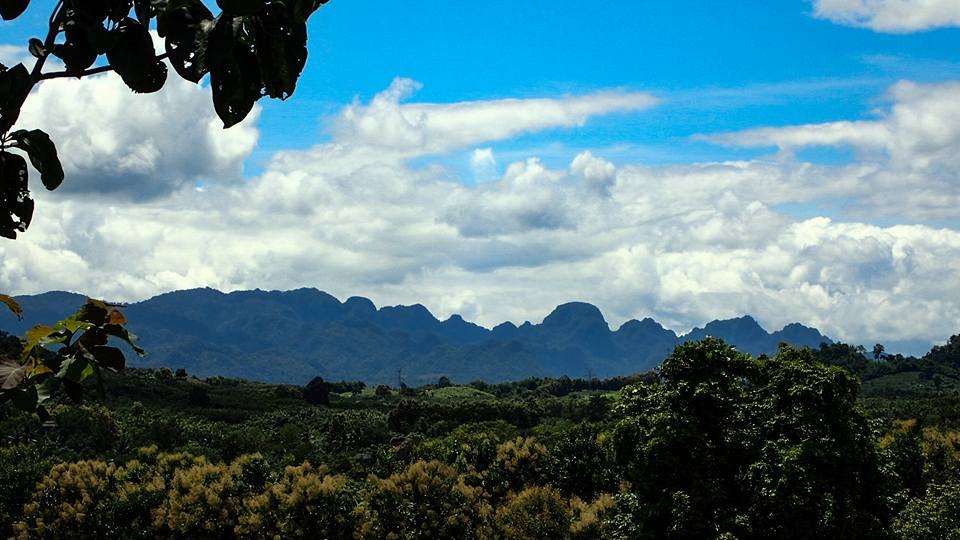 A bit more dirt then the back way up the tarmac to the turn off to Pha Sawan
Then dirt / mud and lots of fun to the National Park Ranger station, then on to the waterfall.
Pha Suwan Waterfall  น้ำตกผาสวรรค์
GPS Co-ordinates
Lat 14.68248 Lon 98.82885
TAT
" Pha Suwan Waterfall (Namtok Pha Suwan)A large and breathtakingly beautiful 7-tiered waterfall located in deep jungle some 155 km. from Kanchanaburi. It is accessible by a 40-minute walk. The topmost tier is approximately 80 metres high. The waterfall is most beautiful during July – January. To get there, take Highway 323 (Kanchanaburi – Thong Pha Phum), turn at Km. 110 via Ban Sahakon Nikhom for 15 km. and turn right into a dirt road for another 13 km. It is also accessible by a 40-minute walk from Namtok Pha Tat, or from Namtok Huai Mae Khamin, drive pass Noen Sawan Mine and Ban Saphan Lao for a distance of 42 km. and turn left for 13 km. at the junction near the reforestation project area to the parking lot. Another 40-minute walk will lead to the waterfall. A four-wheel drive vehicle is recommended for the rainy season."
We stop here, then relise the trekking trail continues further, a fallen tree had changed the path.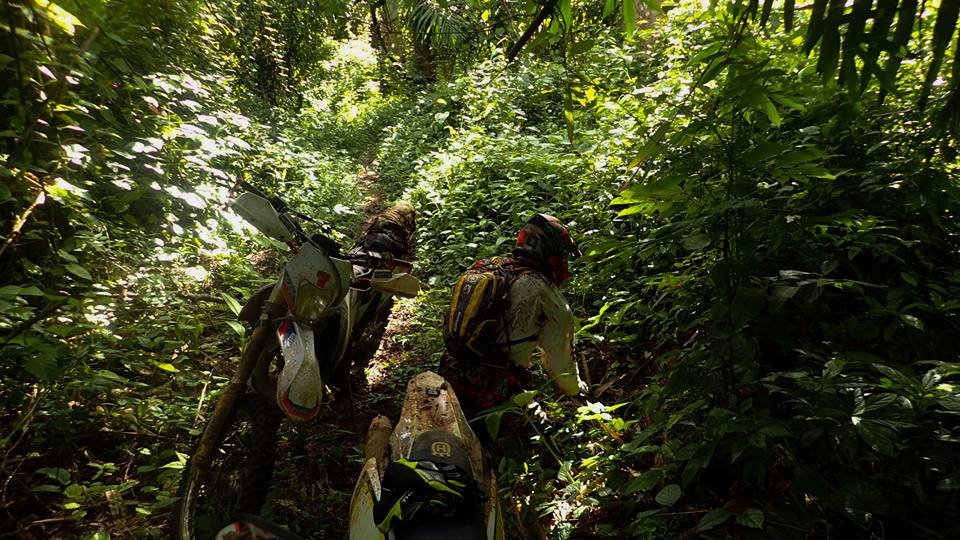 Leif started a new habit of just falling over.. No bike reqiured.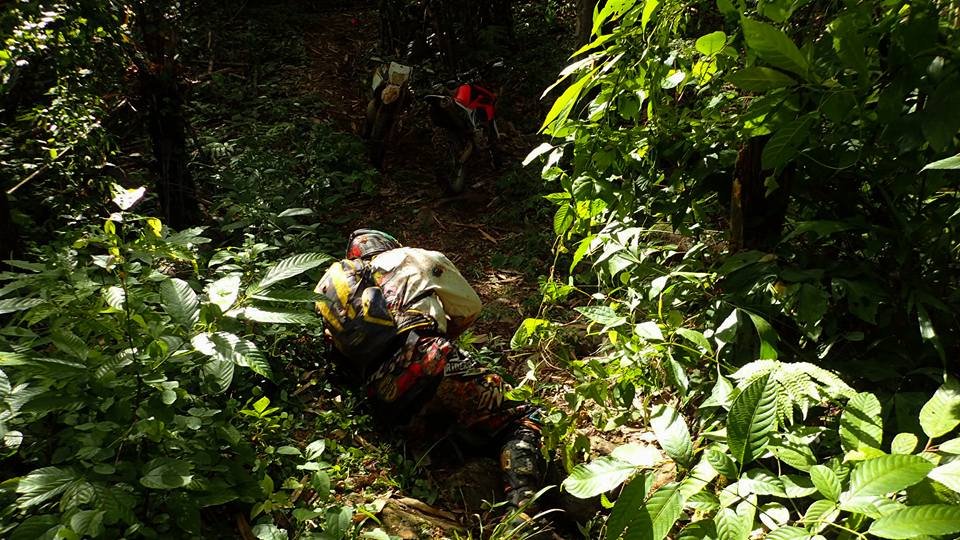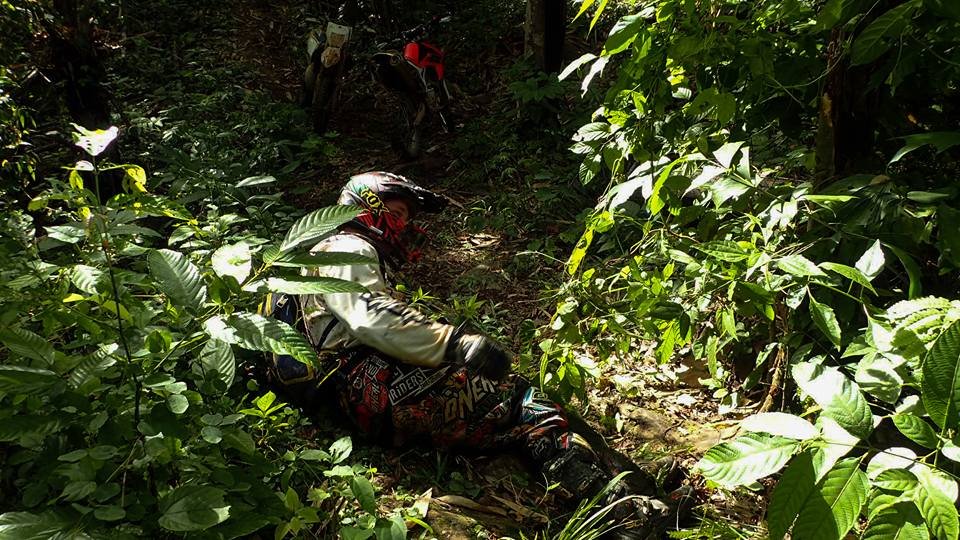 Up the trekking trail with slippery wet, moss covered rocks..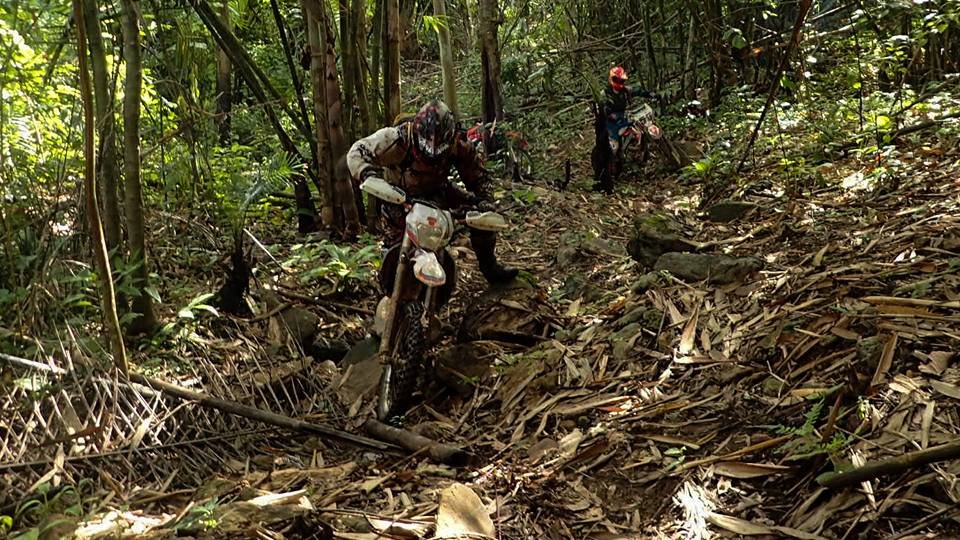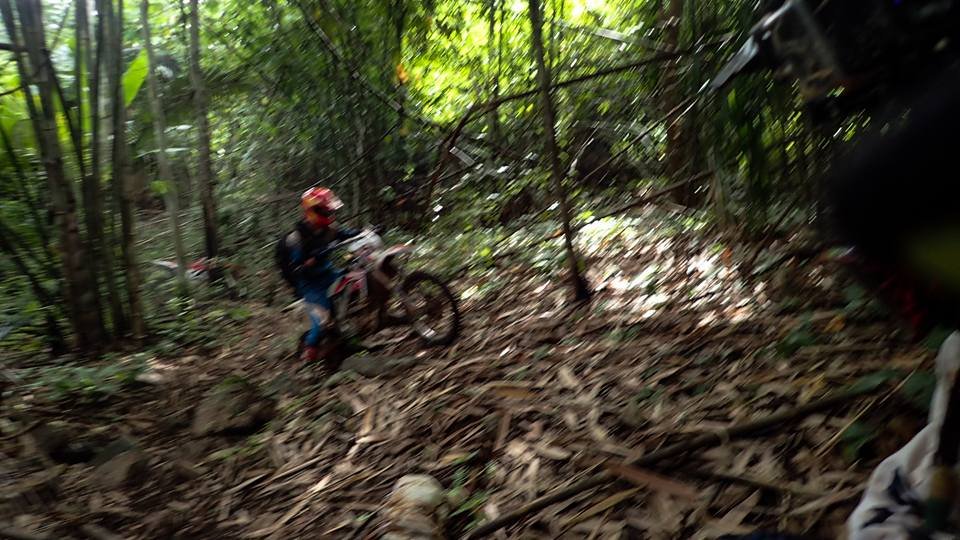 The end of the line. Just as well we stopped. BIG trees over the path and no way over 20 metres further up the track.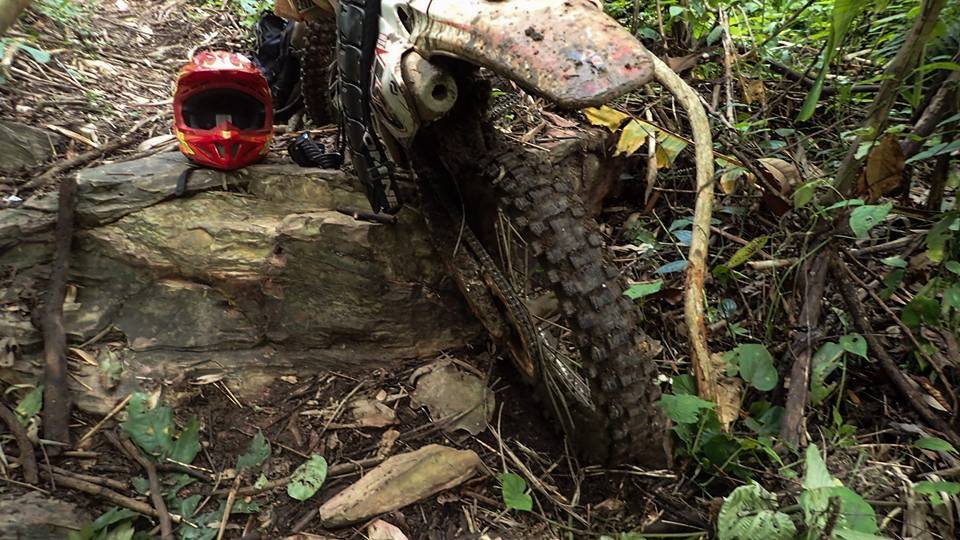 Walk another 120 to 150 metres and you reach the first stage of the waterfall.
We were pretty shattered by this stage and it was getting late..
We need to get back out and back to the resort.
So decide to stop here this time round..
We will come back to see the rest of the falls with a spare pair of shoes. Not riding boots.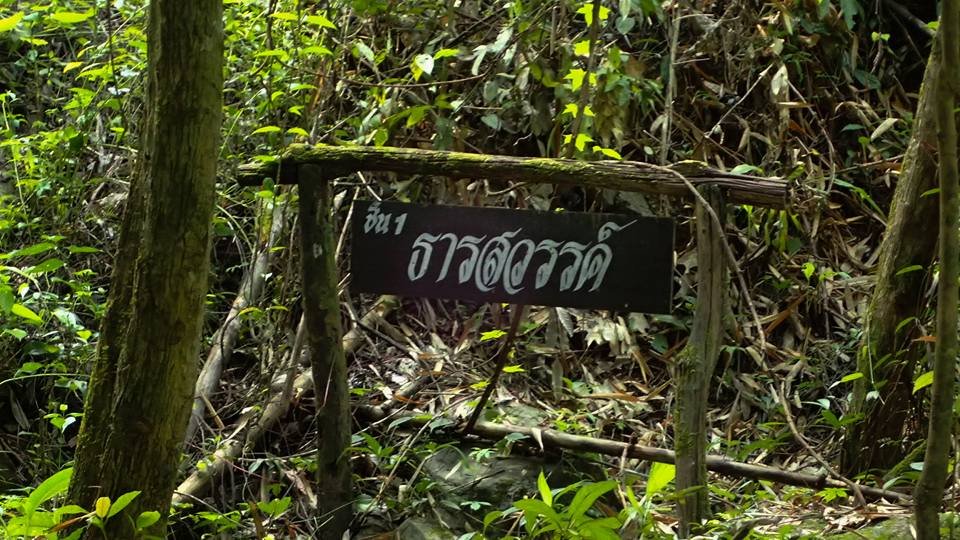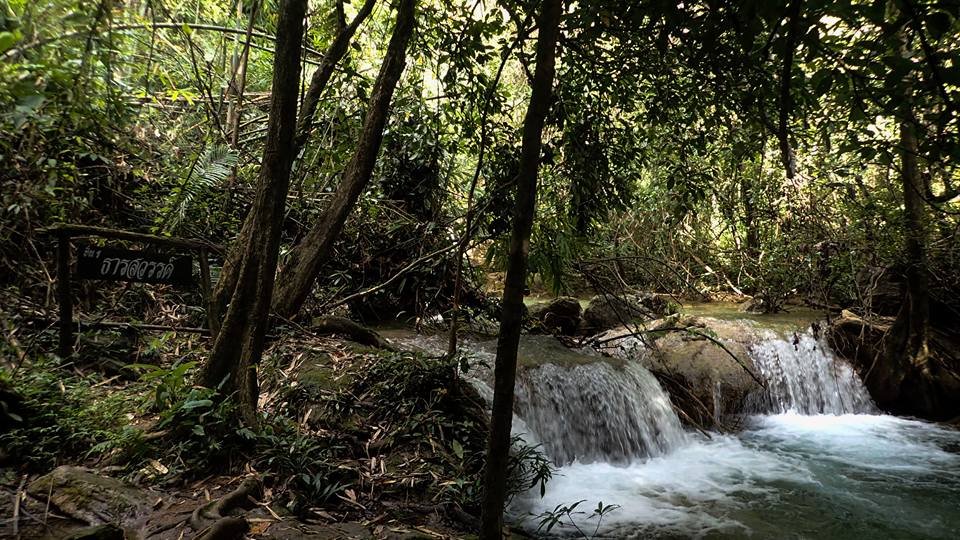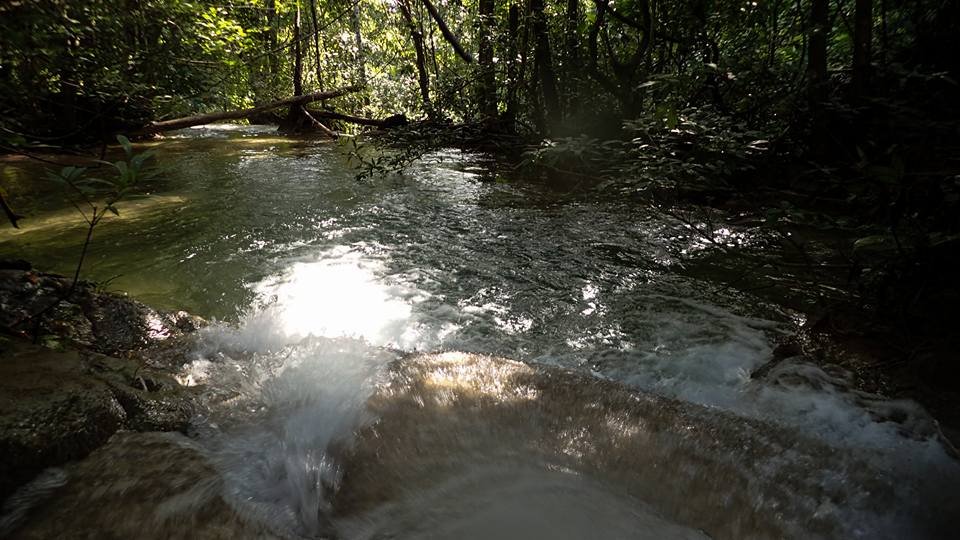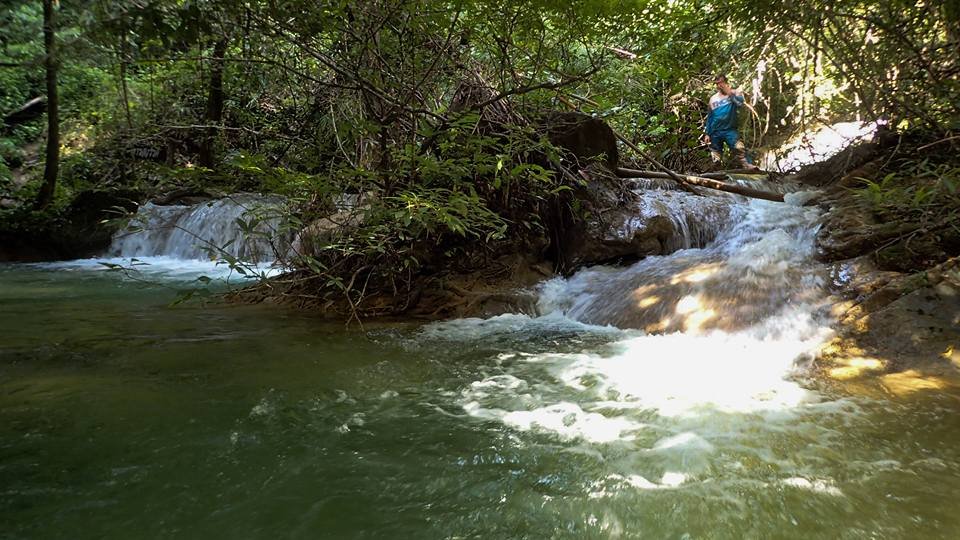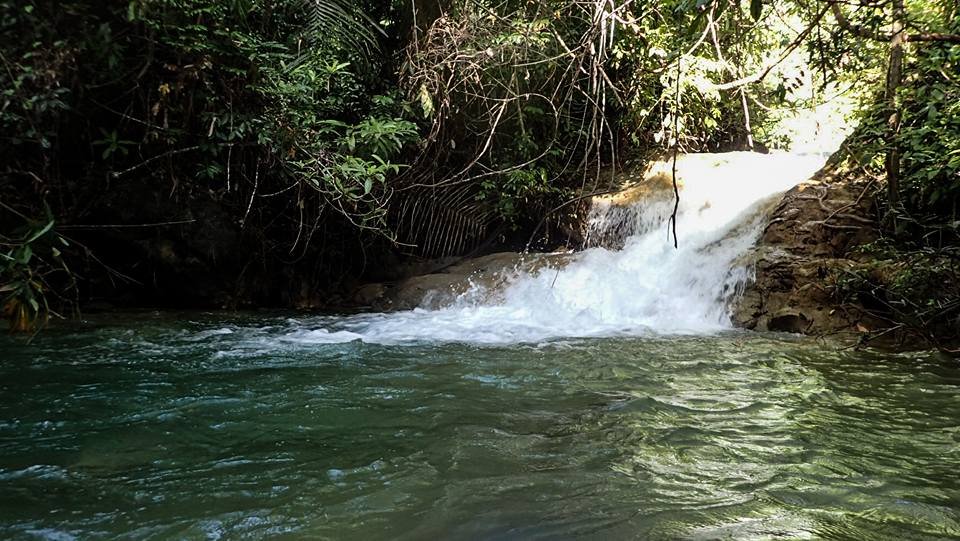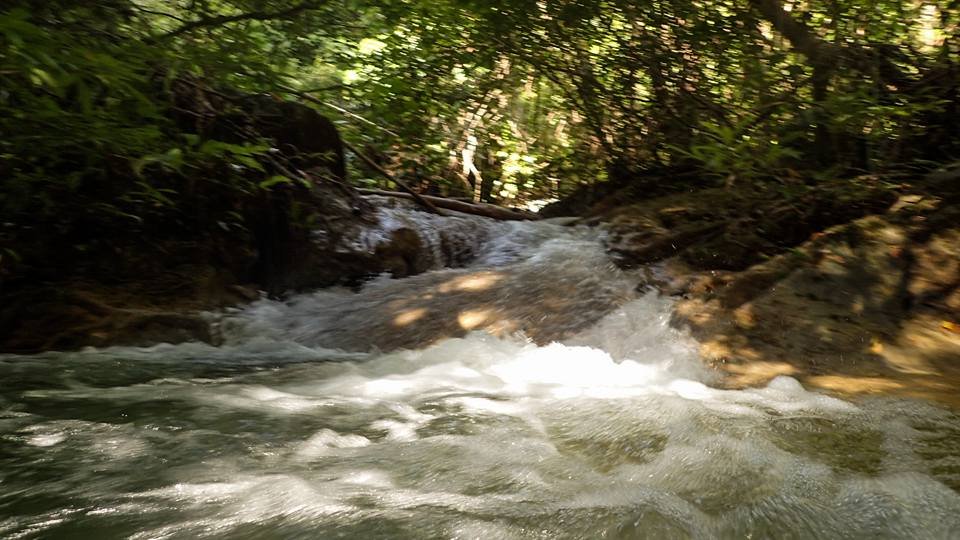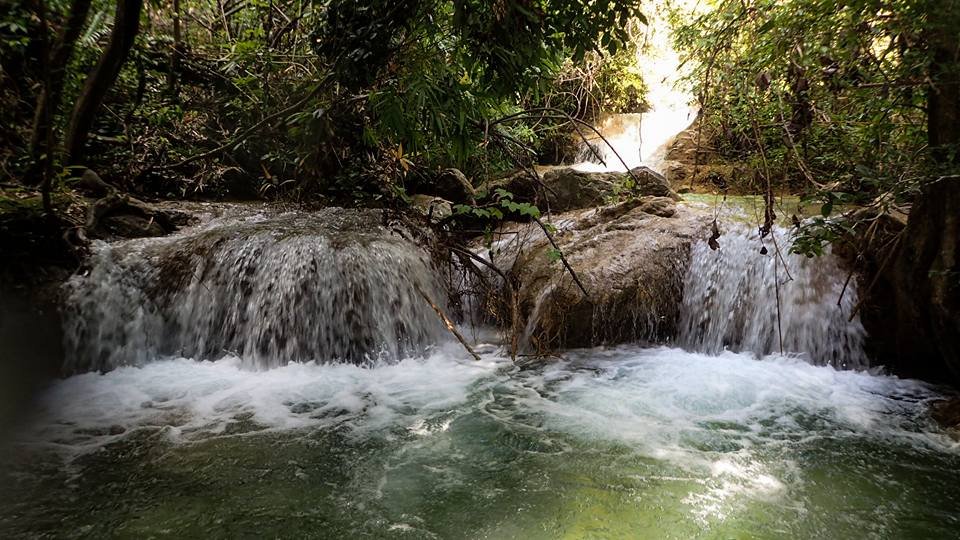 Nice and refreshing to cool off and have a swim before heading back.
Leif stayed back with the bikes to take care of the gear and rebuild some energy.
Enjoy the ride in and out:-
That night we had good Thai food and German Beer.
Yes. German beer all the way out here and the price is cheaper than Bangkok..
Thai / Burma Border – Remote Temple
We have a big day planned for today.
Up to the Border Patrol Police over looking Burma, then the trail to the remote temple in Saiyok National Park,
Our usual loop around and back to the resort. Should be a 200 KM day.
On the bikes and riding at 6am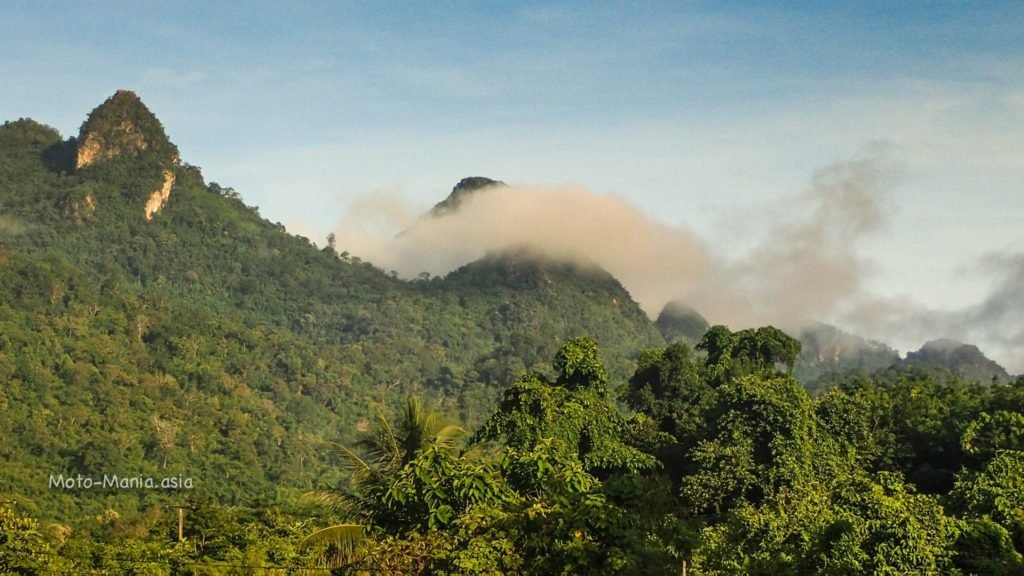 Stop here to refuel the bikes and eat breakfast.. Stopped at the 7/11 last night for sandwiches.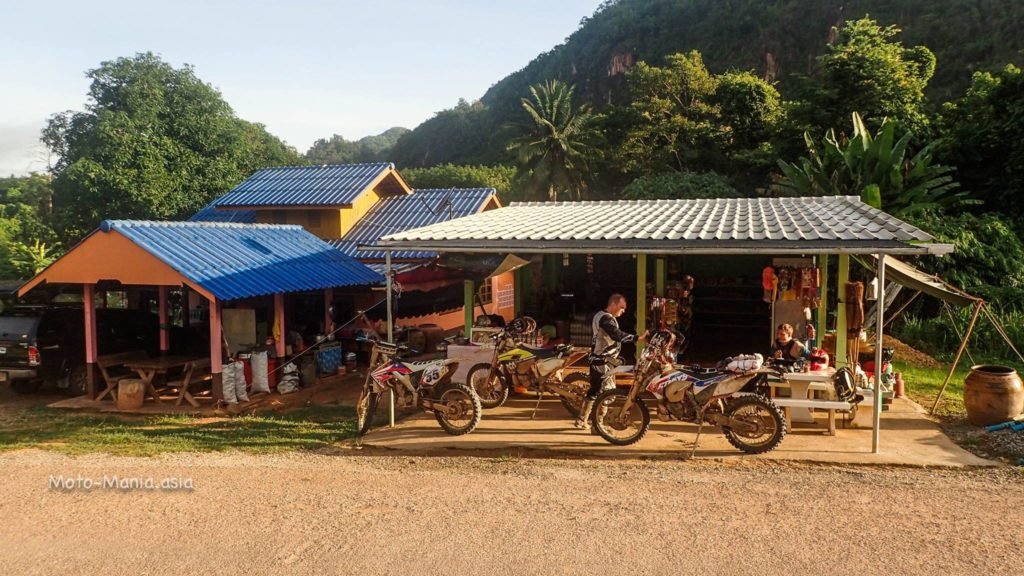 Just to prove it is early.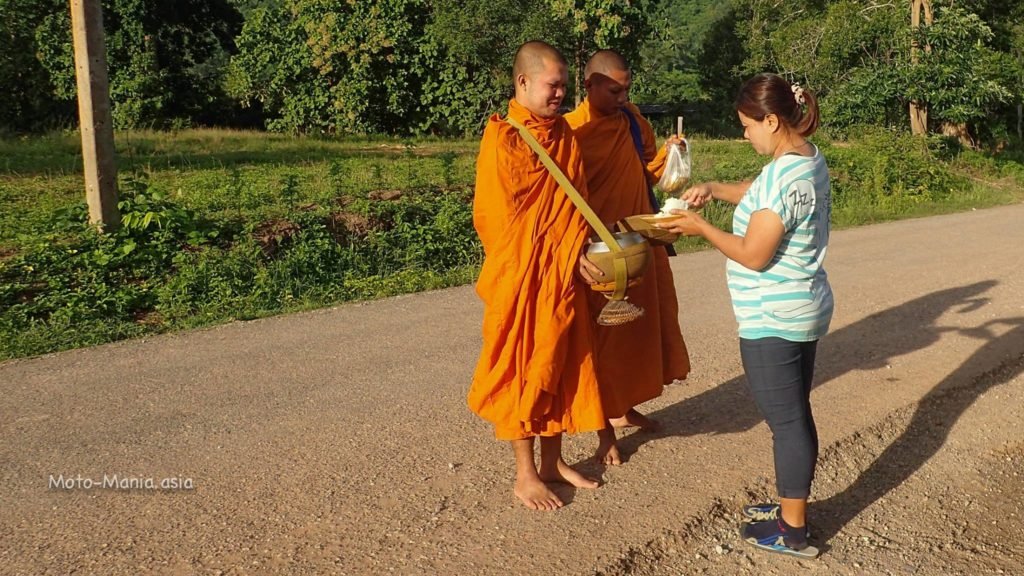 At the Border Patrol Check Point before the climb up the mountain to 1030 metres above sea level.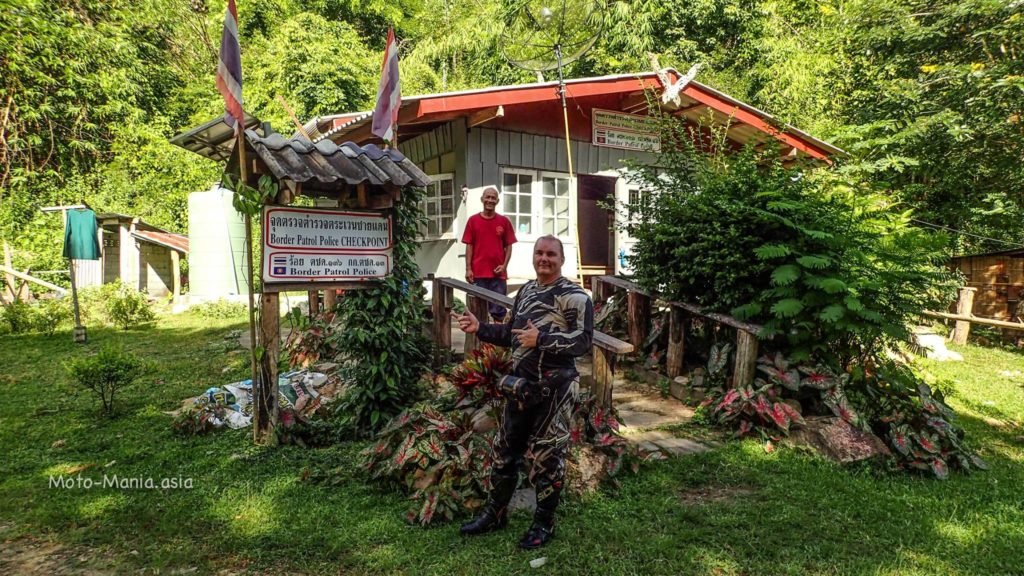 Cool off a little after the fantatic ride in.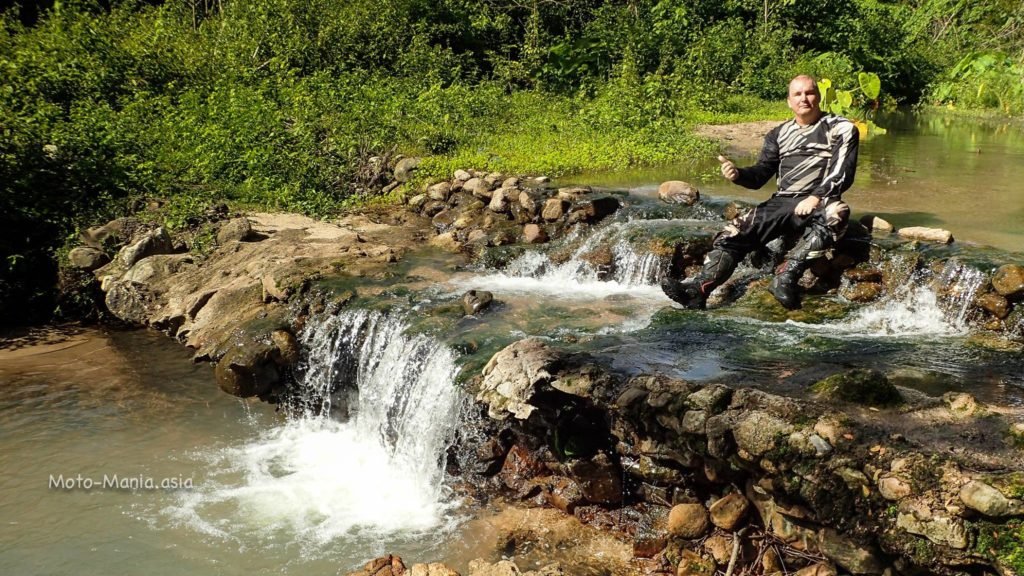 Border Patrol Police Camp.
Khao Pla Noi ( ฐานบน ตชด.เขาปลาน้อย )
GPS Co-ordinates Lat 14.20958 Lon 98.76704
Up the top and made it.. Leif a happy man.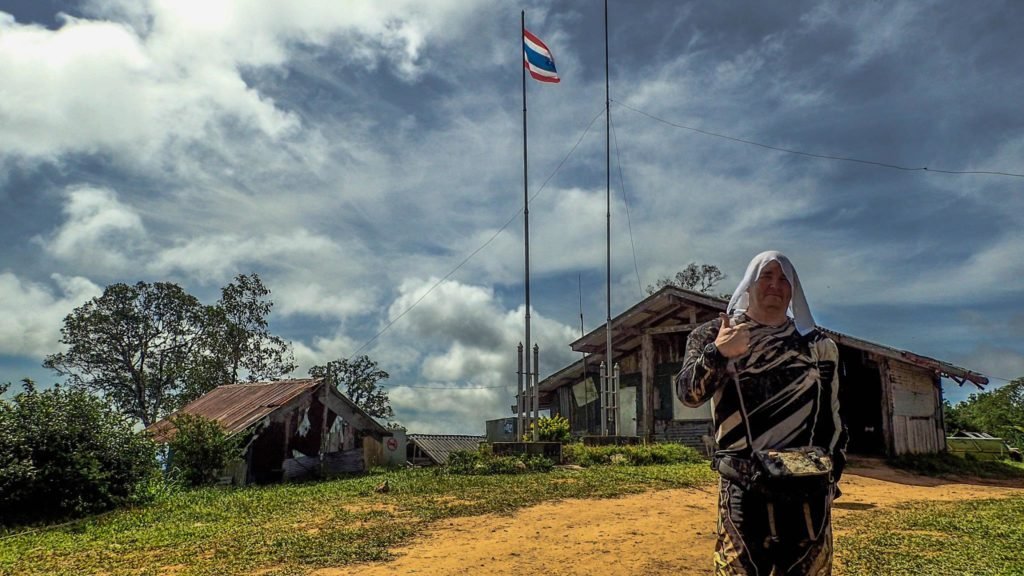 Bikes, Helipad and Burmese Army on the mountain behind.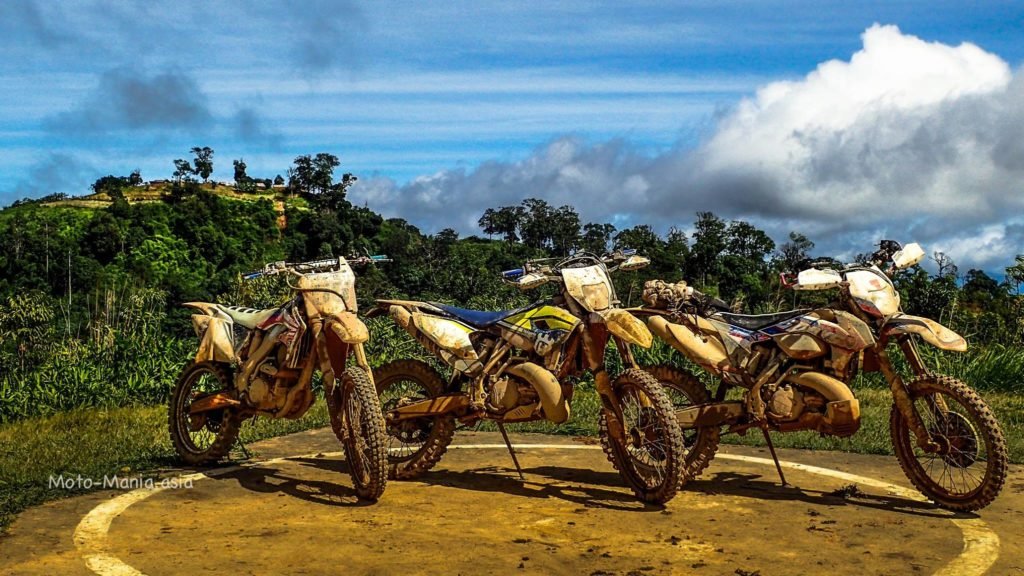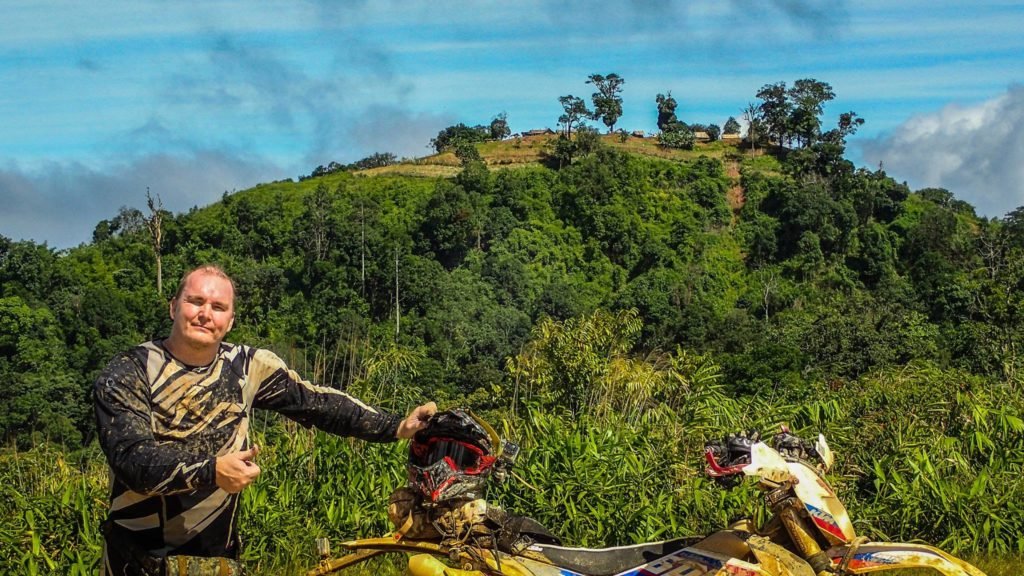 Close up of the Burmese Army camp.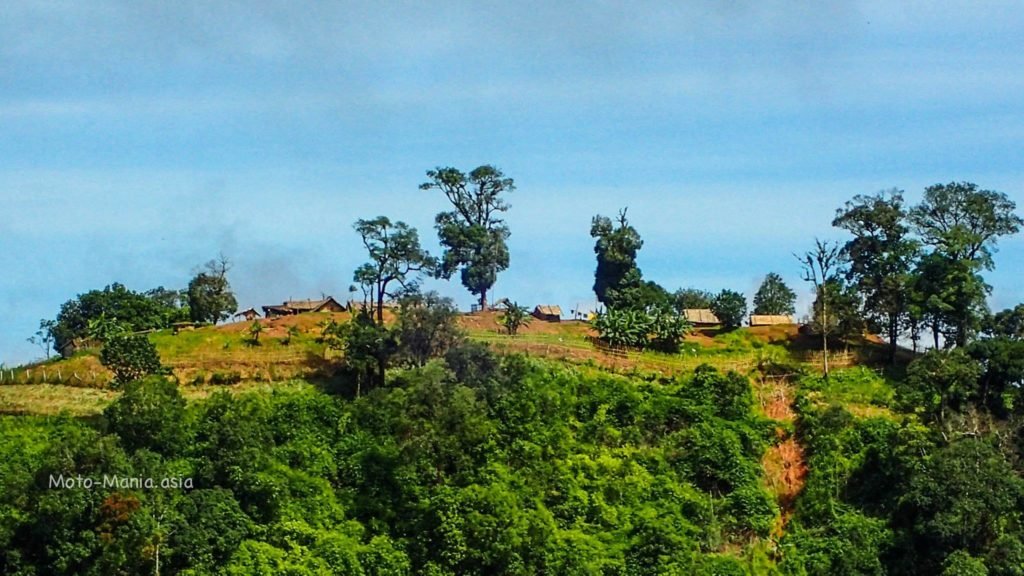 A quick snack.  Tin of tuna before hitting the road..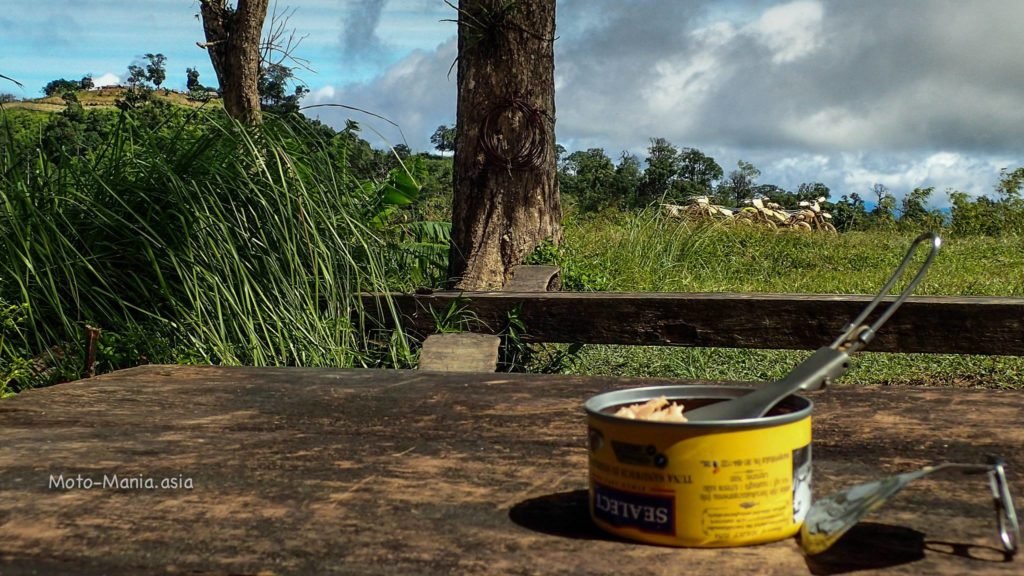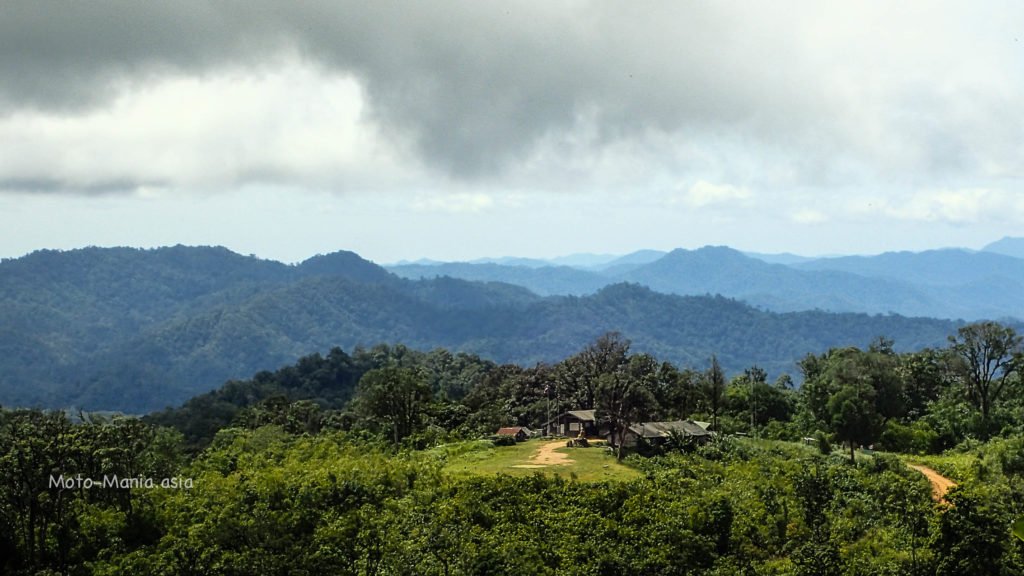 Back down the mountain
Enjoy the ride up and back down the mountain.
Next off to the remote temple in Saiyok National Park.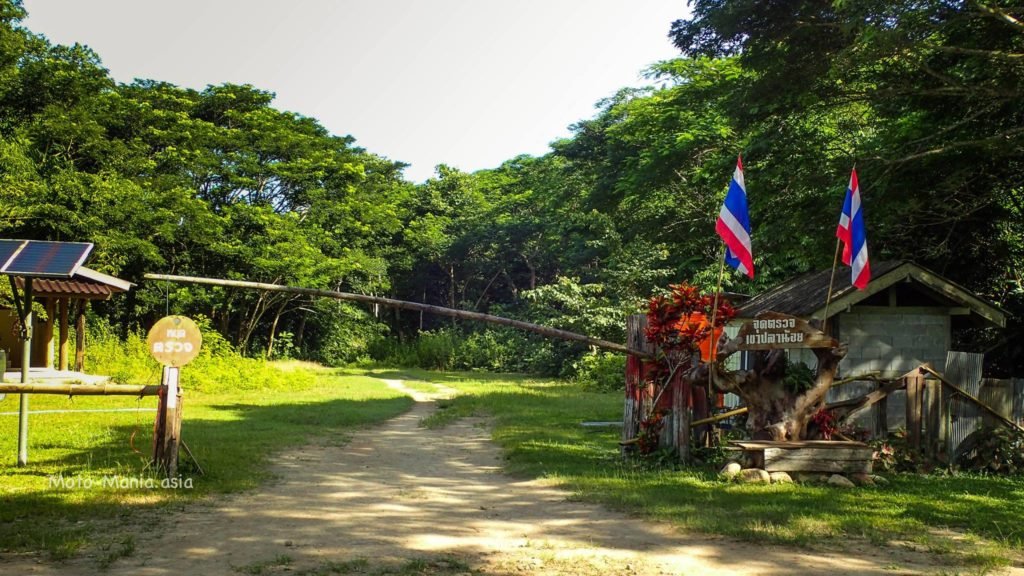 This is a very cool ride.. We also met a local at the checkpoint. The same guy we met 2 weeks earlier.
He offered to ride with us and show us more trails.. Great.. Why not indeed.
Getting stuck in a big mud bog.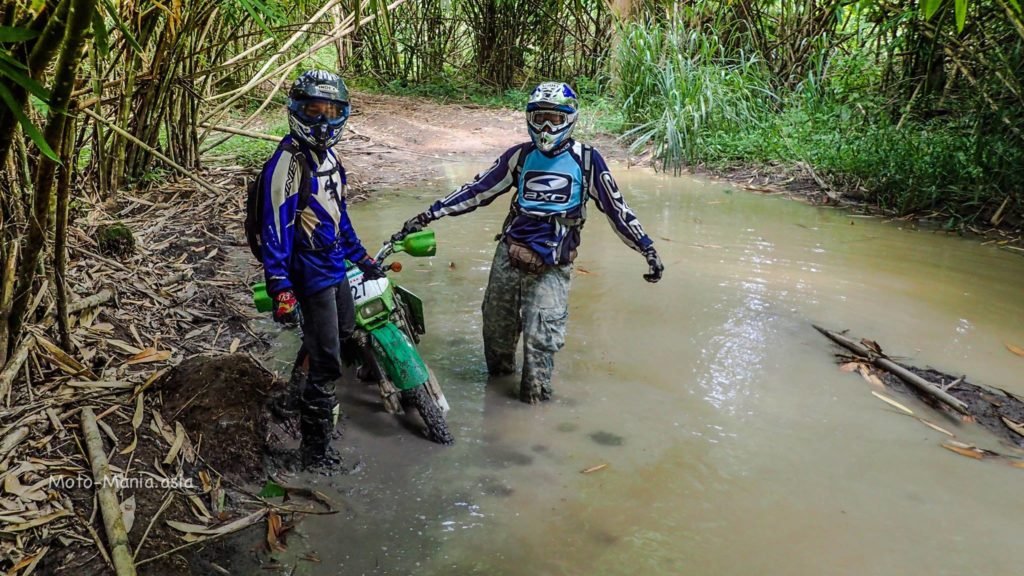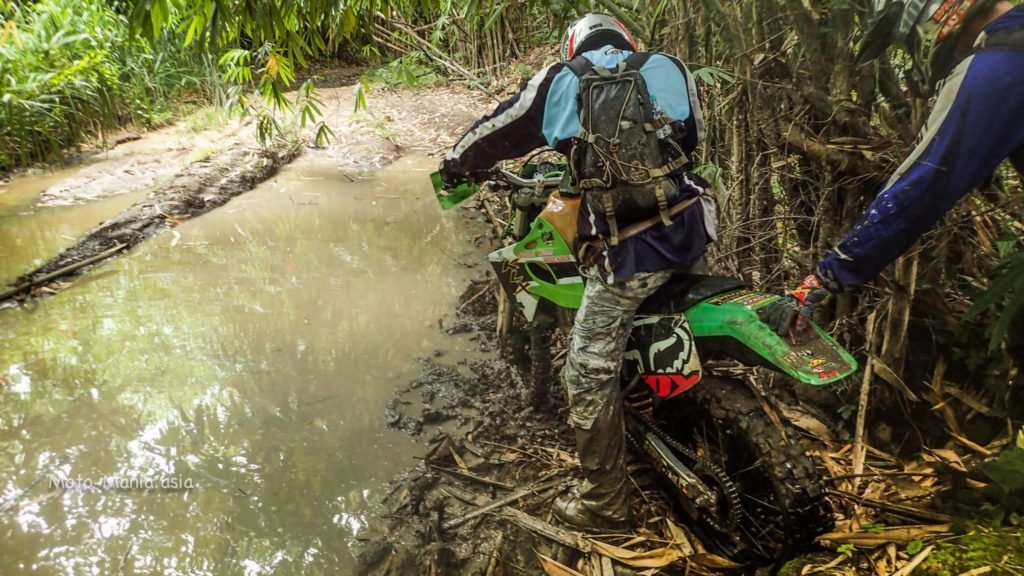 Approximately 10 KM in as far as you are allowed to go.  They don't want you disturbing the monks at the temple.
This was an amazing trail.
On the way in.. Leif had a big stinky mud tsunami spa.
To make it worse. Filip opened her up to get out.. So a mud spray followed..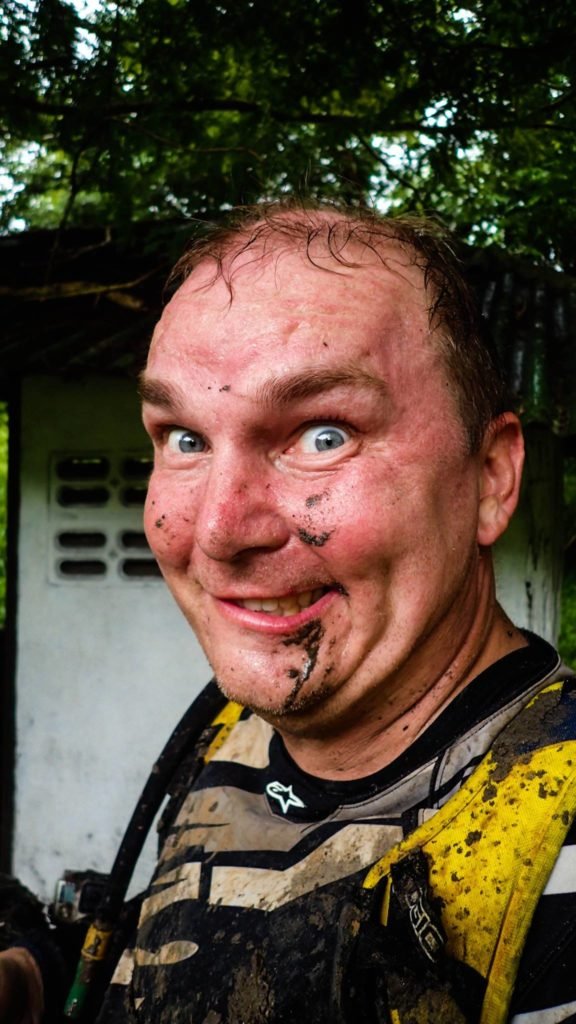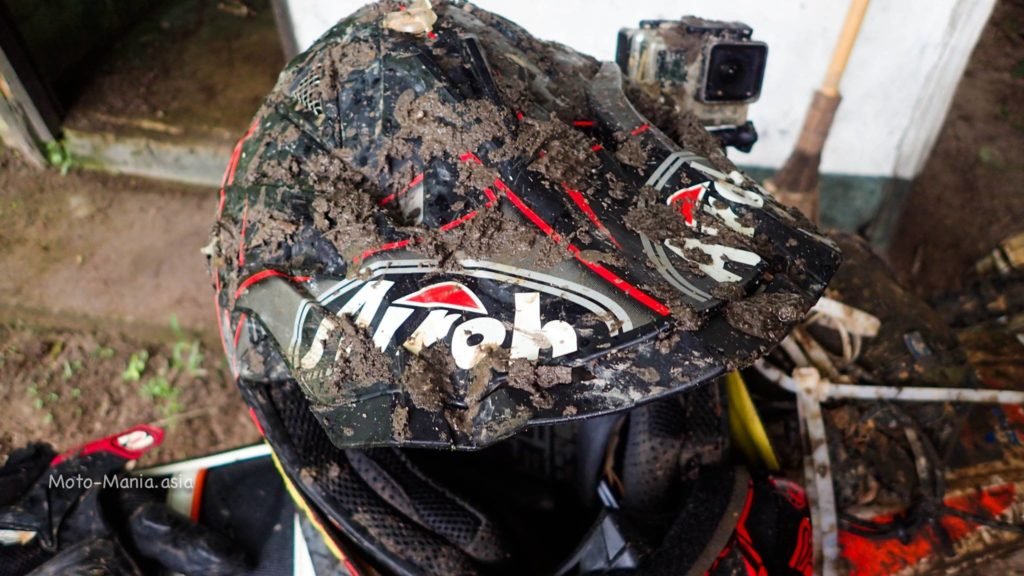 The mud from helping our new friend get out of the mud bog was so stinky and rotten.
We all washed our boots, feet and cooled off.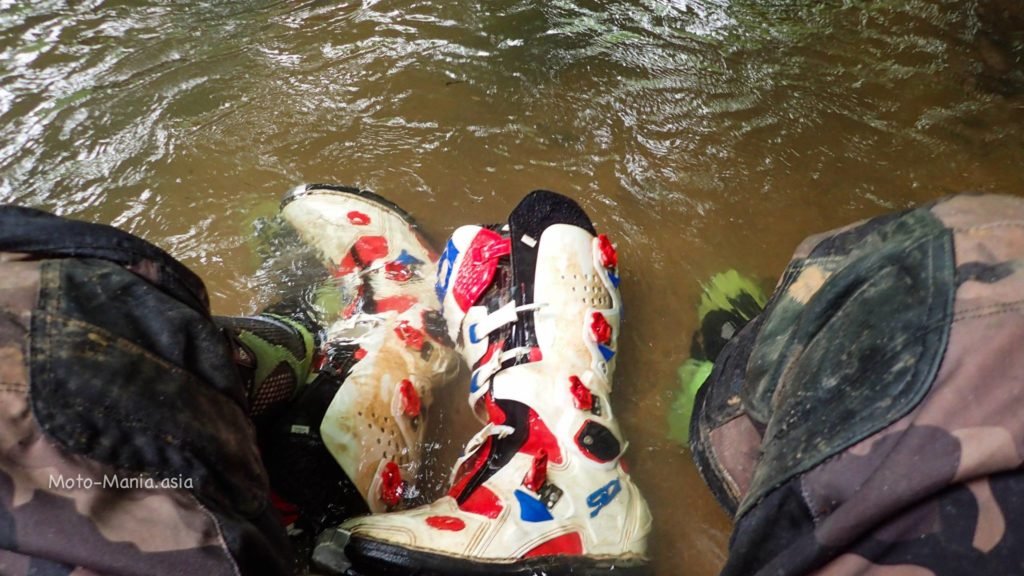 Our new friend. Great following someone that knows the track.. What a track and what a blast.
After leaving the remote temple track. Back down to where we came in with a few different trails inbetween.
The creek was a lot deeper than at 7am.. A bunch of bikes had been in after us and the poor creek was a little worse for wear.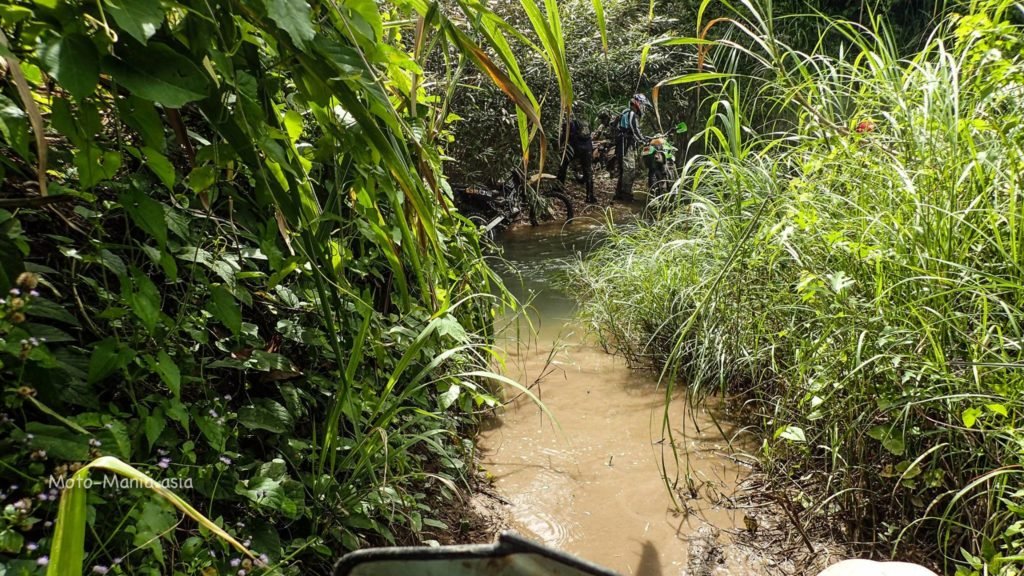 One drowned bike.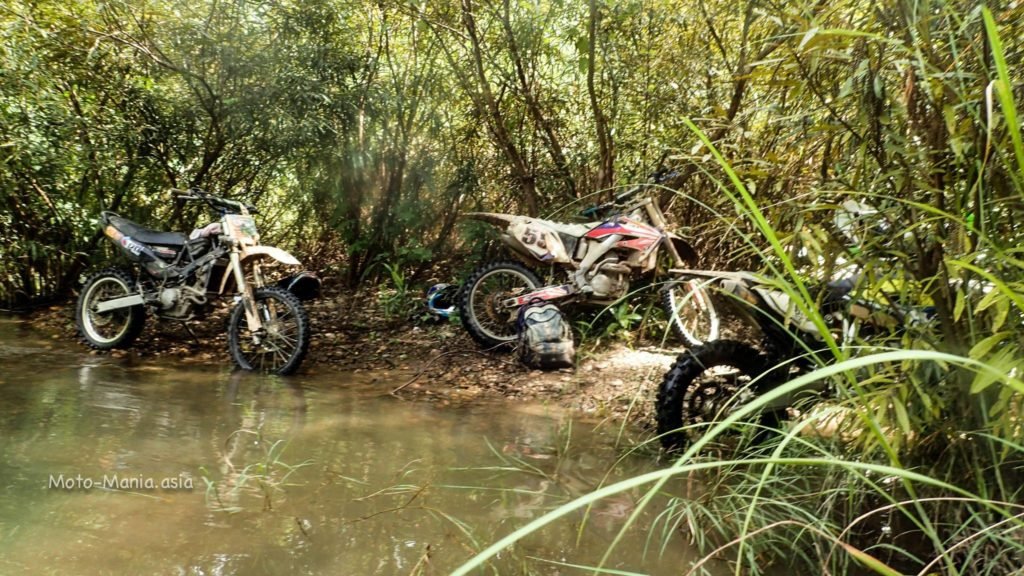 Leif poised to catch me drowning the bike.. To be sadly dissapointed.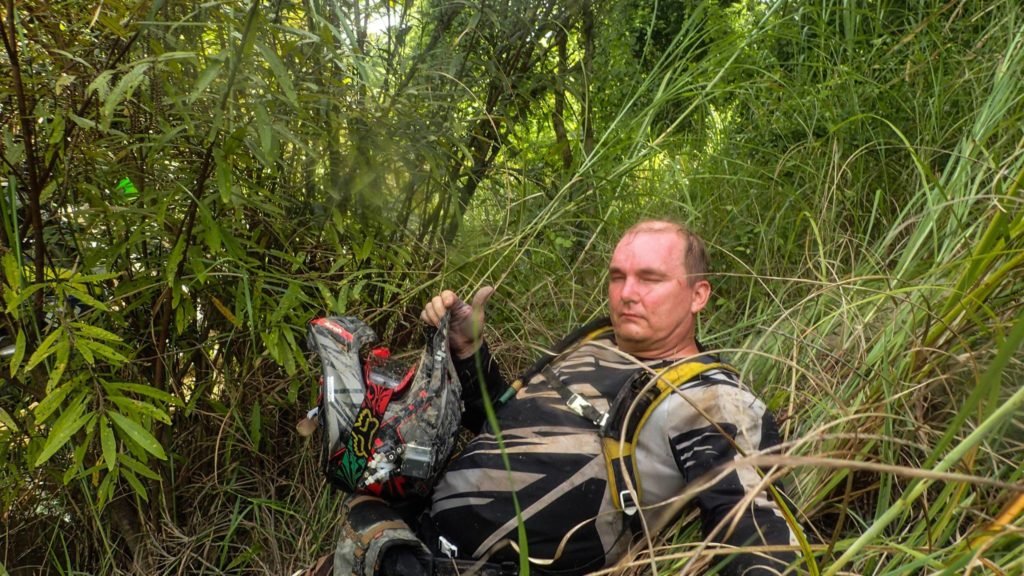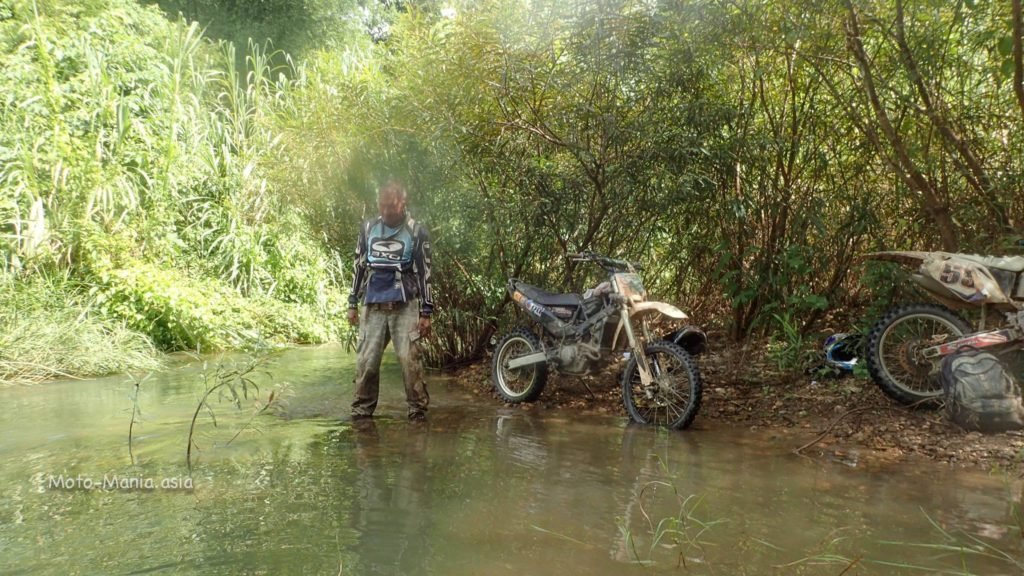 Our new friend then took us to some trails down at Sai Yok.. Bit of a hike to get there.
But glad we know of the trails and met him.. We will be back out this way.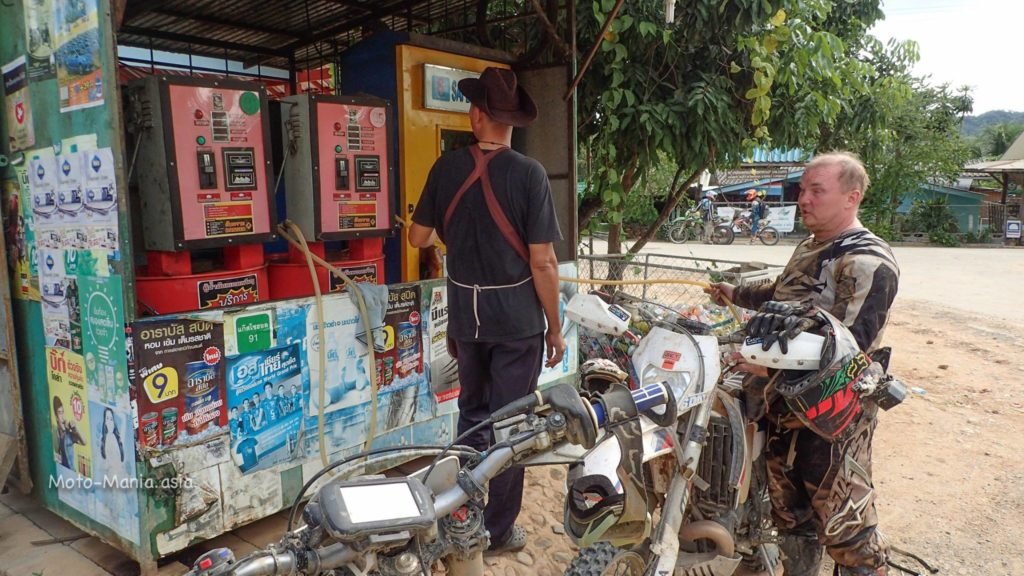 A few KM in to the ride and a flat front tyre.. I am carrying tyre irons and Leif had the front spare tube.
We decide to push on and complete 20km of the Enduro course and come back another day to do the 60 km trail.
By the time we get out.. It will be late. Hit the 323 and sit on the road back to the resort..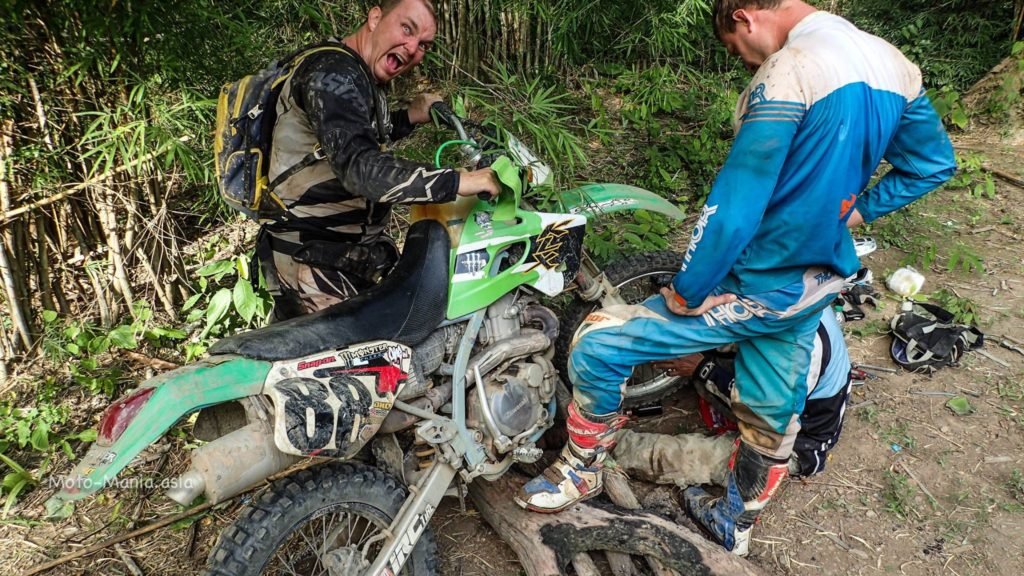 First Leif killed his rear brake and nearly went over the handlebars after hitting a tree stump.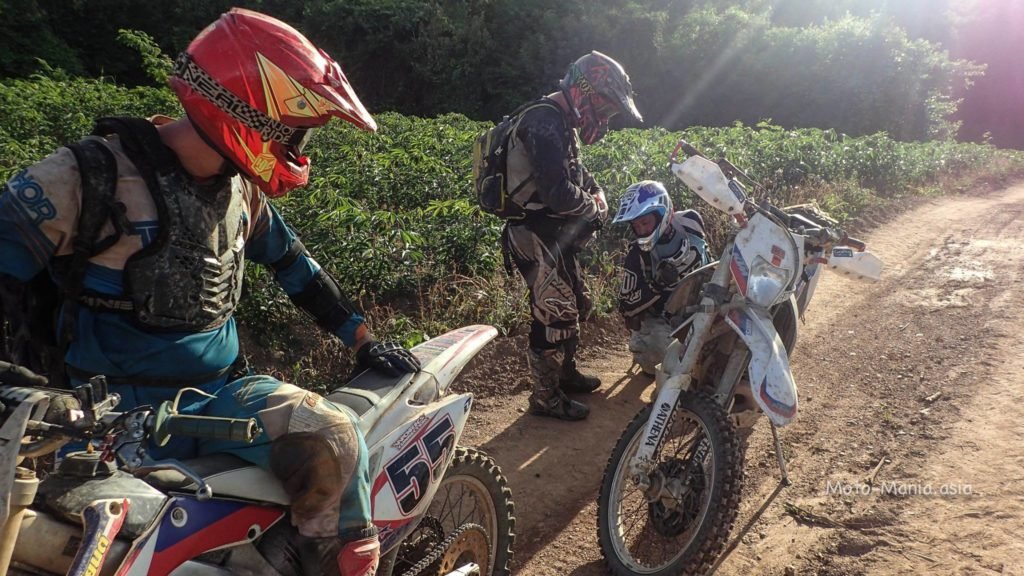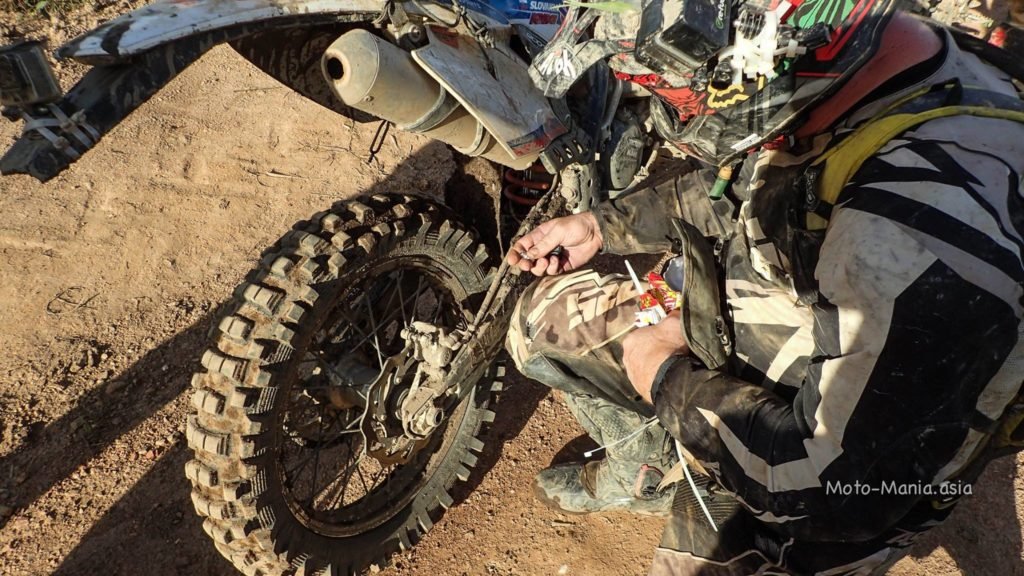 Kanchanaburi Weekend Highlights
Great place to ride and not too far from Bangkok..
Cheers
Brian