Starring :- Benny Hill, Big Jim, Brian Moto-Mania
This really is a continuation of our first bunch of rides from Chong Mek down past Srindrahorn Dam.
Part 1 of the ride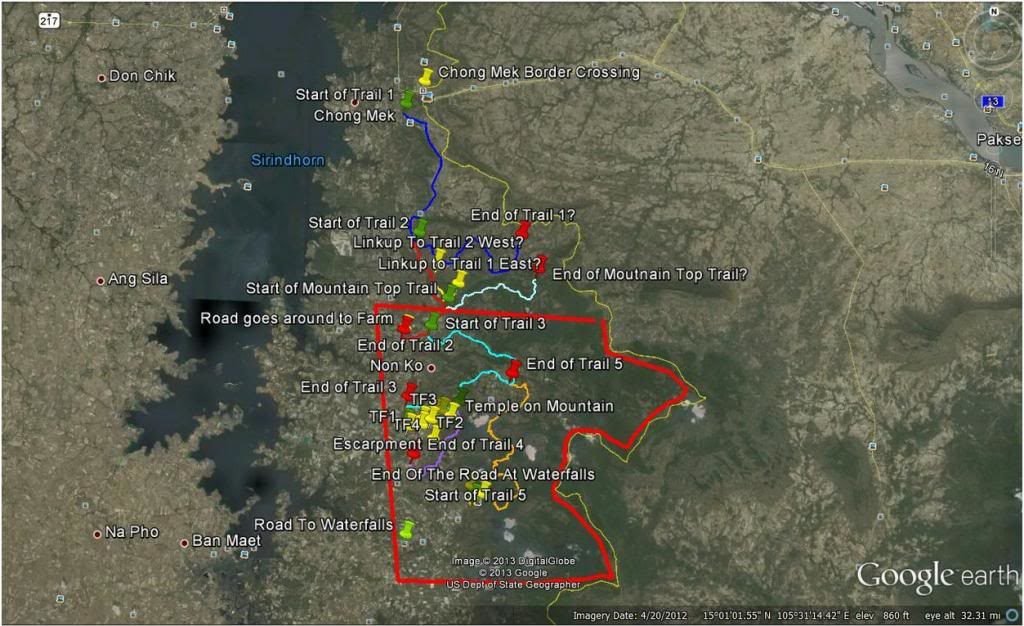 Usual routine, leave work James meets me at the airport with bikes loaded up and off to Chong Mek we go…
But first we stop for a pizza.. Just about he leave and the heavens open up..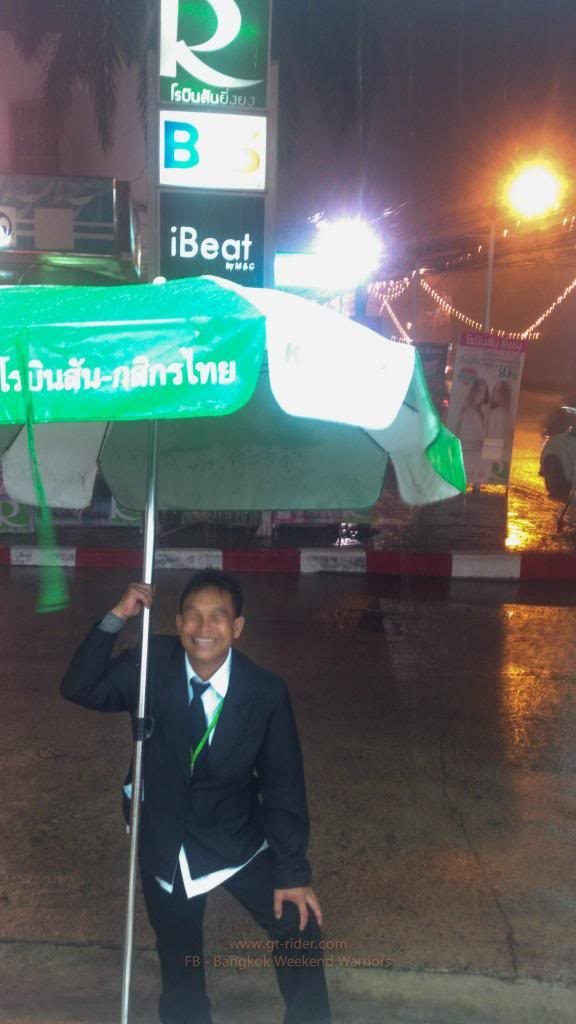 We hope this is not a sign for the next 4 days.. (Queens B'day long weekend plus I took one extra day leave)
The rain stopped 10 mins out of Ubon.
There is a new Hi So bar just down the road from the 5 star short time hotel in Chong Mek.
We had a good laugh..
The girl jumps on her bike to buy something back for the bar / restaurant.. Walks back.. James asks.. Where is your bike?
She forgot it, runs back and gets the bike… TIT.
Next morning up early and drive off with bikes in the back.. Aim is to find a place we can leave the pickup and put the hammocks in relative safety..
This looked good.. But no one around to keep an eye on the gear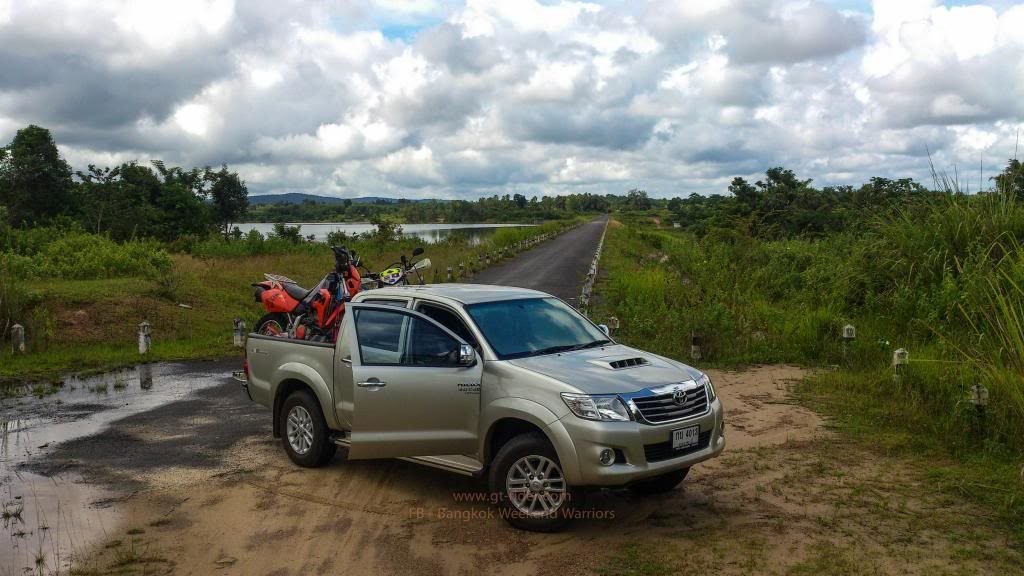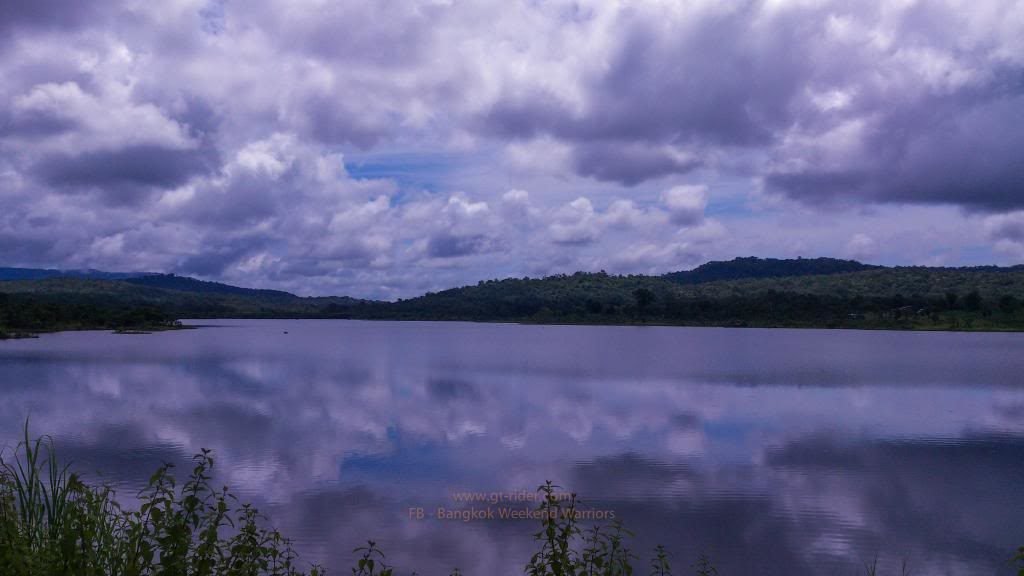 We see a temple flag across the reservoir. Decide we may head back there if we can't find anything else.
Time for a drive out to the Lao border market
Chan Ta Oo

The border staff were very friendly.. But can't camp here.. Wild Elephants romping around apparently.
We asked about a gov't looking building further back down the road..
He said yes, and gave his friends name..
Just about to pull away and another official pulls up.. Looks grumpy and trouble.
We head off and find the place.. While there the grumpy official pulls in and says.. No can't stay here.
After the staff there said yes..  No drama.. Lets head back to the temple.
Right near the temple we see this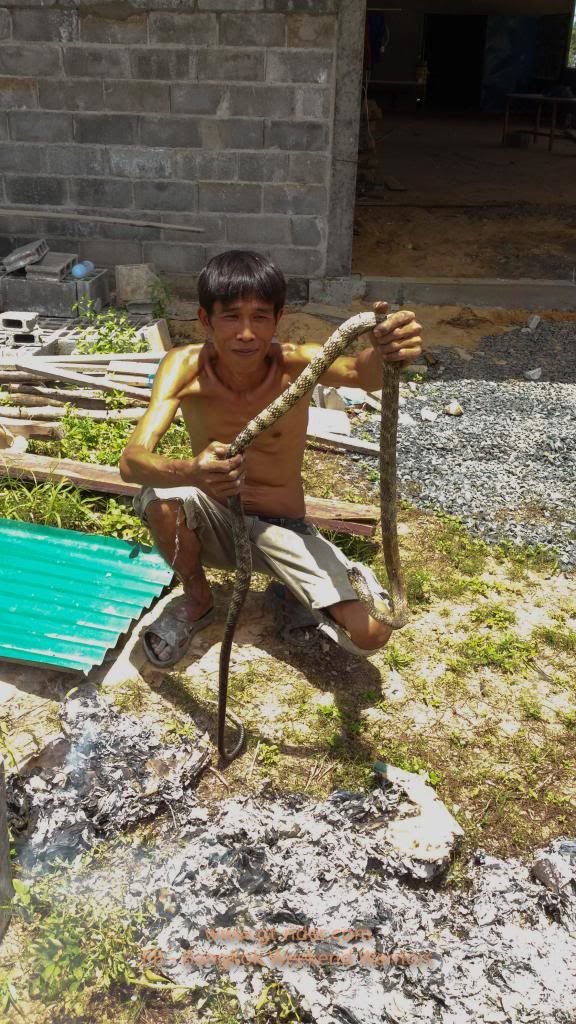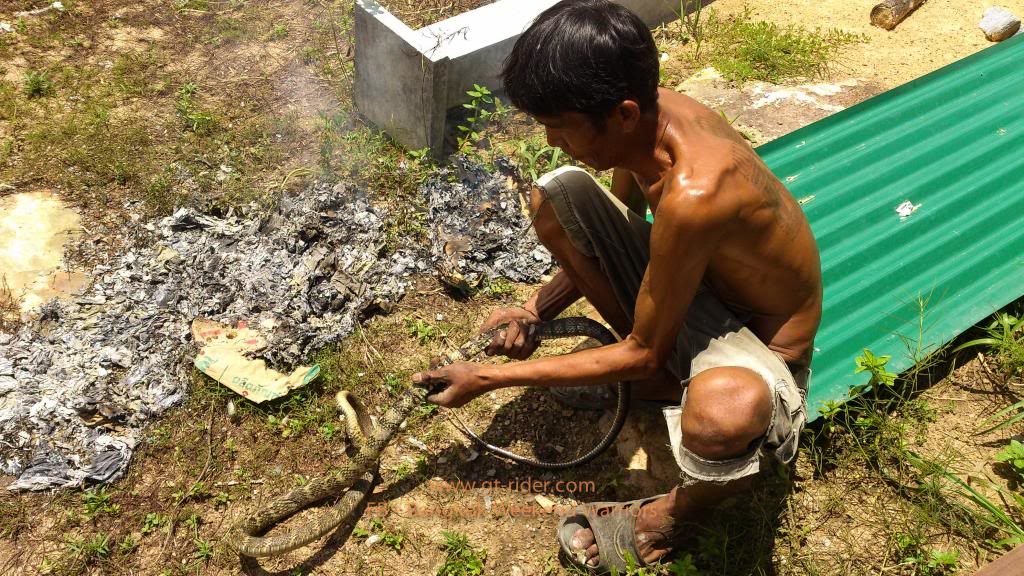 What is the first thing you do when you see someone preparing a freshly killed snake?
"Can we sleep here?"
"Yes, no problem"
We could see a basic looking house / temple where the monks slept next doors.
Our living area for the next two nights.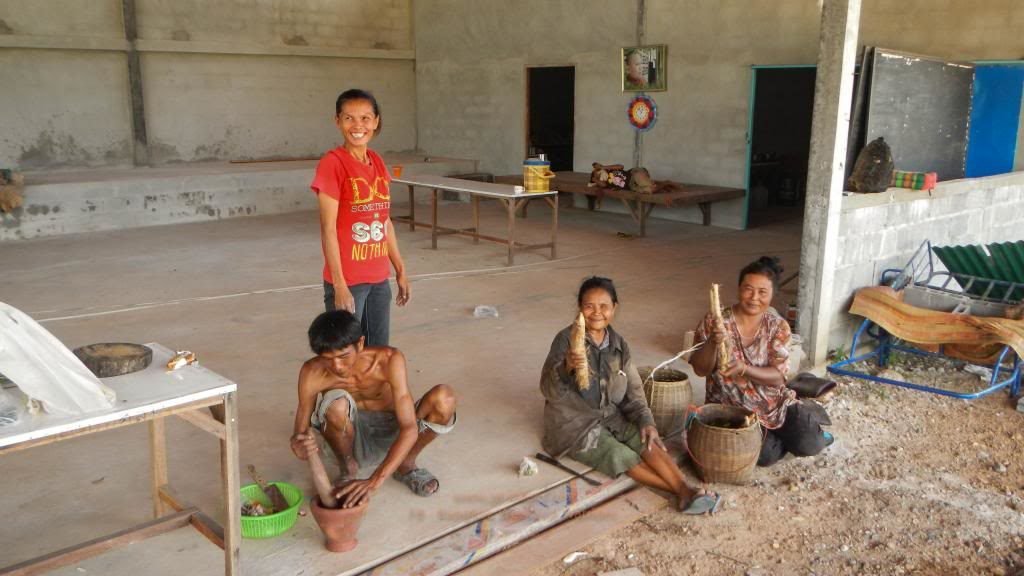 The locals were really friendly and very happy to have us stay there.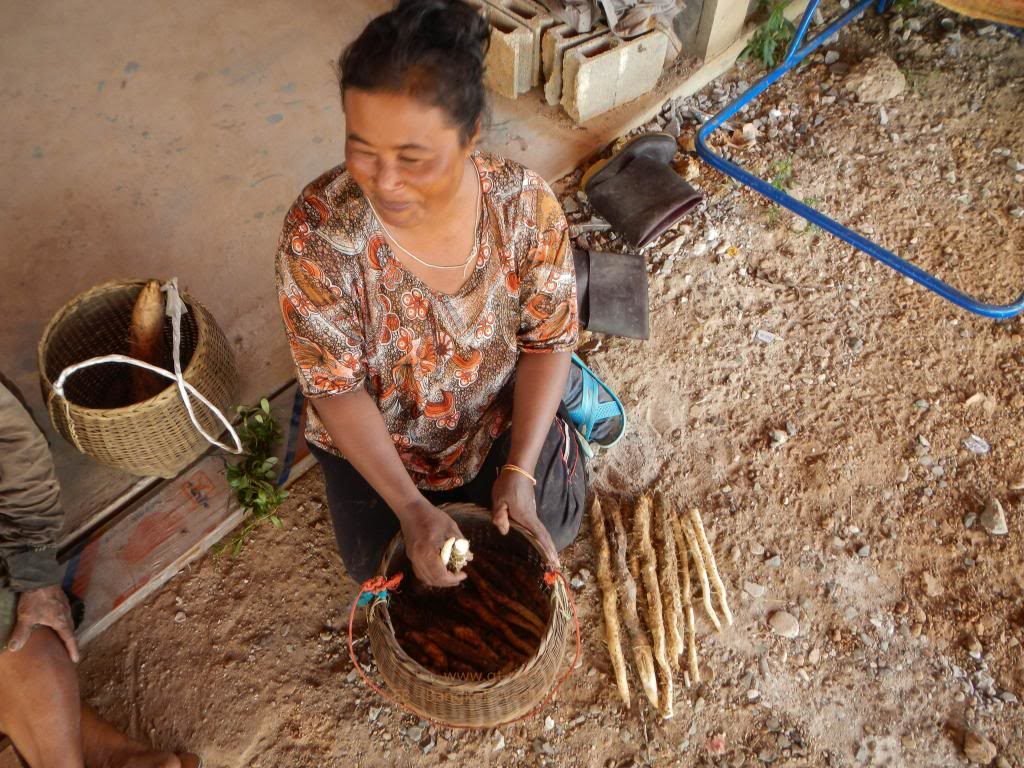 Time for some exploring around the area.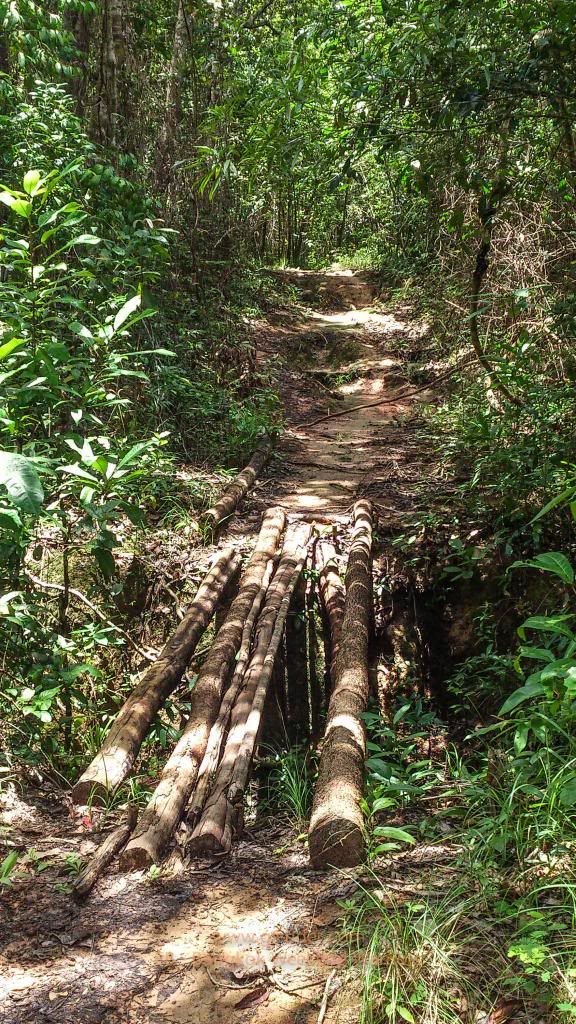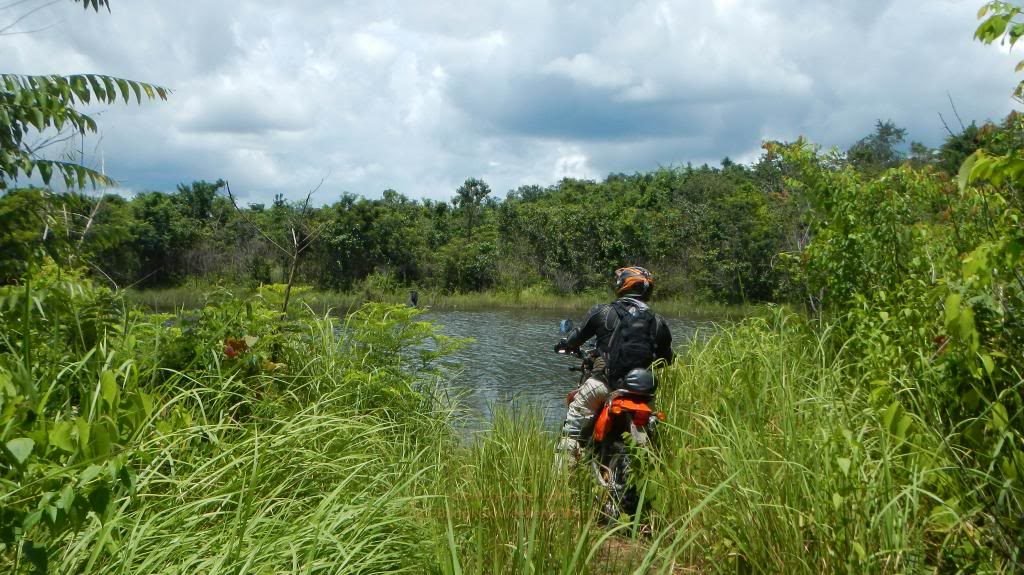 Some nice trails.. Very sandy but good on the other side of the reservoir.. fast and remote.. really have some fun zipping around.
Back to set up camp.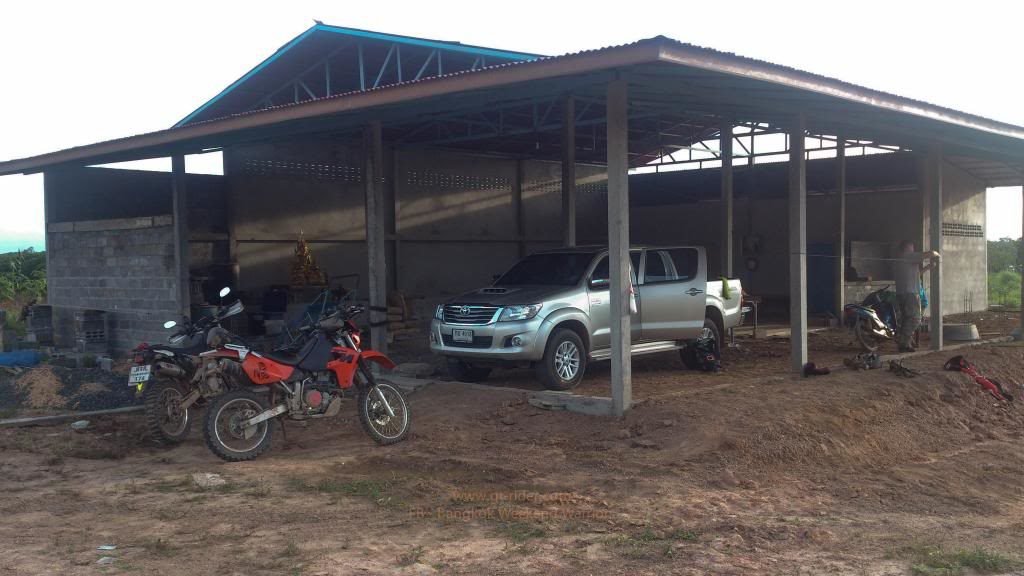 Toilet and bucket shower.. don't confuse the order..

All setup.. Flash lights at the ready.. sun setting.. Time for a walk down to the Monks and near the lake.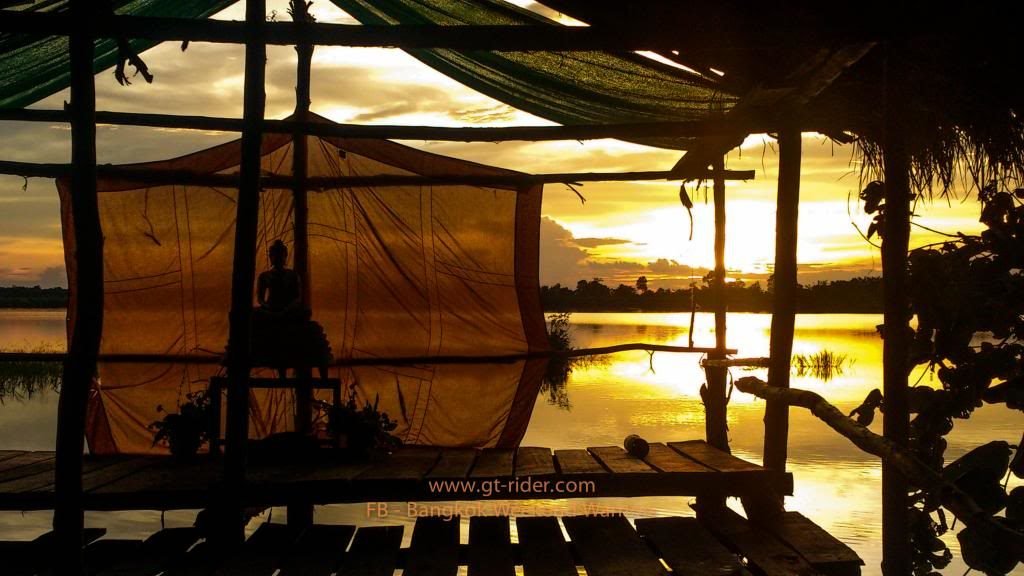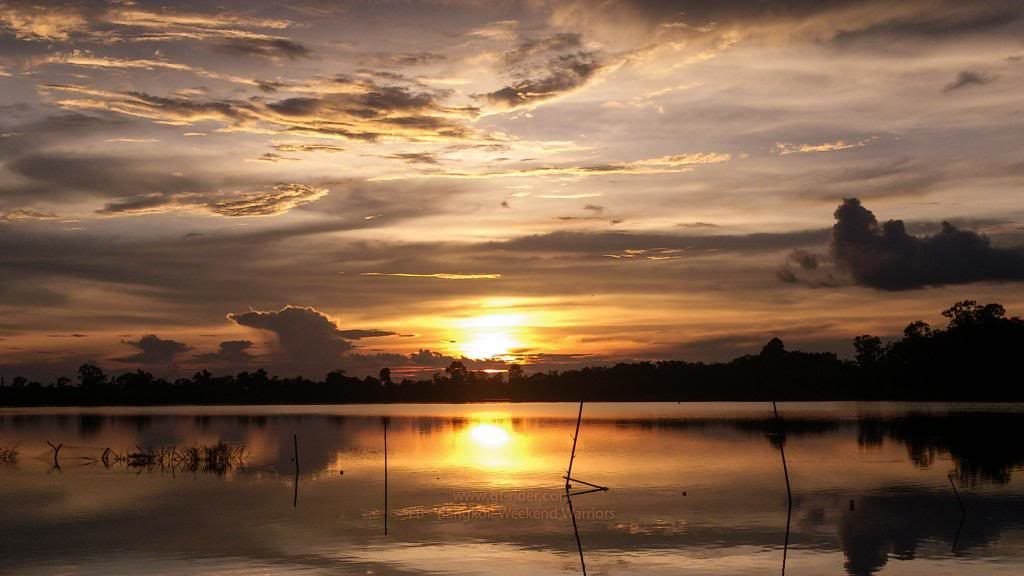 Some truly fantastic sunsets two nights in a row.. Yes, more to come.. stunning.
Before our good friend the snake killer left.. He showed me a kitchen with gas cooker etc.
We were happy.. Kindly left the padlock off for us.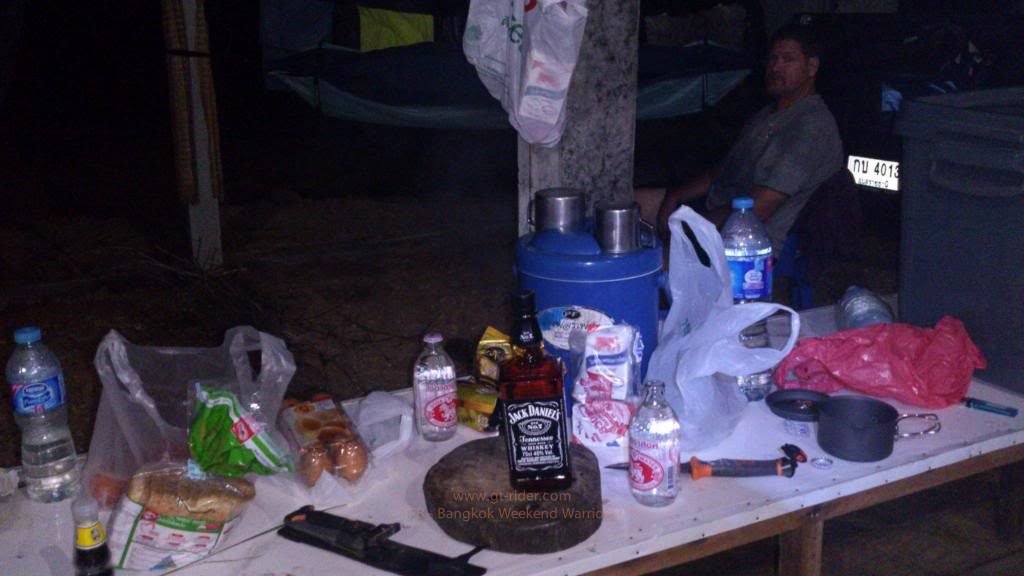 I played Jamie Oliver this night..
Spaghetti with some fresh produce from the market in Chong Mek.. Plus all the supplies James had bought along.
Just as we were tucking in. The lights came on.. Seems like we are hooked up to solar power with the Monks across the paddock.
Later that night before lights out.. One of the Monks came over and handed us two big candles.. Again very kind of them
Camping in the building under construction, let us use the gas, plates etc.. and give us two candles.
One good thing about camping.. You go to bed early.. But try telling the dogs that..
Howling all night long and one storm passed over with big claps of thunder.. But all dry… so far….
After a not so good nights sleep.. Dogs howling and Roosters crowing at first light right under our hammocks.
Get up and make brekkie…
Time to try out my camping cook set.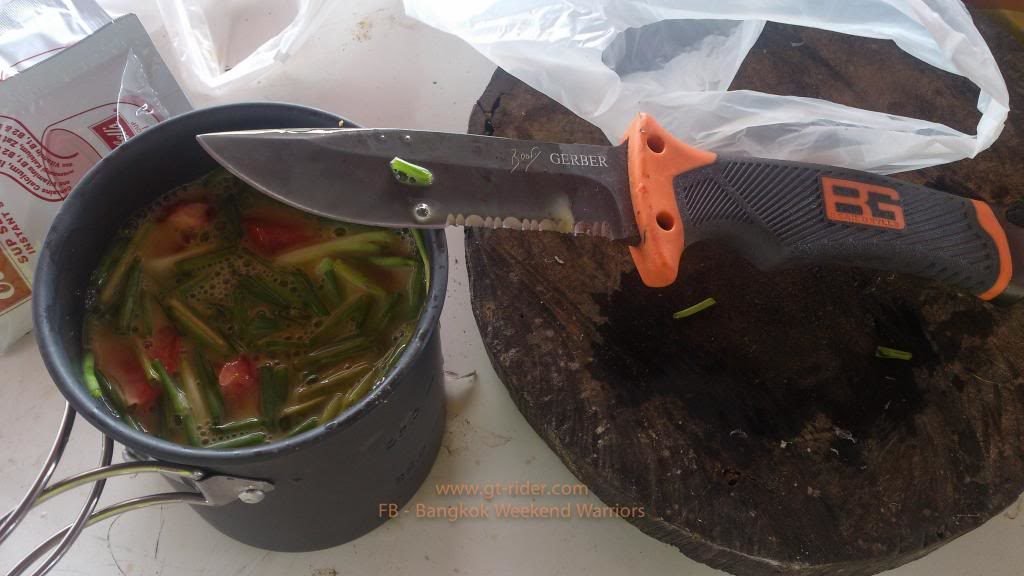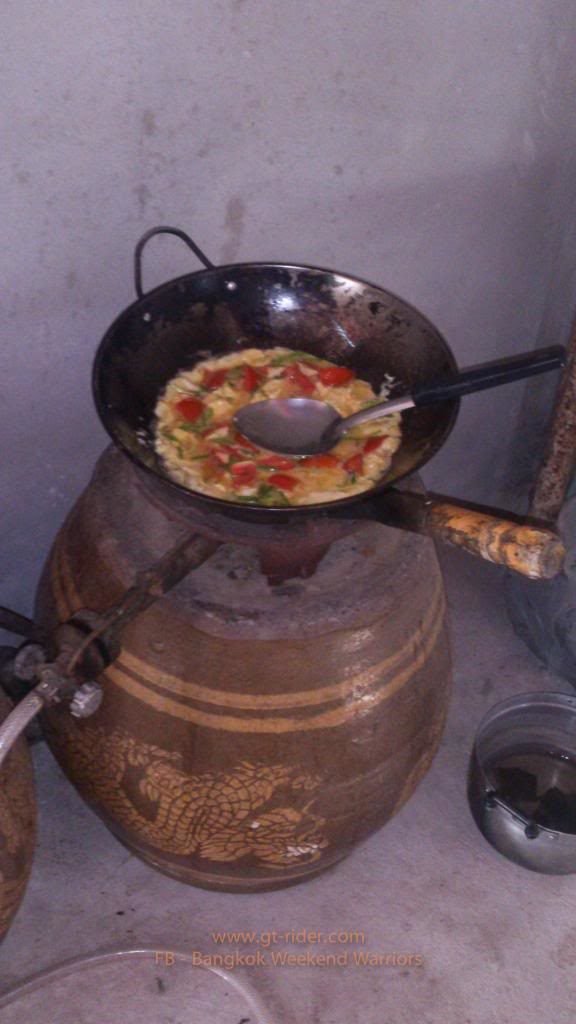 Not bad even if I say so myself 🙂
James with the OSM Map loaded on his GPS and me with the ESRI we head off.
Turning down different roads and heading towards any mountains / hills as that is where it is more interesting.
We followed a road that didn't look that interesting and turned in to a absolute ripper..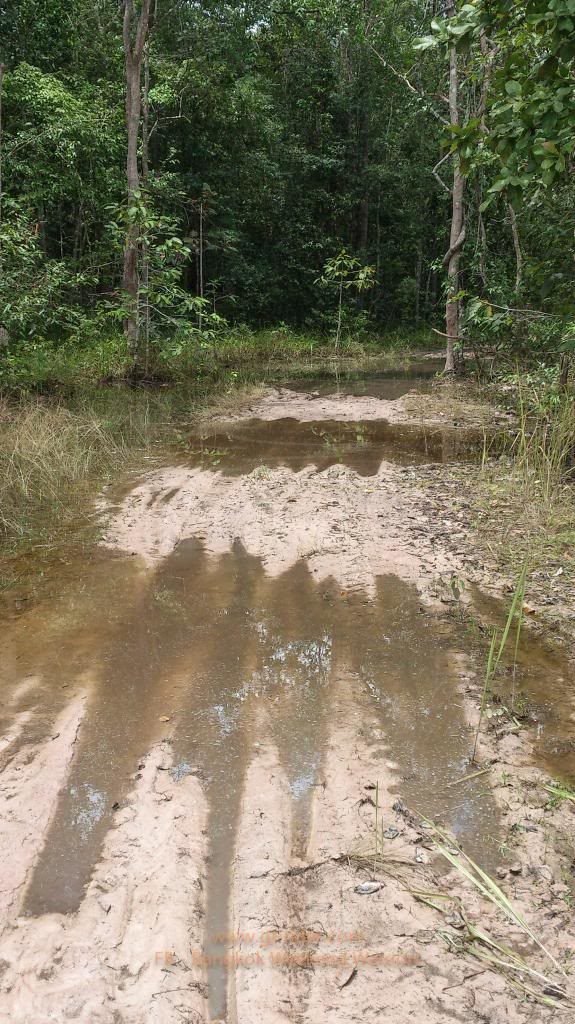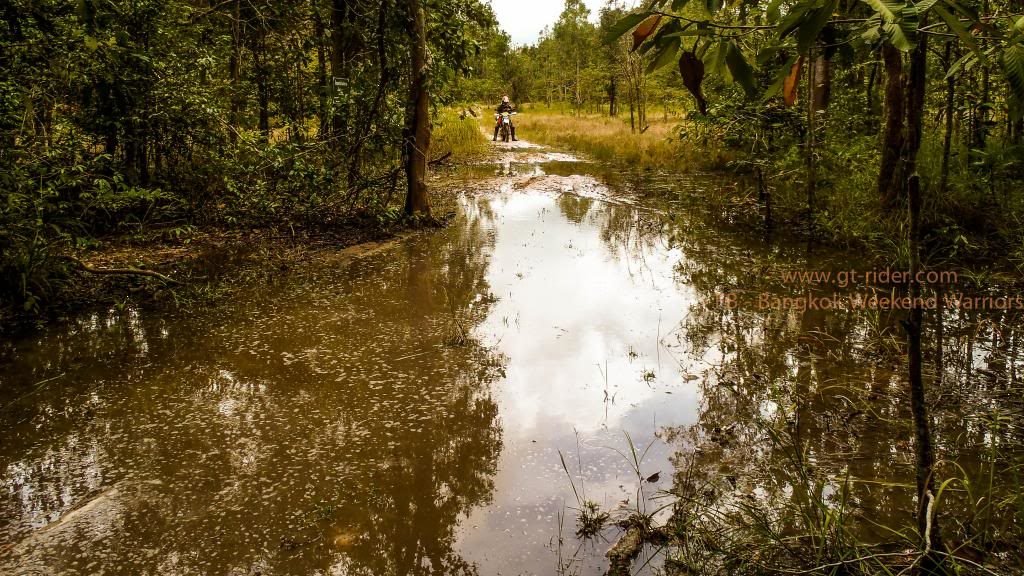 Great bridges around here.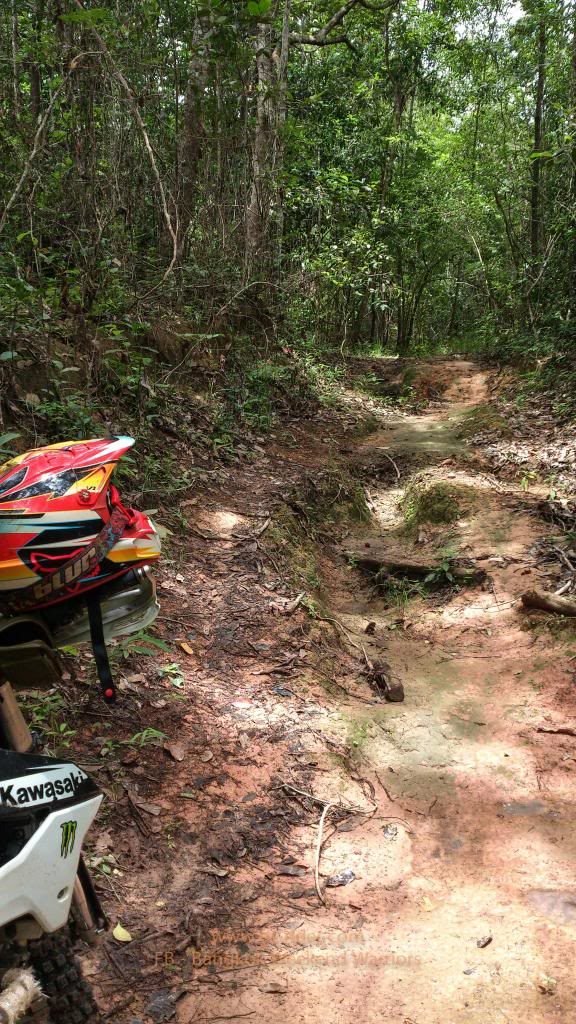 James didn't fall in.. We rode down and up the other side as the bridge was just too dodgy.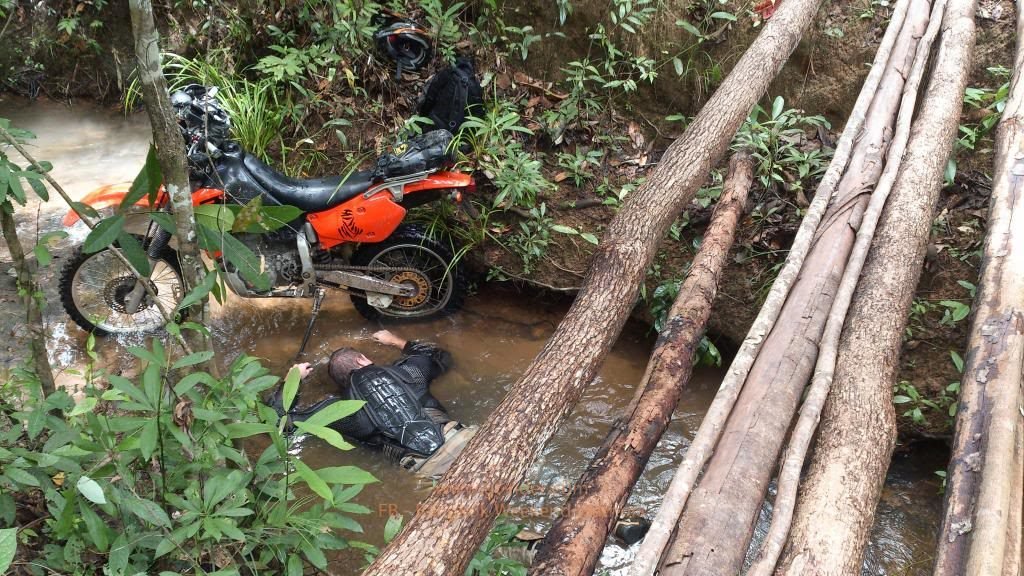 Then the adventure began.. Getting out the other side.. Short video at the beginning of this report.
Some pics here.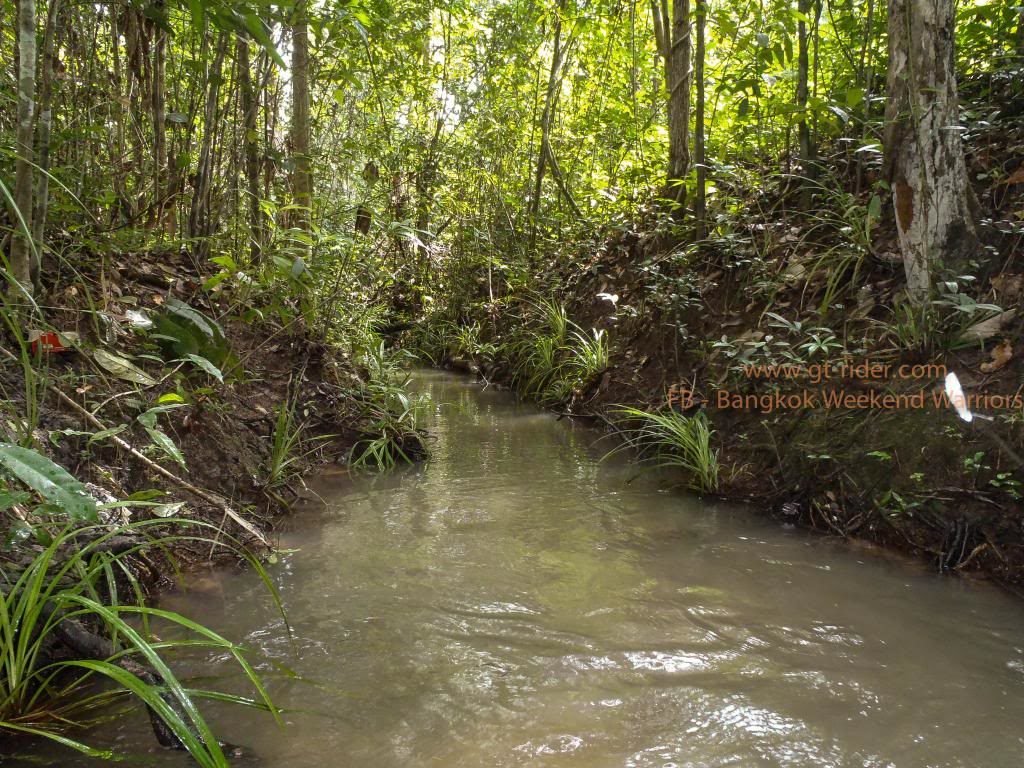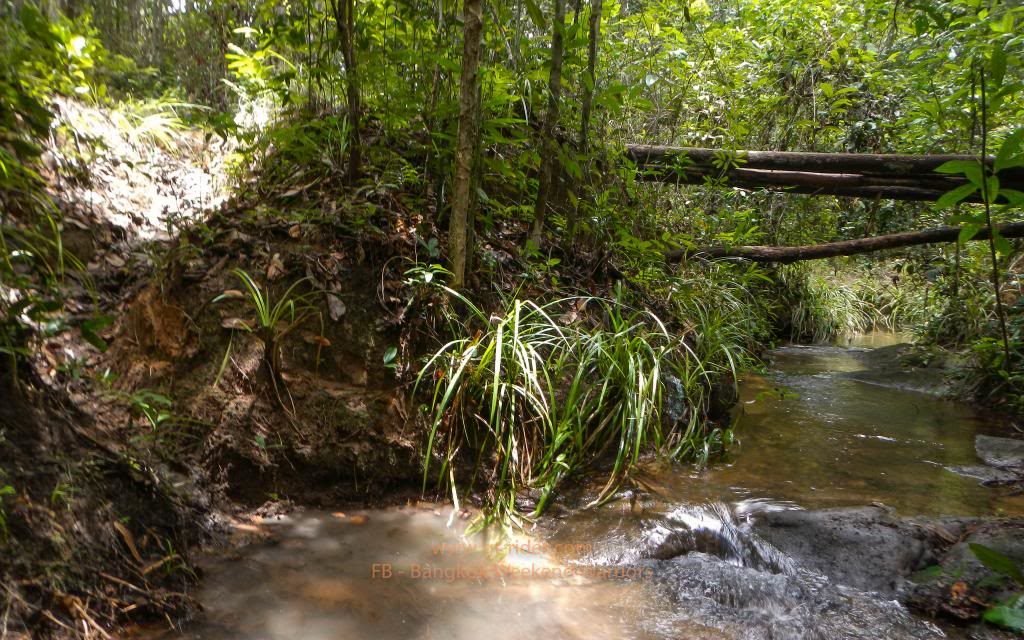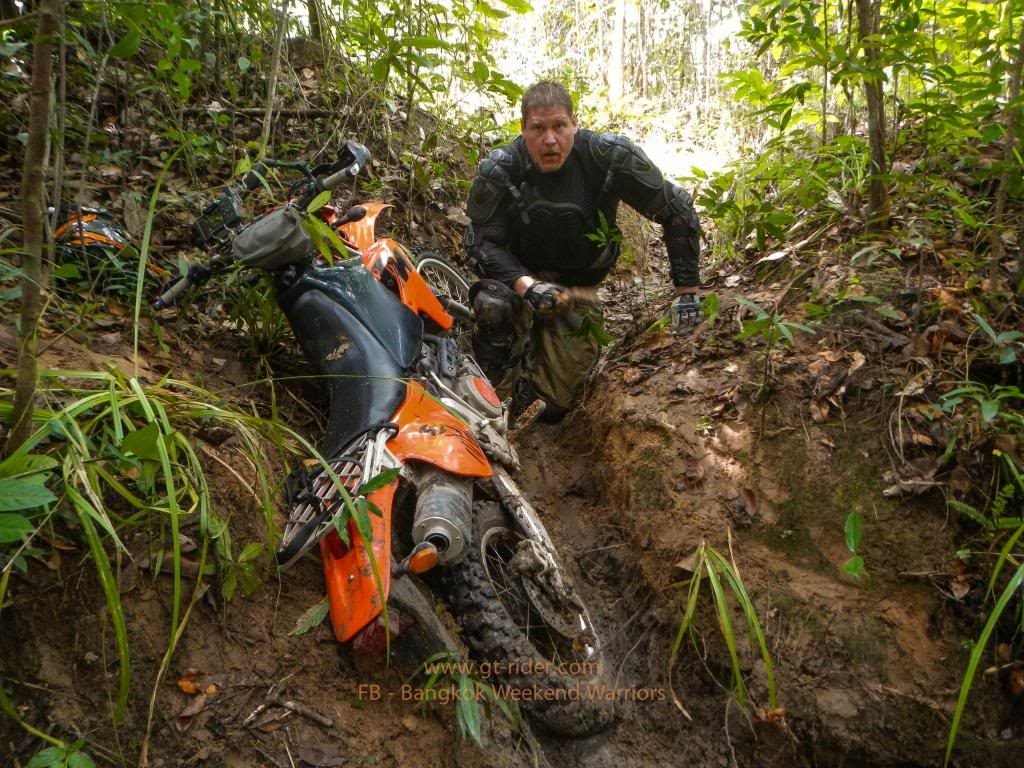 Going out the other way
To give you some appreciation of the steepness it is wet and a horrible angle as the creek is too deep to take straight on.
We had to dig away at the embankment at to make it easier.
I didn't make it up and rolled back down and had to walk it up with engine running and James giving a push.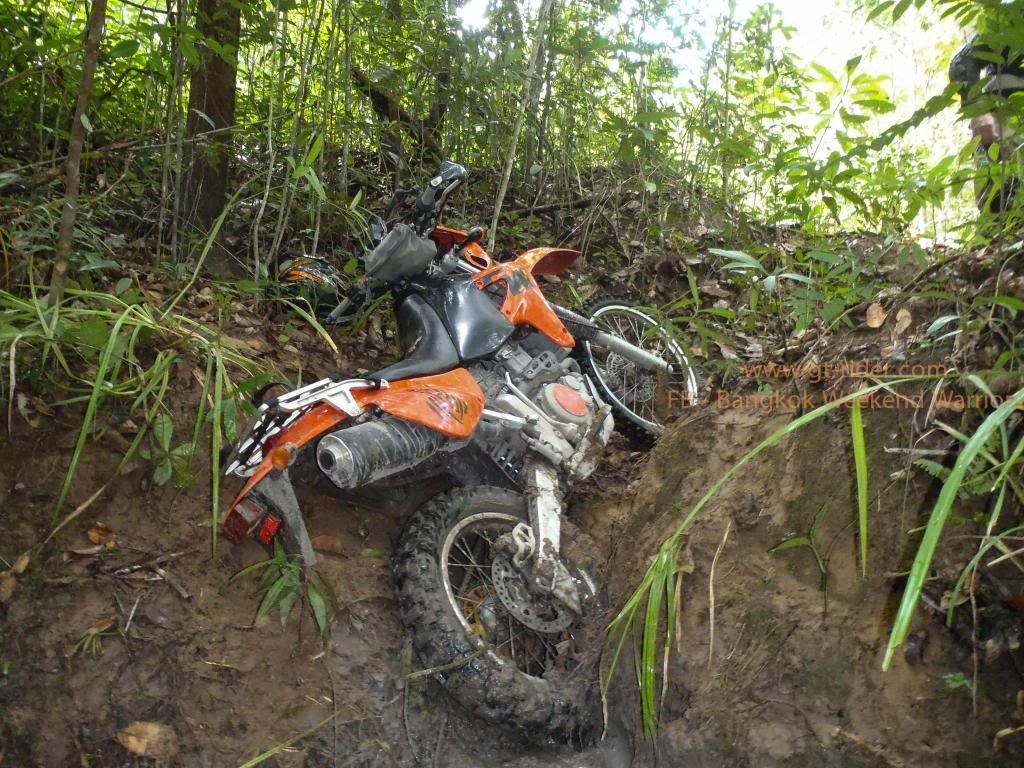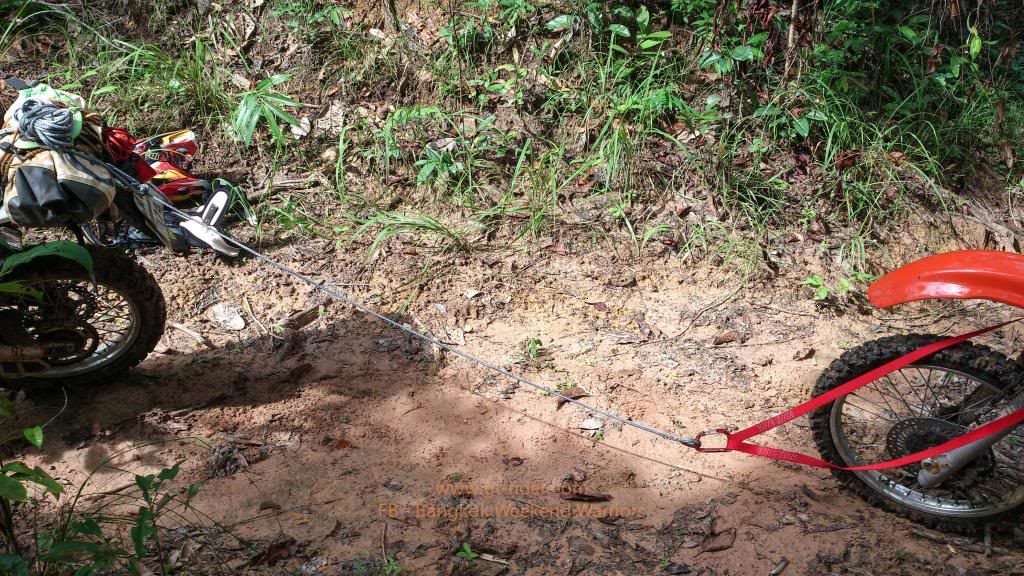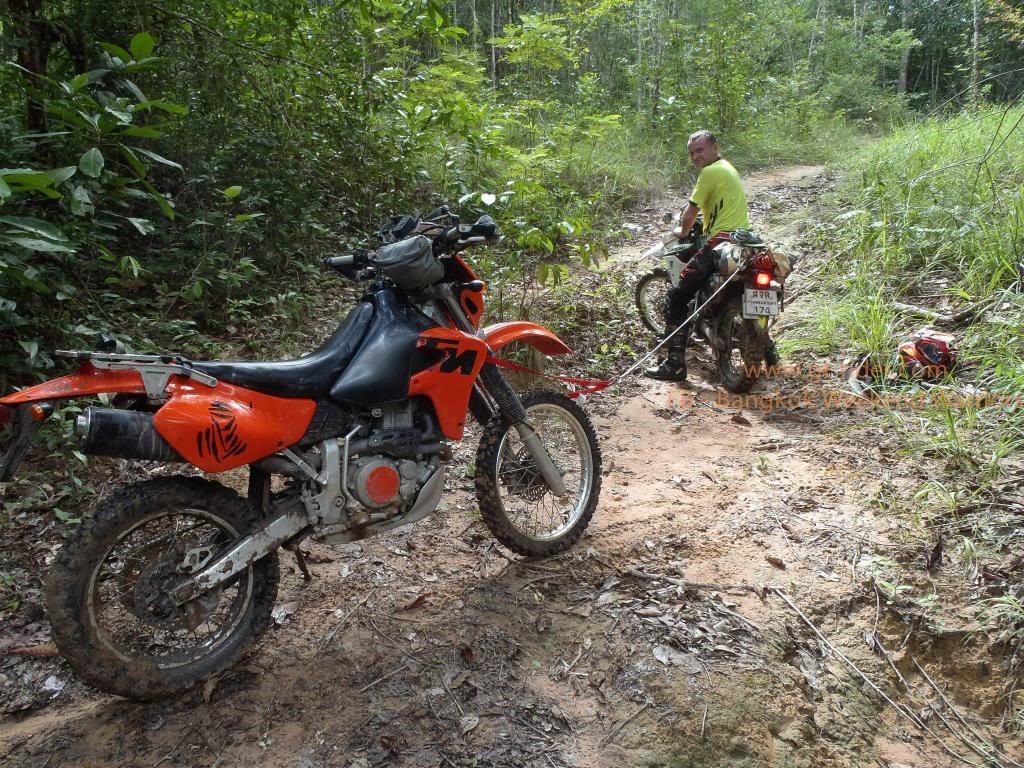 To be fair to James.. If the HTM had an electric start this would have been a lot lot lot easier.
But the HTM hates to start after being dropped or stalled on angles like this.
So we had to do it the hard way. Digging, pushing and pulling.. I will never have any other bike than electric start..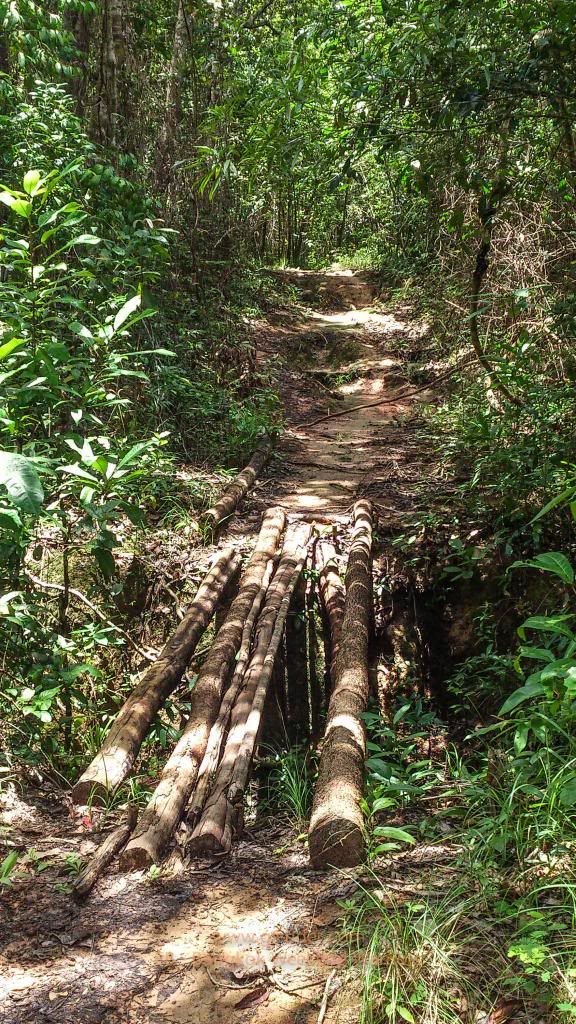 Heading back towards Lao. Not far away and the trail is not being used.
Lots of trees down across the trail. Really on our own out here. Getting closer and closer.. then the track just ends at jungle with no chance of getting through.
Then we are looking for little side trails to see if they will take us out a different way.. Yet again, many animal tracks.
But we did find one trail.. The ESRI map came in handy as we could at least see we were heading to a main trail on the map.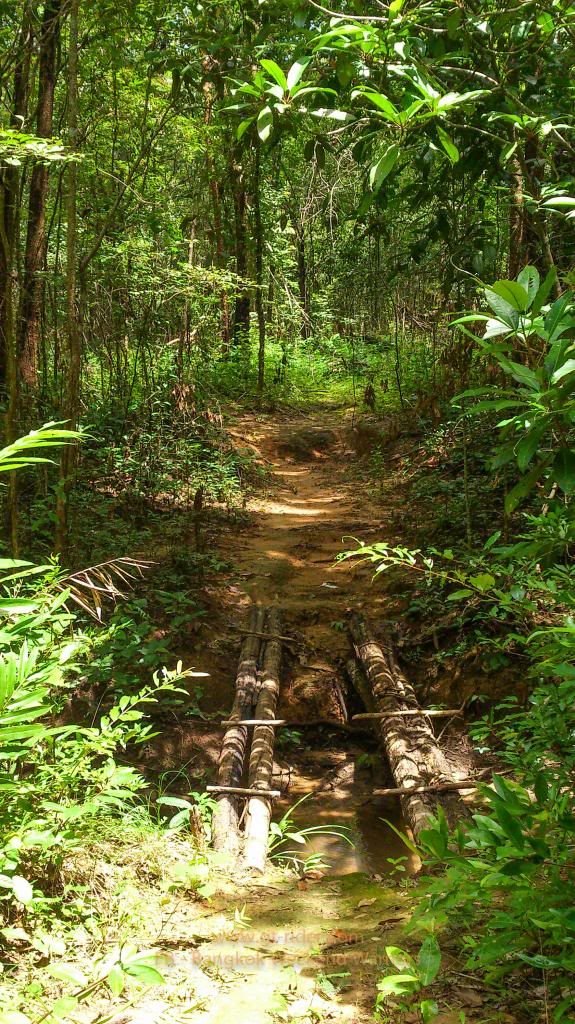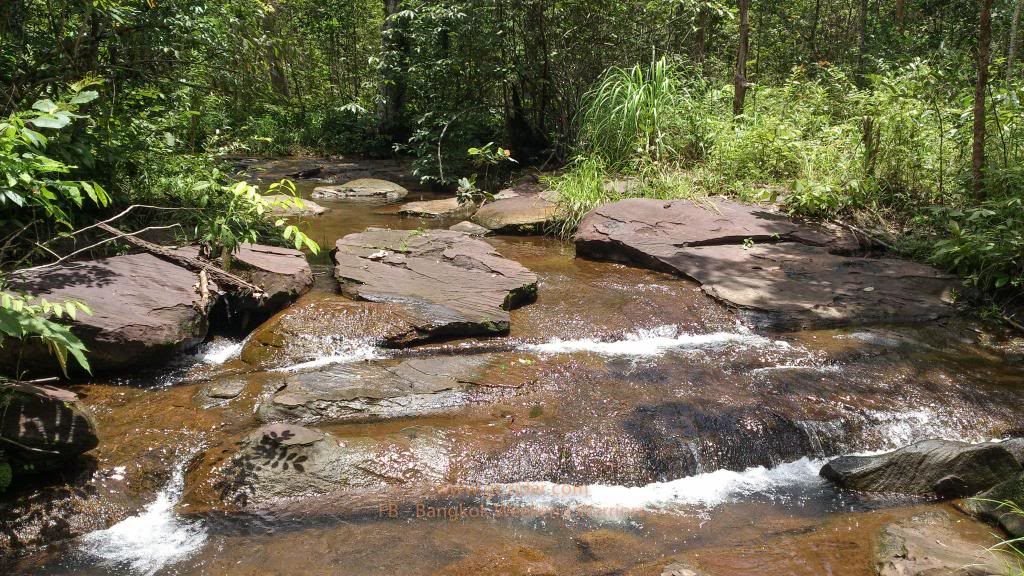 Back to camp and get the fire started

Another glorious sunset.. simply stunning

Later on we had the Mother Of All Storms.. Massive storm.
I have heard of and know what a flash flood is.. But really had the reality of how it can happen that night.
So much rain and very heavy.. blowing right in, lightning that was lighting up the entire sky like someone turning the florescent light off and on.
The rain gusting in on us, rain water gushing past the building and getting deep and fast..  (we were not in danger) just amazing amount of rain, wind and lightning.
If we had been camping out between the trees.. It would not have been very pleasant at all..
Took this snap before I abandoned the hammock.. Laying in the hammock phone out for the snap.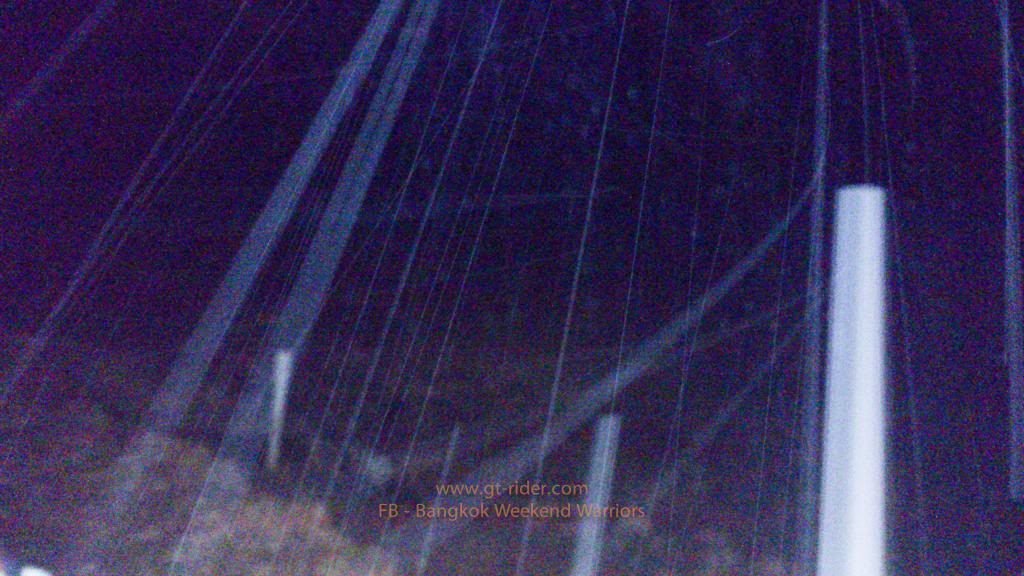 Wrapped the flysheet around the hammock to try and keep it dry. We were both pretty wet.

James whacked a couple of logs on the fire and that helped stave off the cold feeling from being wet.
Mega storm over and to sleep around 3am.. it was easy to sleep in..
To our surprise the monks were setting up here.. We packed up everything and made it nice and tidy before they all came up and started.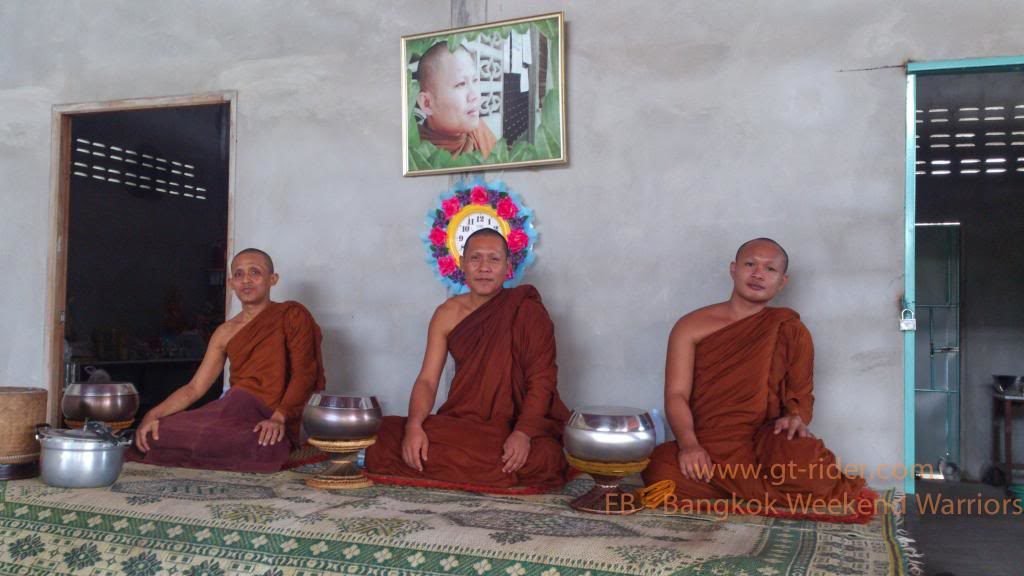 In hindsight. This is probably a temple under construction?
Felt a little guilty drinking my Bourbon after realising that.. But then again.. The workers had killed a snake and putting it in the lunch pot.
So killing and animal or having a drink.. Both guilty…
We left a donation with the Monks for allowing us to stay and spend as they see fit.
Off we go.. This time we decided on sleeping in a hotel / motel that night and sort ourselves out..

Lots of choice to be had and received a good tip in the market. (Will post accommodation report shortly)
People sweeping the highway.. Friendly at that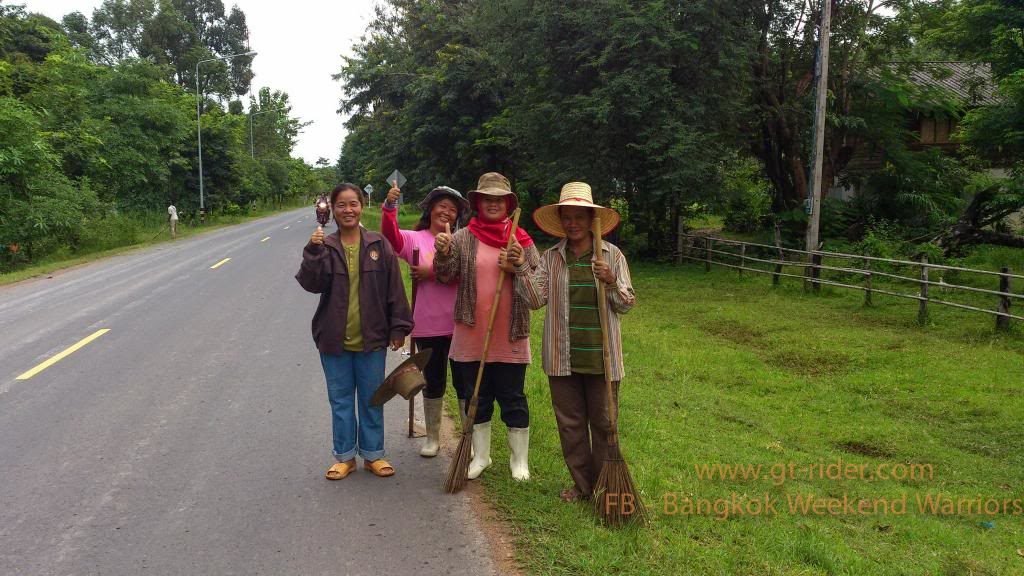 This was not on any GPS.. new road and washed out..
Some marijuana crops had also washed down in the storm at least 6 or 7 seven ft trees..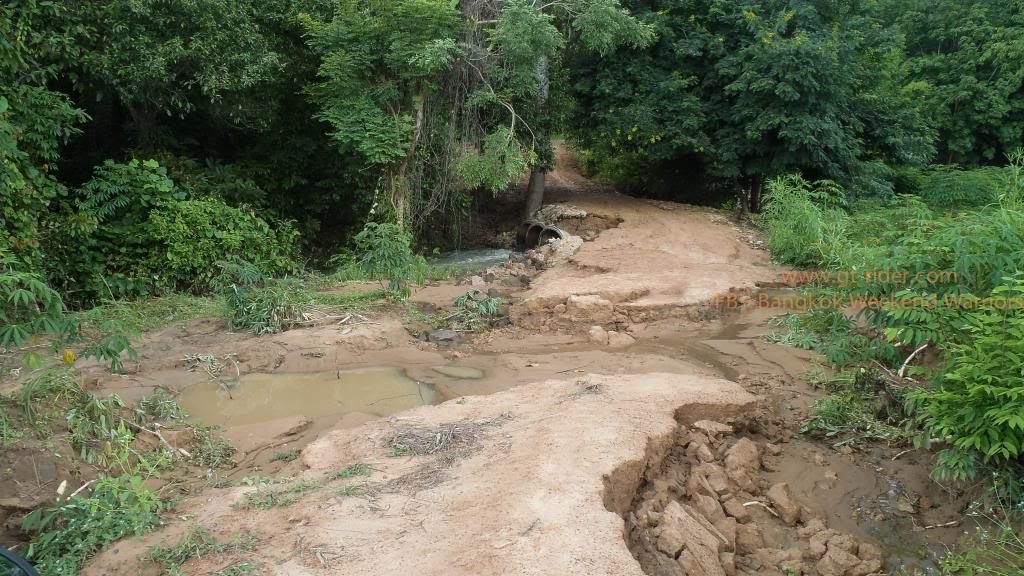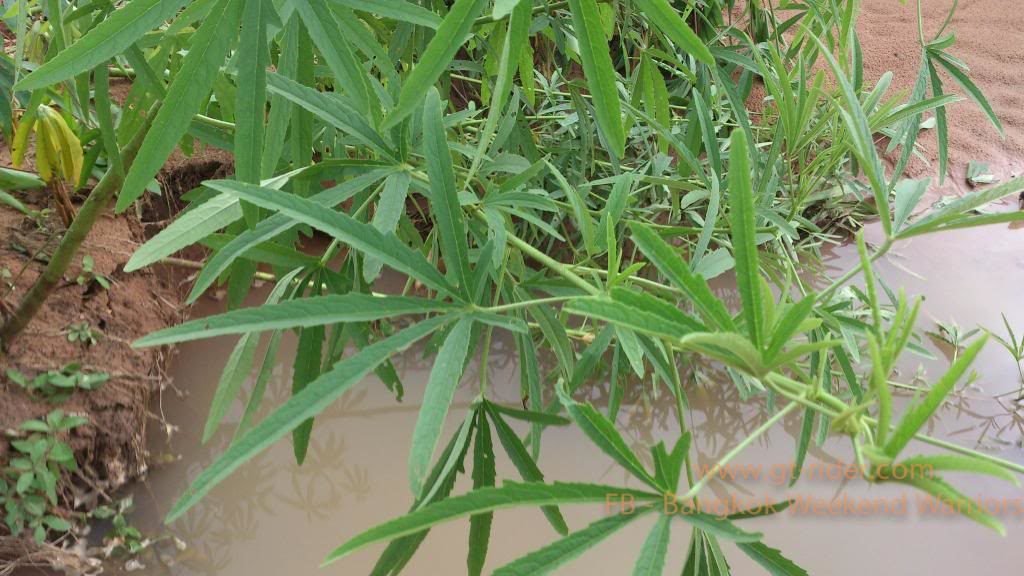 My turn to fight and struggle with the bike 🙂
Next the ride up to the Emerald Triangle and around the area.
On we go….
We stop at the next town (Na Cha Luai) looking for breakfast and coffee.
We had to make a quick exit to allow the monks and followers to carry on.
They invited us for breakfast etc.. But we thought it was best to move on and let them carry on with normal life.
There is a market / bus stop and small shops around.
This sign caught our attention and we wondered what happened here late in the evening…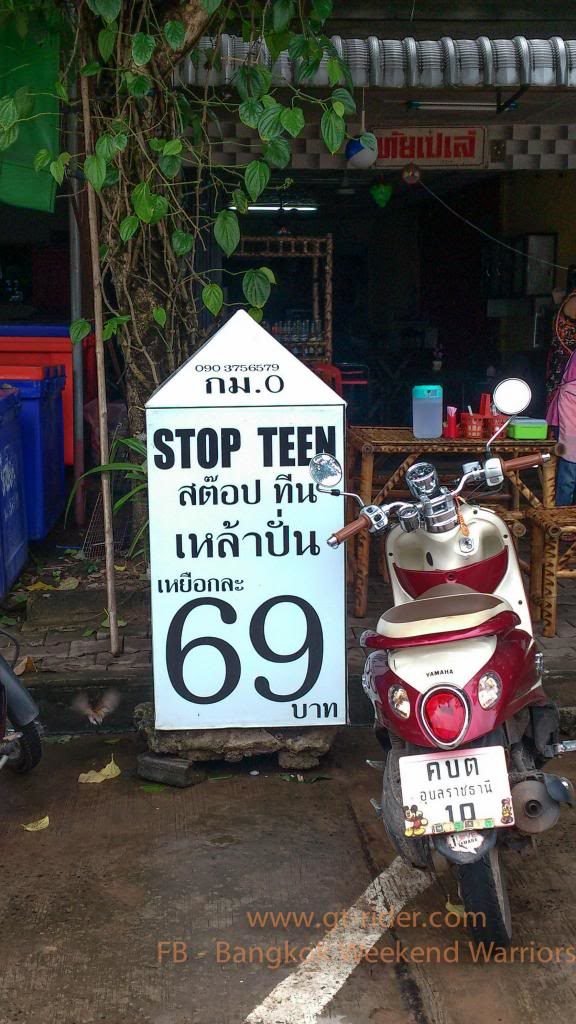 A lady stood out the front and we were asking in our best Thai for coffee and breakfast..
She replied. We struggled out an answer.
She was tired of this and reverted to good English..
We both laughed..
Stop Teen 69 it is for breakfast.. and later that evening.. drinks.. 6 PM it is a bar.
This was a great opportunity to get some idea of where we are.
Where we can go and how far away everything is.
Great place and good base to ride out of.. Clean / Tidy and secure.
Next stop to check out the waterfall..
Very good road up and twisties.. great ride for the road bikes.
It's a long weekend and full of people.. We looked at each other. Asked how far it was to walk.. 200 / 300 metres.
Then looked at the picture of a pretty uninspiring waterfall (Compared to what you get on the Boolaven Plateau)
Decided to just head off and keep riding dirt trails.. If we can find some..
There were not many until you made it back down the bottom and most of these went on to plantations that had encroached on the national park
Beginning to smell the Emerald Triangle.. (want to tick that box)
Fantastic road up there.. had fun on the twisties…
Good surface and pretty newly done.
Only one spot where the water had run under the tarmac was dodgy and would get you in trouble at speed.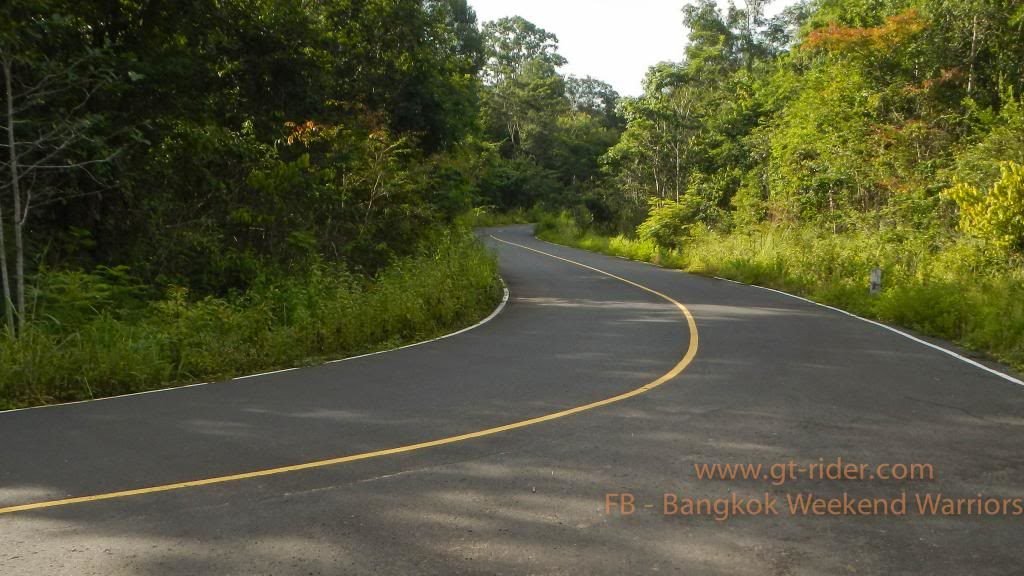 Not well used… The jungle claiming the road back in many places.

Made it.. The Triangle is at the back of the lake to the right.. ( Laos / Cambodia / Thailand )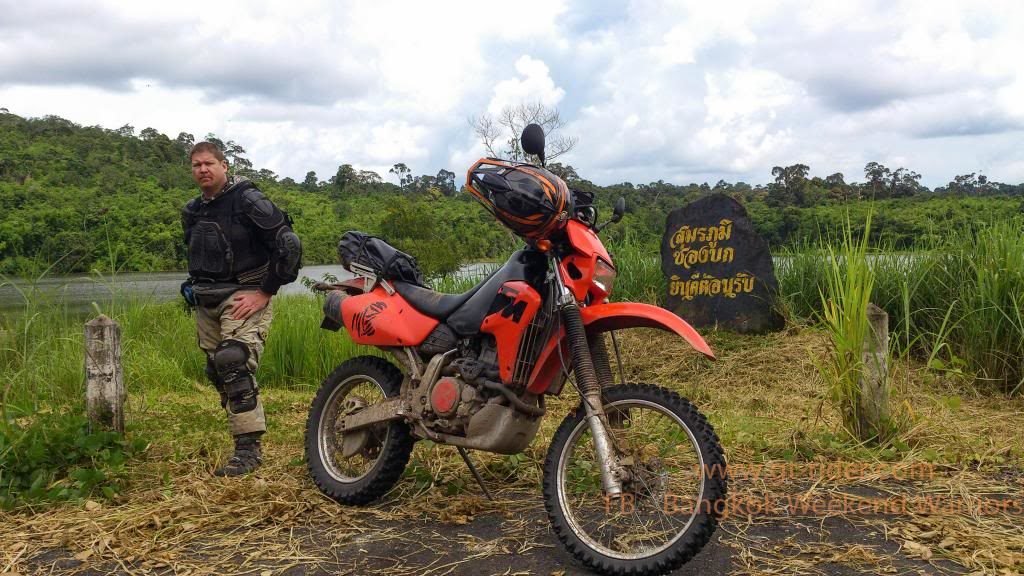 No Go.. Stop here.. around 1 km direct line of sight to the border.

Google Earth with the GPS track
You can see the triangle at the back of the lake. Where the borders meet.
You can see the road actually heads to Cambodia if you zoom in on Google Earth.
There is no phone signal up here.. So checked our position with OSM AND on my phone
Time for a walk around the army check point and look at the history.
Real shame none of this is in English as would love to know more about what was being displayed.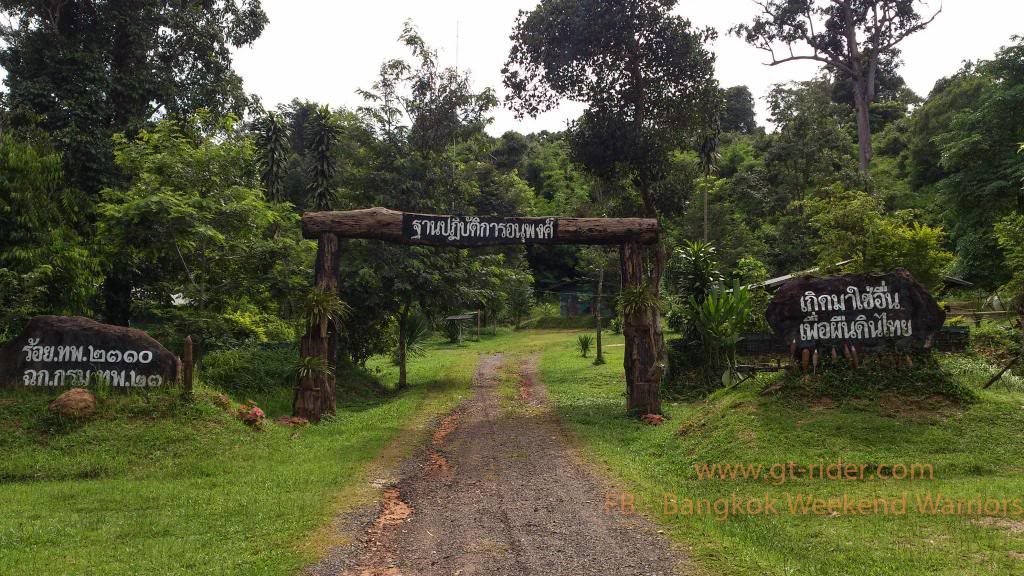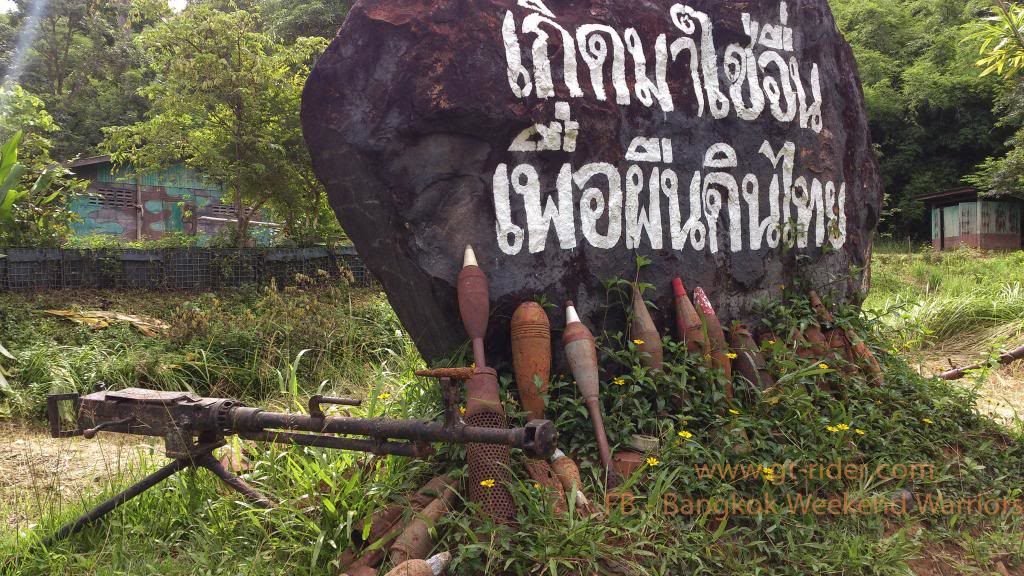 Will ask someone to translate or at least give some information on this.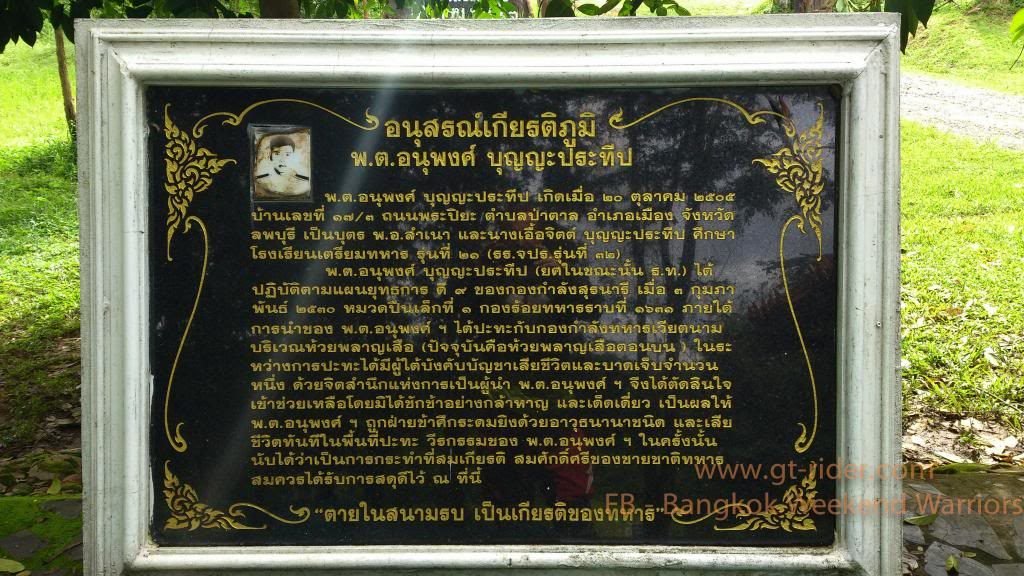 Model of where we are and the triangle

Inside the check point..

Only the lawn mower man around so walked down to the road on the other side of the barricade.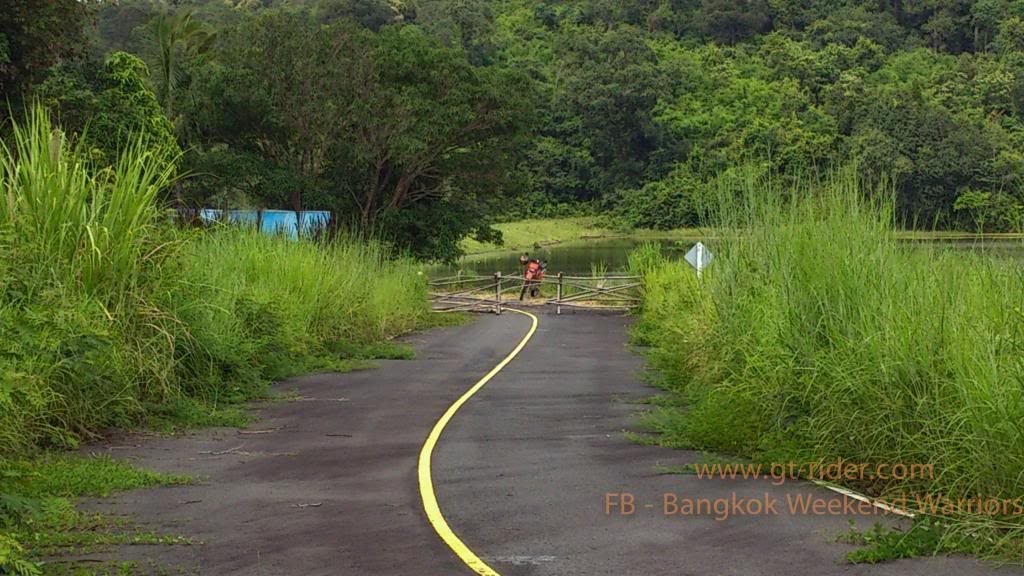 If you are thinking.. hmmm could get past that and run up to the border…
There is a huge radio.. The guys may be sleeping.. pretty sure they will up quick smart.

This did remind me of WWII a little.. looks awfully familiar….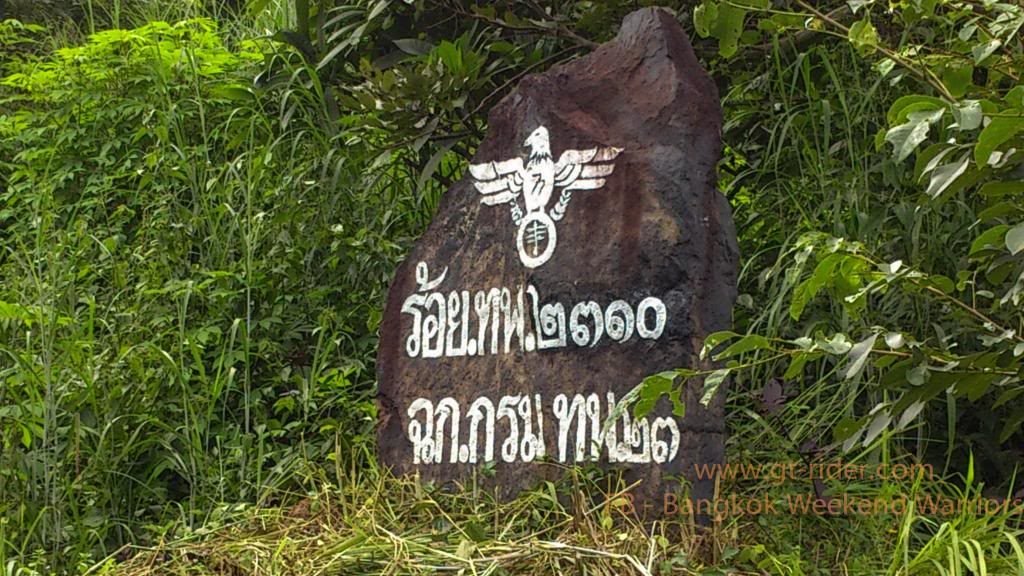 Time to find some trails..
Found some great trails.. Really remote unfortunately, couldn't get through any where on most..
Mainly water or trees across the track.. Back next dry season.. Looks real fun around here
The trails have Stop signs.. We obeyed..
Cheers
Brian