Three hour ride down to Baan Ricky late Friday afternoon.
In time for Sunset beers.

Ride 110km on the trails around Baan Ricky and up to and through Sai Yok National Park.
First a nice river crossing.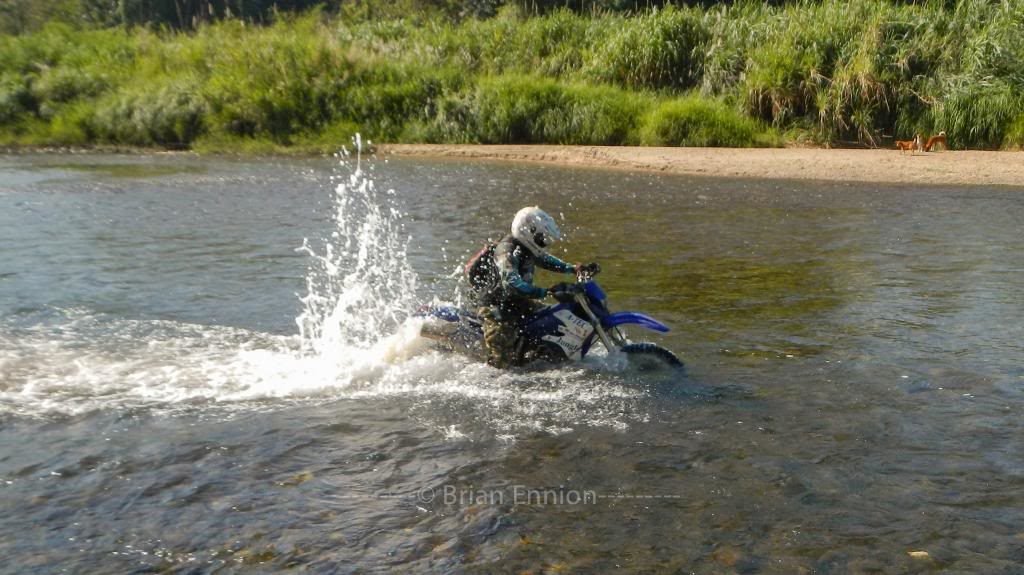 Very soft river bed, wheels spinning with a swift current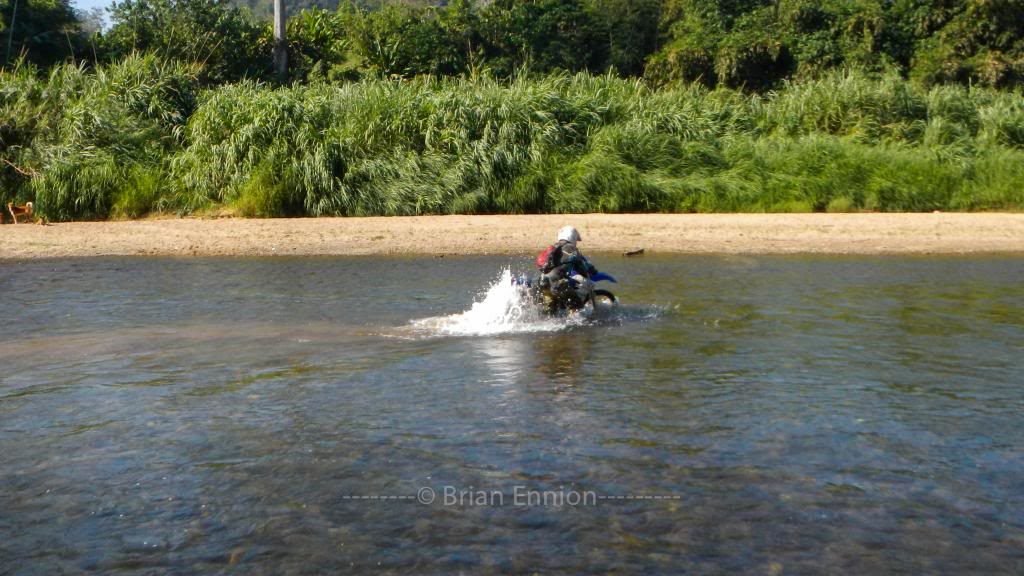 Just near Sai Yok National park entrance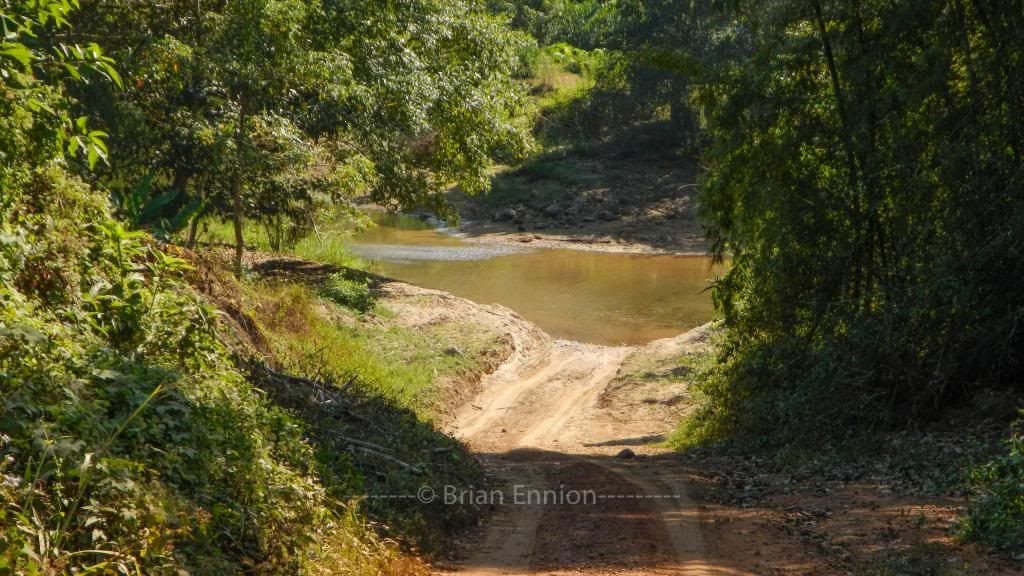 We found a little resort here with very friendly locals..
Gave us a tour around and wouldn't accept any money for the water..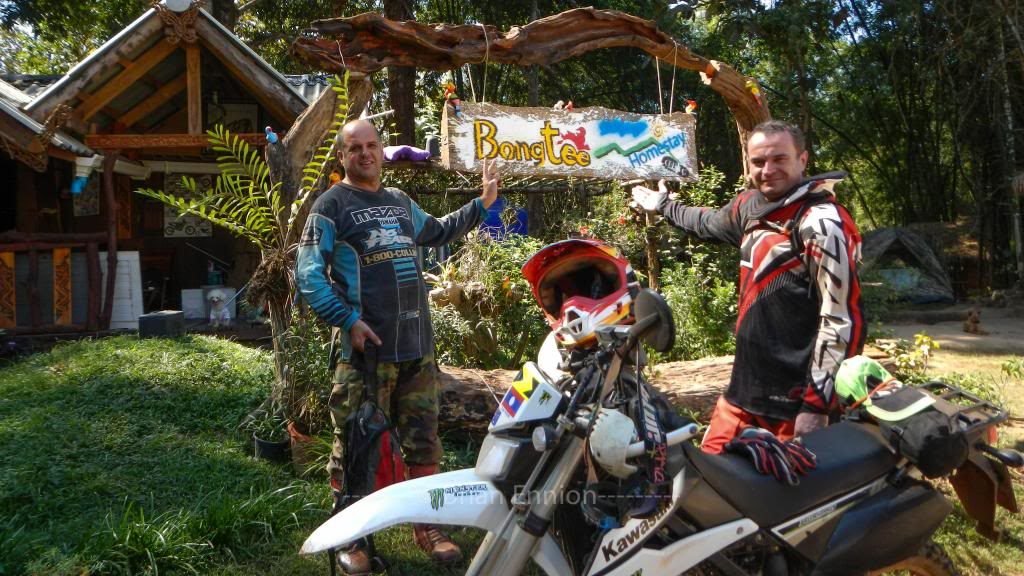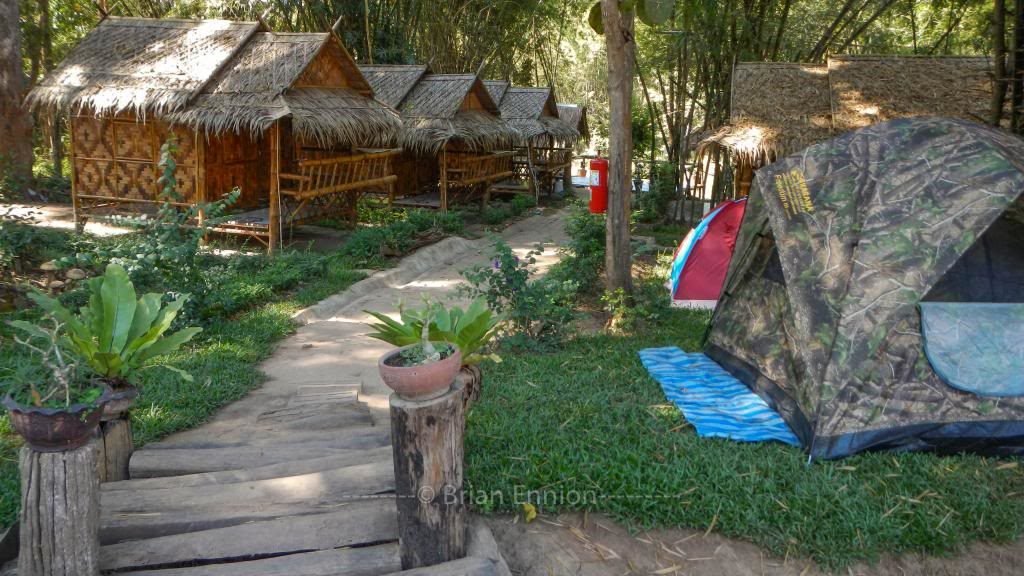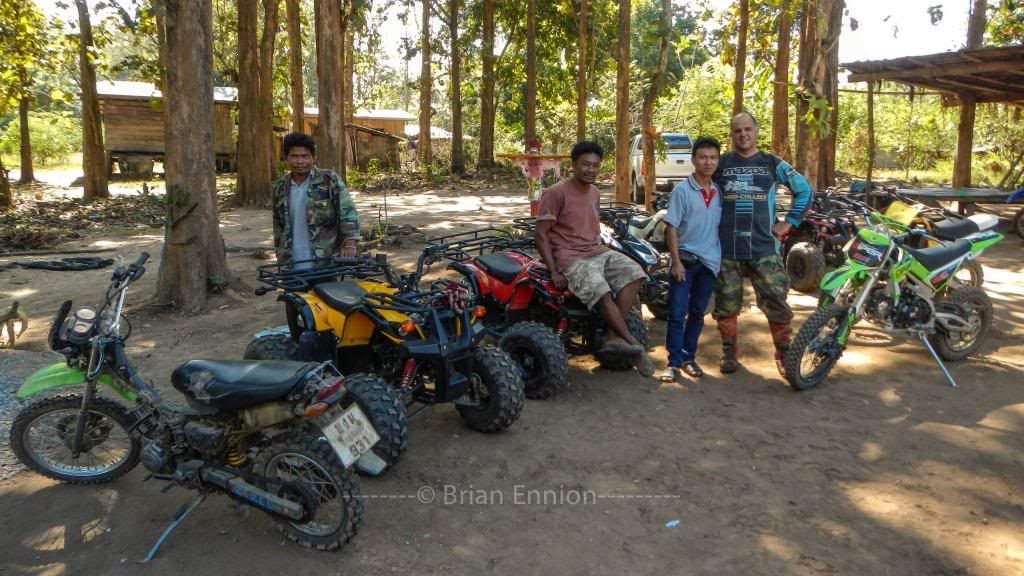 We arrived at the National Park guard house.. No, can't go in.. Bugger..
A few different people come out. We do the chit chat and ask very nicely and promise we wont go all the way to Burma.
After 5 mins the guard in charge came out and more smiling and small talk.. He asked me in Thai..
Where are we from, what I do in Thailand etc etc.. Given the "OK" after 10 minutes
Great trail.. This picture is the less technical part but very nice riding..

Further on an elephant calf ran across the track in front of us.. We stopped, looked, and gave it time to move on..
We were also worried Mother and Father may not be too happy with us being so close.. so proceeded cautiously and together eyes wide open…
Then about 500 metres down the track a juvenile elephant was walking along the track in front of us.
This part of the trail is a bit steeper and not many places to get away from us.. So we stopped a few minutes to give Junior time to move on with out us spooking him..
All this about 7km from the border with Burma.. You could see a lot of evidence that the elephants are very active in this area.
Then back on to the normal trails.. some lovely spots..
A bridge for bikes..
The road to no where.. Lovely road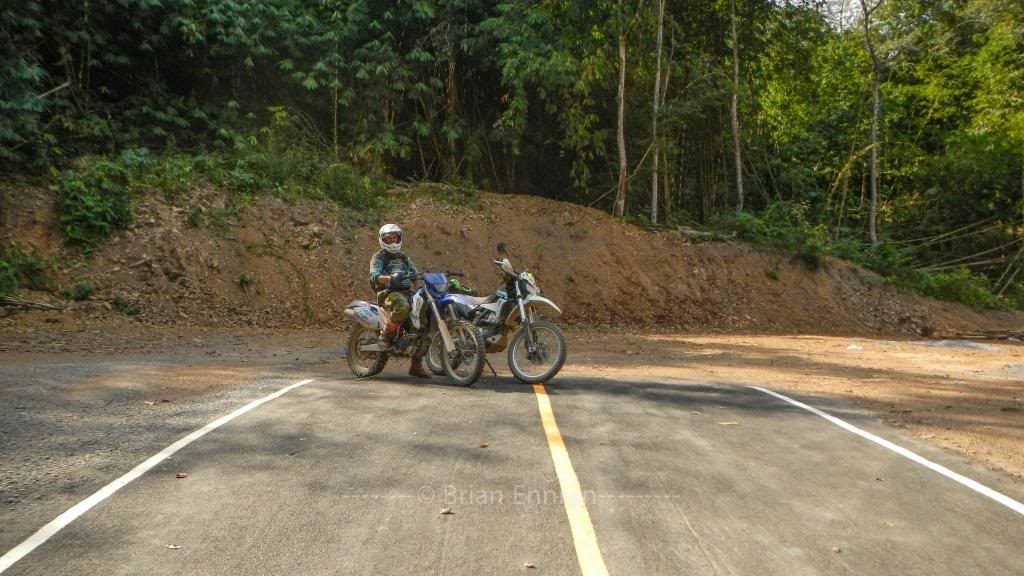 We rode past the Hintok cutting of the Burma railway.. This is the end part of the maintained track from Hell Fire Pass.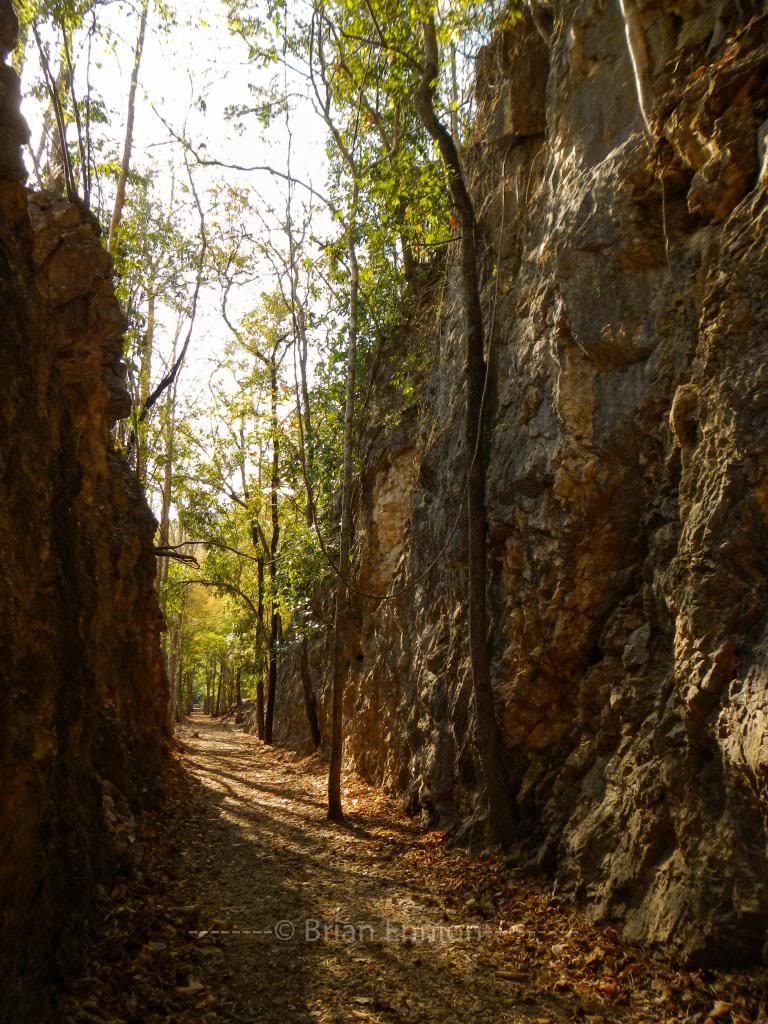 Sunday
Tim and Lot arrived the evening before and moved in to the bungalow..
Next day show Tim and Lot the track and a play around on the scooter as a warm up..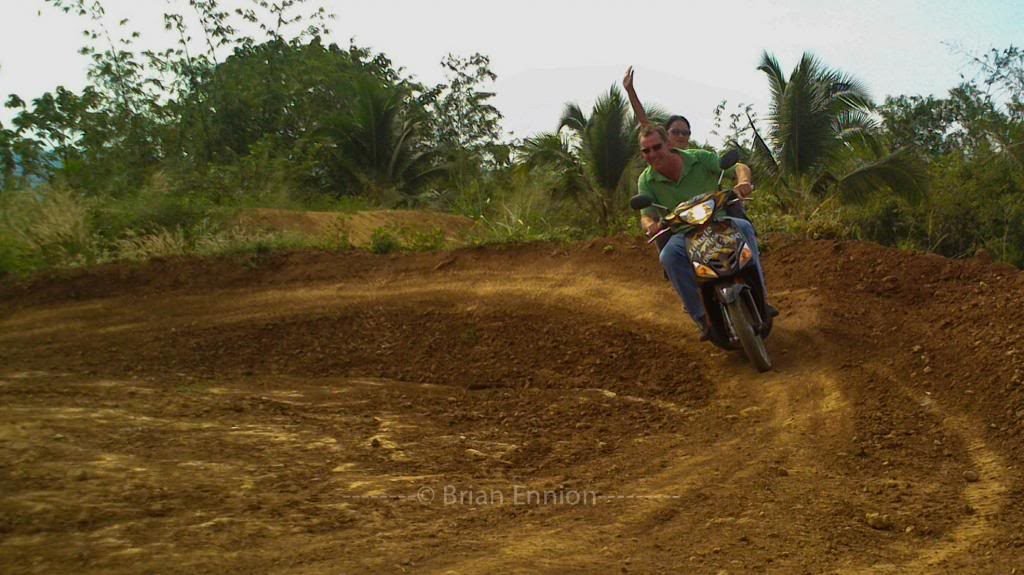 Then off to try and bust our way through the jungle and make a new trail.
There is a good reason why there is no trail already. As we will find out…
The proper trail ends here
Talking to Alan and turned around about to make a step forwards and spotted movement..
Jumped in the air, over the snake as a reflex action before stepping right on it.

We don't really have many pictures worth posting.. As they just lie about how difficult the next 500 to 600 metres are…
Up a really steep part of the hill.. Bikes dropped and needed two people to push and hold them up the rest of the way.
This was not a trail and you had to zig zag between the trees and bamboo with minimal momentum..
Then at the top.. Dead bamboo every where across the tracks.. These are animal tracks we are following..
Then we end up as far as we can get.. It just looks too steep down and not sure we can get the bike back out if there is no way through at the bottom…
While stopped and deciding what to do next after walking as far as we could leaving the bikes where we could still get out..
We came across these markings in a large tree..
You can see very clearly there are large claws on this animal.. Speculation but no idea what the animal is..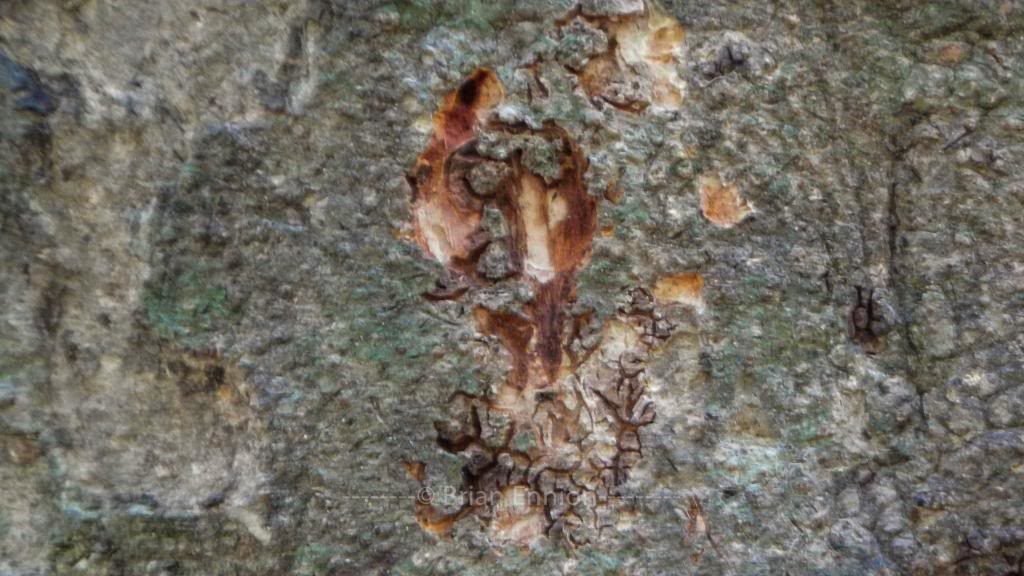 (Back at Baan Ricky we visit Rose next doors. Rose said it is most likely a bear. They have bears in that area)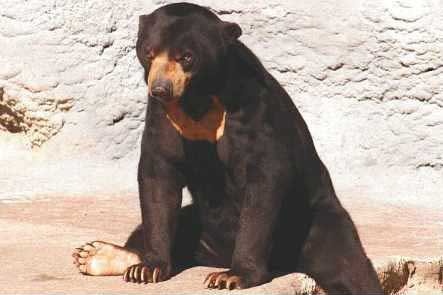 We are all shattered after the effort to get as far as we did and decide it is time to get back as running out of water etc..
We could see on the GPS that we were no more than 250 metres away from the main track on the other side of where we were..
So near yet so far.
The next day we ride around to the other side of the dirt road to look at where we were and see if we can get in from that side.
Looking at the picture below.. You see a cliff face to the left. We are just to the right of that.. No more than 20 or so metres from the edge..
But you couldn't see this from where we were up on top.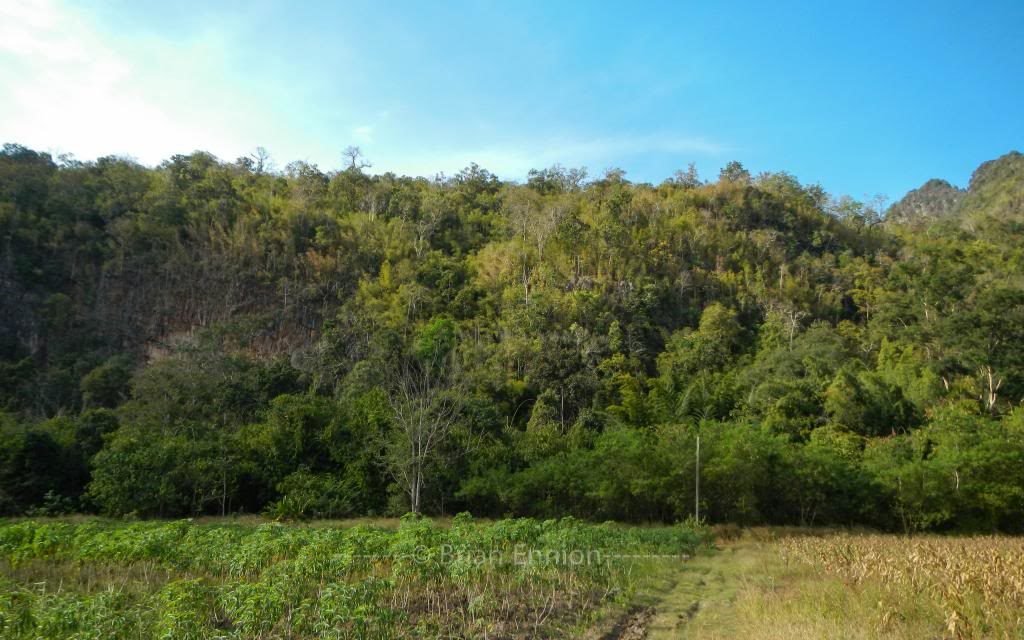 Looks like no way through here.. Though Alan has not given up!!!
Then back to Baan Ricky and over to Rose's place.. Rose and Family kindly invited us to join them for drinks and dinner.
Lots of beers and beers with the Mayor.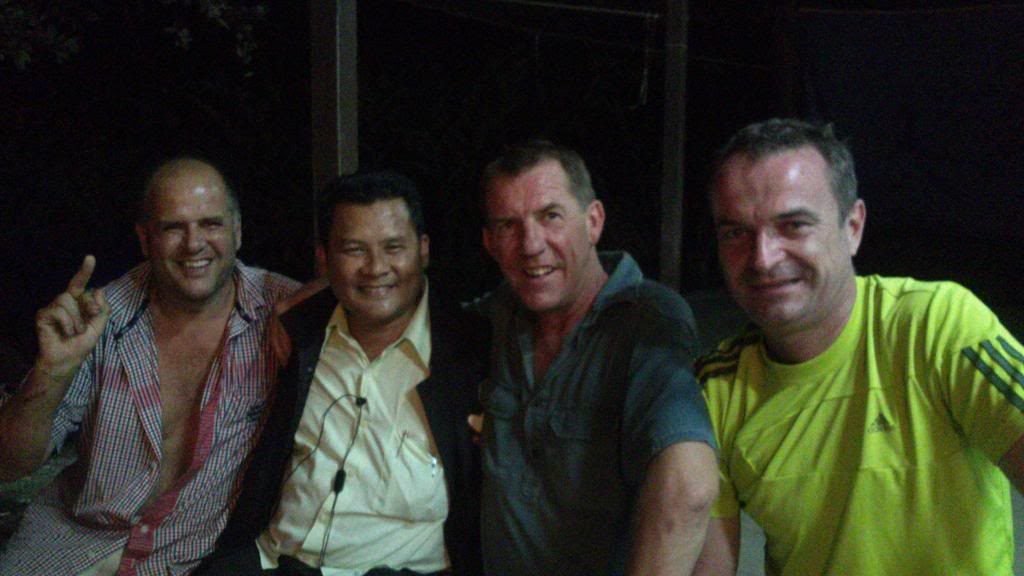 Some had too many beers.. LOL

We left Alan sleep while we headed up to Hindat Hot Springs.. Felt great after a tough afternoons riding.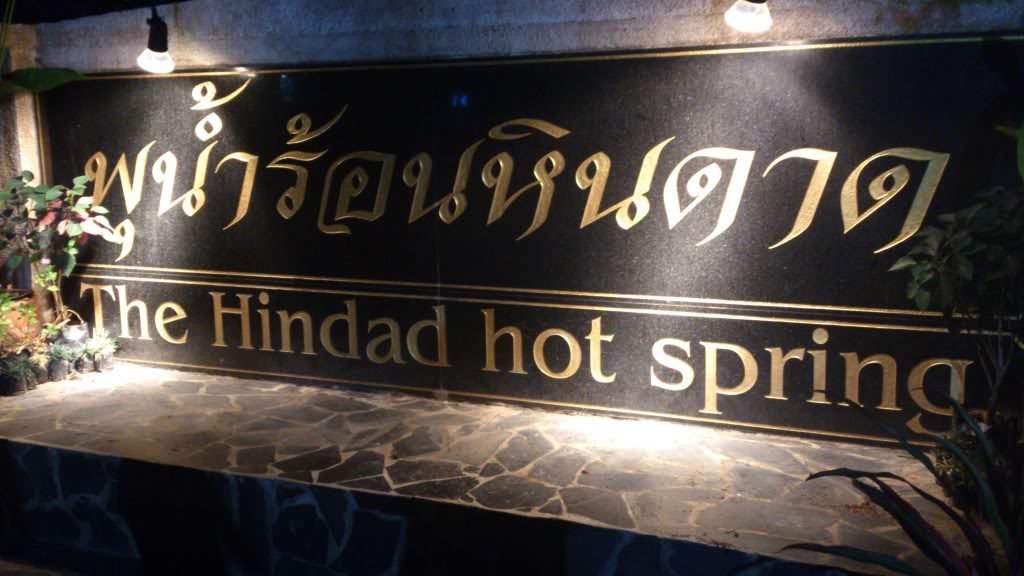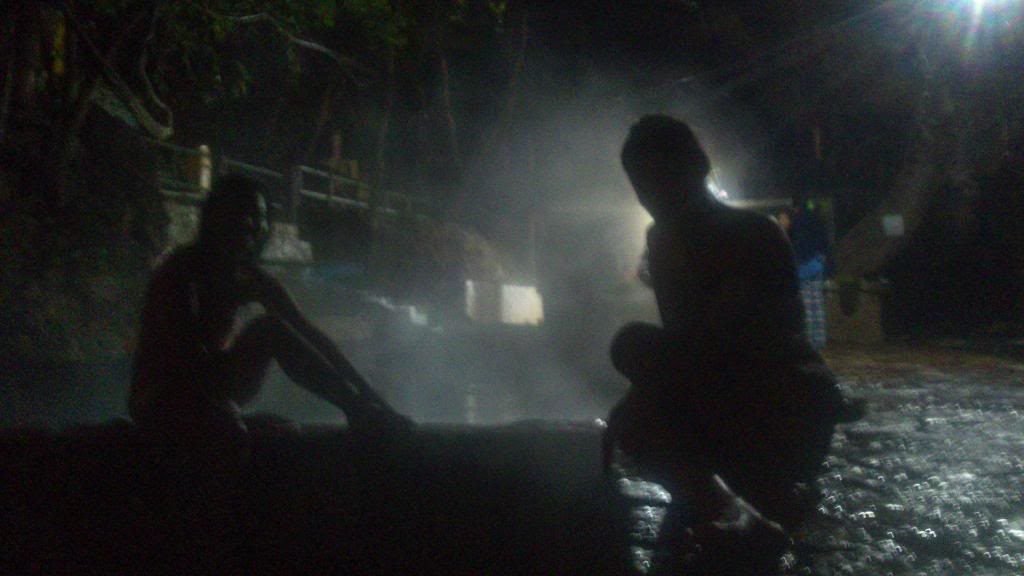 Hell Fire Pass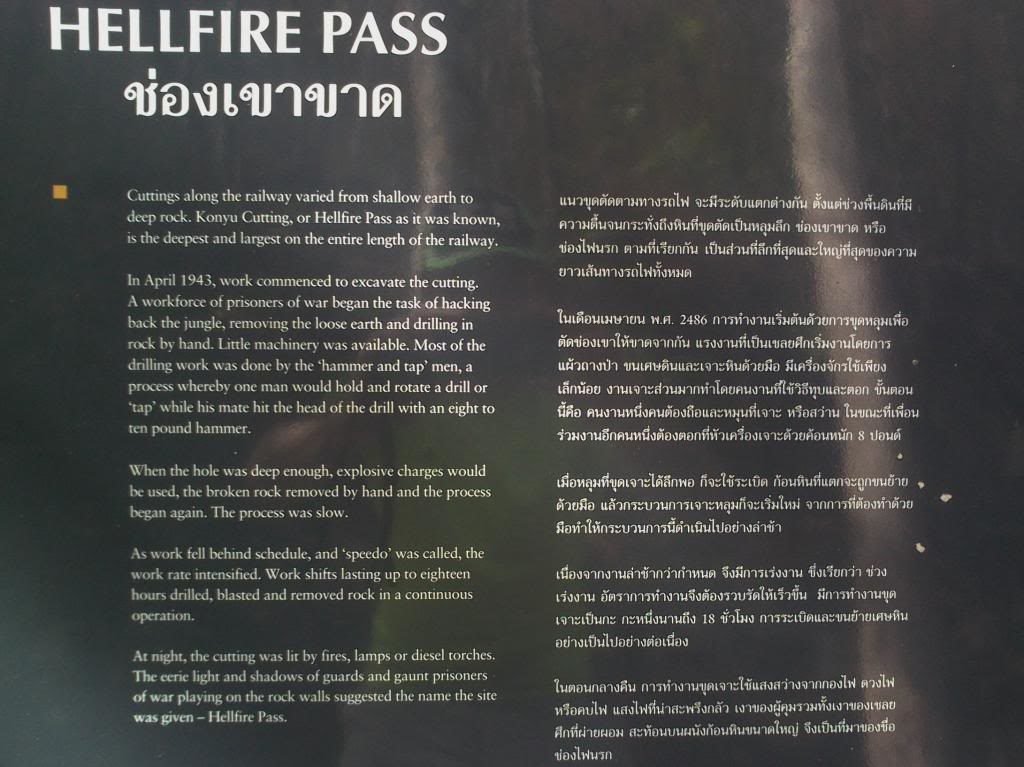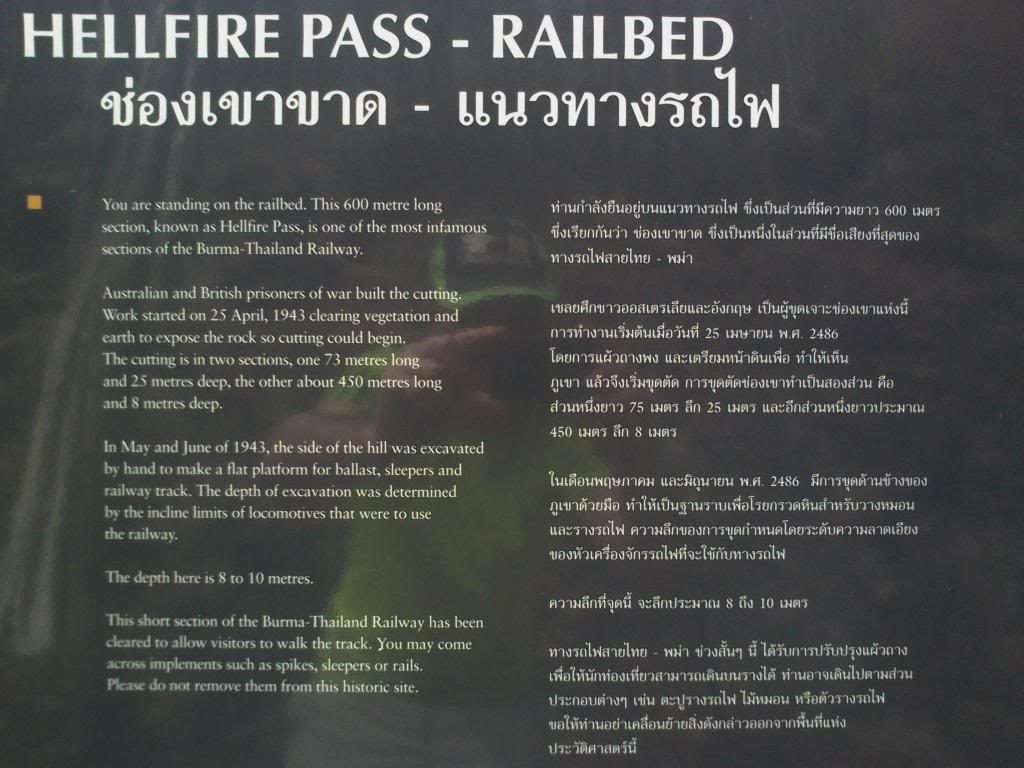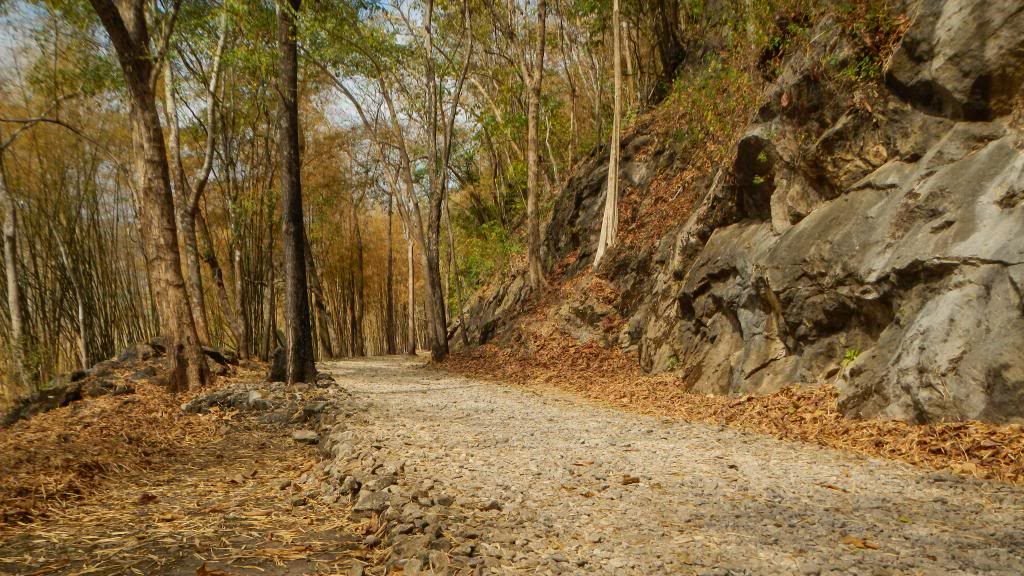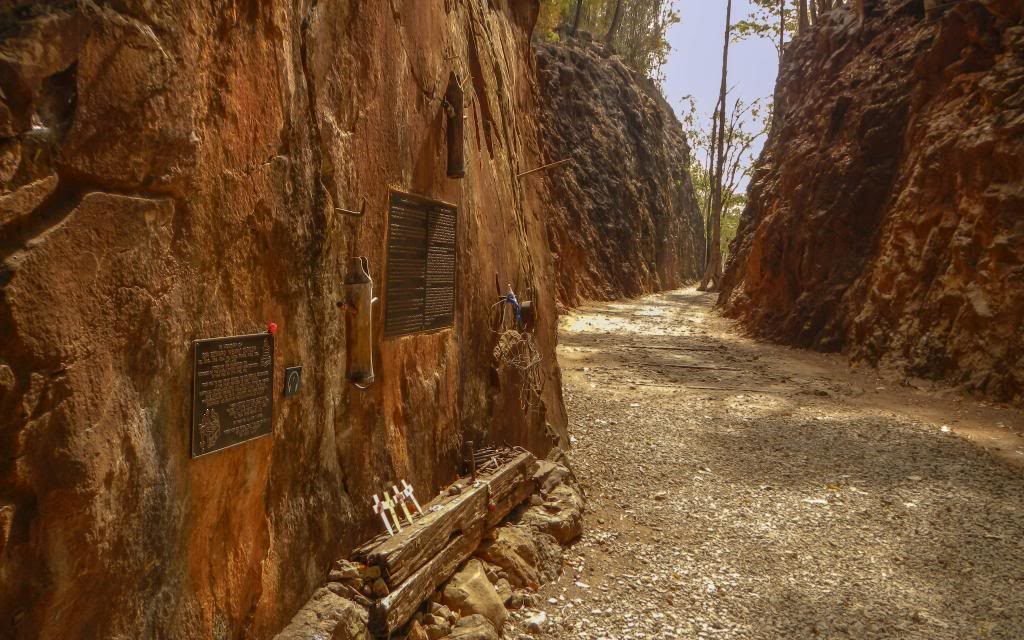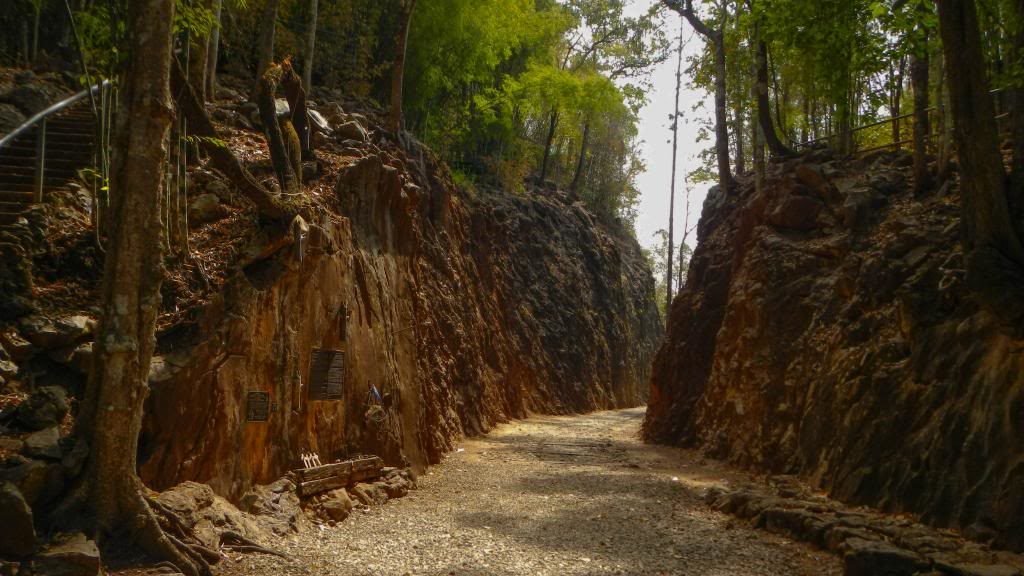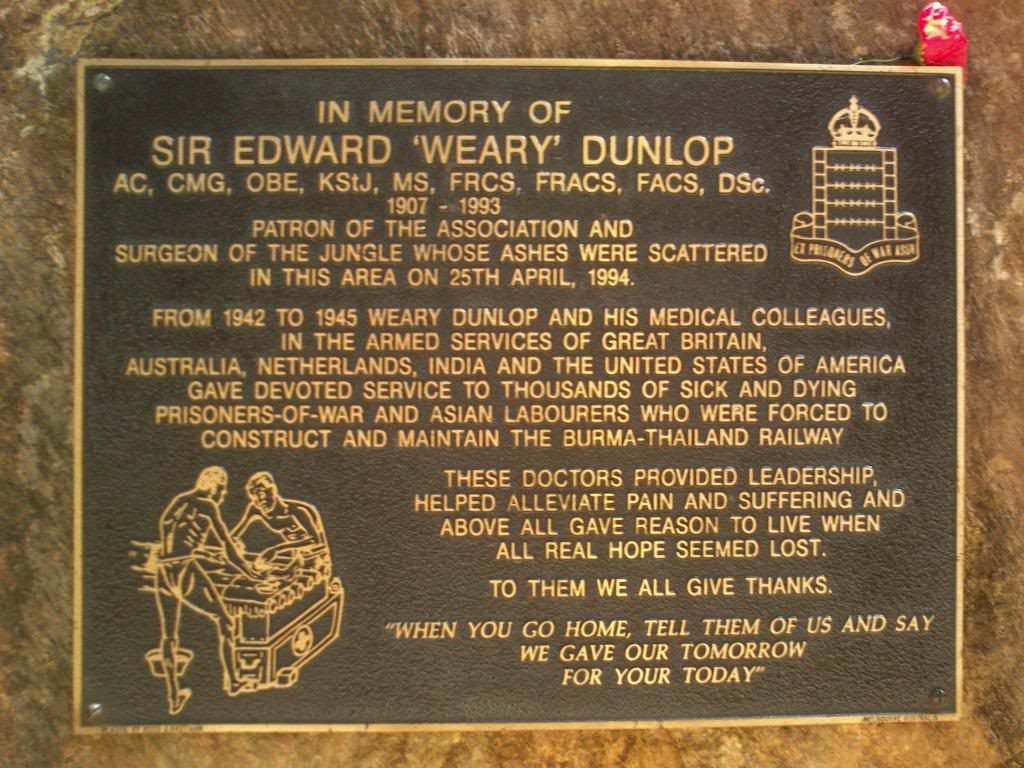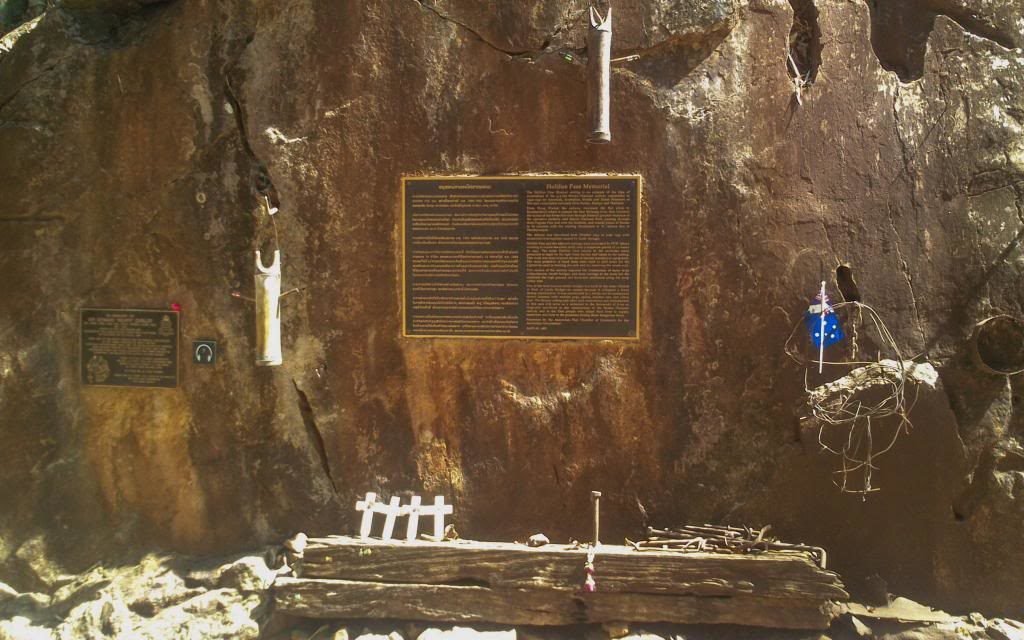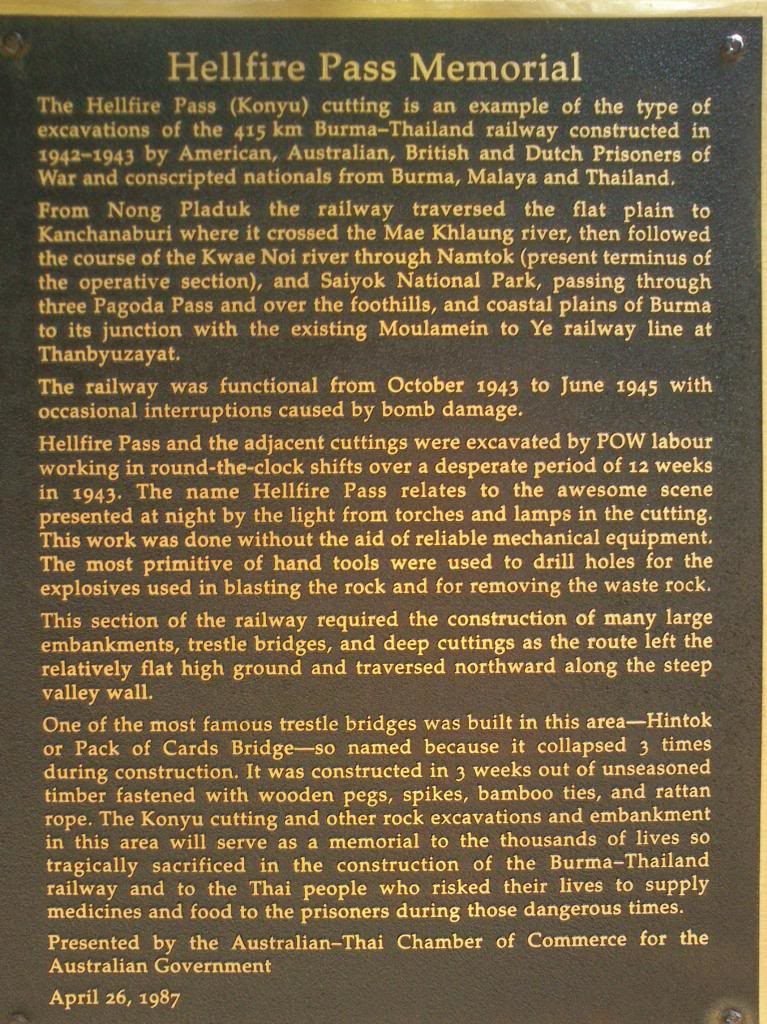 A tip – The museum is closed on public holidays.. The guards come out with a sign in English that has the days of the year closed.
That only stops you accessing the Museum and the complex by the front gate.. If you drive a few km down the road you can get in the back way via the camping site turn off.
Very twisty windy road pass one small check point.. (just slow down and wave as you go past)
Then you are at Hell Fire Pass behind the museum complex. All the tourists are getting turned away at the main gate as it is closed.
So we had the entire place to ourselves.. Which made it even more special to reflect on what happened here.
A GREAT weekend at Baan Ricky..
Even if you don't want to ride out to Sai Yok Yai but would like to experience the place.. There are bikes for hire and some gear you can try on and see if it fits.
There is just so much great riding around this area.. Not only do you have the MX tracks at Baan Ricky, but endless trails and national parks to ride around and through.
A BIG thank you to Alan for riding around with me and showing me so many great tracks and places..
Will be back soon Alan for some coaching on that steep down hill stuff..
Thanks Alan and Ricky.
Cheers
Brian