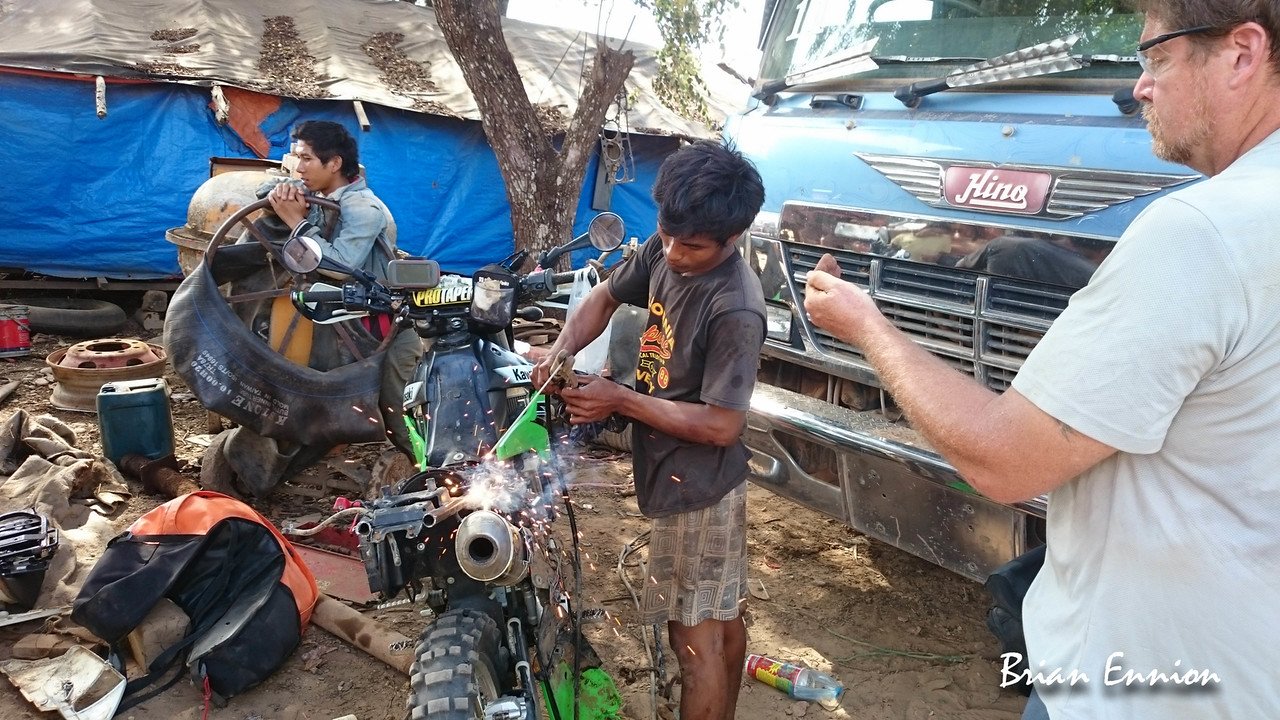 G'day All,
Last November James, Justin and myself all met up in Ubon.
Time to try the new bag out on the KLX.
The plan.
Lets cross the border and take the first right off the tarmac and head to the Lao side of the Emerald triangle.
After the Emerald triangle head to Khong Island and see what we decide to do next.
Getting across a bit later than planned.. but we still decide to give the Emerald Triangle a go.
Turn right at the first dirt road.. On OSM it doesn't show as linking up.
Looking on Google Earth is looks like there is a way through.
So we decide to give it a go and if it can be done.
Interesting to see all my way points on the GPS show just up and over the mountains.
Jim and I had been exploring a year earlier on the Thai side..
The road was wide and a bit boring.. But soon became interesting!
Justin waited for us to make sure neither of us came along and went over the edge.. literally..
The road became a little boring.. Justin spotted a track going to the left and we went to explore..
It was real fun and we thought we were still mostly tracking in the correct direction..
That is until we popped back out on the road heading to Pakse.. Oh well.. Grab a coffee and the trail was fun.
Quite technical and wet and muddy in parts. (Track already on OSM)
We decide to forget about the Emerald Triangle and head to Champasak..
Again, avoiding the paved road and come in to Champasak from behind..
The road was not the best. Up and down and suspension bottoming out.
Not far from Champasak.. I hear the sound every time I go over a big bump..
Then stop and look.. My subframe had snapped.
Slowly make our way to Champasak. Check in and start the mission to look for a welder.
We find a fella the next day. Under Jim's supervision, he did a pretty good job.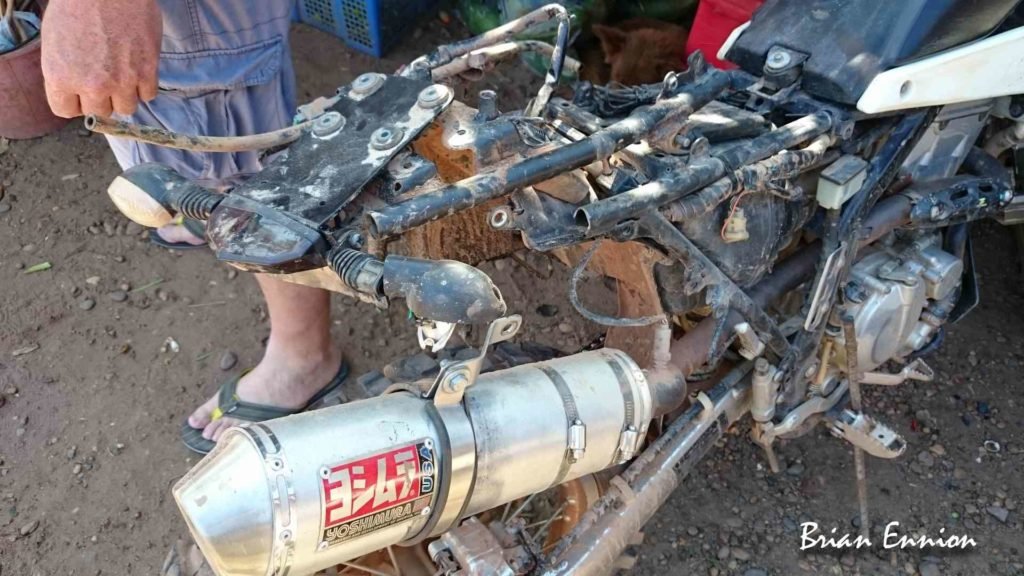 Jim even made him paint it.. Professional at work.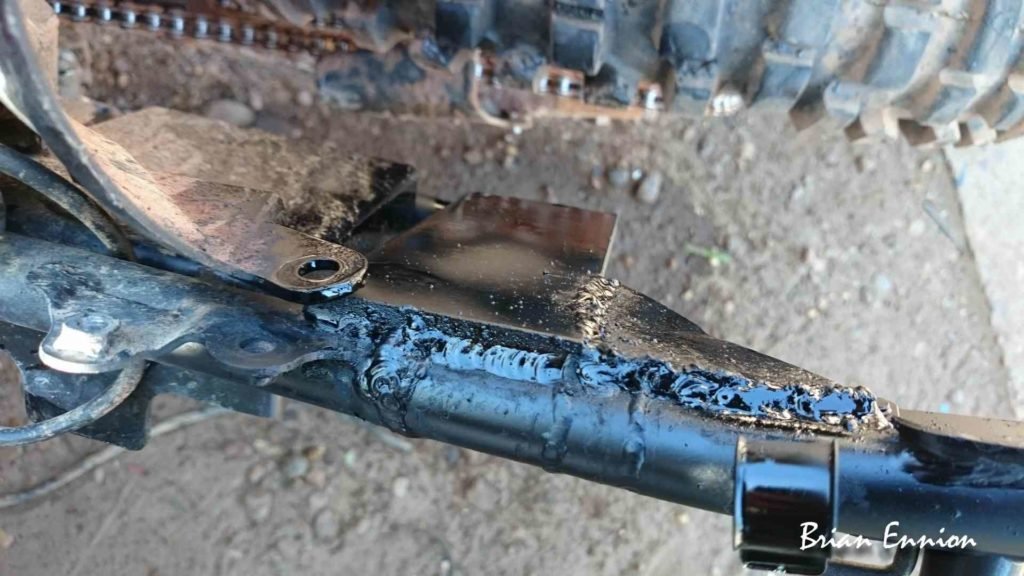 So we decide to stay one more day and head to Wat Phou.. Have been here a few times and never tire of this magnificent temple.
After getting the bike welded up the next morning.. It was off to Wat Phou for the afternoon.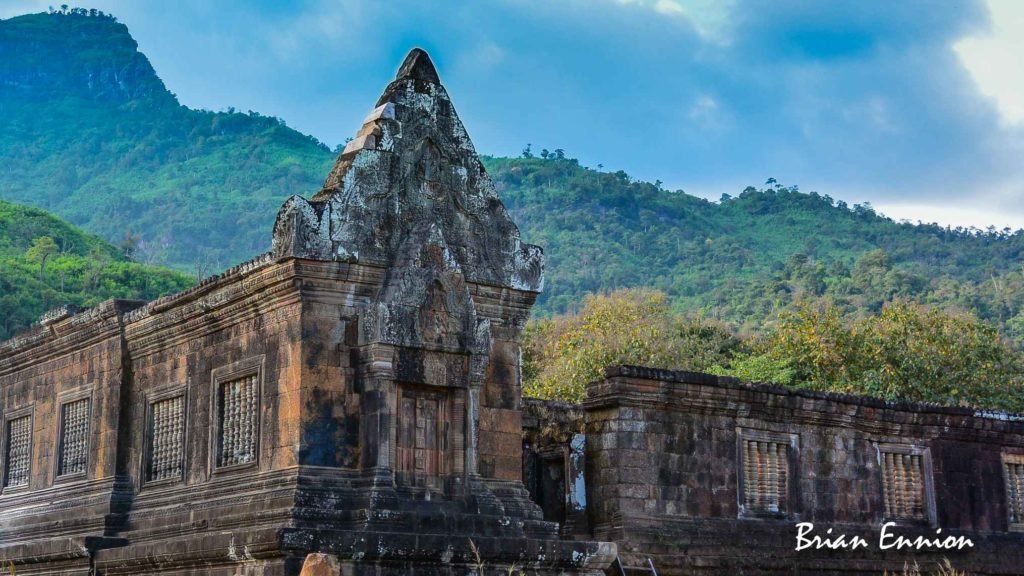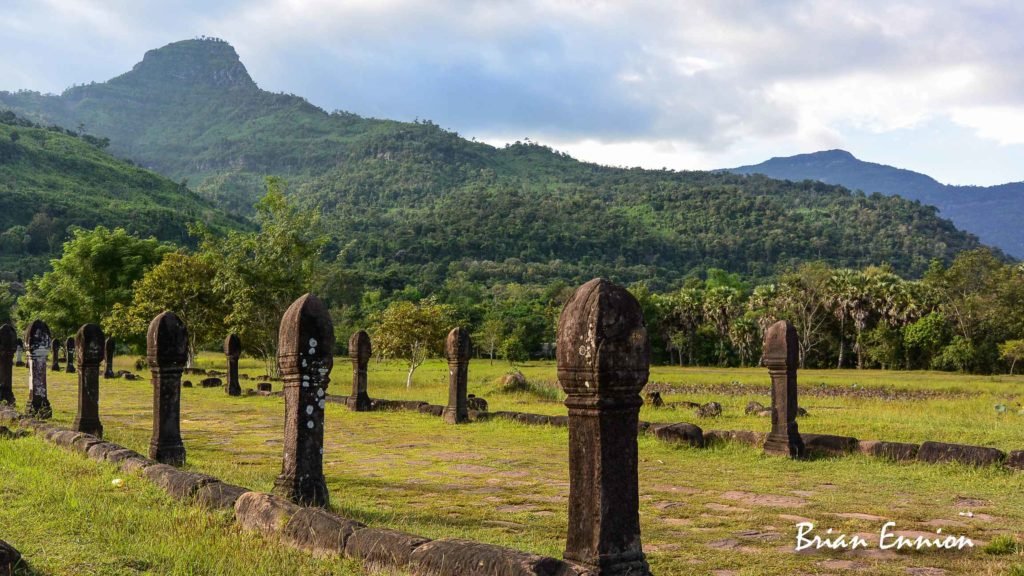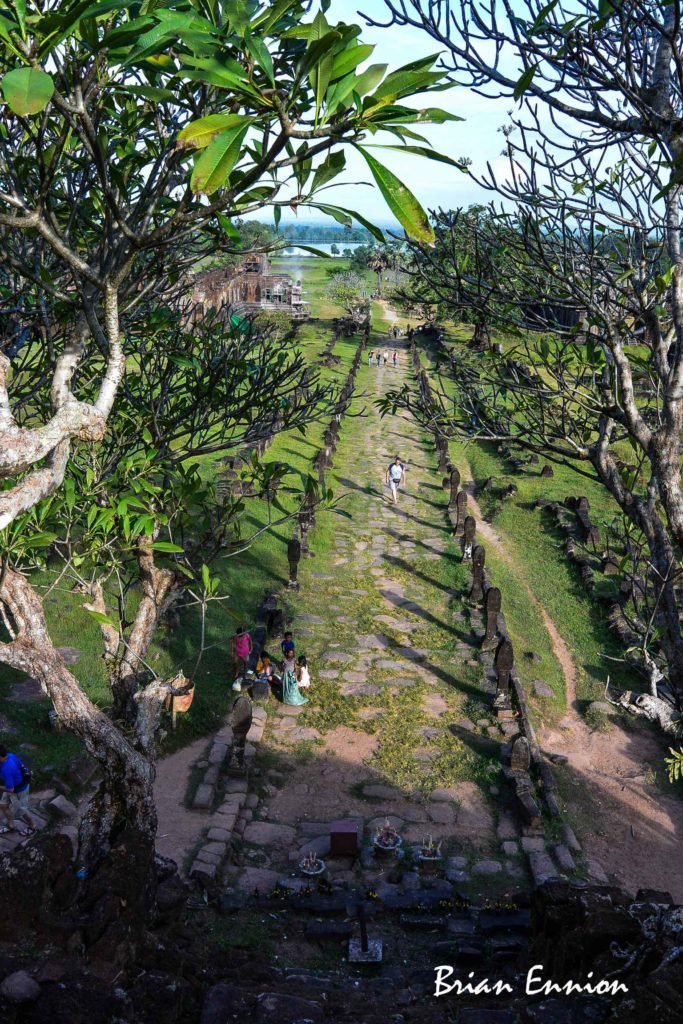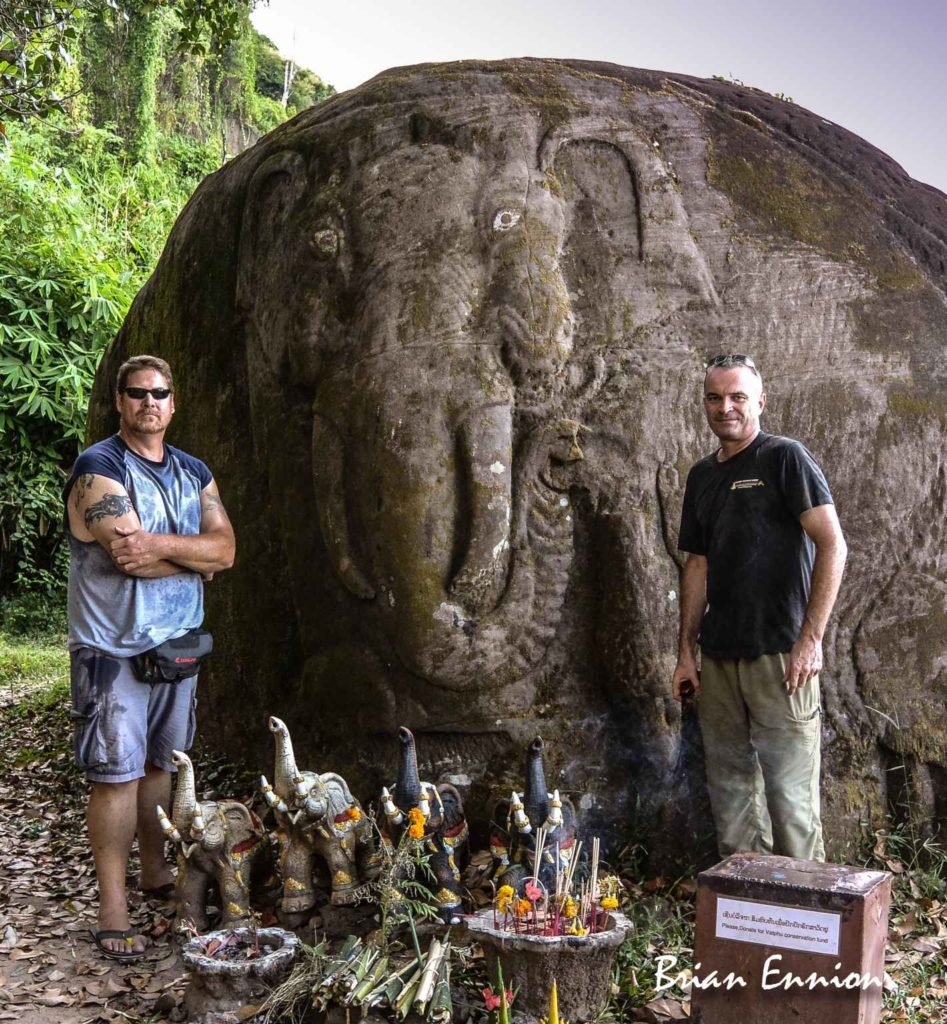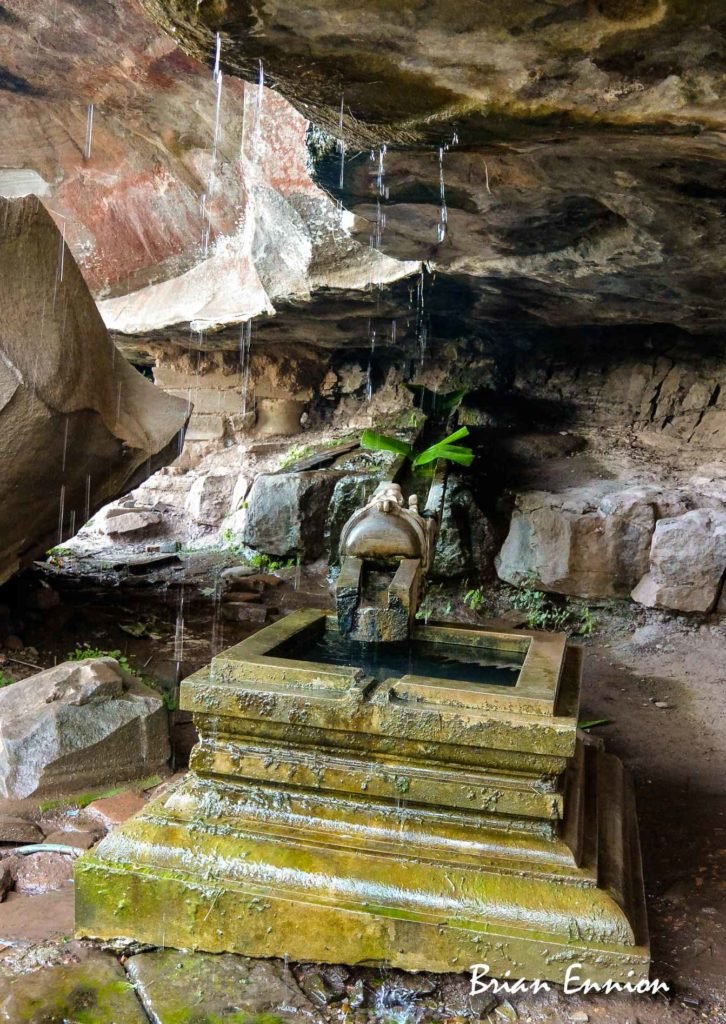 After another night in Champasak.. We decide to head down to Khonephapheng Waterfall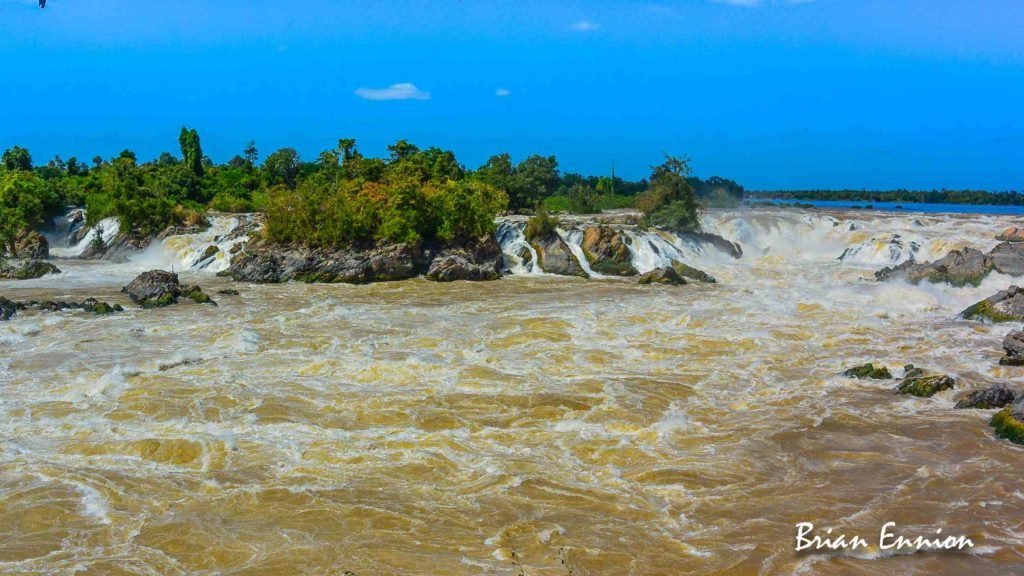 Totally missed out the part from Champasak to Khong island.
Love the ride meandering along the Mekong to the ferry over to Khong Island.
Such lovely villages and trails to ride.. a bit of everything for every one.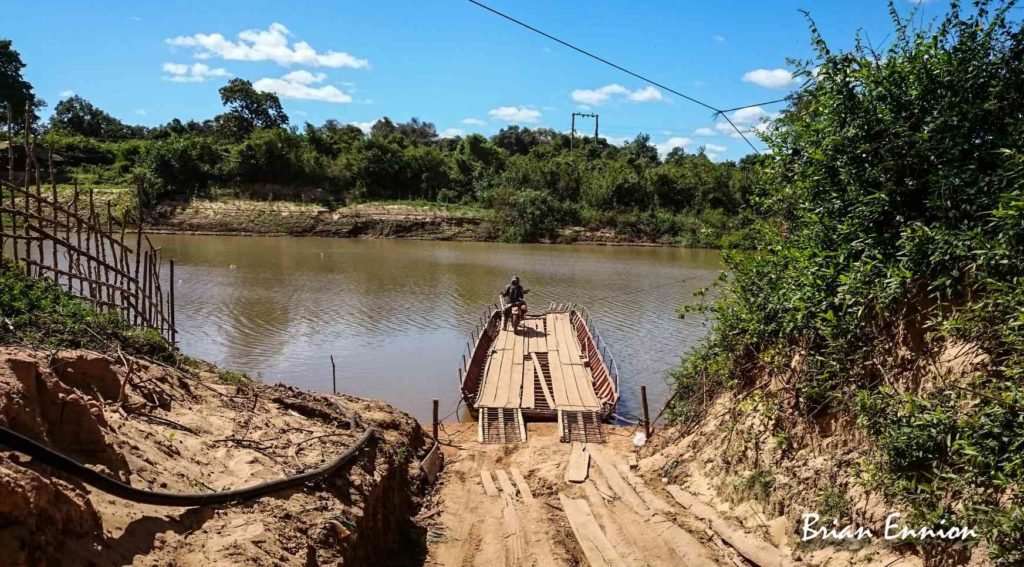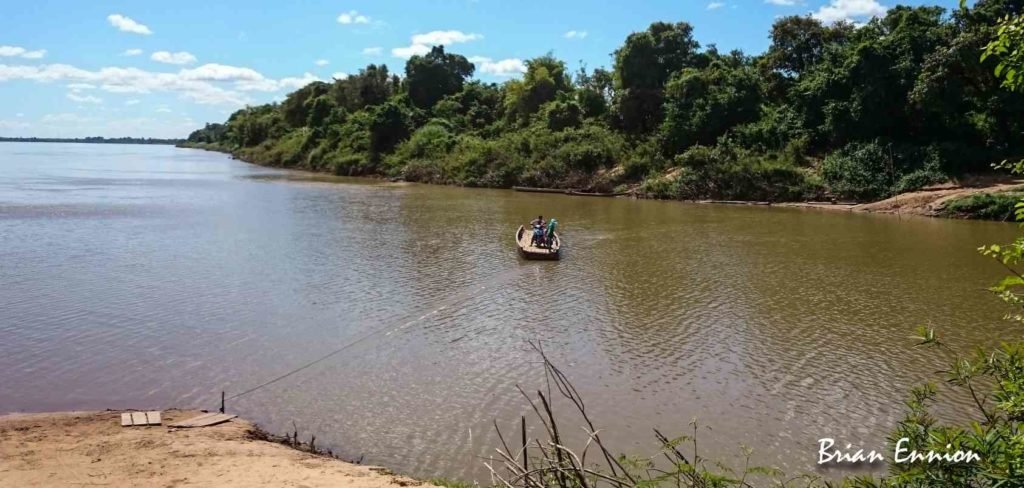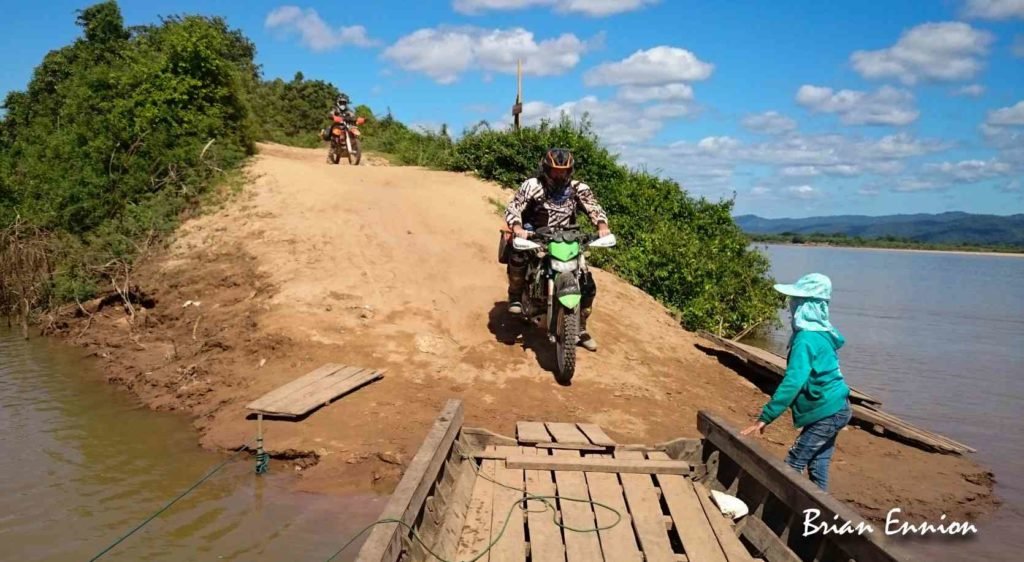 Time to visit the welder again..
As usual.. One just around the trail bend
This was a nice flat straight bit to let it rip… Until you hit the washout in the middle with no where to go.
I must admit. I was a little concerned when Justin crashed in here.. But as usual.. He bounced right back up.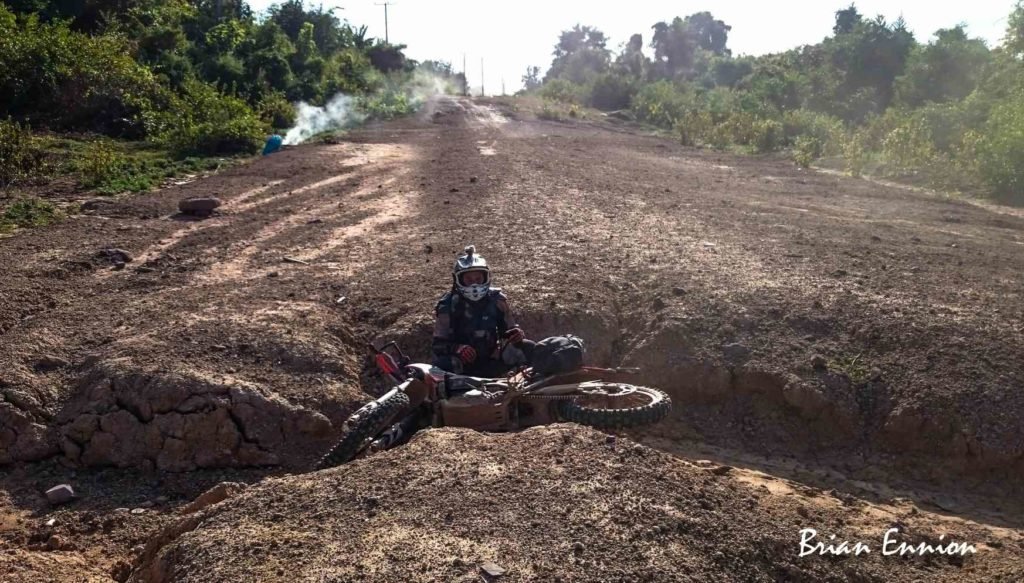 The new ferry to Khong island… The ramp down concreted and easy..
Not like the last time Moto-Rex and I did this.. Steep, narrow and the feeling you were going to go in the Khong before getting to the ferry.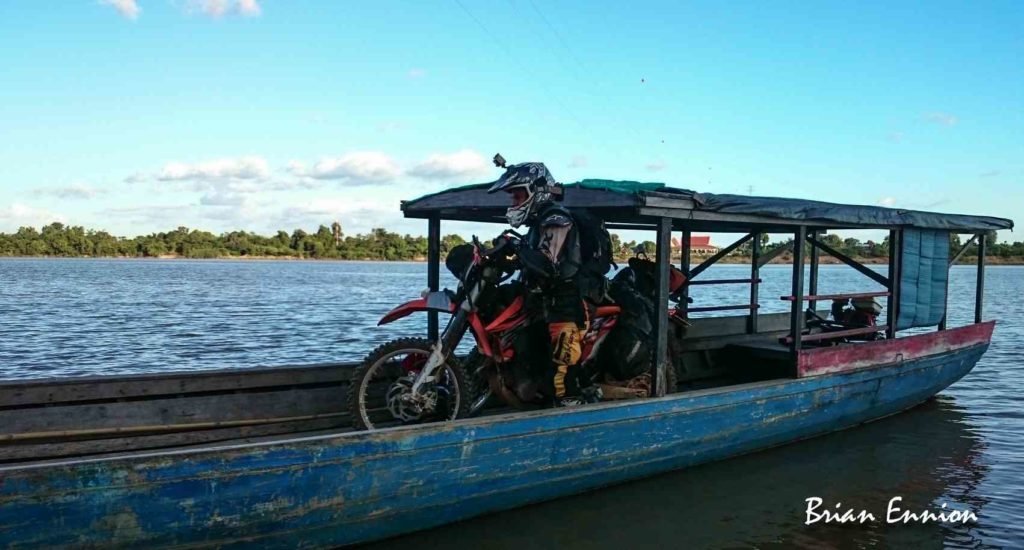 The new bridge is open to Khong island.
Officially opened a couple of weeks later.
They were still working on it when we used it.
Great sunset when heading back.
On the way out and over the bridge.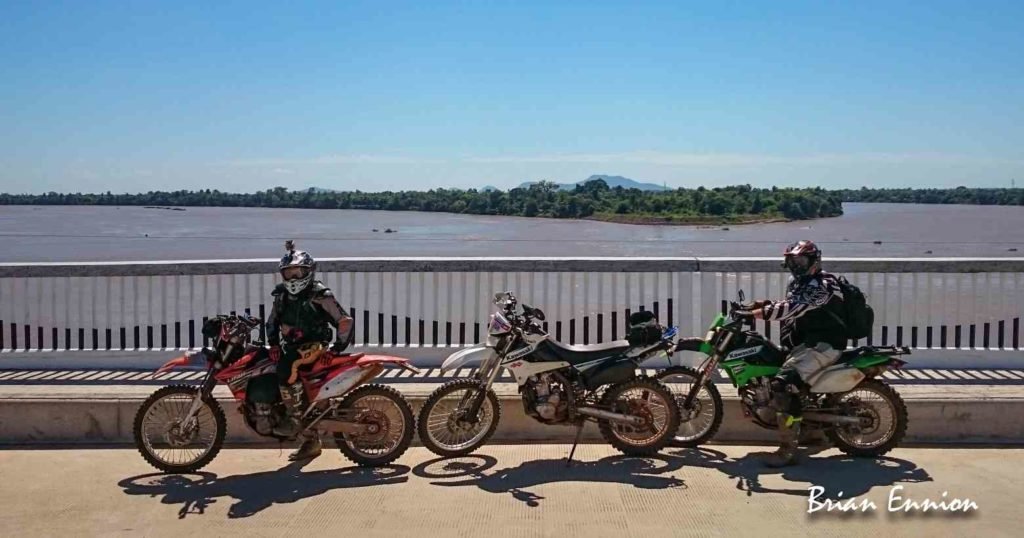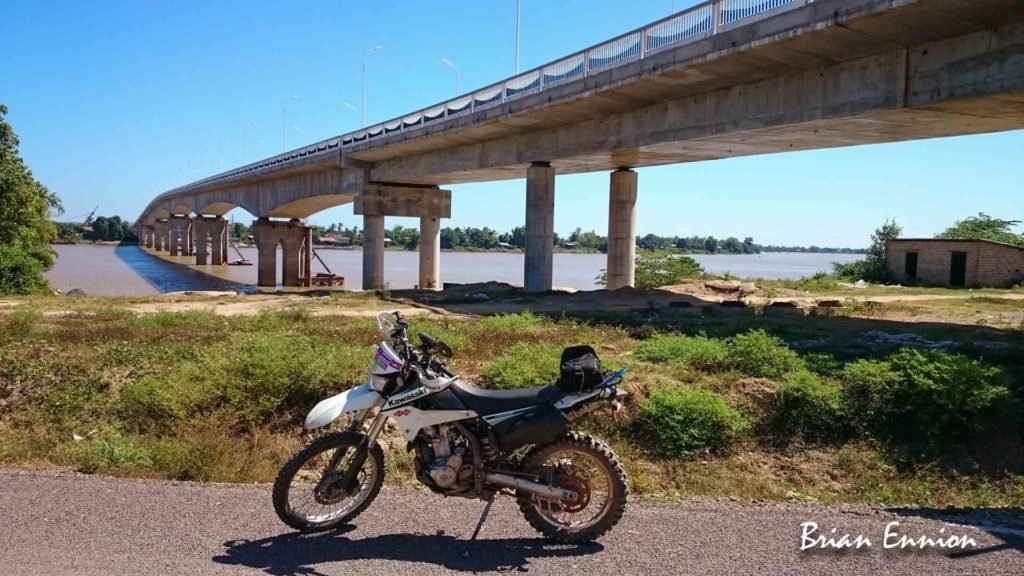 We want to try something different..
Plan is the head to Attapue along the Cambodian border and then take the road that leads up to Route 18a.
Having no idea if we will make it this way… Plus there are a few large river crossings that we may not be able to pass.
We stock up on extra fuel in case we get so far but then need to turn back..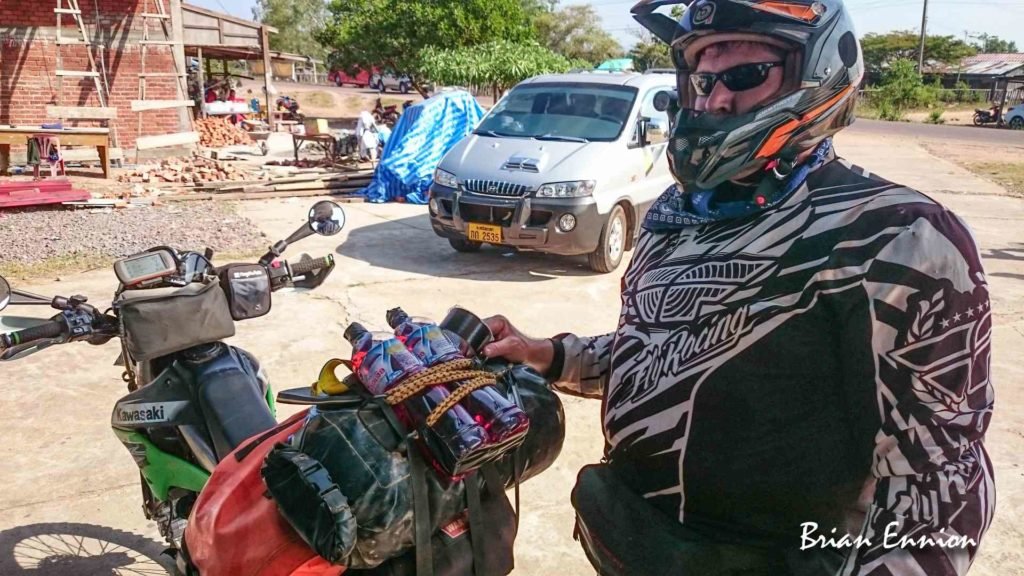 We were doing OK.. rode through the first barrier with no dramas.
But then we reached this check point.. These guys could not be talked around…
So much so.. One of them went off and came back pretty quickly holding an AK47.
Hmmm.. we won't press this one any more and all ended friendly with a few pics.
There is a very good reason we were not allowed to pass..
The reason being the logging that is going on.
Nearly all the trucks had Viet number plates.
Vid credit :- Jim.
So now we have done the hard part of Route 18a.. Up to the last big river crossing.
The last boring, dusty and bumpy part of the ride to Attapue..
It is actually quite a stretch. Almost 1/3 of the Route.
Quick but a crap ride.
Lots of ups and down…
Can only imagine how deep those holes are when filled up in the rainy season.
All going well. Then I notice Jim is not in my mirror for a bit.. Wait for some time and turn back.
We grab a quick refreshment
Another busted Subframe..
Justin goes ahead and I sit behind in case Jim has any issues..
We crawl in to Attapue after dark and head for the most expensive hotel covered in mud, dust, mud and more dust.
The next day ride around town and find this place where the locals are repairing trucks by the river..
They let Jim use the tools and did some welding when needed..
Basically we found some long bolts, cut the ends of them, set the grinder on them and bashed them in to place.
Hat off to Jim.. Not sure what we would have done with out "Jim Fix It" on this trip.
Every second day welding and fixing bikes.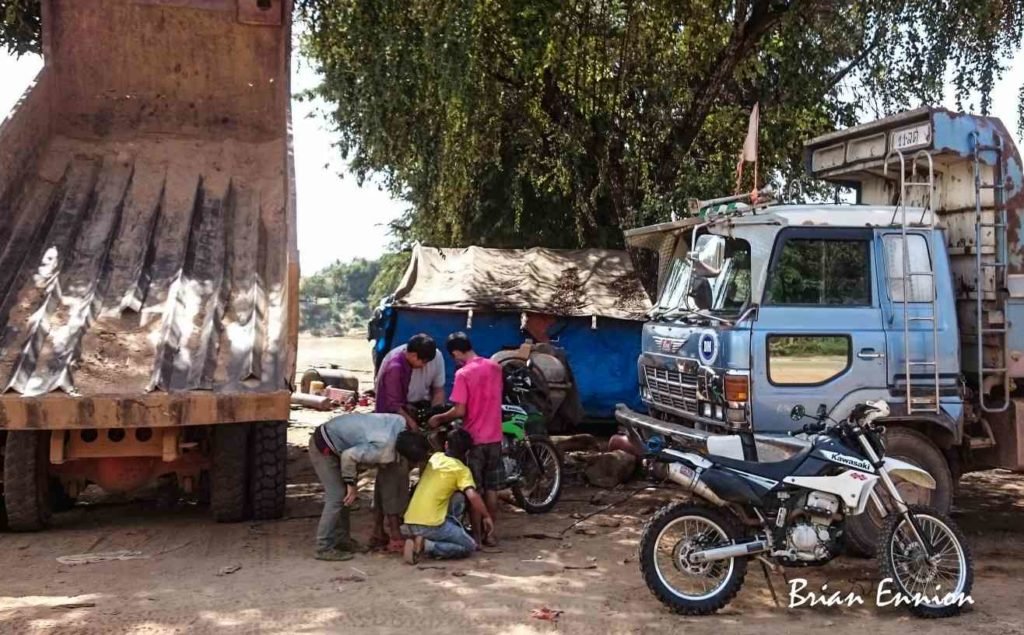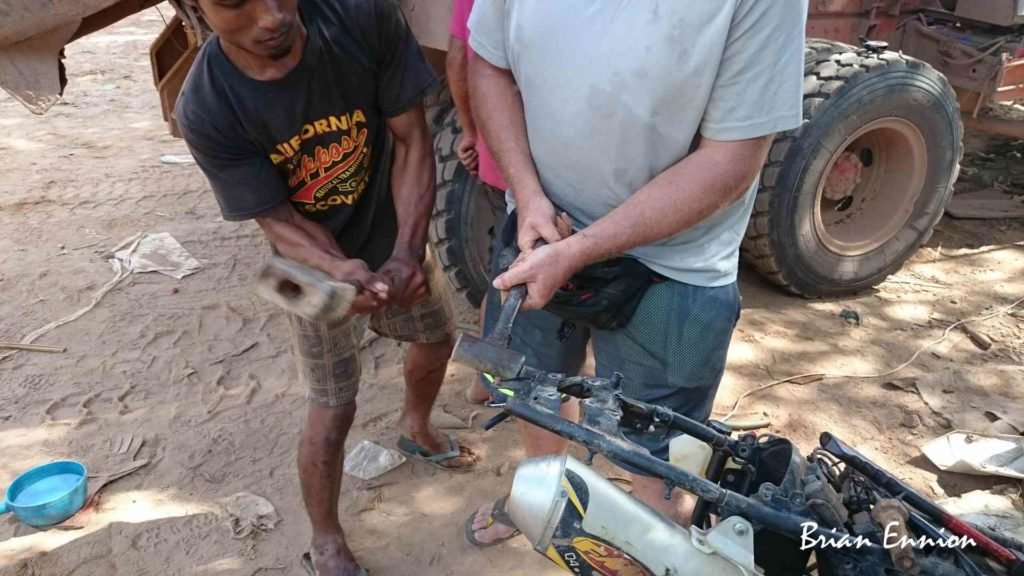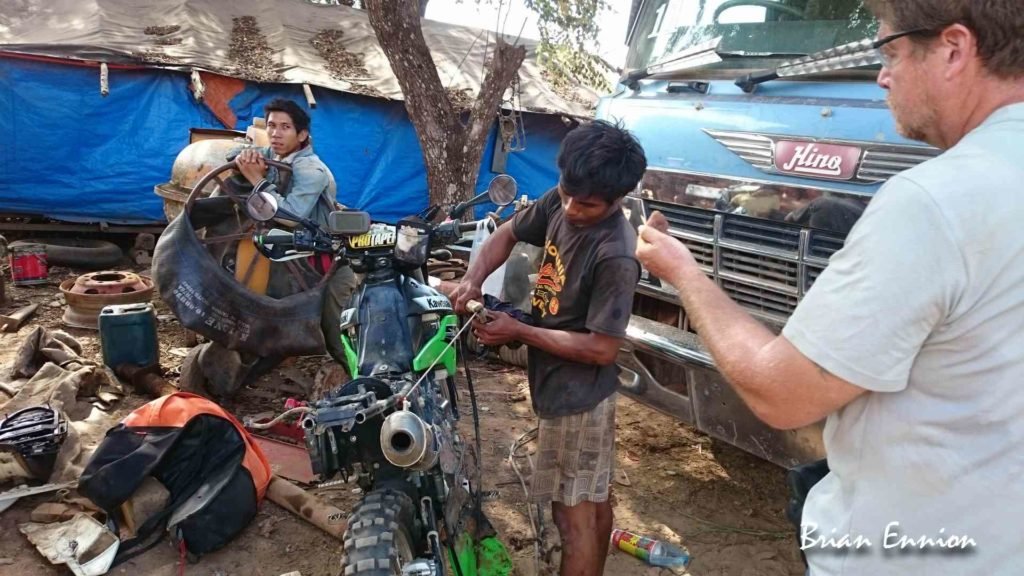 Can you believe the local guy is welding with a pair of dark sunglasses !
Basically we wee all pretty shattered after the Route 18a ride, welding etc..
Cheers
Brian