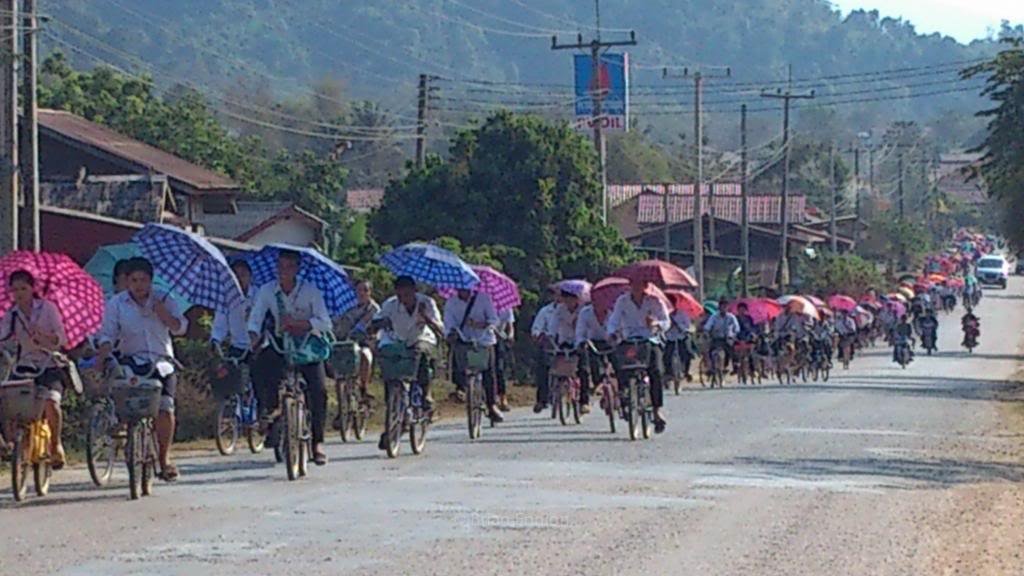 G'day,
Day 1 Friday…
Meet the fellas at the PTT a little North of the city centre.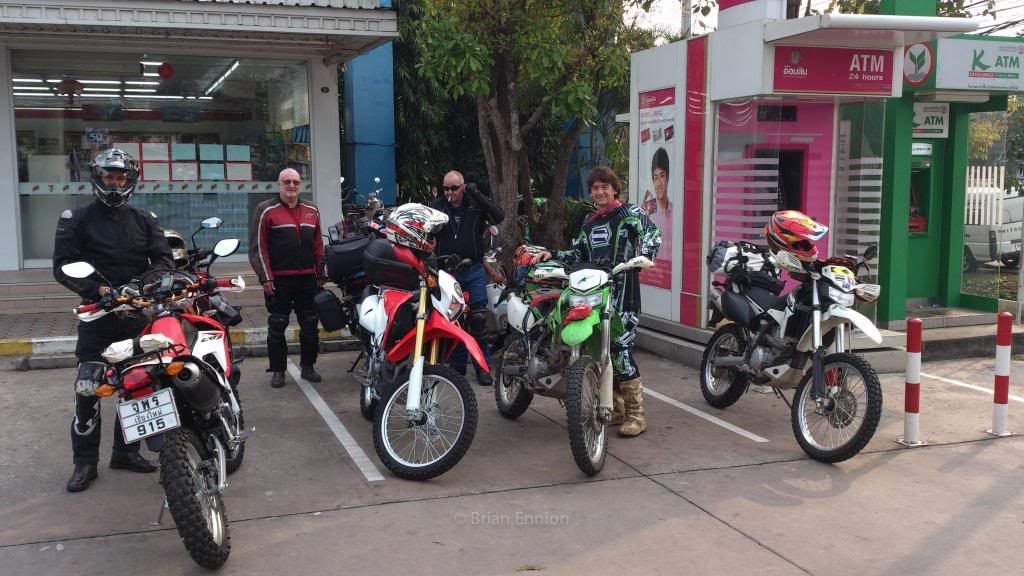 Then the 4 hour ride over to Chiang Khong.. Lot more pleasant on the Versys…
The trusty KLX will be in her element when we are over the border in Laos..
Tony was very thirsty and really needed a Beer Lao..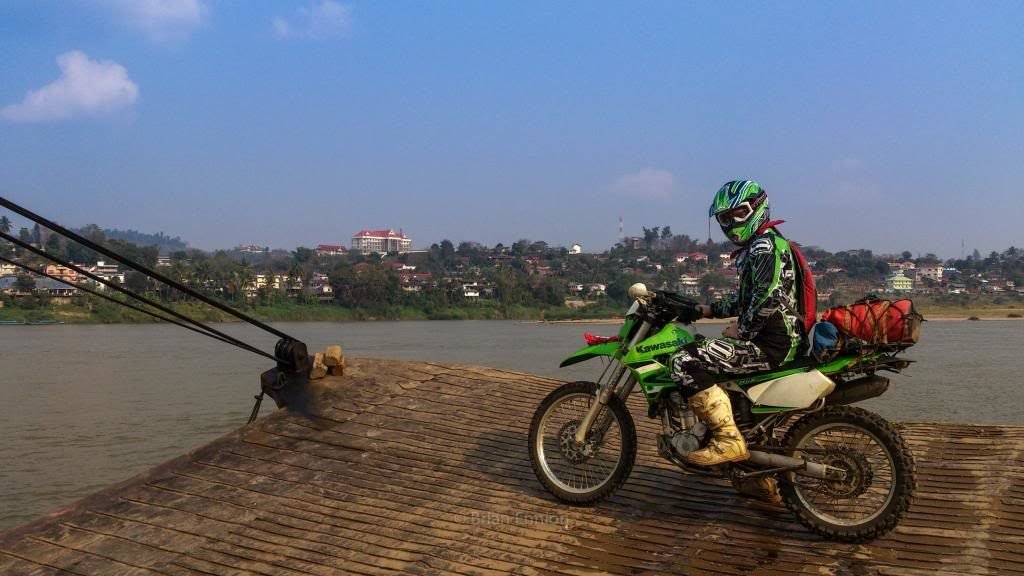 Having a look at how big the jump is to get over the Khong… "Damn, those trucks have restricted my run up.."
Tony will have wait with the rest of us and cross together.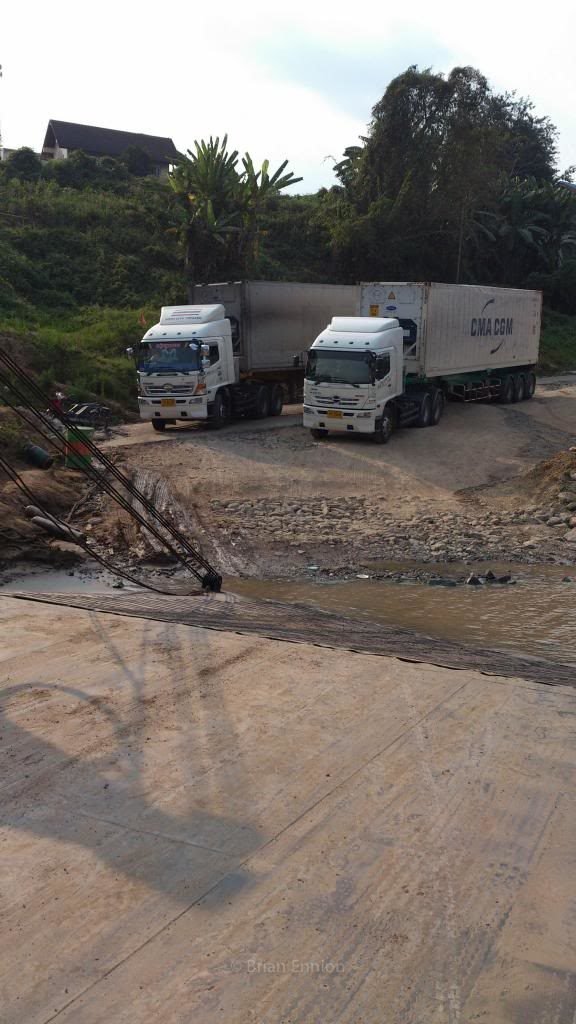 Short YouTube of the trucks getting on the Ferry.. Good skills.
This is how we started off.. Nice and orderly towards the front of the ferry…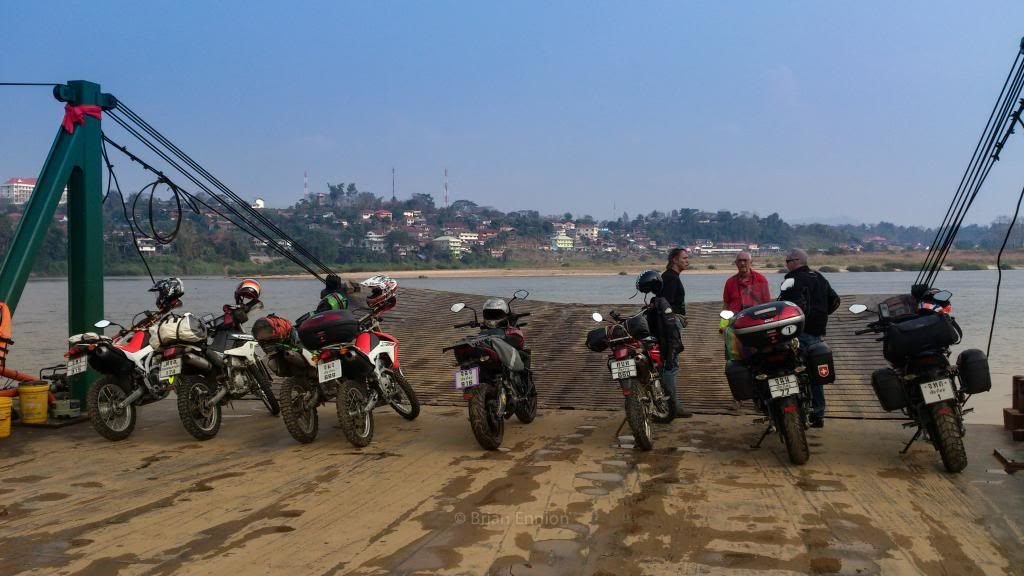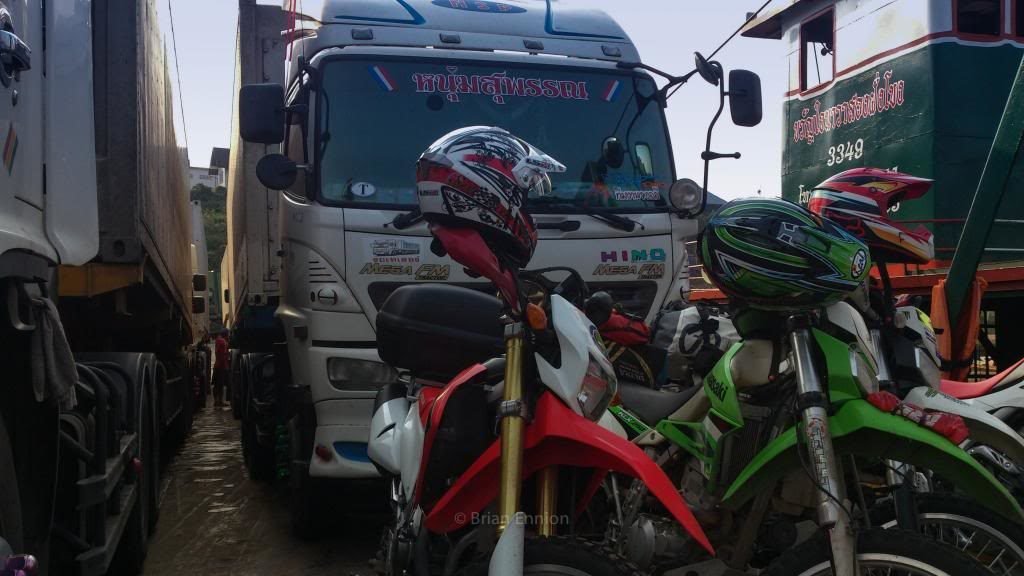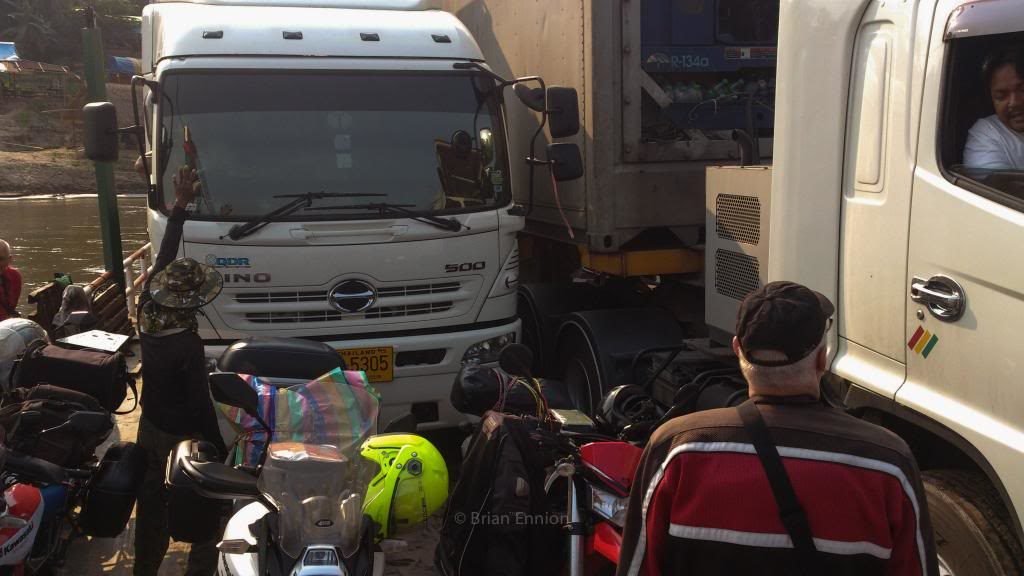 Then the trucks came on and created a new order…
Across the Khong we go..
The group managed to get a bit split up as some hotel booking issues..
Where one hotel is passing itself off as another and so on.
Well.. part of the game when travelling in Asia..
We were all so proud of Bungy.. Mai Pen Rai… These things happen.. Cool as a cucumber..
Next to load the bikes on to the boat..
The KLX's and CRF's are pretty easy…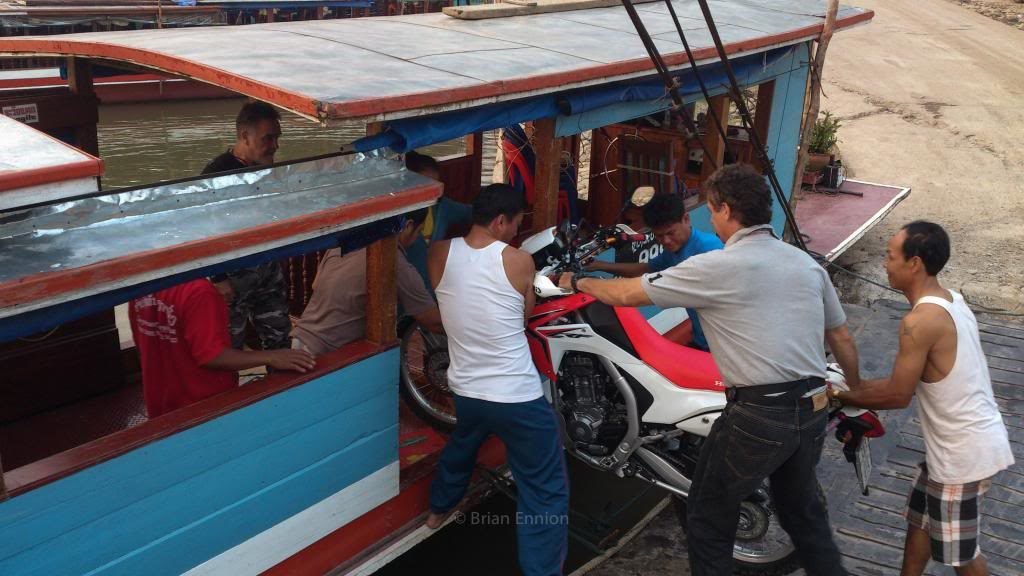 The KLX is left to guard the beer..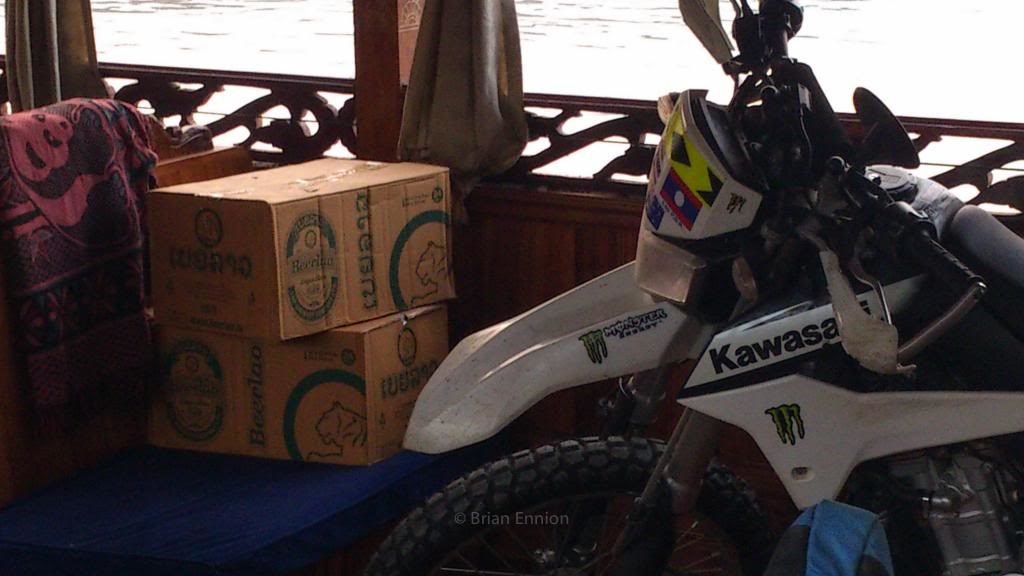 Next, time for the Versys…
Love the look on Roberts face..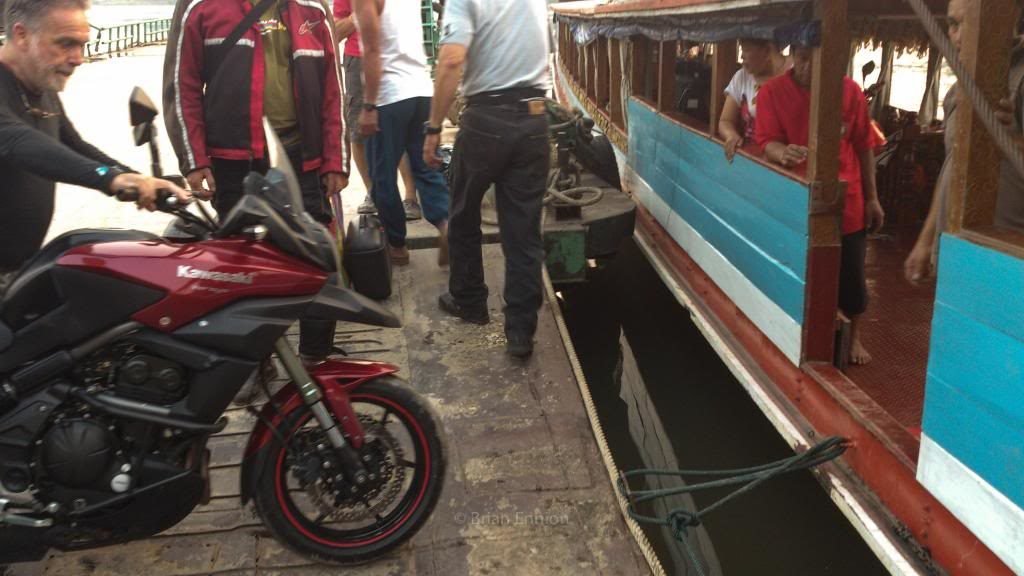 After asking for the 3rd time a plank appears..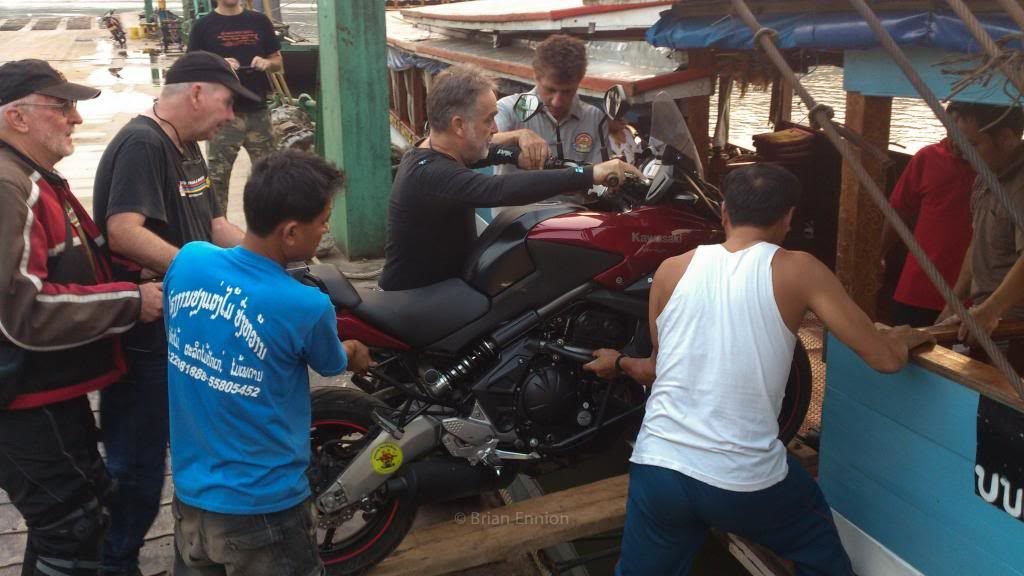 Then the rest of the bikes go on…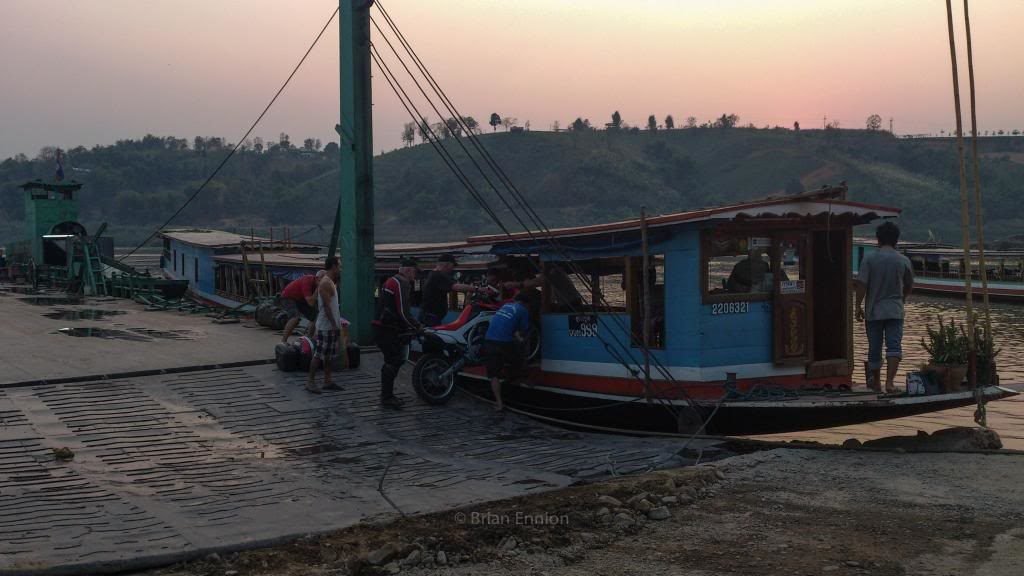 Then off to enjoy copious amounts of Beer Lao and some great tucker over looking the Mekong and Chiang Khong…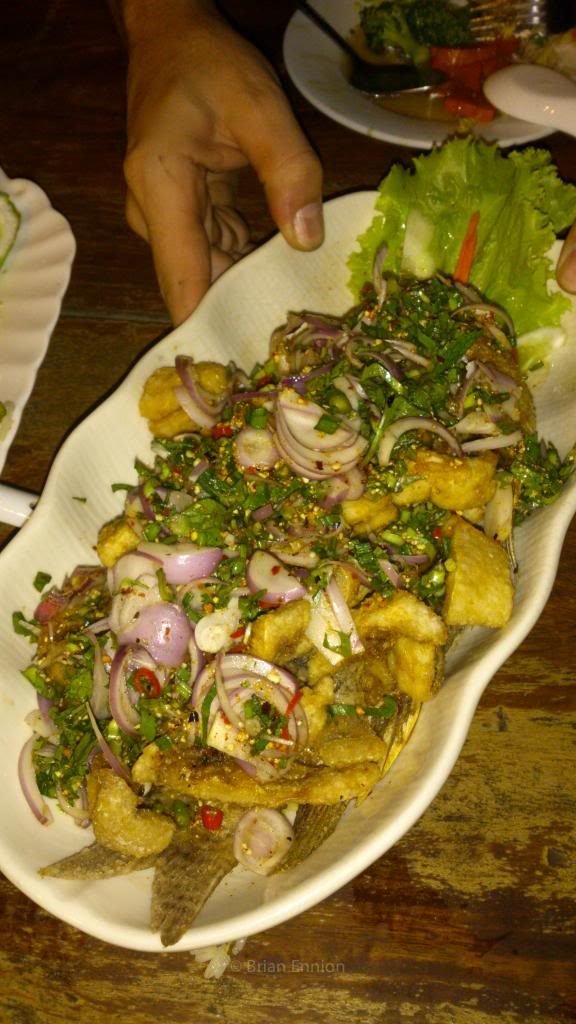 Everyone very excited about the next day… Cruising up the Mekong to Luang Prabang.. Going to be a ripper..
Day 2 Saturday…
After a good sleep at this fantastic family run guest house..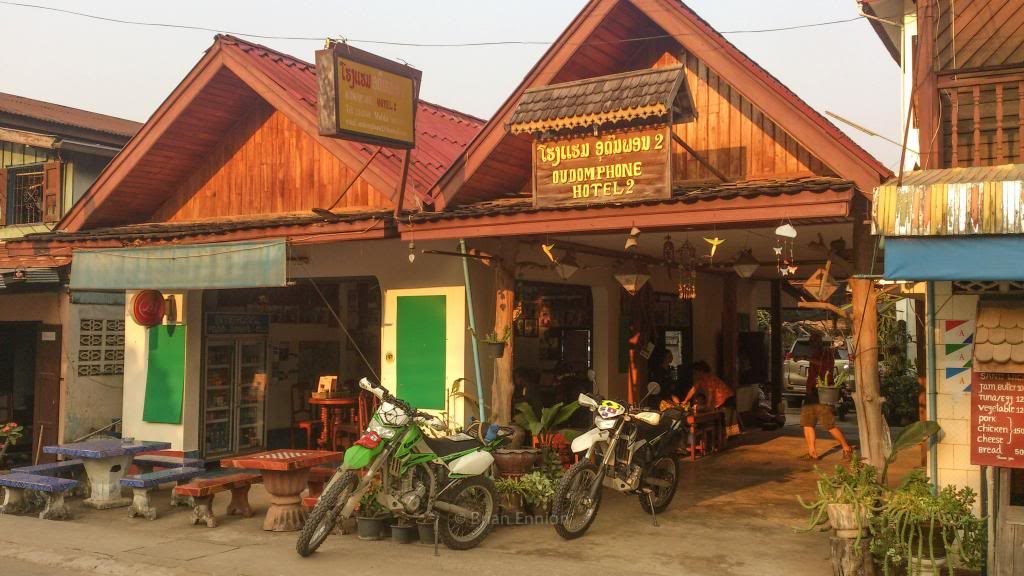 Onboard the boat and cracking open the first Beer Lao at 6.30am.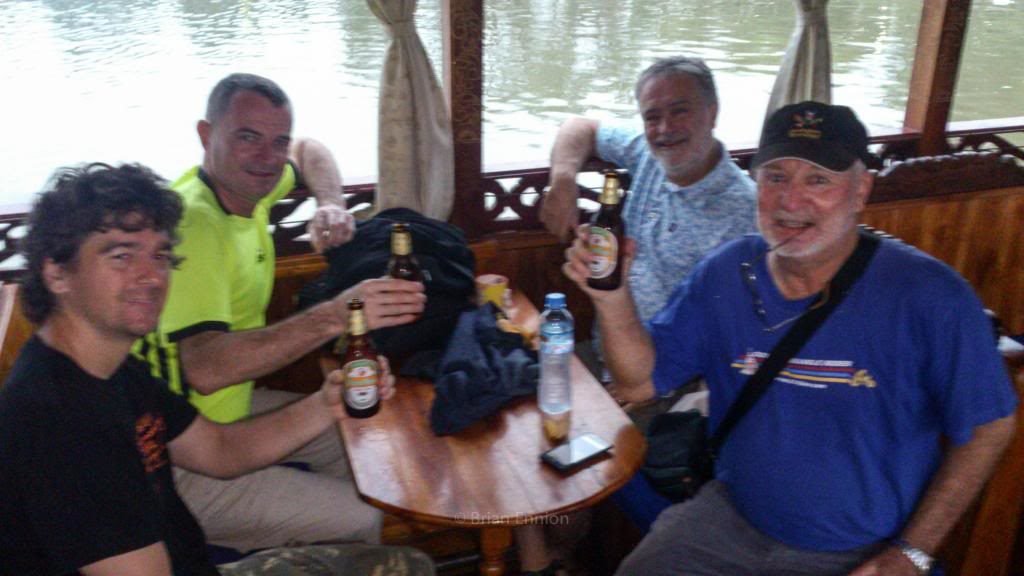 Then our lovely journey begins down the mighty Mekong towards Luang Prabang..
Approaching the Chiang Khong / Houie Xai Friendship bridge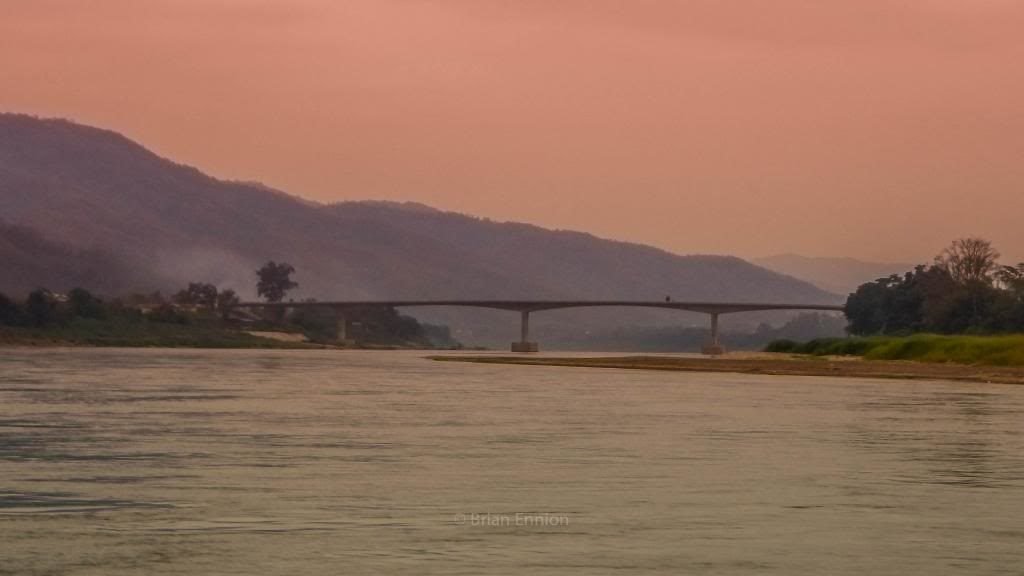 Some majestic trees lining the banks of the Mekong.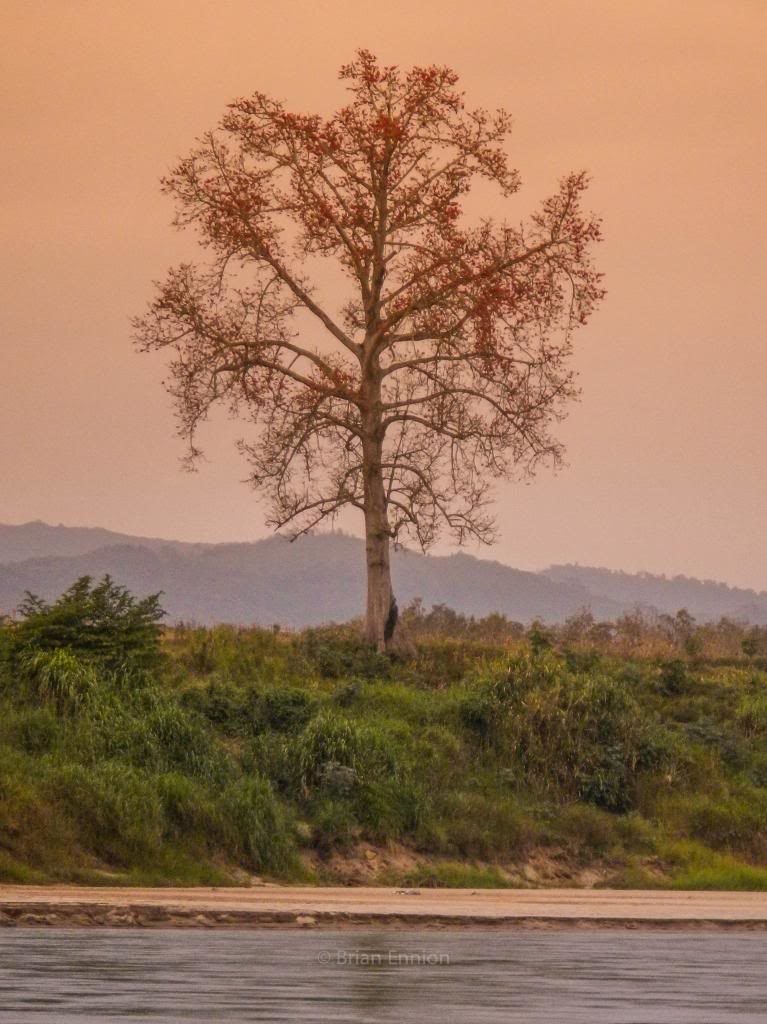 Our fearless captain and what a job he had..
The Mekong is getting low in spots. You knew when it was a difficult bit as his wife would come up and act as additional eyes to navigate the way through.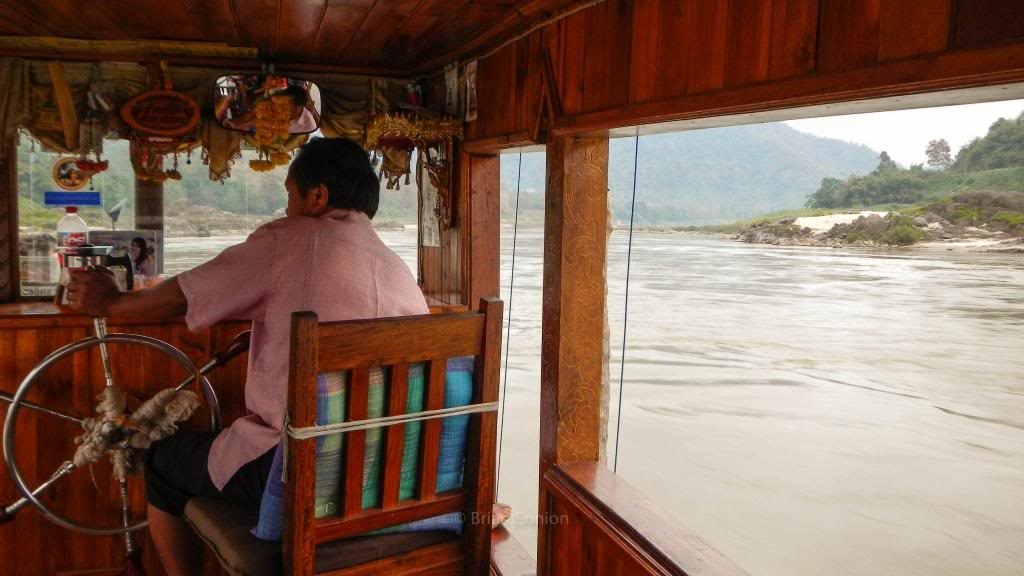 What a great job he did too.. Only time he ever left the front was when he needed a pee.. No rest for the Captain.. No booze either..
But he didn't mind his wife and daughter indulging in a few Beer Lao's with us towards the end of the trip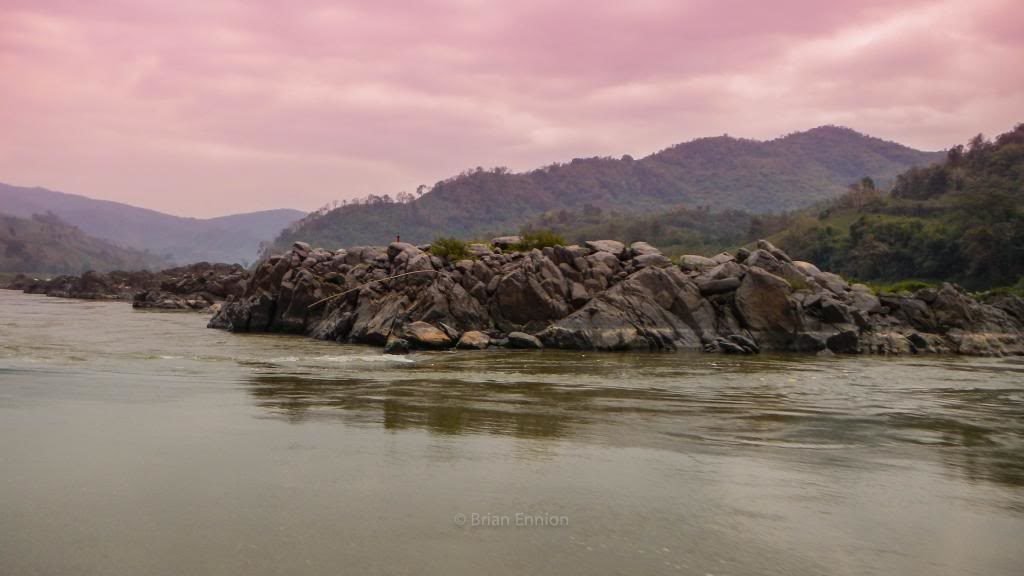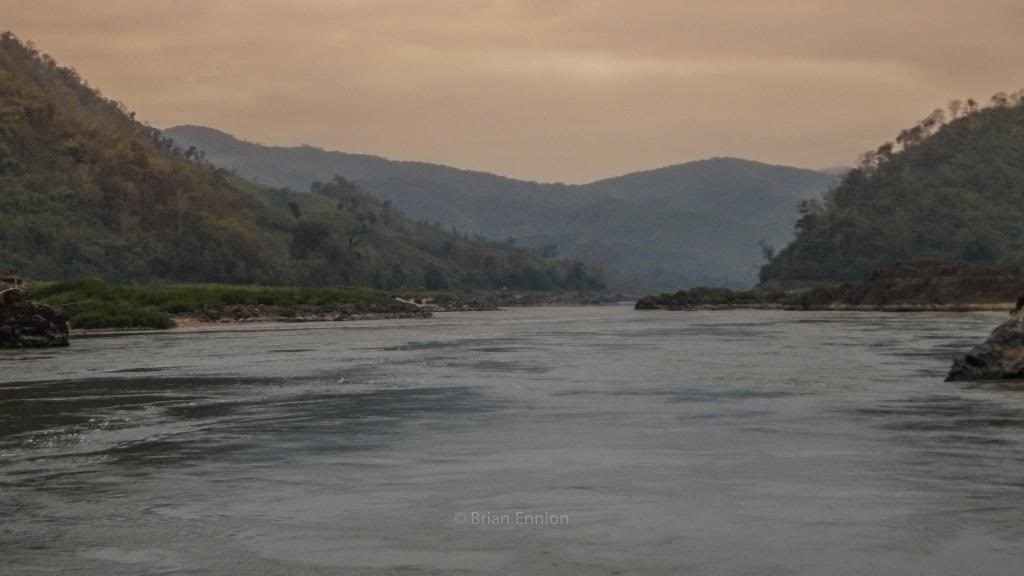 Tried to grab a quick twenty winks.. But as it was nearly 10am.. Richard thought it better to serve morning tea..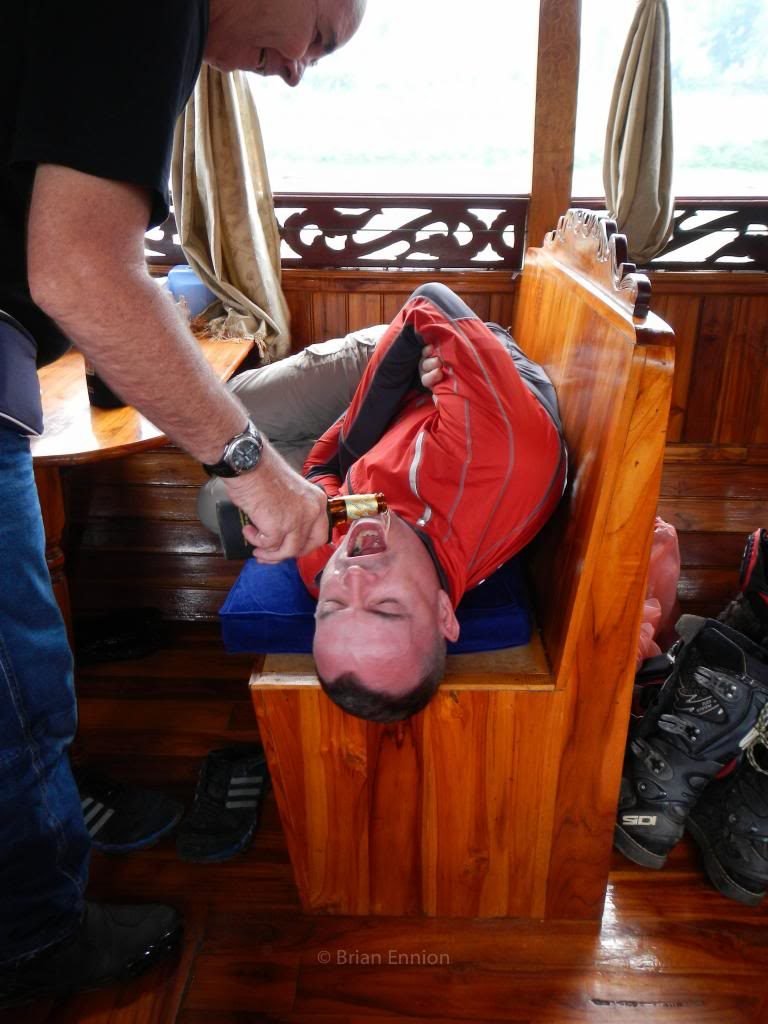 Quick stop in at Pak Beng to check in with the cops..
Nothing to worry about. Just to make sure we reach the other end in one piece and not washed up on the rocks.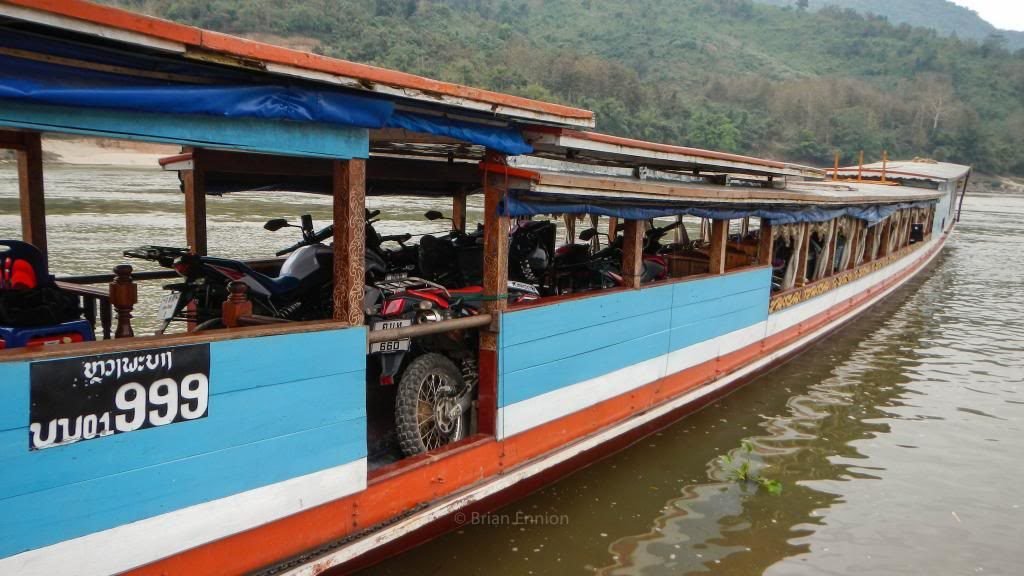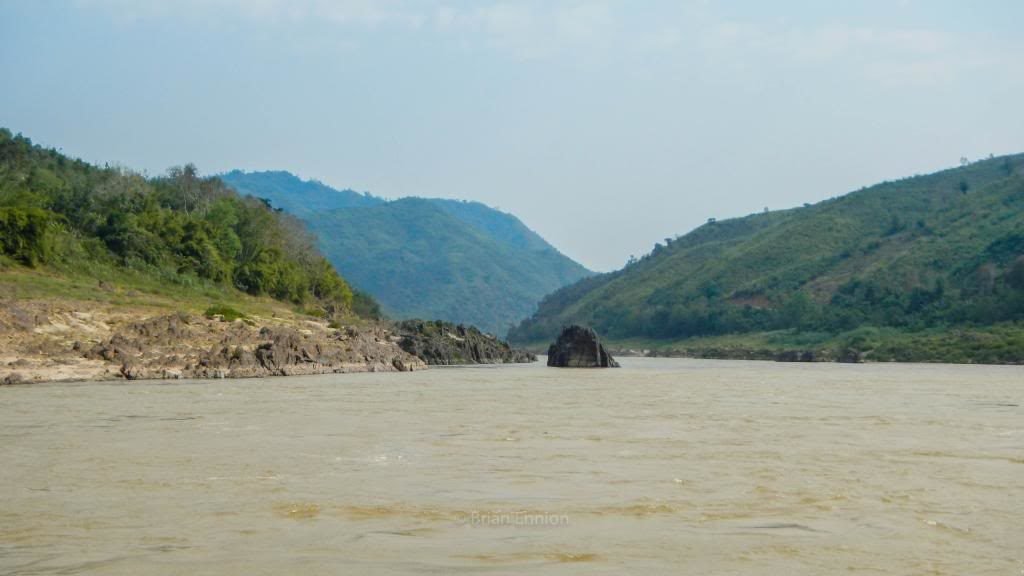 What a great position.. No one wanted to get up and lose their spot up front watching the life on the Mekong sail by…
Beer situation at midday.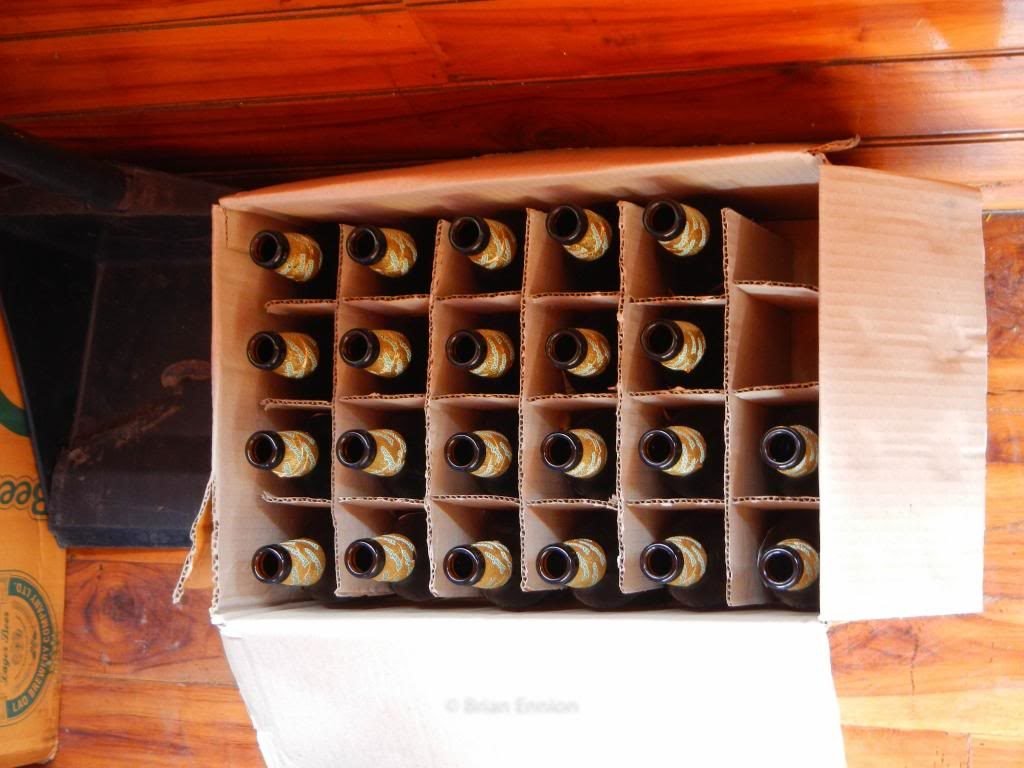 A few shots of life along the mighty Mekong.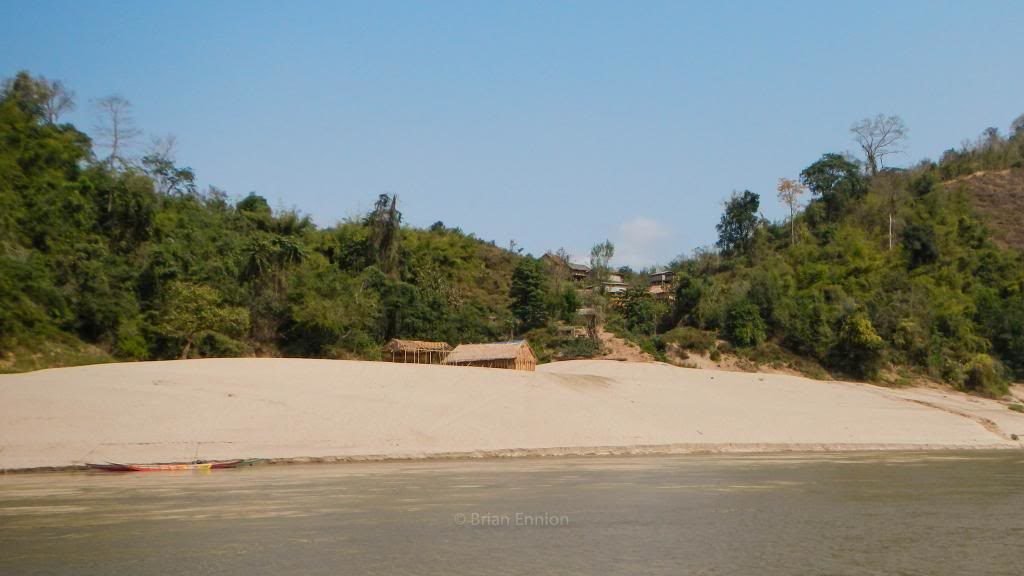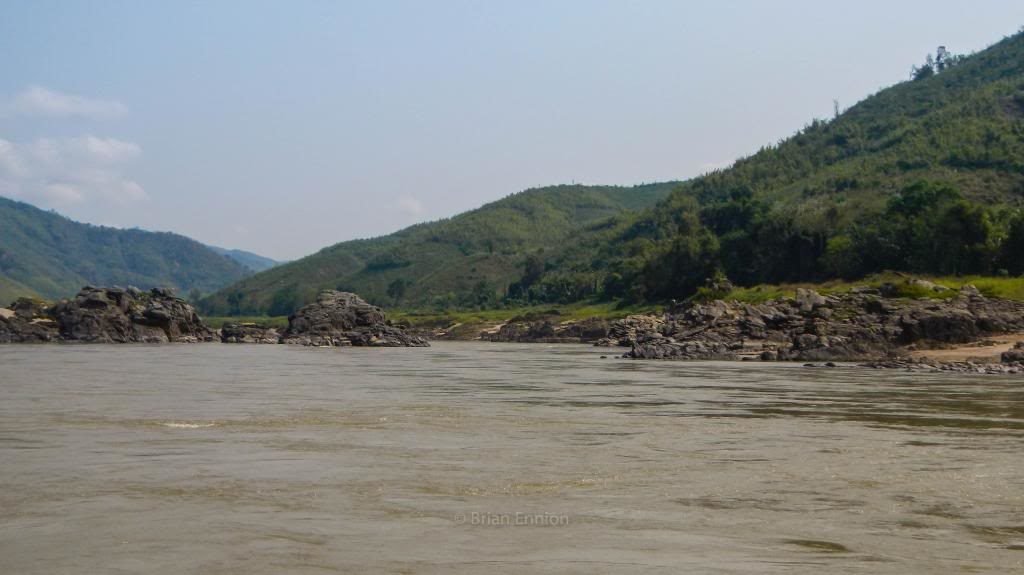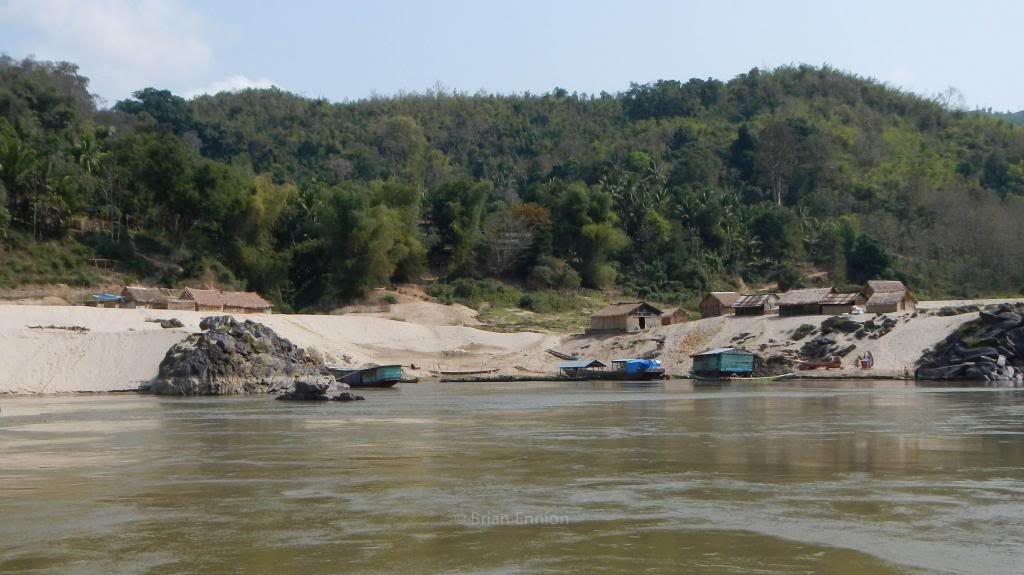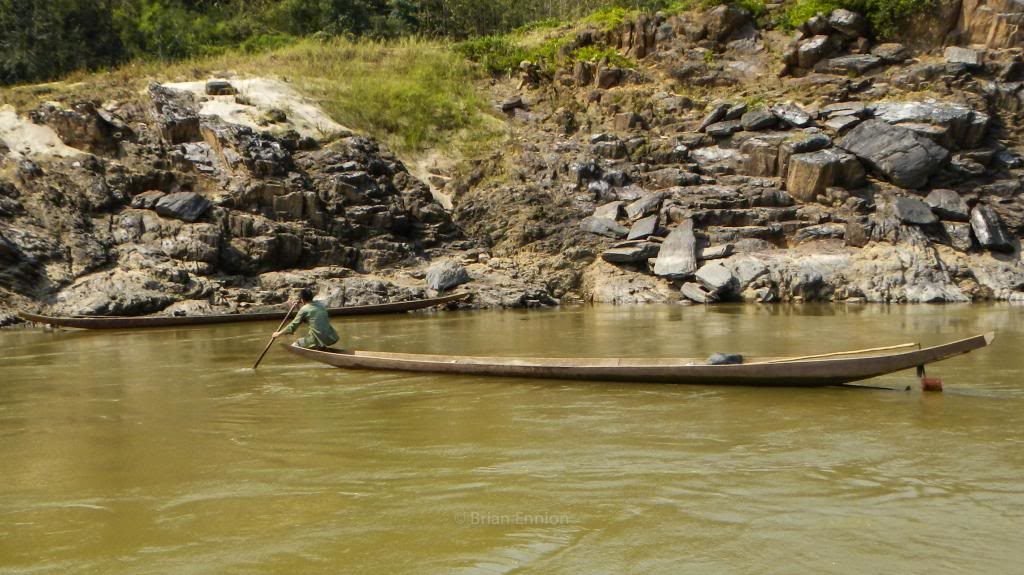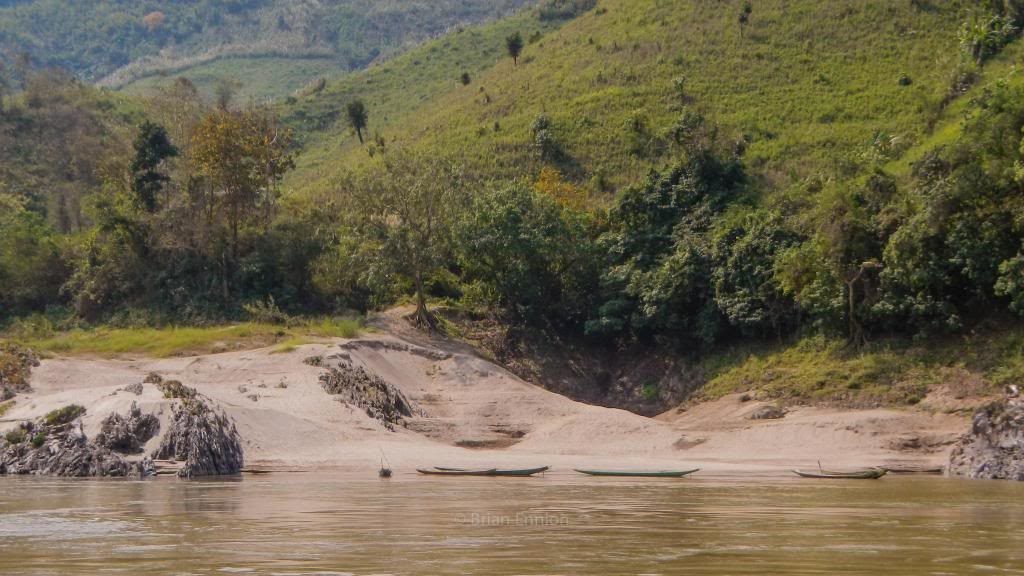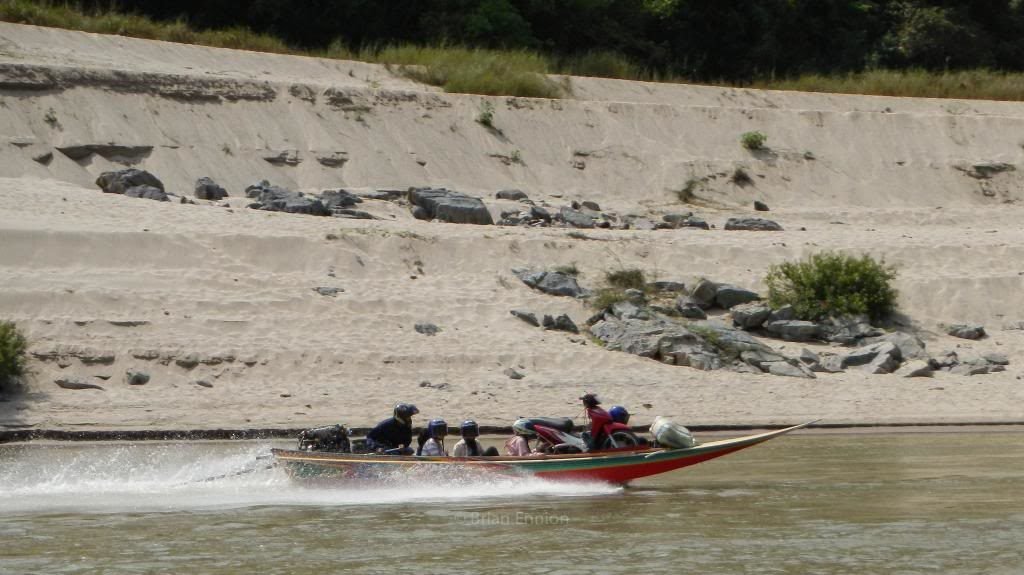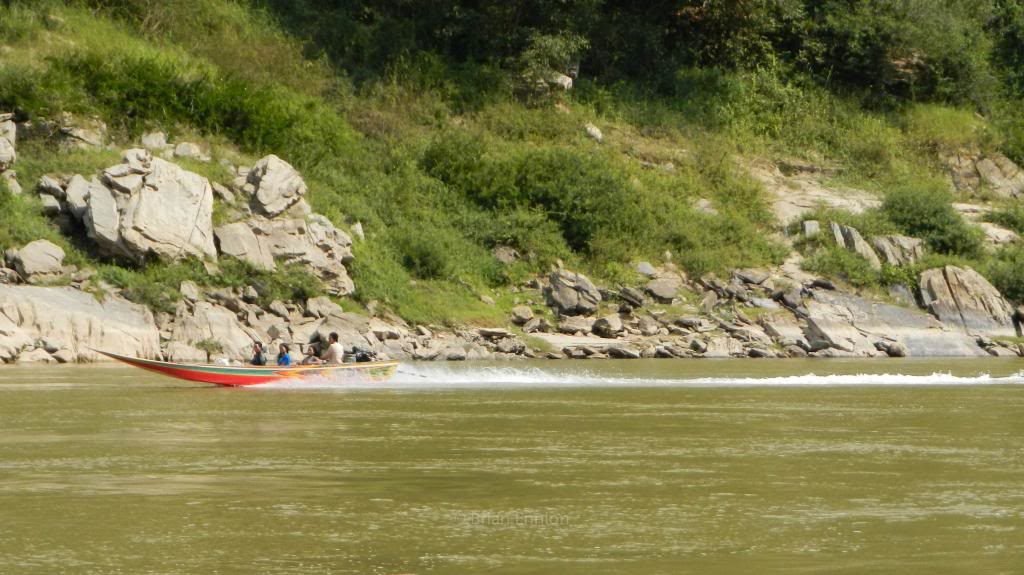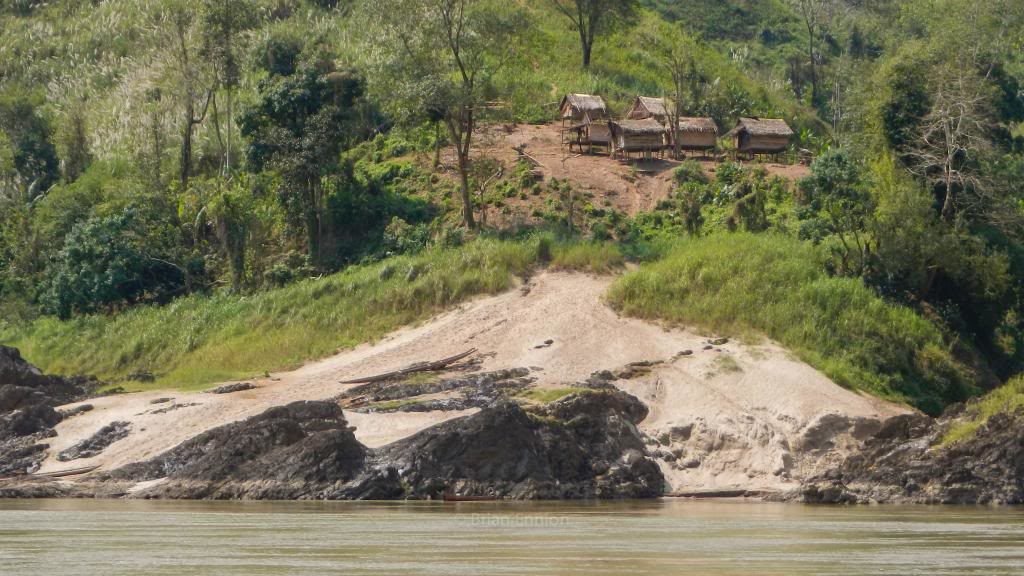 Hmong in traditional dress.. Note the speed boat captain and one passenger are wearing bike helmets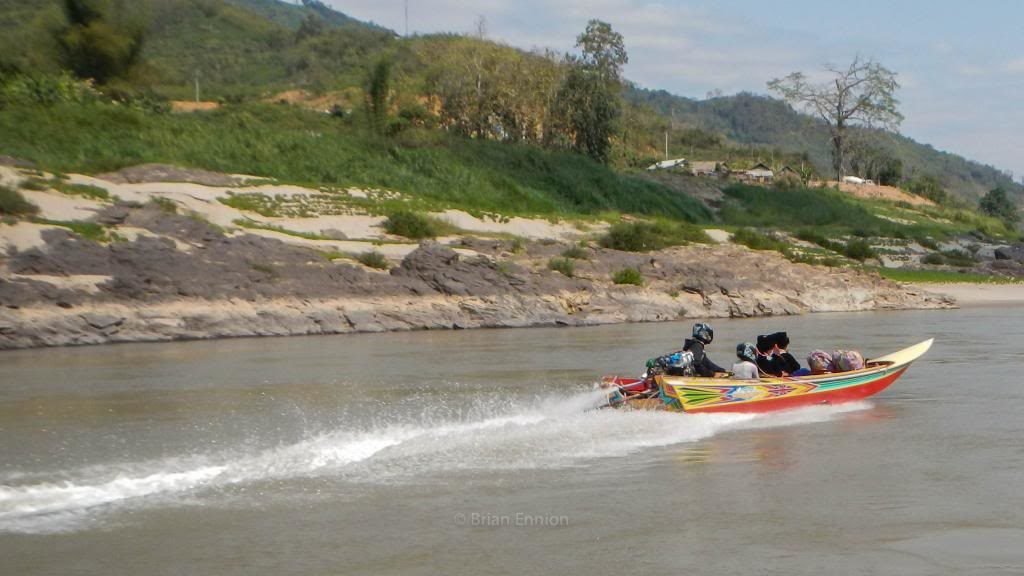 The bikes beginning to look more like clothes racks as the day goes on and people unpack gear they need.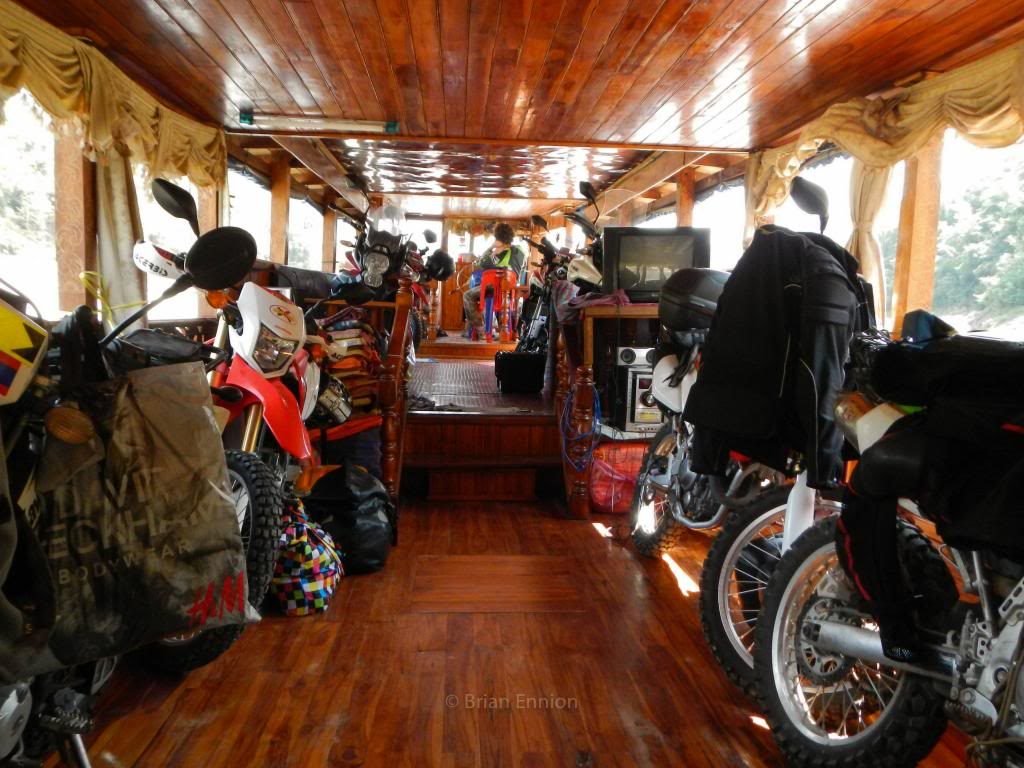 The Captains wife joins in for a few beers
Special guest appearance from Maxwell Smart showing off his shoe phone… KAOS was not far away…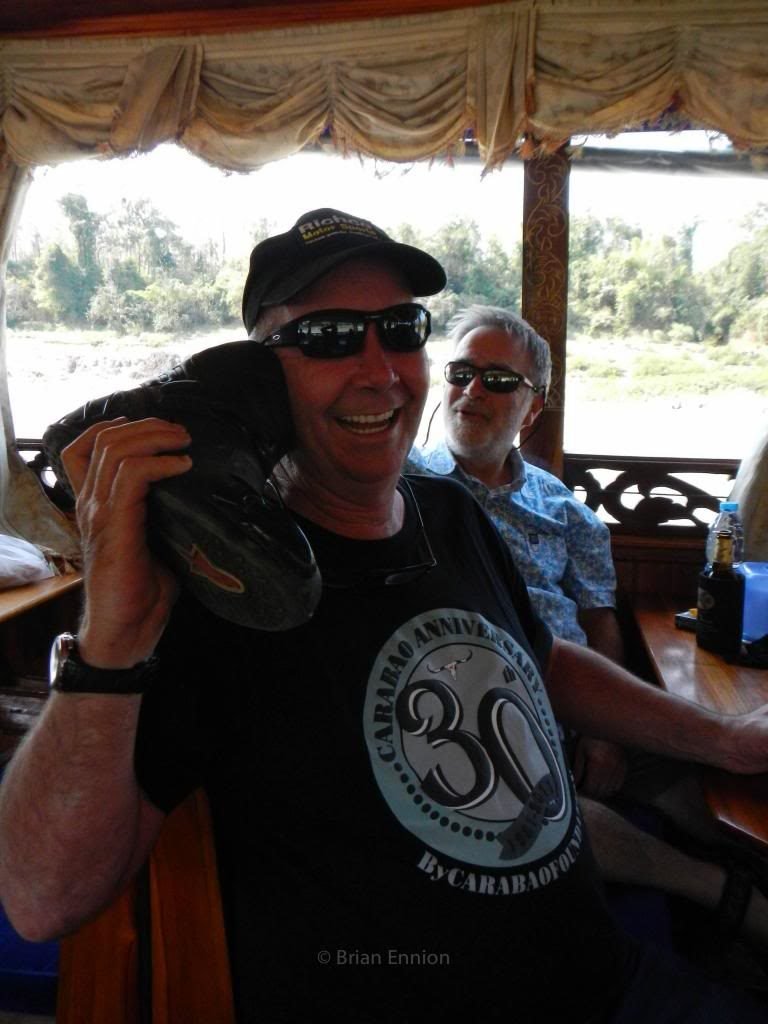 You can probably guess that the 4 cartons of beer are starting to be drank at a faster and faster pace.
Beer situation at around 2:30 pm
Back to the Mekong life…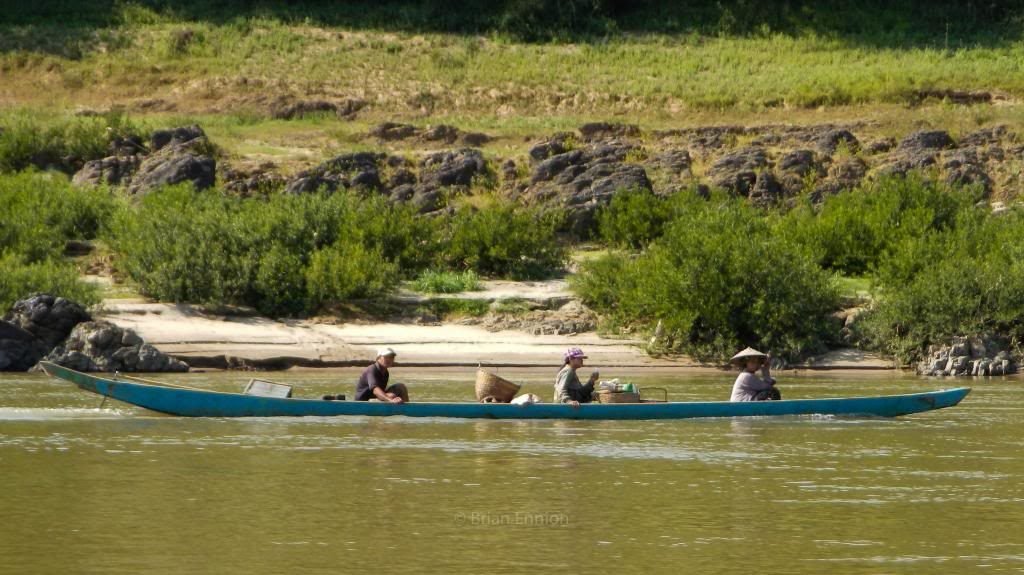 Growing peanuts on the banks of the Mekong.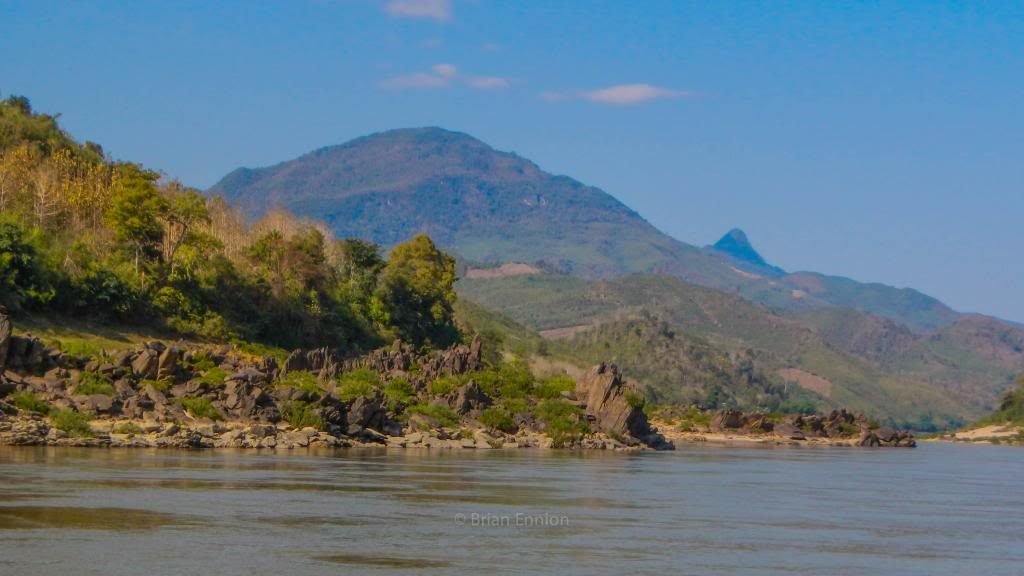 Village life, vegetable patch and bathroom.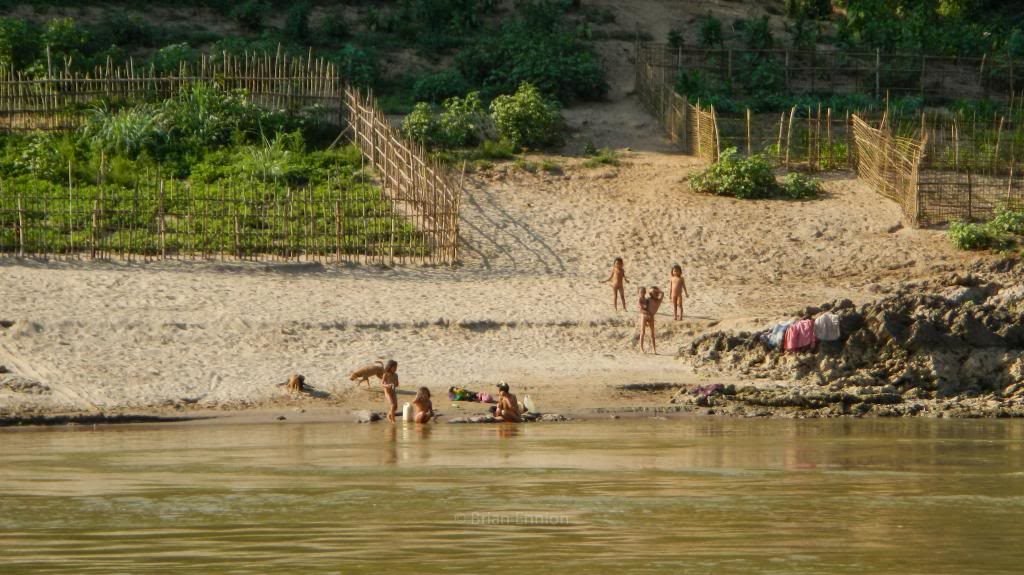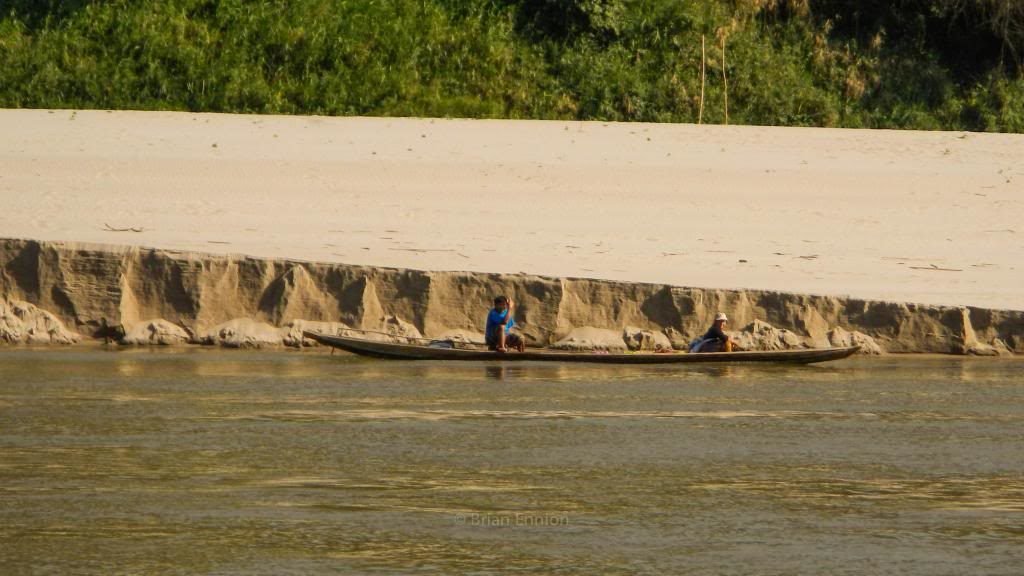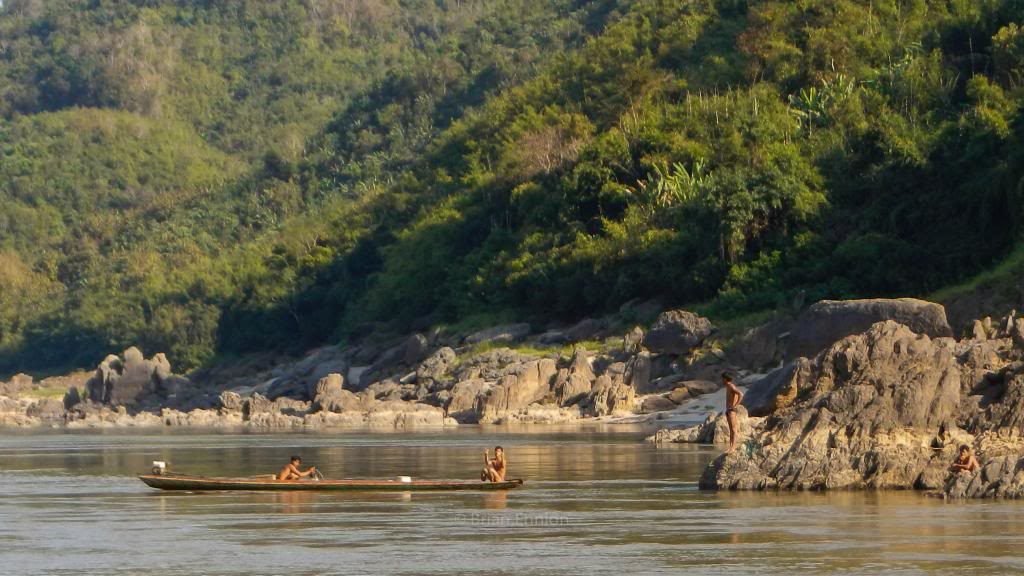 Kids give a wave.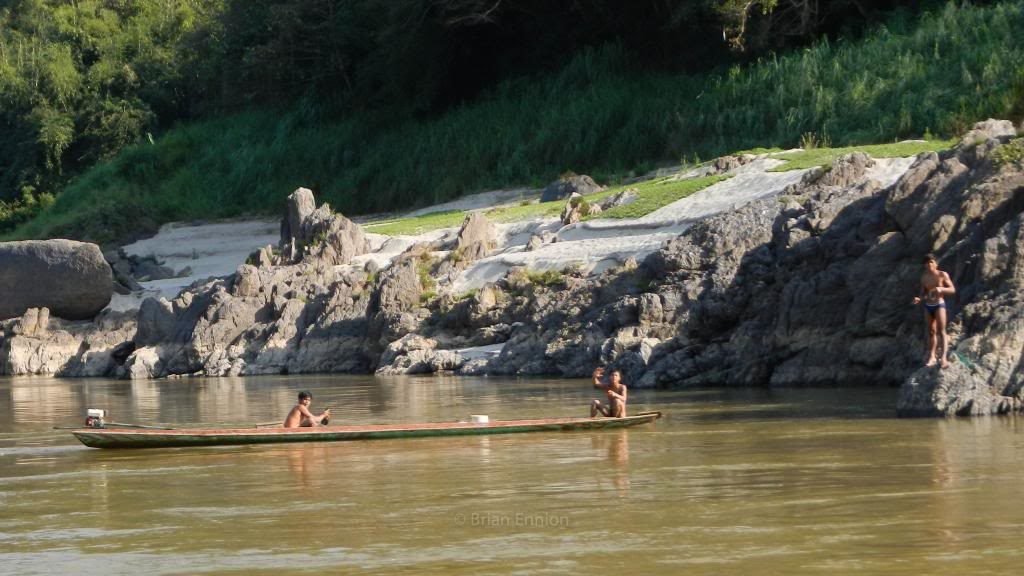 Getting closer to Luang Prabang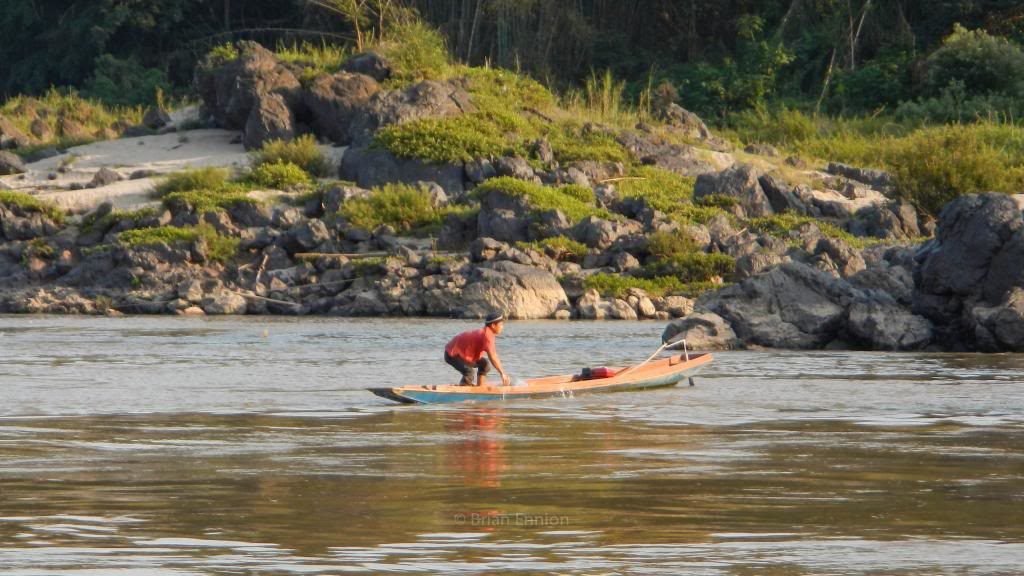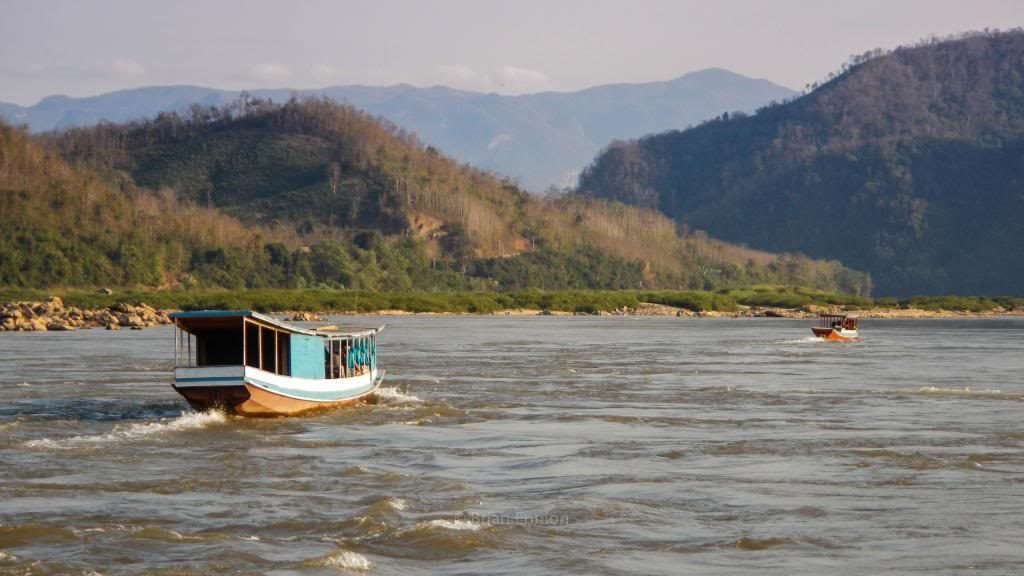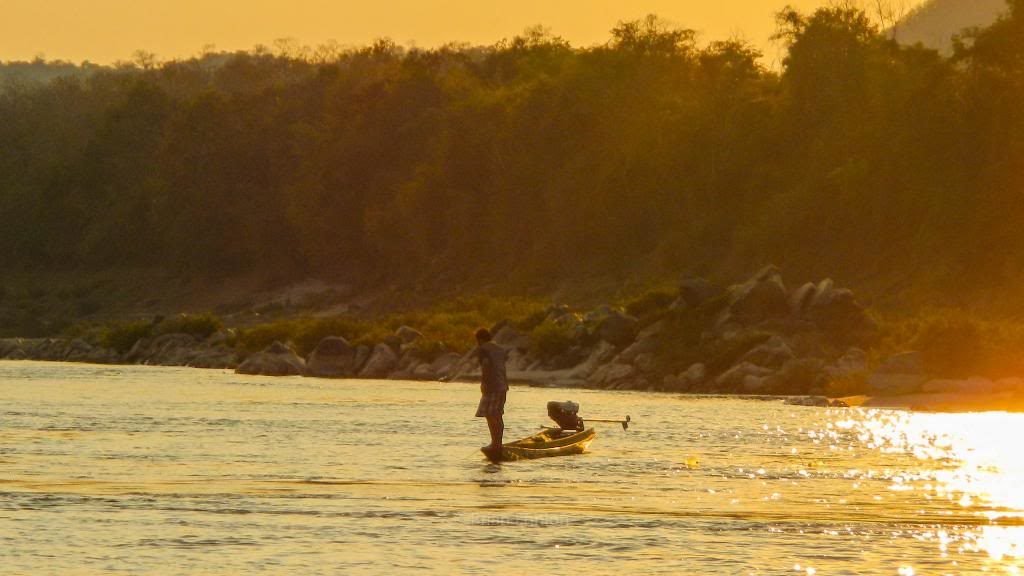 A great day was had by all… AMAZING.
Day 3 Sunday.
After a ride to Chiang Khong and a late afternoon of loading the bikes on the boat.. Followed by a fabulous day of cruising the Mekong with copious amounts of Beer Lao…
It was time to have a rest day day from all the fun we have been having..  What better place to hang out and rest, enjoying the sites than Luang Prabang..
Never get tired of going back to Luang Prabang..
Luang Prabang is like an Oasis when you have been on the road getting dirty and dusty.. Settle in to a nice guest house with good food and bars to go along with the lovely atmosphere..
Sunday, Luang Prabang walkabout.
Note the firewood stacked outside ready for the evening of cooking for the river side restaurants.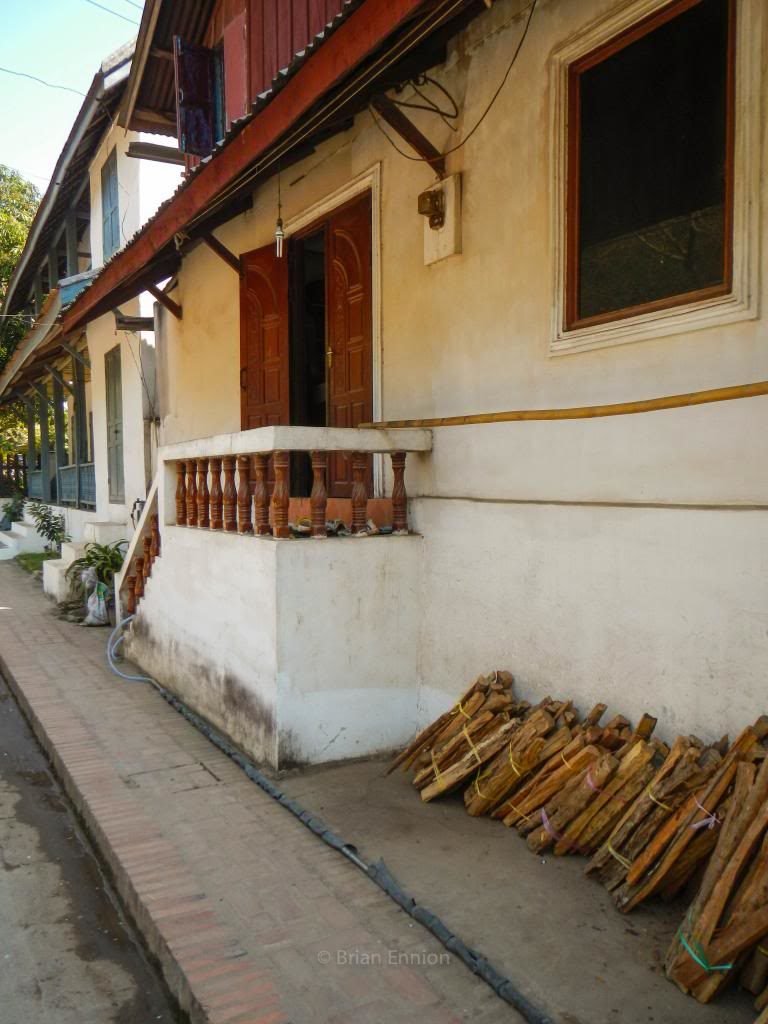 This old and new..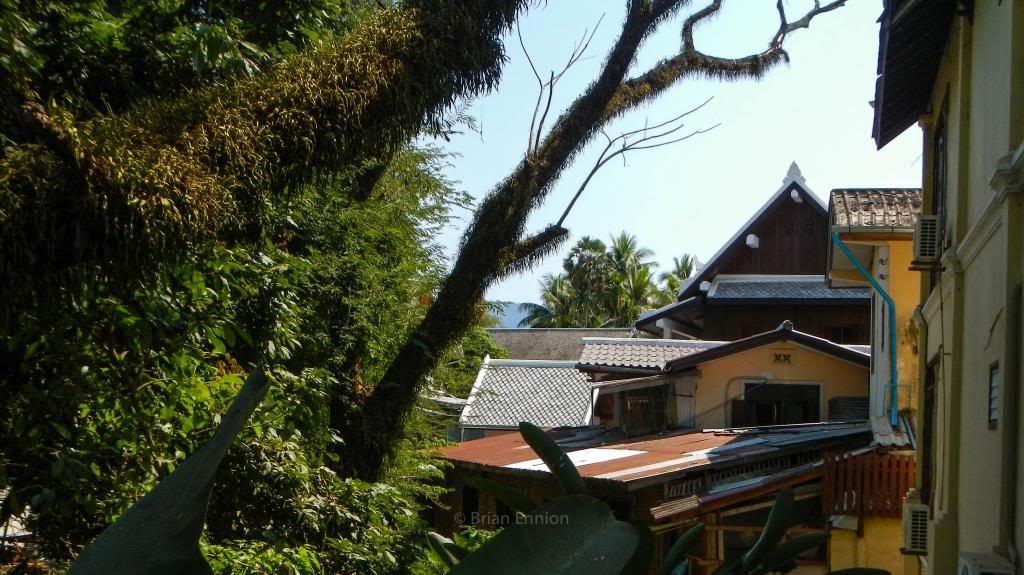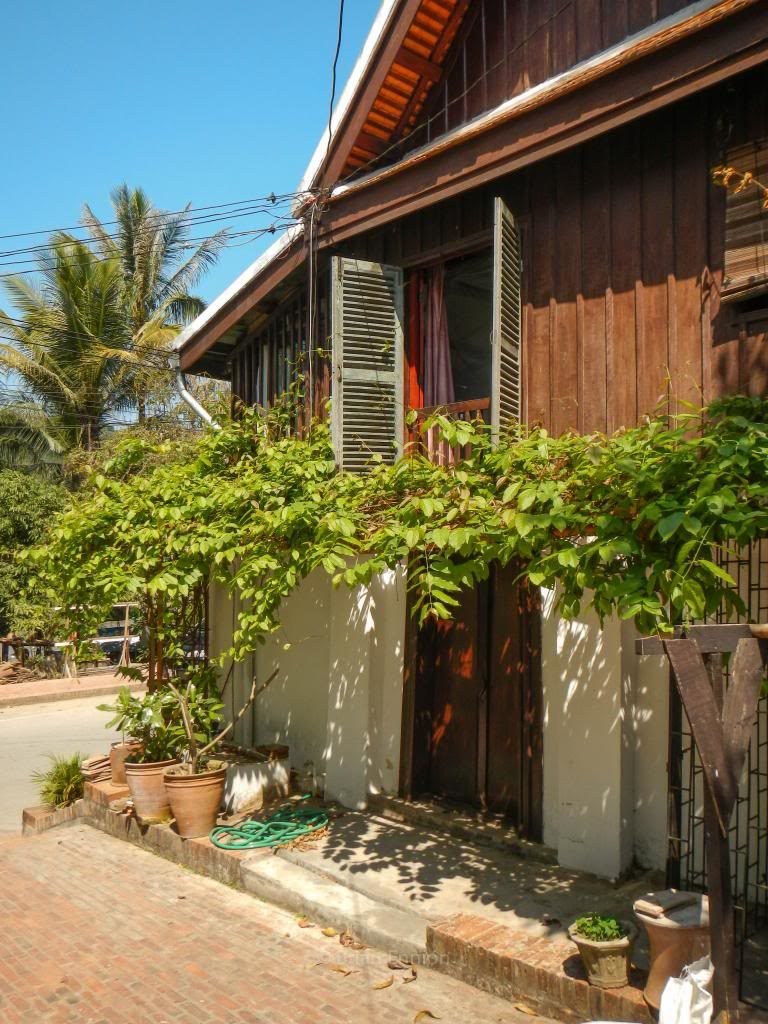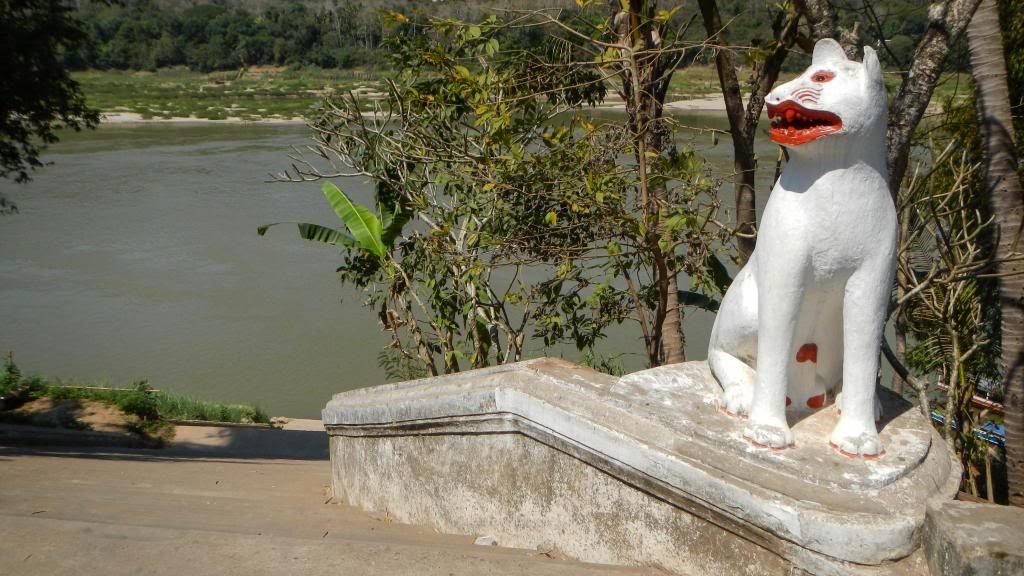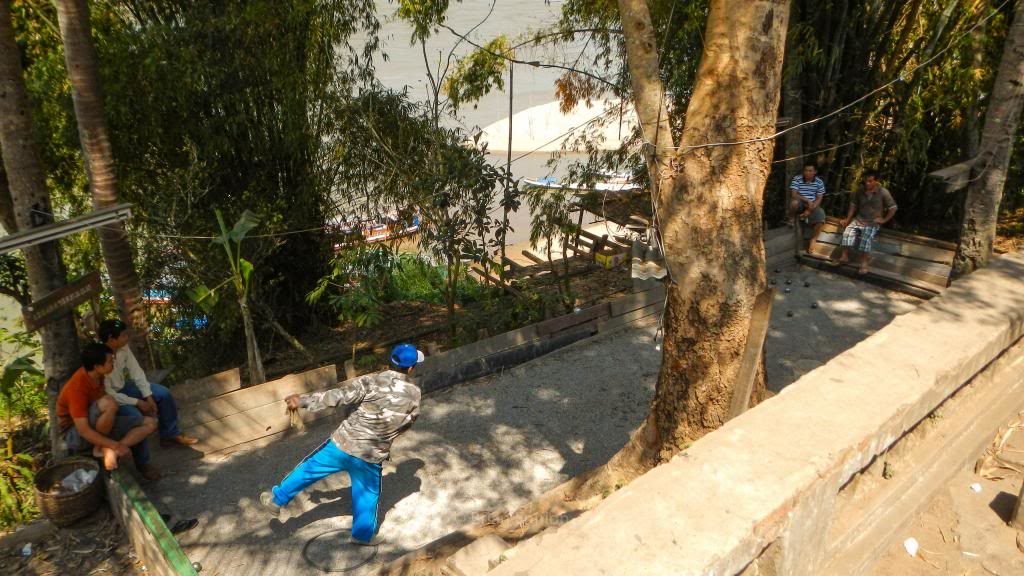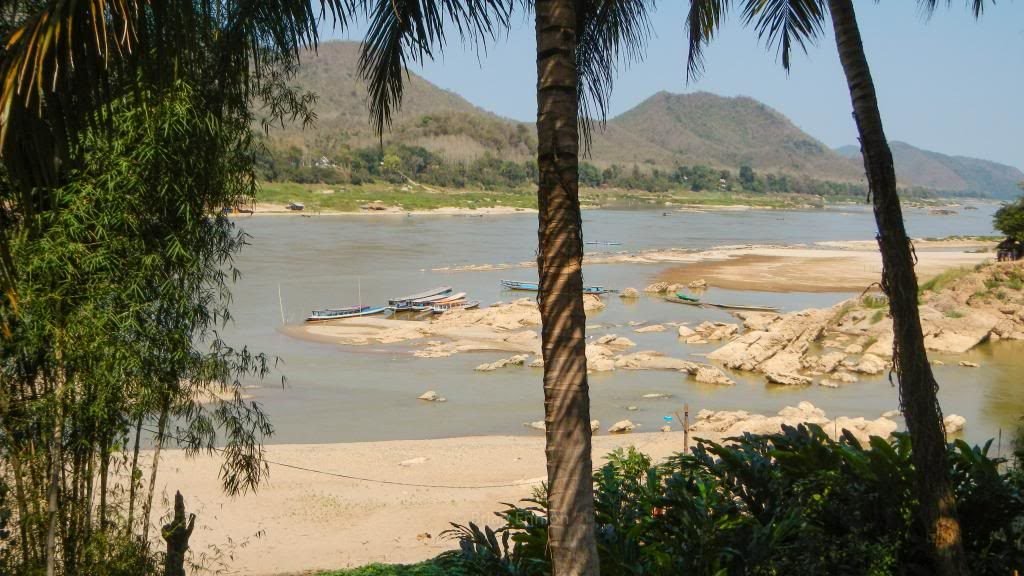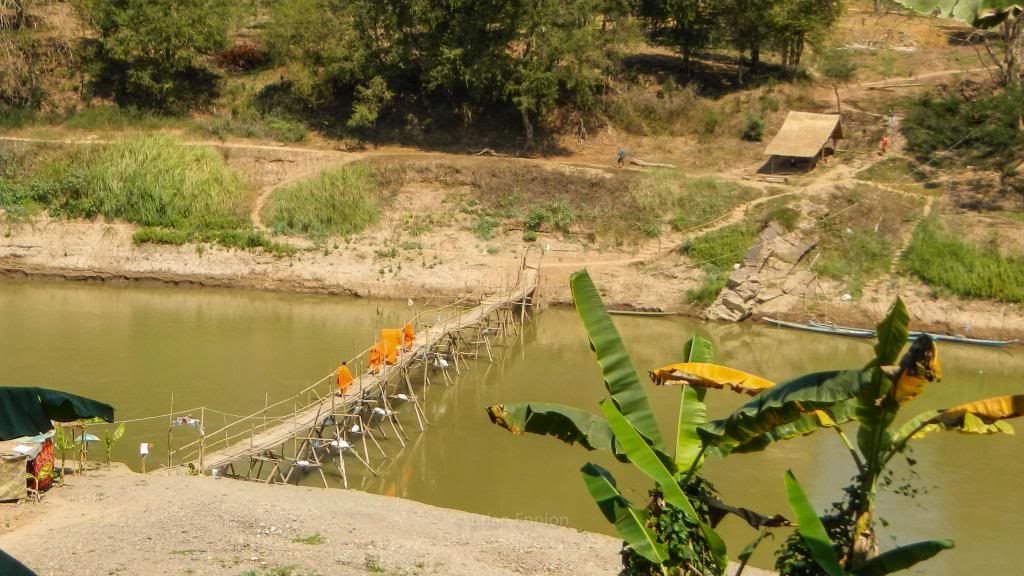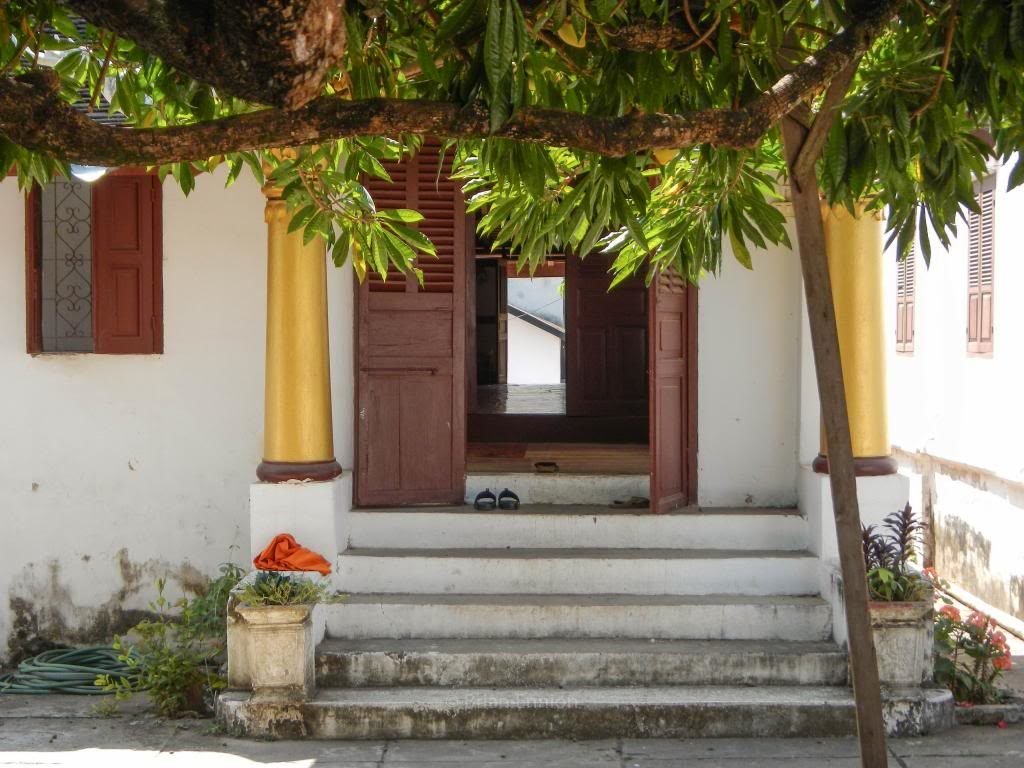 Must be one of the smallest exhibition halls on earth..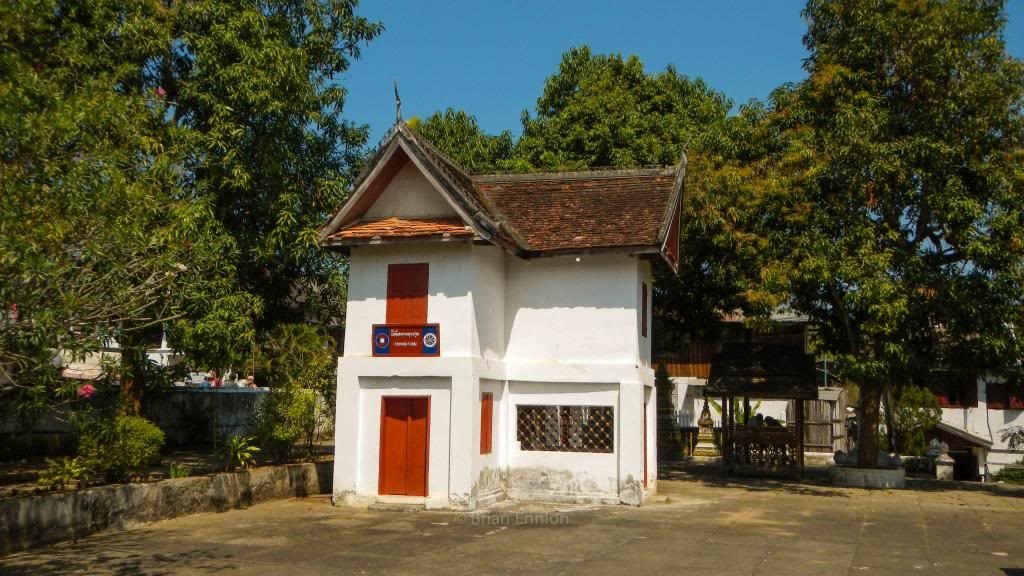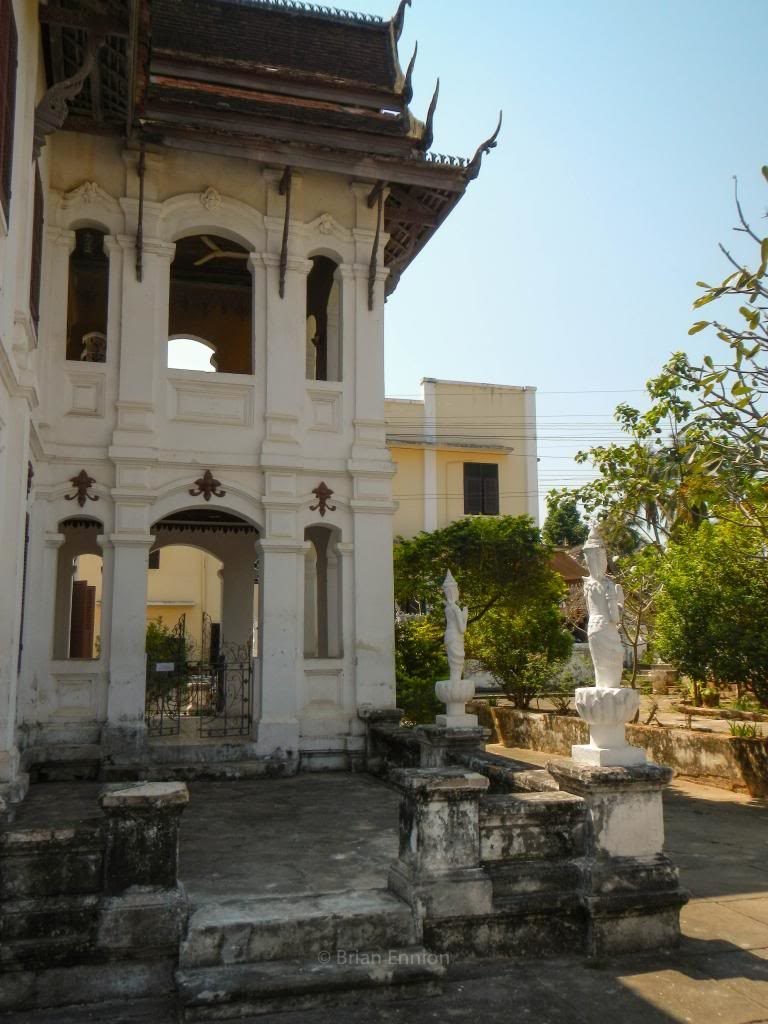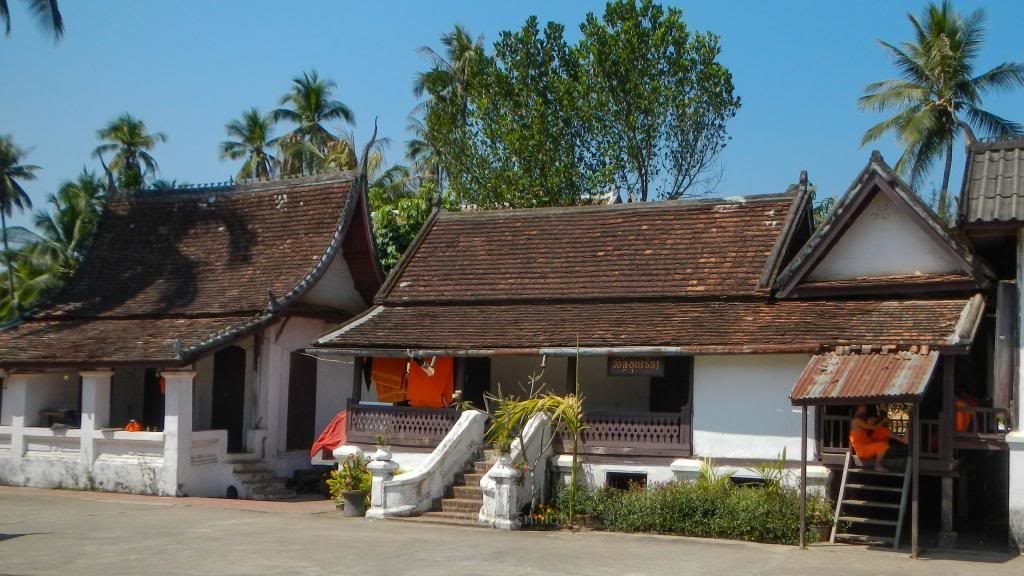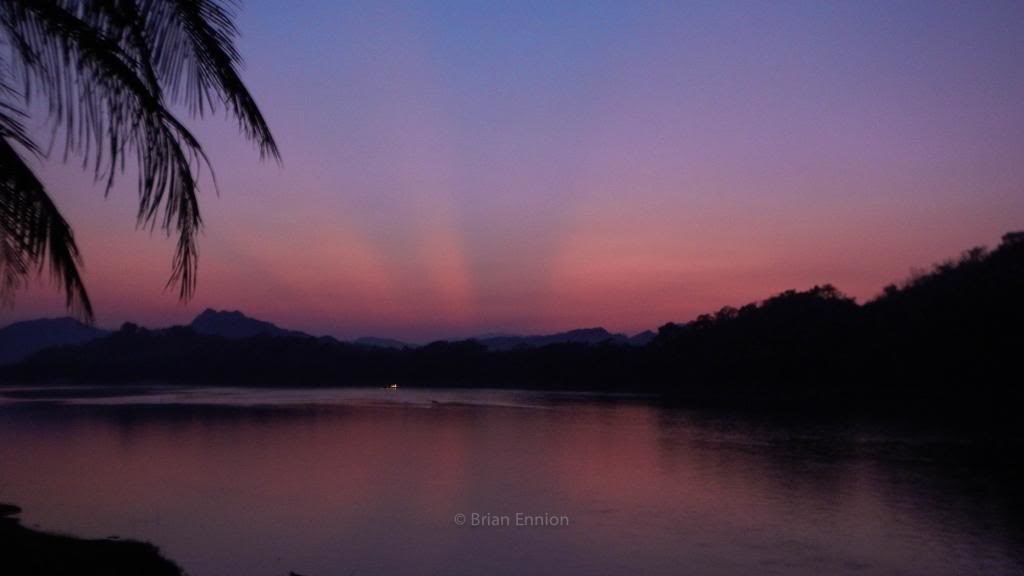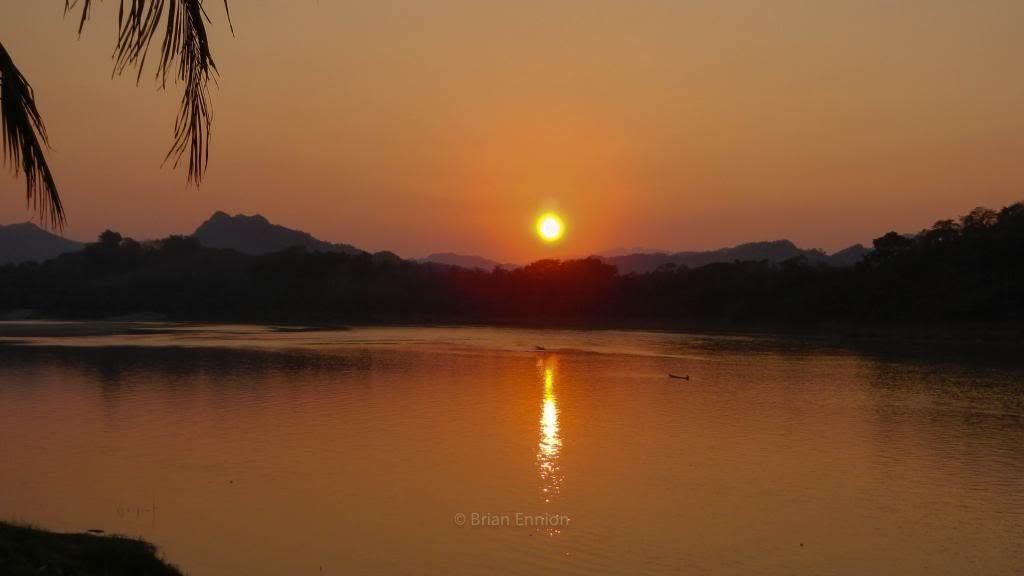 The Boat Crew enjoying he sunset and Beers.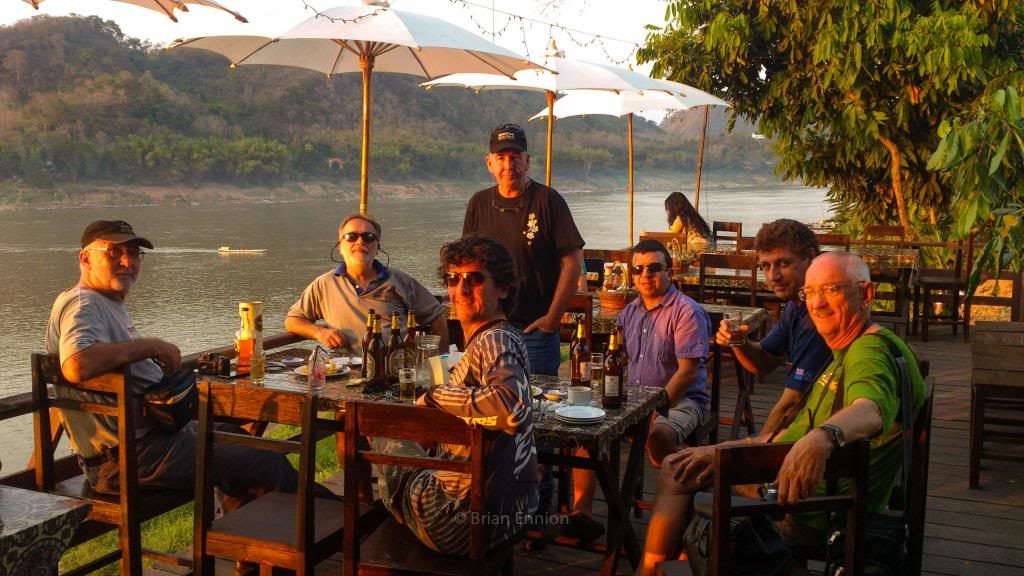 Day 4 Monday..
Luang Prabang to Kasi..
We started off riding the track along the Mekong down to Mueang Nan then back up to the Kasi 'track' turn off.
The ride a long the Mekong was a lot nicer than the last time I did this a couple of years back.. At that time, very rocky in parts.
This time was a pleasure to ride and we made pretty good time..
Didn't take too many snaps along here.. A couple of Tony and a creek crossing.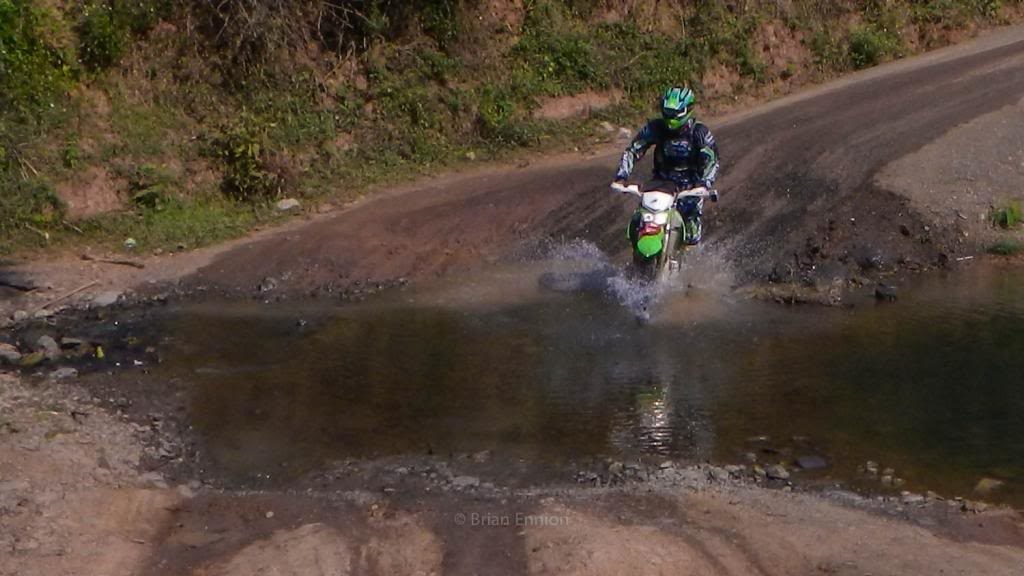 Then on to the Kasi track.. which is almost finished.. Suprised how quickly it has progressed since riding this with Rex in December.
You could comfortable ride a Versys along this road now.. We even saw a few mini vans using the road.. which was not the case in December.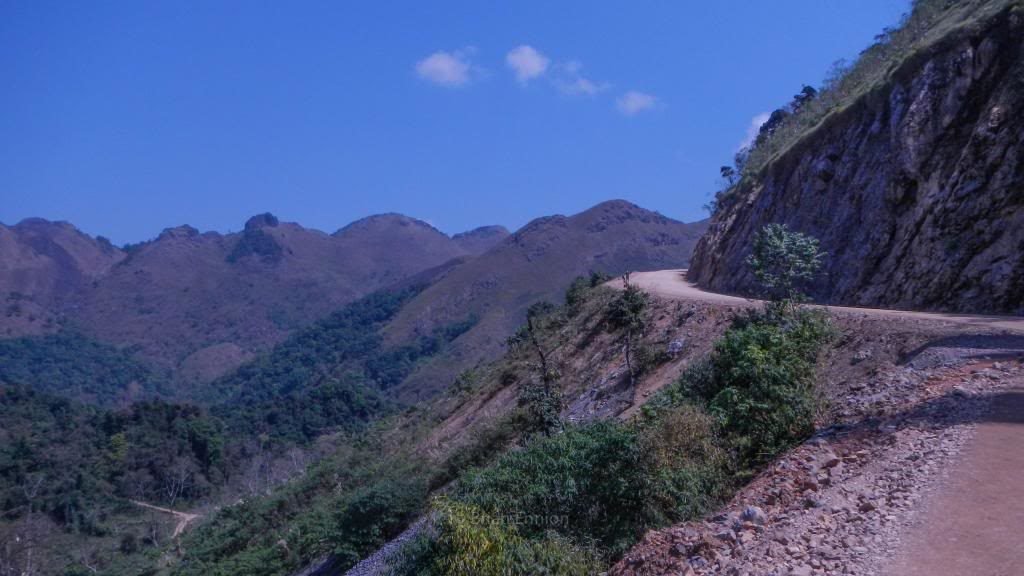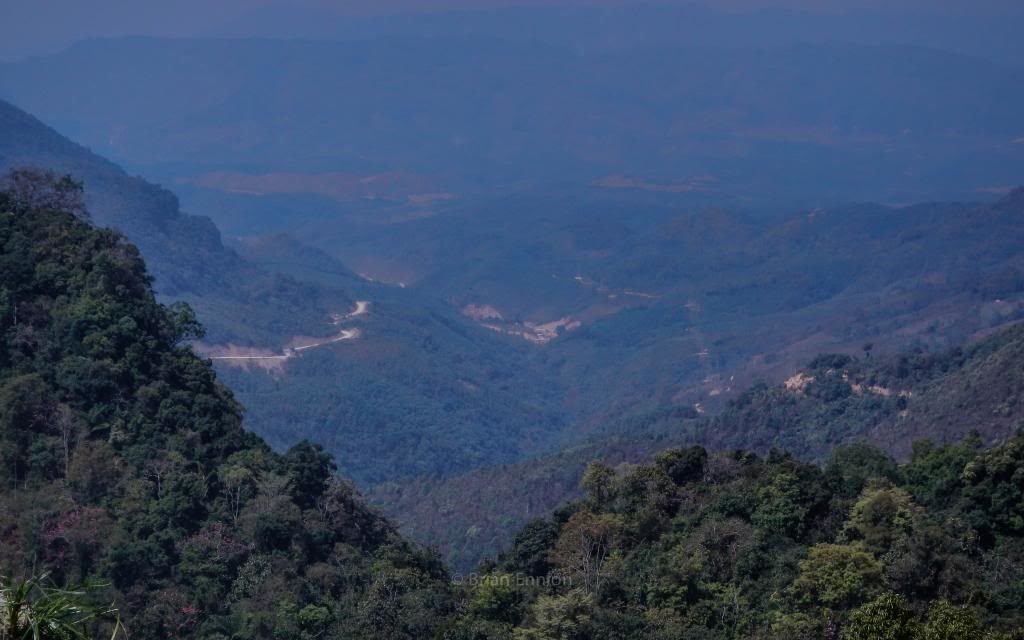 Such a different landscape when you get up high.. Maximum height is 1,870 metres above sea level.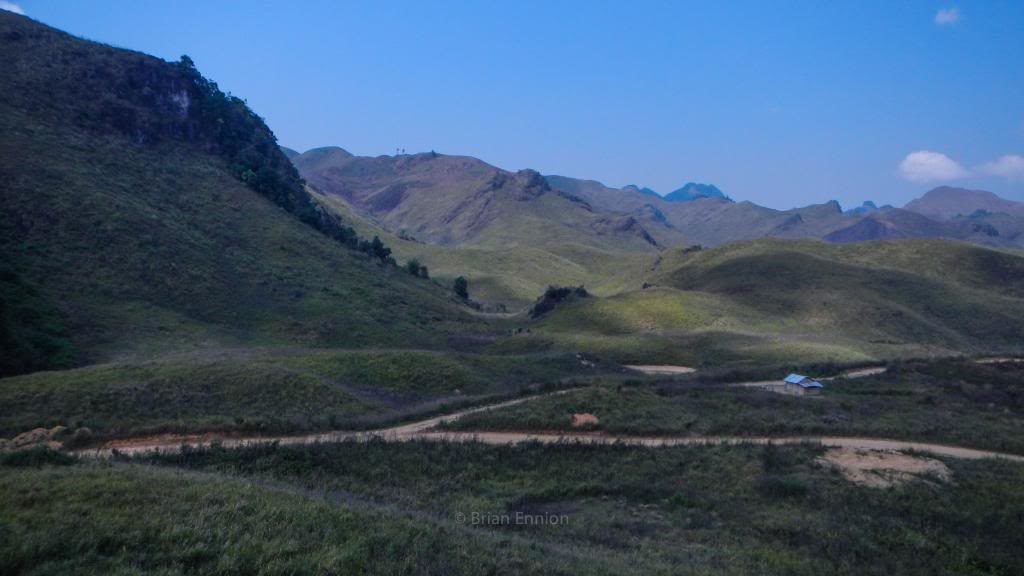 Some paved twisties for the future 🙂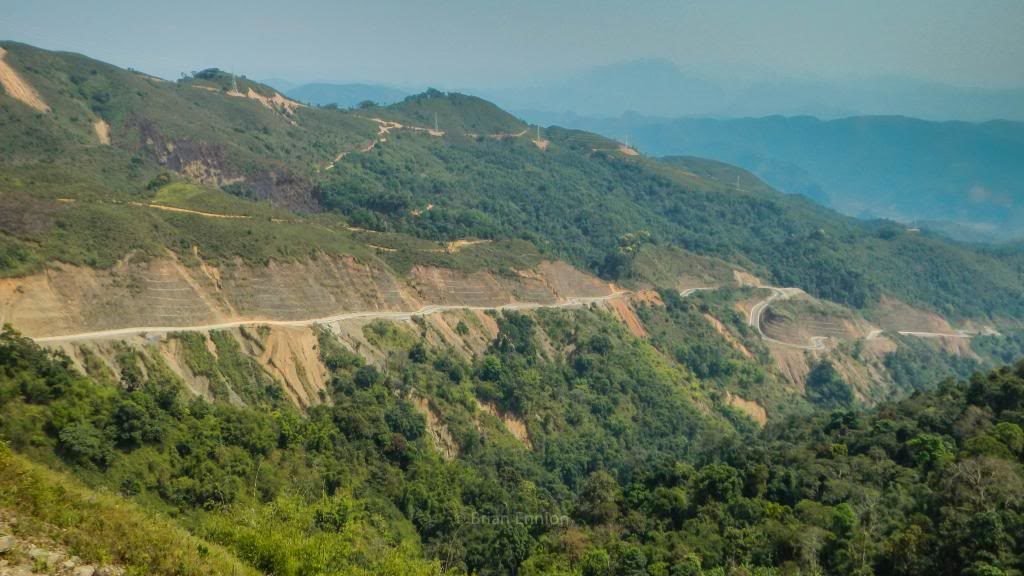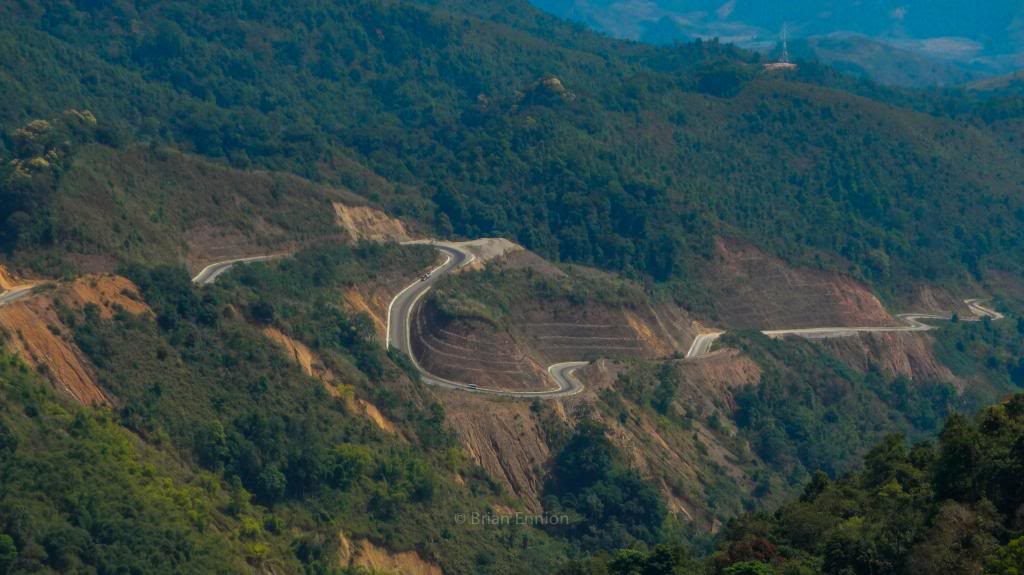 We arrived in Kasi when all the kids were on the way home from school..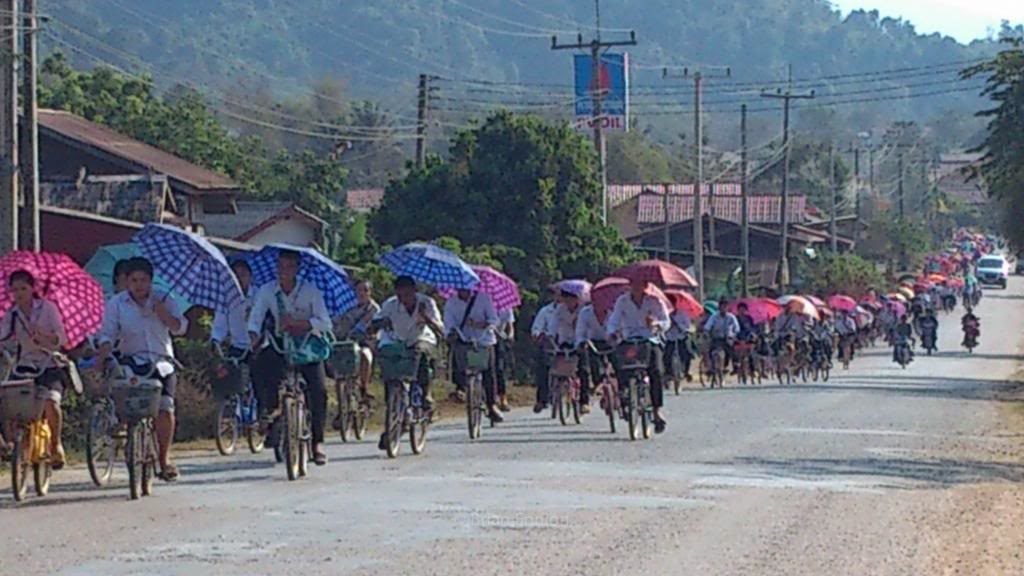 Hunt around the Kasi market to find a new zip for my body armour as the zip had finally buggered up good and proper the day before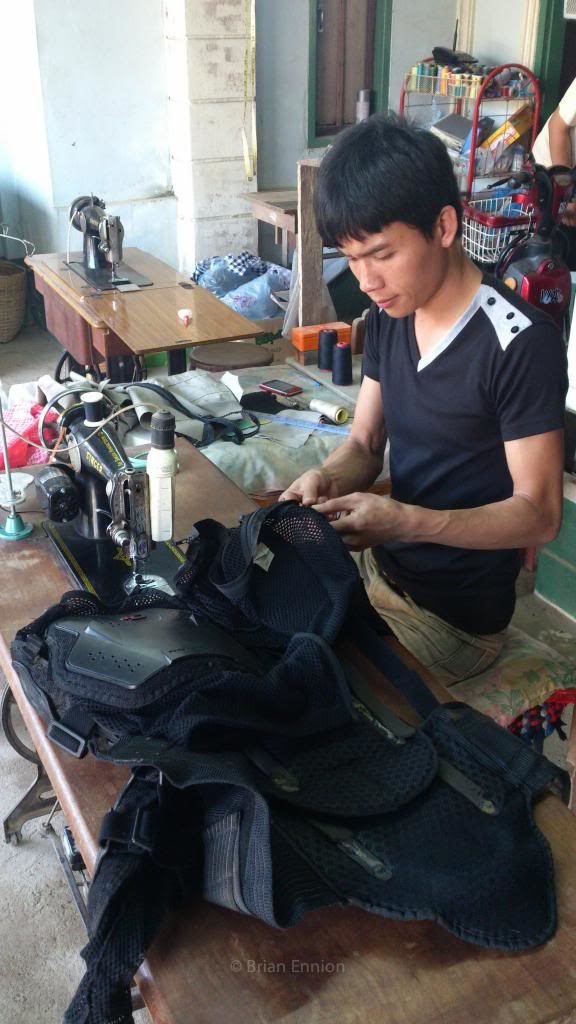 Another great sunset

While taking pics of the sunset the kids started posing for a photo..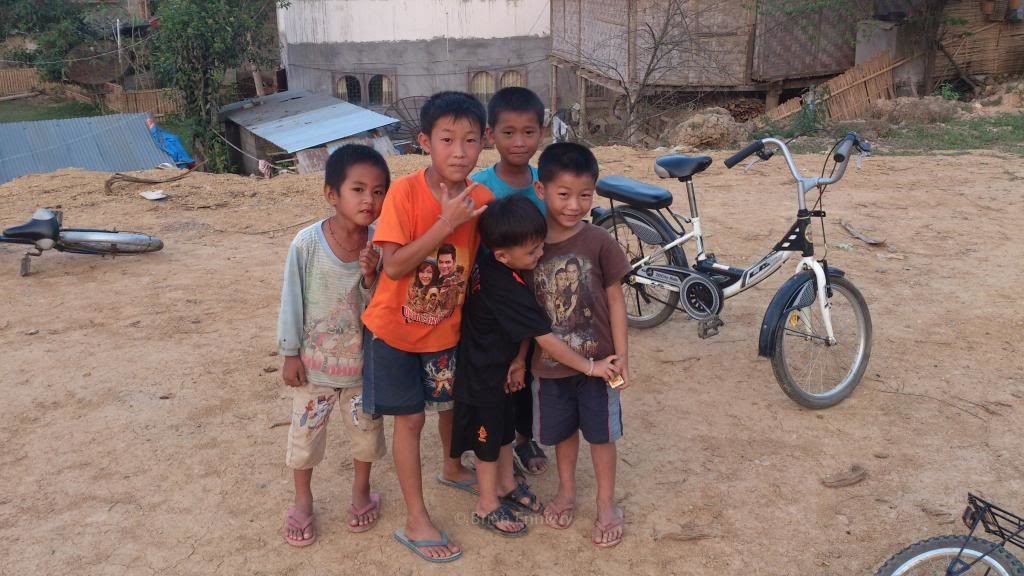 They were so excited to see their pic.. Another snap of them running towards me, can't wait to look at the pic..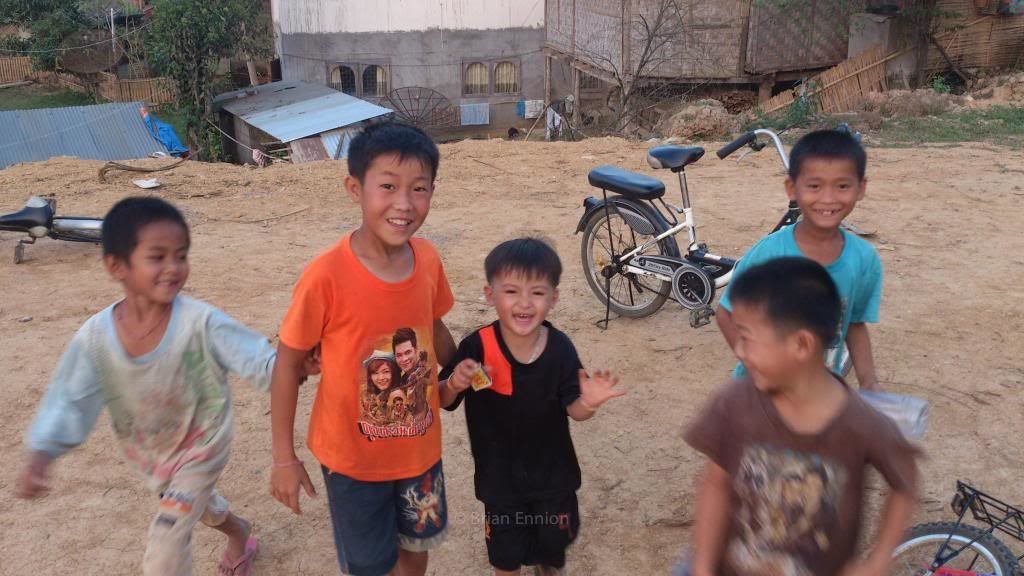 Some good food at Somchit Guest house..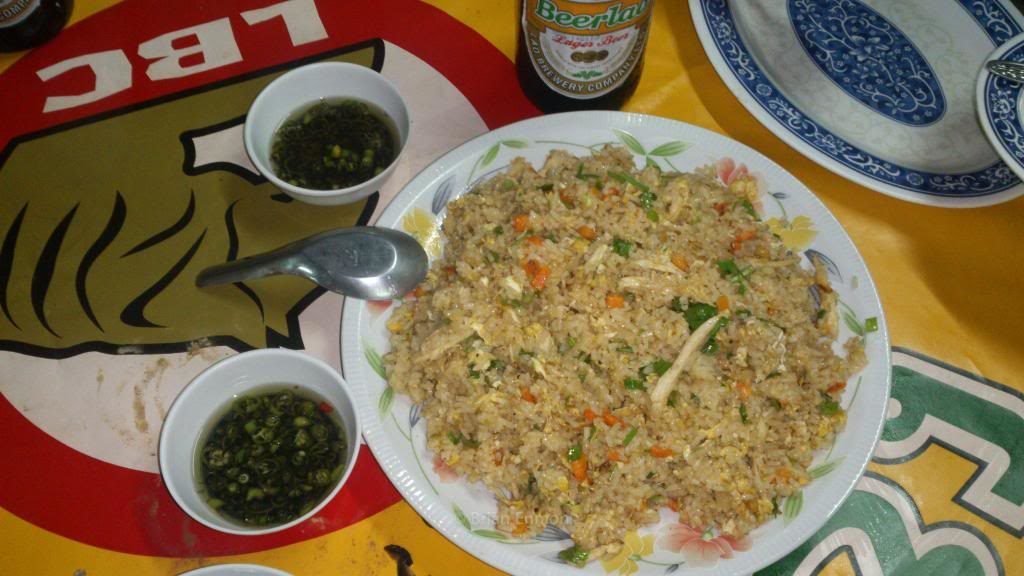 The last two days ride..
After a nice late afternoon in Kasi and a good sleep it was time to head down to Xanakham..
I had made a little error of judgement in my timing.. As we had to be back in Thailand Wednesday for the 6:20pm train..
This really only gave us 2.5 days out from LPQ..
So off we ride..

Yet again not so many pics as most of the pics are in my trip report from 2012 Dec with Rex.
Lovely ride but the last 40 or so km begins to suck with the heat and dust and flat..  But we push on and make it Xanamkham around 1pm I think..
Look at the map over lunch and decide to push on to Muang Feuang.. That is a big days ride.. Kasi, Xanakham then 3/4 of the way back up a parallel road on the other side of the mountain range..  As Rex said after.. We are desert riders… it certainly felt like it.
The ride along the Mekong was as dusty as ever and so was the ride up initially to Muang Feuang.. So bad more than at least 10 times riding in total white out from dust..
Plus you have other obstacles on the road to dodge..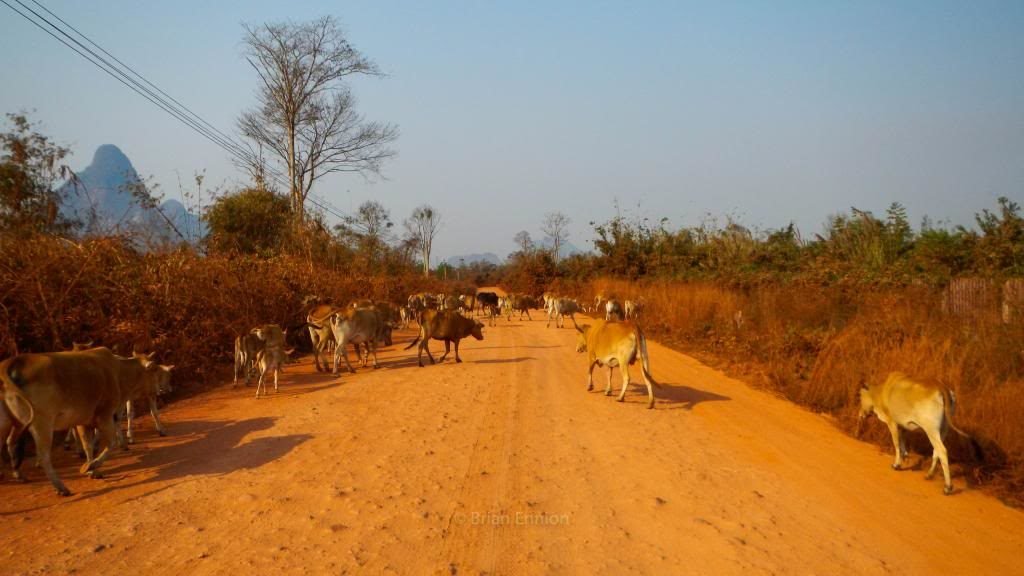 We check in to a nice family run place in Muang Feuang.. Lots of road works going on.. Looks like widening the road and laying new pipes at the same time.
So bath time was with the bucket of water.. which was fine.
After a long ride on the KLX's our arses were well and truly sore and needed a good walk around..
We walked through the market and saw this little restaurant that was selling beer.. Restaurant / House.
Have a beer and out come the duck eggs.. Tony and I tried one each.. They were not the half formed ones that make you want to puke.. But they were on the way…
Anyway.. both glad we tried one and then said that was enough..
The family kids thought we were quite a novelty and sat with us. We gave them an egg each..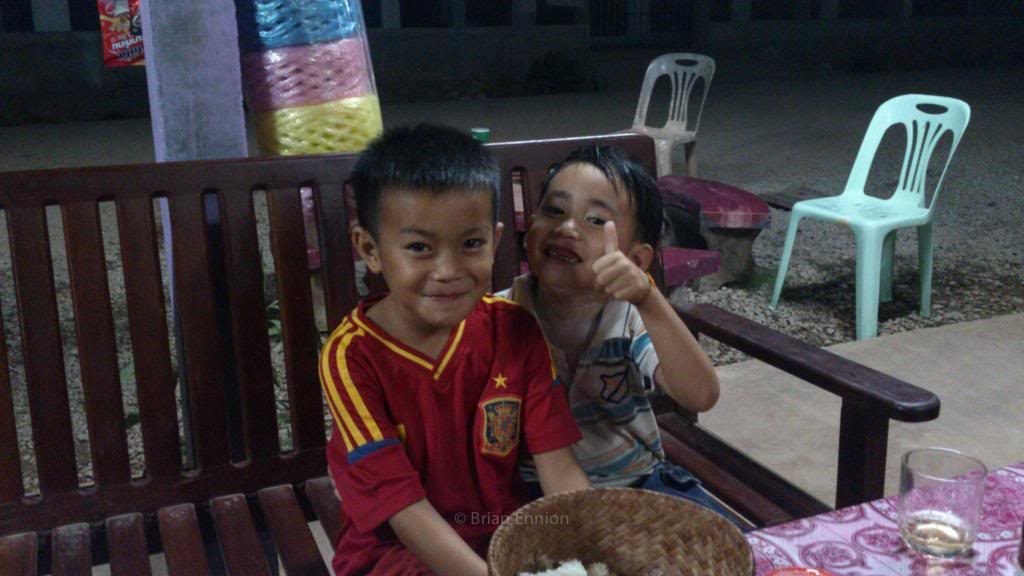 We were only intending on having a couple of beers and head off to a place that looked a bit better for eating.
The family were so lovely and started sharing their dinner with us.. so we bought more beer and joined them and had a fantastic evening.
Then some customers joined as well..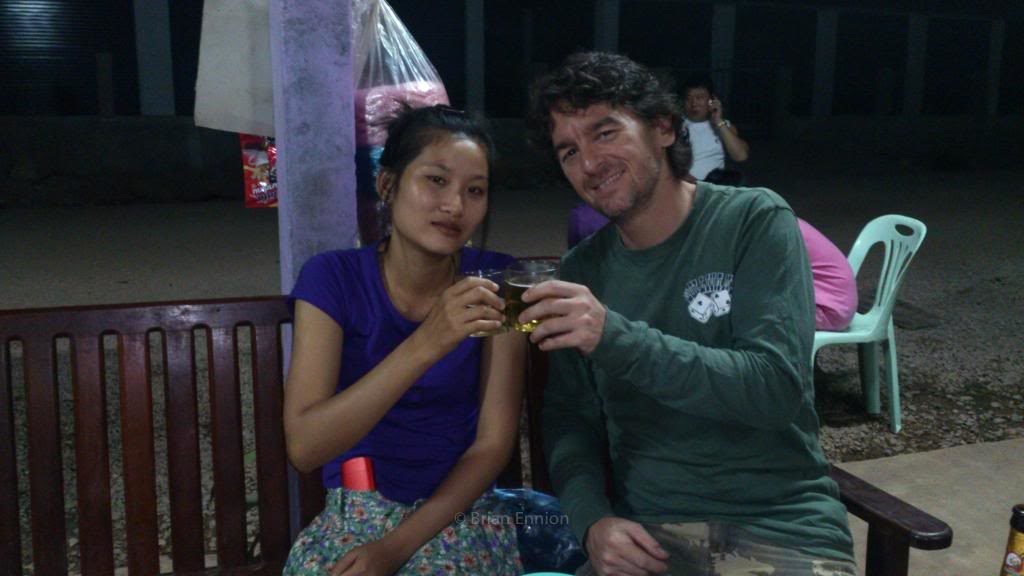 A really lovely evening with a really lovely Lao family that opened their lives to us and invited us to join in.. Memories we will keep for a long time.
Sadly the last day of the ride has come and time to save the best till last..  Dirt from Muang Feuang to just above where the Japanese bridge is on Route 13.. maybe 10 km above..
The trail was just as good as December.. Amazing scenery..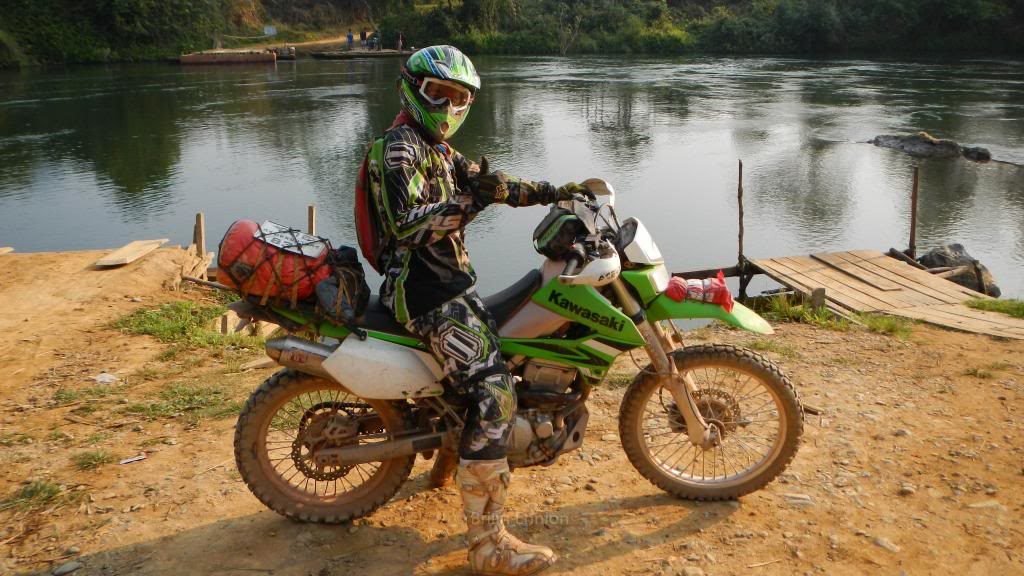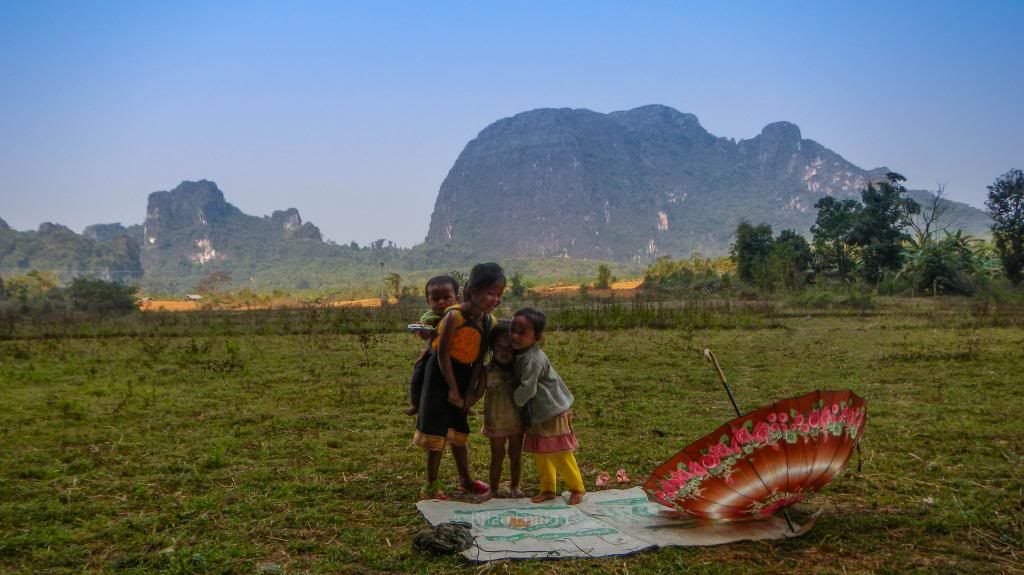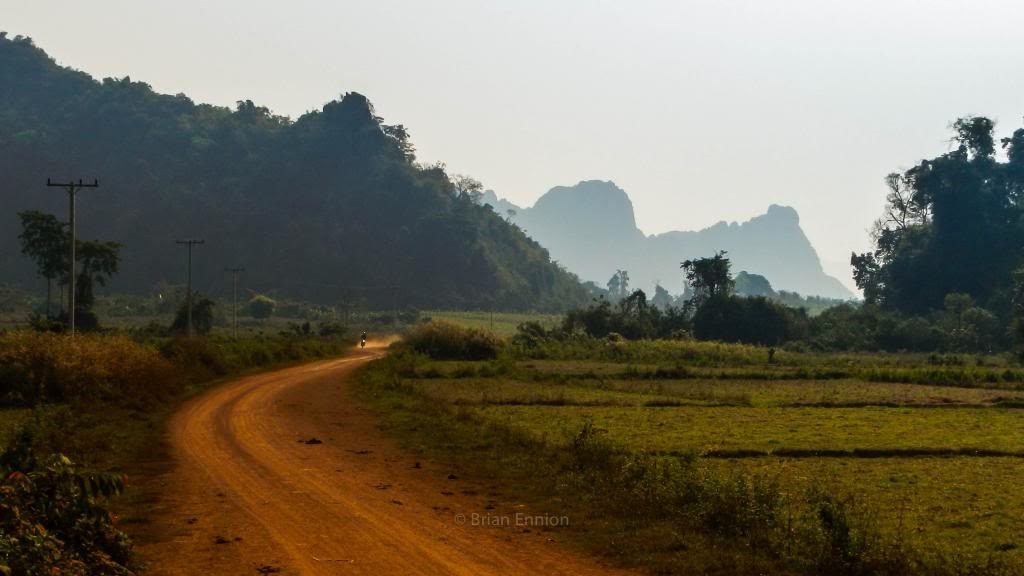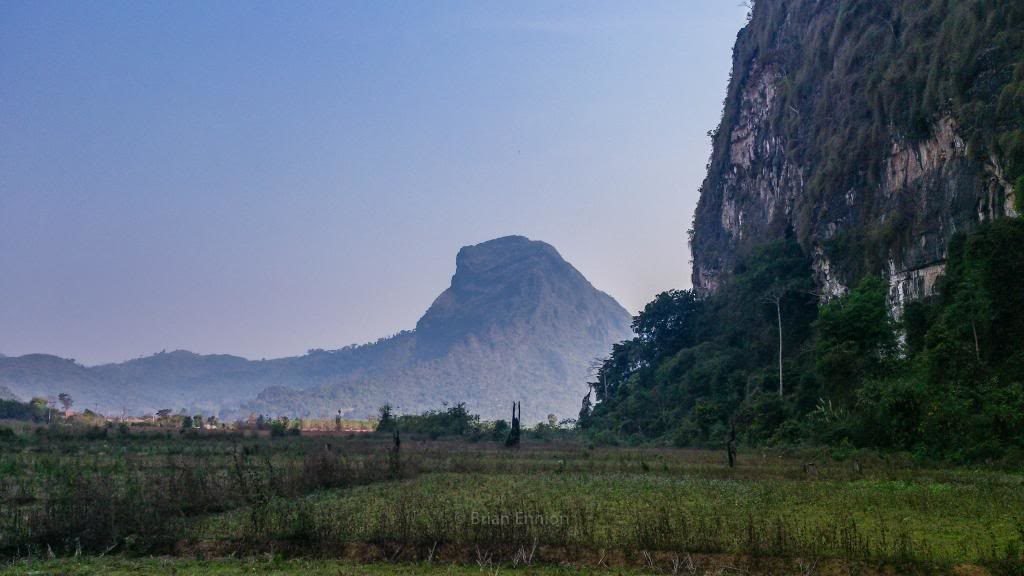 The last river crossing.. (no guts, no glory)
Lunch in VTE
Bikes ready for the train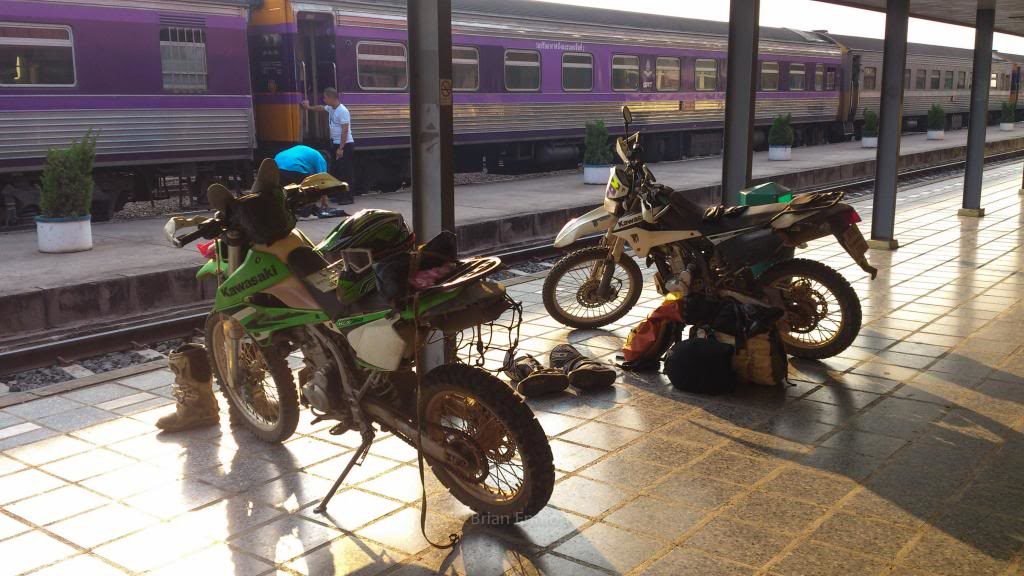 Safety gear on for the flight back to Bangkok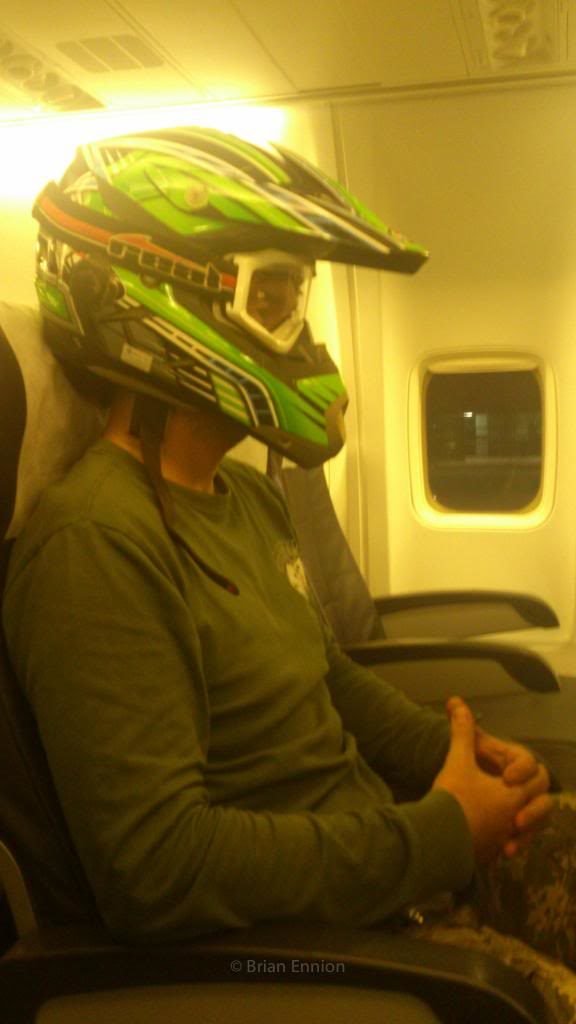 Nothing too heavy just some good riding for a few days and a good break.. Great riding with you Tony.
Cheers
Brian